Getting in a workout at home or outside that builds strength and power can be tough. A full-weight set is expensive and cumbersome to move and callisthenics make it difficult to generate the resistance required to build strength and muscle. Luckily, the newest training sandbag options on the market make it easy to get in a strength-building, functional workout at home, relatively cheaply.
As a consummate traveler and nomad that values fitness (strength and stamina) and just so happens to be a Crossfit trainer, sandbags have become my go-to workout equipment. Whether I'm doing curls, thrusters, and cleans in my apartment, rucking down the beach (with a sandbag in my backpack), or mixing it up with weighted pull ups and kettlebell swings, sandbags have proven to be limitless in building tough, functional strength.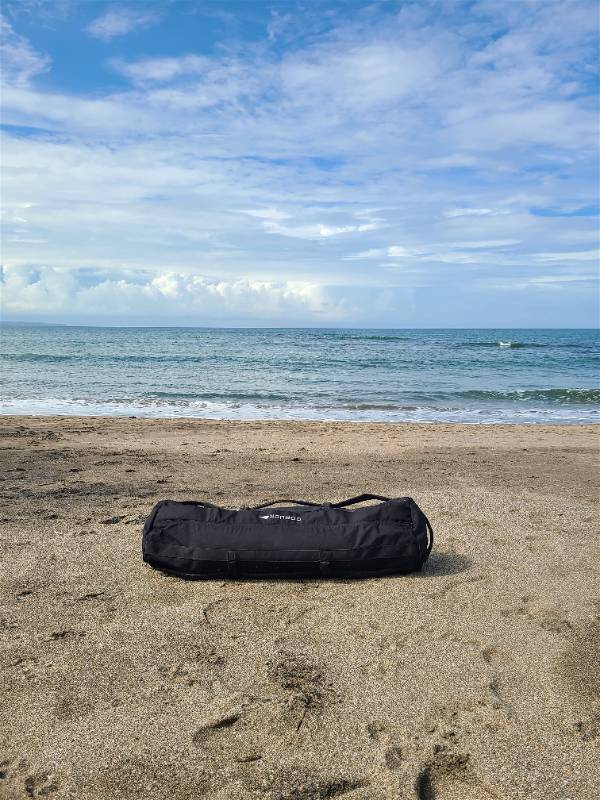 This article contains affiliate links
Getting the right sandbag allows you to do any Olympic Lifting movement or powerlifting movement – and having my sandbag of choice allowed me to continue doing my Crossfit workouts at home, through the pandemic and quarantine. Even further, having the right sandbag allowed me to do kettlebell training as well, completing a 10,000 kettlebell swing challenge with a sandbag. And on sunny days, the sandbag slid into my pack as I walked 10 miles on the beach with a weighted pack for a workout worthy of a legionnaire.
However, getting in such versatile, functional workouts requires getting the right sandbag with the right features. Durable material (ideally Cordura Nylon), burly handles in the right places, filler bags (for easy weight adjustment and preserving the zippers), and getting a bag with the right shape that allows you to recreate barbell movements. Don't worry, we'll save you some research time.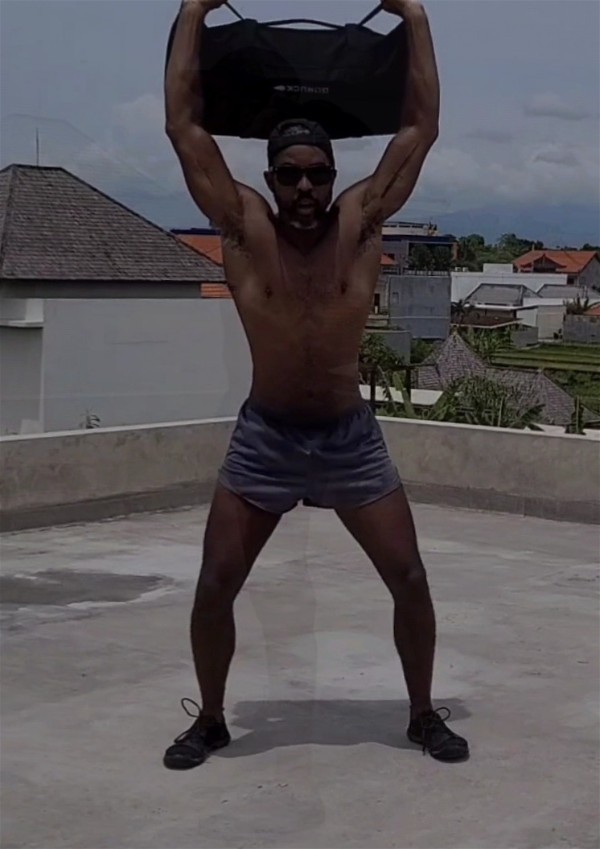 In this review of the best workout sandbag options, we'll share the only 20 sandbags for workouts that you should consider, and tell you exactly which one is perfect for you.
Read on to discover the one sandbag that'll add a whole new level of awesomeness to your home gym.
CONTENTS OF THIS BEST SANDBAGS LIST

QUICKLIST OF THE BEST SANDBAGS BY CATEGORY
SANDBAGS WITH LIGHTWEIGHT OPTIONS

WHAT IS A WORKOUT SANDBAG? HOW ARE SANDBAGS FOR WORKOUTS DIFFERENT THAN SIMPLE SANDBAGS?
A workout sandbag is a specially designed nylon bag that holds sand, to be used as a weight, and has handles attached that allow the sandbag to be used as a resistance tool for functional training – similar to barbells and dumbbells in powerlifting, Crossfit training, and bodybuilding.
Workout sandbags differ from simple sandbags, whether simple construction sandbags or duct taped "ruck pills," in that the bags are constructed of a tough fabric, to extend their lifetime, have tough zippers that allow you to frequently reopen the sandbag and adjust weight, and have specially designed handles that allow the sandbag to be used for versatile exercises.

WHAT MAKES A GREAT WORKOUT SANDBAG?
Tough exterior material – abrasion resistant 1000 denier Cordura Nylon is best, however TPU coated nylon will work too, just don't plan on having as much abrasion resistance
Tough, nylon stitching throughout – to resist the pressure of shifting weights, double stitching with heavy duty thread is a must
Tough internal filler bags that are easily adjustable – having separate internal sacks of sand or "filler bags" keeps sand out of the zippers on your main sandbag, and makes indoor workouts easier without getting sand everywhere
Handles in the right places and in the right directions – that allow the bag to be used as a barbell and as a kettlebell. Minimum 4 handles, with 2 on the top and 2 on the ends which ensures the bag can be used as a kettlebell or an Olympic barbell
Decent price – ideally less than the cost of a one to two months gym membership
Long, sausage like shape – allows use as a barbell or dumbbell and stacks easily on the back
A solid brand reputation for making durable products and solid customer service
A max weight that will push your limits, and a design that allows you to adjust weight easily
Zippered enclosures with extremely heavy duty zippers, and a redundant strap enclosure option if possible
WHY EVERYONE SHOULD GET A SANDBAG – THE BENEFITS OF SANDBAGS AND SANDBAG TRAINING
For anyone that's a fan of getting in a resistance workout, to build functional strength, without a gym, sandbags offer a slew of benefits you'll appreciate without the high cost of a gym, or without needing other cumbersome equipment.
No Gym Fitness: Workout at home or anywhere – I routinely do Crossfit training on the beach with just my sandbag
Allows for barbell style movements, powerlifts, kettlebell exercises, and other versatile movements, and uniquely sandbag exercises, making for functional strength promoting and muscle building workouts
Train for strength and power: With sandbags that hold 120lbs+ worth of load, its very possible to build strength. Then add in dynamic movements to your strength routine to build functional power
Train stability: The shifting load of sandbags forces stability training via odd lifts, just to mount the sandbag in most exercise start positions and is equally suited to training strength at your motions' end ranges – aka mobility
Builds injury resistance: The nature of sandbag training, lifting a shifting load from the floor to overhead and in various directions, trains flexibility and strength in the normal movements of daily life and an active lifestyle, building strength and mobility in the areas of your body and performance that will make you more injury resistant
Adaptive: Easily increase or decrease the weight by adding or removing filler bags or adding/removing sand from the individual filler bags
Cheap relative to the possibilities and the gym: A good sandbag will still cost less than a one membership at a gym, and once purchased, you'll have your "sandbag gym" for life
Portable: Though sandbags can pack loads of 120lbs+, simply empty the sand out and you're left with a nylon bag that only weighs a couple of pounds

OUR FULL LIST OF THE BEST WORKOUT SANDBAGS

SANDBAGS WITH HANDLES
The most versatile and practical type of sandbags are sandbags with handles. These log shaped sandbags tend to have strategically placed handles along the bag, and filler bags that distribute sand throughout the bag, in a way that allows you to lift these bags as you would barbells, dumbbells, curl bars, and kettlebells, making for a very versatile piece of fitness equipment.
If you're aiming for one, portable piece of fitness equipment to get in a full body resistance workout at home or anywhere, start with a sandbag with handles.
Best All Around Workout Sandbag, Most Durable Sandbag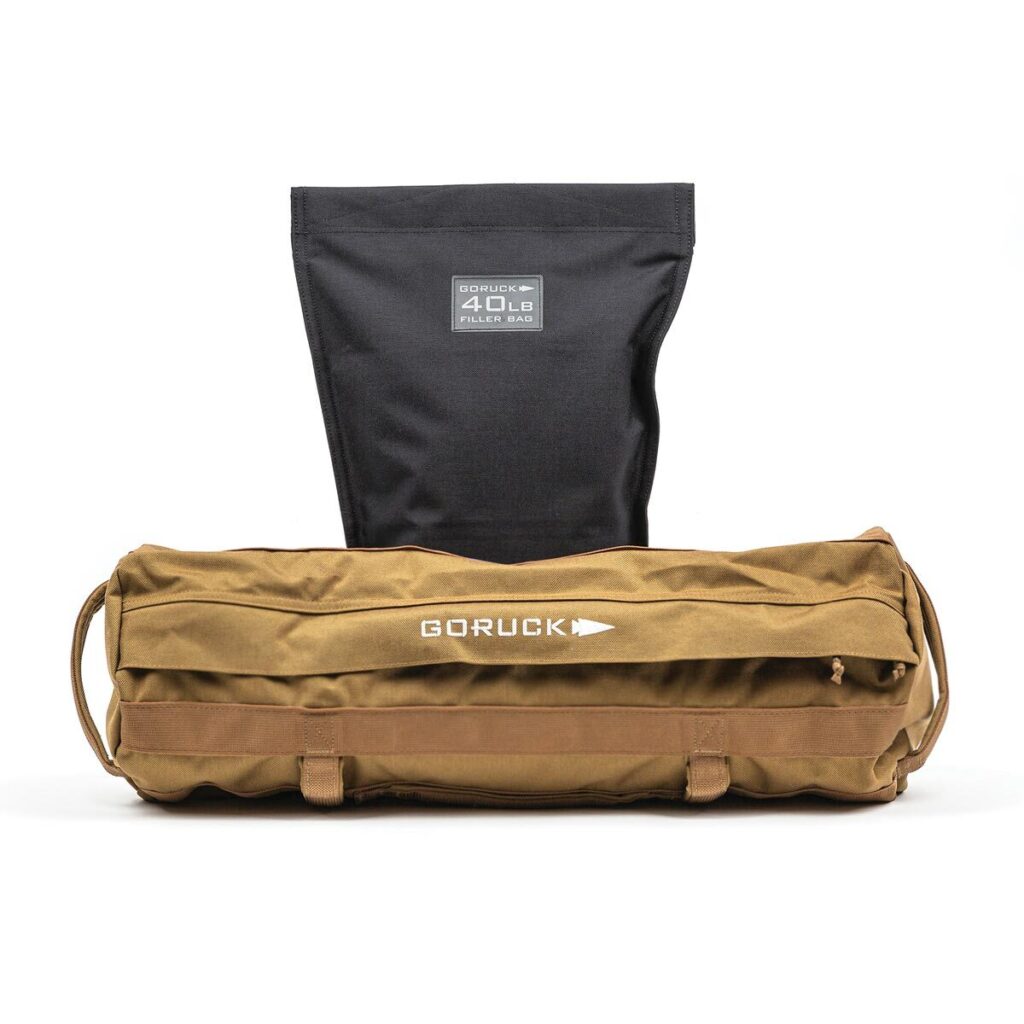 Highlight: Tough, 1000 denier Cordura nylon, double velcro'ed filler bags
Best for: Recreating Olympic lifts and barbell movements
Pros:

Tough
Heavy duty padded handles
Includes filler bags

Cons: Can't buy additional GORUCK filler bags separately
Price: $135
Materials (Outer, inner): 1000 denier Cordura nylon for abrasion and tear resistance, big YKK zippers
Filler Bags Included: Yes
Handle Setup: 8 thick, padded nylon handles with two on the left and two handles on the right side running vertically, 1 handle running horizontally each side and bar tacked to create smaller handles, and 1 handle on each end.
Weight range: 20lbs to 120lbs
Where to buy for the best price: Click here to get the best price at GORUCK.com
MEISTER ELITE FITNESS SANDBAG W/ REMOVABLE KETTLEBELLS
Best Handles and Ties for Most Versatile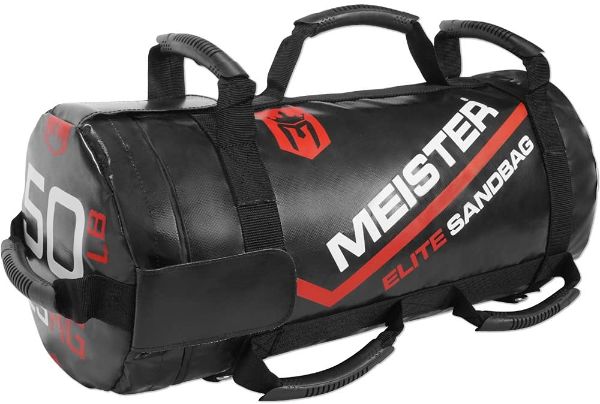 The Meister Elite Fitness Sandbag is a high quality, tough, and arguably the most functional sandbag on the list thanks to 8 separate, thick solid core rubber handles accommodating all lift types, and the 20lbs and 10lbs kettlebells contained within. Last, the foam wrapped core helps the bag maintain shape to better be used for barbell, dumbbell, and curl bar movements.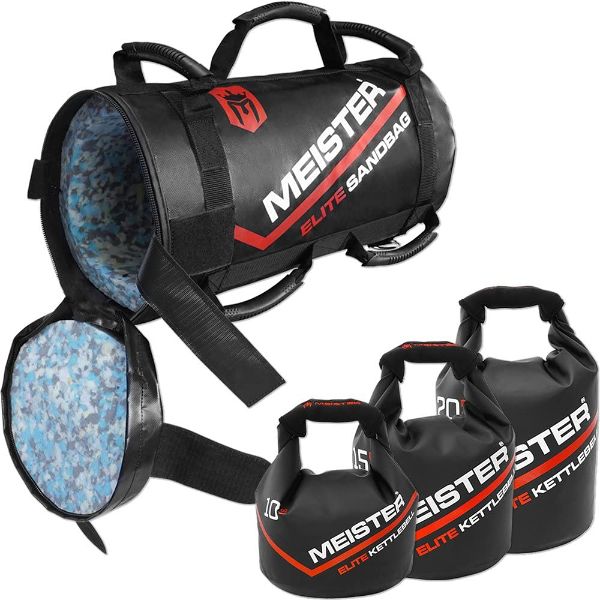 The downside is this piece of gear maxes out at 50lbs capacity, however, used correctly – with unilateral exercises, controlled reps, and HIIT workouts – this 50lbs may be all you even need.
At the price, this level of functionality (all free weight style grips and movements, additional kettlebells) is a great value and – used correctly – all you'll need for your home gym.
Highlights:

Great, hard handles, more similar to barbells and dumbbells
Convertible to 20lbs and 10lbs kettlebells

Best for: All in one home gyms for multiple training modalities (barbell and Olympic lifts, kettlebell training)
Pros:

Great handles, hard plastic, make them the best on this list
Foam wrapped co
Having kettlebells on the inside increases the possible exercises more than any option on this list
PVC outer material will work well for sandbags drags in grass areas.

Cons:

Low maximum weight (50lbs), and PVC outter is less durable long term than 1000D Cordura nylon – however, I've had my Meister sandbag kettlebell for 4 years and have had no issues

Price: $149
Materials (Outer, inner): Tough PVC outer material (water resistant), zipper + Velcro closure, rubber handles
Filler Bags Included: 3 x Kettle bell sandbag and filler bags in 10lbs, 15lbs, and 25 lbs removable to be used as their own kettlebells
Handle Setup: 8 thick solid core rubber handles with 2 top handles in vertical grip, 3 top and side handle horizontal grip, 2 side handles with diagonal grip, 1 horizontal grip handle end grip
Weight capacity: 10lbs to 50lbs
Where to buy for the best price: Get the best price and free shipping with prime for the Meister 50lb Elite Fitness Sandbag w/ Removable Kettlebells at Amazon.com
ROGUE FITNESS SANDBAG 2.0
The standard log like design with handles, upgraded with an awesome, with an integrated funnel filler bag that makes emptying, refilling, and adjusting loads much easier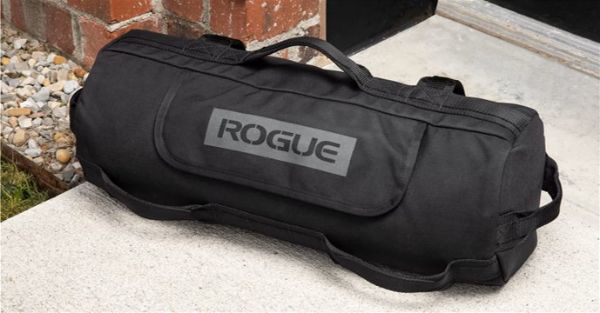 This updated sandbag combines the tested log-like shape, that is great for Crossfit and Olympic lifts, and is built with an integrated "funnel filler bag" – so there is no placing or removing bags for weight. To adjust weight, just unzip the opening and unroll the "funnel" to easily pour your fill of choice into the liner. Just pour in your sand and start your workout or un-Velcro, unzip, and pour out to adjust weight on the fly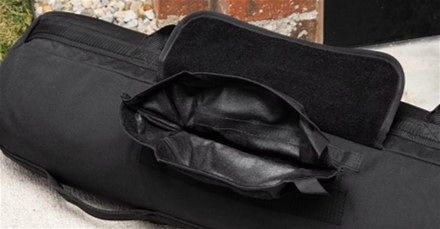 Integrated fill bag with zipper + Velcro closure allows you to fill up your bag without additional filler bags
Highlight: All in one bag, simply drag to the beach, fill, workout, empty, and go home
Best for: Crossfit, barbell style lifts, portable workouts (bring it empty, fill it, workout, empty it)
Pros:

All in one bag is quick and easy to fill, use, empty, and store.
3 year warranty

Cons: Lack of use of filler bags will result in a load that shifts more – however that instability adds extra injury preventing benefits to training
Price: $155
Materials (Outer, inner): 1000D Cordura nylon (tear, abrasion, and water resistant)
Filler Bags Included: Not necessary – filler bags are integrated
Handle Setup: 7 handle setup – 2 vertical side handles, 2 horizontal side handles, 2 horizontal end handles, and a single top handle
Weight range: 40lb, 80lb, 150lb
Dimensions:

Small – 19.5" long x 7" diameter (when filled). Approx max weight : 40LB sand / 16LB crumb rubber mulch*

Medium – 24" long x 9" diameter (when filled). Approx max weight: 80LB sand / 32LB crumb rubber mulch*
Large – 35" long x 10.5" diameter (when filled): Approx max weight: 150LB sand / 60LB crumb rubber mulch*

Where to buy for the best price: Only available at Rogue Fitness online
Also Check out: The Rogue Fitness Sandbag 1.0 which uses the standard "filler bag + sandbag" setup in the standard (and practical) log shape with a 7 handle setup
Best functional, practical, and heavy lifting bag for developing "strongman strength"
Taking inspiration from stones and stone molds used by competitive strongmen, the strong man bag is a durably built and simply designed training tool that will build real, practical strength. These bags accommodate the largest weight you'll be able to find in a sandbag – 400lbs. The simple yet tough construction of 1000 denier Cordura makes for a solid, portable piece of training gear that is built to last.
Highlight: The best portable strongman training tool you can buy
Best for: Pure, functional strength training
Pros:

Great for practical, functional, real-world strength and training
Simple design translates to intense durability and a lifetime of use
More portable than stones and concrete molds, for those that need tools for "strongnman" training

Cons:

No handles, so training specific movements (cleans, curls, back squats) can be tough
Round

Price: $95 to $165
Materials (Outer, inner): 1000 denier Cordura nylon
Filler Bags Included: No filler bag, but lined interior will decrease sang leakage
Handle Setup: No handles
Weight range: 100LB, 150LB, 200LB, 250LB, 300LB, 400LB bags
Dimensions: 16" diameter on all with heights as follows

100LB – 7.5″
150LB – 11.5″
200LB – 15.5″
250LB – 19.5″
300LB – 22.5″
400LB – 36″

Where to buy for the best price: Only available at Rogue Fitness online
ROGUE FITNESS 3 IN 1 SANDBAG
A tough sandbag with adaptable handles that allows this bag to be used in multiple ways for multiple workouts – in a "feedsack carry" (across the back and over the shoulders, a backpack (for rucking), a drag bag, and a standard sandbag for improvised Olympic lifts. Additionally, this bag has the option of a single large filler bag or multiple filler bags that are smaller, like the Rogue Brick Bags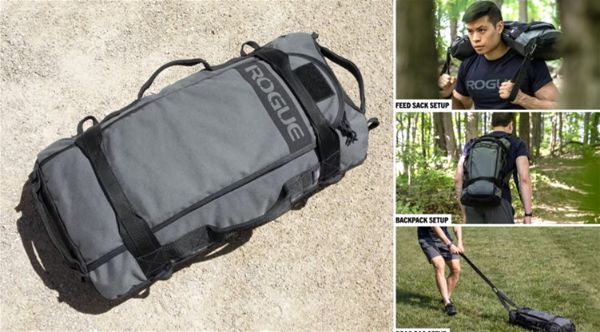 Exercises incorporating feed sack carries are great for functional, practical strength as they incorporate moving weight from the ground to overhead and loaded walking.
Drags – on grass – are great for building dynamic power and training the lower legs for knee and ankle stability as well as knee and ankle injury resistance (checkout the kneesovertoesguy account on Instagram for ideas on that).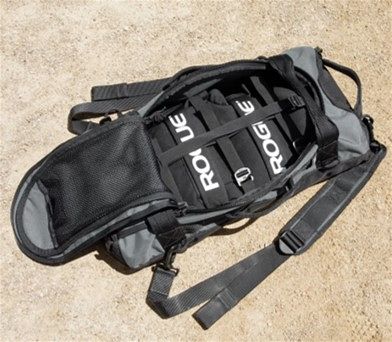 Rucking, or carrying weight in a backpack over distances common for running, is an excellent for of more intense cardio than running that all builds a stronger frame, trains the core, and burns more calories than running.
This is all in addition to using the sandbag as a standard log like sandbag for Olympic lifts and Crossfit style HIIT
Highlight: An all in one, functional gym – allowing you to do lifts, rucking, drags, and functional carries with a single sandbag
Best for: Home gym athletes that want a single piece of gear and are likely to incorporate "movement" leg workouts, like rucking, long distance carries, and drags.
Pros: The most versatile sandbag gym on the market
Cons: Max weight of 80lbs
Price: $165
Materials (Outer, inner): 1000 denier Cordura nylon outer
Filler Bags Included: No, however the bag is compatible with traditional filler bags or smaller and equally practical brick bags
Handle Setup: 2 x removable shoulder straps, 2 x removable "feed sack straps", 2 side handles, 1x top handle, 1x bottom handle, and 2 x paired handles across the front
Weight range: Max capacity of 80lbs
Where to buy for the best price: Only available at Rogue Fitness online
Similar Options to consider: The GORUCK Rucker workout backpack + Rogue Fitness Filler Bags or Brick Bags.
Whereas most of these great sandbags use fabric handles, which can become very taxing on the hands and grip after 10,000 kettlebell swings, this Garage Fit workout sandbag uses 6 rubber handles under fabric, for a better grip, more akin to barbells and dumbbells.
Highlight: Soft rubber handles and a tough build add up to a bag that is easy to use for functional lifts and strength training
Best for: Normal free weight lifts, Crossfit
Pros: Fabric wrapped rubber handles mean your hands won't give out before the rest of your body
Cons: Lacks a cover for zippered port
Price: $80 to $110
Materials (Outer, inner): Cordura nylon outer
Filler Bags Included: Yes, the 120lbs sandbag includes 3 x 40lbs sandbag filler bags, and the 60lbs bag includes 3 x 20lbs bags
Handle Setup: 6 rubber under fabric handles with 2 handles on top, 2 handles on a single side, and 1 handle on each end
Weight range: 25lbs to 200lbs
Dimensions: 36" x 18"
Where to buy for the best price: Amazon.com
The standard log style sandbag design for cheaper than the rest.
Just enough handles (6, 2 side and 2 end standard handles and 2 "feed sack" handles) to get the job done and built with the standard, tough materials used by the other brands. If you want a good, cheap bag to get started in sandbag training, this is it.
Highlight: Cheap, simple, durable
Best for: Standard sandbag training recreating barbell movements, "feed sack" carries (over the shoulder)
Pros: Cheap, tough
Cons: No padded handles, fewer handles than the other, more expensive brands
Price: $52 to $100
Materials (Outer, inner): 1000 denier Cordura nylon and YKK zippers
Construction: Double stitching at all stress points
Filler Bags Included: Filler bags optional, sold in 10lbs, 20lbs, and 40lbs increments
Handle Setup: 4 "standard handles" with 2 vertical handles on the side of the bag and 2 handles on the end of the bag running horizontally, with 2 "feed sack handles" on the ends as well, for over the shoulder "feed sack carries."
Weight range: Maximum of 60lbs for small bag and 100lbs for large bag
Dimensions:

Small Bag: 25″ long x 8″ wide, fits up to 60lbs of weight
Large Sandbags: 30″ long x 10″ wide, fits up to 100lbs of weight

Where to buy for the best price: Fringe Sport Online
SANDBELLS
Kettlebells are some of the simplest and most effective training tools and training modalities. With a fraction of the weight, and the right handle placement, you can get in an insanely tough fat burning workout or build tough, functional strength with a single kettlebell.
Need inspiration? Try our kettlehell workout to be proven wrong. If you need more than one workout to prove to you the power a single kettlebell could have in your fitness plan, consider trying our 100 kettlebell swings a day challenge or the 10,000 kettlebell swings challenge for a tighter core and bullet proof back, glutes, and shoulders.
For now, check out the best sandbag kettlebells on the market.
BRUTE FORCE KETTLEBELL SANDBAG
BEST SANDBAG KETTLEBELL
Another tough, portable kettlebell option with a solid rubber handle and tough build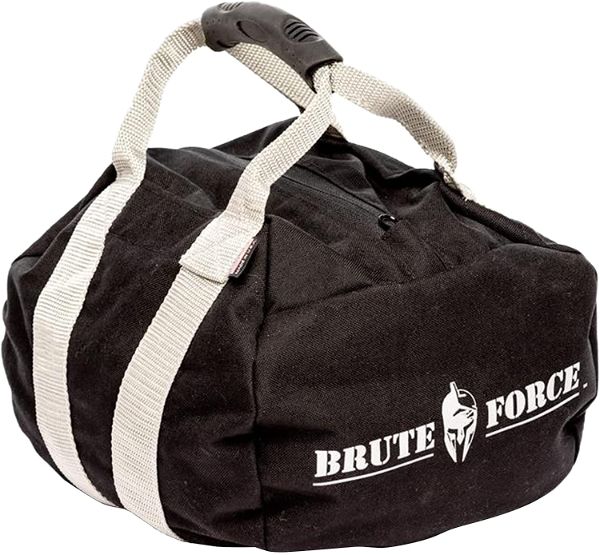 Highlight: Tough materials in build, solid rubber handle
Best for: Home gyms and travel HIIT workouts
Pros: Tough
Cons: Won't handle being thrown well
Price: $80
Materials:

1000D Cordura Nylon outer, double layer build
Contoured rubber handle
YKK Zippers

Filler Bags Included: Integrated filler bag with double Velcro enclosure – means quick emptying and refills with no spills
Handle Setup: Single, over the top, kettlebell style handle
Weight range: 45lbs maximum capacity
Where to buy for the best price: Buy the Brute Force Kettlebell Sandbag at Amazon.com for the best price and free shipping
LUDIS IMPERIUM ADJUSTABLE KETTLEBELL SANDBAG
A great, portable kettlebell option with a solid rubber handle (necessary for a good kettlebell workout) and max weight of 45lbs. Integrated filler bag makes emptying and refilling quick and easy and perfect for travel and portability.
Highlights:

Max weight of 45lbs is a perfect kettlebell weight
Solid, functional handles
Tough, Cordura nylon construction
Integrated filler bag, prevents spills, protects zippers, and makes quick emptying and refilling easy

Best for: Portable (travel friendly) kettlebell workouts
Pros:

Solid handle
Ample weight (at 45lbs)

Cons:

WILL NOT withstand being thrown or slammed (but most of the bags on this list won't)

Price: $49
Materials: Tough Cordura nylon outer material. Integrated filling bag closes with Velcro + zipper enclosure.
Filler Bags Included: Integrated filler bag systems requires no additional filler bags, protects zippers, and avoids sand spills (when working out indoors). Integrated filler bag closes via Velcro enclosure and roles down into bag, then bag is zipped to be fully secure
Handle Setup: Single, over the top, kettlebell style handle made of solid rubber
Weight range: Up to 45lbs
Where to buy for the best price: Buy the Ludis Imperium Adjustable Kettlebell Sandbag at Amazon.com for the best price and free shipping
MOST TRAVEL FRIENDLY SANDBAG
Highly portable, very simple, extremely versatile
This simple and practical tool takes the functionality and possibilities of a kettlebell, and combines it with the ease and portability to create a tough and durable fitness tool thanks to Meister.
This kettlebell can be filled with sand or water, making it great for a travel workout, at home, in a hotel, or at the park as it is easy to fill. Available in 10bs, 15lbs, and 20lbs for an insanely great price.
Don't think 20lbs is heavy enough for you? Try our kettlehell workout and I guarantee you'll be proven wrong. 20lbs is more than enough to burn fat and built Spartan like strength with the right HIIT workout.
**
Also consider saving money and improving your kit by purchasing the Meister Elite Fitness Sandbag with 3 Removable Kettlebells
Highlight:

Ultra portable – compact and stows into the bottom of a backpack
Quickly filled with sand or water
Very cheap

Best for: Travel workouts
Pros:

Can be filled with sand or water
Functional and versatile – as kettlebell training is
Extremely portable – I've carried mine traveling for 3 years

Cons:
Price: $12 to $17
Materials (Outer, inner): PVC outer material, locking enclosure handle wrapped in a soft, neoprene handle wrap
Filler Bags Included: No filler bag necessary
Handle Setup: Single, over the top kettlebell style wrapped in soft, removable neoprene handle wrap
Weight range: 10lbs to 20lbs
Where to buy for the best price: Buy the Meister Elite Portable Sand Kettlebell from Amazon for the best price and free shipping

SANDBAGS WITH LIGHTWEIGHT OPTIONS
SKLZ SUPER SANDBAG HEAVY DUTY TRAINING (40LBS)
A cheap and budget-friendly bag with great, hard handles. Perfect for beginners thanks to its low weight and solid setup.
Pros:
Cons:
Price: ~$48
Materials (Outer, inner): Nylon outer
Filler Bags Included: Includes 4×10 filler bags
Handle Setup: 6 handles with 1x handle on each end and 2x horizontal handles on each side
Weight range: 40 lbs max weight
Dimensions: 12.5″ x 24″
Where to buy for the best price: Amazon
ULTRA FITNESS GEAR SANDBAGS (25LBS)
Another tough and tiny sandbag with a size and handle placement that makes it great for pseudo kettlebell and dumbbell workouts.
Highlight: Tough build and light max weight would make a good kettlebell
Best for : Single arm/ leg exercises, endurance training, using as a weight in a backpack for rucking
Pros:

Heavy duty build and materials
One year warrant

Cons:

Light weight (25lbs)
Only 5 handles – missing a common endcap handle

Price: $55
Materials (Outer, inner): 1600 denier Cordura nylon, YKK zippers
Filler Bags Included: Single, PVC coated 25lb fill bag included
Handle Setup: 5 handle setup with 1x end handle, 2 "lower" horizontal side handles (for barbell grip) 2 side handles centered on opposite side (for kettlbell grip)
Weight range: Maximum weight of 25 lbs
Where to buy for the best price: Amazon
BRUTE FORCE SANDBAG
This tough bag functions best at the 25lb mark and has plenty of handles for a slew of strength training movements
Best for: Lightweight strength training and endurance training
Pros: Compact size
Cons: Some users did report tears after 4 months of use under heavier (~50lbs) loads
Price: $120
Materials (Outer, inner): 1000 denier Cordura nylon outer, seat belt reinforced handles
Filler Bags Included: Yes
Weight range: 25lbs to 75lbs
Where to buy for the best price: Amazon
TITAN FITNESS PRO STRONGMAN SANDBAGS
A range of bags with an even smaller sandbag option for beginners, mobility, and versatile use, ranging from 5lbs to 15lbs and extremely heavy bags built for 125lbs to 200lbs
Best for: Beginners, mobility training, strength endurance
Pros:

Light weight
Built of tough materials
Free shipping
Ample handles (6) for every possible grip and carry

Cons:

You will likely need another bag for pure, hgih weight strength training

Price: ~$51
Materials (Outer, inner): Double layered 1050 denier Cordura nylon
Filler Bags Included: Includes double velcro, leak free filler bags
Handle Setup: 6 handles made from seat belt style nylon webbing
Weight range: Ranging from 5lbs to 25lbs to 125 to 200lbs
Where to buy for the best price: Though they're available on Amazon with free shipping, get the best price at Titan.Fitness.
YES4ALL SANDBAGS
Highlight: HUGE 200lbs capacity!!!
Best for: Strength training and heavy lifts
Pros:

Heavy
Handles in all of the right place

Cons:

At this weight, simple webbing handles may be painful at first and take some time to adjust to

Price: $84
Materials (Outer, inner): Cordura nylon, YKK zippers
Filler Bags Included: Yes
Handle Setup: 7 handle setup for all possible grips
Weight range: 125lbs to 200lbs maximum
Where to buy for the best price: Amazon
REP FITNESS SANDBAG
Large, heavy bags at a great price with rivet reinforced handles
Best for: Heavy lifts, home gyms, and cheapskates (like me)
Pros:

Tough, riveted and seatbelt reinforced webbing handles
1 year warranty
Light bags (5lbs to 25lbs) and heavy bags (125lbs to 200lbs)
Water resistant fabric and construction
1000D Cordura nylon fabric
Great Price

Price: $40 for 5lbs to 25lbs bag, $90 for 125lbs to 200lbs bag
Materials (Outer, inner): 1000 denier Cordura nylon
Filler Bags Included: Yes
Handle Setup: 7 handle setup for all possible grips and carries
Weight range: 5lbs to 200lbs, depending on the bag you choose
Where to buy for the best price: Only available at repfitness.com

OTHER SANDBAG OPTIONS
ROGUE FEEDSACK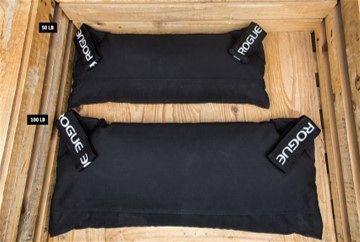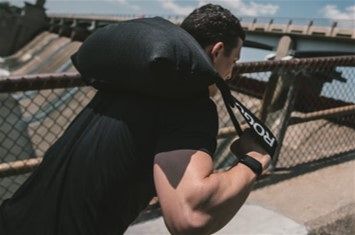 Where to buy for the best price: Only available at Rogue Fitness online
GORUCK RUCKER + FILLER BAGS
Filled with alternate filler bags such as the Meister Sandbag Kettlebell or Rogue brick bags, the rucker becomes a tough sandbag designed for abuse.
With top and side handles designed to withstand 400lbs+ of strain, this backpack will stand up to any sandbag training you throw at it and doubles as a great daypack and travel pack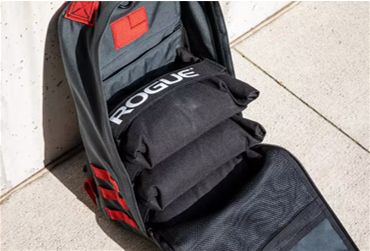 HYPERWEAR SANDBELL
For a smaller sandbag option, the Hyperwear sandbell is a great option. Soft neoprene wrapped sandbags in increments of 2lbs to 50lbs make for great home workout equipment pieces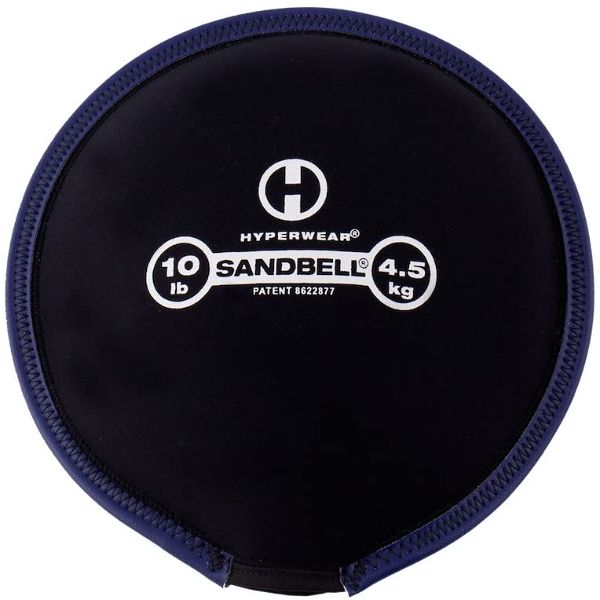 ROGUE BRICK BAG
A compact version of the traditional sandbags, still loadable and adjustable, available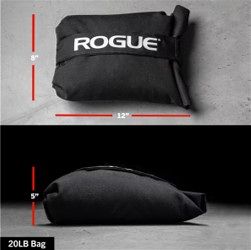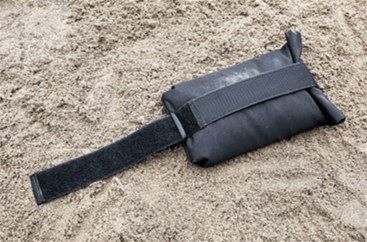 OTHER SANDBAG ACCESSORIES
CRUMB RUBBER FROM ROGUE FITNESS
The industry standard filler material for sandbags used in commercial gyms and is a an efficient way to fill and achieve a durable bag with a rigid feel. Note that this crumb rubber is 40% as dense as an equal amount of sand by weight

HOW TO IMPROVISE BARBELL MOVEMENTS WITH A SANDBAG
To recreate the essential barbell movements, such as squats, cleans, presses, and deadlifts, simply make sure your sandbag has 1) a long, log-style shape and 2) at least 2 handles on the top of the nag that run laterally and can be grabbed as you would a barbell.
After you have the essential boxes checked – of proper shape and handles – simply grab the handles as you would a barbell and get to work.
For more info, check out our tutorials for each essential sandbag exercise here

EXAMPLE SANDBAG WORKOUTS
Best Workout: Full Body – Sandbag Andy
Complete the entire circuit for time (as fast as possible)
25 Sandbag Thrusters
50 jump tucks (clear 24 inches)
75 Sandbag Deadlifts
1.5 Mile run (or 11 minute run)
75 Sandbag Deadlifts
50 jump tucks (clear 24 inches)
25 Sandbag Thrusters
Best Workout: Upper Body
4. 6 Rounds for Time
Every 6 minutes for 6 rounds
20 Pull Ups
20 Sandbag Push Presses
20 Dips
20 Bent Over Sandbag Rows
20 Push Ups
20 Sandbag Thrusters
Best Workout: Lower Body
4 Rounds for Time
400 Meter Run
72 Double Unders
21 Sandbag Swings
15 Goblet Lunges Per Leg (Sandbag Held on Chest in Front Rack)
9 Burpee Broad Jumps (Burpee + Long Jump for Distance)
Rest 2:00
Sandbell Workout
Perform all movements single armed with a kettlebell grip
20 Kettlebell Deadlifts (two handed)
20 Sumo Deadlift High Pulls (two-handed)
20 Kettlebell Swings (two-handed)
10 Kettlebell Swings (right hand)
10 Kettlebell Swings (left hand)
10 Clean and Presses (right hand)
10 Clean and Presses (left hand)
Visit our "kettlehell workout page" for an exercise by exercise tutorial

BEST SANDBAG WORKOUT RESOURCES

SANDBAG FAQS
What exercises can you do with a sandbag?
Just about any exercise that can be done with a barbell (squats, cleans, presses, deadlifts, and rows), a dumbbell (curls, extensions, compound movements, manmakers) or a kettlebell (swings) can be done with a good sandbag, as long as the sandbag has handles in the correct places. Ultimate you can workout the entire body, for strength and stamina, with this one functional training tool
Visit our sandbag training blog to learn more about the exercises you can do with a sandbag and how to do them.
How effective are sandbag exercises?
Sandbag training is extremely effective and possibly more than traditional free weights training, depending on your goal. Because the weight of a sandbag is more difficult to adjust and has lower maximum weight and maximum levels of resistance, we must optimize our workouts (for maximum effectiveness) by incorporating High-Intensity Interval Training (HIIT) by adjusting rest periods, repetitions per set, and the order in which we do our exercises.
As a result, the instability of the load (due to the shifting sand as we lift), the versatility of movements we can do with the bag, and using HIIT style workouts is extremely effective at building a functionally strong, practical body that is conditioned for stamina, strength, and injury resistance.
Is a sandbag workout a good workout?
If you use a sandbag for the core workout movements – squats, cleans and presses – built into a HIIT workout structure, a sandbag workout is as effective or more effective than a traditional workout.
What weight sandbag should you buy? How much weight should I start with?
Aim for a sandbag with a maximum weight limit close to 2/3 to 3/4 of your bodyweight for well conditioned athletes, and 1/2 your bodyweight for those that want less intensity. Also feel free to start with 1/4 of your bodyweight with a plan to start slowly and switch to a heavier bag later, when you are ready. Lighter bags are also more suited to endurance training
What is the best material for a sandbag?
1000D cordura nylon outer with YKK zippers and a separate internal lining, filler bag, or integrated filler bag system are the best materials for a sandbag
Is a sandbag better than a barbell?
A sandbag is as good as a barbell, but each tool has its own strengths in training. Barbells have the benefit of being able to easily adjust weights in addition to the predictable rigidity of the load will allows for methodical progression and increase in weight. Sandbags have the benefits of being very portable and very cost efficient while also being a very dynamic piece of workout equipment – with shifting loads and versatile use – that naturally trains the body in movements and directions less commonly trained in barbell training but valuable for injury resistance and functional strength
What to fill a sandbag with?
Sand: Clean, dry sand, available at a hardware store for ~$5 for a 50lbs bag, or at a beach
Pea gravel: Available at any hardware store and prevents "settling" that may come from bags overpacked with sand
Crumb Rubber: Generally upcycled from old car tires, this chipped rubber comes in granules 1mm to 3mm in size and is less dense and less heavy than sand, but also does not settle and allows for a more resilient load. Rogue Fitness is the best online resource for crumb rubber, available here.

More Great Articles to Help You Get Fit