During most adventures, whether hiking or wandering, comfy feet can make or break how enjoyable an adventure. Finding the best socks for rucking, hiking, or travel in general not only keeps your bag lighter but keeps your feet comfier and funk free. The perfect pair of socks will keep your feet dry, avoid blisters, can be worn for days with minimal issues, and are neutral enough for a ruck, a hike, or just a day walking around town.
Unfortunately, with the plethora of sock options from deceitful cotton to funk harboring synthetic socks and overpriced Merino wool pieces, finding the right pair – balancing price, quality, and performance – can be tough. Lucky for you, I've already ruined feet doing the research and found the best options for you.
Read on to discover the most versatile and, ultimately the 5 best socks for rucking, hiking, and travel. All Merino wool, tough enough to last the adventure, and neutral enough to be worn on the trail or in daily life.

CONTENTS OF THE 5 BEST SOCKS FOR RUCKING, HIKING, AND TRAVEL

WHY YOU NEED A GOOD PAIR OF SOCKS FOR RUCKING, HIKING, AND TRAVEL
An excellent pair of hiking boots or travel footwear mean nothing without the right pair of socks. Socks perform the major functions of adding a little extra cushion, wicking moisture away from the feet to keep them dry (and avoid blisters) during long walks, treks, and rucking. For these reasons, my favorite wool socks are not only great for trekking and rucking, but they also keep my feet comfortable, dry, and smelling better than they otherwise would – even after days of wear.
Pick the right pair of socks, and you won't even notice you're wearing them. Pick the wrong pair of socks, and you'll end up with clammy feet, hotspots, and tender points that'll make you avoid rucking and hiking for a while.
So what do you need in a pair of socks?
Merino wool and durability.
That's it.
Merino wool not only keeps your feet warm when it's cool out, but it wicks away moisture (keeping your feet dry), resists odor, and maintains that cushy loft for longer.
Why not cotton socks?
If you have a choice, under no conditions, wear cotton for long rucks and hikes, or even travel. Cotton socks definitely aren't the best socks for rucking, extended wear, or travel because cotton doesn't wick away moisture, the sweat gets trapped and collects in the sock, just wrapping your foot in a nasty, sweaty, wet blanket that acts as a cheese grater on your feet for the duration of your walk that is just asking for blisters.
---
Why not synthetic socks?
If you can't afford to pick up a pair of merino wool socks, synthetic socks are an option. Synthetic socks still wick away sweat, but they don't resist odor well and don't maintain that cushy loftiness nearly as long as merino wool.
---
Thanks to the odor resistance of wool, I've been able to wear the same pair of wool socks for a few days before they really started smell. In the same conditions, synthetic socks start to stink just after a day and feel pancake thin as the loft leaves.
Bottom Line: Invest in at least one pair of mid-weight merino wool socks to keep your rucking comfortable
---
This article may contain affiliate links

COMMON TRAITS OF THE BEST WOOL SOCKS FOR RUCKING, HIKING, AND TRAVEL
Made of Merino Wool: Fine Merino wool will feel better on your feet than regular or rag wool
Light to Midweight: Midweight balances insulation and cushioning. Heavyweight will make your feet too hot and sweat, and with extremely lightweight socks, holes will wear through the heels and balls of the feet.
Trusted Brand Known for Durable Gear: Reviews should rave about durability and how comfy they are on extended walks or multiple days of use without washing
Optional – Nylon Blended for Durability: If you want durability, aim for a pair of socks that blends the durability of nylon with the technical nature of merino wool into its socks

THE 5 BEST WOOL RUCKING SOCKS
Read on to discover why these 7 pairs of socks are the best to keep your feet dry, comfy and spry through rucking, hiking, and travel


People socks are the unsung hero of merino wool socks for pretty rucking, hiking, travel, and pretty much any activity and cheap considering what you get, making them an excellent value.
The material blend makes for a near-perfect sock, so good the pairs I've worn have been my favorite over 2 years of travel and have been comfortable trekking everywhere from Everest to Patagonia. The 71% New Zealand Merino Wool is a sock, sweat-wicking, and insanely comfortable, and the 21% nylon adds durability (hence why I've traveled with only 2 pairs over the 2 years). In my experience the socks resist order insanely well after multiple wears without washing, stay lofty and cushy over miles, and have just enough cushioning to keep your feet comfy
The People Socks company is a small, direct to consumer socks manufacturer that keep things simple by only manufacturing a select few types of socks in the US with high-quality materials. If you're looking for the best wool socks for rucking but you're on a budget, I highly recommend People Socks
---
Bottom Line: Durable, comfy socks, great value. Two pairs will last during a trip around the world
Price: ~4 for $38 on People Socks site, but
Materials: 71% Merino wool, 21% Nylon, 7% Poly,1% Spandex
---
Which People Socks are right for you?
For trekking and lots of walking, I recommend a pair of the straight forward crew socks from People Socks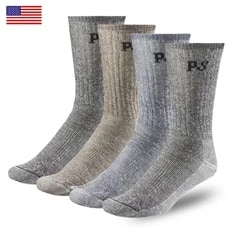 For a more versatile option while traveling, consider getting the No Show Athletic Socks from People Socks.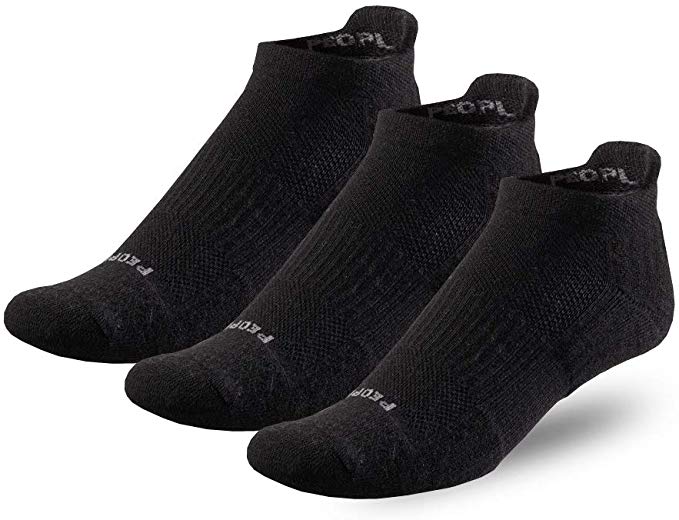 These no-show socks are cut well enough to fit any style of shoe and still give you all of the same awesomeness (comfort, odor resistance, sweat-wicking properties) for a great price.
Click here to see all of People Socks' styles and colors

Made in Vermont, quality true to the brand name, and a lifetime guarantee makes Darn Tough socks a great option. A Merino Wool and nylon blend gives exactly what we're looking for, dry, comfortable feet (from the Merino Wool) plus durability and long life (from the nylon). All of this comes from a trusted socks maker, and Darn Tough unconditionally guarantees it's products for life.
---
WHICH DARN TOUGH SOCKS SHOULD YOU GET?
The Darn Tough Hiking and Trekking Collection
If you're walking a lot, these hiking and trekking socks deliver comfort and medium to heavyweight cushion in some fun colors in no show length and crew sock length.
The Tactical Boot cushion sock from Darn Tough delivers a balance of comfort, performance, and durability, perfect for a dedicated rucking and hiking sock. 62% Merino wool gives us the performance we're looking for, and 36% nylon gives the durability to survive hard use.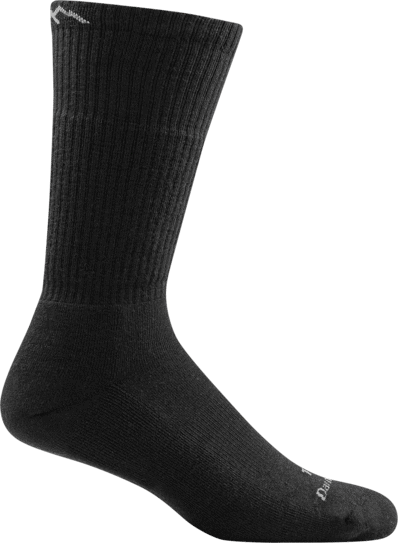 62% Merino Wool 36% Nylon 2% Lycra® Spandex
Made in the USA (Vermont, to be exact)
---
For a more versatile option, I love the T4016 Tactical No Show Cushion from Darn Tough. These socks are durable, resist odor, and low profile enough to wear with sneakers – pairing them with an average pair of good travel shoes will have you ready for a long day of walking.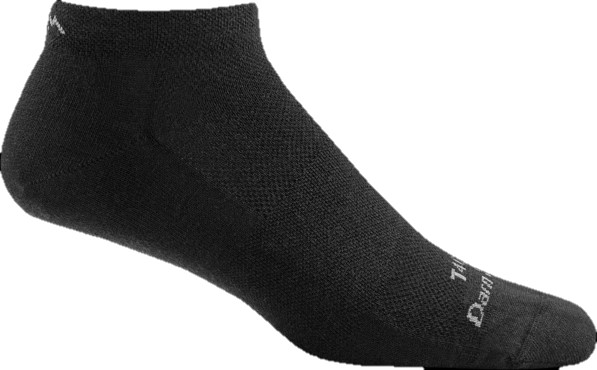 Materials: 62% Merino Wool 36% Nylon 2% Lycra® Spandex

Injini's "toe socks" are great options for keeping your feet fresh. Even if you're not wearing toe shoes like the Vibram Five Fingers, wrapping your toes individually prevents skin on skin contact, which prevents blisters in the long haul. Additionally, this design helps the sock hug the foot better than normal socks, keep the socks from moving, and reducing friction and blisters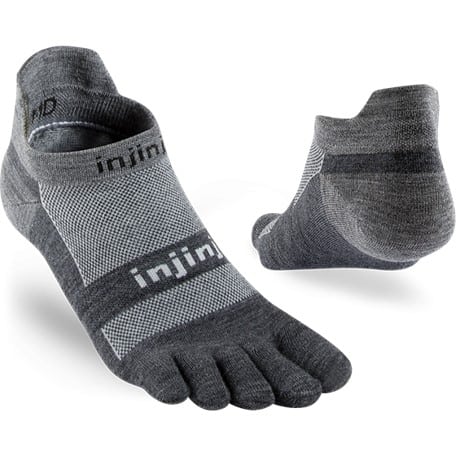 In my experience with Injini's "toe socks" the way, the sock hugs foot makes for less movement around some of the foot's striking points (ball of the foot, midfoot) making for less friction where your foot touches the ground the most, less risk of blisters, and more comfort.
For those that enjoy "doubling up" their socks, to reduce friction with the shoe and wick away more sweat, the Injini toe socks are a great option to wear closest to the skin because it hugs the foot better and moves less.
---
WHICH INJINI SOCKS SHOULD YOU GET?
Any of Injini's NuWool line are great options, ideally the midweight socks for performance and durability in all conditions.
NuWool is Injini's own Merino wool sourced from Australia and used in the entire NuWool line to deliver soft, sweat-wicking, odor-fighting, high performing socks.
---
For everyday wear, the Outdoor Original Weight Micro NuWool socks from Injini are an excellent option, as they have all of the performance we want for hiking and rucking, with a low cut that can be worn with sneakers on the daily and a weight that makes them comfortable and durable enough for frequent wear.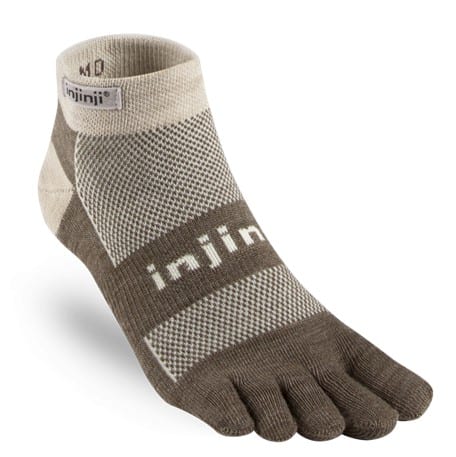 43% NuWool™ (Australian Merino Wool) 43% Acrylic, 12% Nylon 2% Lycra®
---
For hiking, trekking, and rucking, the Outdoor Midweight Crew NuWool is perfect and delivers the same performance as the no-show, but with a higher top cut for hiking boots, all made with the Injini NuWool Australia sourced Merino Wool. Perfect for hiking, backpacking, and running.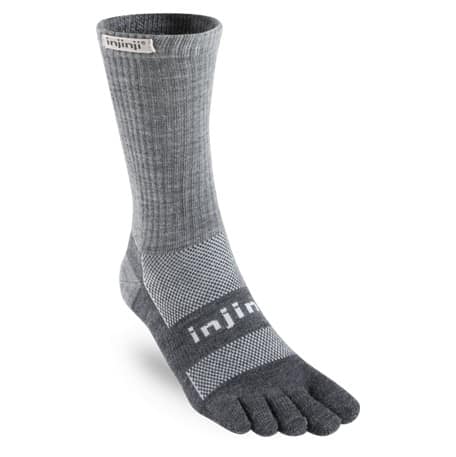 43% NuWool™ 43% Acrylic, 12% Nylon 2% Lycra®

The REI Coop brand midweight wool socks are another jackpot that delivers solid quality and performance at a reasonable price. For a long trip, two pairs are enough to get you through. Lifespan and durability are good, the socks maintain their loft and softness between washes much longer than cotton and synthetics, and the price is right at ~$18.
---
WHICH REI COOP WOOL SOCKS SHOULD YOU GET?
Generally, the midweight hiking socks are the best option for hiking, rucking, backpacking, and travel, delivering the cushion and sweat-wicking we want, but without insulating so much as to be uncomfortable.
---
The quarter length REI wool hiking socks are perfect for travelers and versatile wear because they're high enough to wear with low top travel boots, and having less fabric makes them easier to wash and quicker to dry.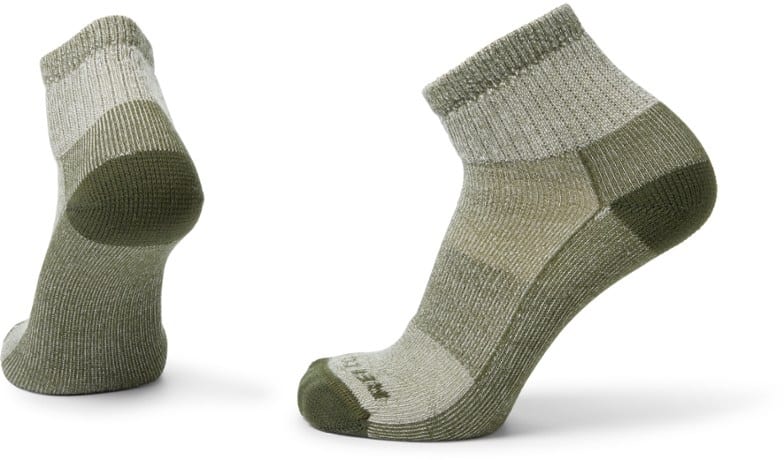 70% merino wool/29% nylon/1% spandex
---
For hiking and trekking in the high top, opt for the REI midweight wool crew socks that deliver the same function in an appropriate length.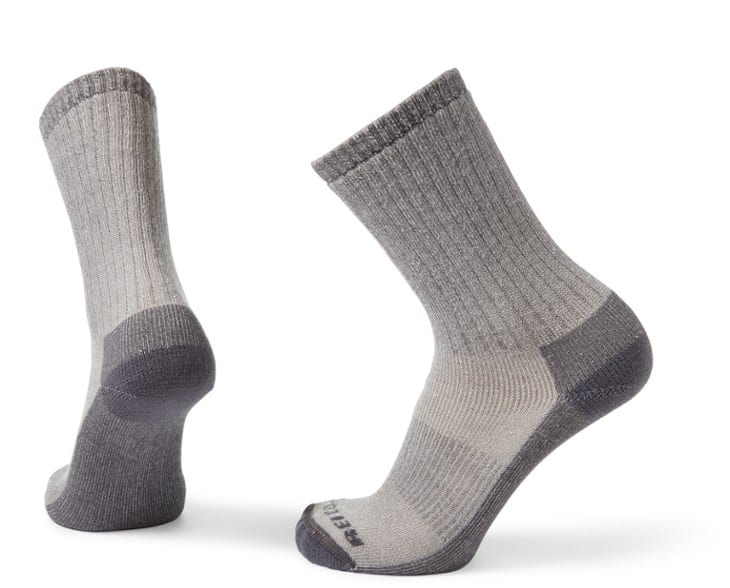 70% merino wool/29% nylon/1% spandex

Smartwool is a well-known name among wool brands, and with good reason. A wide variety of options, high-quality wool, and good construction make these a solid option.
However, there is an interesting tradeoff with the Smartwool socks I've tested. Though these socks perform extremely well and better than most wool socks, the lifespan feels shorter. When I'd reached the point of a hole in my Smartwool socks, my wool People Socks were still going (and still are). Expect fantastic performance from Smartwool with a tradeoff of a shorter lifespan, but the 100% satisfaction guarantee allays my worries about this tradeoff just as does the "Made in the USA" badge of quality
---
WHICH SMARTWOOL SOCKS SHOULD YOU GET?
The midweight "PhD" hiking socks will be perfect for rucking, hiking, trekking, and travel in most temperatures and give the loft and cushioning we need to make miles of walking easy.
PhD® Pro Outdoor Medium Hiking Crew Socks are a great option as a dedicated hiking and trekking sock for rucking, hiking, and adventurous travel. Made in the USA.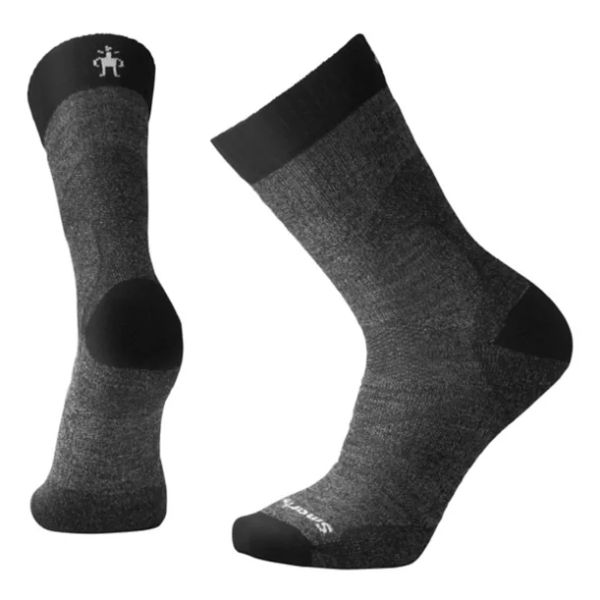 ---
The Smartwool PhD Pro Approach sock is a great sock for everyday wear with a low cut and versatile fiber weight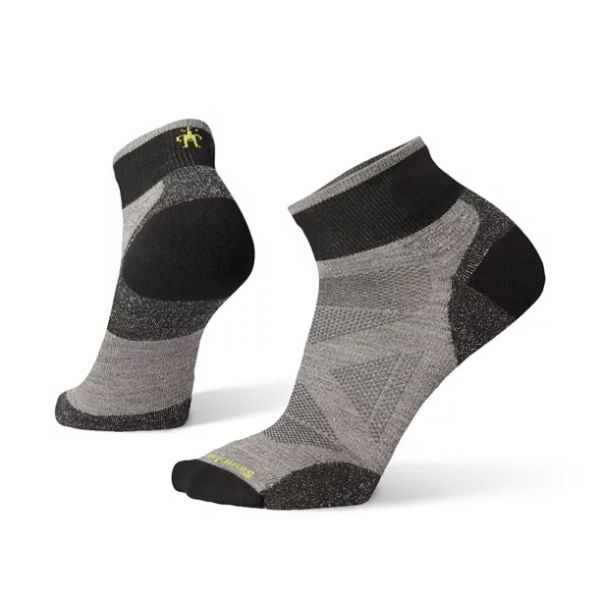 52% Merino Wool, 45% Nylon, 3% Elastane, made in the USA

Fox River is a brand trusted for tough, rucking ready socks by the tactical and military community, delivering some great options of durable wool socks made for rucking.
---
WHICH FOX RIVER SOCKS SHOULD YOU BUY
The Bilbao Medium weight crew socks are a tough pair of socks designed for the rigors of rucking and hiking made of 70% soft Merino wool and 29% stretch nylon adding toughness. The product is a high performing sock with equally high durability.