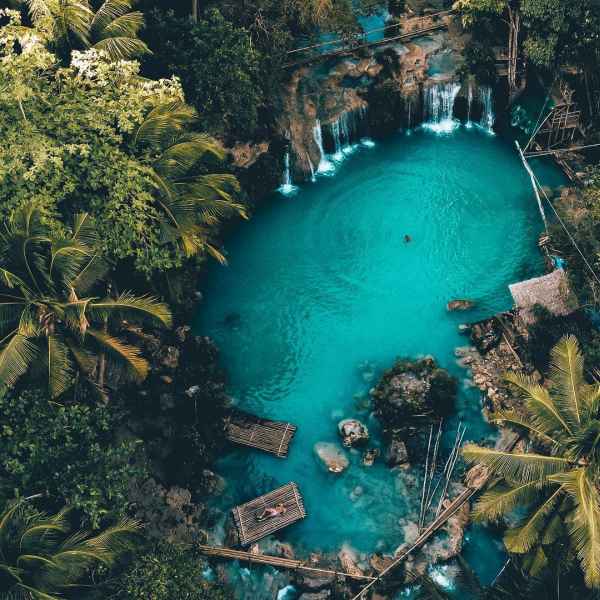 The Philippines: An unreal paradise of over 7,000 known islands, white sand beaches, and warm turquoise water. But as perfect as the Philippines are, the distance between these epic locations and a lack of airports or costly tickets make it seem not worthwhile to use your 2 weeks of vacation for this far off water world. I argue the opposite. With this Philippines itinerary for 2 weeks, you'll be able to see the best places on the most talked-about islands
Bohol, Siquijor, Cebu, and Palawan.
This is my itinerary for 2 weeks in the Philippines that left me sad to leave but more than satisfied

PHILIPPINES ITINERARY (2 WEEKS) CONTENTS

PHILIPPINES OVERVIEW
The Philippines is a nation of over 7,000 islands, off in its own sunny little corner, and influenced by Spanish and western culture since over 5 centuries ago. This mix creates a a warm people with language, food, and a way about them that simply feels different than Southeast Asia.
Though poverty (and dirt) are unavoidable in any of its big cities, the outskirts and far off islands have one of a kind experiences and landscapes that are worth the flight or ferry.
My advice for tackling the Philippines: look at the list of what the country has to offer, and pick a short list of what will make the journey worthwhile for you. If you can't decide, then this Phillipines Itinerary, 2 weeks in the south, will give you a satisfying taste of the best the county has to offer.
If you do know what you enjoy most during your travels, like snorkeling with fish or coral, diving, or just lounging on a beach, don't be afraid to eliminate going to some "top 10 Island" in order to stay in a place that has your perfect experience. For instance: El Nido is great for beaches and snorkeling, rock climbing, and comfortable accommodations, but it's waters are too shallow to make diving worthwhile (compared to Coron). On the other hand, Coron has amazing snorkeling and 12 different wrecks at diving and Freediving depth, white sand beaches like the Maldives, but land adventures and cheap yet classy accommodation is scarce. Read on for more details on each destination and prioritize accordingly

An Overview of a Philippines Itinerary for 2 Weeks
Day 1: Cebu City: Try Lechon and experience a Filipino meg Mall
Day 2: Oslob: Travel to Oslob (3 hrs) and plan to wake up early for whale sharks
Day 3: Travel to Dumaguete: After whale sharks, travel to Dumaguete and settle in
Day 4: Dive and Snorkel Apo Island (Day Trip): Take a day trip to snorkel or dive the impressive reefs and turtle territory of Apo Island
Day 5: Travel to Siquijor Island: Catch an early ferry to Siquijor and make your way to San Juan
Day 6: Siquijor (Beaches, snorkeling/diving, and motorbike cruises): Rent a motorbike and cruise between white sands beaches in a ring around the island
Day 7: Travel to Bohol: Take the 12:30PM ferry to Bohol and stay near Alona beach, and soak up the nightlife
Day 8: Bohol (Chocolate Hills and Tarziers): Rent a scooter and cruise through the "seas of rice fields" up to the Chocolate hills, stopping at the Tarzier sanctuary on return
Day 9: Boat to Cebu City, fly to Puerto Princesa, bus to El Nido: Travel day – boat to Cebut city, then fly to Puerto Princesa, and bus to El Nido
Day 10: El Nido (island hopping cruise): Book one of the island hopping tours around the many, pristine beaches near El Nido.
Day 11: Morning ferry to Coron: Take the 4 hour ferry to Coron, check in, go have a rooftop cocktail at the Hop
Day 12: Coron (Ultimate Island Tour): Take the Ultimate Tour, possibly the most satisfy day tour you'll ever go on
Day 13: Coron Alternate Island tour: Take one more tour based on your interests: ship wrecks, reefs, animal sanctuaries, etc. Or go SCUBA diving
Day 14: Depart for Manila by air or boat: Fly out, or boat out if you have the time and want to save money (note that boats leave on specific days for Manila, so plan accordingly)

DAY 1: ARRIVE INTO CEBU CITY – LECHON AND SHOPPING MALLS
In full honesty, Cebu City is dirty, loud, and the poverty is nearly depressing, so get out ASAP. But for the night you're there, you can sample a taste of Filipino culture by eating a little Lechon and visiting one of their intense shopping malls.
---
Lechon
The Philippines doesn't have a national dish…but if they choose one, I vote for Lechon! Seasoned and marinated whole pig, slow cooked until the meat is succulent and tender and crisped so that the skin is crunchy and crispy. Served by the 1/4 kilogram, with rice…and other stuff that's not nearly as good! It's a must try, and one of the highlights of Cebu City.
To try Lechon: Aim for Ayer's Lechon, CNT Lechon, or anywhere that your host suggests. Ayers Lechon was consistently my favorite
---
The Filipino Mega Mall Experience
Filipinos LOVE malls, that's clear the second you set foot into one. I personally got lost about 4 times. When I found a store that sold something I needed, I walked around the corner to price compare and it took 30 minutes to find my way back.
The Filipino shopping mall is so huge, and filled will all of the stores, brands, and layouts that I remember from the 90's that it must be experienced.
---
Shopping Malls to Hit in Cebu: Ayala Mall, SMT Mall, or the Robinsons Mall. Weary travelers on the long trail and craving a movie at the theater (you know who you are) should consider Ayala and a comfy movie at the huge cinema for $3.50 USD. Annnd you can buy food outside and bring it in. I may have purchase a carton of Cold Stone creamery ice cream and brought it into the theater.

DAY 2: GETTING FROM CEBU CITY TO OSLOB
Oslob's main draw is the opportunity to swim with whale sharks. Though it is a controversial activity, I did it and enjoyed it as I did a lot of research beforehand.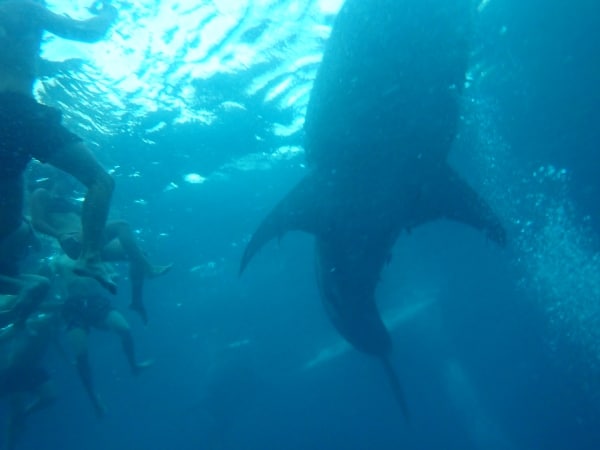 Ultimately I learned that the practices of the Oslob fishermen aren't nearly as damaging to the whale shark population as many bloggers suggest. What is having a huge effect on whale shark Numbers is poaching and commercial fishing operations, which Oslob is working to fight through their marine conservation programs and raising awareness.
My assessment is that Oslob's whale shark tourism model is in its infancy but has potential in the future to be a very sustainable model. You can read more about it in my article "Why I DID choose to swim with whale sharks in Oslob"
---
Getting from Cebu City to Oslob
Travel from Cebu city to Oslob is cheap and easy. You'll simply make your way via cheap taxi or Grab car to the south bus terminal. There, you'll head inside and proceed to the line of buses and jump on one labeled for Oslob. The driver and his assistant will be waiting on the bus to confirm the destination for you. Plan on the ride taking about 4 hours and costing ~$3 USD.
For more info read the section getting to Oslob in our article A Guide to Swimming with Whale Sharks on Oslob
---
WHERE TO STAY IN OSLOB: ANGLERS HUB AND RESORT
Virtually any accommodation with a non-horrendous rating will be fine, but based on my experience I recommend anglers hub and resort. Unfortunately, it is isolated being 2km away from the main town, but the managers helpfulness, the view of the ocean, the insight shop, and the quality the manager adds to your whale shark experience make it worth it.
The manager ensures to get you on the first 5 boats (first "interaction") of the day with the whale sharks
If you're only coming to Cebu for whale sharks, stay here
Manager offers transport to town for lunch and dinner
Solid beach view and helpful staff

DAY 3: OSLOB, CEBU: A MORNING OF WHALE SHARKS, AND DEPART FOR DUMAGUETE
---
THE OSLOB/CEBU WHALE SHARK EXPERIENCE
On arrival in Oslob, I highly recommend already having your accommodation booked as the city FILLS up with Chinese tourists.
Additionally, I recommend booking accommodation with a place that has good reviews for arranging the whale shark tour as . This gives the dual benefit of 1) guaranteed quality of your tour and 2) makes the logistics of being picked up and getting to where you need to be on the day of the tour much easier.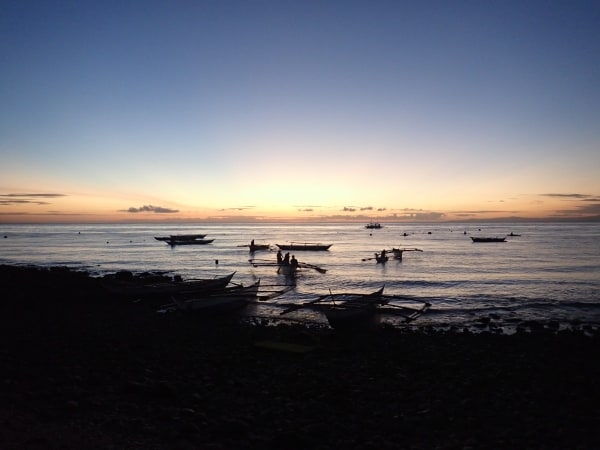 Tips for the Cebu Whale Shark Experience.
Be on the first boat – which will require arriving at about 5am to depart at 6:00am on the first boats
Respect the distance rule
Don't wear sunblock or sunscreen
Rent fins
Bring a dedicated waterproof camera and pair up with someone before, offering to exchange pictures
Take a Freediving course beforehand
For more information on booking and enjoying the experience of Swimming with Whale Sharks in Cebu
---
GETTING FROM OSLOB TO DUMAGUETE
To get from Oslob to Dumaguete you'll need to take a bus or tricycle from Oslob to Liloan Port and a ferry from Liloan Port to Dumaguete. The ferry leaves several times daily with plenty of room, but its best to get there early
---
GETTING FROM OSLOB TO LILOAN PORT IN SANTANDER
Bus: Stand on the side of the oceanfront road (Natilio Bacalsco Avenue) and flag down the buses enroute from Cebu City to (Bato/Santander/Liloan Port) (~150 Pesos / $3 USD). Be warned, the buses come by intermittently, approximately every hour, so you could be waiting a while.
Tricycle:If you're feeling impatient or short on time, flag down one of the sidecar mounted "tricycles", but expect to pay 300 pesos ($6 USD)
---
GETTING FROM PORT LILOAN, SANTANDER TO DUMAGUETE BY FERRY
The ferry from Liloan Port, in Santander (on the southern tip of Cebu island) departs roughly every hour and costs 70 pesos (~$1.50 USD) for the trip. The ferry will drop you at Sibulan port on Negros island. From there, take a tricycle the 10 minute ride to your hostel or hotel in Dumaguete.
If you're saving money or just getting social, I recommend staying at the Flying Fish hostel. The price is right, the beds are comfy, and the accommodations are very good compared to the options.
If you plan to do multiple days of diving, consider staying at a dive resort near Malatapay or Zamboanguita. This will give you quick access to the boats headed to Apo Island.

DAY 4: DUMAGUETE: TAKE A DAY TRIP TO APO ISLAND AND SCUBA DIVE, FREEDIVE, OR SNORKEL THE REEFS
Dumaguete is a college town that doesn't have a whole lot to offer, but what it does have is worth the trip.
---
DIVING APO ISLAND AND DUMAGUETE
The highlight of Dumaguete is taking a diving or snorkeling day trip to the marine sanctuary of Apo Island and is possible one of the most flourishing reefs I've ever seen and flooded with sea turtles.
Apo Island is a decent sized rock, covered in green and surrounded by underwater hills and cliffs covered with colorful coral and filled with fish and turtles. By night, a few hours after dark the entire islands power is turned off leaving a sky without light pollution and a true eco experience
I had an amazing time free diving Apo Island and it was one of the highlights of my Philippines trip. If you are near Dumaguete, don't leave without see Apo Island.
I met several divers that went on multiple dives over the course of a few days and did them all around Apo Island. Due to varying depths and currents in such a small spot, there's plenty of opportunity to see many different things.
The other dive sites are mostly on the coastline of Negros, near Dumaguete, and are all black volcanic sand. This means that on dive sites outside of Apo Island, you won't see the reef or flourishing sea life, but you may see the infrequent yet very interesting sea creature, but don't plan on seeing nearly as much as you will diving around Apo Island. If you only have one day in the water, go to Apo Island.
---
Dumaguete
In Dumaguete, I recommend staying at the flying fish hostel (~$13.50/night). The beds are very comfy, the place is clean and has a great style, and live music nights at the bar are a perfect end to the day.
Book the Apo Island day Trip for 1500 pesos (~$30 USD) directly through Flying Fish Hostel which includes a 30 minute ride to Acqua Dive Resort, the catamaran ride to Apo Island, gear, lunch, and return transport. If you're snorkeling, wet suits aren't provided so I recommend renting one to stay comfortable for an extra 200 pesos.
If you're more of a snorkeler, I recommend taking a freediving course before coming to Apo Island moand the Philippines in general. It makes the experience much more interesting

DAY 5: DEPART FOR SIQUIJOR
Siquijor is an interesting place that would be a great destination anywhere else, but is more of a nice stop-off compared to other destinations in the Philippines. The stretch of beaches with white sands, turquoise water, and reefs in swimming distance are great, but outdone by Apo Island and Palawan. However, it's short distance from Bohol, Cebu, and Negros (Dumaguete) make it worthy stop for some chilling and, and a scenic motorbike ride around the island.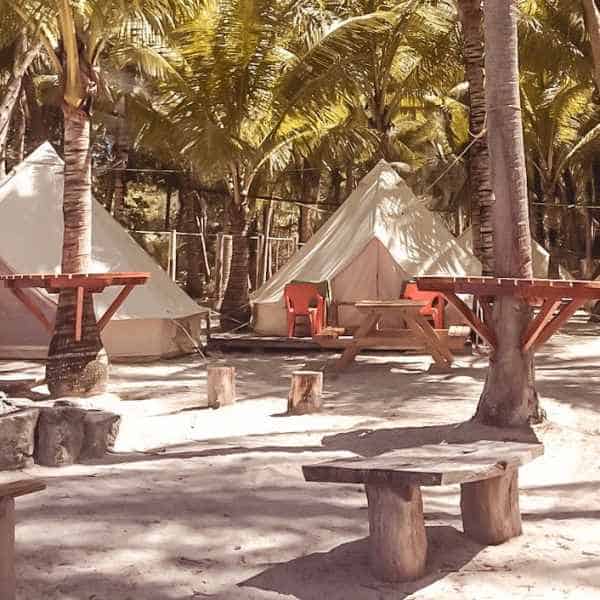 For more detailed information, read our other article "Tourist Spots on Suiqijor"
To get to Siquijor, hop the ferry from the Dumaguete port to Siquijor port. Not that the Dumaguete port is a different port than the Sibulan Port, connecting to Liloan Port on Cebu Island.
The ferry from Dumaguete to Siquijor is 50 minutes and 250 PHP with the Ocean Jet ferry and leaves at the following times:
With Montenegro Ferry Lines the ferry is 140 PHP per ticket and departs at the following times:

DAY 6: SIQUIJOR
Siquijor's main draws are its beaches in the San Juan area, exploring by riding a motorbike around the island on a the road that hugs the coastline and swings through the hills. If you have extra time, throw in some diving in one of the many reefs or marine preserves.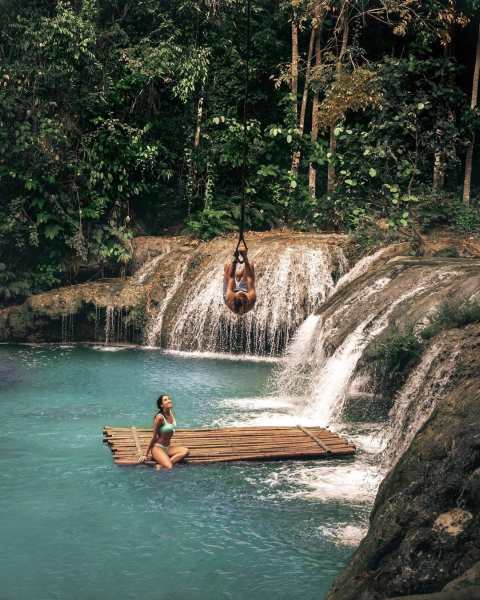 ---
HIGHLIGHTS OF SIQUIJOR
Beaches
Motorbiking around the island
Discovering the voodoo and witchcraft
Exploring 800 meters into a cave
Butterfly sanctuary
---
HOW TO DO SIQUIJOR
On arrival in the port, rent a scooter and ride to your accommodation, which should be in the San Juan area of the island. San Juan has the nicest beaches and plenty of tourist infrastructure, meaning the best hostels and hotels as well as a good variety of quality restaurants.
Elsewhere on the island, expect much shorter or rockier beaches. Sleep in San Juan, Explore everywhere else.
To get to San Juan, which is 20 minutes away, I recommend renting a motorbike, and which you can use to explore. Motorbikes can be rented around Siquijor port for 350 PHP (~$7 USD)
---
SLEEPING IN SIQUIJOR
On Siquijor I highly recommend staying in San Juan on the southwest side of the island. On a stretch of a few miles in San Juan on the provincial road that loops the island sit most of the good restaurants, coffee shops, and Hostels/hotels. Additionally, all of the best beaches, with white sands and clear waters are in San Juan.

DAY 6: SIQUIJOR (BEACHES, SNORKELING/DIVING, AND MOTORBIKE CRUISES)
On your day to explore Siquijor, take your motorbike, starting in San Juan and work your way south to cruise around the island, stopping at these beaches as you cruise:
San Juan Beach: Snorkel on San Juan beach with a Reef 50 meters off shore
Saladong Beach and Saladong Beach Resort: The beaches are short and less scenic than beaches on the west, but the facilities are robust. Restaurant with decent prices (200 pesos a dish), water slide, picnic benches. 50 peso resort fee on entry
Tubod Marine Sanctuary
Paliton Beach: White sands with patches of reefs
Kagusuan Beach: Secret Beach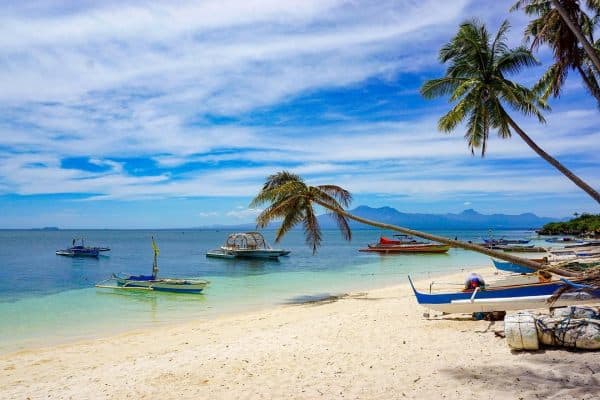 ---
Along the way, be sure to hit these sites to round out the day
Four century old Balete tree
Butterfly sanctuary
---
At the end of the day, return to San Juan and enjoy a west facing sunset on the beach before heading to dinner. I recommend stopping into the restaurant "Monkey Business" as they have solid food options, great drinks and mocktails, and a good, island vibe (think swings instead of bar stools).
On your tour around the island, be sure to stop into Larena Port to buy your ticket to Tagbilaran, Bohol for the following day. Ferries only leave for Bohol from Larena Port, a different port than the one you arrived on. There is only one ferry per day that leaves at 12:30PM, so tickets book out quickly. Try to purchase your ticket at least 24 hours in advance

DAY 7: TRAVEL FROM SIQUIJOR TO BOHOL
Drop of your scooter at the Siquijor port, where you rented it, and hop a tricycle over to Larena port for your ferry to Bohol. Be sure to check in for your ferry at least an hour prior.
WHERE TO STAY IN BOHOL
Book your accommodation near Alona Beach, but don't feel that you need to be right on Alona Beach. There are plenty of options that are ½ or 1/3 of the price and situated on the "Pangalao Island Circumferential Road" that will put you a 10 to 15 minute ride by scooter to Alona beach, or a 150 PHP tricycle ride.
HOW TO GET FROM TAGBILARON TO ALONA BEACH
On arrival in Bohol, hop a taxi or a tricycle to go to your accommodation on Panglao Island. There is no public transportation or alternate options. For rides from the port, all taxi drivers and tricycles will quote you the "standard rate" and refuse to use the meter. The standard rate for tricycles to Panglao Island was 300 PHP and 500 PHP for taxis. I was able to negotiate down to 200 PHP for a tricycle, but that took 5 minutes of haggling. The ride into Panglao Island will take 30-45 minutes.
On arrival, arrange rental of a motor scooter – you'll need it for the Chocolate Hills the following day. You don't have to pickup the scooter when you arrive, just be sure to reserve it the night before as scooters get booked out quickly anytime of year.
If you do take your scooter immediately, head to Alona Beach to enjoy a bit of chaos and soak up the scene. When you're ready for some peace and solitude, follow directions to get to the beach located where the "Royal Paradise" hotel is, park your bike, and walked northeast (to the left). The entire beach will be just as pretty as Alona Beach with only the occasional passerby.
For dinner, the Alona Beach area has hundreds of options, so wander around that area, soak up the scene, and hunt down some grub.

DAY 8: BOHOL (CHOCOLATE HILLS AND ITTY BITTY TARZIERS)
On your day in Bohol, you'll experience hills and greenery that contrast the beachy paradises elsewhere in the Philippines. The Chocolate Hills are touted as the best attraction, but I personally found the motorbike ride through the beautiful tree tunnels and past the "seas of rice fields" with "palm tree islands" to be much more worth the ride.
Start of your trip by punching in "Chocolate Hills" into Google Maps and following the route suggested. It will take you by all of the attractions you'll want to see that day
Tree tunnel
Motorbike to Chocolate Hills through "sea of rice fields"
Nature park
Chocolate Hills and very
Tarsier Sanctuary
THE Beach east of Alona Beach for peace and solitude
Tree tunnels
On the motorbike ride from Alona Beach on Panglao Island to the Chocolate Hills, your first attraction will be the "tree tunnels", an area with tall forests of Mahogany and other non-native trees that have top grown to arc over the rode, making for a very picturesque stop.
It may seem odd to see Mahogany trees in the Philippines, but there's good reason for it. During WWII, many Filipinos fled to this are of the island, and were forced to cut down the native palm forests. When the war ended and the residents moved away, the treeless soil began to erode and caused issues with flooding and retaining water. To fix this, the government planted Mahogany and other non-native trees to preserve the soil, ultimately creating the Nature Park as well.
You'll know when you've arrived. The best spot for a photo is just outside of the Nature Park
---
BOHOL'S NATURE PARK
If you're up for a hike, this "Nature Park" is simply a nice hike through woodlands. About 2 kilometers long and very peaceful and undeveloped.
After you're finished, continue on past the "seas of rice fields"
---
MOTORBIKE TO CHOCOLATE HILLS THROUGH "SEA OF RICE FIELDS"
I loved this part of the ride because of the contrasting landscape. Whereas most rice paddies in Southeast Asia are completely flat and divided into sections, or terraced, the rice paddies on the ride to the Chocolate Hills are completely open and perfectly flat – like a sea. Better still, there are many small, island-like mounds covered in palm trees and houses, adding to the sea-like view of the rice paddies.
Stop along the way as you wish to look and take pictures. There's no best place to soak up this view. I noticed several traveler groups stopping on the side of the road to have picnics next to the rice paddies as well.
---
CHOCOLATE HILLS
At the furthest point of your ride will be the Chocolate Hills. Ride your motorbike to the top of the hill, pay your entrance fee, and hike for another 10 minutes to get to the viewpoint and snap away pictures.
When you feel like you're well stocked enough for Instagram, saddle up and start the return trip, stopping at the Tarsier Sanctuary and for lunch on the return trip.
---
TARSIER SANCTUARY AND LUNCH/SNACKS
Tarsiers are amazingly cute and tiny little critters that are as slow as they are shy. To protect them and preserve their numbers, this sanctuary was setup. After paying your entry fee, you'll walk a concrete path through a fenced in and lightly vegetated part of the jungle spotting the tiny Tarsiers. Along the way, the staff of the sanctuary will be situated pointing out the tarsiers (that we would likely overlook) and reminding you to remain quiet – as Tarsiers can die of hard attacks with too much noise or stimulation
After viewing the tiny tarsiers, consider grabbing a bite to eat as just outside of the sanctuary the most convenient restaurants and mini marts are situated.

DAY 9: BOAT TO CEBU CITY, FLY TO PUERTO PRINCESA, BUS TO EL NIDO
This day of travel will take some planning to organize. If you're not good with tight schedules it may be better to plan it over two day, staying the night in Cebu City along the way. If you're not keen on staying in Cebu overnight, consider flying. It will cost you some $$$ but you'll save valuable time. If you do want to make the travel in a single day to get from Tagbilaron, Bohol to El Nido, here's what to do.
Take the early ferry from Tagbilaron, Bohol to Cebu City
Take a Taxi or Grab from the Cebu City Port to the Cebu City Airport
Take a flight to Puerto Princessa, Palawan
Take a bus from Perto Princessa, Palawan to El Nido, Palawan

DAY 10: EL NIDO (ISLAND HOPPING CRUISE)
El Nido is a very busy paradise that is surrounded by islands that are much less busy paradises. The best thing you could possibly do on El Nido is go on an island hopping day trip…or a few. If you don't want to be boat bound over pristine waters all day, there are plenty of other options for things to do
ISLAND HOPPING CRUISE
This is what everyone comes for. The Philippines has over 7,000 islands. Palawan alone has 1,000 islands, which means there are countless islands and beaches to bounce between.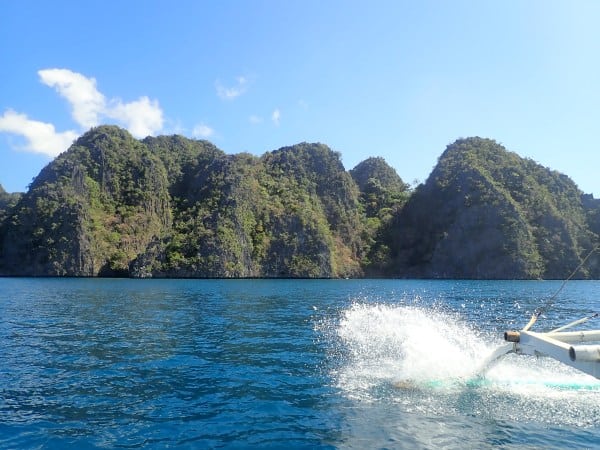 Count on the island hopping off El Nido to revolve around picturesque beaches with magnificent rock formations above the water. If deep water and undersea life is what you're after, save your time for Coron – filled with shipwrecks, reefs, fishies, and lagoons.
To book an island hopping cruise, simply book through your accommodation provider or go to one of the many travel agent kiosks on the street. Note that there are mellow cruises and there are music blasting booze cruises. If you want the latter, be sure to specify so you know what you're getting.
---
TOUR A:
Secret Lagoon -> Simizu Island -> 7 Commando Beach -> Big Lagoon -> Small Lagoon
(~1200 PHP / $24 USD)
---
TOUR B:
Snake Island, Cathedral Cave, Entalula island, Pinagbuyutan Island, Cudugnon Cave
(~1300 PHP / $26 USD)
---
TOUR C:
Helicopter Island, Matinloc Shrine, Talisay Beach, Hidden Beach, Secret Beach
(~1400 PHP / $28 USD)
---
TOUR D:
Nat Nat Beach, Bukal Beach, Cadlao Lagoon, Paradise Beach, Pasaodigan Beach
(~1200 PHP / $24 USD)
---
OTHER EL NIDO TOURS:
Cowrie -> Pambato Reef -> Padan island -> Starfish Island
Underground River Tour
---
For more detail on the specific island hopping cruises available, the cruise stops, and standard prices, be sure to read our article "A Guide to El Nido Tour Package and Island Hopping Options"**
---
EL NIDO BEACHES
Around Corong Corong there are several amazing beaches and hostels/hotels that cater to them. If you feel like staying off a boat for a while head to any of these beaches ~10 minutes away.
Additionally, the beach north of the airport is usually empty.
---
ROCK CLIMBING ON EL NIDO
On the opposite site of the main road as the El Nido bus terminal, to the west of El Nido, lies a huge crag that welcomes climbers. If you want to climb, just head over and climbing guides are waiting with full gear. A 3 hour climbing experience will run 350 Pesos (~$7) to the top and you can arrange a guide at the El Nido Tourism Office.
(Note: I did not do this activity due to a lack of time…and a desire to stay in the water. Please carefully evaluate the safety situation yourself before rock climbing on El Nido)

TOP TIPS FOR EL NIDO
Where to Eat and Stay in El Nido
Stay at Hostel Happiness
It will require paying a little more and booking early, but if you want a comfy setup in a great area book either Happiness Hostel
Happiness Hostel is located near the El Nido Port, which is conveniently where your island hopping cruises will launch from (a 3 minute walk away). Additionally, there is a reliable restaurant downstairs and some good coffee shops and restaurants in eyeshot of the hostel
Art Café is also another great option as they have accommodation on site
---
Be Careful of what and where you eat and drink on El Nido, as most people catch stomach bugs
El Nido is (unfortunately) notorious for giving people stomach bugs. Unless you have an iron traveler's stomach, go with places recommended by travelers or stay vegetarian, and beware of the water youu drink.
---
Skip the Plastic
The Philippine Islands are learning how to deal with the heaps of plastic trash – generated by Filipinos and tourists. Help them out by skipping single use plastics. Use your backpack instead of a plastic bag, skip the straw and the plastic top, and use the same water bottle but refill it as distilled water is available to refill everywhere.
In Palawan, you'll quickly notice how clean and flourishing the ocean around the Philippine islands is. Help them keep it that way. You'll make more of a difference than you think.
---
Buy your ticket to Coron ASAP
There are only two ferry lines that go to Coron and each line has only one boat per day. Tickets for both lines book out quickly, especially when one of the two companies' ferry is down. The ferry lines recommend booking at least 48 hours out, so get your ticket to Coron as soon as you decide your dates.
The two ferries travel daily, one at 6:30AM and one at 8:30AM. You can book through accommodation provider, or through a travel agent at one of the many kiosks. If one person tells you they're completely booked, go ask someone else.
Each travel agent is allotted a specific number of seats. Just because that agent is sold out doesn't mean the boat is sold out
Review: You should have purchased your ferry tickets one day prior (ideally two). Show up to the port an hour early to check in for your ferry – either at 6:30AM or at 8:30AM. The ferry ride is 4 hours long, so plan accordingly.

Day 11: Morning ferry to Coron
Coron was the highlight of my trip to the Philippines. Adventurous and still developing, in terms of infrastructure, Coron is an island surrounded by an unreal aquatic paradise. A single day tour of bouncing between islands and snorkeling spots left me so satisfied, I could have come to the Philippines and done only that tour, and been happy. If you like the ocean or beaches, you will love Coron.
Whether you snorkel or dive there is plenty to do. The reefs and marine sanctuaries are thriving in a way that will leave even the most seasoned SCUBA divers more than satisfied. The 12 Japanese shipwrecks at everything from snorkeling depth to 40 meters add adventures to be had. Between the wrecks and reefs, white sand beaches with crystal clear waters rival the Maldives.
Whatever aquatic adventure you want, Coron has it.
---
Best things to do on Coron Island
Island Hopping Tours
Motorbike the Island
SCUBA Diving
Reefs and Marine Sanctuaries
Japanese Warship Wrecks
For more detailed information on Coron, read our article "A Guide to the Coron Tours and Coron Diving Options"
---
WHAT TO DO ON CORON
Island Hopping Tours
There are a handful of island hopping tours that help you get the best of Coron.
If you only do one tour, make it the "Ultimate Island Hopping Tour". After the ultimate tour, there are plenty of other good, complementary options, and even the option to "build your own tour" fairly cheap.
---
The Main Island Hopping Coron Tours
To book island hopping tours, talk to your accommodation provider or drop by one of the many travel agent kiosks lining the main road through Coron, Coron-Busuanga Road
---
OTHER GREAT THINGS TO DO ON CORON ISLAND
Motorbike the Island
SCUBA Diving
Reefs and Marine Sanctuaries
Snorkeling and Freediving Japanese Warship Wrecks
Explore and stay on the rest of the island
---
ARRIVING ON CORON
You will get into Coron around mid-day, so you'll be too late to go on a tour and there isn't a whole lot to do in Coron itself. I recommend checking in, booking your tour for the following day, wandering, grabbing a bite, and finishing the night with a drink at the Hop Hostel's rooftop bar.
---
WHERE TO STAY IN CORON
At the time of writing, there are only 5 hostels listed in Hostelword on Coron, and three of those hostels are actually part of a single hostel. Needless to say, things book out quickly on Coron and accommodations are "adventurous" and very backpacker-ish.
I highly recommend staying at the Hop Hostel, though they were booked out for the next two months the last time I checked. There beds and bathrooms are pretty swanky, as is their rooftop bar.

Day 12: Coron: Do the "Coron Ultimate Island Tour"
Checkout the Coron Tours Guide for more info on what tour is right for you in Coron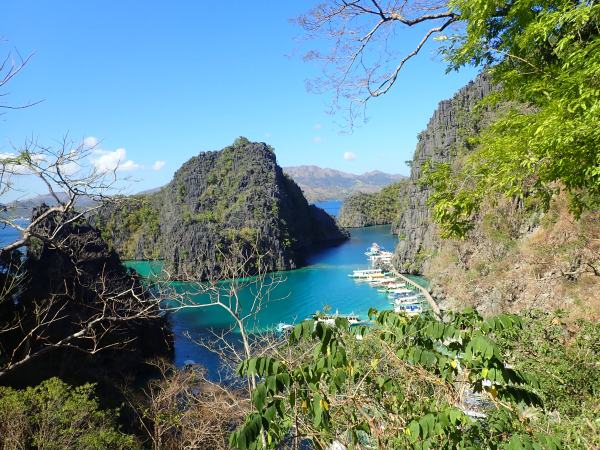 90% of the travelers that come through Coron do the Ultimate tour (and with good reason). The remainder are likely just on the island for diving or are passing through on an "exploration" or "live aboard" cruise.
The Ultimate Tour drops by 7 locations, giving a perfect balance of white sand beaches, coral reefs, a turquoise blue lagoon to float in, and even a shipwreck at snorkeling depth. Honestly, I felt like I could leave the island satisfied after this one tour.
The "Reefs and Wrecks" tour makes a perfect second day trip. Though the boat time between stops is long, an hour to an hour and a half, the stops are amazing. The Lusong Gun Boat shipwreck is one of the few that is completely at snorkeling depth (0-10 meters). The coral gardens on the second stop are much more colorful than the marine sanctuary from the Ultimate tour. Last, Pass Islands white sands and hammocks has views comparable to the Maldives rounding out the Reefs and Wrecks tour as a jackpot…as long as you can stand the boat time.

DAY 13: CORON ALTERNATE ISLAND TOUR
With plenty of other options for tours around the islands of Coron, I recommend checking out our list of Coron tours and picking one more based on what you love

DAY 14: DEPART FOR MANILA
Whether you're leaving on an overnight ferry (the cheap option) or flying from Basuanga airport to Clark (the expensive option) you'll need to plan this in advance to avoid being stranded or paying a fortune. Note that ferries only travel each way 3 days a week on separate lines.
Read our article how to travel from Manila to Coron to find all of your travel options between Manila and Coron.