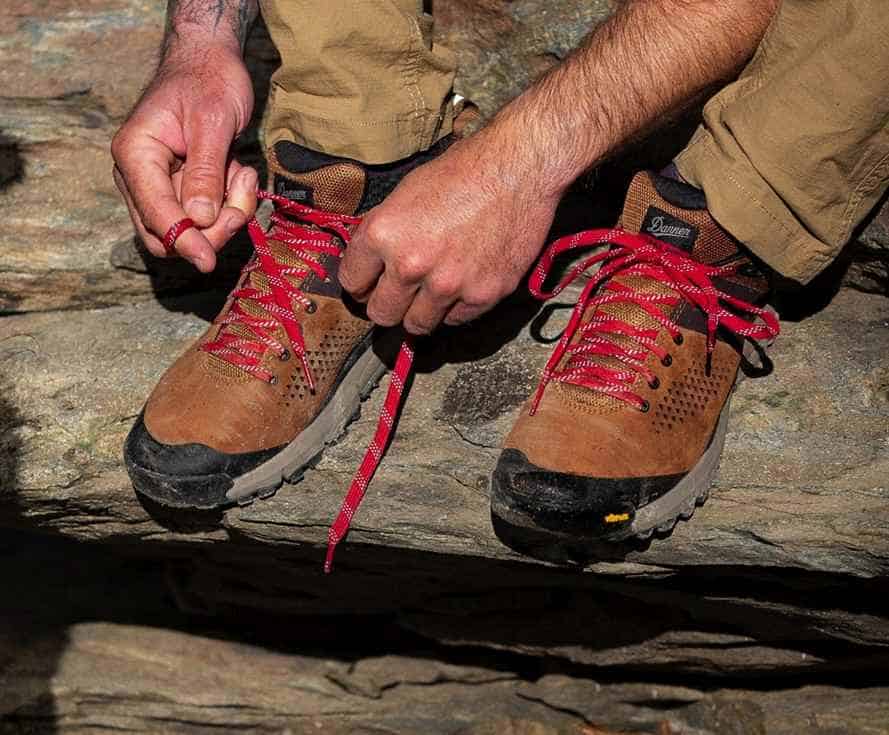 Rucking is one of the simplest, cheapest, and most effective ways to stay fit and adventure-ready, and all you need to get started is a good rucking backpack, a little weight for your ruck, and a good pair of shoes. But with so many options, it can be tough deciding to wear boots or wear shoes as you choose from the array of rucking boots to running shoes to trainers, finding the best shoes for rucking – that are durable, lightweight, and fit for heavy loads and varying terrain – can be difficult. Don't sweat it…we have you covered.
I spent months researching and testing boots and shoes to identify the best boots and shoes for rucking, understanding what makes them great, and who they're best for, and distilled them into this list.
Read on to discover how to identify the best rucking shoes for your needs, and 6 of the best boots for rucking.

CONTENTS OF THIS GUIDE TO THE BEST RUCKING SHOES

WHY YOU NEED A PAIR OF RUCKING SHOES
Rucking is a great activity to add to your life. The benefits of rucking range from aerobic training to strength building in the core and lower body, all with a lower impact on your knees and running. Ultimately rucking is a great way for travelers, adventurers, and function-focused people to stay fit, get outside, and enjoy some fresh air – just by carrying a backpack with some weight.
But why should you get a good pair of rucking shoes? Because in rucking, your feet are the hardest working part of your body, and if you're getting outside into the fun and adventurous spaces, traction on that trail and slick terrain are important. The right pair of shoes that are not only light enough to keep your legs comfortable, technical enough to keep your feet dry, and have enough grip to help you stay safe, but also have the stability to handle heavier loads and the durability to withstand heavier use.
So, if rucking shoes (or hiking shoes) are better than your average running shoe because of durability and stability, why not just get a hiking boot for rucking instead?
---
WHY NOT RUCKING BOOTS INSTEAD OF RUCKING SHOES?
Compared to rucking boots and hiking boots, rucking shoes are generally lighter than boots and also more supple than boots (thanks to blending durable fabrics, synthetic and otherwise) while delivering less ankle support. This freedom of restriction and support allows your feet and lower legs to develop more mobility and strength in an average training session.
Though many people default to mid-top and high hiking boots for their ankle support to help support loads to lower the risk of rolling or spraining an ankle during long hikes, their goals should be different when training. When training and working out (such as in rucking), getting a low top "rucking shoe" or hiking allows for more ankle range of motion (helping maintain good ankle mobility) and allows the muscles of the feet and ankles to be "trained," strengthened, and support more weight through a wider range of motion on their own.
Ultimately, low top shoes for rucking strengthen your lower leg more than boots, while maintaining a healthy range of motion.
Now let's examine the criteria that make a shoe good for rucking

WHAT TO LOOK FOR IN A GOOD PAIR OF RUCKING SHOES
---
DURABLE MATERIALS & CONSTRUCTION
A good rucking shoe should be durable enough to last plenty of miles over varied, adventurous terrain.
The uppers should be abrasion and tear-resistant (such as leather or Cordura nylon) to withstand heavy use and abrasion against rocks
The sole should be durable in that it should stand up to the heavier weight and the miles of walking while maintaining shop absorption
The glue, stitching, and construction should be tough enough to stand the torque of rucking over time
---
COMFORT (HEEL, SOLE, TOE, AND BRIDGE)
The heel of the shoe should cup your heel, locking it in place without movement (to avoid blisters) and should have any raised points that may also cause hotspots or tender points.
The instep and bridge should be held snug in place comfortably by a good lacing system to prevent blisters.
The roomy toe box should be spacious enough to allow the forefoot and toes to splay and spread naturally with each step. There should be enough room between the toe and the tip of the when walking downhill and stopping abruptly, to prevent bruising the toes
---
GOOD TRACTION ON YOUR CHOSEN TERRAIN (DRY AND WET)
The level of traction you need should match up with where you plan to ruck. If city parks and flat trails are quite often your home rucking terrain, then a less aggressive tread will be fine, making for a lighter overall shoe.
If you plan to ruck inclining and declining trails, especially in wetter conditions, aim for a more aggressively treaded sole with good depth and traction in dry and wet conditions. Be sure to check your prospective shoes reviews to confirm that wet condition and off-road traction is good.
---
LOW WEIGHT
Your feet are moving more than any part of your body when rucking while bearing the most weight. Every ounce exponentially increases or decreases how difficult (or enjoyable) your ruck will be.
Aim for shoes under 1lb (16oz) per shoe
---
SUPPORT (VIA A SHANK)
Though we want to skip the ankle support, the support of a shank embedded in the sole is an essential part of a hiking shoe.
This shank, a long piece of metal or plastic, runs down the centerline of a hiking shoe and helps maintain the shape of the shoe when stepping on jagged terrain and using the shoe over time. Additionally, it helps from tiring out the tiny muscles of the feet too early when rucking with hefty weight on jagged terrain.
---
VENTILATION & DRAINAGE
Ventilation and drainage ensure that moisture, whether from sweat vapor or water leaking into the shoe, can escape instead of being trapped in the shoe, encasing the feet in a wet blanket. Wet feet translate to uncomfortable feet susceptible to blisters.
---
WATERPROOFING
Whether or not good hiking shoes should have waterproofing is a hotly debated topic and depends on your preferences.
Generally, I advise, if you are rucking in warmer, more humid climates, skip the waterproofing. Your feet are likely to sweat so much in these conditions that the shoes won't be able to breathe quickly enough to keep them dry – ultimately leaving them wet and drenched.
However, for heavy trekking in mountainous country, where sprinkles and streams are common, and temperatures tend to stay lower most of the time (below 75 Fahrenheit), waterproofing (like Gore-Tex) may be a good bet. I never wore a pair of waterproof boots in the Middle East, but I was thankful I had waterproof hiking shoes when hiking Patagonia and the Himalayas.
---
REPUTATION AND REVIEWS
Ultimately, time and performance in varied conditions are the best determining criteria of whether or not a rucking shoe is good for you – so soak up that information in reviews.

THE 6 BEST SHOES FOR RUCKING

The GORUCK ballistic trainer is the product of years of rucking experience and experimenting by the GORUCK team with several military-inspired rucking boots with the end goal to create a versatile cross trainer as the perfect all around capable piece of Rucking footwear. The result is the Ballistic Trainer which is as good for rucking as it is at Crossfit, running, and any other mode of training you choose.
The plus side of GORUCK's Ballistic Trainer is extreme durability. The "Ballistic" in the name comes from the heavy duty ballistic nylon that forms that wraps the shoe, and is supported by one of the toughest and most supportive soles available in a shoe.
Click here to discover the Ballistic Trainer at GORUCK

A pair of all-weather all-terrain trail running shoes designed for hard use and long life. Available in waterproof (GTX/Gore-Tex) and non-waterproofed. These trail shoes perform well on and off the trail making them tough, versatile option.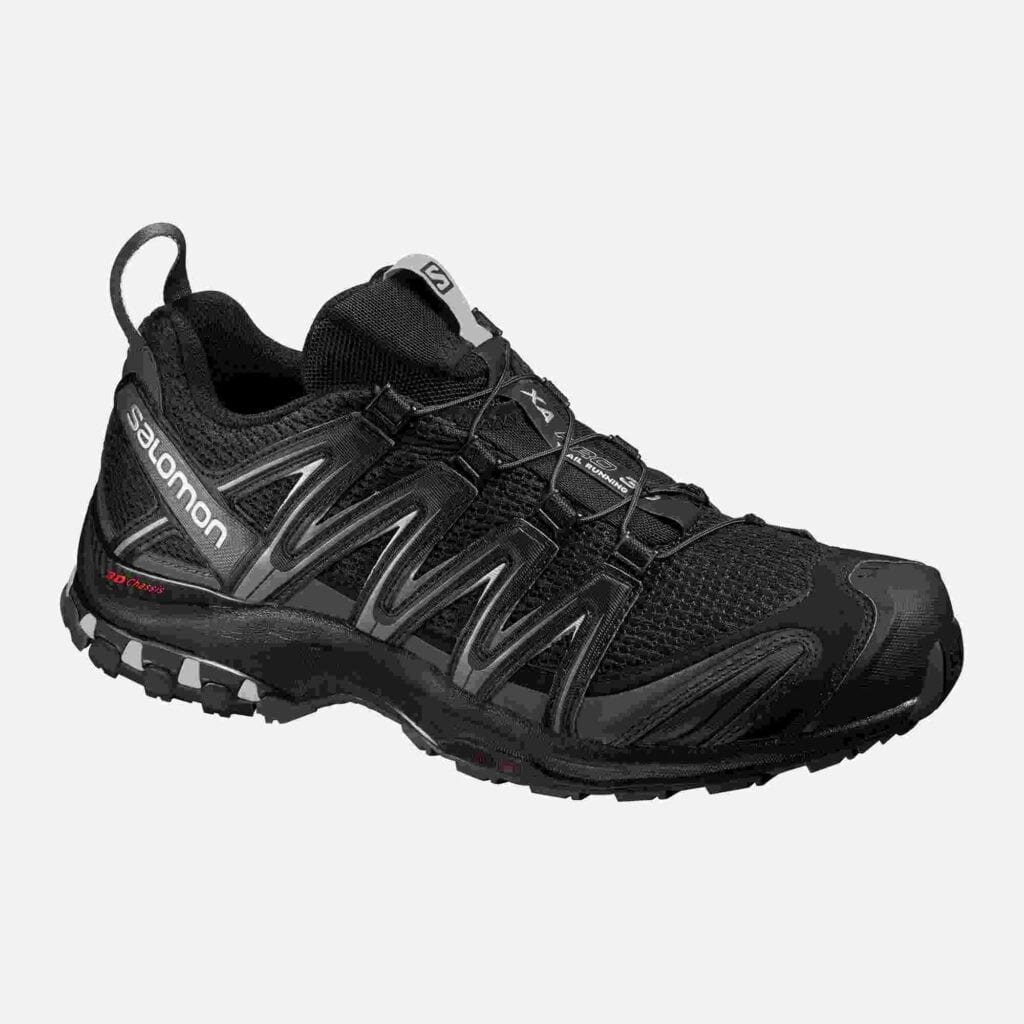 Though the Salomon X 3D is a high-performance shoe is made for moving quickly and comfortably on trails, its still great for the steady roll of rucking. Shock absorption tech in the soles make it even more suitable to the heavy loads of rucking
Weight: 13.8oz. per shoe
Waterproof: Optional
Strengths: Comfortable, all-around high performance on the trail
Weaknesses: No shank
Click here to see styles and availability of the Salomon XA Pro 3D Trail Runner at REI
or click here for prices on Amazon

The Salomon X Ultra GTX is designed completely for hiking, with a more aggressive tread designed for trail traction in wet conditions and when descending. Synthetic uppers lend breathability and waterproofing (GTX) is optional. The cushioned midsole helps take some of the load of your feet on rockier, uneven terrain.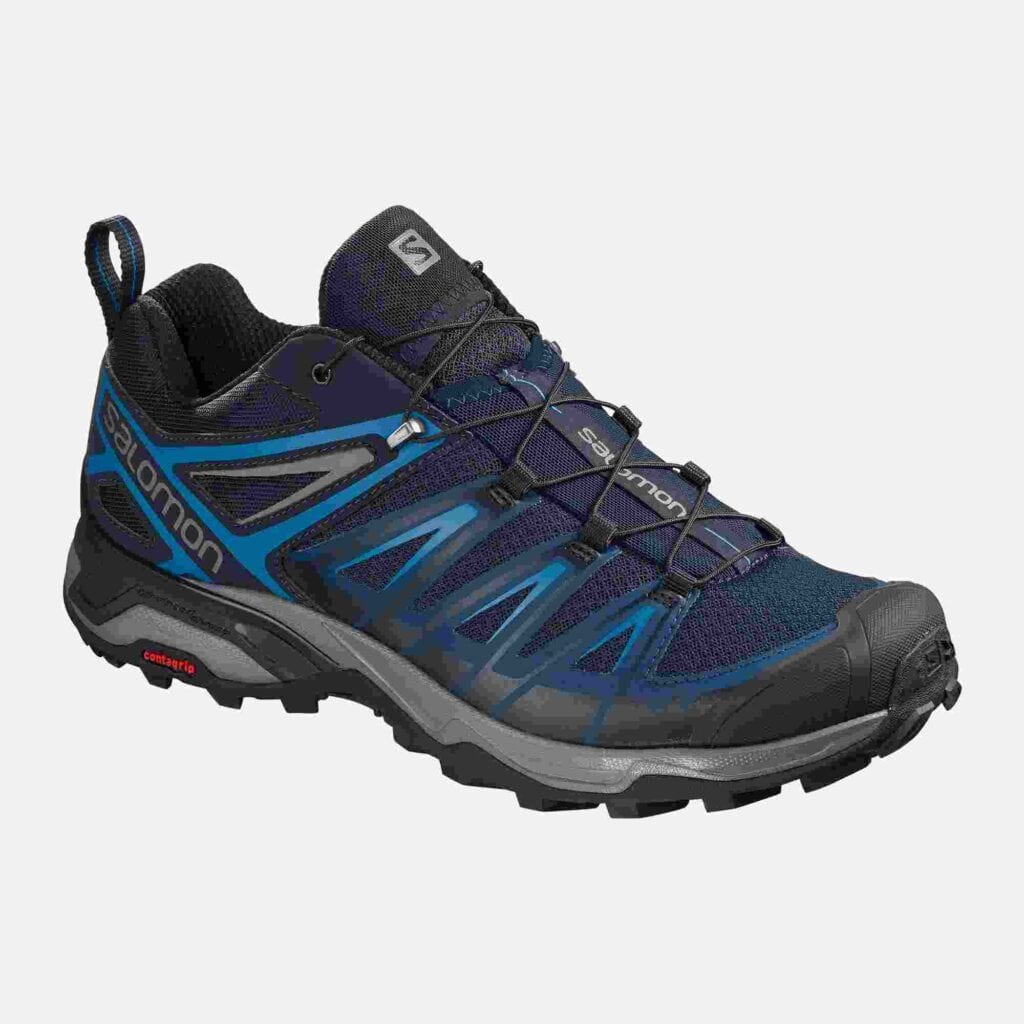 Weight: 13.4oz
Waterproofing: Optional
Strengths: Trail, jagged terrain, descents
Weaknesses: No shank in sole
Click here to see styles and availability of the Salomon X Ultra hiking shoe
or click here to check prices on Amazon

A lightweight and durable shoe aimed at moving quickly on the trail, built by renowned boot company Danner.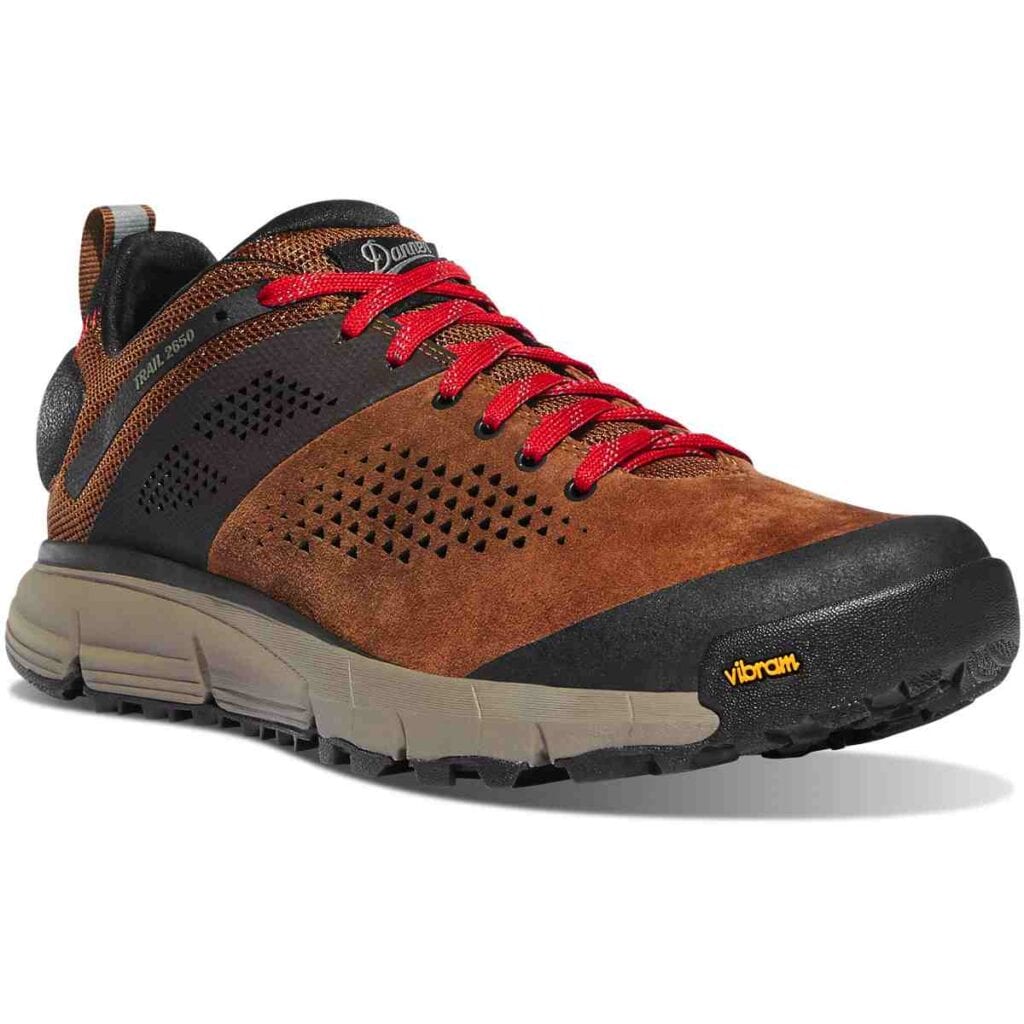 The Danner Trail 2650 has a Vibram outsole aims for traction in all terrain and conditions. A plastic shank in the sole provides stability and support on jagged terrain with heavier loads. Shock absorbing midsole and insole make the walk more comfortable and ease your feet under heavier weights
Ultimately adding up to another great option for rucking through the outdoors.
Weight: 14oz.
Waterproof: Optional
Strengths: Lightweight, shank for mid-foot support on rocky terrain
Click here to see styles and availability of the Danner Trail 2650 at REI or click here to see prices for the Danner Trail 2650 on Amazon

A remake of a retro hiking shoe from the '80s originally designed as a replacement to heavy hiking boots while maintaining mountain and trail performance.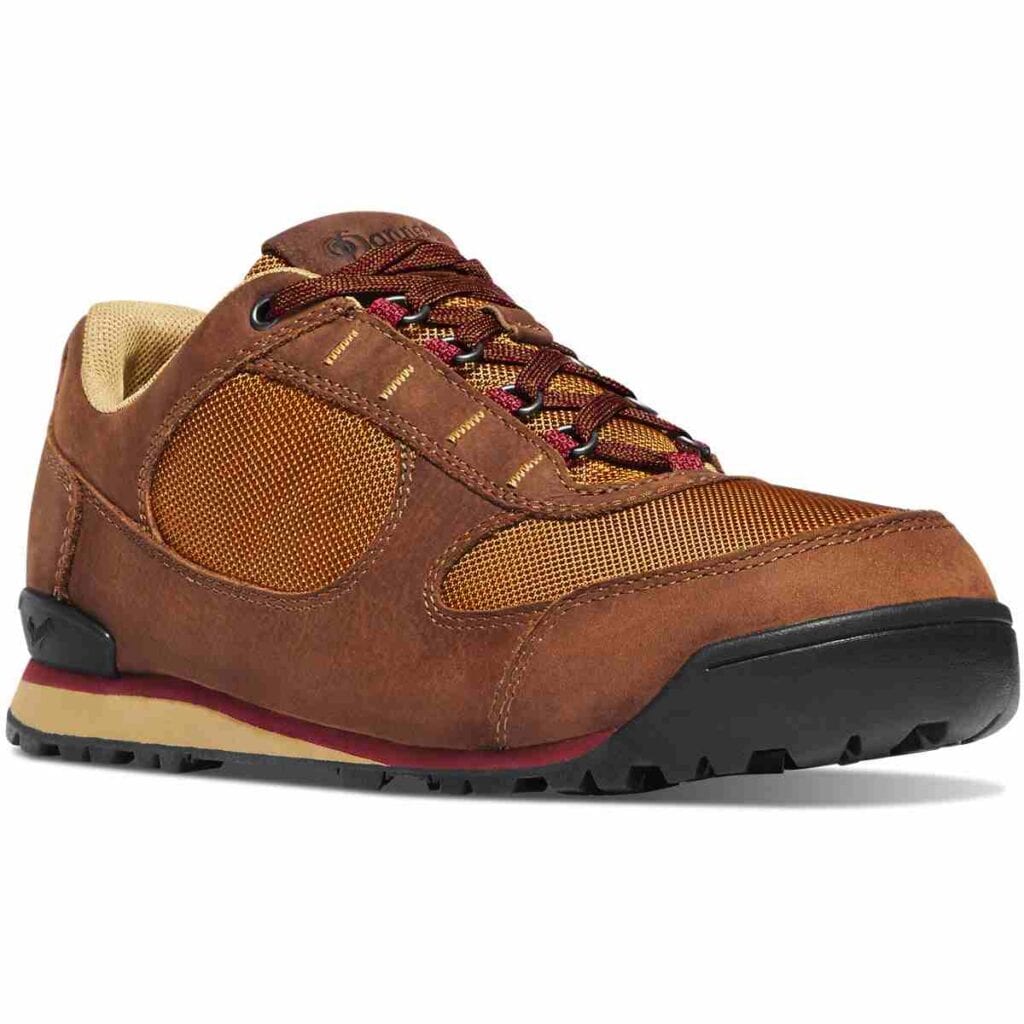 The Danner Jag Low's modern tech makes for a rucking ready hiking shoe that looks good enough to wear before and after your hike. Suede, nylon, and mesh uppers make for a very breathable rucking shoe. Full disclosure – there are tougher, more durable, and higher performing boots out there – but – if you want a rucking boot that does double duty as a casual shoe, this is a great option.
Weight: 14.5oz
Waterproof: Optional
Strengths: Looks good, breathable, comfortable
Weaknesses: Waffled sole is more suitable for parks and light trails than sketchy terrain
Click here to see styles and availability of the Danner Jag Low at REI or click here to see prices for the Danner Jag Low on Amazon

The Lowa Renegade GTX Lo is a comfortable rucking shoe right out of the box that performs well whether or not there is weight on your back.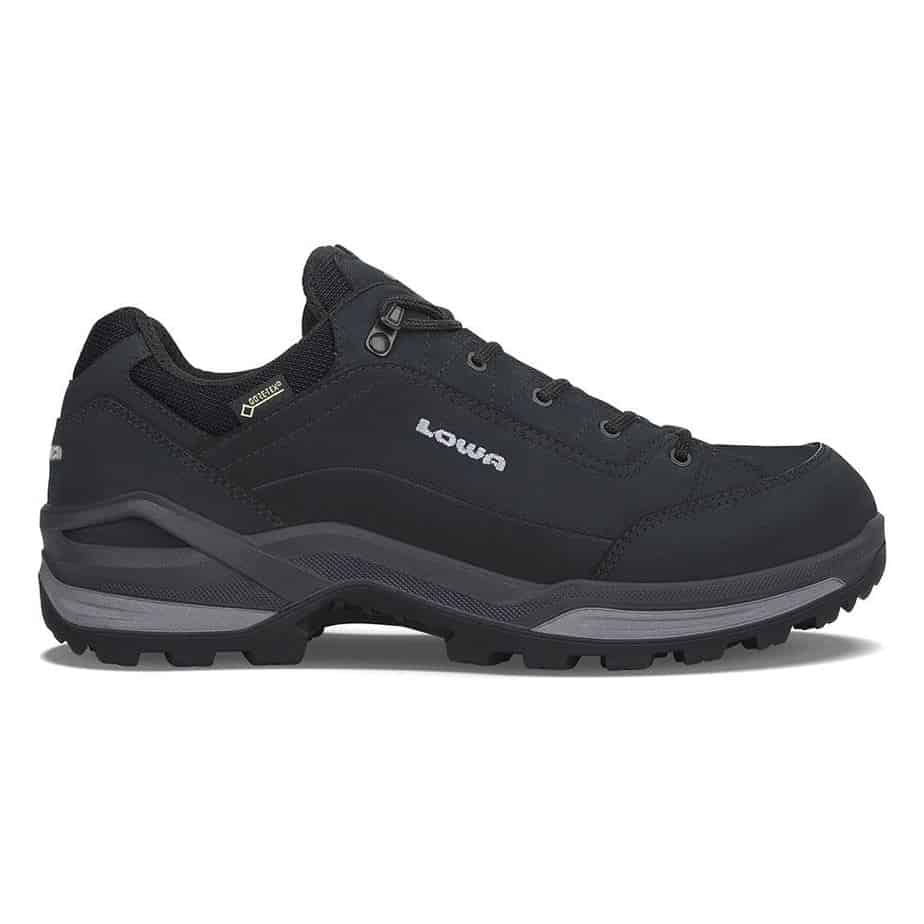 A shock-absorbing midsole stabilized by a nylon shank and gripping with a Vibram outsole delivers a rucking shoe suitable for most terrains and conditions. This is the shoe that I hiked the Everest Base Camp Trek in and loved every step of the way – at no point during the trek were my feet (or the Lowa Renegade GTX) an issue
Weight: 18.4oz per shoe
Waterproof: Optional
Strengths: Comfort out of the box
Weaknesses: Lifespan may not be as long as traditional boots (from Lowa)
Click here to see styles and availability of the Lowa Renegade GTX Lo at REI or on Amazon
Or
Click here to read the full Renegade GTX Lo Review

The Merrel Moab Ventilator is a new classic, extremely comfortable, durable, and performs well on a variety of conditions and terrain. This hiking shoe thrives in hot conditions that might leave your feet sweaty and needing a little more breathability – which is why so many friends made the mid-top variant their boot of choice in the mountains of Afghanistan.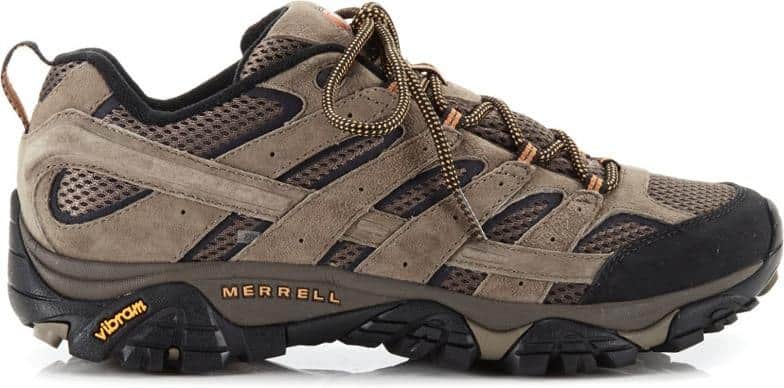 The Moab Ventilator's molded footbed, air-cushioned heel, and a nylon shank support and keep your feet comfy on rocky terrain. Heavily treaded outsole grabs well in most conditions.
Weight: 15.5oz
Waterproof:
Strengths:
Weaknesses:
Click here to see styles and availability of the Merrel Moab Ventilator 2 at REI
Or
Click here to see prices and availability on Amazon

WHY YOU NEED A GOOD PAIR OF WOOL RUCKING SOCKS
An excellent pair of boots is nothing without the right pair of socks. Socks perform the major functions of adding a little extra cushion, wicking moisture away from the feet to keep them dry (and avoid blisters). Pick the right pair of socks, and you won't notice you're wearing them. Pick the wrong pair of socks, and you'll end up with clammy feet, hotspots, and tender points that'll make you avoid rucking for a while.
So what do you need in a pair of socks?
Merino wool.
That's it.
Merino wool not only keeps your feet warm when it's cool out, but it wicks away moisture (keeping your feet dry), resists odor, and maintains that cushy loft for longer.
---
Why not cotton socks?
If you have a choice, under no conditions, wear cotton for long rucks. Because cotton doesn't wick moisture, the sweat gets trapped and collects in the sock, just wrapping your foot in a nasty, sweaty, wet blanket for the duration of your walk that is just asking for blisters.
---
Why not synthetic socks?
If you can't pick up a pair of merino wool socks, synthetic socks are an option. Synthetic socks still wick away sweat, but they don't resist odor and don't maintain that cushy loftiness nearly as long as merino wool.
Thanks to the odor resistance of wool, I've been able to wear the same pair of wool socks for 3 to 4 days before they started to smell bad. In the same conditions, synthetic socks start to stink just after a day and feel pancake thin as the loft leaves.
Bottom Line: Invest in at least one pair of mid-weight merino wool socks to keep your rucking comfortable

WHAT TO LOOK FOR IN A GOOD PAIR OF WOOL RUCKING SOCKS
What should you look for in a pair of wool socks for rucking?

BEST WOOL RUCKING SOCKS
Read more about these wool socks, the specific ones I recommend and why they rock in **the best wool socks for hiking**

HOW TO STAY BLISTER FREE WHILE RUCKING
Now that you're fully kitted out with rucking boots (or rucking shoes) and some Merino wool socks to ruck in let's go over a few more tips to keep your feet healthy and blister-free
Keep your feet dry: Use foot powder liberally, and if you need to bring an extra pair of long socks on long rucks, do it
Avoid friction: Good fitting shoes, light to midweight wool socks, and consider the "sock liner" trick. Als consider applying body glide to your feet to reduce friction
Keep Toenails trimmed: Even in good fitting shoes, toenails too long can call issues