Rucking is a great, natural way to get (and stay) in shape with a minimum of gear, especially if you live in the outdoors and adventurously. All you need is a good backpack, a little weight, and a good pair of rucking boots. Find the best boots for rucking that fit your needs and purpose is the most critical part as your feet are doing most of the work while rucking. Don't worry, we've got you covered on picking the right footwear.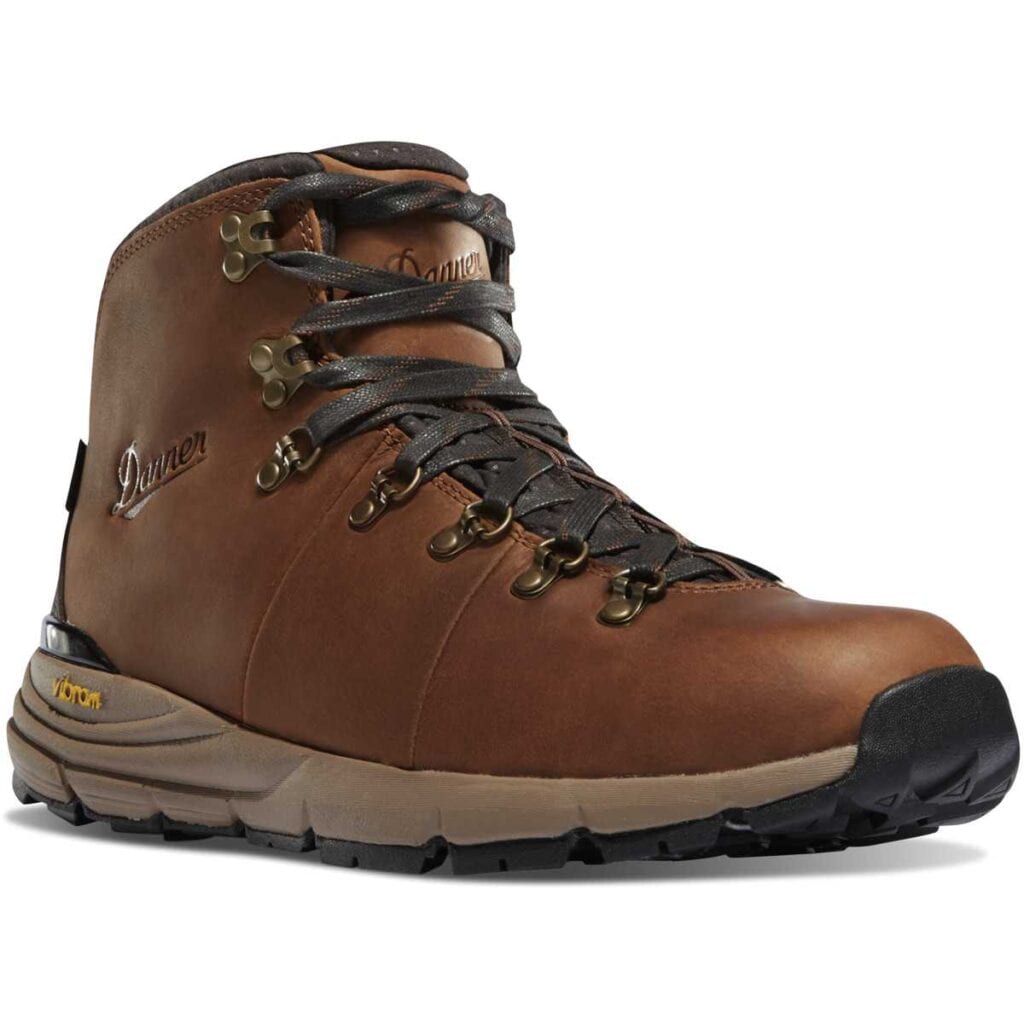 Read on to discover what to look for in a good rucking boot and learn about 11 of the best rucking boot options available.

CONTENTS: 11 OF THE BEST BOOTS FOR RUCKING

WHY YOU NEED RUCKING BOOTS (OR RUCKING SHOES)
Whether you're military, a traveler that treks and adventures often, or just someone who likes being outside, rucking is a perfect addition to your training plan. The act of walking with weight, is easier on your knees than running, but still helps you get in a solid cardio workout, while building strong legs and a durable, injury resistant core (abs and lower back).
These benefits add up to functional fitness that keeps you ready to trek, wander, explore, and just feel good in daily life – all accomplished by just walking outside with a little weight.
Click here to read more on the benefits of rucking to understand why rucking is a great way for travelers and anyone who enjoys being outside
Or, start with our article on how to ruck to learn how easy it is to get started rucking.
As we said, all you to start rucking is a backpack, weight, and a good pair of rucking shoes. Considering you'll be taking more steps at a fast pace with a heavier load while rucking, its worth investing in a pair of rucking boots, or rucking shoes, that will keep your feet dry and comfortable so you can enjoy the experience more, ruck further, and get the most of your rucking workout.

WHAT TO LOOK FOR IN A PAIR OF GOOD RUCKING BOOTS
Whether you decide to go for rucking boots or rucking shoes, your choice of footwear should simply provide enough cushion to keep your feet comfortable the entire ruck, provide traction for your chosen terrain, fit well enough not cause blisters, and have just enough support to help you ruck further while still allowing the strength and mobility of the feet and lower leg to develop.
Let's break down what we need in a good pair of rucking boots a little further.

CRITERIA FOR A GOOD RUCKING BOOT OR RUCKING SHOE
---
DURABLE MATERIALS & CONSTRUCTION
The primary difference between boots and your everyday shoe is durability and support/stability, which comes from the materials and construction. In terms of durability, a rucking boot should be somewhere between a shoe and a run of the mill boot.
Durable uppers that will withstand torque and abrasion against twigs and rocks, a durable sole that balances tread life with comfort, and high-quality glue/stitching to attach the sole to the uppers is what you want.
For uppers, leather and abrasion-resistant nylon (such as 1000D Cordura nylon) are best.
For soles, the Vibram stamp is a good sign of quality, but if your boot (or shoe) doesn't have a Vibrams sole, checking reviews for the shoe's tread life and wear is a good bet.
For construction, heavy-duty nylon for stitching or tough glue (strong enough to resist the torque of walking) is what you want. Reading reviews, ideally, over 6 months or longer with hiking along the way by various users, is the best way to check how well the welt between the sole and uppers holds up.
---
COMFORT (HEEL, SOLE, TOE, AND BRIDGE)
Regardless of how well a shoe is rated and reviewed, those five-star reviews don't matter if the shoe doesn't fit your foot or generally feels uncomfortable. When trying on shoes and testing them for comfort, pay close attention to fit and comfort around the heel, bridge, and the toe.
In the heel, the heel should be cupped and fit snuggly (without moving) and there shouldn't be any "digging" feelings at the back of the heel or on the Achilles tendon. Even a small raised point in the material can feel miserable after a few thousand steps.
The bridge, or top of the foot, should feel snuggly hugged when at rest and stepping, but the foot shouldn't feel uncomfortable.
The toe box should allow enough room for the toes and forefoot to splay naturally when stepping. When walking downhill, the toes shouldn't touch the front of the boot or shoe – as this will result in bruised toes fairly quickly.
---
GOOD TRACTION ON YOUR CHOSEN TERRAIN (DRY AND WET)
Traction in wet and dry conditions is essential when walking with weight. When you would normally (without weight) be able to catch yourself falling, the weight on your back may throw you off balance.
To check for traction in wet and dry conditions, look for a deeper tread pattern (that will grab through loose rocks and in jagged conditions). Also check reviews specifically for how the sole grabs when wet.
Note that some boots on this list are dinged for their wet weather traction. Keep in mind that these tend to be the lighter weight shoes that have less aggressive tread. This means you should simply conscious between lightweight and all-weather traction. If you don't plan on rucking in the rain or up waterfalls, it's worth the sacrifice for a boot that is light and feels good the other 99% of the time.
---
LOW WEIGHT
When rucking, your feet are moving more than any other part of your body and supporting your entire load, so an extra ounce of resistance on your feet magnifies the difficulty of your hike exponentially. Get around this by getting a lightweight rucking boot or even better, a shoe. A sub 1lb boot is excellent. A boot of 2lb+ should worry you if speed and comfort is your aim.
With a lighter boot or shoe, you'll trade material, durability, and ultimately lifespan for a few fewer ounces, but the sacrifice is worth it in the end – replacing a boot every year or two instead of two to four years in order to make rucking more enjoyable. Luckily for you, we have plenty of low weight, durable shoe and boot options for rucking listed below.
---
SUPPORT IN THE SOLE (VIA A SHANK) AND IN THE ANKLE (IF NEEDED)
Though your first reflex may be to opt for a mid or high top boot – skip it if you are rucking for training.
By foregoing the ankle and lower leg support of a higher boot, you free up your feet and ankles to move and fully support the weight. This not only helps maintain full ankle range of motion and lower leg mobility (which is essential to knee health and healthy movement), it also develops strong, injury-proof ankles that will be able to carry heavier loads in that high top boot with more ankle support.
To get the most training and development out of your rucking experience, skip the support to strengthen your ankles and body.
As for the shank, this is a primary difference between your average running shoes and boots. This plastic, nylon, or steel piece support that is embedded in the sole helps support your foot on rocky terrain and under heavy loads. This shank reduces the load borne by the feet and calves, especially on ascents. Though minimalist boots are generally better for training and developing, the tiny muscles in your feet would likely give out long before your quads and hamstrings, opening you up to foot injury under heavy loads. Having even a plastic shank gives your feet a small measure of protection on long, heavy hikes, so welcome it.
---
GOOD FIT: SNUG YET COMFORTABLE IN THE HEEL CUP AND BRIDGE, ROOM IN THE TOE
A snug shoe isn't so tight that it cuts off blood circulation or causes discomfort but is still tight enough that it doesn't allow the heel or midfoot to move or slide within the shoe. This "snug fit" prevents friction within the shoe or boot and helps your foot maintain better traction with the ground – avoiding potential slips and falls and potential blisters
---
WATERPROOFING (DEPENDING ON THE CLIMATE)
Waterproofing in boots is very much a personal preference but my recommendation is if you are hiking and rucking mostly in hot or sunny weather, skip the waterproofing. If you're rucking in cold or wet/rainy conditions, add the waterproofing.
The problem with waterproofing is that even if it is breathable (like Gore-Tex) the sweat vapor from your feet can't escape quickly enough in warm or sunny weather conditions. This translates to accumulating sweat and blisters. The best bet is to go with breathable, non-waterproofed boots if you won't consistently be in the cold and rain. If you do decide to go puddle jumping, just either enjoy the wet, use a waterproof sock such as Sealskinz, or just put your feet in trash bags and then into your shoes (like I did in Patagonia).
---
VENTILATION & DRAINAGE
Wet feet are unhappy feet that, at best, are uncomfortable and, at worst, become blistered. Sweat vapor coming off of the is the main cause of this blister causing moisture. To save yourself this trouble (in non-waterproofed shoes) ensure the shoe breathes enough to allow this sweat vapor to escape.
Also, good ventilation and drainage mean that when your shoe does get wet, it will dry quickly instead of trapping that moisture in for days.
---
SHOULDN'T HAVE "HOTSPOTS"
"Hot spots" are raised points on the inside of a shoe that may rub on your feet, at best becoming an annoyance and at worst becoming a blister. Hot spots are very much dependent on individual feet and require that you actually wear the boot or shoe to see if a specific boot gives you hotspots. Being completely honest, you can't rely on reviews to see whether or not a specific shoe will give you hotspots (not even this list), simply keep the idea in mind when you try on your shoes and test them before wearing them as your own
---
REPUTATION AND REVIEWS
Ultimately you should read and weigh in reputation and reviews. Trusted companies like Danner and Solomon have been making boots and shoes so long, they're less likely to screw up. Additionally, just because a shoe is well-reviewed or rated doesn't mean you should buy it, but, absolutely avoid a shoe with bad reviews on comfort, durability, or any other aspect important to you to ensure you're making the best investment possible
---

RUCKING SHOES VS. RUCKING BOOTS: WHY YOU SHOULD TRAIN IN A RUCKING SHOE
When thinking of hiking and rucking, most people immediately default to a boot is the best option. This may be the case, but in many cases, a shoe may be better for rucking recreationally.
Though boots generally deliver more durability, with leather and heavy-duty nylon uppers and generally more rugged soles, rucking shoes generally have the benefit of no break-in period, generally more breathability and ventilation, and softer, more cushioned soles.
Also, with most shoes, the low top style is less supportive of the ankle. Though this may seem like a negative, the lack of ankle support forces the muscles of the feet, ankle, and lower leg to develop more strength, mobility, and stability through the ankle's entire range of motion, as opposed to the range of motion allowed by 8" tactical boots.
However the major benefit of shoes, in exchange for their shorter lifespan, will be more comfortable while rucking and more ventilation keeping the feet drier along the walk.
So, if you don't mind replacing your footwear a little more often, value comfortable feet, and would like to build that lower leg stability and mobility, considering rucking in shoes, instead of boots.
But this is great for recreational ruckers. What about those in the military, rucking as preparation for screenings and selections?

If you're in the military, the type of boot you wear in uniform is dictated by regulation, and you're likely limited to an ~8" high boot.
When I was in the Marines, we wore the standard-issue boots that were in regulation – usually Bates or Danner's – but when it was time to train or deploy we'd switch to our high top, the tan boot of choice. At the time, mine were Oakleys, and that's what I would ruck in on my own time, in uniform or out of uniform. However, I would do it differently now.
For those in the military, absolutely train how you'll fight – and ruck in a pair of boots that you'll be able to deploy in, to break in the boot and your feet used to them. However, if you're rucking out of uniform or in training where you can get away with it, opt for a rucking shoe or a low to mid-top rucking boot.
As bulletproof at those 8" high top military regulation boots seem, the limited ankle range of motion in those boots will ultimately reduce your ankle mobility and mobility in your lower leg as well as rob you of the opportunity to develop stronger, more durable feet. Additionally, that stiffness and lack of mobility in your feet, ankles, calves, and Achilles will translate to the long term knee injuries from usage that servicemembers are renowned for. Balance out that damage and mobility loss by rucking out of uniform in a mid-top rucking boot or rucking shoe that allows a fuller range of ankle motion, and you'll see even more improvement from the time you spend rucking.
If the idea of improved lower leg mobility and stability has you interested, definitely look at our list of the best rucking shoes.
---
Now that we know the criteria for a good rucking boot (or rucking shoe) let's look at the best mid top and high top rucking boots. If you want more shoe than boot, check out our list of best rucking shoes and low top boots.

11 OF THE BEST BOOTS FOR RUCKING
---
---

THE BEST MID TOP RUCKING BOOTS
A NOTE ON WHY MID TOP BOOTS MAY BE BETTER FOR YOU THAN 8"
If you're looking for the best boots for rucking and you're only rucking recreationally, I recommend getting a good low top to mid top boot.
Lower top boots offer more ankle range of motion, ultimately developing more lower leg strength and mobility and cutting down on weight. Discover the best mid top rucking boots.
---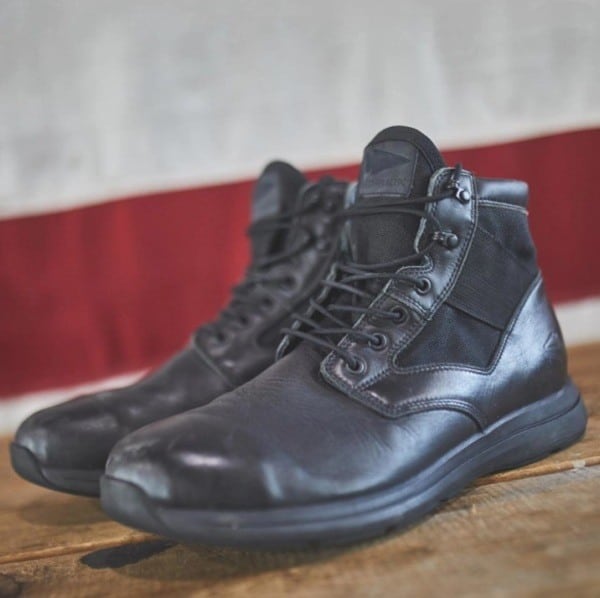 The GORUCK MACV-1's are a boot designed for rucking. Based on the classic Vietnam era jungle boot, these leather and 1000D Cordura Nylon (abrasion and tear resistant) boots are extremely lightweight at less than 14 ounces per boot with an extremely durable build.
Weight: 13.8oz per boot
Waterproofing: No
Strength: Extremely lightweight, low key look, comfortable out of the box
Weakness: Low tread depth, questionable traction on rocky terrain when wet
Available for Women: Unisex
Right out of the box, this boot feels amazing. Laced up, it hugs the heel and midfoot with plenty of room in the toe, feels as light as air, and comfy thanks to GORUCKs rucking ready insole.
The shoe actually looks good too, making it my hiking shoe of choice for travel.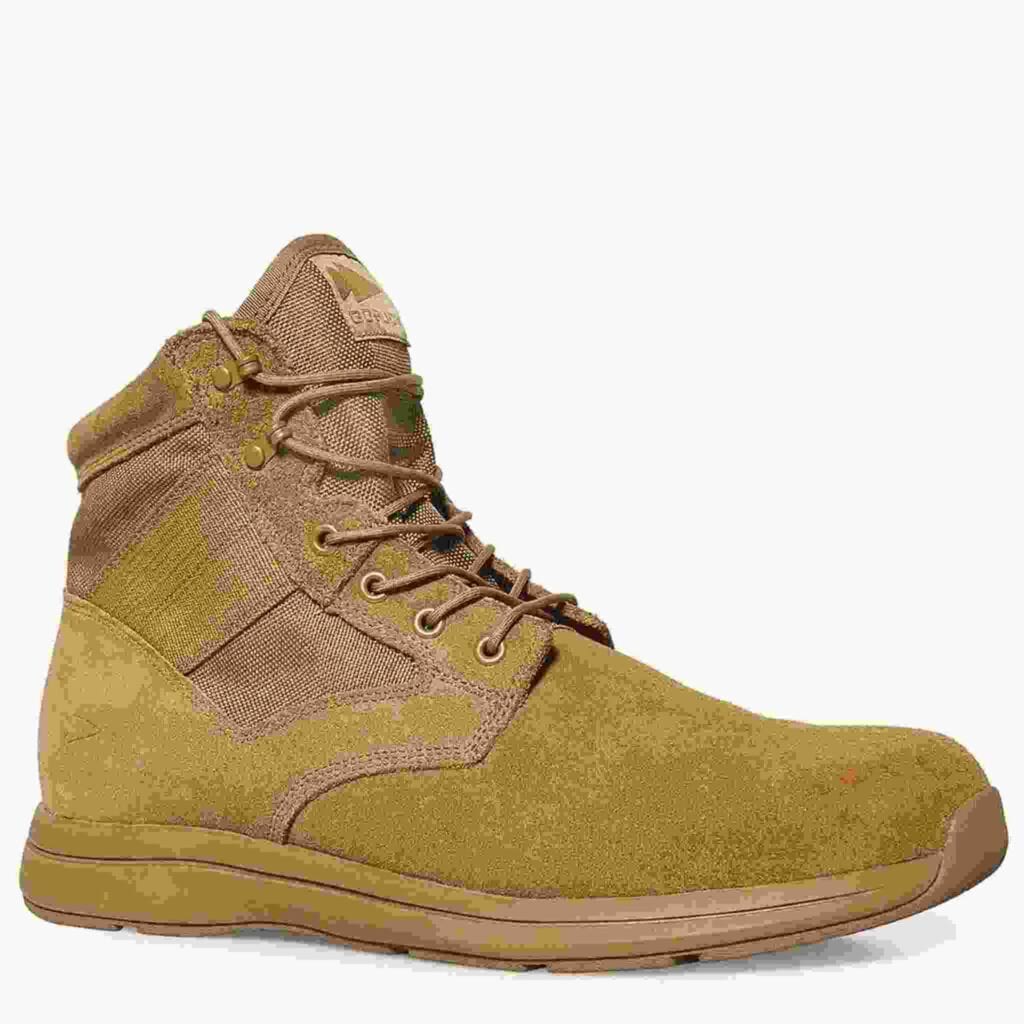 Though most users love the GORUCK MACV-1's (including me) some have complained that wet weather traction on the trail is lacking. Ultimately, if you don't plan to ruck through storms, the MACV-1 is a great, versatile option.
Click here to see more GORUCK MACV-1 styles or Read the full MACV-1 Review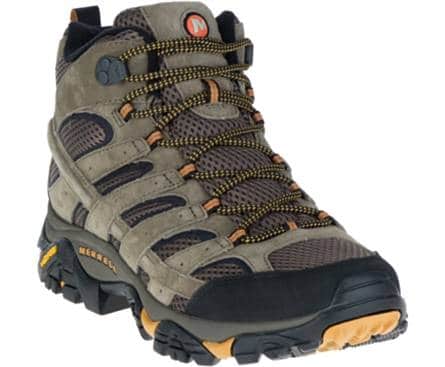 The Merrel Moab ventilators are a staple piece of footwear in Afghanistan, thanks to their comfort and traction, solidifying their reputation as a great rucking boot as well as a great hiking boot. Out of the box, comfort comes from a sole that balances cushiness, durability, and traction, and supple yet durable uppers. The shoes are available in a mid-top boot and a low top shoe as well.
Mesh uppers for airflow and a Vibram outsole for durability and all-terrain traction round out these shoes.
If you're in need of an all-terrain, all weather rucking boot, you can't go wrong with the Merrel Moab Ventilator
Weight: 31oz
Waterproofing: Yes/Optional Gore-Tex waterproofing
Strength: Extremely comfortable, no break-in time, excellent reputation
Weakness: Lifespan is shorter than other high-quality boots
Available in Women's fit: Yes
Click here to see the available styles in the Merrel Moab Ventilator or Click here to see the low top version for a bit more foot freedom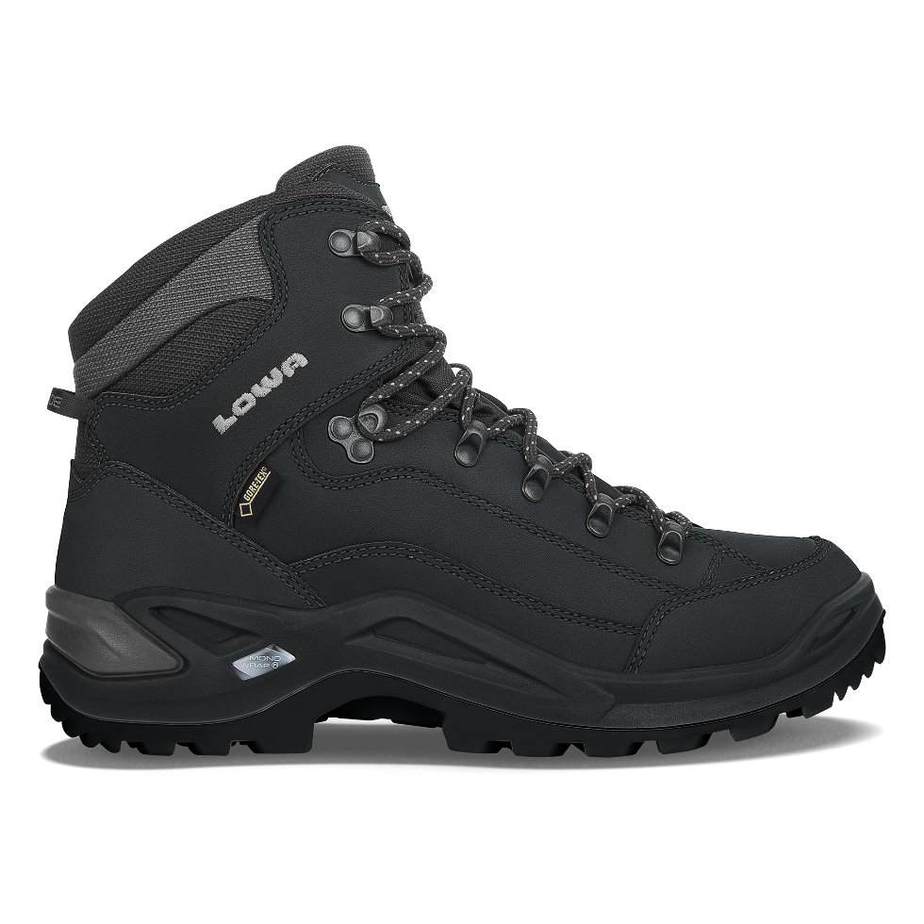 If you want a hiking boot with a muted look with tons of comfort, look no further than the Lowa Renegade Mid.
Tough leather uppers and sole that delivers comfort and all-weather traction, these kicks stay comfortable for miles. They were my choice of footwear on the 70 miles of the Everest Base Camp trek and they felt comfortable every step of the way. My lungs gave out way before my feet did, thanks to these shoes
Weight: 23oz per boot
Waterproofing: Yes – Gore-Tex
Strength: Extremely comfortable out of the box, in the sole and the uppers
Weakness: Lifespan is not as long as "tougher" hiking boots, according to Appalachian trail and PCT hikers – will absolutely suffice for ruckers though
Available in Men's and Women's: Yes
Click here to see available styles in the Lowa Renegade Mid or **click here to jump to the Lowa Renegade Low**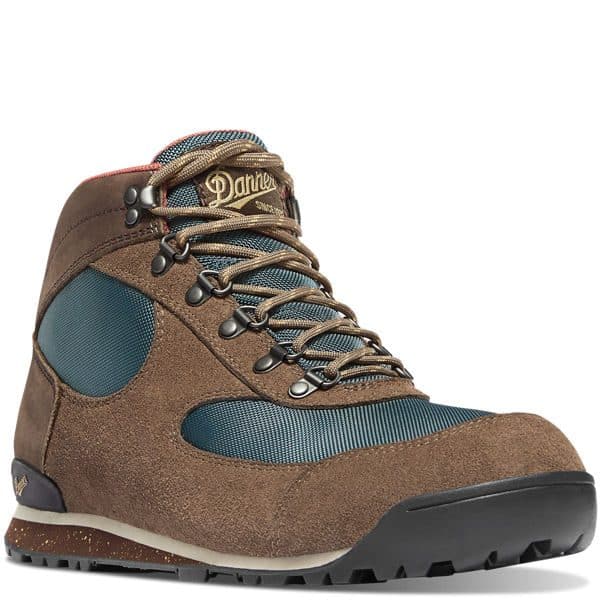 If you're interested in a ruck worthy boot that looks good enough to be worn before and after, the Danner Jag may be the footwear for you. Originally created in the 1980s, the Jag was intended to be a lightweight hiking boot alternative to Danner's main lines, which tend to be chunkier and heavier.
This update of the Danner Jag is lightweight, a fully waterproofed option, a roomy toe box, lugged outsole for all weather and all-terrain traction, and all of the other updates you'd expect over 30 years. Most importantly, the boot comes with Danner quality and heritage – a brand trusted by military servicemembers for making excellent boots for decades.
Weight: 18oz per boot
Waterproofing: Available in waterproofed and non-waterproofed
Strength: Lightweight, looks good enough to wear normally, trusted boot manufacturer
Weakness: TBD but none to report yet
Click here to see more all styles and options of the Danner Jag at Zappos or at REI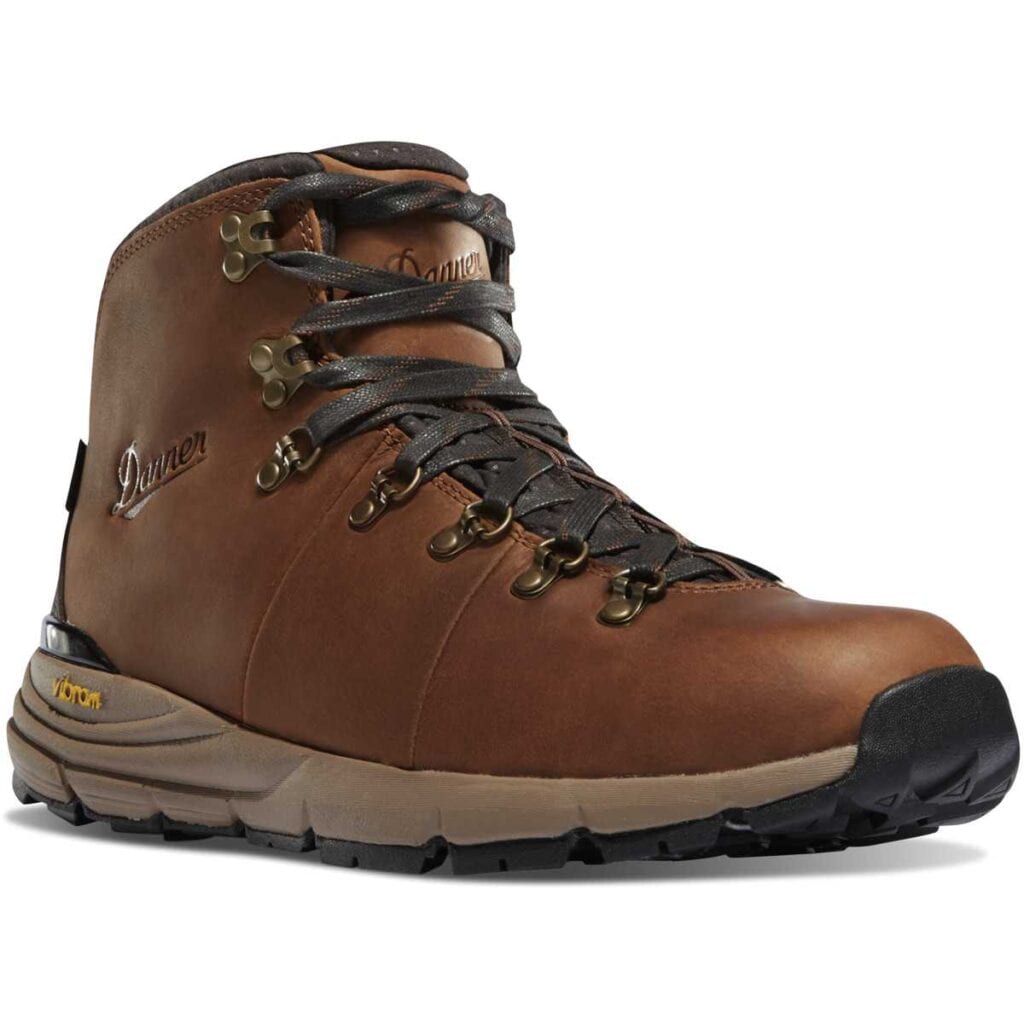 A "heritage boot" that builds on old school style and adds new tech for a lighter, more durable, yet still comfortable boot. Specially selected leather lends water resistance and durability. Minimal seams and stitching make for less to break and longer boot life. A specially designed midsole makes these boots lighter and uber comfortable. Finally, a heavily lugged Vibram outsole lends all-terrain traction.
Weight: 17oz per boot
Waterproofing: Optional – available in waterproof and nonwaterproof
Strength: Lightweight, excellent grip, very comfortable
Weakness: Don't breathe very well in hot weather
Click here to see the Danner Mountain 600 in more styles and options at REI, on Amazon, or Zappos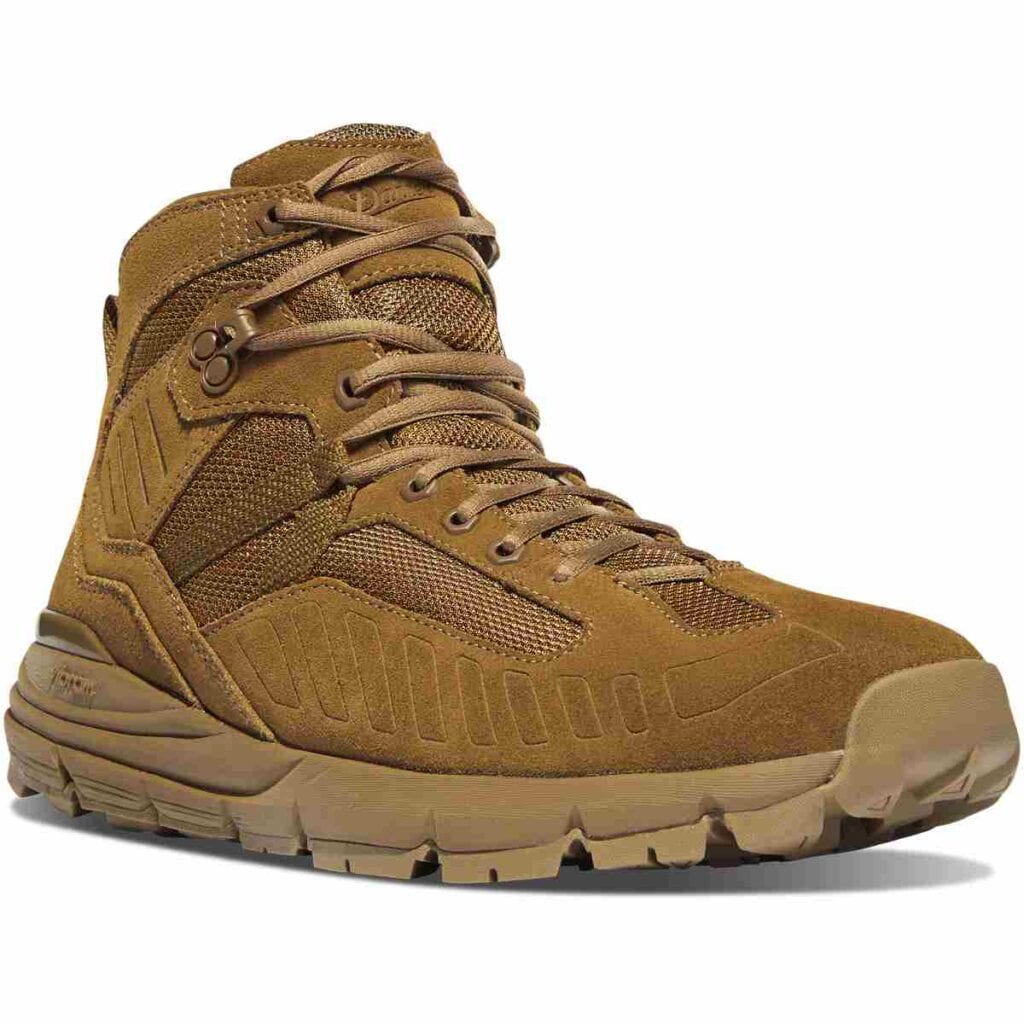 The Danner Fullbore – A tactical hiking boot with lots of grip, tough yet breathable uppers, and low weight. A nylon shank offers stability and the option of waterproof or non-waterproof to fit your preferences. Mesh lining delivers breathability and a triple layer footbed offers comfort and support as you step. A lower profile than most tactical boots offers more ankle and lower leg mobility giving the best of both worlds.
Weight: 17oz per boot
Waterproofing: Optional – available in waterproof and nonwaterproof
Strength: Lightweight, excellent grip, very comfortable
Weakness: Don't breathe very well in hot weather
Click here to see the Danner Fullbore in more styles and specs on Amazon or on Zappos

HIGH TOP AND 8" RUCKING BOOTS
For those rucking in uniform, whether training or on deployment, boot regulations (like Army regulation AR 670-1 and US Marine Corps regulation on minimum boot requirements), a high top (8") boot is necessary. Though not all of these boots satisfy military regulations…you're more likely to get away with these than other boots, and the comfort and performance may be worth the risk. It was for me…
---
"Athletic inspired and duty designed" boot that acts like a shoe. The Danner Tachyon is hard use boot from a trusted name that delivers the same durability by placing leather in hard use points, and 500 denier nylon in less abrasion prone stress points, to cut weight but maintain a long lifespan. Speed lacing makes for a snug fit. An aggressive outsole delivers all terrain and all weather traction.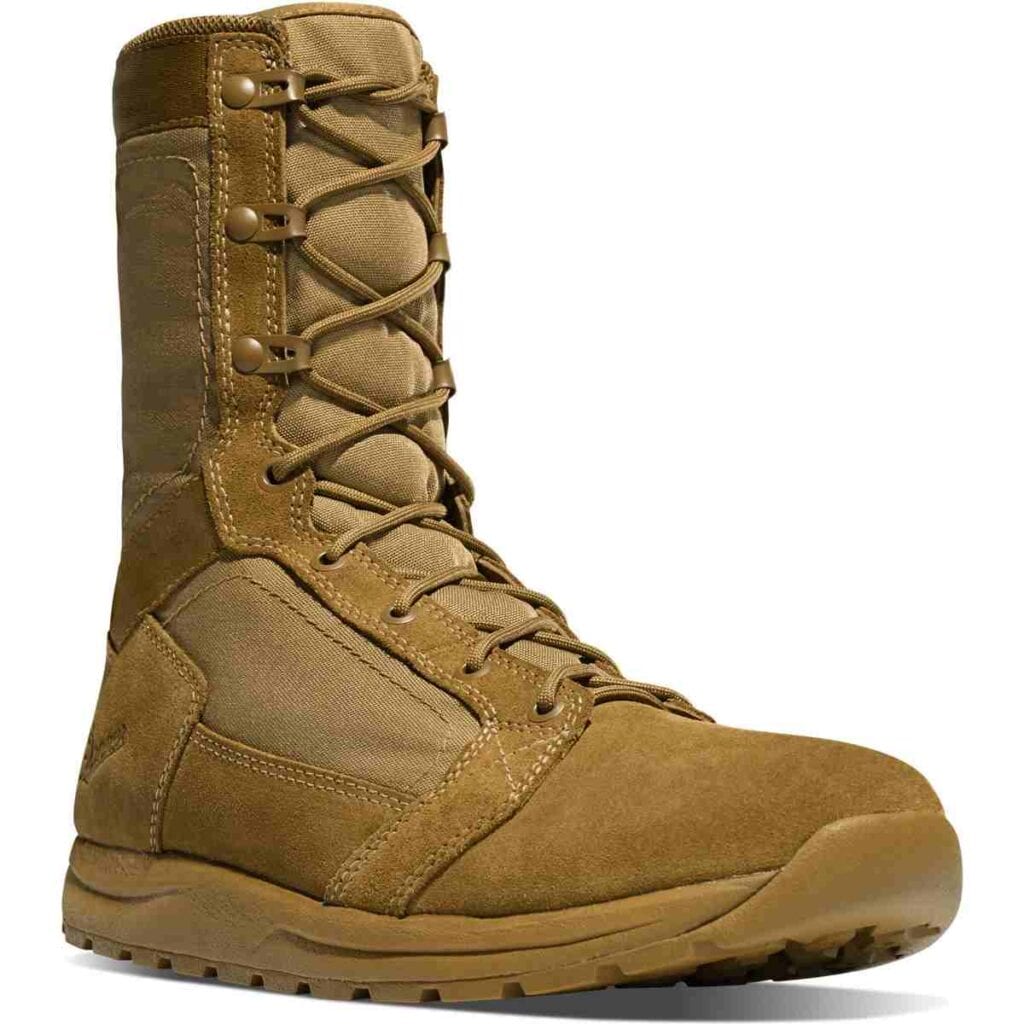 Weight: 13oz per boot
Waterproofing: Optional
Strength: Lightweight, trusted, and can be worn by military personnel in uniform
Weakness: Heavier and less comfortable than other options on this list
Click here to see the Danner Men's Tachyon in all styles and check availability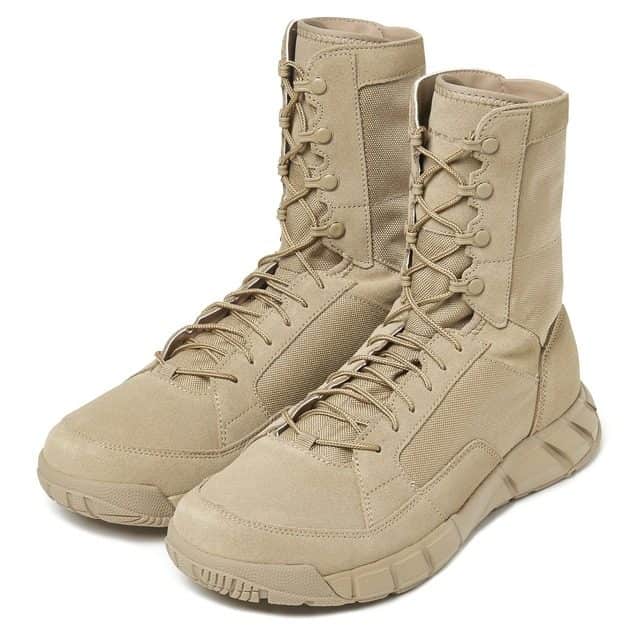 A tough and comfortable pair of lightweight, high top, tactical boots, the Oakley Light Assault boot is comfortable, durable, and up to the task of rucking and more. Leather and Cordura nylon delivers durability in the desert ready and hot weather specialized boot while staying mobile and comfortable. An aggressive tread delivers traction in all conditions. A great, comfortable, hot weather rucking option.
This was my preferred boot for two deployments. At the end of the second deployment, I did have to retire them (worn soles) but, with the wool socks, it was a very comfortable ride.
Weight: 14 oz per boot
Waterproofing: None
Strength: Lightweight, breathable, comfortable, great in hot weather
Weakness: Lightweight materials used in hot, rough terrain may have a shorter life
Click here to check availability of the Oakley Assault Boot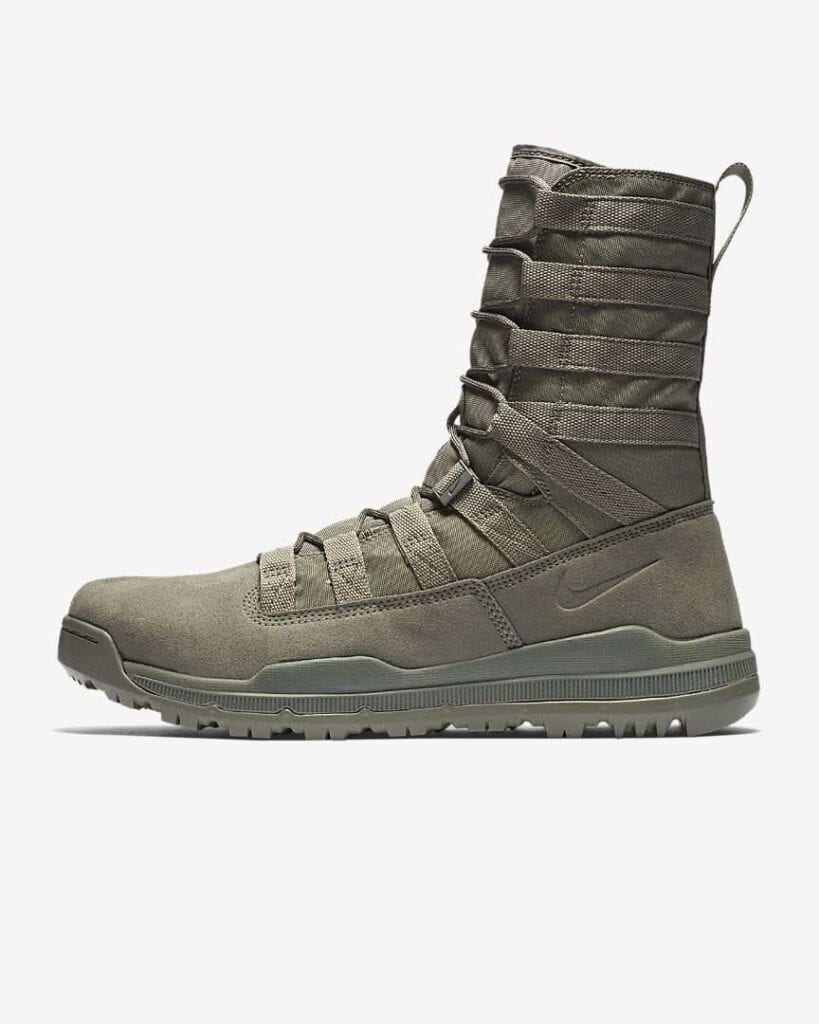 Nylon canvas and synthetic leather make the Nike FSB (Field Service Boot) a lightweight boot designed for first responders. Though it may not stand up to the rigors of a year long combat deployment, Nike's technology will definitely keep your feet comfortable and feeling good as it incorporates the lightweight "Nike Free" technology with aggressive tread pattern for varied terrain.
Weight: 16.4oz per boot
Waterproofing: None
Strength: Lightweight, sneaker feel and technology
Weakness: Question of lifespan in "tactical" conditions, but great for day to day rucking
Click here to see the Nike FSB Gen 2 in all colors, styles and options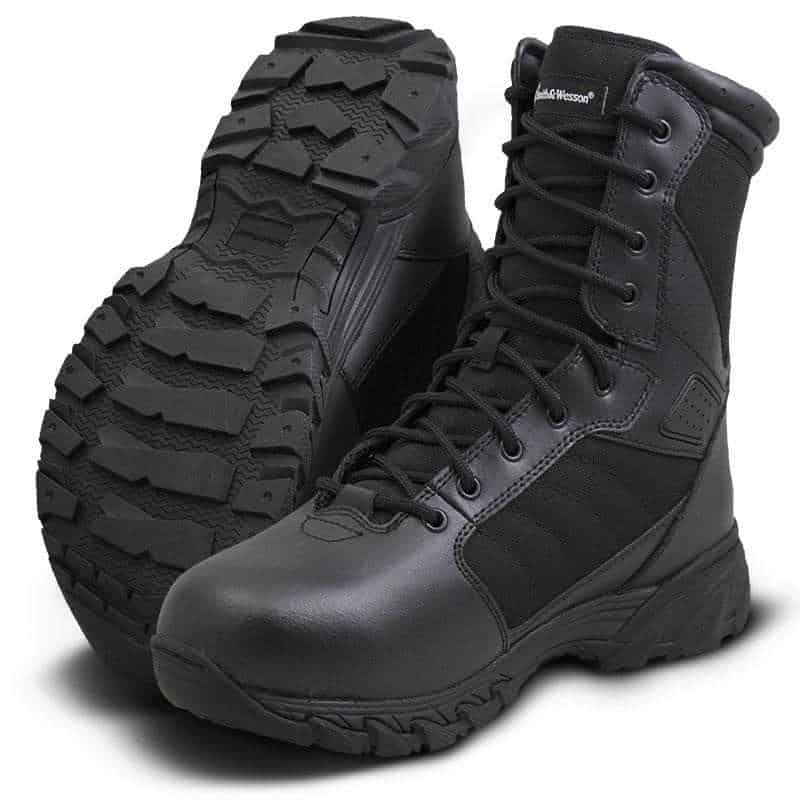 The Smith and Wesson Breach is a side zip boot from a trusted weapons manufacturer delivers heavy comfort at a good pricepoint. These boots will likely be as comfortable for you as most others on the list, but the YKK side zip (easy in, easy out) and maintaining the right tightness of laces without untying is the main benefit. For those that like to tie in two separate laces, one for the lower/bridge of the boot and one for the upper, so make for a more tailored fit when rucking will appreciate this boot.
Leather and nylon uppers deliver durability. An aggressively lugged sole offers good traction in a variety of conditions. A steel shank adds support on jagged terrain.
Weight: 21oz per boot
Waterproofing: None
Strength: Side zip and easy access, comfortable foot bed, aggressive sole
Weakness: Lighter materials used will naturally have a shorter lifespan, zipper is susceptible to issues in muddy/grimy conditions.
Click here to see the Smith and Wesson Breach 2.0 in all styles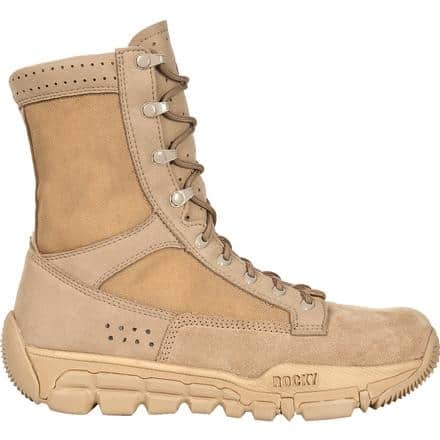 A lightweight, simple, and straight forward tactical boot, the Rocky C5C military trainer boot is intended for speed and freedom of movement. Soft yet durable sole stays comfy on any terrain. Though some rave about the Rocky C4t, the C5C offers more traction and off road performance while staying light and comfortable.
Weight: 15.5oz per boot
Waterproofing: None
Strength: As light as a tennis shoe with a comfortable footbed.
Weakness: Less aggressive sole may not have the wet weather and mud traction of other boots on this list
Click here to see the Rocky C5C Military Trainer boot in all styles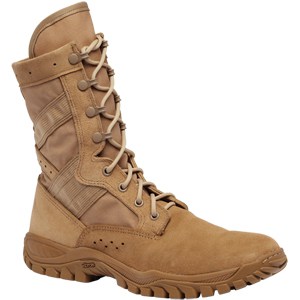 An AR 670-1 Berry Compliant lightweight boot that can be worn by those in uniform, the Belleville One Xero Ultra Light Assault boots have the same leather, nylon, shock absorbent midsole, and Vibram outsole that make these boots comfortable, durable, and combat ready.
Weight: 20oz per boot
Waterproofing: None
Strength: Lightweight, trusted, and can be worn by military personnel in uniform
Weakness: Heavier and less comfortable than other options on this list
Click here to see prices and availability of the Belleville One Xero Ultra Light Assault boot in all styles

BEST RUCKING SHOES
Though a good pair of rucking boots have the benefit of durability and slight ankle support, there are plenty of reasons to choose a rucking shoe instead of a rucking boot.
The lower top design of rucking shoes translates to lower weight, more ankle range of motion, and more strength and mobility developed in the lower leg – with the occasional tradeoff of a little lifespan and durability. In return, you get a "rucking boot" that you're more mobile in and can also use as a light running shoe. Most rucking shoes still have a shank in the sole for durability and support when carrying heavy loads and wandering jagged terrain so the rucking shoe truly offers the best of both worlds.
If you want a more athletic piece of footwear than a rucking boot, but more durability and support than a pair of running shoes, then consider these rucking shoes for your rucking and training.
Click here to view our full article on the best rucking shoes

WHY YOU NEED A GOOD PAIR OF WOOL RUCKING SOCKS
An excellent pair of boots means nothing without the right pair of socks. Socks perform the major functions of adding a little extra cushion, wicking moisture away from the feet to keep them dry (and avoid blisters). Pick the right pair of socks, and you won't notice you're wearing them. Pick the wrong pair of socks, and you'll end up with clammy feet, hotspots, and tender points that'll make you avoid rucking for a while.
So what do you need in a pair of socks?
Merino wool.
That's it.
Merino wool not only keeps your feet warm when it's cool out, but it wicks away moisture (keeping your feet dry), resists odor, and maintains that cushy loft for longer.
Why not cotton socks?
If you have a choice, under no conditions wear cotton for long rucks. Because cotton doesn't wick moisture, the sweat gets trapped and collects in the sock, just wrapping your foot in a nasty, sweaty, wet blanket for the duration of your walk that is just asking for blisters.
---
Why not synthetic socks?
If you can't pick up a pair of merino wool socks, synthetic socks are an option. Synthetic socks still wick away sweat, but they don't resist odor, and don't maintain that cushy loftiness nearly as long as merino wool.
Thanks to the odor resistance of wool, I've been able to wear the same pair of wool socks for 3 to 4 days before they really started smell. In the same conditions, synthetic socks start to stink just after a day and feel pancake thin as the loft leaves.
Bottom Line: Invest in at least one pair of mid weight merino wool socks to keep your rucking comfortable

WHAT TO LOOK FOR IN A GOOD PAIR OF WOOL RUCKING SOCKS
What should you look for in a pair of wool socks for rucking?
Merino Wool: Fine Merino wool will feel better on your feet than regular or rag wool
Light to Midweight: Midweight balances insulation and cushioning. Heavyweight will make your feet too hot and sweat
Durable and Trusted Brand: Reviews should rave about durability and how comfy they are on extended walks or multiple days of use without washing
Nylon Blended for Durability: If you want durability, aim for a pair of socks that blends the durability of nylon with the technical nature of merino wool into its socks

BEST WOOL RUCKING SOCKS
Read more about these wool socks, the specific ones I recommend and why they rock in **the best wool socks for rucking and hiking**

HOW TO STAY BLISTER FREE WHILE RUCKING
Now that you should be fully kitted out with rucking boots (or rucking shoes) and some Merino wool socks to ruck in, let's go over a few more tips to keep your feet healthy and blister-free
Keep your feet dry: Use foot powder liberally, and if you need to bring an extra pair of long socks on long rucks, do it
Avoid friction: Good fitting shoes, light to midweight wool socks, and consider the "sock liner" trick. Also consider applying body glide to your feet to reduce friction
Keep Toenails trimmed: Even in good fitting shoes, toe nails too long can call issues