As a minimalist traveller, I aim to travel as light as possible, whether I'm going across the city or across the world. To achieve this lightweight, mobile existence (in a stylish way) requires very strategically picking what I carry – and this absolutely includes wallets. Today I'll share a Grip6 Wallet review, and how this slim, secure, minimalist metal wallet suits daily life and travel.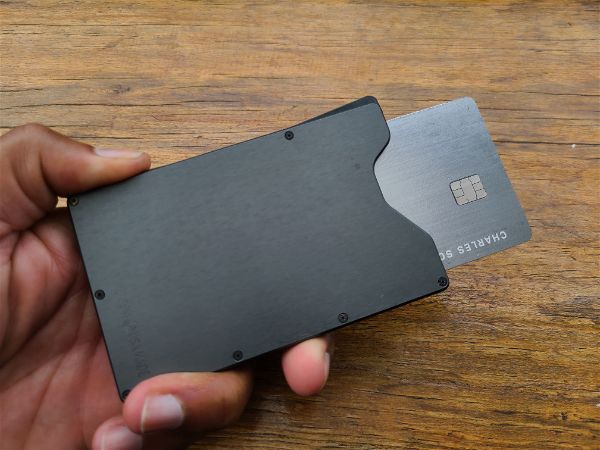 Finding the perfect minimalist wallet, that is functional, slim, and secure, while still looking good and being high quality enough to last can be tough – but is absolutely essential if you want to keep your credit cards safe during travel, but still travel light.
I've had credit cards slip out of my wallet in Vietnam, leaving me to live on cash for an entire month – that was stressful! I've had my main credit card "skimmed" in Indonesia, and hacker duplicating the RFID signature and making $1000 in charges the next day – that was annoying. And I've had a stylish, buttery soft Italian leather minimalist wallet…that fell apart in 6 months of daily use – that was heartbreaking.
If only there was a slim and minimalist wallet that could keep my cards secure – both staying in my wallet and RFID and "skimmer" protected – but was tough enough to last for years (because my "buy it for life" ethos means I hate parting with gear).
Then, I discovered Grip6's minimalist metal wallet. An obsessively designed wallet that aims to be slim, keep your cards safe, and be the last wallet you ever buy
This post contains affiliate links
The Grip6 Wallet Highlights: Slim design, Durability, Keeps Cards Secure, and Optional Leather Jacket
So, why would you opt for this wallet?
Because you're a minimalist "wallet packer" aiming for only the essentials – identification and the essential cards – and leaving the rest at home. No loose receipts or pocket garbage.
Because you appreciate high-quality gear and "buy it for life," meaning you want to pay for this wallet, and never pay for another wallet again. You want a wallet that will never fall apart on you.
And because you want to keep your credit cards safe. Not just physically locked into your pocket, but you want to ensure that cute little chip and all of those "swipe to pay" RFID functions aren't scanned and cloned by the wrong person.
I'm a fan of all 4 reasons, which is why this slim metal wallet is what I carry on the daily and from country to country now.
Click here to get the best price on Grip6 Wallets with free shipping or read on to learn why this is one of the best minimalist metal wallets on the market
My Experience with the Grip 6 Wallet
I have a firm belief that with only a credit card, a debit card, a passport, good shoes, and a travel-friendly pair of pants and shirt, I could travel the world indefinitely. That part about having a solid credit card is the most important part of the equation by far – paying for flights, visas, replacement clothes, and a place to stay all happen with that all important credit card, no matter the currency, no matter the place. That credit card is quite literally worth far more than its weight in gold, and I always aim to protect it accordingly. Even when I sleep at hostels, I commonly sleep with my slim wallet (with my credit card and driver's license) in the pocket of my sweat pants.
This leather-wrapped mechanical wallet has accomplished my main goal (keeping my cards secure)…
I've learned that lonely, single, loose credit cards are just asking to get lost – by falling out of a pocket or being left on a table. This is why attaching them to something else valuable and ubiquitous – like a smartphone – is a great idea. However, I don't like the bulk that comes from having credit cards on a phone, so opting for a wallet that locks all of the cards in place is an even better option for me. The wallet's palm lever-activated internal lift system does exactly that – ejecting the cards on command, and locking them securely inside the RFID blocking metal exoskeleton case when not in use.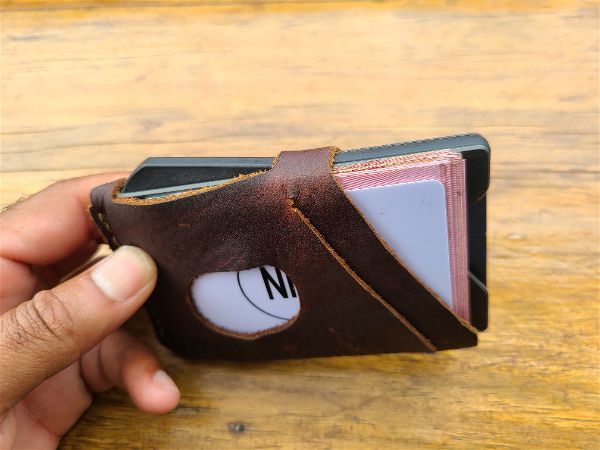 …while still improving my style thanks to its slim, modern, minimalist design.
This design and construction absolutely do not sacrifice form for function though, as this modern and almost over design adds to its look and aesthetic. The tough, raw aluminum case of the wallet looks good on its own because of its construction.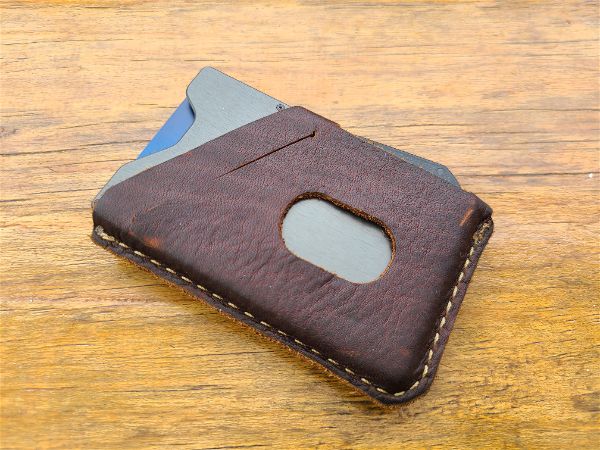 Add the optional leather jacket, which not only gives a rustic look but adds a place to store cash and quick access cards.

Design and Style Highlights: A Minimalist Aesthetic Combined with Tough, Functional Construction
Aluminum Metal Casing
The Overall wallet design captures sleek, minimalist ease, being functional, well constructed, and stylish in a masculine way.
The top grain leather sleeve adds style and function, giving a rustic look, but adding space for 2 more cards for quick access (without hitting the button on the lift system).
The size of the wallet is perfect, designed to easily fit in the front pocket of even the slimmest fitting jeans, with a phone, without being bulky
Optional Leather Jacket
The leather sleeve, that I chose to put on my wallet, adds a little extra bulk, but I like the style it adds, and the function of a place to store cash. This leather case has a smooth outer feel and a roughed-out interior leather.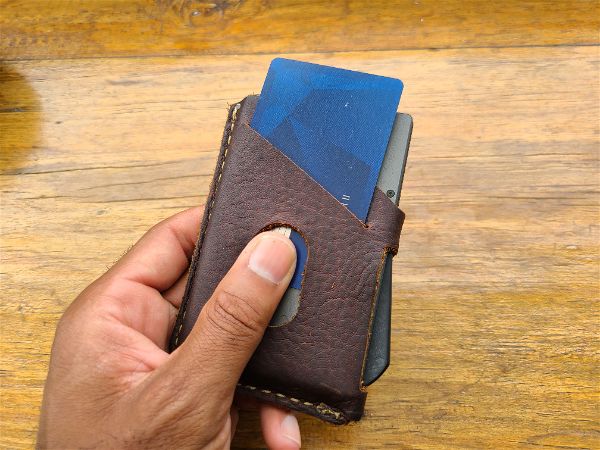 Note that the roughed out inner side of the leather jacket can make it difficult to slide cash in easily (as I'm not certain it was designed for this, I'm just improvising), but I put two of my "lesser cards" on each side of the cash (starbucks card and coworking space membership card) and the cash slides in easily.
In my daily use, the leather jacket holds 10 to 15 standard-sized bills fairly well – so throw those $1 and $5 bills in the savings jar and you'll easily be able to carry your day's worth of spending cash.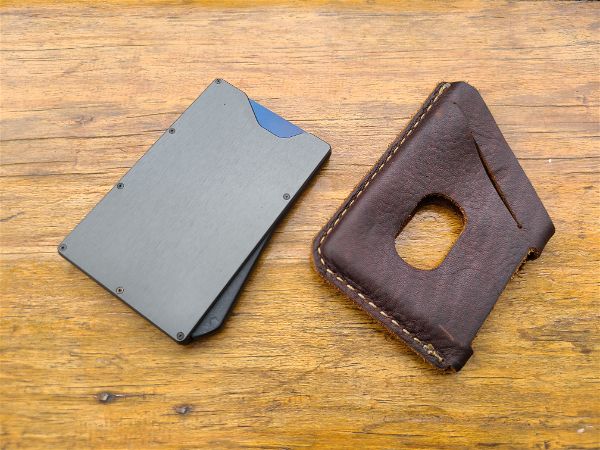 Features: Locking Lift System, RFID blocking walls, and Leather Sleeve
Polymer Internal Lift System Locks all of Your Cards in Place But makes them easy to Access
As I mentioned before, part of the beauty of this overbuilt wallet is how the locking and internal lift system lock securely onto your cards, to prevent them from slipping out.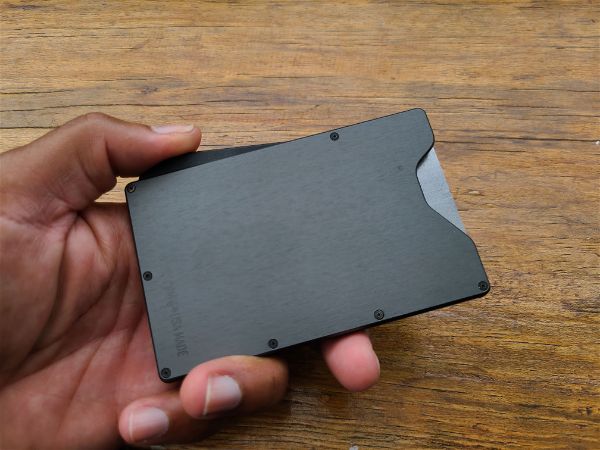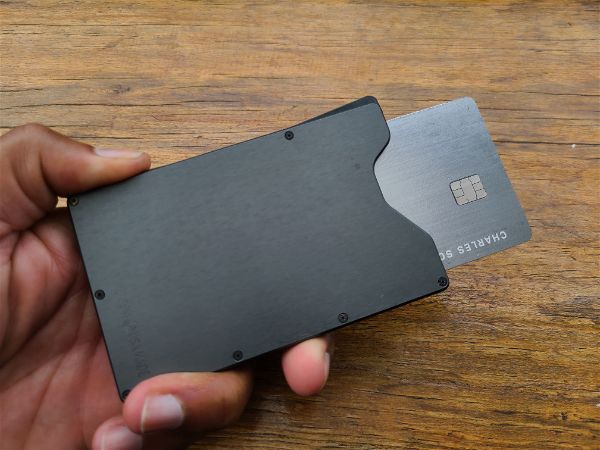 When you need your cards, simply squeeze on the palm lever to eject your cards and release them to lock them in place. The mechanism, and the whole wallet, is guaranteed for life by Grip6 – so if you ever have any issues they'll replace it, for life, no questions asked.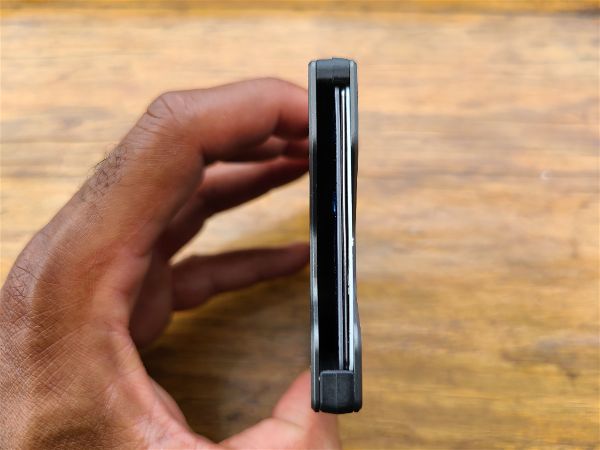 Tough Metal Case
The machined aluminum in this wallet is seriously tough. The layers of machined aluminum are screw assembled together. Suffice it to say that this metal wallet will last a lifetime, which is far longer than the 10 other slim leather wallets I've purchased, repaired, and still broke in the last 10 years.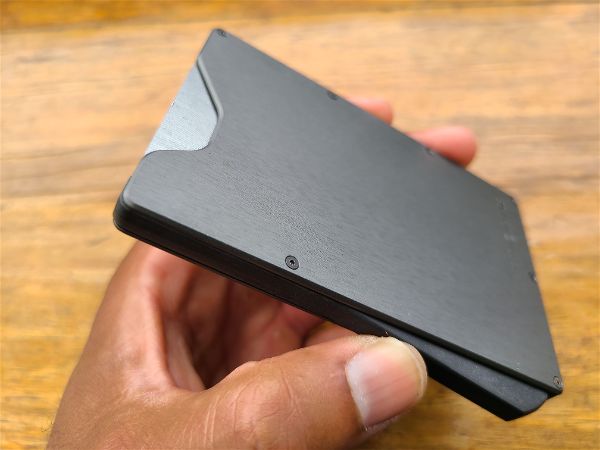 RFID Blocking Metal Exoskeleton
The tough shell on this wallet is made from American aluminum to form two RFID blocking walls on each side, adding up to an RFID blocking metal skeleton for your cards.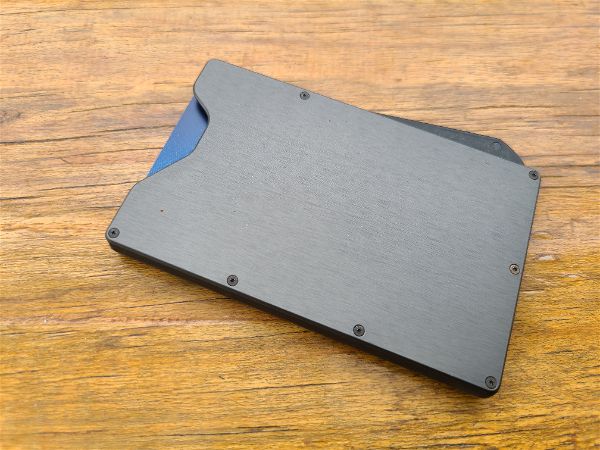 Why is this useful?
Well, as credit cards become easier to use and more advanced – think swipe to pay features and embedded signals so that you simply wave your card over a sensor – the easier your card's information, the card number, expiration date, and security code, become to steal. For the average credit card, you can actually easily configure an Android smartphone to wave past your credit card (while in the pocket of your pants) and "clone" the signal and card information, making it readily available to use for fraudulent purposes online.
The only way to prevent this is to block your credit card's RFID signal when not in use.
But, I can guess what you're thinking. "Isn't this overkill? Would this really happen while travelling?"
Absolutely. It happened to me just before I grabbed the Grip6 wallet. "Skimming" is very common in big cities, and even more common in larger, urban cities in developing countries where the average salary is far lower than the average European or American travel budget.
And the only way to avoid this "skimming" is to block your credit card's RFID signal when it's not in use but in a position for someone to walk by, swipe, and access – like when it's sitting in your pocket.
Construction: Solid Aluminum, Built Tough, Made in America
Corrosion-resistant American aluminum shell impacted tested to ensure high quality, intense durability, and is the last wallet you'll ever need.
Even further, Grip6 guarantees this wallet for life – so not only will it outlast any other wallet, it is quite literally the last wallet you ever need to purchase.
Why Choose This Wallet Over Other Wallets?
If you are a minimalist and want a wallet that fits slimly into your pocket – and you primarily just carry credit cards and identification – you should consider this wallet.
If you want an RFID protected wallet, you should get this wallet.
If you want a wallet that will never break – you should get this wallet.
If you carry a ton of stuff in your wallet, this wallet may not be for you.
If you want to carry 20+ bills in your wallet, this wallet may not be for you.
Why Choose Slim Metal Over Your Classic Leather Wallet: Security, and Durability.
As much as I love the look and feel of a flat leather sleeve style wallet, ultimately those wallets fall apart every 6 months – especially with the rigors of the travelling around the world that I put them through. If they don't fall apart, they loosen up, making it possible for a credit card to slide out of my wallet, out of my pocket, and into a rice field, again.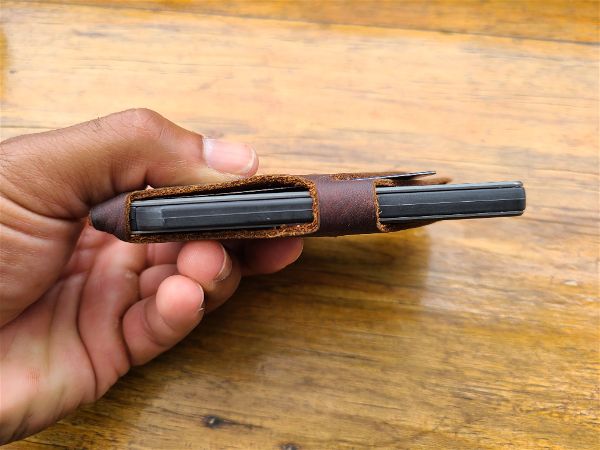 By opting for the Grip6 wallet, I'm keeping the most important tool on my travels (my credit cards) safe in a wallet I'll never have to replace again. That reliability is well worth the upgrade
What about Carrying Cash?- My Recommended Setup – The Grip 6 Wallet for Your Cards, and a Solid Money Clip for Your Cash.
In the near cashless world we live in, carrying only credit cards is fairly common. However, if you're like me (a silent doomsday prepper) carrying cash is an imperative – I always have at least $100 on me, just in case.
If you do carry cash I recommend two options to complement the Grip6 wallet…
If you carry a little cash (10 to 20 bills) grab a stylish and functional money clip. My favorite is this one minimalist stainless steel money clip. I've owned several, as I commonly give them away when friends compliment it. It's built tough and takes a couple of months to break in, and let your money slide in easily, but it's cheap, stylish, and durable.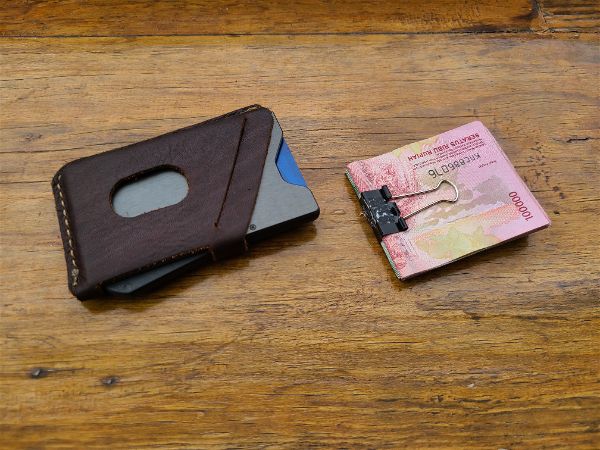 If you carry quite a few bills – which is common while travelling to places like Indonesia, where the largest bill is about $7 USD – I opt for the "ghetto" route – use a binder clip. Binder clips aren't the most stylish, but they're minimalist, functional, and you can find them anywhere. And besides, money is sexy no matter what its wrapped in.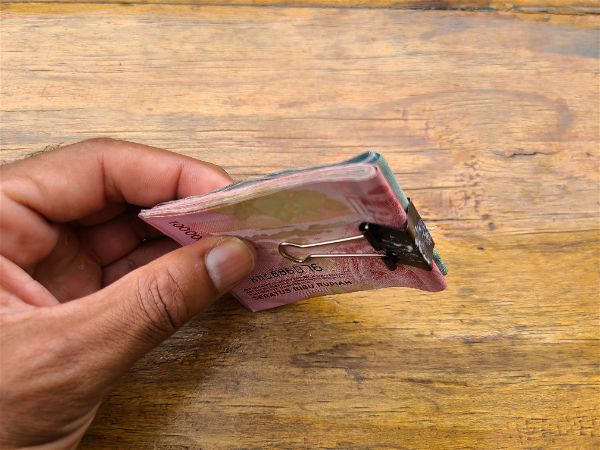 The Bottom Line on the Grip 6 Wallet for Minimalists in Daily Life, and Traveling
If you're in search of a buy it for life wallet that is minimalist and tough and will keep your cards safe and secure, you can't go wrong with the Grip6 wallet.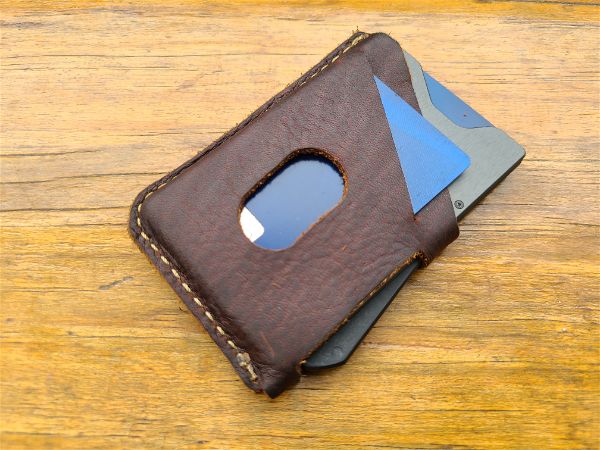 Click here to get the best price on Grip6 Wallets with free shipping!!

What Next?
If you liked this piece of gear, also check out the Grip6 Belt review – just as minimalist, functional, and tough.
Look for other minimalist, practical gear for daily life and travel? Check out these other pieces I highly recommend:

Grip6 Wallet FAQ
How does a Grip6 wallet work?
An internal spring-loaded lever, with an external button, locks the cards in place. When you want your cards, simply press to eject.
How many cards can a Grip6 wallet hold?
The Grip6 wallet holds 6 cards internally (hence the name "Grip 6") and 2 more cards in the optional leather sleeve.
Why is the company called Grip6?
The company Grip6 was named after the ambition to design the perfect wallet, that held (gripped) 6 cards.