Finding the right daypack, that is comfortable, keeps your laptop and tech organized, and is tough enough to last a lifetime under heavy loads and lots of use is tough.
At least that used to be the case…but not anymore.
Let me introduce you to the GORUCK GR1, a tough, everyday carry backpack that excels in daily life and does even better during adventures and under heavy use. Military inspired, near bulletproof construction, minimalist and utilitarian design and aesthetic, and simple yet versatile function that makes this bag great for digital nomads and day hikers with heavier than average loads and want a bag that will last for life.
In this GORUCK GR1 review I'll share how this overbuilt daypack has been perfect for my overactive daily life as a digital nomad – heading from home, to gym, to a coworking space loaded with tech, surfing, and then home, with everything secured and comfortable in a single bag.
After 5 years of traveling the world, and a few of those as a laptop toting digital nomad, I've broken 4 daypacks under heavy loads and hard use. After months of using the GR1 I'm certain that this is the last daypack I'll ever need – and I'll tell all in this full GORUCK GR1 review.
Note: This article contains affiliate links
CONTENTS OF THIS GORUCK GR1 REVIEW
________________________
QUICK GORUCK GR1 REVIEW
________________________
The Bottom Line Upfront: This GORUCK bag is a solid investment because it'll protect your tech, stays comfortable, and will last for life.
Though this bag may seem heavy for its size (1.5lbs more than similarly sized bags) and pricier than other bags (~$100 more) – those are the only complaints you will hear from anyone complaining about this bag as it is one of the best backpacks for rucking on the market.
However, in return for a few extra dollars and ounces, the GR1 delivers, in durability, comfort, and minimalist function that no other daypack on the market offers. The extra 1.5lbs of material is well worth the durability (to carry 400lbs+ loads) and the extra $100 is worth never having to buy another daypack again.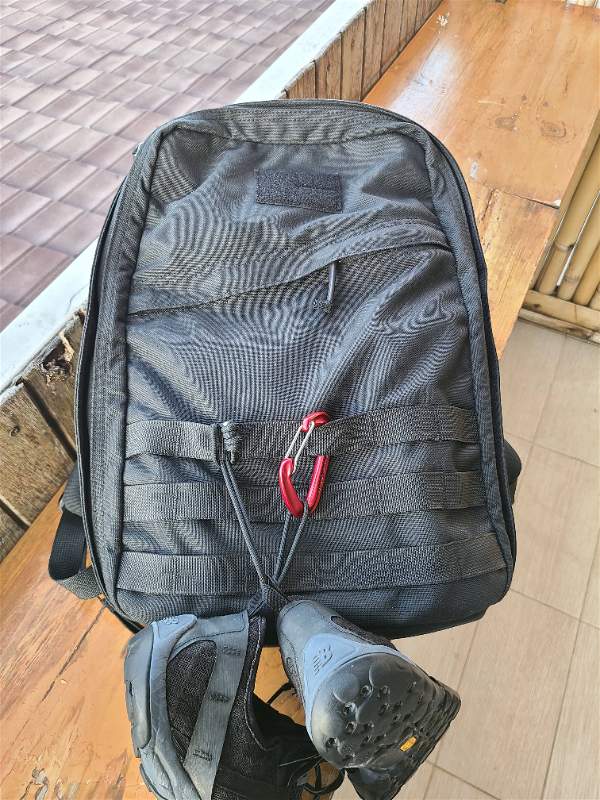 This article contains affiliate links
The minimalist organization is minimalist and just enough to carry a day's worth of gear. The rain proof design and padded "bombproof laptop compartment" are great features, accented by overpadded straps that make loads feel far lighter than they are – all working together insanely well, and make this tough GORUCK pack suited for digital nomads and anyone who commutes by bike, foot, or public transportation.
Last, if you're into no gym fitness – like me – then you'll love that this pack easily holds weight (sandbag filler bags or ruck plates) to turn simple calisthenics into intense, muscle building exercises, and turn simple walking into an intense cardio and strength workout known as rucking.
The bottom line: For anyone who wants a single, functional, multi-use bag that will last a lifetime, the GORUCK GR1 is a great investment that will last for life
QUICK PROS & CONS OF THE GORUCK GR1
PROS
Tough, practical, and keeps your gear safe
---
General admission and member Insanely Great Quality and Craftsmanship
Durable (will last a lifetime of use, backed by lifetime warranty)
Tough (can handle 400lbs loads)
Comfortable, over padded straps and back panel handle heavy weight well
Size/cut is perfect for full range of motion and well secured weight
Bombproof laptop pocket is super useful, great protection, and rainproof (for laptop and documents)
Great rain resistance and water resistance all around, thanks to water resistant, abrasion resistant, and tear resistant Cordura Nylon
Lifetime warranty with GORUCK SCARS guarantee
CONS
Price and Weight
---
GenWeight 1.5lbs more than an average daypack
Back panel doesn't breathe well in the heat of Bali (but I haven't found a backpack that does)
NEUTRAL
The price is higher than average, but its still a great value
---
Value: High price, but you get what you pay for, and it's a "buy it for life" purchase

Quick Overview of My Experience with the GORUCK GR1: Everyday carry backpack for heavy loads, great weighted backpack for calisthenics
Addictive Everday Carry, handles heavy loads well and makes a good mobile office
Perfect for daily life as a DN – carrying a full day's needs in a pack
Rucks comfortably (making a day on foot a workout) with a 45lbs load
Great as a weighted backpack for calisthenics works (just use with a GORUCK Ruck Plate or I use a GORUCK Filler Bag instead)
If you want to carry heavier loads comfortably, this is your bag. Most bags max out at 45lbs, in terms of comfort and durability.

Who is the GORUCK GR1 is perfect for? "Buy it for lifers", digital nomads (as daypack), no gym fitness enthusiast for weighted calisthenics and rucking
I'm certain that the three groups that will love the GORUCK GR1 are:
digital nomads and daily commuters that carry lots of tech and goodies
Minimalists and "buy it for life" enthusiasts that prefer gear that will last a lifetime
"No gym fitness" enthusiasts that will use a weighted pack for gym free workouts
Digital Nomads will love the heavy duty protection for laptop and tech, and the ability to carry a full day's worth of gear comfortably, without straps breaking
The digital nomads I know live their lives out of backpacks – when jaunting around the world and when getting work done in coworking spaces on the daily. Additionally, the digital nomads I know carry a lot of tech – laptop, smartphone, Bluetooth headphones, an e-reader, a water bottle (essential to avoid stacking up plastic bottles), gym clothes, and healthy munchies. All of that can easily add up to 40lbs very quickly. This creates 2 problems…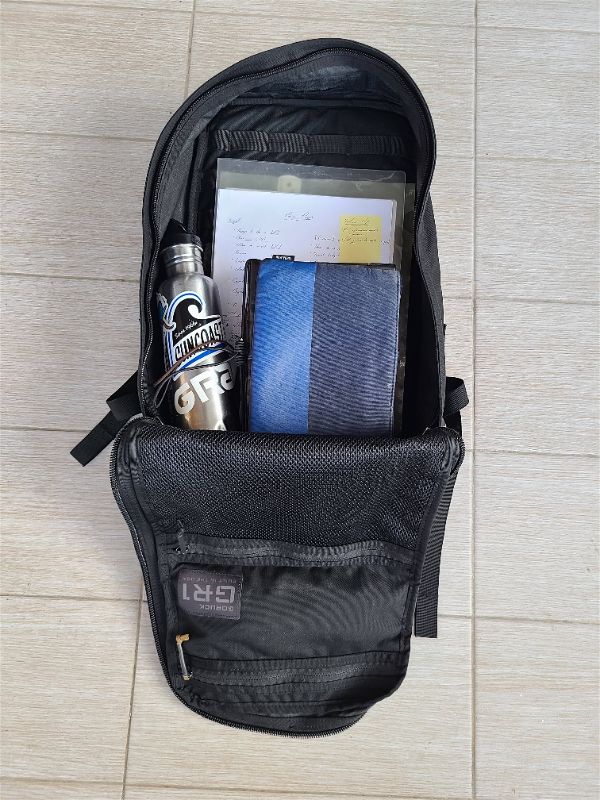 Either 1) your bag's straps break off after a year, leaving you stuck in Bali trying to buy a good laptop bag that's not travel friendly or overpriced or 2) your shoulders simply get tired under the load.
So, for anyone that carries tech (which is everyone these days) and lives life out of that daypack, the GR1 is perfect because its durable enough to stand up to this kind of daily use (actually more like 400lbs of use) and the heavily overpadded straps designed for military rucking making that daily load much more comfortable on the shoulders.
Additionally, for most people that laptop is the most important material item in their life, and they need to keep it safe.
All of this adds up to why I, who work in coworking spaces daily and have a laptop nearly 24/7, have come to use the GR1 exclusively for my days.
If you're a digital nomad, or carry a lot of tech, and you want a bag with good laptop protection and that will stay comfy, this bag is great.
Buy it for Lifers will love that this daypack is built tough and backed by a lifetime warranty
As a proclaimed minimalist, I aim to ensure everything I purchase will last as long as possible, and do as much as possible. In other words, I want fewer pieces of gear, to use for more activities, and I want more years of use before I have to replace it.
I already know, from months of using the GORUCK GR1 as a daily carry in the heat, in the rain, and under heavy loads rucking and wearing it for weighted calisthenics workouts (45lbs to 60lbs for long walks, pull-ups, and countless other exercises) that is a solid "buy it for life" that will withstand heavy abuse.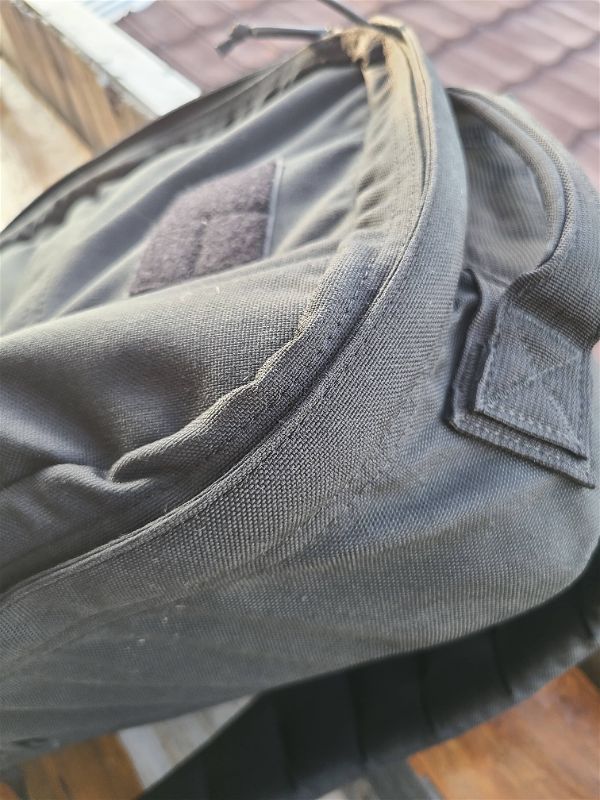 The military inspired designed, tear and abrasion resistant 1000D Cordura nylon throughout, and heavily reinforced nylon stitching, all handmade with 4 hours of work in the US (we'll get into all that later) add up to arguably the toughest daypack on the market – suitable for warzones, improvised gyms, and protecting my laptop through thousands of miles and hundreds of cities.
If that's not enough, the lifetime guarantee through the GORUCK SCARS program ensures they'll fix or replace this bag for life.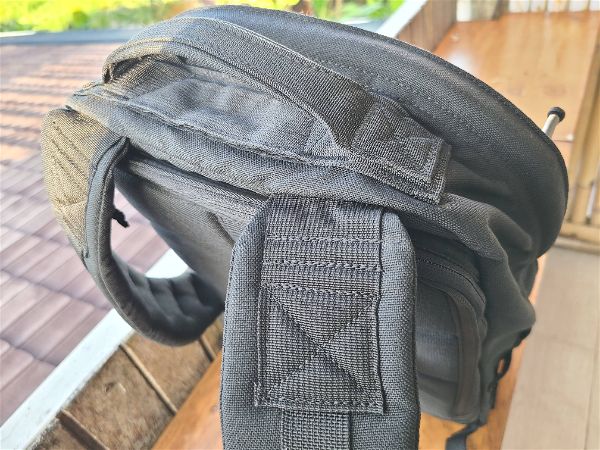 This is a tough bag and (for me) the last day pack I ever plan on purchasing.
No Gym fitness enthusiasts will love this bag as a weighted backpack for weighted calisthenics and rucking – like a weighted vest with more versatility
Oddly, the last group that the GR1 is great for is the group it was designed for – tactical athletes, military personnel, and fitness enthusiasts that want to get outside the gym.
Because of the comfy straps, the dedicated "ruck plate pockets" are used to add weight, and the tough build, the GR1 is a perfect way to add weight to your workout, cranking up the intensity of any exercise to focus more on anaerobic and strength training.
In the past few months, my beach workouts have become full on Crossfit style strength training. I've thrown a 45lbs sandbag into my pack, walked a mile to beachside pull up bars and dip bars – knocking out muscle building weighted pull ups and dips interspersed with squats – getting in a tough, strength and muscle building workout in the fresh air.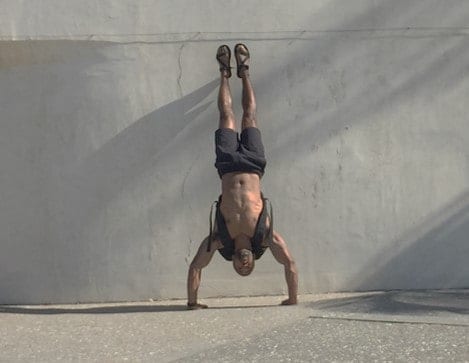 This is how I make my money back on the purchase. A gym membership costs $100 to $200. The GORUCK GR1 costs $335 at the moment. My two months of skipping the gym in favor of GR1 facilitated beach workouts (with a touch of sandbag training) has covered the cost of sandbag training, and I feel just as fit as before, but with a much better view
**1**
Additionally, as I've gotten more into sandbag training, the GR1 perfectly supports a 60lbs sandbag thrown over the top (of the handle). So, walking out with the sandbag and rucking a mile to my pull up bars, with a weighted GR1 gives me the chance for a full body resistance workout for $0 additional dollars.
THE DOWNSIDES OF THE GR1: 1.5LBS HEAVIER, $150 MORE EXPENSIVE
Nothing in life is perfect and the GORUCK GR1 is no exception.
The tough build adds on about 1.5 extra pounds of material, as the 1000 denier Cordura Nylon used throughout is heavier than the polyester and thin nylon used in other packs. Additionally, being hand made in America, and using those tougher quality materials increases the price by $150.
So, is it worth the extra weight and the extra cash to purchase the GR1?
The answer depends on your priorities…but it is likely yes, if you are prioritizing utilitarian toughness and minimalism in function and style
If you are super sensitive to extra weight on your back, about the weight of 2 x 12 oz. water bottles, or 3 x smart phones, then absolutely reconsider. If you are an ultralight packer, then the GR1 likely isn't up your alley.
However, if you tend to carry a lot, and if you don't mind 1.5 extra lbs., then ignore the comments about the GR1's chunkiness.
As for the price – the GORUCK GR1 admittedly isn't cheap, but I think it is worth every penny.
In the last 5 years of travel, I've broken 4 daypacks, usually at the straps, due to too heavy a load (thanks to a laptop and a 32 oz Nalgene bottle) and one had holes abraded through. At ~$100 a bag, that is $400 of waste already – none of those bags provided the protection or versatility that the GR1 does, and even worse all of the luck and "good joojoo" the bags had from my travels disappeared when they went in the trash.
At $335 for the GR1, I get a bag for daily life, hard workouts, and travel that I'll have for 5+ years. Look on ebay and you'll find plenty of 10 year old GORUCK GR1 backpacks pulling a solid premium because they're still in great shape.
Additionally, I know what to expect from GORUCK gear because I've been traveling with, and abusing, my GORUCK GR3 since 2018. It has been dropped from moving motorcycles, caught in the rain countless times, and used as an improvised sandbag – and it is still kicking. The GR1, based on my experience so far, will deliver the same bullet proof performance.
So…
Yes, the GR1 is 1.5lbs heavier than the average bag – for me, that's a negligible difference and a great sacrifice for the durability and function I get in return.
The price is worth paying for the bag, accented by the lifetime "GORUCK SCARS" warranty. This is a "buy it for life" purchase making it a solid value.
| QUICK RATING OF THE GORUCK GR1 | |
| --- | --- |
| DURABILITY: 5/5 | Tough build, backed by a lifetime warranty |
| QUALITY & CONSTRUCTION: 5/5 | 1000D Nylon, Heavily Stitched, US Made |
| VALUE: 4/5 | High price, but "buy it for life" |
| SUITABILITY AS A DAYPACK: 5/5 | Great for all-day wear and tech protection |
| SUITABILITY FOR NO GYM FITNESS: 5/5 | Excellent for weighted calisthenics, rucking, and improvised sandbag workouts |
| COMFORT: 4/5 | Super comfortable, wide, padded shoulder straps, but the Cordura nylon back panel doesn't breath very well |
| ORGANIZATION: 4/5 | Just enough organization for practical, minimalist packing |
Alternative Brands and Backpacks: Tough, daily carry, laptop friendly packs

Rucker 4.0: $150 cheaper with the same toughness, but missing the awesome laptop pocket
Peak Design Everyday Backpack: A great alternative with adjustable organization and great for camers, another perfect option for city life, but not nearly as indestructible as the GR1
Timbuk2 Division Backpack: Offers laptop protection and minimalist design but lacks the durability of the GR1
Mystery Ranch ASAP Assault Pack: Delivers similar toughness as a spec ops staple, but looks overly military and has less functional organization for everyday carry
GORUCK GR2 26L: If you want extra storage, this is a great alternative, with an entire extra divider panel (with pockets) of storage and a built in field pocket

The Big Question: Is the GORUCK GR1 worth the money?
The GORUCK GR1 is absolutely worth the money, if you value durability and minimalist function.
QUICK VERDICT ON THE GORUCK GR1: AN AWESOME DAILY CARRY BAG, AND WEIGHTED BACKPACK FOR EXERCISES – WORTH EVERY PENNY
For some people, a cheap and lightweight Jansport bag is enough.
For others of us, we live our lives out of a backpack. We need to keep our laptops and other tech safe. We need the bag to be comfortable. And preferably, we want it to last a lifetime. For the other crowd – that needs a tough functional bag – I highly recommend the GORUCK GR1.

FULL GORUCK GR1 REVIEW
MY EXPERIENCE WITH THE GORUCK GR1
I'm a long term traveler that has been in either "backpacker mode" bouncing between cities each week or "digital nomad mode" exploring a country for a few months while working online, before switching my home soon after. Along the way I've lived out of a single carryon sizedbag, "onebagging" – which required intentionally crafting my packing list with functional, versatile, and durable gear. Over those first few years of my travels I became extremely familiar with GORUCK.
I first tested GORUCK's GR3 45L travel bag, back in 2018 – and that was the only backpack I ever carried – through 50+ countries.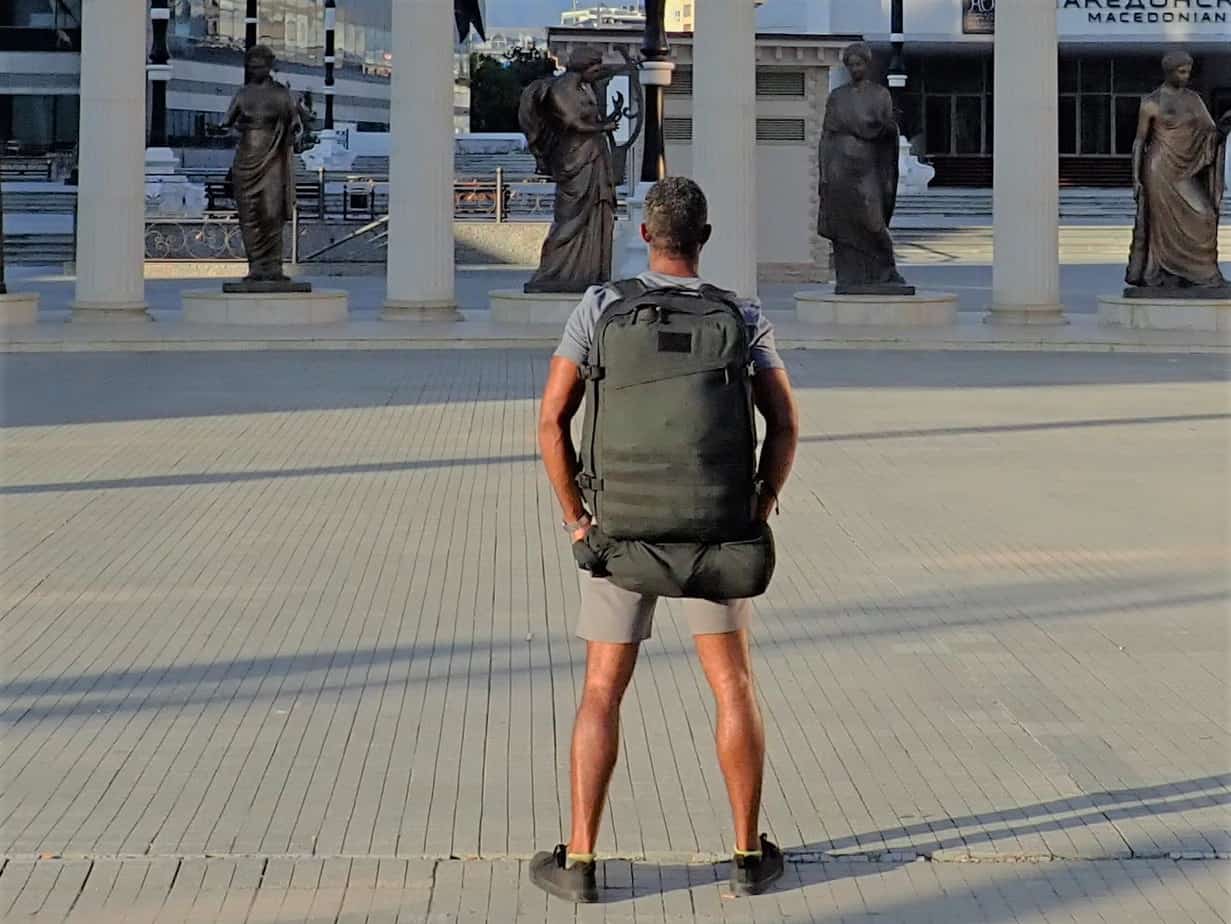 As the pandemic set in I decided to stay in Bali for the duration of the pandemic and then sized down to the 34L GR2 for the weekend exploration that took the place of my border hopping travels. Though the international borders were closed, Indonesia still had 17,000 islands to explore on weekend adventures, surfing, freediving, and SCUBA diving with my backpack strapped to my motorbike, and the GR2 was perfect for that – even if I did only make it to 7 of the islands.
However, a year into being on Bali, life changed even further – as I settled into being a "digital nomad" with Bali as my adventurous home. Islands closed, so my travels were responsibly limited to day trips to waterfalls and the east coast for surfing, or, even more adventurous, a morning at the coworking space followed by boxing, surfing, performing at a standup comedy show in the evening, and a night on the town, all without going home. I spent more time simply bouncing between cafes, coworking spaces, surf spots, gyms, bars in my little "digital nomad village." Instead of hopping busses and trains, I was walking or motorbiking across town and looking for a quiet local hut and a coconut to write my latest book.
My adventures were now limited to a single day, the GR2 was slightly larger than necessary, so it was time to size down to a true daypack – and the 26L GORUCK GR1 was perfect for the task.
During the last few months I've owned the GR1, this insanely tough little backpack has taken my adventurous life, and kept my essential tech safe, and taken it in stride.
The bombproof laptop pocket has protected my laptop during the sudden rain storms that happen on Bali as I ride across town on motorbike.
The overbuilt laptop straps have stayed comfortable while carrying 25lbs of daily kit as I walk from the coworking space to the gym.
The bag in general has been perfect for dropping a 45lbs sandbag filler bag in and getting in a workout on the beaches I moved to Bali for.
In the 5 years of travel I've been lucky enough to experience, I've broken 4 different daypacks due to overweighting the straps or the outer fabric abrading from general use and friction. Three months into using the GR1 I could already tell this would be the last daypack I'd need.
Is the GR1 a bit heavier and bulkier than other daypacks? Absolutely. Do I care? No. Why? Because the assurance that this pack won't break on me in the middle of a trip through Sri Lanka, and the fact that it stays comfortable when I'm walking 5 miles across town with my kit for the day makes it worth it. And from here on out, during my travels, I will be a two bagger – carrying my GR3, and my GR1 daypack.
My experience with the GORUCK GR1, living life out of it on a daily basis and traveling adventurously has been great.
If you don't mind the extra 1.5lbs and are on the hunt for a "buy it for life" bag that will seriously last a lifetime then I highly recommend the GORUCK GR1
THE ORIGIN STORY OF THE GORUCK GR1: MILITARY INSPIRED, BASED ON THE MILITARY MEDIC – PACK, RE-IMAGINED "SPECIAL FORCES TOUGH" – THE ORIGINAL GORUCK PACK
The company, GORUCK, was established by founder ex Special Forces soldier Jason McCarthy to create a simple daypack, tough enough to withstand the daily rigors of combat operations. After his time he set out crafting, testing, abusing, and molding daypacks until he settled on a solid design for the company's original pack the – the GORUCK GR1.
The GORUCK GR1 is inspired by the combat medic packs used throughout the military, that are tough enough to protect medicines and sensitive medical and surgical gear, and open wide and flat (with a clamshell design) to make everything available to a combat medic or corpsman patching someone up on the ground. And that is the DNA behind this tough pack – built based on simple design principles that made for tough, reliable gear, worthy of being relied upon in warzones, now adapted for travel, everyday life, and getting in a solid workout without a gym.
Around the same time Jason McCarthy was operating Africa as a Spec Ops soldier, I was neck deep in combat operations in Iraq. We moved every 3 days, living out of trucks and backpacks and backpacks as we conducted our own operations – miles from our homebase which we'd see once every few weeks and even further from civilizations. It was then that I fell in love with tough, reliable, simple, functional gear – as a traveler and a wanderer. Having a solid daypack, with room for your water, food, "tools of the trade," whether that's a concealed pistol (from my Iraq days) or a laptop (my tool of trade now), and accessories, and that stays comfortable whether you're walking miles down a desert road or walking between train stops in London, is worth its weight in gold, whether you're wandering warzones or simply backpacking Southeast Asia.
GORUCK built this backpack quite literally to excel in the worst conditions – war. The product of that ambition is a fantastic pack that serves digital nomads and backpackers (like myself now) travel better and more comfortably, protecting their tools of the trade along the way.
KEY FEATURES AND DESIGN OF THE GORUCK GR1
Wrap around zipper and "clamshell design" make accessing anything in the pack easy – like a mobile office
Bombproof laptop compartment is a "rainproof" and padded laptop pocket that protects a 16″ laptop
Hydration tube – doubles as a recharging port
Top handle is tough enough to hold a 400lbs load, and doubles as a securing point, to clip to a table or motorbike while traveling
Ample Pockets and organization

External front slash pocket
Internal 1000D Cordura Panel Pocket – quick access, great for wallet, keys, and ID (11″W x 6″H / 26L: 11.5″W x 6″H)
Internal Mesh Panel Pocket – great for loose items, ear buds, charging cables, etc. (11″W x 10″H / 26L: 11.5″W x 12.5″H)
Internal open pocket (elastic top) – great for tucking laptop, clipboard, or books (11″W x 10″H / 26L: 11.5″W x 11″H
Bombproof laptop pocket – padded, zippered, false bottom, keeps the rain out

Wide, Overly Padded Shoulder straps –

Perfect for heavier loads and long wear
Reinforced shoulder attachment to the main pack for durability – ( I love this as this is the point that has broken on all other packs)

Heavily padded back panel – keeps the pack comfortable under heavy and odd shaped loads
Removable Frame Sheet – comes with thick plastic that can be removed, for a more "packable" pack, or upgraded to stiffer Kydex
Carrying loads of 400lbs+ – at all stress points such as shoulder straps and handles
External MOLLE webbing on front and side for optional attachments
Optional: Hip Belt can attach to side MOLLE
Optional: Water bottle holder can attach to front or side MOLLE webbing
Internal MOLLE webbing allows attachment of internal field pockets
MOLLE Webbing lines the shoulder straps – allows for an optional sternum strap
Accommodates ruck plates in internal ruck place pocket or the bombproof laptop pocket, to allow weighted ruck workouts and rucking
Water bladder can be place in internal elastic top pocket and run through top opening for spout
Cambelbak hose opening (on top of bag) doubles as a port for a charging cable
Removable back panel frame sheet supports weights (like ruck plates), protects the laptop in the laptop pocket, and can be upgraded with a stiffer back panel frame sheet (like the Kydex framesheet mentioned)
Wrap Around Zipper and Clamshell Style Opening
Bombproof Laptop Compartment and Removable Back Panel
Over padded and heavily reinforced shoulder straps
DIMENSIONS
MAIN COMPARTMENT AND PACK DIMENSIONS
21L Dimensions: 11.5″W x 18″H x 5.5″D / 21L Weight: 2.9 LBS
26L Dimensions: 12″W x 20″H x 6.75″D / 26L Weight: 3.2 LBS
POCKET DIMENSIONS
External Slant Pocket: 11″W x 10″H / 26L: 11.5″W x 12.5″H
Internal Elastic Pocket: 11″W x 10″H / 26L: 11.5″W x 11″H
Internal Mesh Pocket: 11″W x 10″H / 26L: 11.5″W x 12.5″H
Internal Cordura Pocket: 11″W x 6″H / 26L: 11.5″W x 6″H
Bombproof Laptop Pocket fits up to a 16″ laptop
WEIGHT
MATERIALS, CONSTRUCTION, AND DURABILITY
MATERIALS
1000D Cordura nylon is resisting wear (abrasion resistant, water resistant, dirt resistant)
Large YKK zippers – have never malfunctioned and stood up well to beach sand and mud
CONSTRUCTION
Reinforced stress points (drag handle) for 400lbs
Each pack takes 4 hours to build and is made in the USA
Lifetime warranty through the GORUCK SCARS Program offers lifetime repair or replacement serves as a good testament to quality and construction
DURABILITY
No signs of wear after daily use, but the shoulder straps and material have softened, making it more comfortable
The GR1 has survived falling off my bike, while driving, a few times, with zero damage to my laptop
Overly padded straps are great for comfort (daily and in workouts) and durability
THE VERDICT ON THE GORUCK GR1…
This is arguably the best daypack out for digital nomads and daily commuters that are heavy loaders and bring a lot of tech, minimalists that are hunting for "buy it for life" gear, and no-gym fitness enthusiasts interested in weighted calisthenics and rucking.

Other Gear I Recommend Checking Out
GORUCK GR1 FAQ
Is GORUCK GR1 worth the money?
The GORUCK GR1 is more expensive than most everyday carry backpacks but is worth the money because of its high quality, because it will last much longer, and because it is backed by a lifetime repair or replacement guarantee
Are GORUCK bags worth the money?
Every GORUCK bag I've owned, the GR1, GR2, GR3 and kit bag, have all been worth the money to the high quality materials, construction, and functionality – being great for travel, everyday carry, workouts, adventures, and more.
Which GORUCK should I buy?
If you are looking for an everyday carry bag, get the GR1 if you need a laptop pocket or get the Rucker if you don't need a laptop pocket. If you need a weekender or light travel bag, get the GR2. If you need an extended travel bag, for months, get the GR3. If you want a duffle style weekend bag, get the Kit Bag
What is a GORUCK bag?
GORUCK bags are a backpack made by the company GORUCK, intentionally designed for the purpose of "rucking" or ruck marching, which involves walking while carrying heavy loads in a pack. All of the GORUCK bags are military-inspired and designed to withstand the rigours of combat and last a lifetime. Learn more here
.