As a minimalist and a long term traveler with only a carry on bag, I'm always on the lookout for tough clothing, versatile enough for any occasion, comfortable, and that still looks good. Accessories, like shoes, underwear, and belts that are small, minimalist, and packable enough for travel are the hardest to find. However, thanks to Grip6 belts are no longer an issue.
In this Grip6 belt review, I'll share how over the last few months of wear I've come to enjoy wearing this belt because it looks good (with jeans, shorts, or chinos), is as tough as military riggers belts, is functional and sleek enough for hiking, and packs down so small it takes up nearly zero space in my backpack when not being worn during my travels.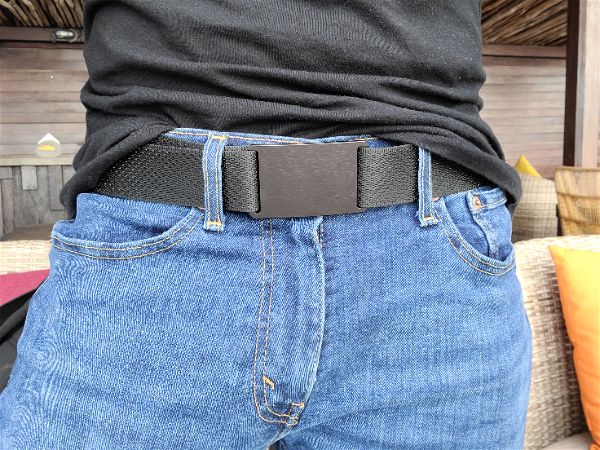 Note: This article contains affiliate links
Read on to discover why Grip6 belts are all you need, for any occasion or adventure
QUICK GRIP6 BELT REVIEW
HOW IT WORKS

Pick your Belt strap and buckle for the day
Thread through nylon strap through to the T tip
Place the belt around your waste and slide the belt through
Hold the buckle perpendicular to your waste and pull the strap tight
Allow to flatten and wear for the day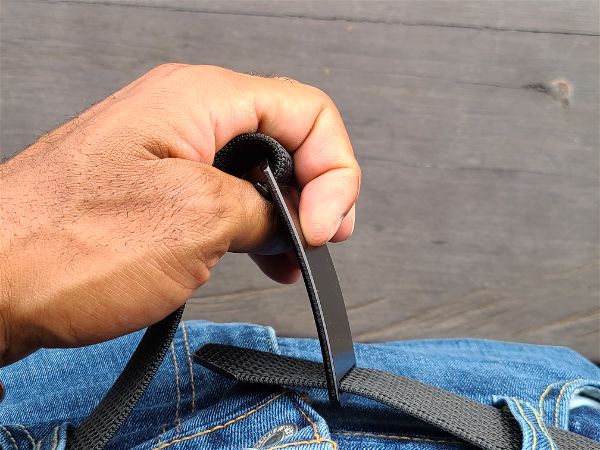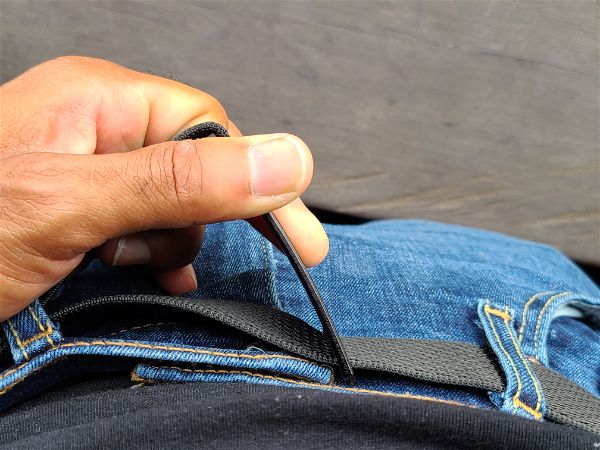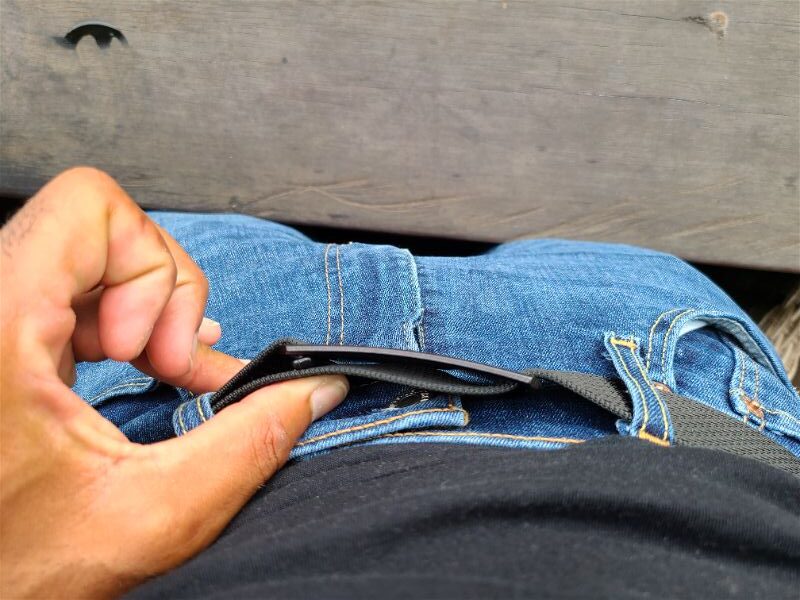 Also, watch this video tutorial for an explanation with visuals
WEARING THE GRIP 6 BELT FOR DAILY WEAR: LOOKS GOOD WITH ANY OUTFIT

Thanks to the minimalist design of a high quality, heavy duty nylon strap combine with a machine cut aluminum buckle, the result is a very sleek looking belt with interchangeable straps and buckles.
Because of the minimalist of design, with a solid black or blue buckle and belt, you could easily wear this belt stylishly with jeans, shorts, or chinos and look good. For minimalists or lightweight travelers this is excellent because a single belt will cover your entire wardrobe…and keep you ready for adventures.
WEARING THE GRIP6 BELT FOR HIKING AND ADVENTURE: FLAT DESIGN FITS NATURALLY AS A COMFORTABLE HIKING BELT, AND TOUGH, FUNCTIONAL CONSTRUCTION MAKES IT READY FOR HARD USE
The best belts for hiking have a "lie flat" front, so that they can easily sit under the waistbelt of large backpacks. Though (up until now) I've mostly worn a heavy duty, leather Timberland belt, I've had to also carry a specific flat belt for hiking that I picked up in Patagonia a decade ago. The heavy duty, thick leather Timberland belt was great but the shape of the buckle would become extremely uncomfortable under the waistbelt of a backpack. Instead, I had to carry a second, minimalist utility belt that was much better for hiking, but honestly didn't look that great. However, the Grip6 solved my problems.
The flat, minimalist design, and flexible yet durable and tough nylon strap of the Grip6 belt makes it great for hiking and wear under the waistbelt of a backpack, while still looking good enough for daily wear. So, the Grip6 belt replaced both of my favorite belts that I've had for a decade, thanks to its style and minimalist.
WEARING THE GRIP6 BELT FOR TRAVEL: PACKS SMALL, AND STYLE VERSATILITY MAKES ONE BELT GREAT FOR ANYTHING

As a minimalist traveler, aiming to bring a single carry on backpack anywhere I go, I have to be very particular about all of the clothes and accessories I take with me. Anything I wear has to be versatile enough wear with all of my outfits (ideally stylishly), minimalist enough to pack down small and take up little space in my bags, and durable enough that it won't break on me somewhere in rural southeast Asia or the mountains of Patagonia where replacing clothes and gear is impossible.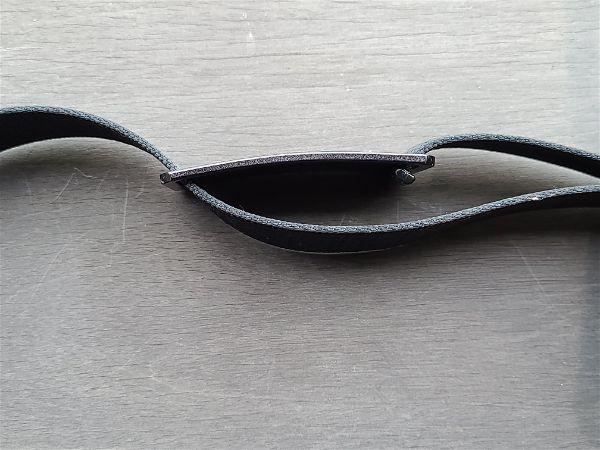 **
First, the Grip6 belt fits the bill because it packs down tiny, folding over into a simple folded strap and an aluminum plate – unlike have duty or thick leather belts that only roll so small due to the stiff, riveted or sticked build. Bottom line – the Grip6 belt packs small
Second, the Grip6 belt replaced the function of two of my belts – my belt for casual wear, and my belt for hiking – which naturally lightens my backpack
THE GRIP6 BELT OVER TIME: SOFTENS FOR EASIER WEAR, WITHOUT WARPING
Over the months of wear the nylon belt, more specifically the weave, has softened slightly (just enough) in a way that makes the belt slightly more comfortable and easier to tighten, while still staying tight and feeling no weaker than when I first put it on.
PROS & CONS OF THE GRIP 6 BELT
| | |
| --- | --- |
| PROS | CONS |
| Minimalist, sleek styling looks sharp with jeans, shirts, or chinos – anything but a suit | Learning how to adjust the belt takes a few days – no problem thereafter |
| Minimalist form (flat buckle) make it solid for hiking with a large backpack | Fabric construction, durability, and form is better suited to slimmer dressers and flat stomachs than muffin tops |
| Tough build with high tensile nylon strap and CNC cut aluminum buckle give tough construction similar to military riggers belts | |
| Great fit – friction system allows a perfect and does a great job of staying tight throughout the day | |
| Interchangeable belt strap and buckle make for LOTS of style possibilities | |
| Many reports of Grip6 fully backing their warranty and lifetime guarantee | |
| Personalized buckle options | |
QUICK RATING OF THE GRIP6 BELT
GRIP6 BELT QUICK RATING

~$25

Read on to discover more about my experience with the Grip6 belt.

Or, visit Grip6 before they sell out.

OVERALL

5/5




VALUE: At $35, the Grip6 belts are a great deal – cheaper than most belts, great price for the quality, and likely to last a lifetime 5/5




5/5

MATERIALS: High tensile nylon strap with 2000+ lb breaking strength, and simple yet heavy duty aluminum buckle make for durable materials 5/5




5/5

CONSTRUCTION: Simplicity of design meets high quality construction to make a tough
piece of gear that will last a lifetime with a lifetime guarantee 5/5




5/5

DESIGN, AESTHETIC, AND FUNCTION: Sleek, very neutral look makes it stylish enough to wear with anything 4/5




5/5

DURABILITY | RELIABILITY: Simple design, tough build and materials, and a lifetime warranty mean this belt will last a lifetime




5/5
QUICK VERDICT ON THE GRIP6 BELT
The Grip6 belt is built tough with a sleek, innovative design, and easily wearable in nearly any situation from a function and style standpoint. At $35, this belt is a bargain and the only one you'll need. Whether you're a minimalist looking for a versatile, daily wear belt, or a traveler and adventurer for a tough option to keep your pants up and your bags light, I highly recommend the Grip6 belt.

FULL GRIP6 BELT REVIEW
Accessories, like wallets, shoes, and backpacks, are an interesting and iffy piece of gear to decide on because if its done right, you only get one. One backpack. One pair of shoes. One wallet. And one belt.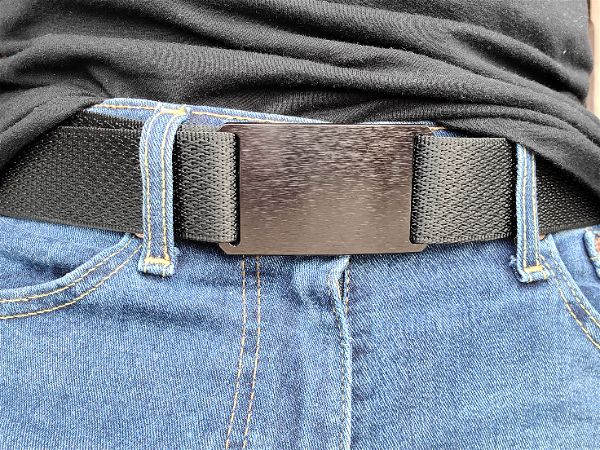 If you pick the right belt, that belt should look good enough for daily wear, be tough enough to last years, and (ideally) do double duty on adventures. This is what minimalists and travelers are looking for in a good belt and after months of testing I know that 100% this is what Grip6 delivers in its belts.
WHY THE GRIP6 BELT
The innovative Grip6 belt system, which uses no buckles, high quality materials, and finishes with high quality construction adds up to that unicorn belt that looks good and packs down unnoticeably small into your backpack between wears. The design gives a clean look, with no loos flaps, and the construction is top notch with brush aluminum for texture and abrasion resistant nylon, adding up to something I wear often with my Futureworks Chinos, and my New Way Shorts between dips in the pool as well as my Foehn Brise hiking pants while wandering.
To top it off, this belt is tough. Not only are the specs good, but a few months of wear show no issues – when I normally break my belts within two years.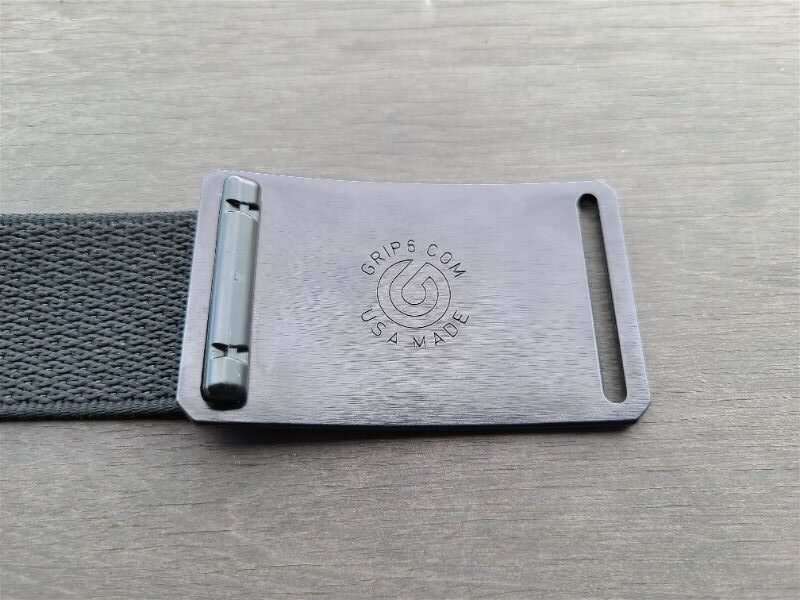 The bottom line: This belt is a great value, tough, stylish, and packably perfect for travelers and I've decided to replace my belts with the Grip6 belt for coming travels.
DAILY WEAR
Whether going out for cocktails at an upscale beach bar, performing comedy on stage for a couple hundred people, or motorbiking around my island for the day, the Grip6 belt has worked. It took a few days to get the hang of fastening it, but all was good after that.
Throughout the day, the flexibly 6,6 Nylon flexes just enough to be comfortable through any activity, not cutting into my sides like thick leather belts, but still doesn't loosen up during the day thanks to the "Badger Bite" design.
More recently, I've been traveling between islands for weeks at a time, taking a single backpack for a week which means all space is at a premium. On the way, I packed the belt into the bag with it taking much less space than my thick leather Timberland Boot Belt but also being safe for an impromptu dunk in the ocean.
Ultimately, I haven't worn any other belt for months, and don't want to as the Grip6 belt has comfortably performed in every circumstance.
DESIGN AND AESTHETICS
The design of the Grip6 belt is both stylish and functional, feeding into why I like it so much. The attention to detail in design and construction add up to a belt that looks good, thanks to sleek minimalism, and performs well.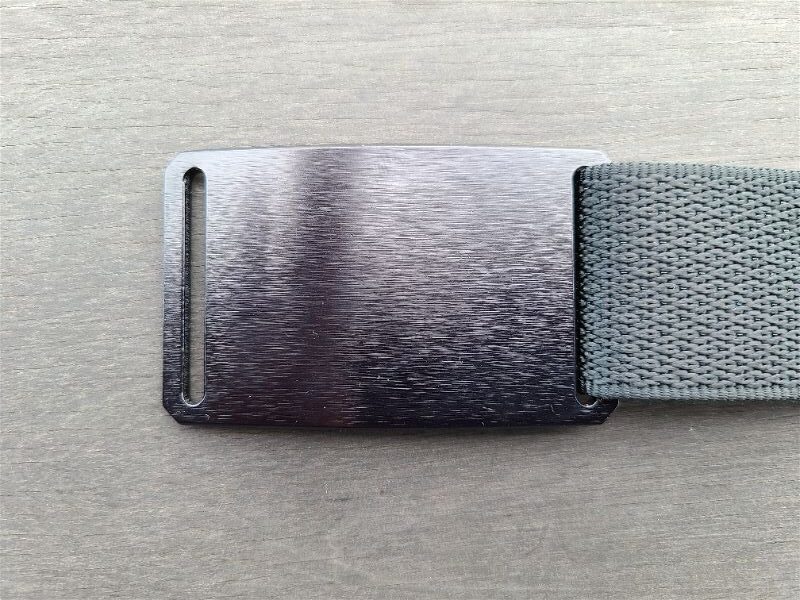 Design highlights of the Grip6 Belt:
No holes, no flaps, and no visible seem give a sleek, refined aesthetic that works with "smart casual", like chinos, but won't quite fit for a suit
Any excess flap tucks neatly under the belt, adding to the sleek look that is suitable for "smart casual" and everything below and a 100% clean look
The construction (machine cut aluminum buckle, woven 6,6 Nylon) look and feel high quality with brush finish, and anodizing/powder coating finishing the style and high quality look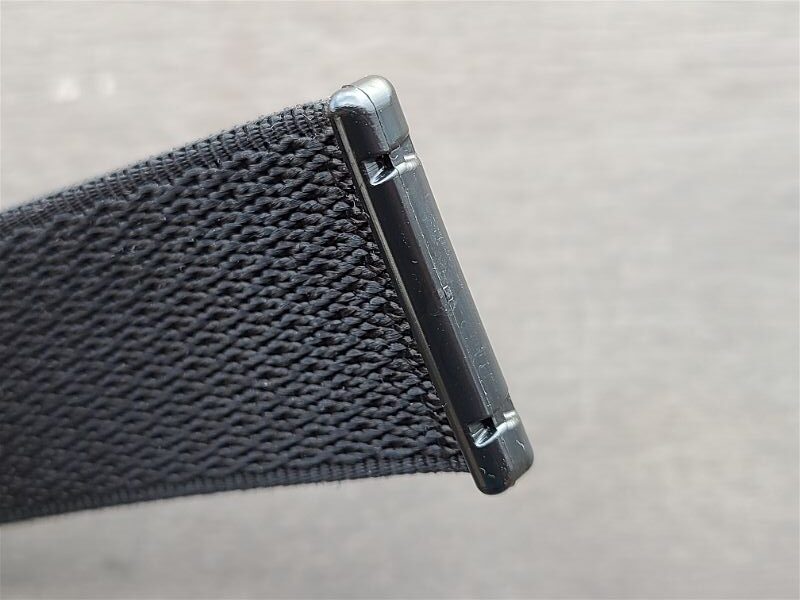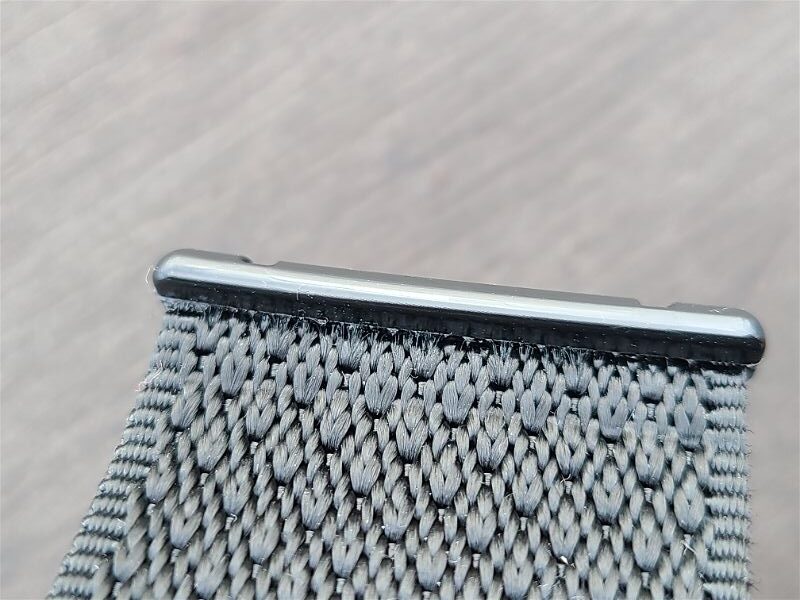 Available in 10 different buckle colors and styles and 5 different strap colors
Flat design, both strap and buckle, relative to other belts allow it to be worn under waistbelts while hiking and under duty belts for law enforcement and military
Angled tip make assembly and fastening the belt easy
Personalized buckle options
FEATURES AND SPECS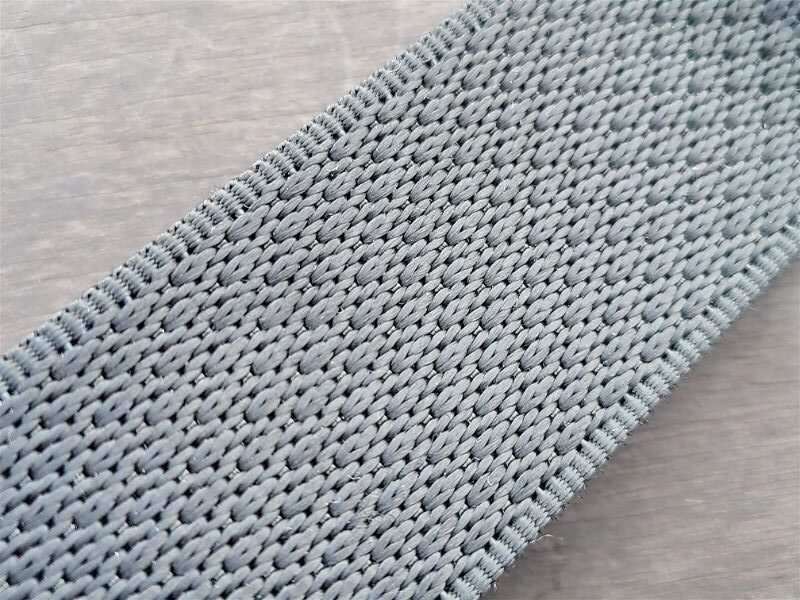 CNC Laser cut T6061 Aluminum Buckle that is brushed and either anodized or powder coated
Quickly interchangeable straps/buckles thanks to modular design
High strength woven nylon strap, can withstand 2000+ pound loads and delivers high friction for a good fit, while the work belt is built to 3000+ lbs tensile strength
High friction nylon strap doesn't during wear throughout the day
Patented "Badger Bite" friction locking fastening system (for fastening the belt) resists up to 250lbs of outward pressure
Patented "Fuselock" friction locking belt tip technology is built to withstand up to 250lbs of outward pressure while being worn
Low profile design, doesn't stick over pants or dig into skin – translates to a comfortable fit
No moving parts mean less likelihood of breaking
100% made in the US
Lifetime guarantee
Comes in sizes 28 to 50
The length can be easily adjusted by cutting and melting with a lighter, so go with your pants size or a little longer
Won't trigger metal detectors
Weight: 25 grams buckle, ~80grams total weight
Dimensions: 3″ x 1.8″ x .13″
VALUE
The design, function, and materials are WELL WORTH the $35 price tag.
First, this is the "lie flat" belt out there, a very unique and practical design – so the fact that its one of a kind increases it's value.
Second, the materials are high quality not just in the raw materials listed – T6061 aluminum that is anodized or powder coated and high tensile strength Nylon – but it is manufactured well as well. The CNC laser cut aluminum looks good and high quality with well designed edges, and the brushed aluminum look adds texture and aesthetics that look high quality.
Comparably, alternative belts that are as functional are fire and rescue belts that are riggers belts or "cobra style" buckles that run $80+ are hardly suitable for daily wear.
At $35 to $50, given the aesthetic, versatility, quality, and durability, the Grip6 belts are a great value.
WHAT OTHER REVIEWERS ARE SAYING ABOUT THE GRIP6 BELT
The Grip6 Belt is getting rave reviews for its minimalism, versatility – pretty much everything I've already covered in this article. However, if you peruse Reddit and Amazon, you will likely see random mentions of two complaints – the fit when it comes to larger waists (40+ inches) and the learning curve for figuring out how to put on the belt.
Let's get into these briefly to help you decide if this belt is right for you, and give you some return policy info so you'll be a little more comfortable trying out the gear for yourself.
PERFECT FOR WAISTS 34 AND SMALLER, 40+ WAISTS TEND TO HAVE DIFFICULTY

I am a 30 to 31 waist and love this belt, and most users with a waist size 36 and under generally report the same after getting over the learning curve of putting the belt on.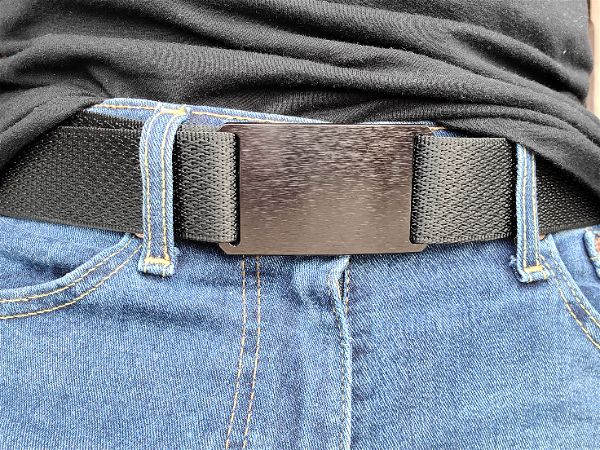 However, read through the Amazon reviews and you'll see most users that rate this belt as a 1 star have 40+ inch waists and generally rate the belt low because of the fit – and ability to keep tension.
Grip6's patented "Badgerbite**" design is awesome, however, it is designed to work when the straps lie flat against each other and the strap runs parallel with the belt buckle – as it the case with generally flat waists.
Unfortunately, for larger waists that are less flat (which I lovingly call "muffin tops") the curved shape of the waist clashes with the design of the Grip6 Belt.
Bottom line: If your waist is 36 inches or smaller, or you're a big guy with a reasonably flat waist, you'll likely love this belt as the design will work for you.

However, if you have a 40+ waist, don't be surprised if the Grip6 belt doesn't fit as desired and tends to loosen up during the day – just be ready to try it, see if it works for your waist, and send it back.

Grip6 offers a full refund with no questions asked in the first 60 days of purchase, so even if you have a larger waist (40+) don't be afraid to give the belt a shot
THE LEARNING CURVE OF PUTTING THE BELT ON IS DIFFICULT, BUT ONLY LASTS FOR A FEW DAYS

The Grip6 belts incorporate a patented "badger bite" design, which uses friction, between the aluminum buckle and heavy duty nylon strap, to withstand at least 250lbs of outward pressure. However, getting the hang of tightening the belt takes some toying around – as many other purchasers have shared.
The catch is that, for the average waistline, proper tightening requires positioning the buckle so that the belt can pass through with little friction, usually perpendicular to the waist, sucking in your stomach to get a little bit of that extra tightness, and then releasing, allowing the buckle to lay flat on the stomach and tighten. As simple as that sounds, just plan on it taking multiple tries and feeling like its just not working at first. I felt the same way. After a few days of wear and fiddling, I now throw the belt on mindlessly with no issues and wear it throughout the day happily.
However, all of the reviews that note the learning curve for putting the belt on cite that when they figure it out, the belt holds without fail. That 250lbs "Badger Bite" hold is legit.
My recommendation is give the Grip6 belt a week. If after a week it doesn't feel better than any belt you've worn, its probably not for you. However, in my experience and the experience of others I've read, if you wear it for a few days you'll get the hang of tightening and appreciate the nuances of no strap hanging and lightweight design, enough to replace your other belts.

DURABILITY
From the specs of the materials and my experience wearing the Grip6 belt over the last few months I can say this is an absolutely durable and tough piece of gear. In the few months of wear, in daily wear, under the waistbelt of a backpack, and hiking and adventuring, this belt has stretched noticeably and hasn't frayed.
As extra assurance, Grip6 created machines to test and simulate 30 years of their belts, and continued testing until the belt designed passed that test.
Last, if my experience and tests weren't enough, Grip6 offers a robust "Guaran-damn-tee" lifetime warranty that offers a full refund within 180 days of purchase, and free replacement of their belts anytime thereafter.
From my experience using the GORUCK packs high quality nylon adds up to some of the most durable gear out there – GORUCK's GR3 made of 100% Cordura nylon has lasted me 3 hard years of travel abuse – and the feel of the Ninja belt feels the same.
The CNC machined aluminum feels top notch. If you have any idea for how to break this buckle that doesn't include a dump truck, we need to chat.
All in all, this belt is somehow the simplest and most durable belt I've worn.
Durability and Function Comparison

Normal belt life for me is 1 to 2 years before a rivet, buckle, or strap breaks. The only 2 belts that have lasted for years are my Timberland boot belt – made of heavy duty rawhide leather – and my hiking utility belt which I purchased from a hard use gear company in Argentina that makes gear specifically for backcountry adventures. This belt, the Grip6 Ninja, feels on par with (if not better) than both and I'm happy to replace them in my pack.
Additionally, throughout my combat deployments I rocked a "rigger's belt" designed to clip your weight into. Though I wouldn't wear the Grip6 Ninja for rappelling, the durability of the buckle and strap feels as good or better than any military gear I've ever used – hence why GORUCK opted for Grip6 belts as their custom belts for GORUCK challenges.
ABOUT GRIP6
Started in 2015 on Kickstarter, Grip6 kicked off with the aim of creating high quality belts and accessories with a goal of a $7,500 Kickstarter, and far surpassing that goal with $26,000 of support. The story continued to producing of 10,000 high quality belts out of a Utah garage, before outgrowing the makeshift factory into a real factory that continually tests and innovates making 100% USA made accessories designed to last and be more functional than anything else out there with the Grip6 wallet and
Grip6 wool socks being top among them
FINAL VERDICT ON THE GRIP6 BELT
If you're looking for a belt as a minimalist or as a traveler, I highly recommend the Grip6 Ninja belt, as it is the belt I'm using from now on. For minimalists, this single belt will replace all but your dress belts in your wardrobe. For travelers, this single belt will work for any situation or adventure and takes up virtually no space in your bag. I'm going with Grip6 belts from now on. I recommend you do too.
CLICK HERE TO VISIT GRIP6 TO PICKUP YOUR NINJA BELT