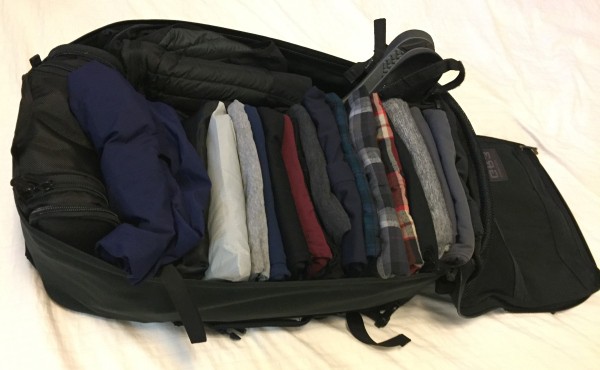 A One Bag Travel Packing List
Since May 2018, I've been on an adventure to travel the world for one year visiting all of the locations on my bucket list. During the journey, I want to stay as focused as possible on the journey itself (not on lugging a huge bag around), and save money for food, wine, and adventures, instead of spending it on meaningless crap I would eventually throwaway, so I'm sticking to a carry on only packing list for the duration of my adventure. I've limited myself to a travel packing list that fits into one airplane carryon sized backpack but has everything I would need to survive the year.
How's it working out? Great! I save on baggage fees, the hassle of checking bags, and the fear of losing my bags when checked on sketchy airlines (like I did in Nepal). What's more significant is the self-imposed restriction, and minimalism, has forced me to carefully choose a bag full of gadgets and clothing that are versatile and make my life easier, not harder.
Here is my travel packing list for an entire year abroad that has made carry on only packing and living easier than I would have guessed…
My Carry on Only Packing List for A Year of Travel Around the World
For tips on downsizing your clothing needs when traveling, checkout my article on "How to Layer Clothing" (Coming Soon)
Backpack and Containers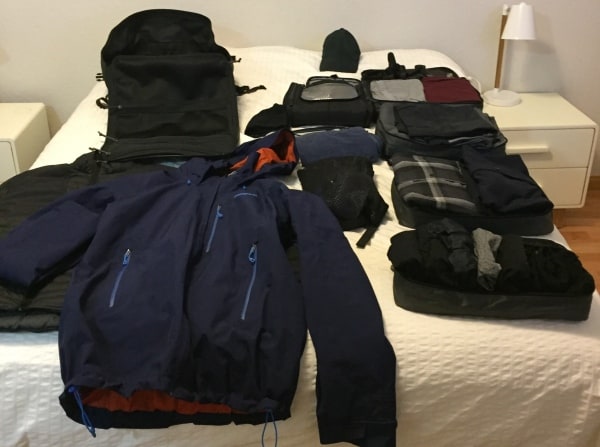 Pants
Shirts
Uniqlo Easy Care Synthetic, Wrinkle Free Dress Shirt
H&M Short Sleeve Button Down (For "Da Beach"!!)
2 H&M's M stretch t-shirts (would absolutely recommend)
1 H&M tank top (For "Da Beach" too!! Absolutely Recommend)
1 No-Name quick drying workout shirt (saved from a marathon I ran)
1 Eddie Bauer active Dry Shirt (wouldn't recommend)
Jackets
Undees
Socks
1x darn Tough wool ankle socks
Shoes
Accessories
5L dry bag for Laundry and water activities – essential for every carry on only packing list, as you can wash as frequently as you need to, very easily ( For more info on doing laundry to keep your travel packing list short, read **KF**"How to Wash Your Laundry while Traveling Using a Dry Bag and Dish Detergent" **KF**)
Monkii Bars 2 for upper body workouts (previously used my Minimus Homemade Suspension Trainer)
Resistance bands with carabiners (2x) for lower body workouts
Electronics
Surface Pro 3 w/UAG case – Certified refurbished, which saved me ~$500
Anker power station
Microsoft HDMI Bluetooth Adapter – for mirroring my laptop and movies on TV screens
No-name blue tooth headphones – for doing mobility workouts and yoga from Youtube with my Surface
Olympus TG-5 Tough Camera with Gorilla pod stand – replaced my GoPro with better all around performance, still crush proof and waterproof
Things Picked Up Along the Way
Captains hat (essential for sailing boats in Croatia)
H&M t-shirts and tanks to replace the Eddie Bauer shirts
Goodies I have and like but don't recommend
Sperry Boat Shoes – Accidentally brought them with me but they're too comfy and convenient to ditch.
Eddie Bauer Voyager 2 travel blazer – Was very useful in Portugal and Italy. Great piece of gear, depending on how you normally dress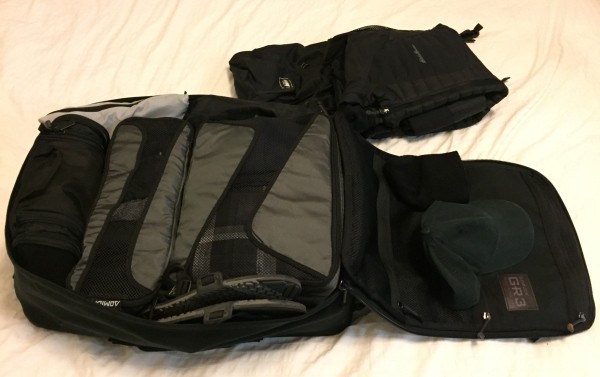 Things I've thrown away
2x Eddie Bauer Active Dry Shirts – H&M shirts are better at 1/3 the price. Wool shirts are even better Wool over all
GoPro 4 Hero and accessories – took up too much space considering how little I used it
Notes
The dress shirt and Eddie Bauer Jacket came in handy in Spain, Portugal, and Italy when hanging with locals and on classier occasions
My Favorite Items from My Carry on Only Packing List
The absolute best items in my carry on only packing list that I would recommend to all are the Outlier New Way Shorts, the Altama OTB Maritime Assault Shoes, wool t-shirts (mine were Woolly, but and reputable brand will do), H&M Slim Fit T-Shirts which performed and looked amazingly considering the price, wool socks from any reputable brand.
If you are the type that likes to stay fit even while traveling, I would also add the Monkii Bar 2 compact suspension trainer for upper body workouts, and Rogue Shorty Monster bands for lower body workouts to your travel packing list
---
What I would pack differently
I would have replaced the Patagonia parka for a thinner, lighter hard shell like the Patagonia Torrentshell
I would have opted for 3 short sleeve Woolly T-shirt's (v neck and Henley's) and no other t-shirts, or any brand of wool t-shirts. The brand isn't important Wool over all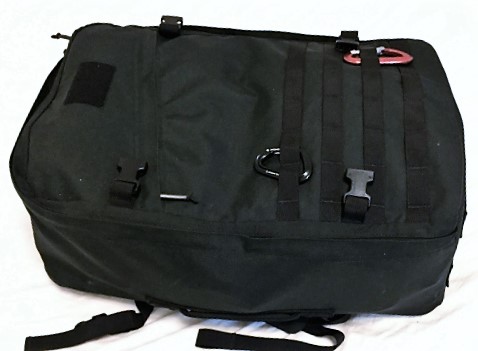 ---
Curious how I've made this carry on only packing list work for 6 months? Checkout my article on "How to Wash your Laundry while traveling"
Why wool is worth the price: My experiment of wearing a shirt for one week straight
"How to Layer Your Clothes to Pack Less While Traveling"