I've been lucky enough to spend years in Bali, and during my stay, there have been four priorities – surf, exploration, staying productive (working and writing), and improving my fitness. In 2021 I was lucky enough to discover a one-of-a-kind gym called Nirvana Strength Bali. Over 6 months, Nirvana helped me surf better and improve my fitness in a way I'd never experienced before, becoming stronger, faster, and healthier (and a little bit sexier) by combining strength training with yoga, calisthenics, gymnastics, pilates, and new approaches to recovery.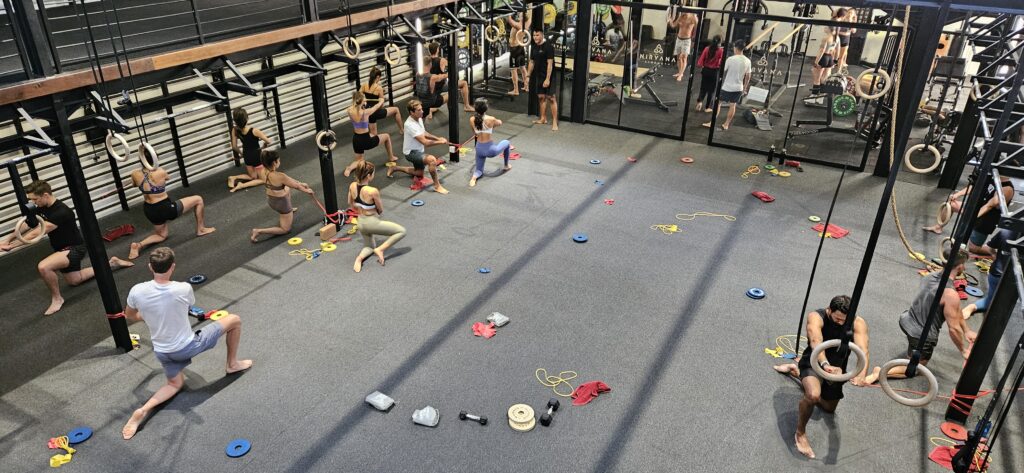 This year, I was again lucky enought to experience the newly reimagined Nirvana Life Bali gym, recovery center, and cafe. The full wellness complex – which combines a beach club style relaxation center, the cafe styles and healthy food Bali is known for, and world class fitness training and faacilities – is now easily the best gym in Canggu for training, recovery, full spectrum fitness, and general productivity in life. Even better, the new Nirvana life crams in all this good living against a backdrop of ricefields and tropical vibes in the most popular place in Bali (Canggu) and a stones throw from beaches, nightlife, and everything everyone comes to Bali for.
Nirvana Life has become a place that focuses not just on fitness, but fully enables living a healthy life, with training, healthy eating, recovery, work, and relaxation all possible one place.
Read on to discover why I believe the new Nirvana Life gym, recovery facilities and wellness club is easily the best gym in Bali and possibly the most valuable addition to your experience on the "Island of the Gods."
Or click here to here to explore Nirvana Life memberships and get a free trial membership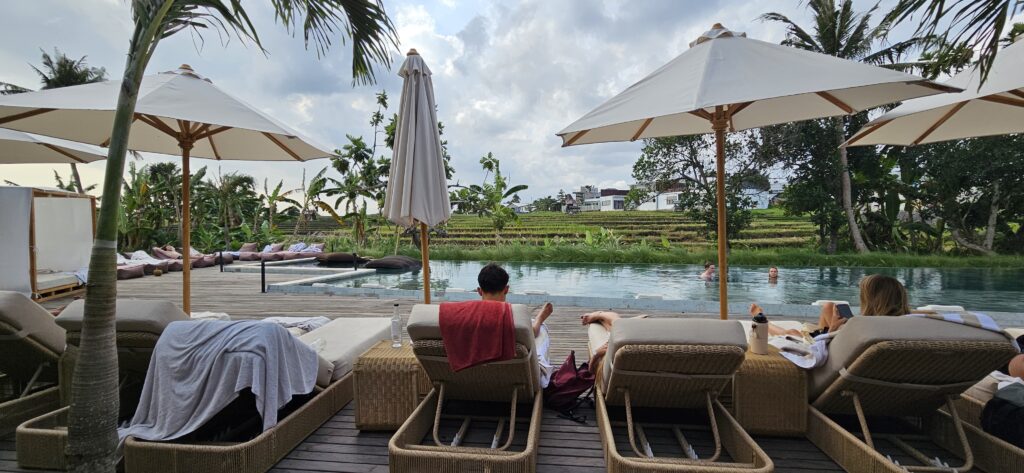 Contents of this Nirvana Life Bali Review:

What is Nirvana Life?
Nirvana Life is a gym and wellness center in Canggu, Bali that aims to help you train for peak fitness and wellness, recover, relax, eat, and be productive in one place.
Let's walk through what makes the Nirvana experience so great
Top notch fitness classes in yoga, gymnastics/calisthenics, and strength that build strength, flexibility, and joint health
The base of Nirvana's value is the excellent fitness class lineup** that use cross fitness discipline methodologies (yoga, calisthenics, gymnastics, pilates, strength training, and HIIT) to create an experience that builds not only strength or acumen in a yoga pose, but develops mobility, endurance, and joint health in a way that enhances any sport or activity you choose in life.
To make sure these classes are as effective for you as possible, Nirvana specially selects and trains its instructors over a 6 to 9 month period to specialize in the Nirvana approach to fitness and wellness.
Multiple, great training facilities for strength training, calisthenics, yoga, gymnastics, Crossfit, and more
Nirvana's four main fitness training areas ensure that whether you're in the classes (which are a jackpot) or training on your own (like me) you'll have the equipment and space to train calisthenics, gymnastics, yoga, or Crossfit style HIIT.
Nirvana's main classrooom area for calisthenics is a surprisingly useful padded floor area equipment with gymnastics rings, pull up bars, stall bars, bands, and everything you'd need for a full, comfy, gymnastics or yoga training experience.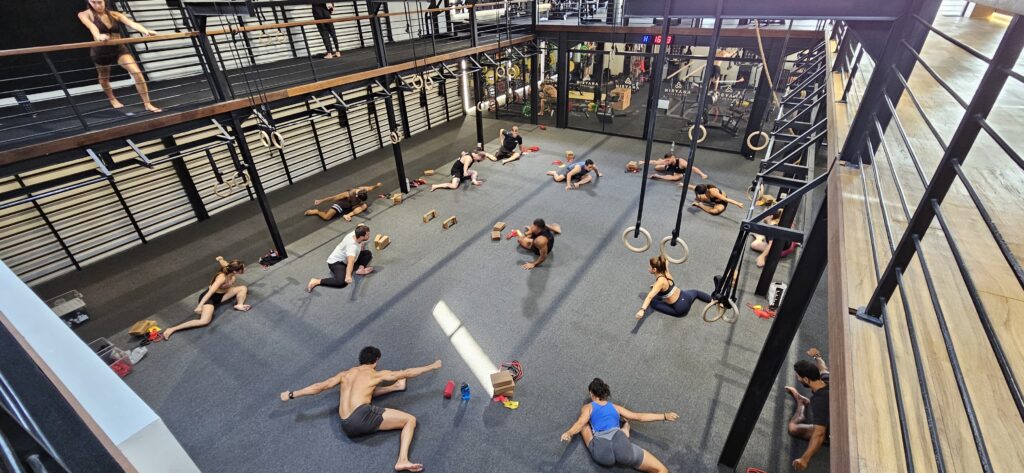 The elevated training area is a multipurpose extension, with a great view of the classes, delivers more of the same with floor to ceiling mirrors, hardwoord floor training area, and western quality gym machines shipped in from the US (hammer strength and nordic) for an additional overflow training area and normal gym experience.
The enclosed air conditioned weight training area is fully equipped with squat racks, solid quality Olympic bars and bumper plates, a full lineup of dumbbells including the heavy ones that most gyms in Bali skip, and finished off with dip bars and gymnastics to make training calisthenics + strength easy.
Plus a "Crossfit box" style garage gym setup with several racks, artcificial turf, and tons of Olympic bars, bumper plates, kettlebells, and dummbbells so you can get in a HIIT or Crossfit style workout in the heat, augmented with sled pushes, farmer's carries, and all of that other nonsense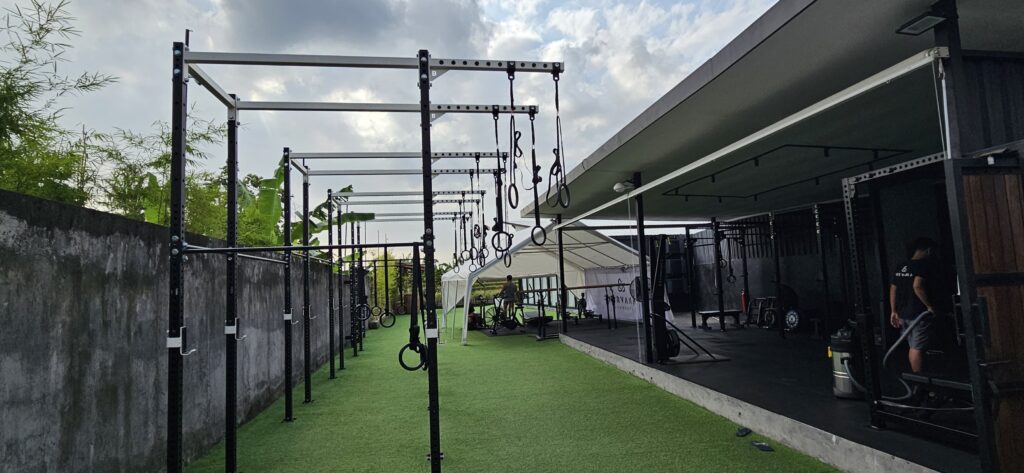 Last is yoga studio surrounded by glass windows and ricefield views (a favorite of yogis) for the always full yoga classes and the surprisingly tough pilates classes as well as fly yoga sessions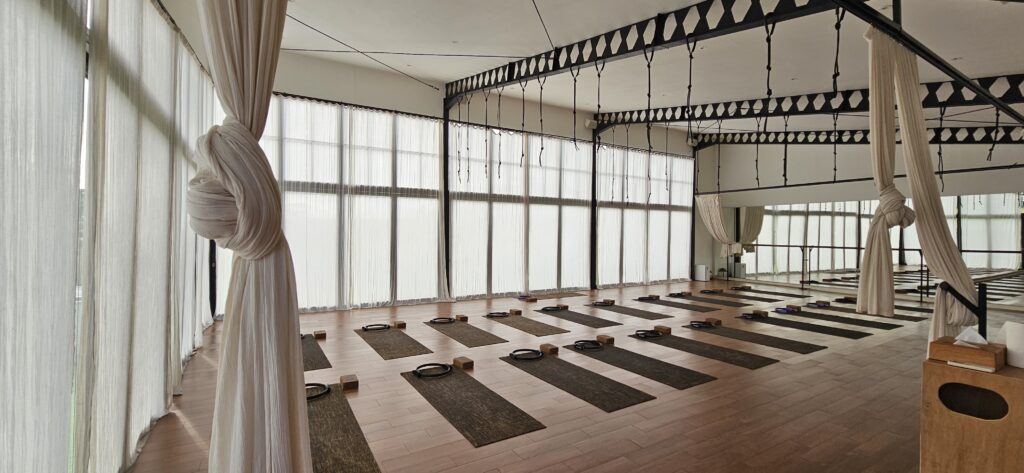 No matter what kind of training you're doing, you'll find a spot in Nirvana that's nearly perfect for it
Training Equipment: Fully equipped and imported
Beyond great facilities in perks, the biggest "hit or miss" element of gyms on Bali is the equipment. Either there aren't enough pieces of equipment or the quality is poor enough that I usually end up breaking something.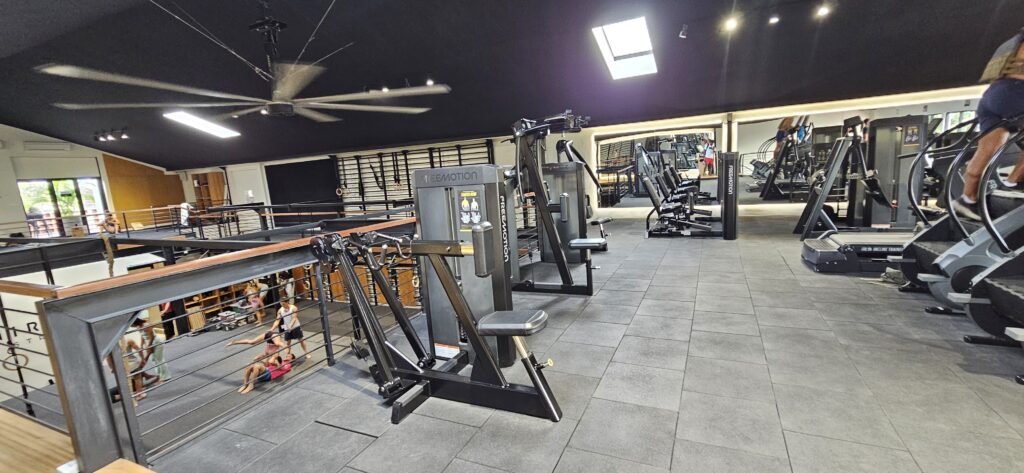 Nirvana boasts a full lineup of high quality and imported equipment for every single activity they host, and you'll find what you need available at anytime.
Equipment available that I appreciated:
Calisthenics equipment: Sliders, resistance bands, paralletes, stall bars, and gymnastics rings througout, soft sided plyo boxes

Weight training, HIIT and Crossfit Equipment: Plenty of squat racks, olympic bars, bumper plates, dumbbells, plywood boxes (for box jumps), sleds

Yoga: Blocks, bolsters, and silks for fly yoga
Recovery: Ice baths, saunas, steam rooms, and pools
The first half of Nirvana Life's extreme upgrade has been recovery.
The recovery facilities now include:
Two separate ice baths

Dry sauna

Infrared sauna

Steam room

Hyperbaric chamber
Relaxing and lounge spaces give Nirvana's recovery area a "Bali Beach Club" vibe
The second half of Nirvana Life's makeover is introducing lounging and relaxation spaces. Now, half of Nirvana Life is filled with ricefield views, bean bags, and loungers poolside akin to the beach clubs throughout Bali without the boozy vibes.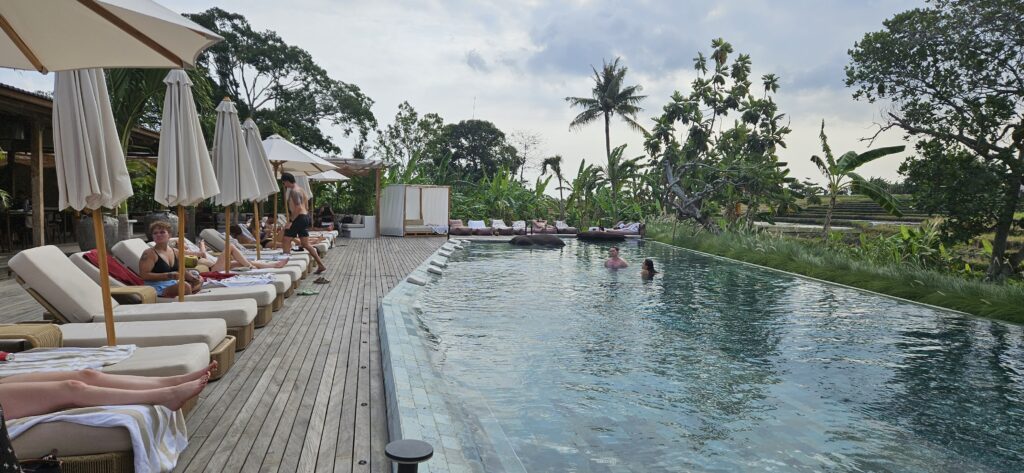 The result is an awesomely comfy recovery space where you can just chill between workouts, recovery sessions, and working.
Multiple cafe and coworking friendly spaces let you work between workouts and boost your professional productivity
For those that live and work remotely on Bali (like me) you will appreciate Nirvana's new plethora of open tables and spaces (air conditioned and outside) open for you to use freely for coworking. Wi-fi is available throughout the gym and recovery facilities as well.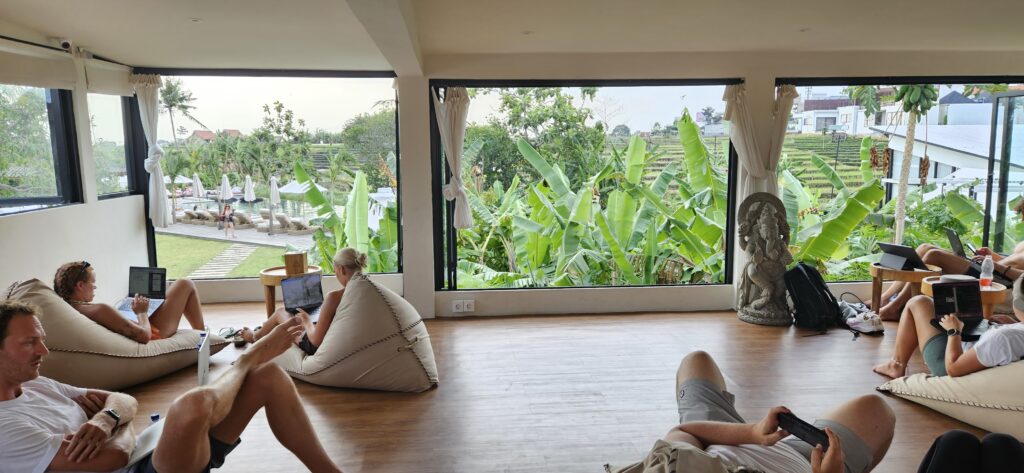 This last piece, coworking friendly spaces surrounded by a healthy environment, amp up the value in a nirvana membership. Previously, I was paying $100 a month for a coworking space, to meet, mingle and work, but given how great all the spaces in Nirvana were I didn't even need another coworking space during my time at Nirvana.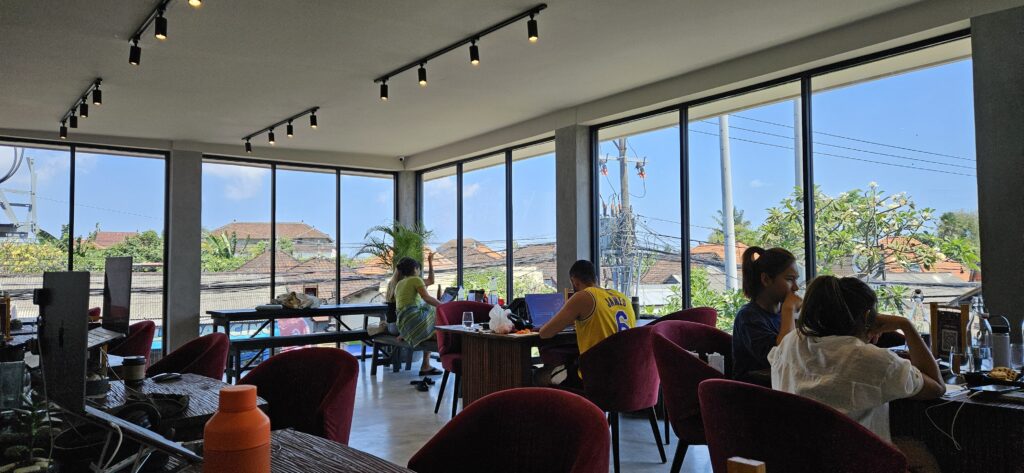 Eating: Healthy options for a convenient meal after your workout
There is no shortage of great food in Bali, but particularly in Canggu its hard to get a healthy meal after workouts that complements the work you just put in.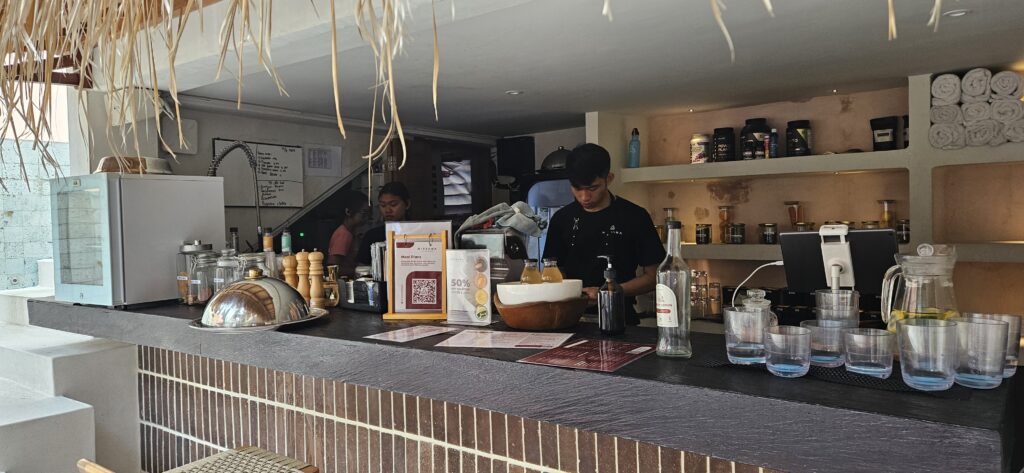 Conveniently, the Nirvana Life Bali cafe and restaurant delivers a ton of veggie heavy, meaty, and protein rich dishes that are as healthy as it gets in Bali, designed to help you recover and not lose the gains (and losses) from your workout, and is quite healthy too.
Because the restaurant serves at the cafe in front, the restaurant in the back (collocated with the recovery center) and in any of the lounge spaces, you can combine your healthy eating with enjoyable lounging, productive working, or just having a quiet healthy meal before heading into the chaos of Canggu.
Bonuses: Member nights, intensive training camps, and a growing community
It's difficult to sum up why the Nirvana experience was so great for me, but know that Nirvana offers many other perks, like Member BBQ nights (some emphasize no alcohol to keep things healthy), intensive training camps in calisthenics, yoga, handstands, and more, and emphasis on growing a community of friendly Nirvana goers that make every visit an enjoyable social experience.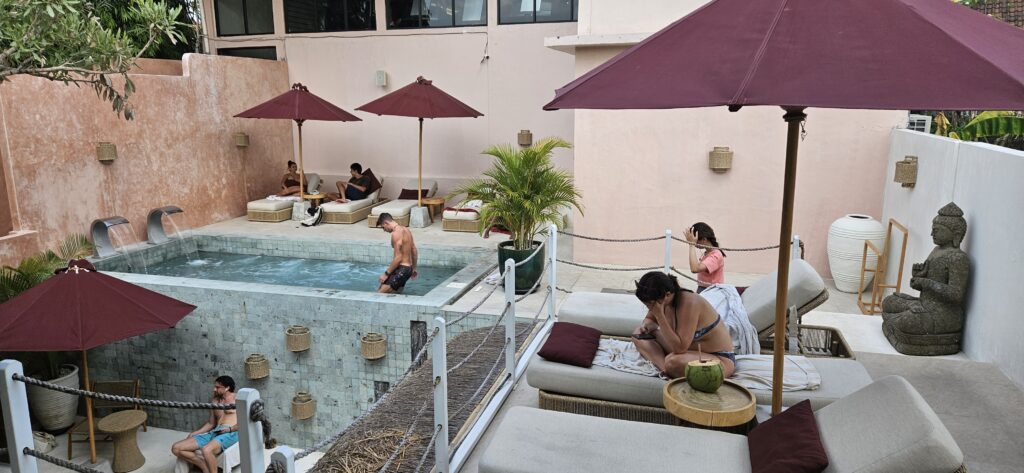 Why Nirvana: Holistic fitness approach, exceptional classes, great facilities
I highly recommend Nirvana Life for 3 reasons:
The Nirvana Life approach to fitness is unique, valuable, and will change how you train for fitness and wellness- developing strength, mobility, and endurance in a fun way

The class variety and quality of teaching will expose you to new, fun, valuable, and effective fitness concepts in yoga, pilates, gymnastics/calisthenics very fast in a high value way

The recovery facilities and lounge areas enable recovery after quality training, a space to relax and enjoy the best of Bali, and be productive (with work) in a way that few other places in the world offer
What you'll gain from a period at Nirvana
Solidifiy the patterns of a new healthy lifestyle: training, recovery, and eating for full-spectrum healthy lifestyle achieved by having everything you need easily accessible

Gain greater mobility (flexibility, range of motion, and end range strength) that improves joint health, improves performance in yoga and Crossfit, and builds injury resistance

Specific skills related development in yoga, calisthenics and gymnastics movements, acrobatics, and more via the high quality classes and (if you opt for them) training camps
Who is Nirvana Life best for?
Anyone interested in training holistic fitness (strength, mobility, endurance) but needs motivation or instruction

Anyone who wants top notch recovery facilities – multiple ice baths (4° celsius and 10° celsius), multiple saunas (dry heat sauna and infrared sauna), steam room, hyper

Enthusiasts of yoga, fly yoga, pilates, acrobatics, and gymnastics

Anyone who wants a training space to train on their own without pretension, influencers, and "odd vibes"

Anyone who wants top notch strength training equipment for HIIT, olympic lifting, and weight training (dumbbells, olympic bars and plates, rowers, and standard western style gym machines)

Anyone in Bali who is staying a few weeks or longer and wants to develop holistic fitness (strength, stamina, aesthetics, and mobility) while also having recovery and chill options in the same space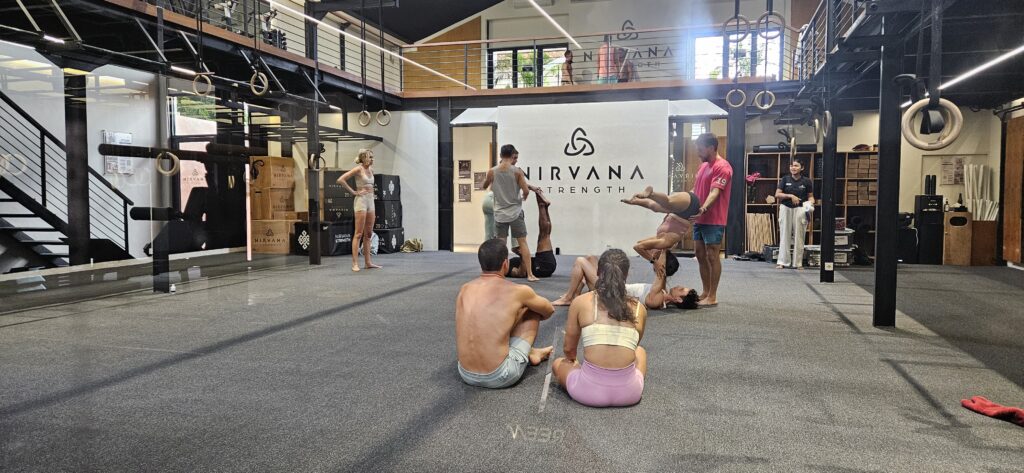 My Experience at Nirvana Life
During the pandemic I was lucky enough to spend half a year training at the gym that was formerly named "Nirvana Strength Bali." As a former Marine, personal trainer, currently credentialed Crossfit trainer, and a lifelong athlete, I'm no stranger to fitness. However, my training has always emphasized strength and muscular endurance with a touch of stretching after, not nearly enough "preventative maintenance" on my body, and very little focused recovery.
The old Nirvana Strength gym (in 2021) introduced me to a whole new world of calisthenics training (using bodyweight instead of weights to build even more strength), injuring preventing mobility training (more flexibility and range of motion and strength at the ends), and new approaches to recovery like sauna, ice bath, and dedicated "training periods" for muscle recovery. As a result, I left Nirvana after six months and went back to surfing my life away stronger than I'd ever been and eliminated every ache and pain and joint issue I'd accumulated over the years. By the time I left Nirvana, my training changed from standard Crossfit workouts to seemingly impossible routines that included moves like muscle ups, levers, planches, and handstands as a normal workout. My result was a stronger, more durable, more acrobatic body that was capable of doing more than ever before and felt much better
Its been nearly two years since I upgraded my approach to fitness by training at Nirvana Strength Bali, so I decided to go back to what is now Nirvana Life Gym, Recovery Center, and Cafe – an expanded version of the old gym with even more training areas, and more recovery center options, plus a new poolside lounge area, cafe, and restaurant worthy of the tropical paradise reputation that Bali has.
Over the past month, I returned to access Nirvana's holistic approach to fitness which emphasizes not only strength and muscular endurance but mobility and longevity in the long term as well as recovery.
To my surprise, the new Nirvana gym, rebranded as Nirvana Life Bali to account for the expanded recovery area (2 pools with ricefield views), new cowork friendly cafe, more saunas, and upgraded cafe and restaurant serving nourishing food, evolved into a mecca of health and fitness where one could spend an entire healthy day training, recovering, eating, following up with work, and ending with a relaxing sunset by the pool. The result goes beyond your average gym – where you show up, workout, and leave – and creates a completely unique environment, motivation, and support for an effective wellness journey.
After a solid month, arriving in mediocre shape and leaving spry, mobile, strong, and ready to tackle anything that comes my way, I can highly recommend a stint of training and recovery at Nirvana to anyone who will be in Canggu a few weeks or longer.
Additionally, the poolside hangout has become a healthy alternative to the boozy beach clubs of Seminyak and Canggu, close to tables and spaces so I can get work done after workouts, and a very solid restaurant with a full menu of healthy food. This "all in one" healthy lifestyle spot not only leveled up my fitness, but boosted my productivity (allowing me to work immediately after workouts), and pushed me into healthy eating options to kickstart recovery.

Straight Overview of Nirvana Life Bali's Facilities and Offerings
Luxury Recovery centre with multiple saunas, multiple ice baths, hyperbaric chamber, and pleasant spaces between is exactly what you need to consistently train + recover

Plenty of chill areas: Dip pool, beach club style pool with ricefield views, loungers, and cabanas (all free and included with membership)

Several wifi connected lounge areas (bean bag room with ricefield view, cafe, pookside) open for lounging and coworking

The gym opens early (7am) and stays open late (11pm) to account for your life

Plus…the facilities are still growing to include more saunas of varying temperatures and tech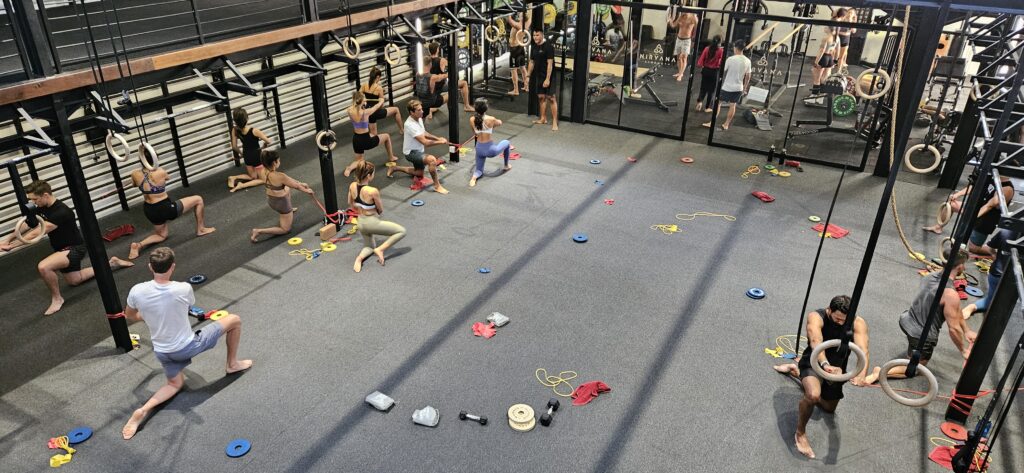 What classes are available at Nirvana?
Yoga: Power yoga, Vinyasa flow, Hatha, Acro yoga,Yin
Calisthenics Skills and Tools: Handstands, muscle ups, single leg squat

Mobility Training: Splits trainining, individual joint mobility training (i.e., thoracic mobility, elbow and wrist mobility, etc.)
Strength and Conditioning

Breathwork

Meditation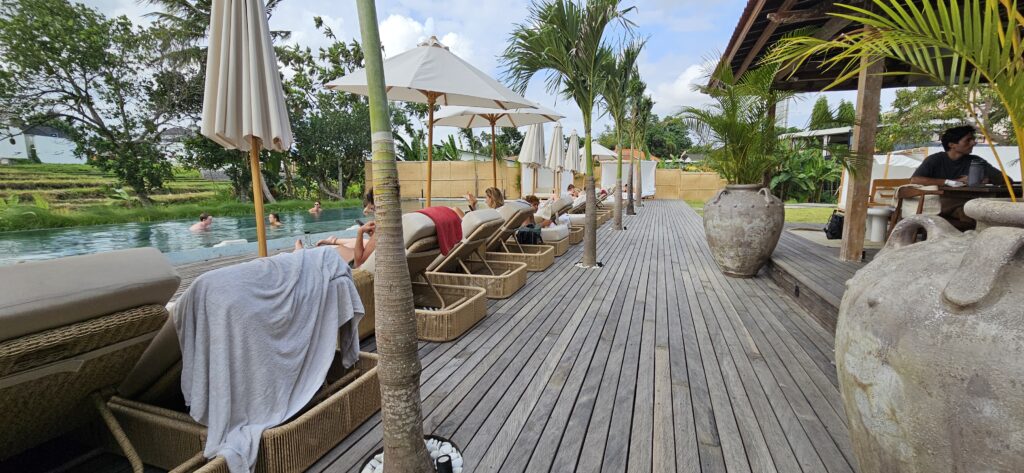 Other Essential Info for Nirvana Life Bali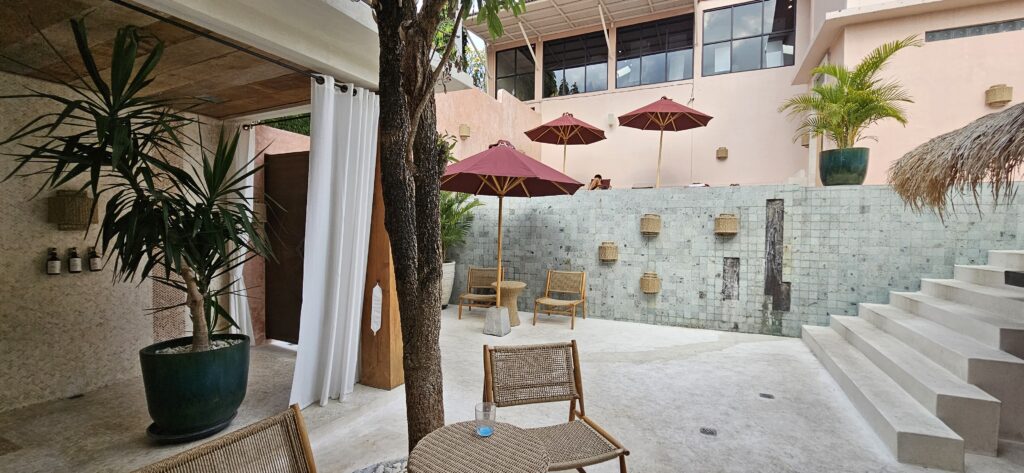 The Verdict: If you're a fitness and wellness enthusiast an in Bali for a weeks, give Nirvana a shot
I've been training heavily or decades, in the military, as a rock climber and trekker, as a surfer, and as a Crossfitter, but no fitness approach has been as improving as the immersive holistic fitness and training approach that I learned at Nirvana Strength.
Now that Nirvana Strength has upgraded to Nirvana Life the addition of amazing recovery facilities (that I never experienced in the US), and beach club style lounger areas, Nirvana delivers an experience that doesn't just help me train better but work and live better as well.
If you live on Bali or have a few weeks, absolutely come experience Nirvana Life Bali.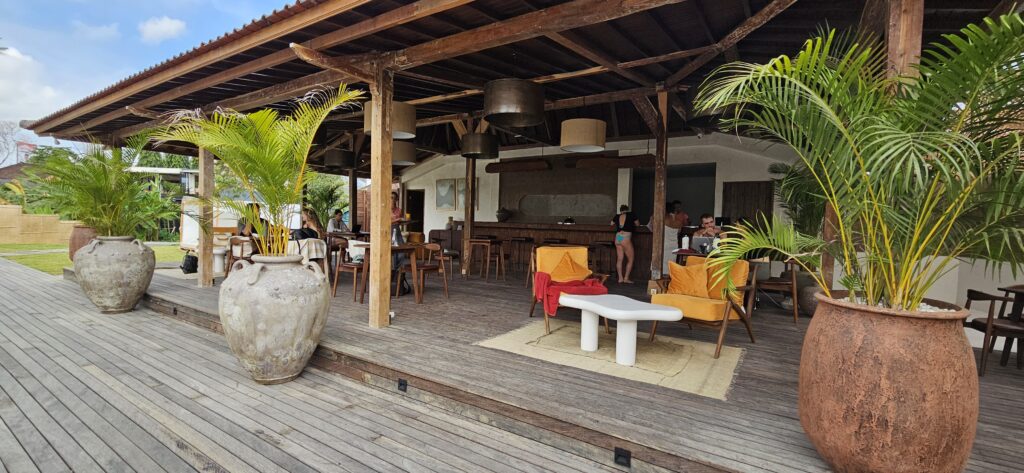 End Thoughts: Nirvana Life is expanding throughout Bali, and I love this idea.
After chatting with the management, I discovered that the Nirvana team has plans to open Nirvana Life centers throughout Bali – in Uluwatu and Ubud in addition to Canggu – to allow you to use a single membership and still be able to train wherever you are as you explore the best of Bali. I love this idea and hope the team follows through.
Bali is a uniquely beautiful creature that delivers something that can't be found anywhere in the world. It entrances, captivates, enriches, and then sends you on your way in life with your horizons expanded.
The new Nirvana Life training center does quite the same. It allows you to train and maintain, but through great teachers, great training facilities, great recovery facilities it allows you to grow and improve in a way you will in few other gyms in the world. Beyond the normal gym offerings, quintessentially "Canggu, Bali" lounge spaces, poolside ricefield views, friendly yet interesting crowd, and healthy cafes allow you to recuperate, work, and recover in a single space the way few other facilities in the world will allow you too.
To be able to layer this health and fitness experience onto an already amazing life and experience anywhere in Bali would make a stay on the "Island of the Gods" an experience that have you leaving looking and feeling like a god, along with the memories of your stay that draw everyone back to Bali.
Until Nirvana Life expands on the island, I highly recommend spending a week (ideally a month) experiencing the Nirvana approach to life and holistic fitness.
Click here to here to explore Nirvana Life memberships and get a free trial membership

More great Canggu and Bali articles: