Bali is a paradise and very popular with remote workers and digital nomads, and Canggu is a perfect place to make a temporary hub for nomads and remote workers. With all of its Coworking spaces, Canggu offers something to fit everyone's working atmosphere tastes, budget, and after work activities. Unfortunately, understanding the options and Canggu coworking space is right for you can be overwhelming.
A view of one of the many spaces in B-Work, one of the premiere coworking spaces in Bali
Read on for this list of the best Coworking spaces Canggu has to offer, detailing amenities, prices, perks, and locations, to help you maximize your work and play time on Bali

Contents of Guide to the Coworking Spaces of Canggu

Overview of the Bali Coworking Scene
The Bali Coworking scene is bustling and one of the best options for working remotely in Southeast Asia – partly because Bali is a dream destination with great food, adventure, and beautiful landscapes around every corner, and partly because of the wide array of options for every remote worker type and personality.
Whether you're a fan of green hills and yoga (Ubud), the busy and chaotic cityscapes of Asia (and Denpasar), or (like me) surfing, sun, and the sea (Canggu), there is a Coworking option that fits your style.
Beyond these pretty awesome factors, the cost of living is cheap, the work/life balance is more life than work, and once you get squatting in coffee shops there is a great list of local coworking spaces. Canggu has the draw of being a hip surf town by day and a low key party spot by night. If you're aiming for the best of all worlds, Canggu is hard to beat.
---
Why choose coworking spaces over cafes
Though it would be easy to spend your entire "remote working time" in Canggu working from so many of the awesome Canggu coffee shops and restaurants, there are two reasons to switch to a coworking space:
A conducive work environment – with strong wifi and a quiet atmosphere
Eventually, you'll annoy the restaurant and café owners, and the regular customers

Why Canggu Coworking spaces
The best reasons to opt for Canggu Coworking spaces over Ubud, or Seminyak or elsewhere in the world are:
Cheap: Canggu is cheaper than many other places, especially considering it is a hip beach town
Small Town Feel: As busy and chaotic as it can seem at times, Canggu is quite small and faces will become familiar quickly
Beachy Paradise: Close to a warm ocean with great surfing
Food and Coffee: Plenty of great (& cheap) coffee shops and restaurants

Google map of the Coworking Spaces Canggu Offers

The Canggu Coworking Space List

Zin Cafe and Coworking
Highlights
Ground floor with restaurant and separate bamboo architecture workspace
Second floor with open and enclosed workspace
Rooftop with a view of the ocean
Plugs at every seat
Wifi available – network Zin Cafe, Password: zincanggu
4.4Mbps download speed, 4.6 upload speed
Good coffee
Full menu
3 mins from Batu Bolong Beach on a
A great coworking space located 3 minutes from Batu Bolong beach on the Batu Bolong side of Canggu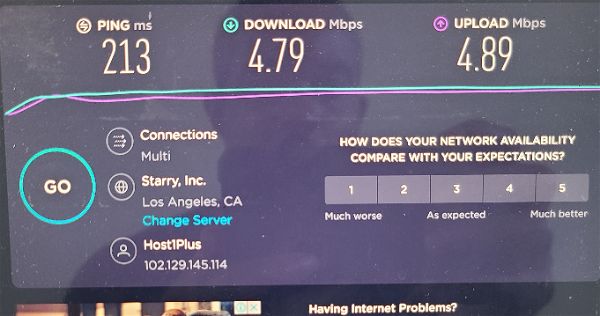 Three floors of open coworking space in a restaurant and cafe style floor a quiet second floor with one small, enclosed air conditioned room, and a rooftop with ocean view round out this great coworking space.
Plugs are located nearly everywhere. Though internet speed isn't the fastest in Canggu, it is still adequate.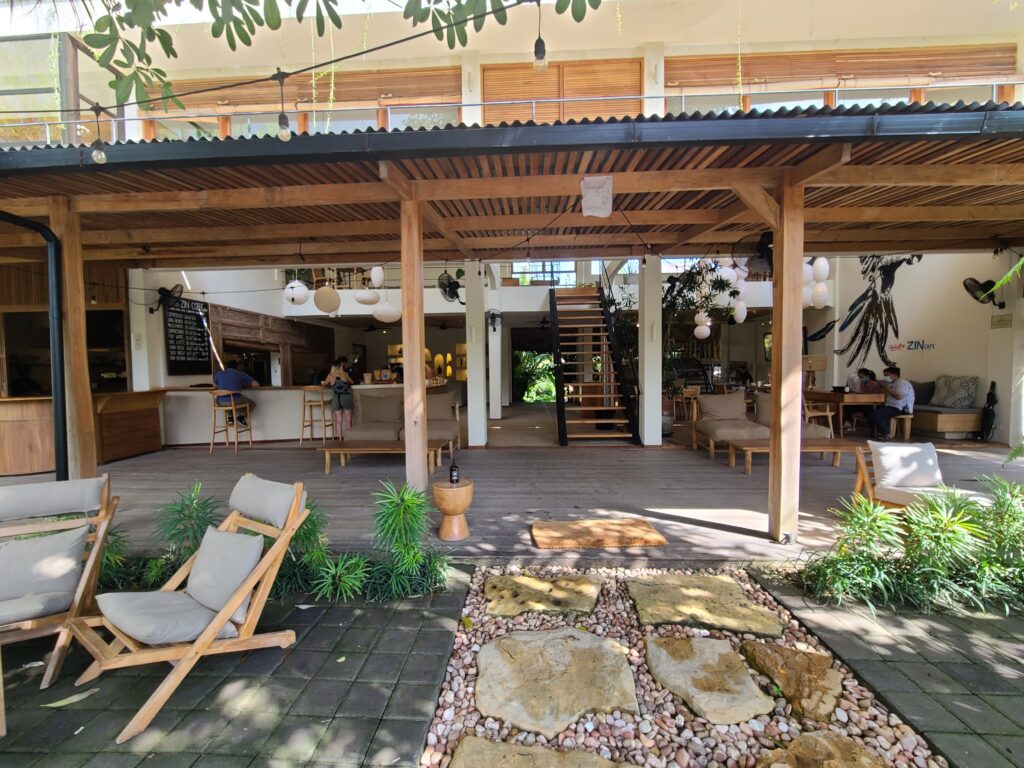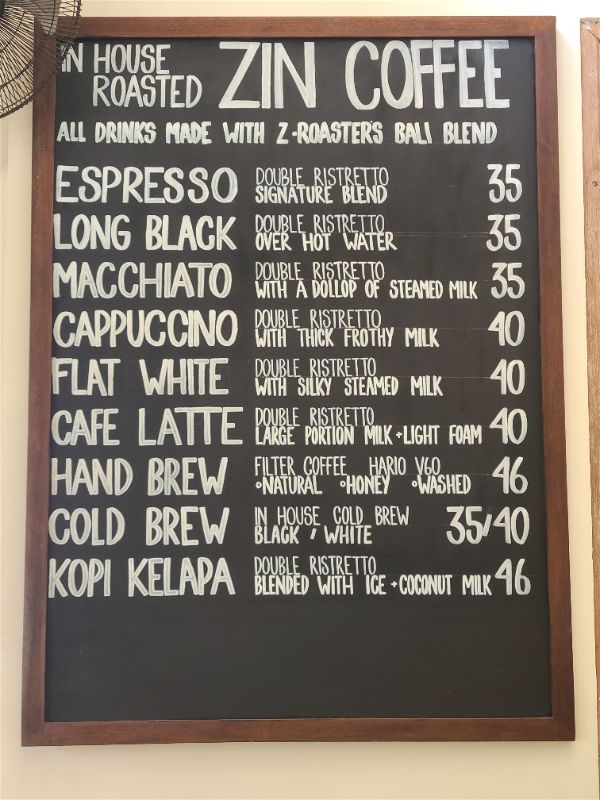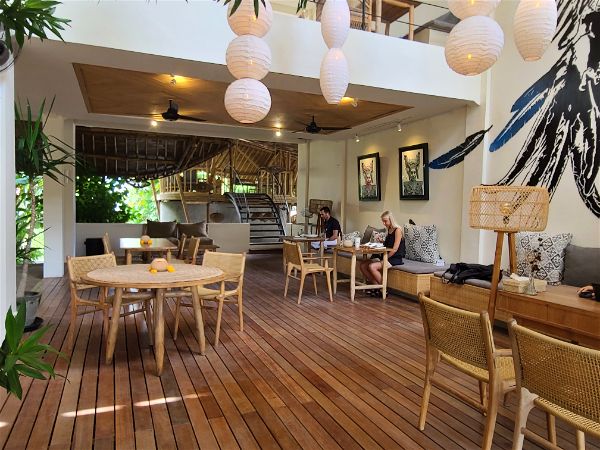 Free!!
The space is free to use, just order a coffee or something to eat at the restaurant with a full menu.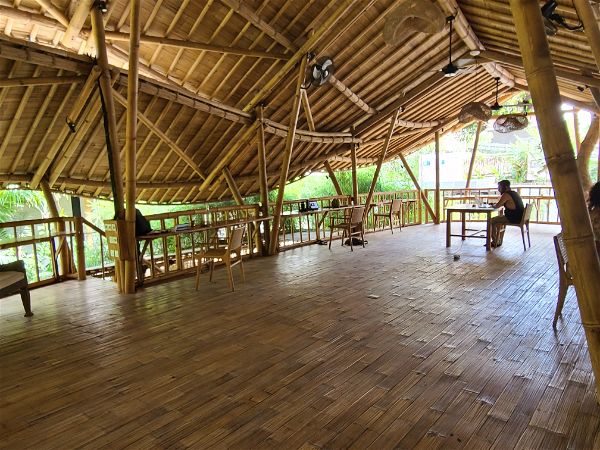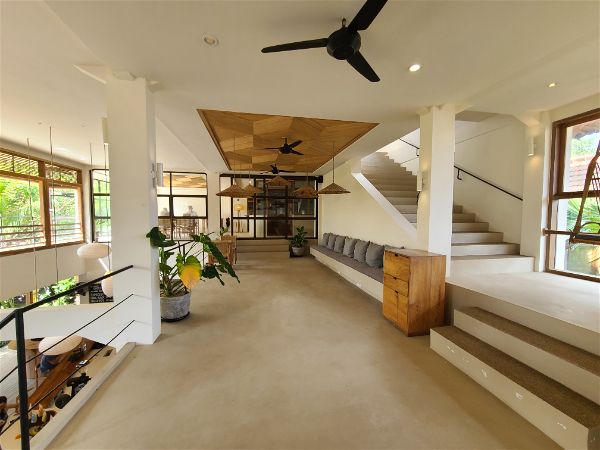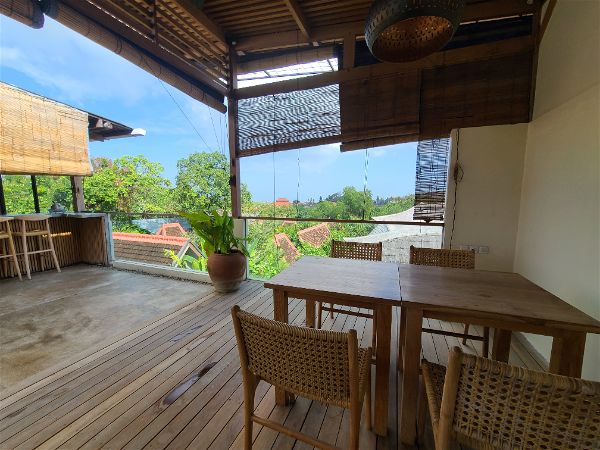 Discover more info at Zin.world or visit here (Google Maps link).

Kinship Studio
An enclosed but spacious and well-airconditioned warehouse/industrial style coworking space with a chill atmosphere and welcoming vibe.
Four large tables and couches with plenty of plugs accommodate plenty of open space nomads.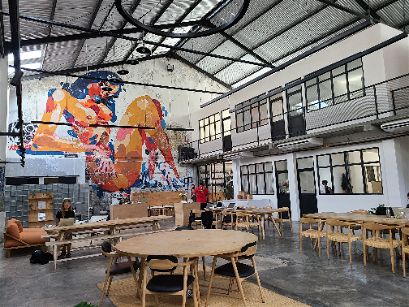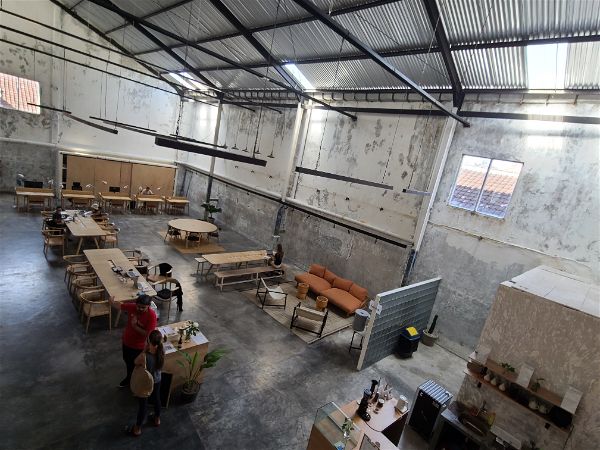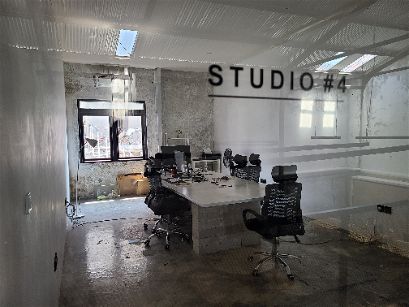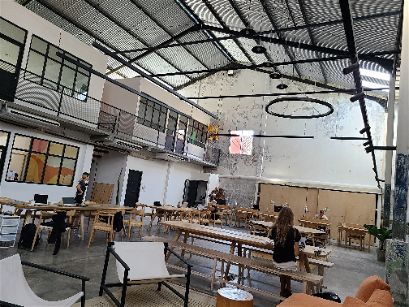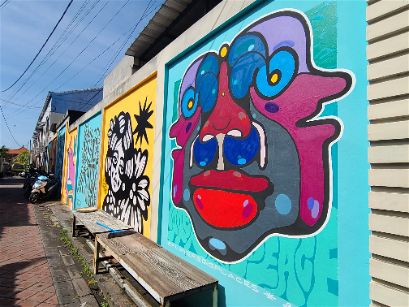 Blazing-fast internet (42Mbps download, 80Mbps upload)

Four large "studios" for rent accommodate meetings
A small coffee shop at the entrance serves great coffee and tea.
No food is available on site, but you can have Go-Jek bring it in.
Discover more at Kinshipstudiobali.com

Outpost Canggu
"A new a bright, modern space with a Balinese, beach-house vibe." Outpost is an airy, spacious, and well-lit coworking space located above shops and restaurants and in the heart of the "other side" of Canggu. A friendly vibe (where people actually talk from time to time), plenty of desks, skype booths, and cozy little nooks that are great for working on beanbags or…napping.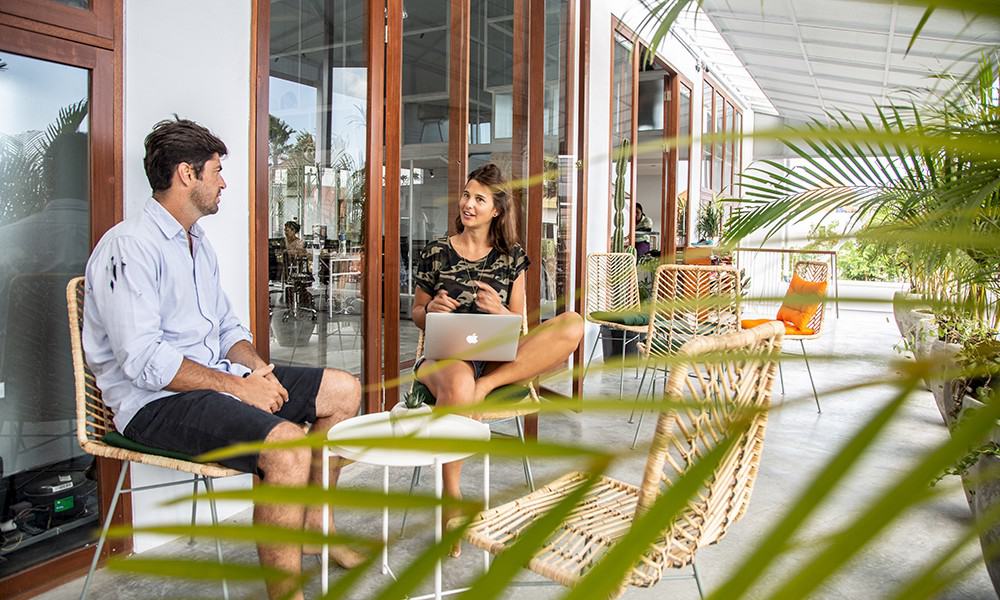 Located on the opposite side of "the shortcut" as Dojo Bali, and closer to Berawa beach, Outpost provides quicker access to Berawa beach, Kuta, Seminyak, Legian, and more. Outpost is also at the center of a burgeoning sector of hip new restaurants and shops in Canggu and next to one of my favorite Canggu gyms.
Bottom line: Outpost is a great coworking space in a convenient, and growing, area.
---
Facilities and Amenities:
Air-conditioned Coworking space
Terrace for working
On-site barista and café
Multiple private offices available to book
Skype booth credit
High-speed internet
Access to members only events
Mailing address
Coworking Space Membership Prices:
Monthly Unlimited: 2.7M IDR / ~$190 USD
70 Hours Monthly: 1.625M IDR / ~$115 USD
25 Hours Monthly: 680K IDR / ~$49 USD
Coliving:
Extravagant, private villa, 15 minute's walk from the coworking space
Private bedrooms with private bathroom and desk
Air-conditioned living spaces
Communal kitchen
Central pool with a garden area for socializing
Coliving Prices:
Daily: $63 USD
Weekly: $315 USD
4 weeks: $945 USD
12 weeks: $225
Hours: 24 hours a day, 7 days a week
www.DestinationOutpost.co/location/Canggu
Location: Jl. Raya Semat No.1, Canggu, Tibubeneng

Tropical Nomad
A newer Coworking space on peaceful, palm tree laden grounds. Located in the middle of Canggu, between Batu Bolong beach and Berawa beach (the two main beaches in Canggu) this space gives you great access to anywhere in Canggu. For the midday energy boost, the MVMT gym and yoga studio is right next door, after hours the Canggu bars of Pretty Poison, Black Cat, and so many others are on the other side of the building.
The grounds and facilities are open, airy, modern, and full of light giving that quiet yet calming background atmosphere that is great for a solidly productive remote work session – making those beachside rum & coconuts at Sandbar later much more rewarding.
---
Amenities
Mail service
Printer/scanner service
Discounts on nearby restaurants and gyms
Concierge
Lockers
Onsite Cafe
Price:
Monthly Unlimited: 3M IDR / ~$210
100 Hours Monthly: 1.7M / ~$120
50 Hours Monthly: 1M / ~$71
25 Hours Monthly: 700K / ~$50
Daily: 180K / ~$13
Hours: 24/7 coworking access
www.TropicalNomad.org
Location: Jl. Subak Canggu No.2, Canggu

Finn's Recreation Club Business Center
Finn's Beach Club is a robust compound with a gym, spa, water park, sports fields, and countless other amenities, and a coworking space is among them.

Best for long stayers, planning to be in Canggu longer than a year and would also like a gym membership. At 910k IDR (~$64) per month, including gym membership, the annual membership is a steal. This option is convenient if you're already a fan of Finn's rec club though it has a more corporate vibe than some of the hipper, edgier coworking spaces in Canggu.
---
Facilities and Amenities:
High-speed internet
Air-conditioned workspace
Meeting rooms
Library
Gym
Lap Pool
Lockers
Events and talks
Price:
Monthly: 3.8M
Annual Membership: 910k / Month

Matra Coliving Space
"3-star accommodations with a terrace" and plenty of space for Coworking.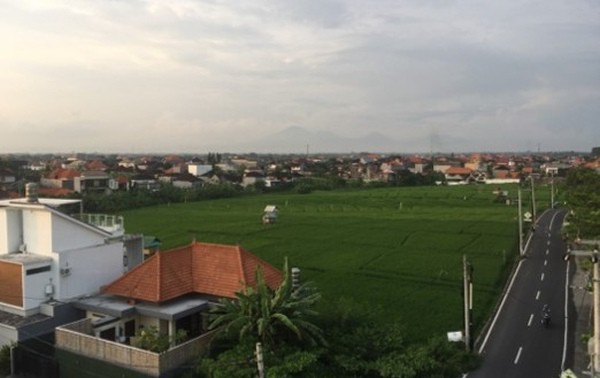 A luxurious coliving and coworking space set among the rice fields with rooftop views, 3km from Echo Beach and Batu Bolong Beach of Canggu.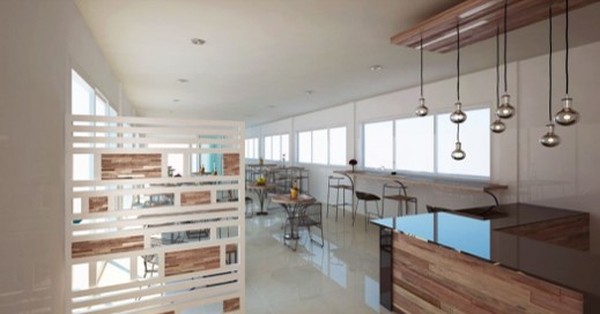 ---
Facilities and Amenities:
Café
High-Speed Internet
Coworking space access 24 hours a day, 7 days a week
24-hour meeting room free for members' use
Scooter and bike rental

Daily 60k/day
Weekly 50k/day
Monthly 900k/month

Tour services available

Half day tours start from 350k
Full Day tour ( 8 hours ) start from 600k

Surf lessons available
20% of Pranava Yoga, onsite yoga studio
Coworking Space Prices:
Monthly: 900k IDR / ~$63
Weekly: 350k IDR / ~$25
Daily: 60k IDR / ~$5
Coliving Spaces:
Private rooms with a balcony and a pool view
Some rooms have sitting areas, all rooms have desks
Coliving Prices
350K IDR Nightly
7M IDR Monthly
www.MatraBali.com/co-living
Location: No. 1, Br Pelambingan, Gang Rambutan, Tibubeneng, Kec. Kuta Utara, 3km from Echo Beach

Living Food Lab Coworking Space
An artistic Coworking space tucked in the second floor of a restaurant that provides top quality, vegan food, and great coffee. The best part, it's free to use!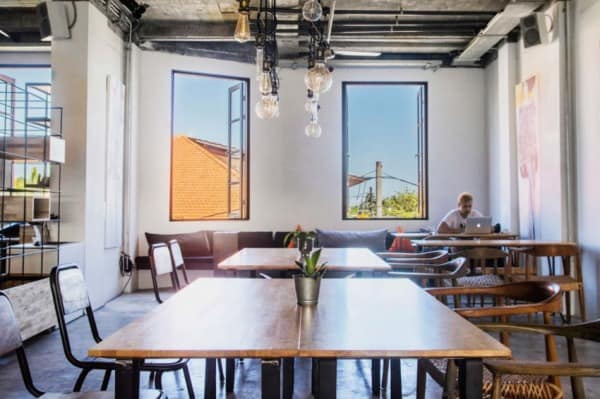 ---
Facilities and Amenities:
Air-conditioned workspace
Strong Wifi
Classical music in the background
Price: Free to use, as long as you're enjoying some of their awesome food or coffee
Hours: 7 AM to 7 PM
www.livingfoodlab.com/coworking-space-canggu
Location: No 8, Canggu Square units 12-13, Jl. Pantai Berawa, Canggu

B-Work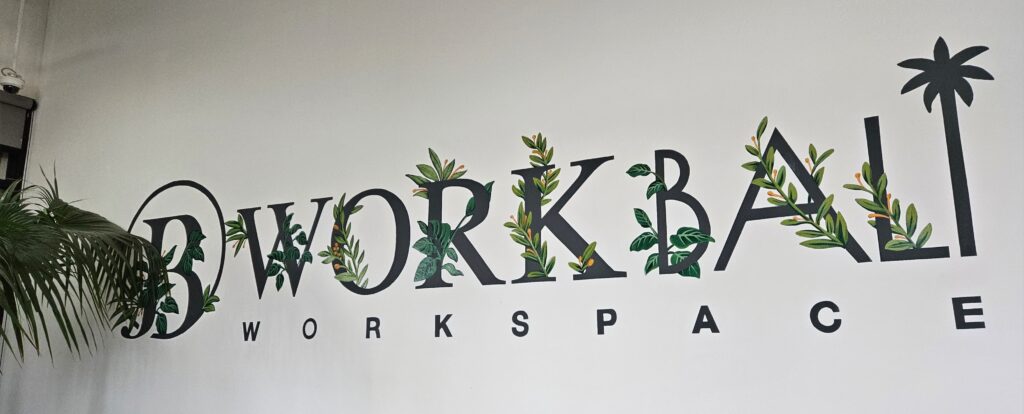 B Work Bali has emerged as arguably the most luxurious coworking space in Canggu, and possibly Bali. A large and lux coworking space features a full service cafe and metropolitan library style entryway cafe and chat friendly coworking space.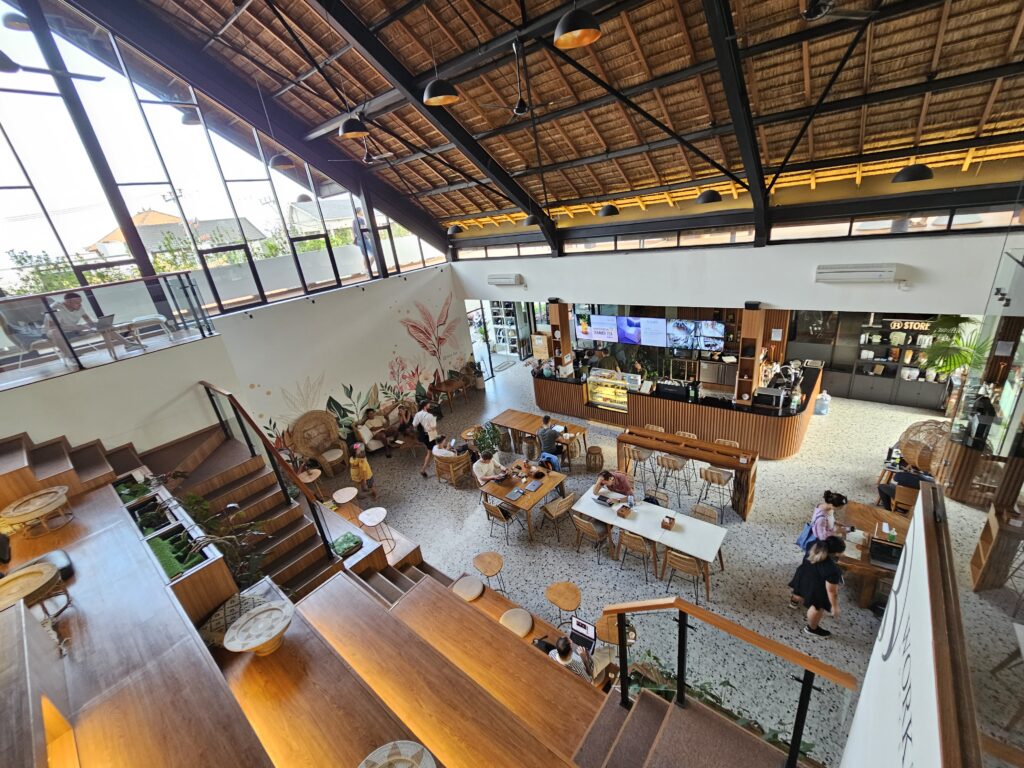 Beyond the private access doors, you'll find 3 additional levels of hotdesk coworking for quiet focused work, each with a different vibe, along with 10 reservable private conference booths (1 hour daily included with memberships) and a fully equipped recording studio with lighting and green screen.
In addition to this already great setup, a rooftop open coworking space, with a view of the ocean and sea breeze to match, also has a yoga studio that offers free yoga classes daily.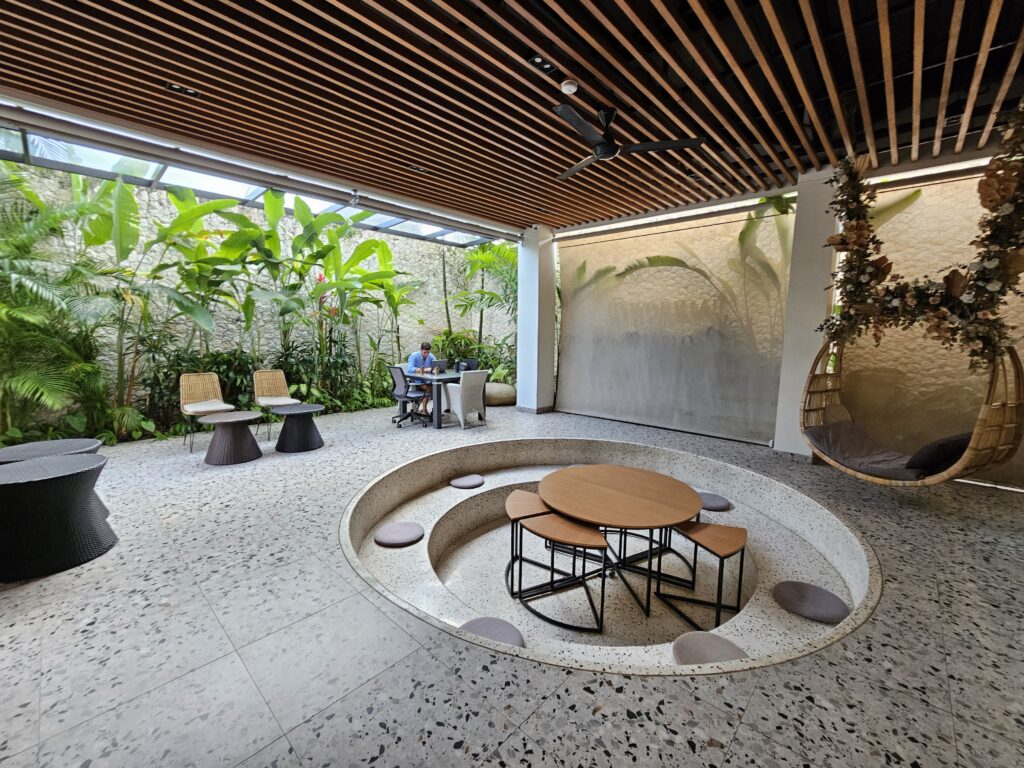 Finally, in the basement, B-Work finishes off with a fitness center equipped with weights and punching bag, so you can get in a workout and let off some steam between workouts.
For more information, contact B-Work Bali directly or drop in for more details.
Website: https://bwork.id/
Whatsapp: +62 817-797-908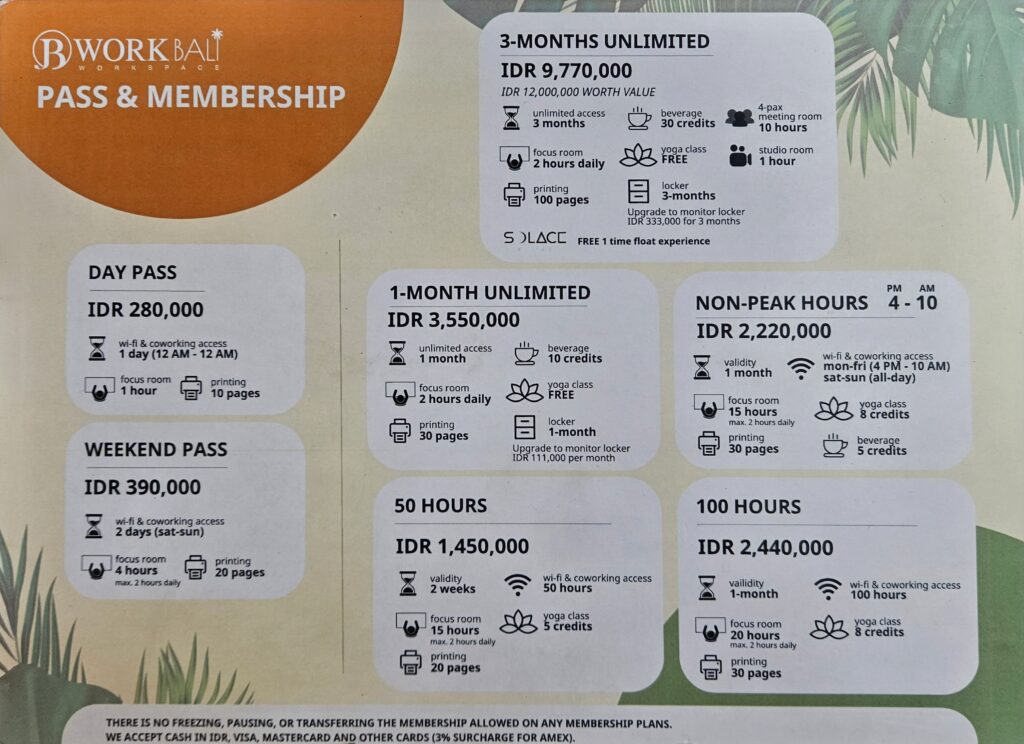 Tribal – Coworking Space and Coliving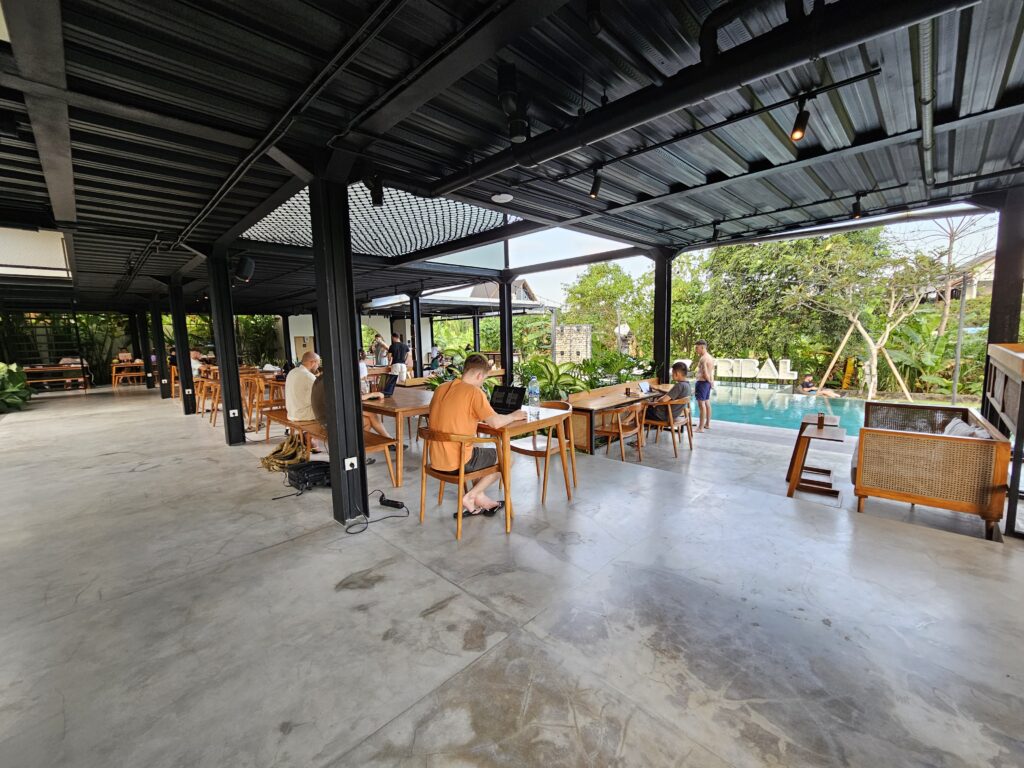 Tribal has one of the coolest concepts that I've seen in a coworking space, and one that most nomads and remote workers will love – because Tribal doesn't have a membership.
Instead of paying for a membership, Tribal only asks that you purchase food and coffee to cover your stay.
An initial purchase of food or drink gets you 3 free hours of cowork.
After 3 hours, Tribal asks that you spend a minimum of 100,000 IDR (~$7) on food and drink.
After 6 hours, Tribal asks that you spend a minimum of 200,000 IDR (~$14) on food and drink per person and then you're welcome to work until your heart (or motivation) give out!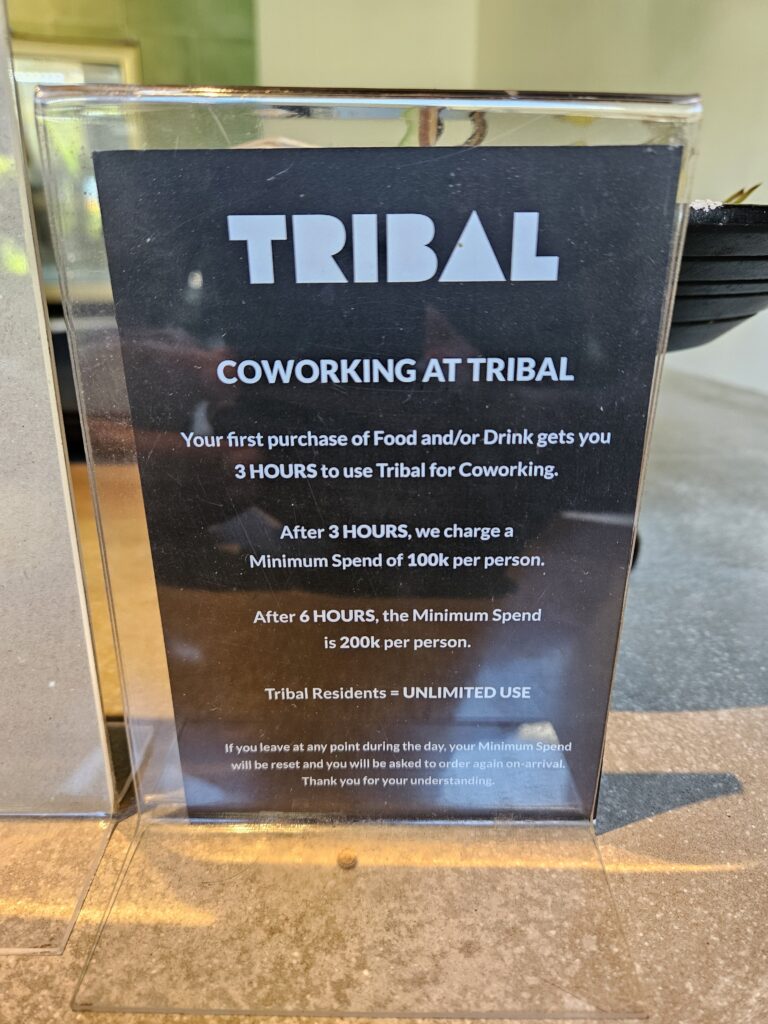 If you've been to Canggu before and worked in any cafe, you know that this is what you would easily spend in a coworking space on food anyways, but this way you avoid the membership fees – making Tribal a perfect work spot for those short stays in Canggu – when you need a workspace to focus, but you won't be around long enough to justify a membership.
Aside from the cool "no membership" setup, Tribal offers an open-air coworking setup, as is common with the nicer cafes in Bali, a pool for quick dips between calls, and coliving (bunks and private) upstairs for rent. Coliving stays allow free use of the coworking space with no minimum spend.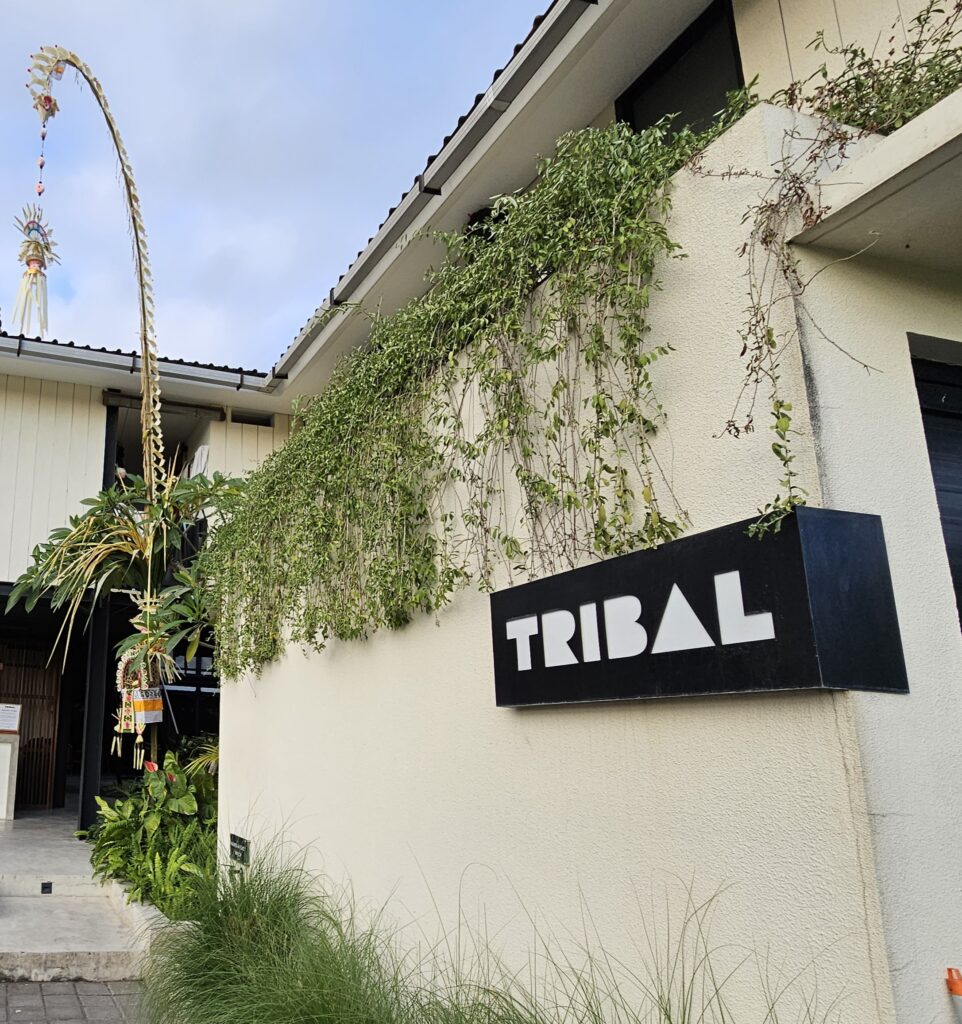 A message directly from the Tribal team:
"Hello, There!
To use the co-working space, we don't charge a Membership Fee or Day Pass etc. We just ask that all Guests place a food/drink order on arrival, and then we have a minimum spend of 100k after 3 hours and 200k after 6 hours – which is roughly equal to buying some food and/or a couple of drinks. All of our Coworking Spaces are offered on a 'first come, first served' basis, so we recommend you get down here early if you want to grab a good spot!

Thank you!"

Genesis Creative Centre
Genius Creative Centre, located in Berawa Canggu, is a nice and cozy little coworking space (upstairs) and coffee shop (downstairs) with a separate video and podcast recording studio (upstairs, next to the coworking space).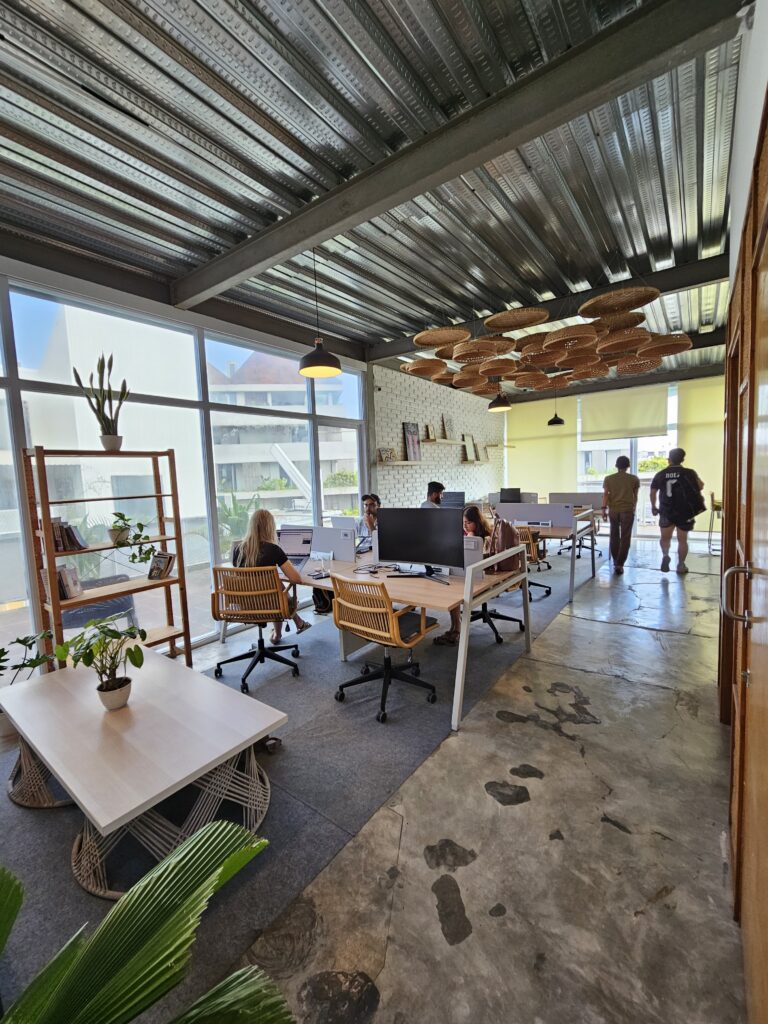 DOJO – Permanently Closed
Connco – Permanently Closed

What to keep in mind when picking a Coworking space
Facilities
Is there sufficient air-conditioned space (if you need that)?
Are bathrooms and showers available?
Are conference rooms or meeting rooms available? Is there an extra charge?
Are skype booths available? How much time do you get in the Skype booths per month?
Are there fun bits, like bean bags, a garden space, or pool, to mix up your work session?
Atmosphere
What is the crowd like? Completely quiet and introverted (where you won't meet anyone) or social?
How collaborative is the workspace? Active announcements board? Skill sharing?
Services
Are networking, social events, and training events provided multiple times per week?
Food and Survival
Onsite coffee shop?
Onsite restaurant? Boxed lunches, set meals, or full menu?
Are there nap spaces? (Don't underestimate the value of these?!?!)
Specifically for Canggu:
What side of the "shortcut" is the space on?
What discounts will membership at the Coworking space get you around Canggu – find out before purchasing yoga or gym memberships
Does the coworking space membership let you attend a partner space in Ubud for free?

Other Great Bali Coworking Content:
Other Great Content on Bali