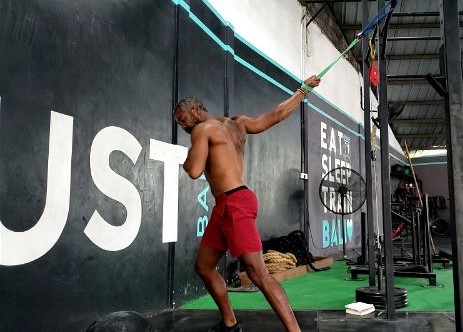 Every athlete and anyone who goes to the gym will shoulder pain at some point. However, the best insurance policy against shoulder pain and injury is a good stretching and mobility routine that aims to maintain and extend the range of motion in the shoulder while building strength throughout that range – especially at the end of the range. These 5 resistance band stretches for shoulders form the core of my shoulder maintenance and injury prevention program – and you should definitely add them to yours.
This 10 minute resistance band shoulder stretching routine is the perfect preventive maintenance to maintain healthy shoulders that are ready for the gym, sports, or whatever adventure you might throw at them.
Though exercises aimed at building strength and range are essential, sometimes our muscles simply need to be gently stretched out of their tense and shortened positions to regain full range of motion. Stretching your shoulders with resistance bands in this manner can maintain the shoulder mobility that we need to live a healthy life. Whether the stiffness you're feeling comes from working at a computer, an intense bout of a Crossfit WOD, or calisthenics work, these resistance band stretches for shoulders will deliver the relief and maintenance that you need.
---
Keep in Mind: Shoulder Exercises and Shoulder stretches are different, but your routine should include both.
A healthy shoulder has a full range of movement and pain-free and unrestricted movement in all plains. Additionally, A healthy shoulder has enough strength through that entire range to perform exercises and live daily life with a low risk of injury. This article focuses simply on resistance band stretches for shoulders, to perform once a week and after workouts aiming to loosen tight muscles and restore range of motion. However, this 10 minute stretching routine should be complemented in your workout routine with shoulder exercises that build strength in that restored range of motion.
If you need resistance bands for your stretching routine, click here to see my 5 favorite resistance bands for muscle building exercises, stretching, and mobility
HOW DO YOU STRETCH YOUR SHOULDER WITH A BAND: 1 MINUTE OF DEEP STRETCH IN EACH PRIMARY MOVEMENT AROUND THE SHOULDER FOR EACH ARM.
The 5 shoulder stretches with a resistance that follow cover all of the main primary movements of the shoulder and help restore flexibility in a balanced way.
For regular shoulder maintenance, like performing weekly to counter working over a computer, or to mobilize shoulders after an intense workout, perform 1 minute of stretching in each of the 5 stretches per shoulder.
For more intense situations – if you haven't stretched for more than a couple weeks or feel clear restriction in your shoulders – aim for 2 minutes per stretch in order to affect real change in the tissues.
In either case, complement this stretching routine with a **shoulder mobility routine** once a week to build strength in the end range of your shoulder mobility while extending your range.

Best Resistance Band Stretches for Shoulders: The 5 Way Shoulder Mobilization
Do this 5-way shoulder mobility stretching routine once weekly minimum for 1 minute per stretch, per arm, for a total of 10 minutes ideally after a workout
If you're feeling particular issues in your shoulder OR if you haven't stretched in a while, aim for two minutes per position
During each stretch, continually adjust to ensure you're feeling a good, healthy stretch the entire time.
---
1. POSTERIOR SHOULDER AND LAT STRETCH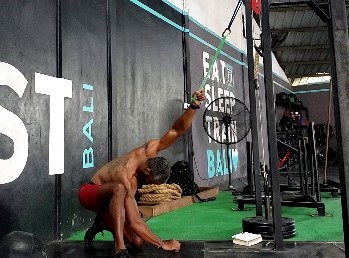 ---
2. ANTERIOR SHOULDER STRETCH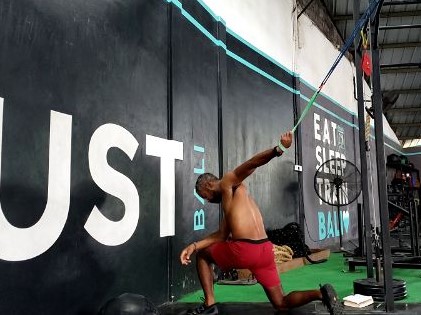 ---
3. POSTERIOR SHOULDER STRETCH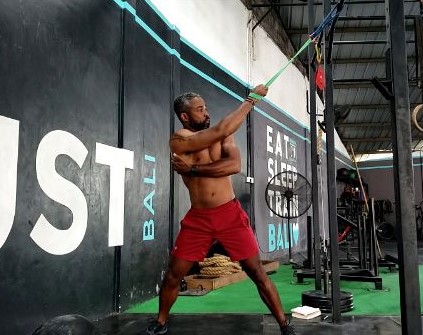 ---
4. CHEST, BICEPS, AND SHOULDER STRETCH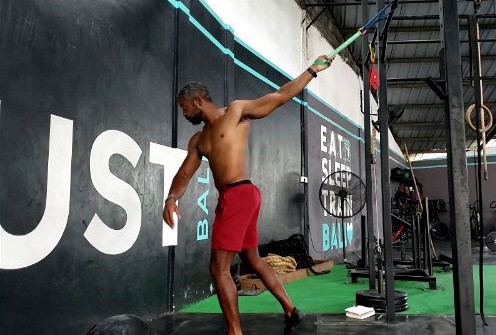 Turn the palm up, rotating the arm/shoulder externally, and turn away from the band. You will feel a stretch in your chest, in top of the biceps, and the scalene muscles along the side of the neck and running behind the clavicle and into the chest.
---
5. TRICEPS
Lean into this stretch and feel the triceps and the shoulder muscle under the armpit stretch as well. Attempt to keep the upper arm in alignment with the torso as much as possible as you lean into this movement.
---
WHEN SHOULD YOU DO THIS SHOULDER STRETCHING ROUTINE?
After any shoulder workout
At least once per week

WHY DO THESE "SHOULDER STRETCHES" TARGET SO MANY MUSCLE GROUPS?
You may notice that these stretches involve the lats, triceps, biceps, and a plethora of other muscles that aren't exactly the shoulder. However, our body is a system of systems and the nature of the shoulders intertwines it, its health, and its performance with these other muscle groups. Tight triceps and biceps or tight lats can not only restrict the shoulder's range of motion but also create tension that pulls our shoulder out of alignment, causes compensation in our movement, and can be the first domino in triggering larger shoulder pains and issues or, even worse, injuries.
The point: while you restore range of motion and shoulder health ensure the muscles surrounding the shoulder have ample mobility as well to protect the shoulder's health and performance.

WHAT NEXT?
Click here to check out My 5 Favorite Resistance Band Sets for workouts, mobility, and more! to make sure you have the right bands for your stretching routine.