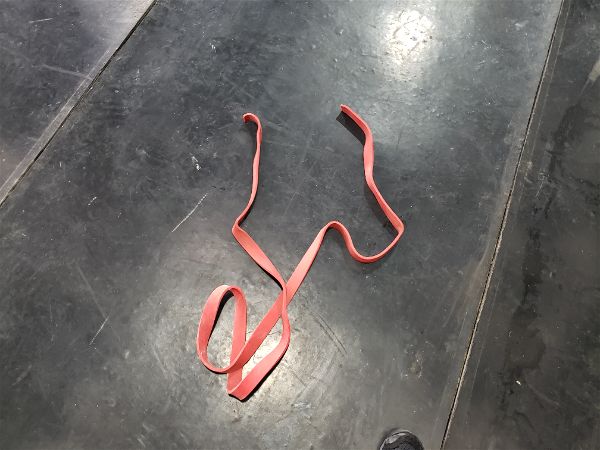 A broken resistance band that didn't make the list – assuring you the resistance bands on this list were made to last
Resistance band training is one of the best ways to train, get ripped, and build muscle without free weights or a gym, which makes resistance band training perfect for home gyms and travelers. I've been traveling the world for over 4 years, and carrying a pair of resistance bands allows me to do core movements like deadlifts, arm workouts, chest workouts, and other movements that enhance my adventures and travels, regardless of where I am.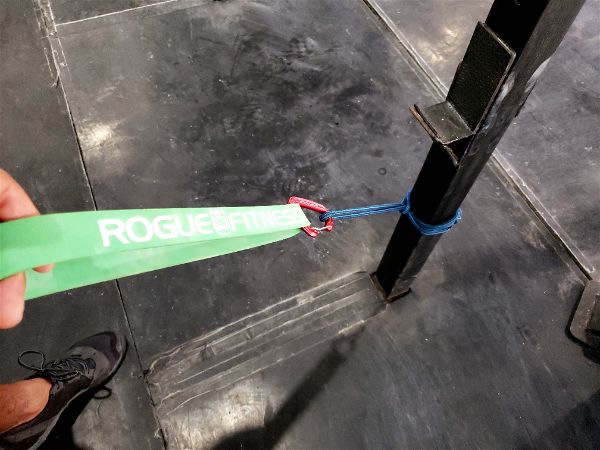 Unfortunately, not all resistance bands are created equal and most resistance bands don't do nearly as good of a job as the ones I carry with me.
In this article I'll share the best resistance bands for home gyms and travelers, what to look for when picking a pair for yourself, and start you with the basics of anchoring your exercise resistance bands to get you started working out
This article contains affiliate links
THE BEST RESISTANCE BANDS UPFRONT
We'll get into the list of the best resistance bands, but here are all the bands I recommend up front…
BEST RESISTANCE BANDS FOR BUILDING MUSCLE: THE ROGUE RESISTANCE MONSTER BANDS
With up to 200lbs resistance from a single band, these bands are the strongest on the market and extremely durable.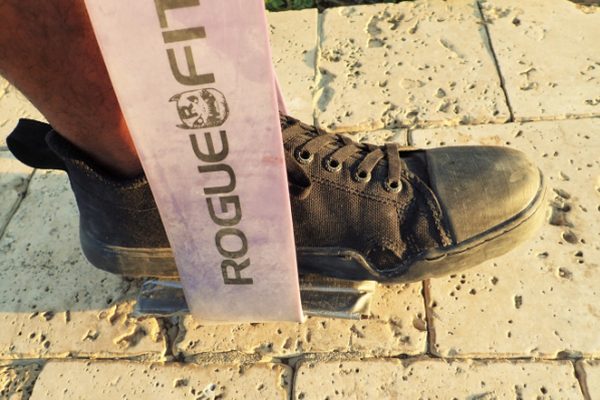 Click view the Rogue Fitness Monster Bands
THE BEST RESISTANCE BANDS FOR BUILDING MUSCLE AT HOME AND WHILE TRAVELING – BY CATEGORY
WHY YOU SHOULD HAVE RESISTANCE BANDS FOR HOME AND TRAVEL FITNESS
Resistance training is excellent for the body as a way to build muscle, burn fat, and stay fit. Unfortunately, building a home gym equipped with plenty of weights or finding a well-equipped gym while traveling can be hard. Resistance bands are a great solution for getting a resistance workout anywhere.
Good resistance in a compact tool – up to 200lbs from a single band.
Achieving 200lbs of resistance with solely what's in your gym bag or backpack would be unthinkable with free weights. However, a small pair of exercise workout bands, like the one pictured below, could easily generate that kind of resistance, for a muscle-building workout, and still fit in your pocket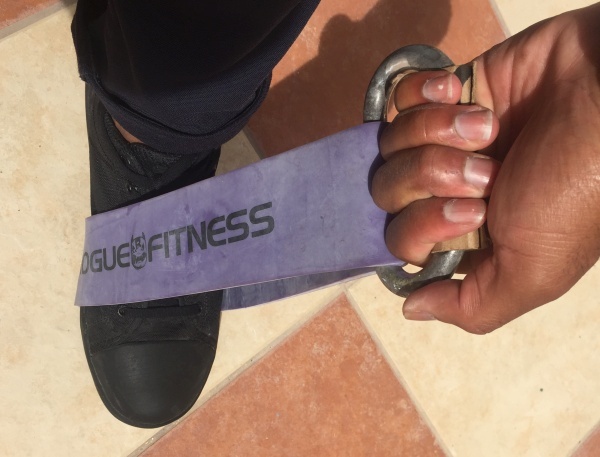 Resistance bands can be set up and used anywhere
With a simple door anchor for ~$10 on Amazon, and a simple carabiner and sewn loop available at REI, we can setup resistance bands virtually anywhere – in a door way, on a tree or pole, or in the middle of a room. All while maintaining a lightweight setup.
I recommend using this DIY portable door anchor(also use for TRXs and suspension trainers) as a versatile option to setup anywhere.
Resistance bands are easier on joints and have lower risk of injury
Joint friendly resistance bands naturally offer an easier, safer option to resistance training than free weights. For free weights, it is possible to overload the bar, or choose a dumbbell that is too heavy and not realize it until we get under the weight, in a squat or bench press. Even if our muscles are strong enough for a negative rep (going down slowly but unable to come up) our joints may not be ready for that kind of stress.
Because of the nature of training with resistance bands, the constant tension, that we must overcome to "setup" for the start position of the exercise prevents from overloading our joints to begin with, and always stay in a resistance range that promotes muscle growth, but has lower risk of damaging joints.
Resistance band training makes it easy to target any muscle group or do a full body workout with the same tool
Because a looped resistance band can be anchored above, below, or in front of you, it makes it possible to push or pull with resistance in direction and target a specific muscle group – be it legs, chest, shoulders, arms, upper body in general – or even the entire body with compound movements like clean and presses or ax chops.
We can also use resistance bands as an assistive tool, for assisted pull ups or assisted dips, aimed to reduce the resistance of the main exercise to a difficulty that is more suited for our target reps.
Last, virtually any exercise is possible with heavy resistance, if you have the right resistance band setup – from deadlifts and squats to muscle ups and clean and presses.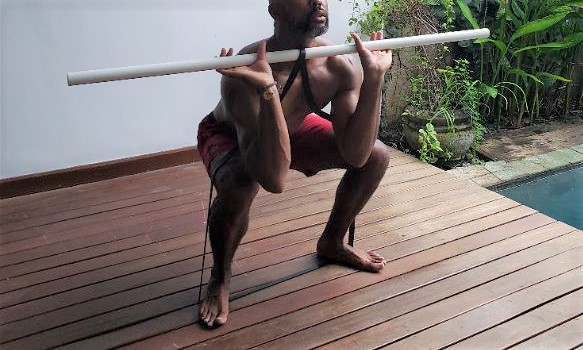 In this article, I'll share the best resistance bands that I've discovered and tested, the extra equipment I recommend for a cheap, minimalist, and travel ready resistance bands setup, and everything else you need to know.
BEST HEAVY RESISTANCE BANDS
Absolutely the best, high resistance bands on the market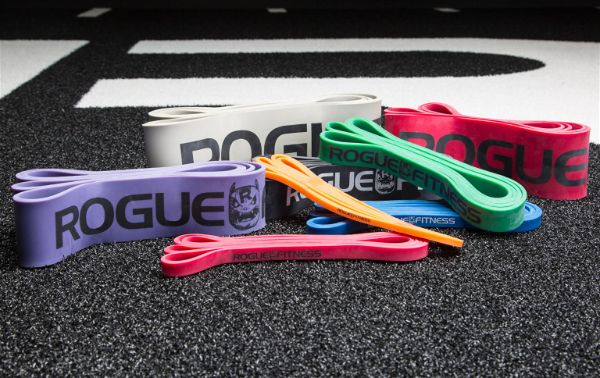 If you want heavyweight resistance bands to replace weights in the gym and recreate the resistance from weights in "big lift" movements, like deadlifts, squats, the Rogue Resistance Monster bands are the best exercise bands on the market. Up to 200lbs resistance from a single resistance band and intense durability.
These bands are clearly more expensive but the price difference is worth the quality. I've been using the same bands heavily for 5 years, and they clearly have a lot of use left in them. Additionally, you won't find bands with 200lbs of resistance anywhere else. Hands down, the Rogue Monster bands are the best bands on the market if you want heavier bands that deliver heavier resistance.
Click here to view all resistance levels of the Rogue Monster Bands
The only heavy resistance 12" bands and the best heavy resistance mini bands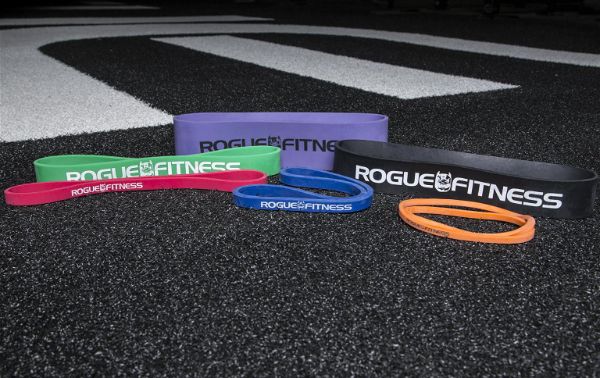 The Rogue Shorty monster bands deliver the same intense resistance with up to 140lbs in a much smaller, 12 inch package. These compact, high resistance bands' size make them perfect for travelers and minimalist gyms.
Additionally, the short design allows you to do resistance band deadlifts and squats without a platform easily, anywhere. You'll also be able to do a slew of other exercises – such as lat pulls, biceps curls – just by anchoring the band with your foot.
The short design also makes these bands better for agility drills, stretching, and rehab work
Click here to view all of the Rogue Shorty Monster Bands
BEST HEAVY DUTY RESISTANCE BANDS ON A BUDGET
Heavy resistance, flat bands available for cheap on Amazon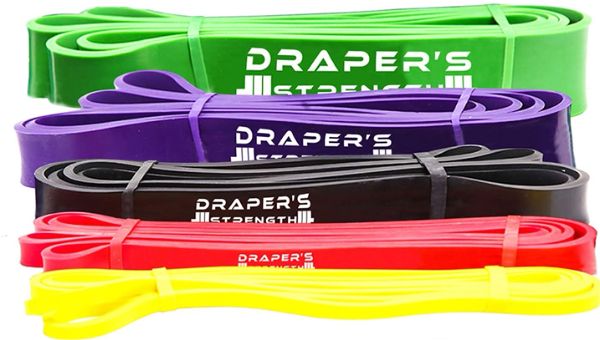 Of the 100's resistance band options on Amazon, the Draper's Strength resistance bands are arguably the best. High quality construction, high resistance, and durability that has lasted its users for years at a very affordable price. If you're looking for longer (41") flat resistance bands to purchase from Amazon, go with Drapers Strength resistance bands.
These bands also include handles and a useful door anchor to get you started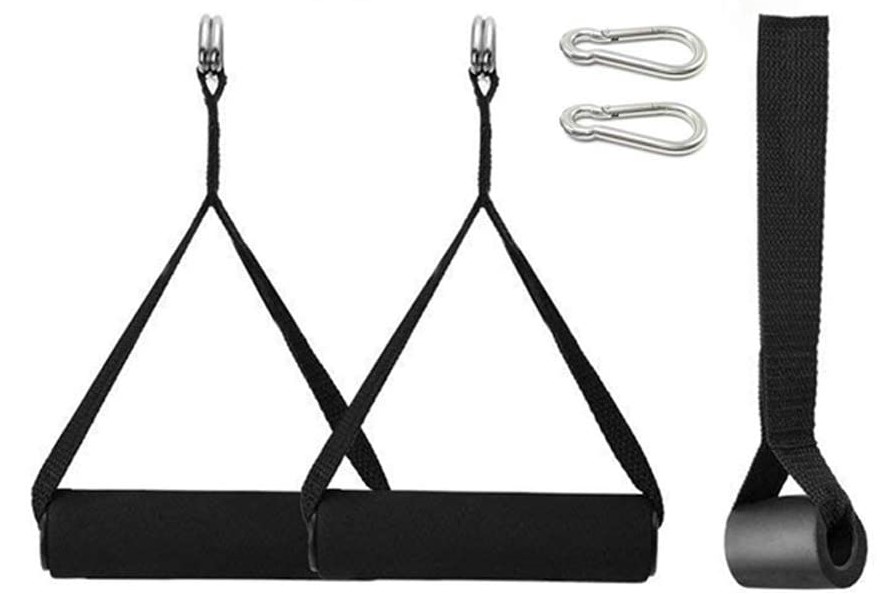 Resistance Level: 2lbs to 200lbs from a single band
Bands Length: 41"
Price: $45 for a 5 Band set, multiple packages available
Where to purchase: Amazon
Notes: Includes handles and door anchor
Click here to view all Drapers Strength Resistance Band Packages

High resistance, flat resistance bands door anchor and handles for resistance bands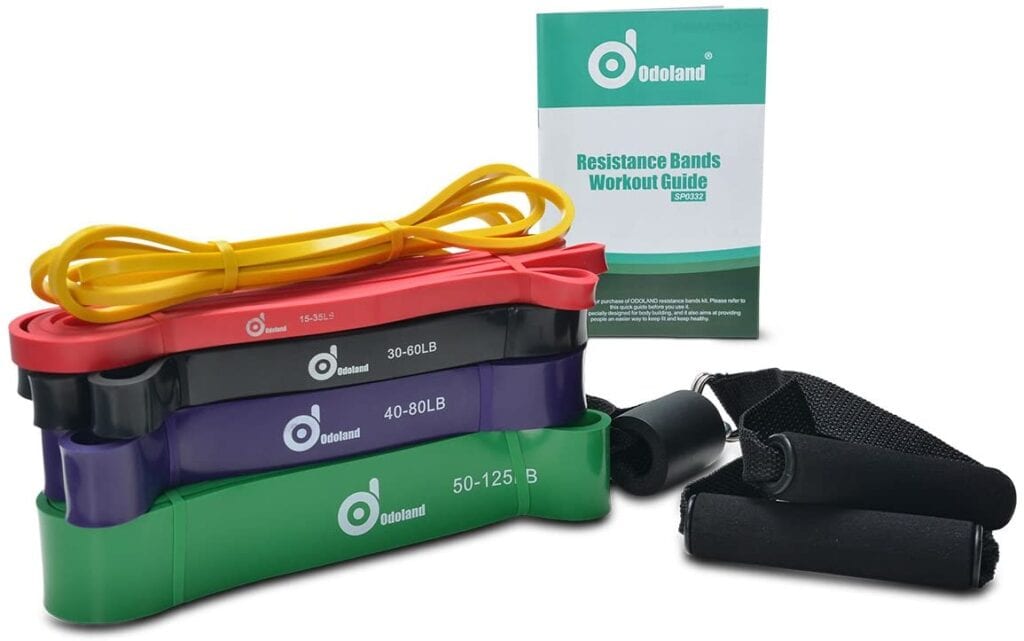 The Odoland resistance bands are another great option from Amazon and just as good as Draper bands, but and these also include a useful anchor and handles to make setup easier.
Resistance Level: 15lbs to 70lbs from a single band
Bands Length: 41"
Price: $26 for a 3 band set
Where to purchase: Amazon
Notes: Includes handles and door anchor
Click here to view the full Odoland resistance band package
BEST TUBE RESISTANCE BANDS WITH HANDLES
If you prefer handles and easily adjustable resistance levels, by adding or removing bands, tubular bands may be a good option for you. This short list of tubular bands are the best around for a reasonable price
Easy to setup and adjust, high quality bands with handles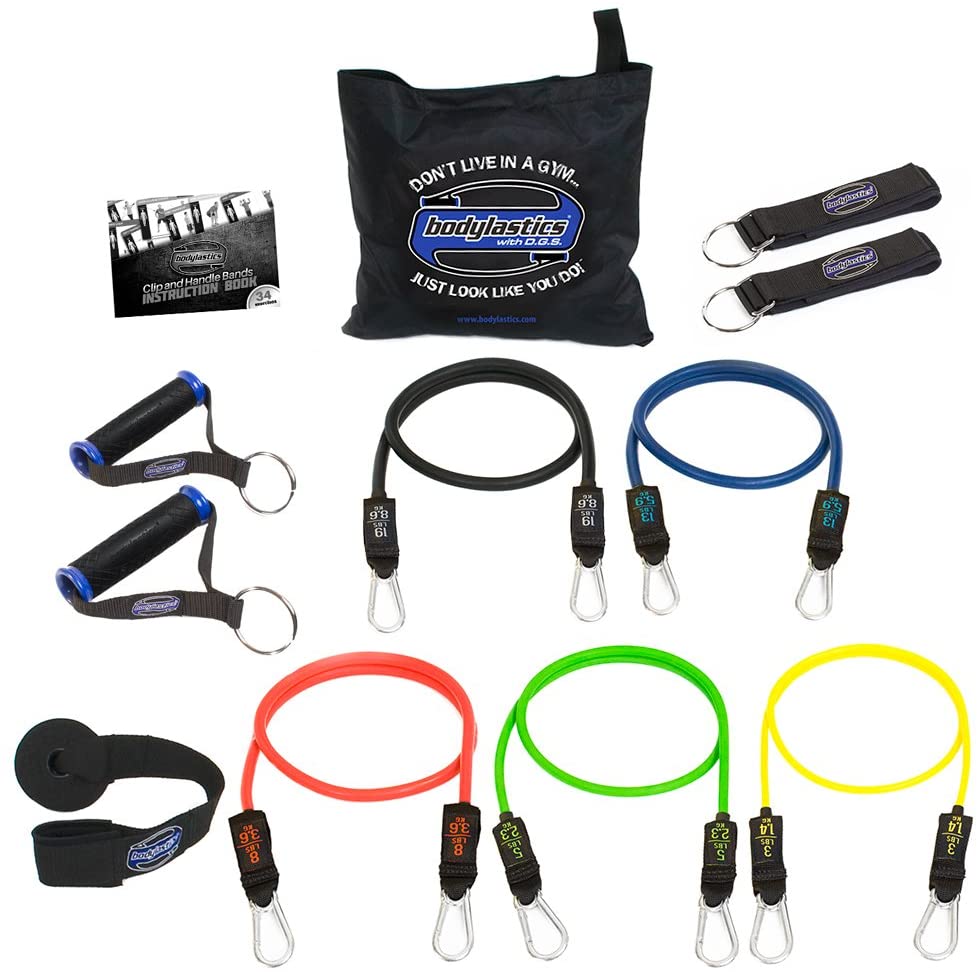 For tubular resistance bands with handles, Bodylastics bands are as good as it gets. The Bodylastics bands add a clipping system and a more robust door anchor to make setup and stacking bands even easier. The 96lbs of easily stackable resistance are another easy way to make workouts happen easily and quickly.
High quality and a durable build and a protective inner cord ensure these bands won't snap and you'll get plenty of life out of them
Resistance Level: 3lbs to 30lbs from a single band, stackable to 404lbs total resistance
Price: $50 -$154
Where to purchase: Amazon
Notes: Includes handles and door anchor, 30 Day money back guarantee
Click to view the full Bodylastics package
Simple, cheap, high quality, relied on by many bodyweight fitness enthusiasts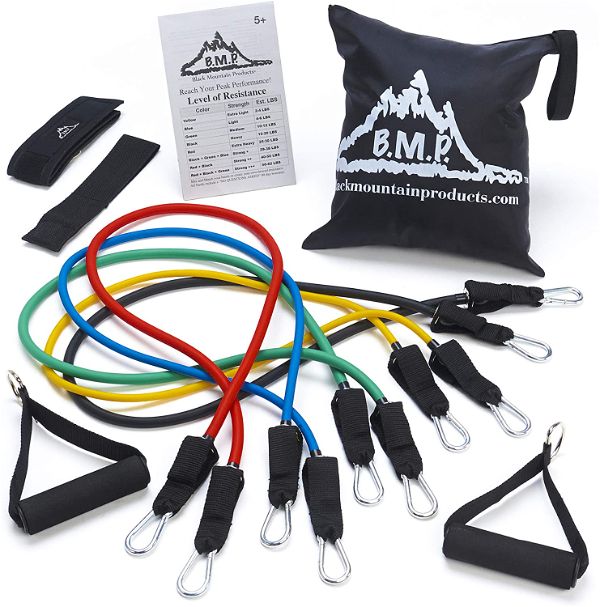 The Black Mountain Products resistance bands are touted as some of the most reliable and durable bands among fitness enthusiasts and bodyweight fitness enthusiasts. Stackable resistance bands from 2lbs to 30lbs and an included door anchor make dumbbell style workouts easy, without the dumbbells.
Resistance Level: 2lbs to 30lbs from a single band, stackable to 60lbs total resistance
Price: $31 for a 5 band set
Where to purchase: Amazon
Notes: Includes handles ankle straps, and door anchor, 30 Day money back guarantee
Click to view the full Black Mount Products Resistance Band set
BEST LIGHTWEIGHT BANDS
For agility work and accessory work – such as placing a band around both knees or ankles – a lightweight, flat band that doesn't bunch up is best. These are the best lightweight bands for your mobility and booty work.
These lightweight bands are high quality and well made, helping them last and prevent "bunching" and rolling up during use.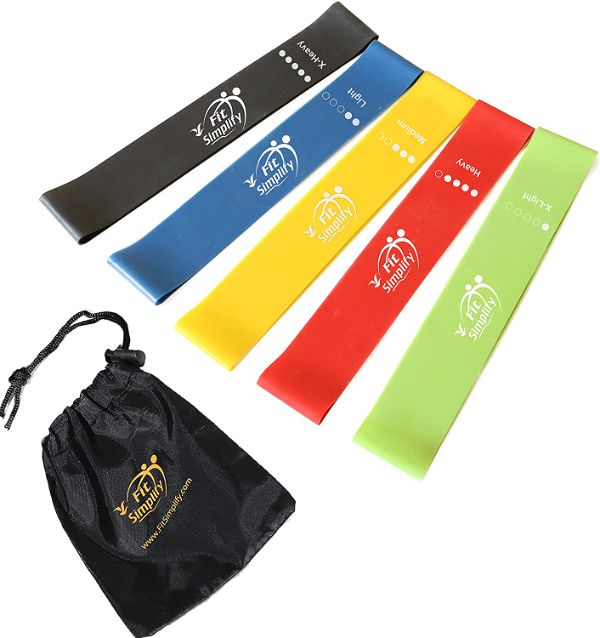 A single set, bag included, is enough to the right amount of resistance in the right places to butt workouts, hip mobility work, and agility work.
Resistance Level: 2lbs to 30lbs from a single band, stackable to 60lbs total resistance
Price: $31 for a 5 band set
Where to purchase: Amazon
Notes: Includes handles and door anchor, 30 Day money back guarantee
Click to view the Fit Simplify Resistance Loops
WHAT TO LOOK FOR IN A PAIR OF RESISTANCE BANDS
If you're looking for a pair of heavy resistance bands that will last while adding versatility
Flat: Flat bands allow for simpler use, as they anchor easily under the foot, can clip easily into a carabiner, and can be grasped easily without a handle
Durability and Quality: Getting high quality ensures a longer life without breaking. All of the bands on this list are from trusted brands and vouched for by thousands of users like you. Beware of buying too cheap and compromising the quality of your bands
Simplicity: The simpler a band is, the easier it is to pack when traveling. Flat bands are as simple and useful as it gets
WHICH RESISTANCE BANDS SHOULD YOU BUY?
With so many options – long flat bands, short flat bands, and tubular bands – it can be confusing deciding which bands are right for you.
If you want a single resistance band for a versatile workout and heavy resistance, get a long, flat, heavy resistance band – such as the Rogue Monster Bands (best option), the Draper's Strength Bands (budget option), or Odoland Resistance Bands (includes handles and door anchor)
If you want heavy resistance in a compact size, or you want to do deadlifts and high pulls without weights get a short, heavy resistance band – such as the Rogue Fitness Shorty Monster bands (12")
If you require less than 75lbs total resistance and want an anchor system and handles included, get a high quality tubular band set such as the Bodylastics bands
If you want smaller, lighter, flat bands for accessory work, mobility, or booty workouts, get small loop bands such as the Simplify Fitness loop bands
WHAT ELSE TO BUY
Though I can get in nearly any workout with my Rogue Fitness bands, simply by stepping on them, having a few extra pieces of gear makes almost any exercise possible. I highly recommend adding these pieces of gear.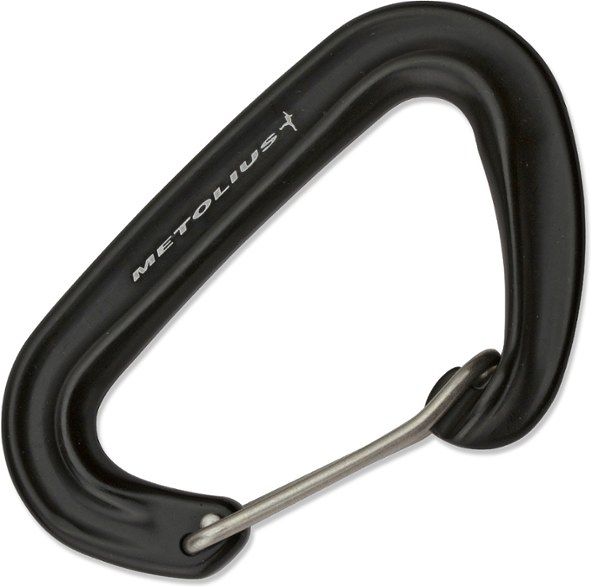 These few elements, carabiners and rock climbing sewn loops, make it possible to setup your resistance bands virtually anywhere. Anchoring above allows us to recreate pulling movements – like pull-ups and muscle ups – without a bar or rings, in addition to our existing exercises.
If you want extreme simplicity you can also pickup a small, cheap, and easy to use door anchor and handles for less than $20. I personally use the door anchor from my suspension trainer kit , but these resistance band handles will work just as well. Having these will make getting started much easier.
Also consider picking up the Monkii outdoor anchor to make setup easier, or just grab a rock climbing daisy chain
HOW TO ANCHOR YOUR RESISTANCE BANDS
Once you have your carabiners and sewn loop, setting up to workout with your resistance is much easier and you have a variety options. My favorite approaches to anchoring my resistance bands are as follows as they make any exercise possible
Anchoring with the feet (stepping on the bands
Anchoring on a Doorway (using Monkii)
Anchoring on a pole or pullup bar
---
ANCHORING WITH THE FEET (STEPPING ON THE BANDS)
To anchor the resistance band with your feet, simply step on the bands with the band running under the middle of your foot. Then, grab the band as if it were a handle and pull. This setup is best for any exercise in which you're pulling from the ground or pushing overhead – deadlifts, biceps curls, overhead presses, etc.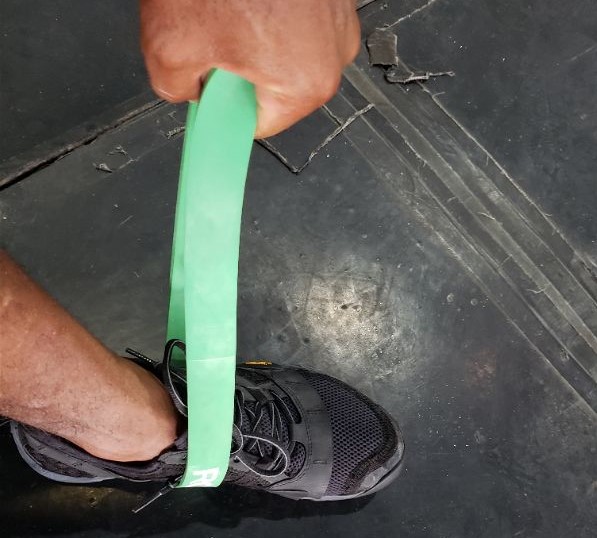 ANCHORING ON A DOORWAY
Anchoring from a doorway allows for downward pulling and pushing movements, such as pull ups, muscle ups, dips, triceps extensions, and more.
I highly recommend picking up a cheap (~$10) door anchor on amazon because of the versatility it adds to using your resistance bands.
Additionally, having this simple way to setup your bands overhead allows for great stretching and mobility exercises – such as the 5 way shoulder mobilization and stretch, lat stretches, and more.
This DIY door anchor option is perfect for anchoring your resistance bands in a doorway
ANCHORING ON A POLE OR PULLUP BAR
Anchoring on a pole or pull up bar is easy and allows us to do pull ups at a lighter resistance level than bodyweight and any pulling down or pressing down movement.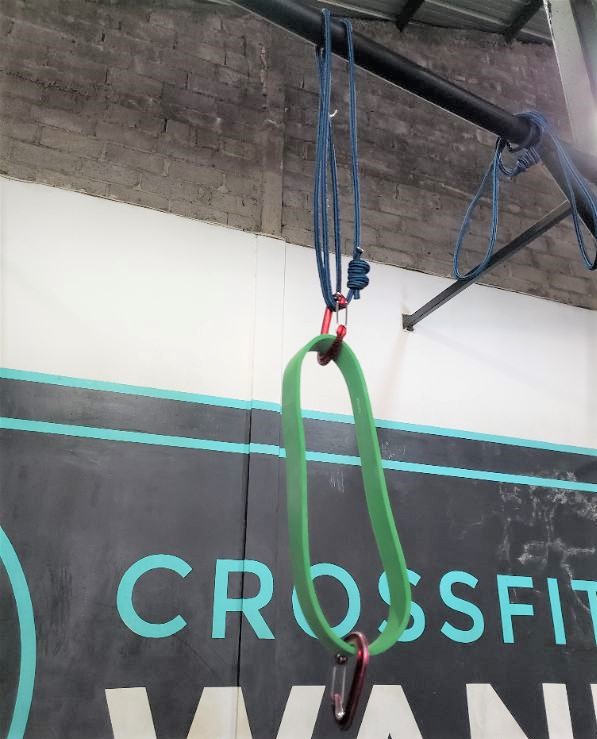 When setting up your resistance band on poles, I recommend looping a sewn loop and then clipping that loop and your resistance band into a carabiner. This approach (sewn loop + carabiner + resistance band) will reduce friction on your band and extend the life of your band.
OTHER RESISTANCE BAND TIPS
USE A PVC PIPE TO RECREATE BAR MOVEMENTS
Wrapping the resistance band around a PVC pipe makes for an excellent makeshift handle and more effectively recreates Olympic bar movements
BUY A RESISTANCE BANDS SET TO SWITCH BETWEEN RESISTANCE LEVELS TO EFFICTEFILY BUILD MUSCLE
Getting a resistance band set, such as the Rogue Monster Bands set sold by Rogue Fitness is fairly cheap considering the quality of bands the number of bands you get, and the workouts and exercises it enables. Being able to quickly set up and go from 15lbs resistance for shoulder exercises to 100lbs for full body workouts or leg exercises delivers the full function and muscle building capability of a gym.
GET RESISTANCE LOOP EXERCISE BANDS, NOT CLIP IN BANDS
Clip in bands, that are single, straight bends with a clip on each ends may appear to be a great idea but are actually far less functional than loop exercise bands. So, I recommend looped bands.
Once you learn how to setup, anchor, and use looped bands you'll realize looped bands have natural handles, anchor easier, and are far less bulky to pack than "clip in" bands, making them perfect for minimalist and minimalist-focused workouts
Learn to use resistance bands with bodyweight exercises to add or reduce resistance
Resistance bands are not only great for recreating weighted exercise movements but are also great for adding resistance to bodyweight exercises, such as running the band under the hands and over the back during push ups, adding more resistance to the push-up, ultimately making a more strength and muscle building movement thanks to more resistance applied to the targeted muscle group.
Additionally, bands can be used for less resistance in the exercise, such as with assisted dips or assisted pull-ups. Achieving muscle gains, strength gains, and stamina gains requires doing exercises at a difficulty level that allows us to complete between 1 and 15 reps in a single set. If we are unable to do the target number of sets of a bodyweight exercise due to difficulty, adding bands for varying resistance and assistance helps us create a better workout routine based on our target goals for developing our bodies.

WHAT NEXT?
Now that you have your preferred bands, its time to get in your resistance band workout. Don't worry, it won't take much time to get over the learning curve of how to anchor your bands for a workout, but once you do, the options are limitless. Then simply focus on recreating the normal movements you do with dumbbells – such as curls or overhead presses – Olympic bars – such as deadlifts or high pulls – or machines. From there on out you can build muscle simply by doing the movements with the same sets and reps as your normal workouts, but converted into resistance band workouts.
Also, now that you've started your home or travel gym, I highly recommend considering making a pair of PVC parallettes. Parallettes will allow you to do many high intensity pushing and chest exercises to complement the pulling movements we perform with resistance bands. Don't forget to use your resistance bands for shoulder mobility and stretching.
Checkout this article on 33 parallette exercises for beginners, intermediate, and advanced workouts then read this guide on how to make PVC parallettes at home in less than 25 minutes, with less than $25.
IN THE MEANTIME…
Checkout these great, equipment free workout ideas:
MORE GREAT FITNESS GEAR RECOMMENDATIONS