Staying fit and strong should be a priority no matter where we're at in life. Good fitness and the health that comes with make for practical insurance policy against sickness and injury. Whether we're stuck in a hotel or guest house, or limited by a home gym, we should be limited in how we train and maintain our bodies. Unfortunately for most, not having a gym and the weights it comes with can complicate the "staying strong" part of fitness. Luckily, the Rogue Resistance bands are the perfect options for resistance exercises and workouts without weights – at home or on the road.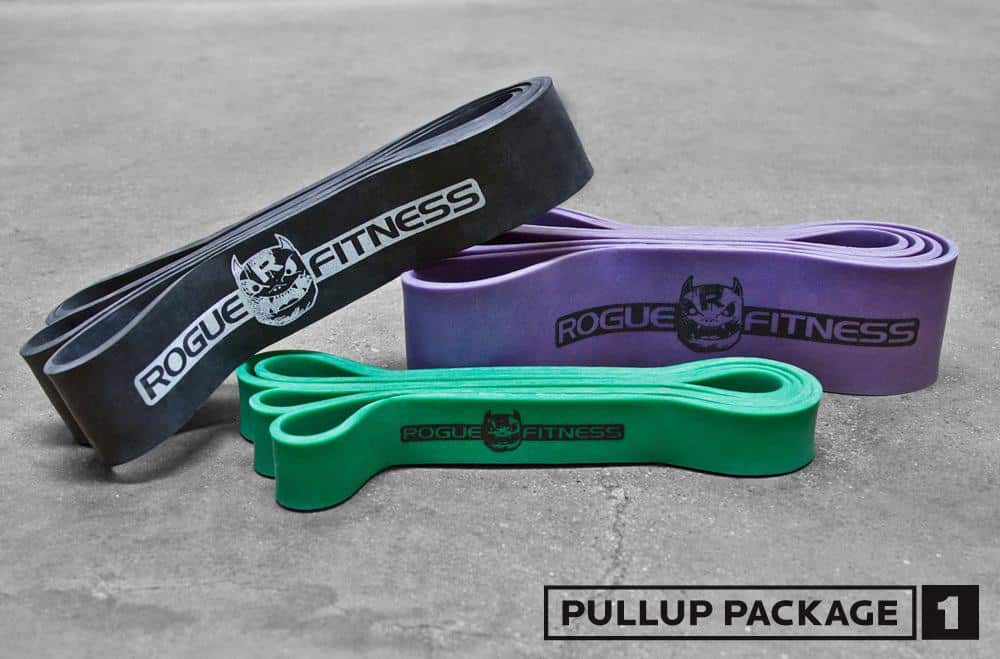 I've been traveling the world for over 3 years and I've refused to compromise on staying fit and maintaining a solid workout program, including Crossfit, resistance training, and strength training, even without a gym, thanks to the Rogue Fitness resistance bands I keep in my workout kit. With these, I can maintain muscle, strength, and the body I choose to design anywhere. In this review of the Rogue Monster Bands I'll share exactly how I achieve this and why Rogue Fitness bands are my exercise bands of choice.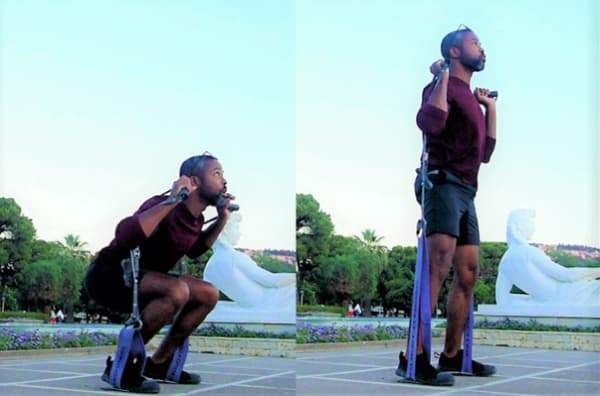 Read on to discover the resistance bands that are essential for any minimalist home and travel gym to help you achieve any fitness goal
---
This article may contain affiliate links

CONTENTS OF THIS ROGUE RESISTANCE BANDS REVIEW

ROGUE RESISTANCE BANDS REVIEW FOR HOME GYMS AND TRAVEL WORKOUTS
I find that balanced fitness, including strength, stamina, and mobility, enhances the quality of my travels immensely. As such, whether I'm hanging at home in California with family or at my "base abroad" in Bali, have an option for resistance and mobility training is essential. This is why I always carry exercise bands that offer heavy resistance – specifically Rogue Fitness resistance bands
Rogue resistance bands deliver high resistance (15 pounds to 200 pounds per band) and insanely great quality at a very reasonable price. That balance makes for a piece of kit that is essentially a gym in a bag once you learn how to use them. Let's discover why by first examining why you need a pair of resistance bands for home and travel workouts and specifically the 7 reasons I recommend Rogue bands as the best exercise bands for your kit.
Click here to check out the full line of Rogue Fitness Monster Bands for resistance training anywhere

5 REASONS WHY RESISTANCE BANDS ARE PERFECT FOR MINIMALIST TRAVEL AND HOME GYMS
From my experience, the Rogue Fitness resistance bands rock for training strength and resistance exercises anywhere, but are resistance bands in general even for you? If you're looking for a workout anywhere (home, hotel, a park) then the answer is probably "yes".
Here are 5 great reasons why you should add resistance bands to your minimalist fitness kit.
Resistance bands allow for resistance exercise anywhere without a gym
Resistance bands easily anchor and setup anywhere – in a doorway, or under your feet – delivering a full range of exercises with no additional equipment
Resistance bands allow for a strength and muscle building workout anywhere – home, hotel room, airport, park, wherever
Resistance bands are versatile, compact, and lightweight gear, delivering the benefits without the weight
After the workout, resistance bands are excellent for improving flexibility and rehabilitating nagging injuries
In the end, resistance bands give all of the benefits of resistance training, allowing you to develop muscle and strength, anywhere, and with minimal gear.

7 REASONS WHY THE ROGUE RESISTANCE BANDS ARE PERFECT FOR YOUR HOME AND TRAVEL GYM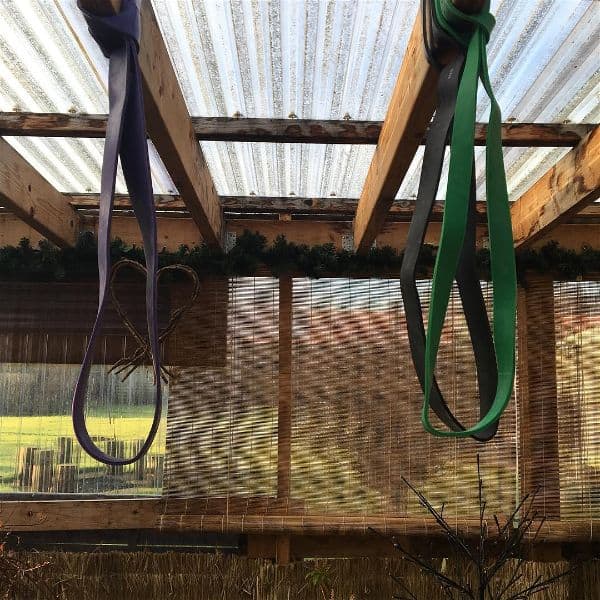 ---
Heavier resistance than most exercise bands: Ranging from 15 pounds to 200 pounds resistance
Cheaper price than high quality competitor brands, but still very quality: Ranging from $17 to $70 per band
Great materials and construction make for excellent durability compared to all other brands: I've had mine for 3 years with heavy use
Flat designed makes it easy to create a handle by adding a carabiner: Simplyclip a D-Ring style carabiner to the resistance band and you have the perfect, makeshift handle
Perfect length for a versatile range of exercises at 41" – recreating some movements and adding resistance to others.
Flat design pairs with a PVC pipe to recreate barbell and dumbbell lifts
Rogue Fitness is an extremely reliable brand for high quality, high durability, and great value fitness gear

PROS & CONS OF THE 41 INCH ROGUE MONSTER BANDS
---
PROS
CONS
– Cheap, but still high quality
– Durable
– Heavy Resistance
– Flat design adds function and makes use easier
– The Best Resistance bands on the market
– Requires adding an anchor system
– Requires adding a handle

HOW TO USE THE ROGUE MONSTER BANDS: FROM RESISTANCE EXERCISES TO STRETCHING
The possibilities for exercises and training with the Rogue Monster bands are limited only by your imagination.
For exercises, it is possible to recreate virtually any dumbbell, barbell, or resistance exercise with a couple of tools (carabiners, PVC pipe) and creativity. For mobility and stretching, with a simple anchor setup, you can use the stretches to increase flexibility and rehabilitate nagging injuries.
---
ADD HANDLES TO THE RESISTANCE BANDS TO RECREATE DUMBBELL EXERCISES
Adding a simple D ring, such as this Omega USA carabiner, adds a quick, convenient, and functional handle to your resistance bands.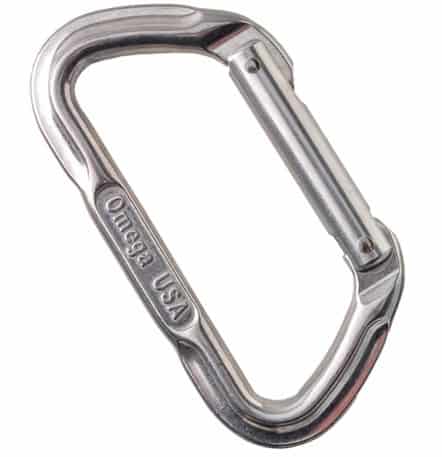 ---
USE A PVC PIPE TO RECREATE BARBELL EXERCISES BY ANCHORING WITH THE FEET
In this video, the Rogue Fitness team demonstrates how to add resistance to a deadlift using Rogue Fitness Bands. However you can easily recreate a deadlift the same way, using a PVC pipe instead of a barbell, and any resistance band to your liking.
---
ANCHOR THE RESISTANCE BAND IN A DOORWAY OR ON A POLE TO RECREATE EXERCISE DONE ON PULL UP BARS (PULL UPS, ROWS) OR DIP BARS (DIPS, TRICEPS EXERCISES
For upper body movements, anchor using a doorway or pole using this DIY TRX anchor system and proceed with traditional upper body movements such as pull ups, dips, triceps extensions, rows, , etc., using the approach shown in this video for pull-up progressions.
---
ANCHOR THE RESISTANCE BAND AND USE IT GO DEEPER IN PASSIVE STRETCHES
The video below details how to use resistance bands to max out a good hip stretch, and it is just as possible to do shoulder mobility exercises that give the same relief to tight spots and nagging injuries

COLOR CODING AND RESISTANCE LEVELS OF THE ROGUE FITNESS RESISTANCE BANDS
The full sized Rogue Fitness resistance bands are color coded as follows to indicate the max resistance in pounds/kilograms as indicated below
Color
Resistance
Band Number
Recommended Use
Orange
15LB / 6.8KG
#0
Beginner, light training, rehab, biceps exercises, triceps exercises
Red
30LB / 13.6KG
#1
Blue
50LB / 22.7KG
#2
Green
65LB / 29.5KG
#3
Additional weight for lower body exercises, heavy mobility and stretching
Black
100LB / 45.3KG
#4
Purple
140LB / 63.5KG
#5
High resistance for squats, deadlifts, and leg presses
Red
175LB /79.4KG
#6
Silver
200LB /90.7KG
#7

MATERIALS AND CONSTRUCTION OF THE ROGUE FITNESS BANDS
The Rogue Fitness Bands' quality is top notched and unsurpassed as the bands are still going strong after 3+ years of use
The Rogue Fitness bands are made up of a durable latex rubber that's layered over each other in thin layers in a flat design, which is one of the defining differences between these bands, and the bands you'll commonly find on Amazon.
The result is higher durability and longer life in the Rogue Fitness bands compared to the other bands available on the market. While, with the other resistance bands available, a tiny nick in the rubber can cause the entire band to tear (especially with tubular bands). With the Rogue Fitness bands, a simple nick in the rubber or abrasion affects only that single layer of rubber, while leaving the rest of the exercise band's depth in tact and extending its life.
I've tried several difference exercise bands, both flat and tubular, and the Rogue Fitness bands win in terms of quality, construction, and durability adding up to a much more reliable, much more durable product.
Over three years and counting, my Rogue Fitness bands are still going strong and still my lower body strength workout tool of choice.

ROGUE FITNESS BANDS FAQ
---
How do you use the Rogue Fitness band?
The Rogue Fitness bands are perfect for resistance exercise or for stretching and mobility drills. First, anchor the resistance band under your foot, or in a doorway with a doorway anchor. Then proceed with either resistance exercises or stretching and mobility drills with movements such as resistance band squats and deadlifts.
Which resistance bands are the best?
The Rogue Fitness resistance bands are the best I've encountered in my tests, delivering high resistance (up to 200lbs), functional design (flat, multi-layered latex rubber), and a great price.
What color resistance band has the most resistance?
With the Rogue Fitness bands, Silver bands deliver the most resistance at 200lbs per band.
How much resistance is the red band?
The red band delivers 175lbs of resistance per band.