Getting in a good workout without a gym can be difficult, whether traveling to a far off corner of the world or simply stuck at home. Understandably, being stuck in a hotel room, at home, or in a guest house in a rural part of Southeast Asia can seem like a valid excuse to skip the all essential workout – but its not.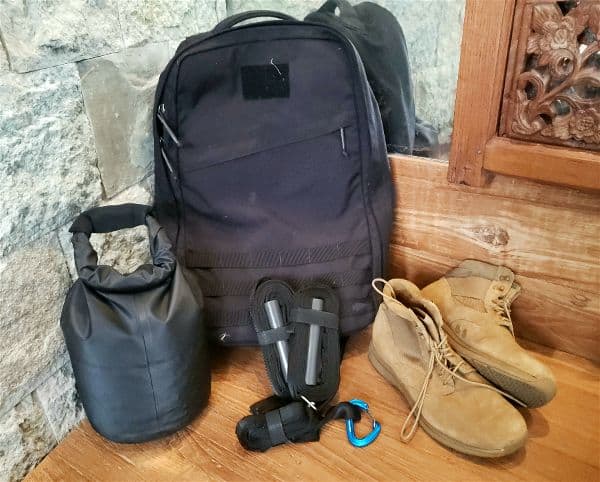 Staying healthy, fit, and enough to handle what comes your way is an excellent insurance policy against sickness and injury, and the mere act of moving, getting your body moving, can make us feel good, escaping the moment, and boosting our mood.
But is it possible to get in a workout at home or in a hotel room that surpasses what we can accomplish in the gym? Yes. Absolutely.
Read on to discover my favorite 7 tools and techniques for training for strength, stamina, and mobility any place any time – to stay adventure ready, and ready for life. No compromise
CONTENTS OF THIS GUIDE TO THE ESSENTIAL WORKOUT GEAR FOR HOME AND TRAVEL

WHY YOU NEED THIS ESSENTIAL SET OF WORKOUT EQUIPMENT
To enjoy my travels, and life, health and fitness is essential. Surfing, trekking, and generally wandering the world in comfort are enhanced by the strength and stamina that come from a good fitness routine with regular workouts.
To ensure that no matter where in the world I am – a guesthouse in rural Laos, a hotel in Buenos Aires, or at "home" isolated on Bali – I keep the following, essential workout equipment, to get a workout in, anywhere.
Even having a few items from this list of essential home and travel workout gear allows me to do a slew of strength and stamina building workouts anywhere, in addition to my standard fitness routine that keeps me healthy, happy, and ready for any adventure I can dream up.
---
THE HOME AND TRAVEL WORKOUT ESSENTIAL GEAR
(Click each link to jump to sections detailing my favorite options, and what to look for in your own)

1. A RUCKSACK | BACKPACK TOUGH ENOUGH TO CARRY WEIGHTS
Wearing a weighted backpack is an easy way to amp up resistance, transforming calisthenics into muscle and strength building resistance exercises. Simply perform your normal bodyweight workouts and bodyweight exercises with the backpack and a good, stable weight and your calisthenics become muscle and strength building exercises. I often combine my weighted ruck with my suspension trainer to get a full, strength building upper body workout in my living room or front yard.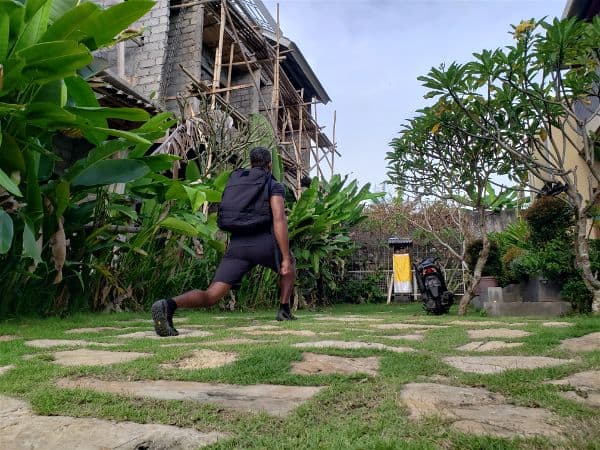 For leg workouts, rucking is an excellent workout and easy complement to running, as it trains cardio while building strength in the legs, lower back, and shoulders. If you enjoy hiking or are planning travels around trekking, rucking is an excellent way to train and stay in shape. All you need is a backpack with weight.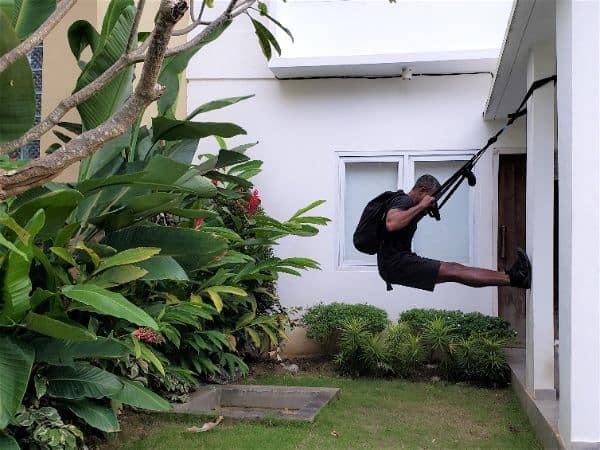 Outside of workouts, a good durable backpack or "rucksack" doubles as an excellent daypack for travel and everyday carry backpack for daily life.
---
WHAT TO LOOK FOR IN A GOOD BACKPACK FOR WEIGHTED WORKOUTS AND RUCKING
Go with any backpack that fits your budget and style, and these criteria to find a backpack that is comfy yet tough enough to last.
Tough Material and Construction: ideally 1000D Cordura nylon outer with heavy duty nylon thread stitching
Reinforced Back Support: Ideally in the form of a thick plastic sheet, to distribute the pressure of your weight across your back
Heavily Padded Shoulder Straps with Durable Foam: To stay comfortable and stand up to use over time
Handles: At least two and ideally four on all sides. If your pack doesn't have handles (to facilitate kettlebell and dumbbell movements, consider adding handles like these
---
THE BACKPACKS I RECOMMEND FOR WEIGHTED WORKOUTS
---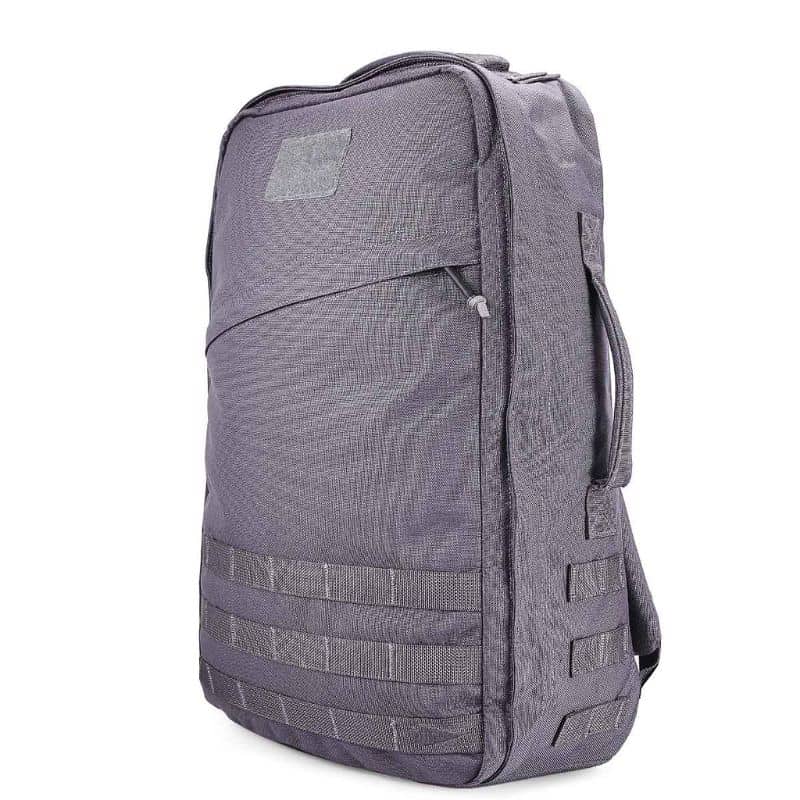 The GORUCK Rucker is by far my favorite at the moment. Tough build, reasonable price, and the addition of four handles on the top, bottom, and sides, make this a versatile piece of fitness gear. Thanks to the added handles, not only does the GORUCK Rucker excel as a weighed backpack, I can use it as an improvised kettblebell or dumbbell as well during my workouts.
---
If you want a weight ready and ruck worthy backpack that is more suited to daily life, consider the GORUCK GR1. This backpack is built just as tough as the rucker, but has a "bombproof laptop pocket" zippered into the back panel making it more suitable as an everyday carry backpack between workouts. It's a little pricey, but is well worth the price thanks to a lifetime guarantee.
If you're on the fence about which of the two GORUCK backpacks are right for you, checkout this GORUCK Rucker vs. GR1 comparison and don't forget to use this 25% discount at GORUCK.
---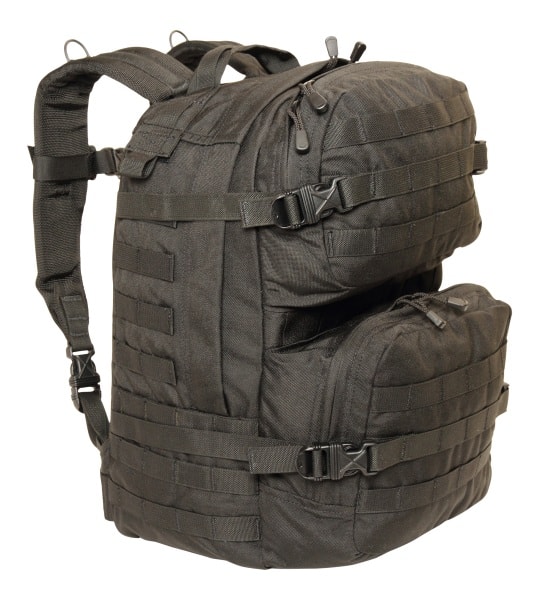 If you're looking for a cheaper option, the Spec-Ops T.H.E. is reliable and budget friendly. Comfortable and tough, this was my backpack for ruck runs and weighted workouts long before GORUCK showed up on the scene, and when my improv workouts were in combat zones
---
Checkout our list of great tactical backpacks for rucking to find other great options for weighted backpack workouts
---
Already have your backpack? Checkout these resources to get the most of using your ruck/weighted backpack:

2. COMPACT SUSPENSION TRAINER
Suspension trainers are clutch when it comes to staying fit anywhere. Though it is always possible to run, jump, lunge, and even do single legged squats for lower body, getting in a strength and muscle building upper body workout can be rough. Suspension trainers create a system that allows you to fully workout the upper body using any pulling or pushing movement you can fathom. I even train muscle-ups using my suspension trainer.
A good suspension trainer can setup anywhere – in the doorway of a room, on a tree or light pole, or anywhere else imaginable – and makes it possible to do dips, pull ups, rows, overhead presses, high pulls, and every other major movement for the upper body. Check out this article of the essential suspension training movements to get a full overview of what is possible with a suspension trainer.
---
MY FAVORITE SUSPENSION TRAINERS
---
My Fave: The "Optimus" – A DIY Gymnastics Rings Styled Trainer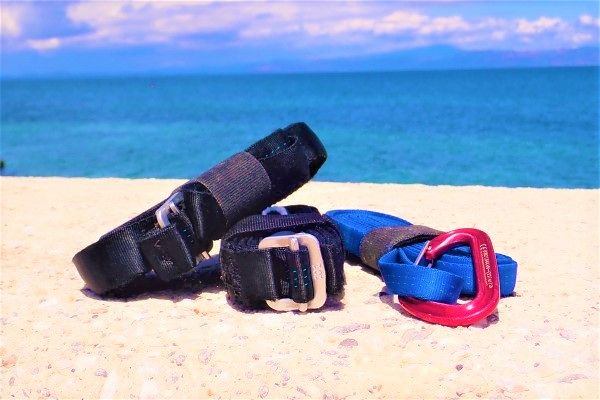 When it comes to choosing a suspension trainer, my favorite is this DIY gymnastics rings styled suspension trainer along with this DIY TRX anchor. The two items pair to work well anywhere and take less than $30 and 30 minutes to build.
If you're not feeling handy enough to make one yourself, the other two travel ready suspension trainers I highly recommend are the Pocket Monkii and the Monkii Bars 2. Both suspension trainers are tough, versatile, compact, and great for staying adventure ready.
---
If you want a suspension trainer that is extremely compact, then the Pocket Monkii is for you. The trainer sets up quickly (within 30 seconds) and packs down to the size of a coffee cup.
Read the full Pocket Monkii review here
---
The Monkii Bars 2 suspension trainer is Slightly larger and beefier than the Pocket Monkii but is still awesome. This suspension trainer is setup more like gymnastics rings and is equipped with longer straps, making more movements possible. If you need something smaller (for travel) get the Pocket Monkii. If you want more versatility and freedom, get the Monkii Bars 2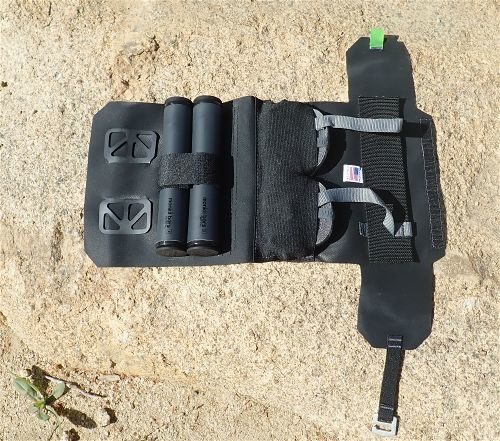 Read the full Monkii Bars 2 review here
---
Already have a suspension trainer? Then check out these resources for getting the most out of your suspension trainer workouts

A good backpack for workouts is no good without weight, and sand bags generally make the best weight – easily found, and soft enough no to hurt. These "sandbells" are my favorite weight as they're versatile, allowing for a slew of other workouts on their own.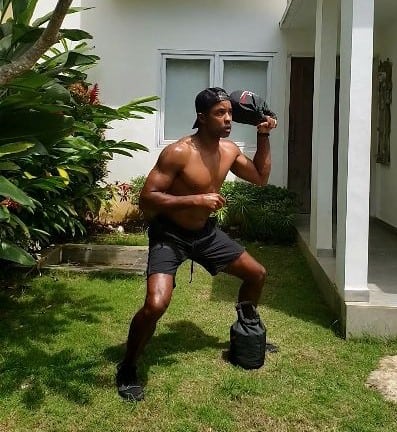 This "sandbell" takes the benefits even further by functioning as a kettlebell when full and making a slew of other workouts possible.
I've carried these with me for a while and having the flexibility to do a beach workout,
I highly recommend the kettlehell workout if you're not sure where to start.
---
OTHER "SANDBAG KETTLEBELL" OPTIONS
(With the recent run on home fitness gear, my favorite Meister bags may not be in stock, but these other options are still available)
This Alpha Strong Sandbag is another great, collapsible "sandbag kettlebell" option, and while a bit more expensive has a solid build and comes with the Amazon Prime free shipping (and return policy).
The Ultimate Sandbag Power Package is another "sandbag kettlebell" option for versatility and enabling weighted workouts anywhere

Though running, rucking, and lunging are excellent ways to keep the lower body fit, the deadlift and squat resistance movements are unmatched in the benefits they have for strength, gains, and posture.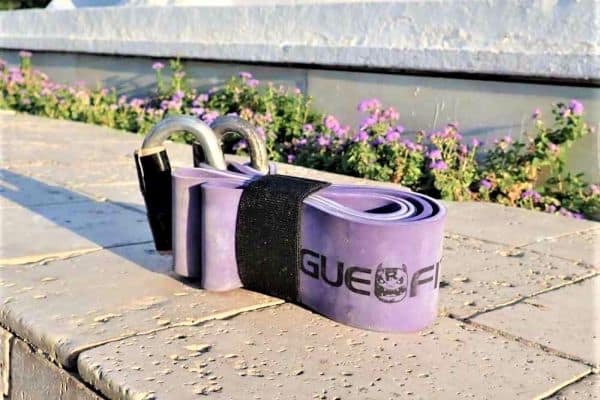 Having a pair of short, flat, heavy resistance bands, makes it possible to do deadlifts and squats even without a gym handy by packing short resistance bands with handles.
These 12" bands from Rogue Fitness are my favorite and the ones I recommend the most. Pick them up at Rogue Fitness.
Or click here to read the full review of the 12" Rogue Fitness Bands (with handles)
---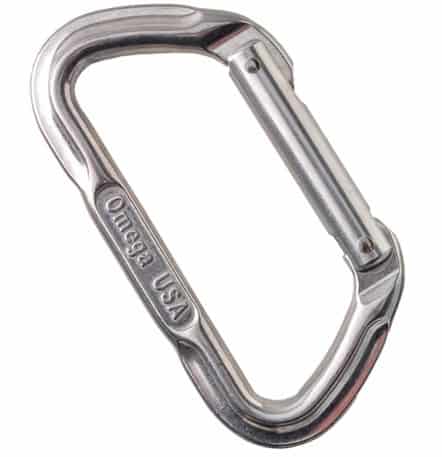 To make these resistance bands fully functional, simply clip two decently sized carabiners or D-rings onto the bands (one on each band) creating a strong, makeshift handle. I use these Omega USA carabiners from REI which are extremely cheap and easy to use, but an carabiner with flat spines that are parallel to each other will work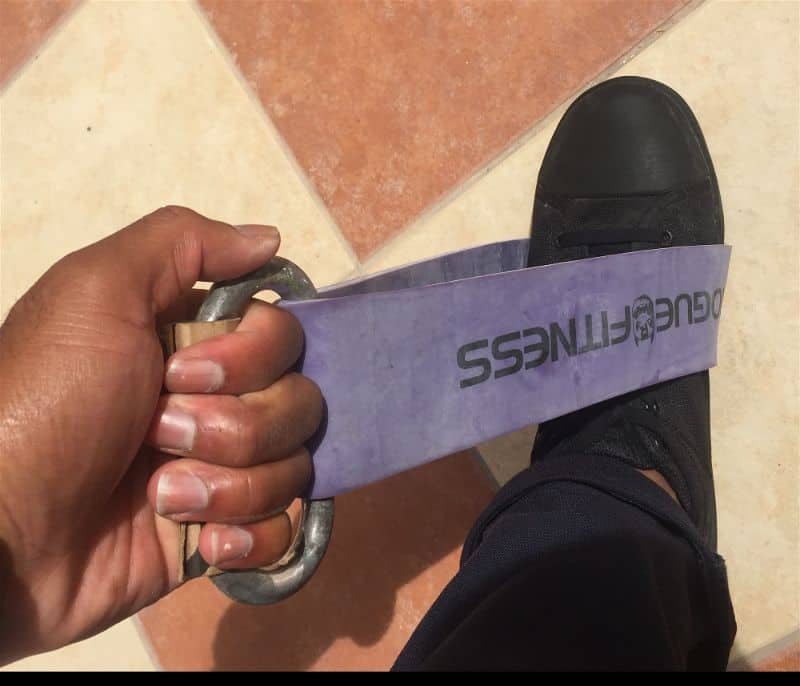 ---
Also consider reading our review of the 41" Rogue Fitness exercise band as these may allow for a full set of resistance exercises for upper and lower body without weights.

The Rogue Shorty Monster Bands (detailed above) are great for deadlifts, squats, and any other situation you may need a short, heavy resistance band, but you may require a longer band for other exercises. These 41" Rogue Fitness exercise bands are the perfect longer bands
Anchoring these longer bands to a pole or doorway allows you to do a slew up upper body resistance exercises without weight – similar to how you would do exercises with a suspension trainer – and with very high resistance.
These Rogue Fitness' exercise bands are my favorites as they're cheap considering the quality, offer very high resistance (up to 200lbs for a single band), durably made with layered latex rubber (they've lasted me three years of use), and flat which allows for adding a carabiner as a handle.
To use these longer bands to recreate workouts, either anchor them to a pole or doorway with this DIY TRX style anchor or simply step on the bands to anchor them.
Click here to read a full review and tutorial for how to use the 41" Rogue resistance bands

JUMP ROPE | SPEED ROPE
When it comes to cardio in confined spaces, jump ropes are unmatched for keeping your heartrate up. Simply watch and entire episode of your favorite show while jumping, and you'll burn enough calories to justify that pizza.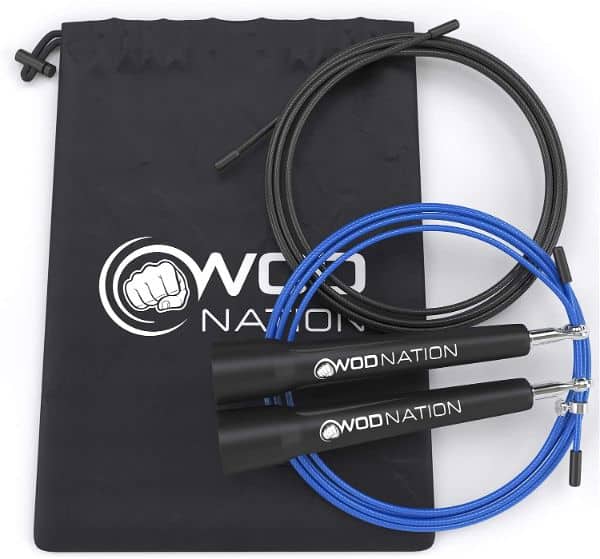 As for what rope is good, any works, but I highly recommend this WOD Nation speed rope available on Amazon. The rope is cheap but durable (going on 2 years old now) and works very well.

This "luxury" is less for travel and more for a well-rounded, minimalist home gym. Having a foam roller on tap allows me to cultivate mobility, improve flexibility via myofascial release, and working through those nagging trouble spots and injuries, without the aid of a physical therapist.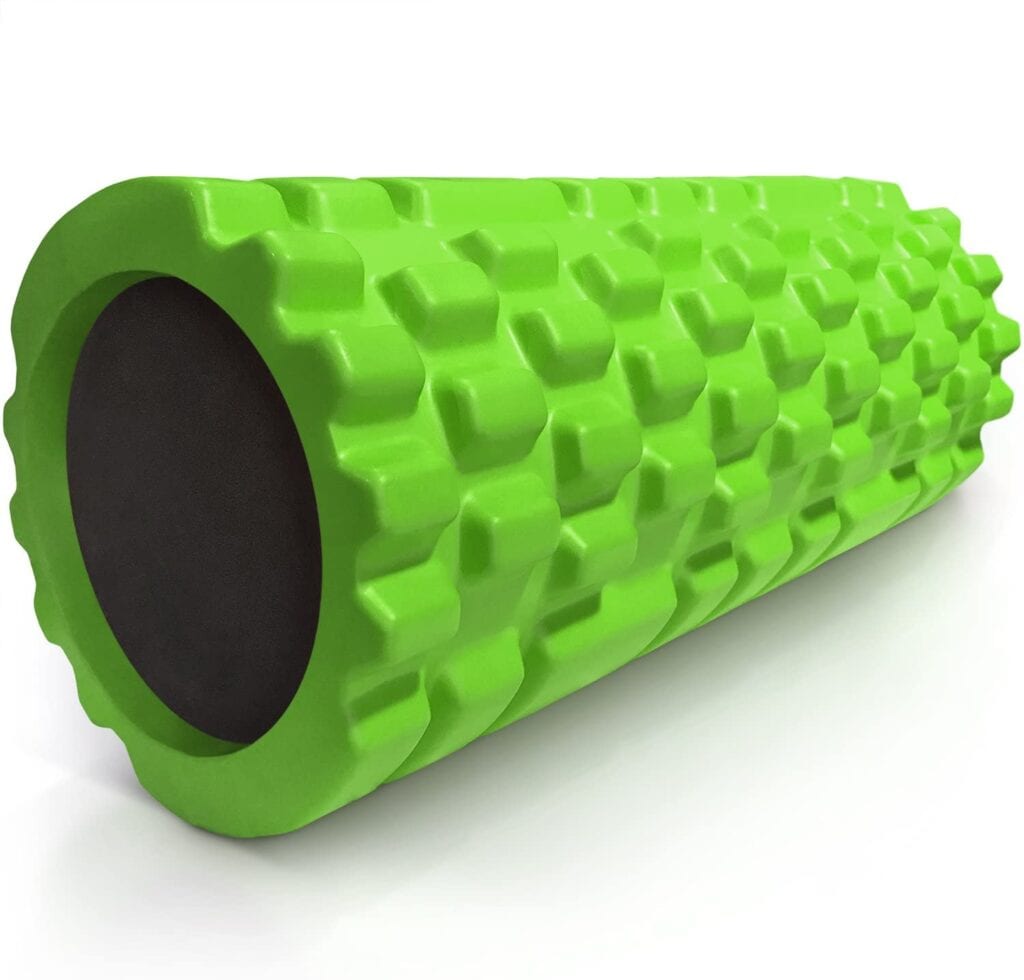 This foam roller is my roller of choice, compact, and multifunctional, it does everything I need. On the cheaper side, this Amazon basics foam roller served me just as well for a long time.
Not sure where to start? Simply dig into the free resources of mobility WOD on Youtube (full playlist linked here) searching for the bodypart you would like to achieve more mobility in (hips, shoulders, knees, etc.) or purchase Kelly Starret's book the Supple Leopard to start on the path of healing yourself.

Whether you're doing abdominal work, heavy stretching, or actual yoga, a nice exercise mat make the experience of being on the floor a lot more enjoyable, so make the investment.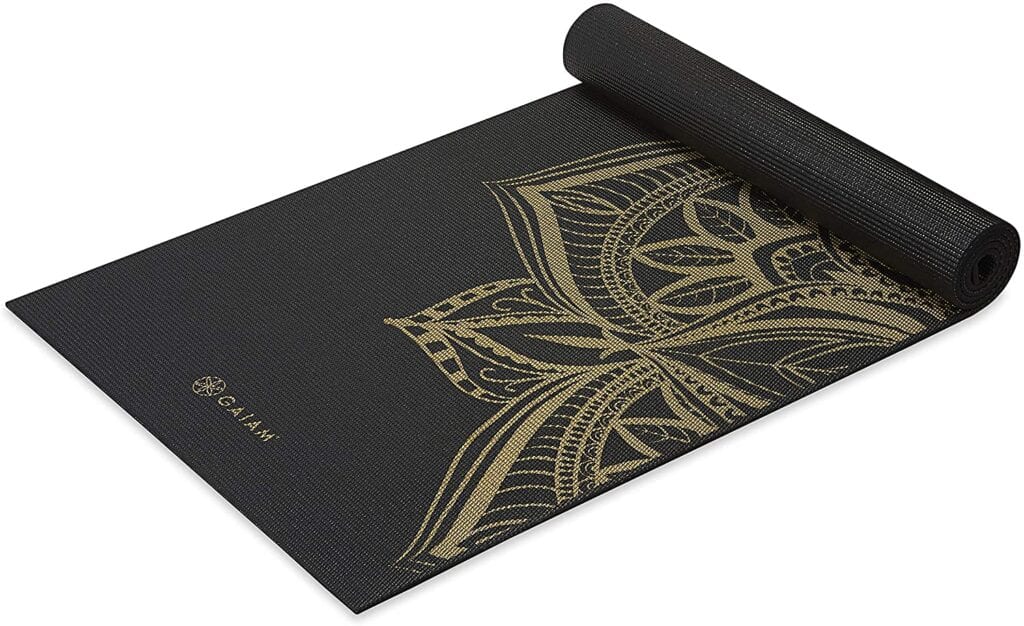 I honestly went for the cheapest one I could find on Amazon (this one here) and it works perfectly fine. You don't need anything special for this, but having a lightly padded, clean space to lay down is a bit encouraging.
If you're a minimalist traveler with limited space but you still don't want to get dirty on the bare ground, simply use an extra large travel towel such as this beach sized travel towel from Pak Towel as your yoga mat, as they pack small, and are lightweight.

WORKOUTS YOU CAN DO ANYWHERE
Now that you're stacked on the perfect fitness gear for your home or travel workout setup, what next? Get to work!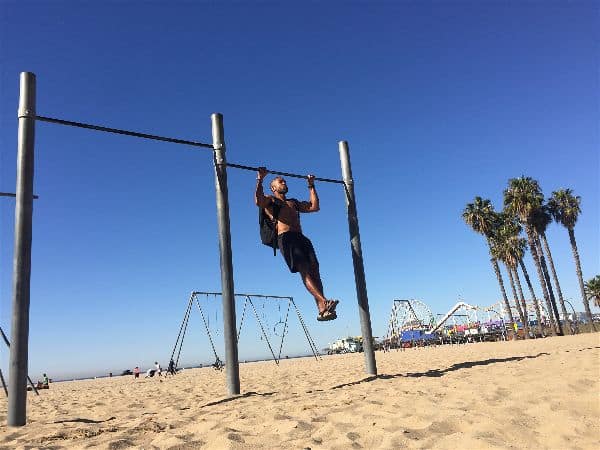 These workouts are all solid, effective, moderate to high intensity workouts that you'll be able to do anywhere with the equipment listed above