Trying to find the best international sim card and data plan for your destination and travels can be frustrating. In this article, we'll relieve your headache and give a quick list of the international sim cards and global data plans.
Traveling the world is an exciting and satisfying experience, showing up in a new country and exploring with an open mind. Though it can be thrilling to wander learning as you go, for many people arriving in a new destination without connectivity – no mobile phone service or internet can be daunting and scary. I would argue that having global coverage and an internet connection can enhance your travels, allowing you to book accommodation and flights on the fly, research great local restaurants, and have quick access to emergency services when needed.
Lucky for travelers today, there are countless options for maintaining your data, voice, and text capabilities while traveling – whether using local sims, buying a universal sim card to use globally, or eSim – and a perfect card for your budget and destination.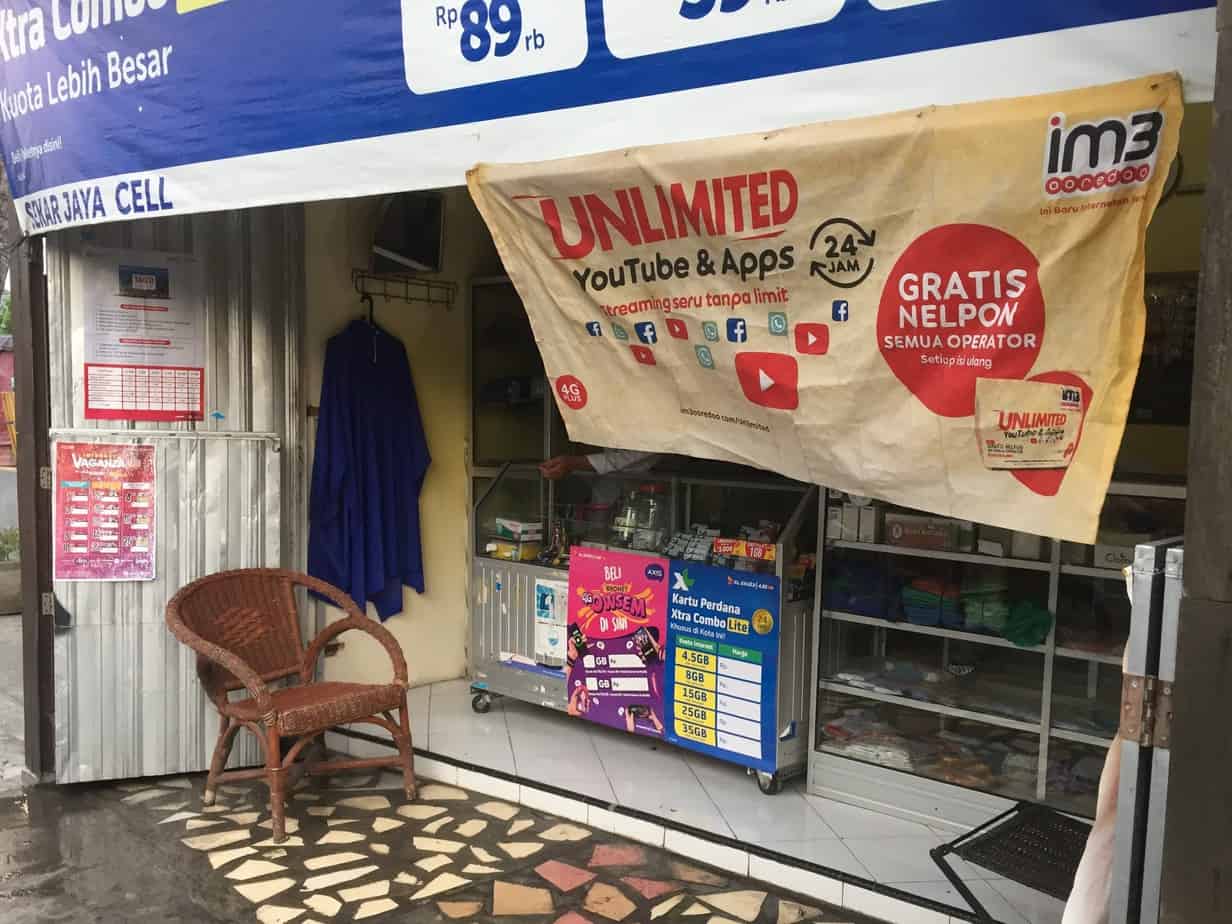 Why is internet service important while traveling long term?
Consistent internet access allows you to plan less before traveling with fewer worries. Recently, I've gone as far as not planning to travel to a different country until two days beforehand… which includes purchasing flights, accommodations, and visas. That type of recklessness is only possible because of constant, easy access to the internet and communication, made possible with a good, international travel-friendly SIM.
Having internet access allows me to keep an eye on the essentials (flight price alerts, travel security alerts, locations of traveler friends), and plan the non-essentials (accommodation, itinerary, messaging friends in the area) as late as on arrival in the new country.
Don't think an international SIM card is worthwhile? Here are a few other examples of how having an international data plan has come in handy for me during the last year of international travel.
Using local rideshare apps or Uber instead of taxis – saves money and avoids being ripped off
Facetiming with friends and family at epic sites so they can experience the travel with me instead of seeing pictures on Instagram later
Looking up information about a site or location in a city while wandering, bringing history and culture to life
Planning and booking accommodations, transportation, and tours during long stretches of travel – such as on buses or trains – to make good use of seat time, and spend less time planning while I'm in a destination or before travel
Last minute planning and checking – such as visa information, or searching for common scams in a country
Access to support via travel insurance support, such as through travel insurance through World Nomads. Keeping their number handy means I can call for help, or to confirm I'm covered before potentially pricey doctor visits or emergencies that aren't covered. Like I did on the Everest Trek.
Access to local public transport schedules on demand
And the list goes on…
So, suffice it to say, if you're nomading, moving quickly, or take lots of risks when you travel, then getting a sim card and keeping access to the internet is a cheap way to stay safe and make traveling smoother.
The Best International SIM Card Options for Connectivity While Traveling: Data, Text, and Voice
When traveling internationally, your best options for data service, phone calls and texts are:
Roaming using your current plan (not recommended, but we'll get into that later)
Purchasing one to the many global SIMs or international SIM cards
Purchasing and activating a local SIM card, specific to your country of travel
Option 1: Roaming using your current plan from your home country during international travel. NOT RECOMMENDED!!!
Unless you are a business traveler with your cell phone plan paid for by a very generous company, DO NOT plan on using your home country sim card for data if there are international roaming charges. The fees can be exorbitant and unexpected.
When a friend and I were motorbiking through Vietnam, I opted for a local SIM paired with a US carrier that did not charge international roaming (Google-FI), in order to have data for Google maps and researching accommodation – for a grand total of $30 for a month of service.
My friend decided to "sparingly" use his home carrier (Sprint) which had hefty international roaming fees. During a single motorbike ride on the first day, my friend racked up $300 in data charges unexpectedly. Long story short – whatever the best choice for connectivity is for you – local sim, a home country carrier with no roaming fees, or a global SIM – DO NOT use a home country carrier that charges international roaming fees.
Option 2: Purchasing a Global SIM card for International Travel: What is a Global Sim Card and Why do you Need one?
An "international SIM card" or global sim card is a sim card that allows you access to data, text, and phone calls and multiple countries during your travels as a much more affordable than you would receive if roaming internationally on your home country carrier.
These global SIM cards, and more importantly the associated plans, allow you to simply pop in the physical SIM cards, or register the e-SIM, turn on your phone, and then surf the internet, send texts, hop on Whatsapp, hotspot your laptop, and do whatever you may need to do.
Here is the list of the best SIM cards, mobile network carriers, and plans for international travel to stay connected without breaking the bank.
List of the Best International SIM Cards
eSIMs
Unlimited Data and Data SIMs
Physical SIM
SIM Cards for European Countries
Option 3: Using local Sim Cards Specific to the Country You Will Visit: The best option for budget travelers
If you will be in one country for longer than two weeks, a local SIM card is likely the best deal for you.
Purchasing a local SIM card and plan is extremely cheap, and simple to get started on as long as you have a Quad-band, unlocked cell phone, and you will have far better connectivity as long as you pick the main mobile service carrier in your destination country. Throughout Southeast Asia and South America
, a local SIM card with so much data (mine currently has 120GB for the month and the cost was $10) that it could be considered a data SIM card, will rarely cost you more than $15 to $20
If you're unsure if your phone is unlocked, contact your current provider to check. If your phone is locked, contact your service provider to have them unlock it.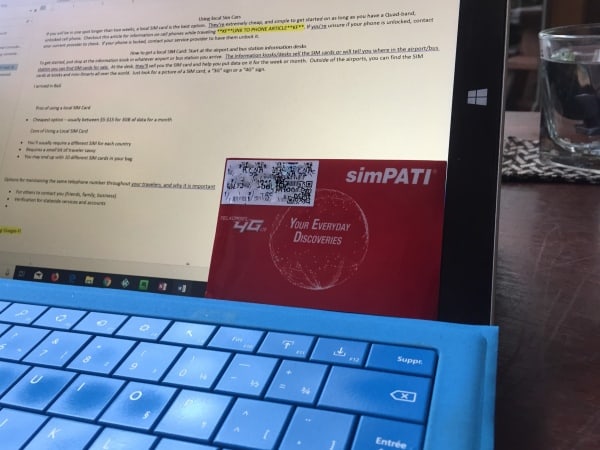 Practicing what I preach and activating a local SIM card in Bali while I write this article. Blogger inception…
If your phone provider won't unlock your phone, or it will cost more than $100, consider purchasing one abroad. There are plenty of cheap phones (such as Huawei or a manufacturer local to your destination country) that give you the processing power of a Samsung S9 on an Android platform and can be purchased in the country you are in. The best part, is these phones purchased locally only cost about $100 to $300 USD throughout Southeast Asia for a top of the line phone.
However, I recommend buying an unlocked phone on Amazon before going, to avoid the hastle that may come later.
How to get a local SIM Card: Start at the airport and bus station information desks
To get started, just stop at the information kiosk in your arrival airport or bus station. The information kiosks/desks either sell the SIM cards or will be able to tell you where to buy a SIM card easily.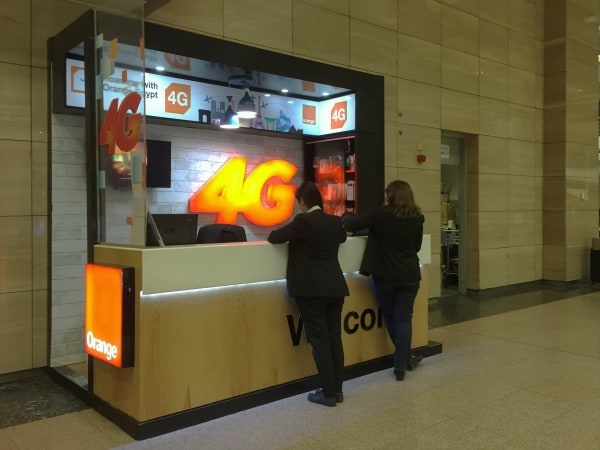 A cell phone service vendor in the Cairo Airport, located just outside of the arrivals area.
Outside of most airport or bus stations, you can find the SIM cards at kiosks and mini-marts all over the world. Just look for a picture of a SIM card, a "4G" sign or a "5G" sign.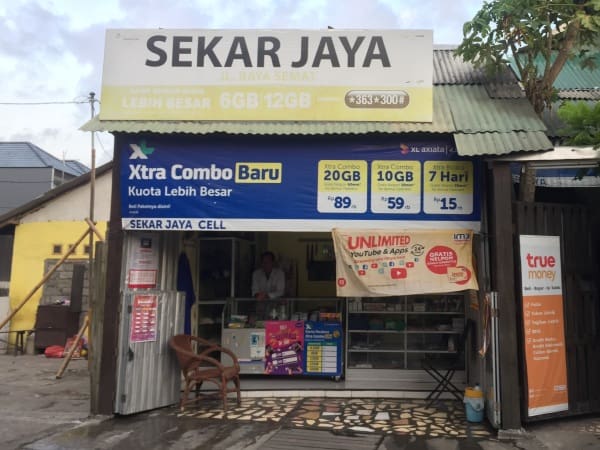 One of many vendors selling SIM cards for local carriers in Bali, Indonesia (you get extra points if you know what neighborhood this is in)
When I arrived in Bali, I planned to be stay for a month, so I picked up this SIM card from a kiosk I was passing in the Canggu area. For one month of data, 10 GB of 4G data coverage, I paid roughly $7 USD.
For the months I am here on the island, I use my local SIM for data for Whatsapp calls and messages, as well as to hotspot my laptop and tablet anywhere I go and maintain my Google-Fi plan at the $20 level to allow me unlimited texting on my US number, and international calls to the US (for $.0.20 a minute) for banking, business, and two factor authentication activities on a consistently kept, US SIM.
Ultimately my approach, combining my local SIM with a home country carrier that delivers an affordable price, saves me about $60 a month on my phone bill, giving me better coverage throughout Indonesia.
Review of Local SIM cards as an option for data while traveling
Pros of using a local SIM Card
Cheapest option – usually between $5-$15 for 3GB-7GB of data good for one month
Cons of Using a Local SIM Card
You'll usually have to get a new SIM card for each country
You'll need an unlocked phone
You may end up with 10 different SIM cards in your bag in your bag by the end of your trip.
Bottom Line: If you'll be in a single country longer than 2 weeks and are hoping for unlimited data or data bundles, go for a local sim.
Option 4: Getting a SIM card from your home country that has an affordable option for internet services/data, and text (Google Fi T-Mobile, etc.) and no roaming fees: Best for Short Trips and Pairing with a local sim
One of the main issues with long term travel and a nomadic lifestyle is maintaining access to financial accounts, verifying information with your credit card company, other important accounts – bank accounts, PayPal, AirBnB, etc. For security and fraud prevention purposes, "two factor authentication" usually done by sending a text message to a registered phone that you can access is common practice for many financia businesses. Unfortunately, switching sim cards in every country can make this process troublesome at best and get you locked out of your accounts at worst.
Maintaining a single SIM card, to access text messages and make the occasional phone call from a registered number is your best bet.
For United States residents, the best home country mobile service providers and plans are Google-Fi and T-Mobile Magenta (formerly T-Mobile One). Additionally, for travelers visiting the US, T-Mobile and Google-Fi are the best mobile networks to sign up with for your trip.
Using T-Mobile Magenta (formerly T-Mobile One) during International Travel
T-Mobile Magenta (formerly T-Mobile One) is a great way to stay connected abroad using a home country (US) carrier instead of purchasing extra travel sim cards, and the method I used during my first year of international travel backpacking around the world. T-Mobile Magenta offers unlimited text and data in 210 countries which means I can arrive, turn on my phone, and I'm connected. No fuss. Nice and easy.
To date, the only countries I haven't been able to use T-Mobile were Vietnam, Laos, and Lebanon. That's it. I've tested T-Mobile in 19 countries, and only 3 of my last 50 countries weren't covered, and in each of those countries, I just picked up a local SIM for less than $5 or stuck to Wifi with no problems.
What is T-Mobile Magenta? The best option for International Travel of Less than 2 weeks per country, and a great option to keep in your back pocket
Includes:
All the great benefits shown above
Taxes & fees included
100GB premium data1
Netflix on Us not included
5GB high-speed mobile hotspot
T-Mobile Magenta is a flat $70 per month plan that offers unlimited text, voice, and data in the US and allows you unlimited text and 4G and 5G data in 210 countries, without needing to do anything extra besides turn your phone on with the SIM in it. This flexibility allows you to seamlessly keep in touch with friends & family, and access to the internet wherever you are, as well as the ability to hotspot your laptop or tablet.
That last reason The T-Mobile Magenta plan is also great because it allows you to keep and use your number abroad. So, when your bank, or paypal, or AirBnB need to send you a verification text for security, you can actually do it. I guarantee, this is a lot more useful than it sounds when you're outside of the US longer than a few months.
…But… there are two catches to T-Mobile Magenta…
First, you have to setup and activate T-Mobile Magenta while you're in the US, from then on you're good. If you want T-Mobile Magenta, set it up early before you travel.
Second, technically you are only allowed to roam internationally for 3 months maximum with T-Mobile Magenta before returning to the states. Supposedly, if you roam internationally for more than 3 months they will suspend your service until you return to the US (I've received the warning message a couple of times) – but there's a travel hack to maintaining your service
To maintain your T-Mobile Magenta service beyond three months while traveling internationally, simply suspend and restart your service. Boom! The clock for your "three months of international roaming" starts back at zero, and your "three months of international roaming" restarts.
To suspend and restart your T-Mobile Magenta Service, go into "My T-Mobile" within your online T-Mobile account, schedule for your phone to be suspended for a few days, and schedule your service to be restarted. Once your service is suspended, you'll receive a nice text alerting you it has been suspended, and you will also receive a nice text notifying you when it has been reconnected. During the period of suspension, you won't be charged the normal $70 per month, just a prorated $10 a month for the period of suspension.
This leads to one of the benefits of T-Mobile Magenta – the ability to easily suspend your number for only $10 per month (while you're using a cheaper local SIM) and restart your service simply by hopping online and clicking a few buttons. Awesome. When your service has been restored, you'll maintain the same number you always had.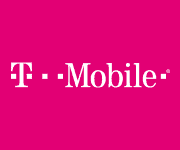 Simply put, T-Mobile Magenta 55+ is T-Mobile Magenta but you get up to two lines for only $35 (or $70 for two lines) including international text and data…but at least one person on the account has to be over 55 years young.
So, if you are over 55 years young, or know someone who is, T-Mobile Magenta 55+ (we'll say T-Mobile Magenta for the "seasoned" crowd) is the best international SIM card and data plan for travel. — OR — if you're a gap year student headed abroad, ask mom and dad to switch to T-Mobile 55+ so your line is cheaper and you can stay in touch via text abroad. They'll like that.
Review of T-Mobile Magenta for International Travel
Pros of T-Mobile Magenta for International Travel
Unlimited texts and unlimited 4G and 5G data in 210 countries for only $70 per month ($55 if you are 55 or older, a military servicemember, or a veteran)
Easy to suspend via online dashboard and maintain your phone number for only $10 per month while suspended
Receive texts at a single, verified phone number while traveling (for 2 factor authentication or simple connectivity)
T-Mobile Magenta is month to month and requires no contract, thus you can cancel at any time with no penalty
The SIM can be switched to any phone for service if your phone breaks or you upgrade phones while traveling
Check your text messages online, if your phone is unavailable
Cons of T-Mobile Magenta for International Travel
International roaming is "limited" to 3 months – but is easily overcome
More expensive than a local SIM ($70 for T-Mobile vs. $5-$15 for a local SIM)
Only provides 3G speeds internationally unless you upgrade
Data coverage can be spotty sometimes, depending on the country you're in and T-Mobile's partner carrier
Coverage in the US can be weak at times compared to ATT and Verizon
The Bottom Line on Using T-Mobile Magenta for International Travel
A fantastic option that you have to set up while home, but having consistent connectivity on arrival in most countries is pricelessly convenient. If you decide to use a local SIM, the suspension is easy and $10 a month to maintain the line isn't much. It is better to start with T-Mobile and cancel later than get overseas and wish you had it. I switched to T-Mobile from ATT a few years ago and have been using T-Mobile for travel for the last 1.5 years. Its worth it.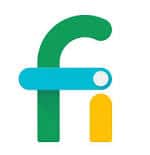 Flexible, convenient, and cheap, starting at $20 per month for unlimited texting with a few great plans.
Flexible Plan: $20 per month for unlimited texting internationally and $10 per GB of data
Unlimited Plus: $65 per month for unlimited texting internationally, unlimited data usage and hotspotting internationally
I love all things Google and I love the Google-Fi plan. Similar to T-Mobile, you get free data in 170+ countries. Additionally, your bill is tiered based on how much data you use and you will never pay more than $80 per month ($60 for data and $20 for talk and text) but you only pay for the data you use at $10 per GB up to 6GB. Therefore, your bill is anywhere between $30 and $80 a month but never more. You can also add someone to your plan for $15 and you can add one device free. That's pretty awesome. What's the catch and why don't I recommend Google-Fi?
Google Fi is available to anyone, simply go over to the Google-Fi home, order a sim card on Amazon for cheap.
The downside is any Google-Fi SIM needs to be activated while in the US, so order now and handle that before leaving
Review of Google-Fi for International Travel
Pros of the Google-Fi Plan for Travel
Covers you with data and text internationally in 170+ countries
Easily suspended (when using a local SIM)
Let's you add a device to your data plan for free
Bill can be cheaper than T-Mobile if you use 4GB or less data per month
Cons of the Google-Fi Plan for Travel
Must be activated while stateside
Option 4: Combining a home country mobile service provider (like T-Mobile or Google-Fi) with a Local SIM
By far, the best option for maintaining conis to combine a reliable US carrier SIM, that offers free international roaming in its plan and the option to suspend service easily (like T-Mobile), with a local SIM card. When using a local SIM, just suspend your service to save money (~$55 to $65 savings per month). When traveling too quickly through countries to warrant a local SIM, just rely on your existing T-Mobile or Google Fi service for data coverage wherever you go. Done deal
The Bottom Line on How to Stay Connected while Traveling Internationally: Google-Fi + Local SIM
The best option for most travelers is to get the $70 per month T-Mobile Magenta plan for traveling internationally ($70/mo. Including international data coverage) combined with the local SIM option. If you will be in one country for two weeks or more, pay the $5-$15 to get a local SIM with data and suspend T-Mobile service. With this approach, you'll have the best coverage for the lowest cost.
For travelers with Google phones, also consider the Google-Fi program for international travel as a great option to combine with a local SIM.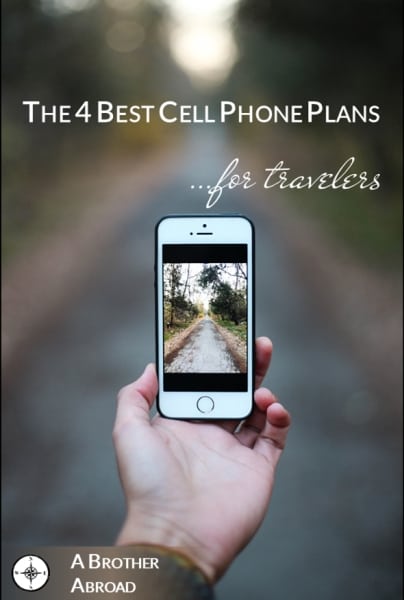 (Click here to return to the Table of Contents)

More Great Articles to Help You Get Abroad: