For surfers throughout Southeast Asia, Hikkaduwa Surf is legendary. Countless breaks with at least a few pumping at all times of day, regardless of season or swell, and long rides make Hikkaduwa worth traveling halfway around the world to experience. But being half a world away, it can be a pain planning the breaks to surf, when, how to get there, and then navigating the language and culture along the way.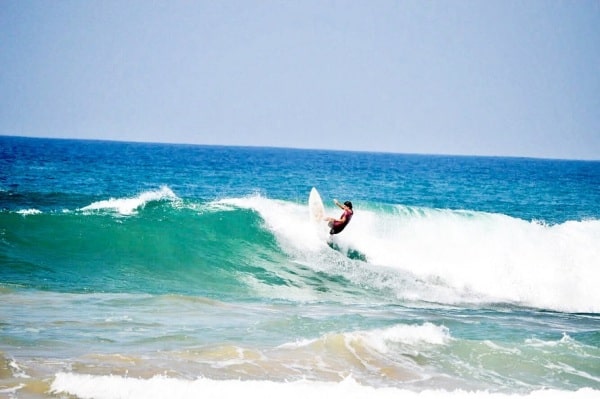 Read on for the Hikkaduwa surf guide to help you max out your time on the waves in Sri Lanka.
Contents of this Hikkaduwa Surf Guide
Hikkaduwa Surf Overview
Located in southwest Sri Lanka just 2 hours from Colombo, Hikkaduwa, a former fishing village, is now a developed surf town by day with 3ft to 10ft waves when pumping.
For new surfers, boards are easily rented and there is beginner friendly foam and green waves in front of the bars and restaurants of Hikkaduwa's main beach and beyond. For intermediate and advanced surfers, plan to bring your own ride as the local gear will be a bit worn – also plan on a taxi ride (~$70 USD) or private shuttle to get your board to Hikkaduwa in one piece.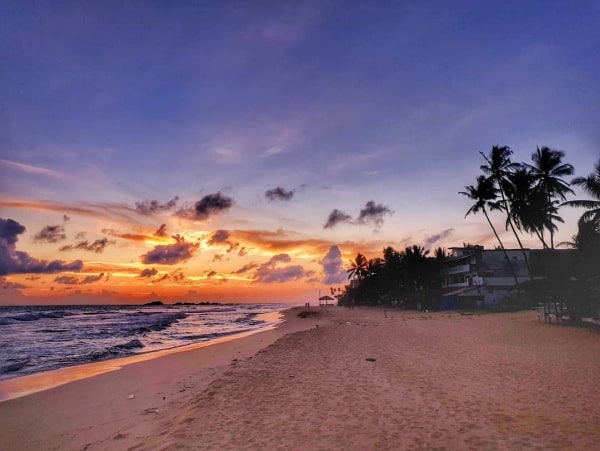 Hikkaduwa is an epic surf joint because there is always a place to surf thanks to the constant swell, and plenty of reefs make for near perfect breaks for adventurous intermediate and advanced surfers.
Read on for a Hikkaduwa surf guide that'll tell you which breaks to hit, how to get there, when to go, and all of the other tips you need to max out your Sri Lanka surf vacay in this legendary counterpart to Arugama Bay.
When To Surf Hikkaduwa
November to April is the best time of year to surf Hikkaduwa, when the wind consistently rolls offshore and it rarely rains. Peak season is December to January as surfers and tourists descend.
Weather and Seasons in Hikkaduwa
November to March: Dry and sunny
March to November: Showers and Monsoons
Air and Water Temperatures average27 centigrade / 80 Fahrenheityear round
Google Map of the Hikkaduwa Surf Breaks
The Breaks to Surf in Hikkaduwa
Beach Break – Great for beginners as it is a reef and shore break
Main Reef – Lefts and right hand reef break (but deep) | 3 ft waves
North Jetty – Left hand reef break with long waves and rides from the point (Intermediate+)
Benny's – A Left hand reef break with a fast takeoff for experienced surfers, fast and hollow best at low tide | 6ft waves
Sunbeach Break – Located just in front of Sunbeach Hotel and suitable for all levels
Best Conditions in Hikkaduwa: 2-5 ft. SW swell with NE winds
Skill Levels in Hikkaduwa: All Skill Levels
Other Nearby Breaks
Rivermouth
Galle
Unawatuna Bay – Short left with coral bottom for experienced surfers only
Lazy Left in Midigama fishing village
Rathgama – 8 km south of Hikkaduwaa
Kabalana Beach Break – Only foam, but good for beginners
Hikkaduwa Vibe
As Sri Lanka has blown up as a surf spot recently known around the globe, the kooks have descended and severely upset the locals at times – making locals super sensitive to bad surf etiquette and fights have broken out in the water.
Counteract this by going into the lineup super chilled and giving the locals their respect until you're a familiar face – they just need to see you're just another surfer open to share the wave with no intention to drop in or snake anyone. If you do have a kook moment and screw up, just pull out, apologize, and let the moment ride.
Prices and Budgeting
Don't plan on dorm style hostels in Hikkaduwa (or Sri Lanka) being a common thing as hotels and guesthouses are the norm. Expect budget accommodations to start from ~$15 USD for a private room, and go up from there with luxury accommodation being quite reasonable with plenty of high standard accommodation options for less than $100 USD.
Surf lessons: 2,000 Rupees (~$12 USD)
Board Rentals: 300 Rupees (~$1.70)
Tuk Tuk around town: 150 Rs. (~$.85)
Beer: 300 -1000 rupees ($1.70USD – $5.70 USD), depending on the establishment and beer.
Full Body Massage: ~$35 USD including spa treatment
Gear Accessibility
Boards are available for rent for cheap in Hikkaduwa, but plan on well worn foam boards and dinged up minmals/funboards. If you're a new surfer, don't sweat it. If you're intermediate/advanced and expecting to rip, bring your own board.
Don't plan on being able to take that board on the train (extremely packed) or bus (little baggage space) without getting it damaged. Do plan on just hiring a shared shuttle or private taxi.
For surfers bringing their own gear, an extra set of fins, an extra leash, and hot weather wax will be useful…as you can plan on paying double the price for what you'd pay for the same quality of gear at home if its available.
Additionally, know that if you're bringing a board or gear, locals will be willing to buy it at a premium. Many of the boards are made and shipped in from Thailand, so brand name and awesome gear is sought after.
Transport to and Around Hikkaduwa
---
Getting to Hikkaduwa
Hikkaduwa is located a 2 hour ride south from Colombo but your options for the ride are train, bus, and taxi
Train from Colombo to Hikkaduwa: There are several trains that leave from Colombo to Hikkaduwa that leave intermittently, anywhere between 30 minutes and a few hours between departure times. There is no first class train, so the cost of a ticket will be 85 to 160 rupees ($.50 to $.90 USD). The train departs from the central train station in Hikkaduwa and beware just because you get a ticket doesn't mean you have a seat.
---
Bus from Colombo to Hikkaduwa: Buses depart frequently from the Colombo central bus terminal and cost 100-300 Rupees ($.57 to $1.70) depending on comfort level. Look for a bus heading to Hikkaduwa or Galle, Tangalle and Matara as all of those buses go through Hikkaduwa as well. Just confirm with the driver, when boarding, that the bus will pass through Hikkaduwa.
---
Taxi from Colombo to Hikkaduwa: Can be arranged at the airport or via your host in Colombo, but will run ~$70 and upbut will only last 1.5 hours.
---
Getting Around Hikkaduwa
Tuk Tuk
Tuk tuk's are the mode of transportation of choice, doubling as transportation and tour guides. Though you could rent a car and drive on your own, Sri Lanka traffic is insane so beware.
~$20 USD can get a tuk tuk ninja as your guide and driver for the entire day.
Eating
Street food is delicious here. If you're an adventurous eater try everything, though the rotis are an easy win
Juice bars on the side of the road press fresh, exotic fruits to your liking
Note that beer can be hard to find at some times, due to local liquor licensing laws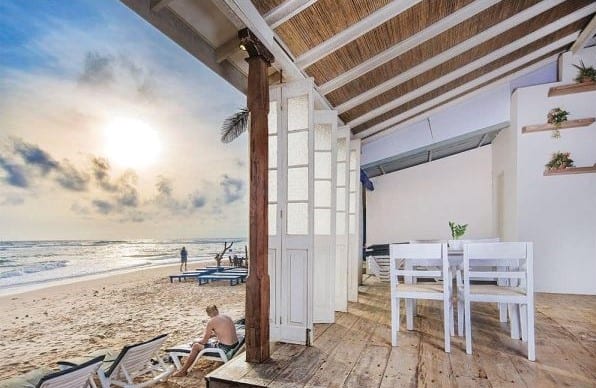 Sri Lankan Foods to try
Fish ambul thiyal (Sour Fish Curry)
Kottu (also called Kottu Roti)
Kukul Mas Curry (Chicken Curry)
Parippu (Dhal Curry)
Lamprais ("Lump Rice")
Hoppers (Appa or Appam)
Polos (Green Jackfruit Curry)
Wambatu Moju (Eggplant/Brinjals Pickle)
Gotu Kola Sambol (Pennywort Salad)
Kiribath with Lunu Miris
Pol Sambol (Coconut Relish)
Wood Apple
For more info, check out a great CNN article on the 12 best Sri Lankan foods here.
Other Things to Do in Hikkaduwa
Snorkeling Hikkaduwa Coral Sanctuary
Turtle Sanctuary and Hatchery: Turtles can be seen in the waters and baby turtles are kept in a nursery before hatching and release
Tsunami Museum: Filled with firsthand accounts of surviving and recovering from the 2004 tsunami
Snorkeling and Diving (in the north): Plenty of coral reefs to snorkel just a short swim offshore
4 Different Shipwrecks to Dive
Buddhist temples, such as Gangarama Temple, dotting Hikkaduwa that can be (respectfully) explored
3 Night Long "Hikka Fest" in July
Galle Day Trip: The 400 year old provincial capital is a 30 minute ride away by tuk tuk and a solid day destination
Food Exploration: Street food (such as Rotis) and plenty of juice bars with exotic, fresh fruits
Surf Camps and Schools in Hikkaduwa
Other Great Surf Content on A Brother Abroad