For surfers throughout Southeast Asia, Arugam Bay Surf is legendary. Countless breaks, many nearly unknown, and a single, epic point break with long rides make it worth traveling halfway around the world.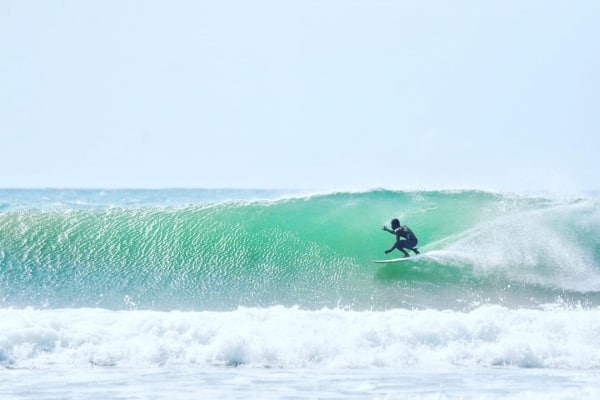 But being half a world away, it can be a pain planning the breaks to surf, when, how to get there, and then navigating the language and culture along the way. Don't sweat, this guide is here to help you plan your experience.
Read on for the Arugam Bay surf guide to help you max out your time on the waves in Sri Lanka.

Contents of this Arugam Bay Surf Guide

Arugam Bay Surf Overview
Long rights from its from Arugam bay's legendary point break give rides for hundreds of meters, but beware that reef lies below those perfect waves, and at low tide it can be downright dangerous. In exchange for that reef, the point break offers long walls with great shape and the occasional barrel that breaks with several sections over the reef.
Elsewhere, count on plenty of other breaks at all skill levels within a 30-minute tuk tuk ride.
Mornings and evenings are the best times to surf as days out get extremely hot at 90+ degrees with the ocean feeling like bathwater – but keep in mind that the evening sea breeze, as refreshing as it is, can ruin afternoon/evening waves. Snaking, bad vibes, and rude aggression can e common among the foreigners so be sure to abide by surf etiquette and understand the locals in the afternoon (just getting off work) may take a moment to feel you out and warmup to you.
To make the most of your time and avoid bad vibes, consider hiring a tuk tuk to tour you around surf spots for the day (~$20 USD for the day). A quick 20-45 minute ride will get you to breaks that are amazing with only a few surfers out. Read on for how to make that happen.

When To Go To Arugam Bay
Good surf in Arugam Bay happens in the hotter drier high season of April to October with July and August being the best. The area is sunny all year round but monsoon season brings morning and afternoon rains between December and March…usually.
Waves are at their best during peak season (July to August) with more offshore wind, but beware the bay is at its hottest at 32 – 36 degrees centigrade (89 to 96 Fahrenheit). Water temperature is consistently 27 to 29 degrees centigrade (80 to 84 degrees Fahrenheit).

Weather and Seasons
Quick Facts on when to plan Arugam Bay surf sessions
High Season: April to October
Peak Season: July to August
Off Season: October to April
Monsoon Season: December to March

The Breaks to Surf in Arugam Bay
---
Google Map of the Arugam Bay Surf Spots

Main Point
The main attraction in Arugam Bay, and rightly so. When there is no wind (usually in the morning before 10AM and evenings after 4:30PM), rides can go for hundreds of easily. When the wind comes out, it cuts the wave in two, with a fast hollow break on the left and fat, slower wave on the right.
To find the point, walk out and past Baby Point to Pasarichenai beach on the opposite side of the peninsula, directly in front of Upali Beach Resort.
Intermediate, advanced when full on
Chest and overhead when low, double overhead when full on, fast, hollow waves
Right hand break
Shallow, reef bottom
July to November is best
Come in the morning or the evening to catch the point without wind, as wind matters more than tide here
---
Baby Point
Beginner spot
2-3ft waves
Right hand break
Shallow, sandy bottom
July to November is best
---
Pottuvil Point
Experienced surfer spot
Right hand break
Long break stretches for 1000+ meters
Occasional barrel
---
Whisky Point
Beginner break – popular with longboards and paddleboards
3-4ft waves
Wave length: 200-300 meters
Great year round
---
Lighthouse Point
Intermediate surf break
3-4ft waves
Wave length: 200-300 meters
Sandy rock bottom
40 minute Tuk Tuk ride from central Arugam Bay
Also near the Manachenai and Sangaman Kanda points to the north
---
Peanut Farm
Beginner and intermediate break
Right hand break
3-4ft waves
Wave length: 200-300 meters
July to November is best
---
Okanda
Advanced surfer break
Reef and sandy break
5-8ft waves
400-600 long waves
One hour Tuk Tuk ride from central Arugam Bay
---
Panama Point
Intermediate surf break
Sand and reef bottom
3-5ft wave
200-300 meter long waves
---
Elephant Rock (Crocodile Rock)
Suitable for all levels
Early morning or late evenings its at its best
30 minute Tuk Tuk ride from central Arugam Bay
Right hand point break
Sandy bottom
400 meter long waves
Usually not crowded

Gear Accessibility
Though Sri Lanka's surf is pumping year round, the industry is still burgeoning. Plan on being able to get mediocre gear for beginners (foam boards and dinged fun boards), but if you're planning to rip, bring your own gear and bring some extra stuff just in case.
What to Bring: Most experienced surfers agree bringing your preferred board, an extra set of fins, extra leash, and sufficient padding for the travels (air travel, taxi travel to Arugam Bay) is good practice.
Gear Available in Arugam Bay: Recently, minimal surfboards have been getting manufactured and shipped in from Thailand but top quality gear isn't easy to get. Consumables, like wax, is easy to come by and better to by locally because the water and air gets so hot – they may not have what you need at your shop at home. The verdict is still out on how good board repair in Arugam Bay is.
Selling your gear: As great gear is hard to come by for cheap in Sri Lanka, plan on the locals wanting to buy any gear off you – surfboards, fins, leashes, etc. – for a premium of ~2x normal cost.
Renting Surfboards: Plan on $4-$6 USD per board. Be sure to inspect the board thoroughly and take pictures of any dings, scratches, or damages. Additionally, ask and agree on the cost of potential damages (dings, snapped board) in advance to avoid being scammed.

Transport
As most surfers come into Sri Lanka via Colombo, stacked with their most precious board, planning travel can seem a little difficult. The 8 hour ride from Colombo, on the west coast, to Arugam Bay, on the east coast can seem painful, but luckily enough, travel options are relatively cheap and convenient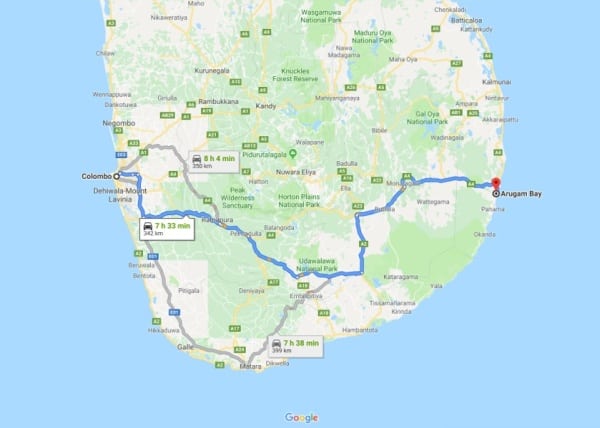 Getting to Arugam Bay
---
Colombo to Arugam Bay: Go by day, for the beauty
Whether you taxi or bus it, plan to leave Colombo in the morning so that your travel is during daylight, so you can enjoy the beauty of the ride. Some people believe the Garden of Eden was in Sri Lanka and the beauty of the landscape is what continues to make people toy with this idea – so – ensure you make the road trip by daylight.
The three best options for getting from Colombo to Arugam Bay are taxi, luxury bus, and public bus.
---
Taxi from Colombo to Arugam Bay: $125 USD
If you're carrying several boards (that you don't want to be damaged) and a lot of gear, private taxi may be the most convenient. Plan on this costing US ~$125 USD, negotiated before departure, and being an 8-hour ride without breaks.
---
Luxury Bus from Colombo to Arugam Bay: $15 USD
If you're traveling lighter, comfortable stowing your surfboard, or going true backpacker style (just a carryon) luxury bus is the best balance of comfort and economy. Plan on this running ~$15 USD
---
Local/Public Bus from Colombo to Arugam Bay: $5 USD
The local bus to Arugam Bay is the cheapest option at $5, but don't expect air-conditioning and expect it to possibly be very packed. Buses leave from Colombo's main bus terminal twice daily at 8AM and 5PM
---
Renting a Car: ~$40 per day
Renting a car will run about $40 per day but is highly not advised as Sri Lanka traffic and driving is pre chaos and a full contact sport.

Getting Around Arugam Bay
Once you've reached this surf paradise, its time to go explore. Your best bet is to book a hotel next to a reliable break at your skill level, so you can quickly walk out for sunrise sessions, so give a good look at or Map of the Arugam Bay Surf Breaks and the Arugam Bay Surf Break Descriptions .
---
Hire a Tuk Tuk driver for the day when first exploring
For exploring the other Arugam Bay surf breaks that are beyond walking distance, hire a tuk tuk driver for the day to shuttle youu around. The cost will be ~$20 USD. Many of the tuk tuk drivers are surf bums as well or shuttle a lot so they'll be able to help you get familiarized with the area and provide some valuable info on each break.
Avoid renting a scooter until you get used to the roads as Sri Lanka driving can be pure chaos.
Rent a scooter as your stay gets longer
For $6-$8 a day, you can rent a scooter with a surfboard rack once you're familiar with the area and shuttle yourself between surf breaks

Prices and Budgeting
Accommodation: There aren't many hostels or 5 start resorts, but there is something for everyone. Hotels range from $10-$150
Scooter Rental: $6-$8 per day
Tuk Tuk Rental for a Day: ~$20
Surf Board Rental: $4 to $6 per day
Average Meal (Lunch or Dinner):
Beer:
Taxi from Colombo to Arugam Bay: $125
Luxury Bus from Colombo to Arugam Bay: $15

Where to Go Out in Arugam Bay
After any awesome surf session, especially when you have the next day off, you want to celebrate. These are the best spots in Arugam Bay to hit when the weekend hits.
Friday: Whiskey Points
Saturday Night: Mambo's
Various Nights: Hipster Bar
Low key: The Beach Hut

Culture and Language
**Coming Soon**
Eating
**Coming Soon**
Other Things to Do in Arugam Bay
**Coming Soon**
Guides and Lessons
**Coming Soon**
Surf Camps
**Coming Soon**

Other Great Surf Content on ABA