The Galapagos Islands is a bucket list destination for most adventurous travelers. When the time finally arises to walk among animals in a place where time stands still, you want to be ready – this includes have all of the right gear for your Galapagos Packing List.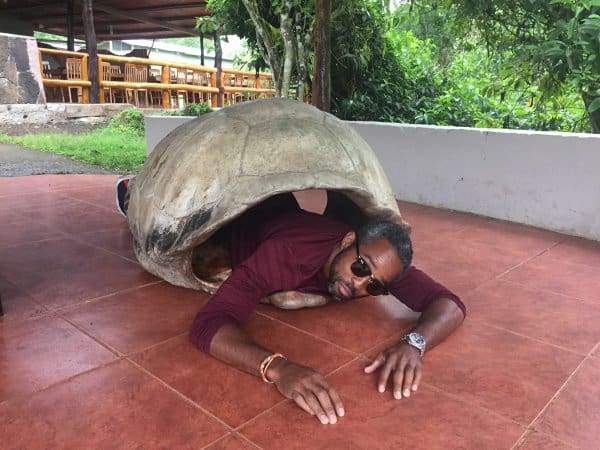 Having the right gear to stay dry, warm, and comfy through all of the water-based adventures, and additional gear to capture the memories will add up to the perfect Galapagos experience.
Read on for the ultimate Galapagos packing list. Whether you're backpacking solo or taking a liveaboard cruise, this list will give you everything you need for all of the mind-blowing adventures without weighing you down.
Note: This article may include affiliate links

Contents of this Complete Galapagos Packing List

What to Expect in the Galapagos Islands
---
Snorkeling and Excursions Experiences
Many of the most amazing experiences you'll have in Galapagos and with the animals will be while snorkeling.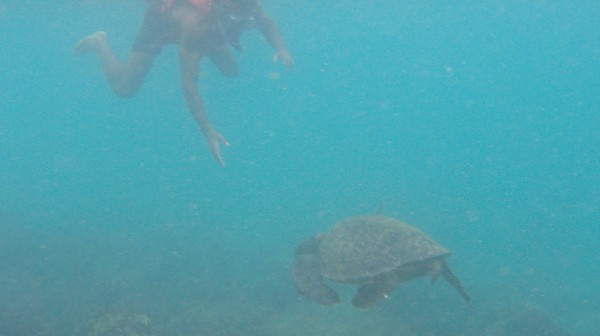 Close to the islands' shores, penguins, sharks, iguanas, fish, seals and countless other marine animals cluster, feeding, breeding, and living. Though you might expect (as I did) that SCUBA diving offers the best chance to interact with all of this marine life, in most cases that isn't right. On many of my snorkeling excursions, SCUBA divers came along on the same boat. After we had both spent time in the water we compared notes, and every single time I and the other snorkeler experienced more than the SCUBA divers – from dancing with sea lions to hovering above hammerheads. Snorkeling on day trips is absolutely the way to explore the Galapagos Islands.
What to Expect on Snorkeling Excursions
Snorkeling excursions are best booked on the island to get the best prices and there is always room to negotiate. Beware that you do get what you pay for – and a cheaper excursion may mean a smaller, less luxurious boat or a meal that isn't as good.
Snorkel, mask, and wetsuit will be provided. Test the snorkel and mask the night before to ensure a good fit and functioning gear. The default wetsuit for snorkelers will be a "shortie" wetsuit, which goes just above the knee with short sleeves. I highly recommend paying a little extra to get a full length, thicker SCUBA diving wetsuit. As warm as the Pacific is supposed to be, a couple of hours in the water swimming slowly in a shorty wetsuit will leave you freezing, beuncomfortable, and will dampen an otherwise awesome experience.
For about half of the snorkeling tours there will be a short "hiking" component, wherein you walk for a few hundred meters on rocky, uncomfortable terrain to see things like lizards, tortoises, and other cool critters – so don't forget to bring water friendly footwear on snorkeling excursions.
---
Hiking in the Galapagos Islands
There are a handful of land-based activities and hikes on Galapagos that are cheap, educational, and all around fun. From hiking through the lava tunnels (Los Tuneles) on Santa Cruz Island to hiking around the Sierra Negra volcano crater, to wandering out to the wall of tears (remnants of a penal colony) and the Tortuga ranch, there are plenty of opportunities to explore and experience on foot.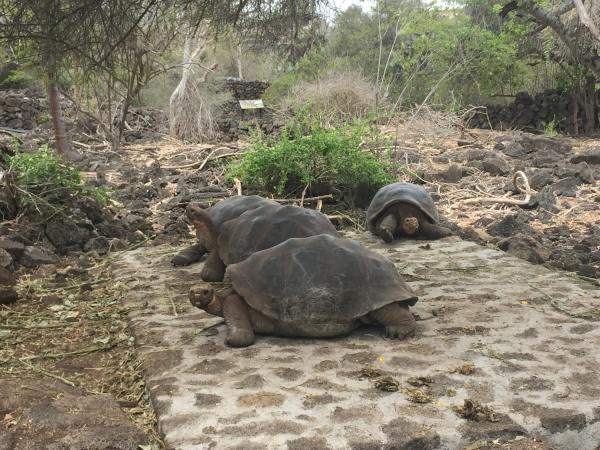 For hikes, especially in the middle of the island, plan on the sun to shine bright and hot, but also be ready for rain. Additionally, bring sturdy, comfortable footwear, as the sharp rocks of volcano rocks will easily cut up and rip through your flip flops. A lightweight, collapsible daypack will do wonders and a reusable water bottle is absolutely necessary as it can get super hot.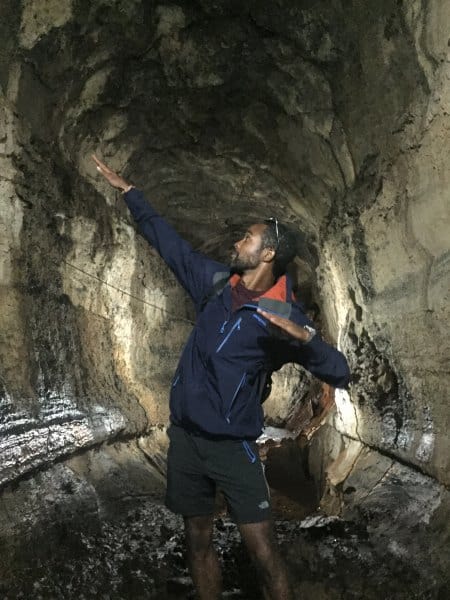 If you don't feel like hiking everywhere, bikes are easily available for rent.
---
Beautiful Beaches for Lounging and Self-Guided Snorkeling:
The Galapagos Islands are…islands, and islands have beaches. The plus of the Galapagos islands is #1 how many animals there are and #2 how few people there are. This means that you can have a long stretch of white sandy beach with that Pacific blue water all to yourself. Whereas many people show up, do their excursions, and leave, if you're a fan of the beach I highly recommend planning some downtime to just lay on the beach and relax.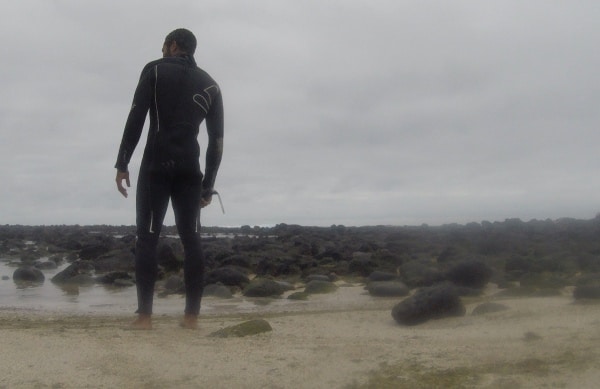 Additionally, there are plenty of beaches that are great for a nice picnic but also have great things to explore just offshore. For instance, San Cristobal island's "La Loberia" beach, home to a colony of sea lions, is beautiful for just showing p and lounging on a Sarong – but – if you rent a wetsuit, fins, snorkel, and mask, you can simply walk into the water and swim with sea lions and turtles between lounging.
In these situations, plan to bring the right stuff to lounge, like a Sarong, a book, some wine, etc., but also bring the gear for your own free, impromptu excursion.
---
Cool Beautiful Evenings by the Water in Galapagos
In each of the three islands, Isabella, Santa Cruz, and San Cristobal, the evenings are beautiful. You don't need much of anything to enjoy these – other than being in the moment.
On Isabella, its beach shack lifestyle, so before sunset just put on a clean swimsuit, bring a Sarong and either buy beers and take to the beach, or hit El Bar de Beto (next to Casa Rosada) for a chill beach bar experience that will make you rethink going home.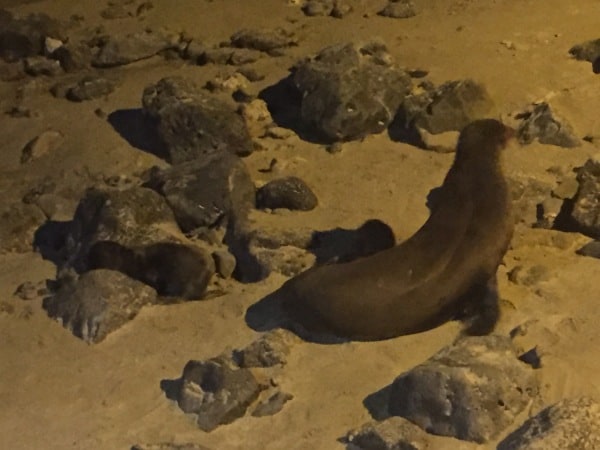 On Isla Santa Cruz at night, just head over to the port in your regular clothes, nothing special. If you're on a budget, grab a beer and enjoy it by the port, gazing at the sea lions laying on the benches and the sharks and rays swimming around the port in the crystal clear water.
On Isla San Cristobal, if you want to class up, this is the place to do it. The bars here are more upscale and they'll be able to make that Moscow Mule you've been wanting. So, if you want to dress nice, this is the place to do it. If you're like me and don't really care, board shorts or a swimsuit with a Sarong are accepted everywhere too.

Weather to prepare for in the Galapagos Islands
The only "season" you really need to be aware of is that it rains more often between July and November. Beyond this, packing and preparing are pretty simple.
---
Always plan on rain but remember that your waterproof jacket is a great layer for staying warm and dry while on those snorkeling excursions.
Be ready for breezy nights on the water. Regardless of the season, those beautiful starry nights on the shore can feel a
Plan on the sun to always be hot. With Ecuador and the Galapagos Islands being at the equator when the sun shines it really shines. Think of this not only for staying cool but also for protecting your skin
Plan on the water to be cold. Yes, it is the Pacific. Yes, Ecuador is supposed to be warm. However, the currents flowing through the Galapagos Islands will make that water you're snorkeling in much colder than you can stand comfortably for hours at a time. Because of this, consider bringing a rash guard, for a little extra warmth, and renting that full length "scuba diving" wetsuit.
The currents do flow differently with the different seasons and (according to locals) making the water warmer or cooler during different times of the year but I've visited twice at opposite ends of the year and both times when I tried snorkeling with a short wetsuit I nearly froze. So, plan accordingly.

Preparing for land-based backpacking vs. cruises
What differences can you expect in traveling around the islands on your own vs. a liveaboard cruise?
Expect to save a lot more money by traveling on your own
Expect a wider variety of adventures in the same period (snorkeling, swimming with animals, volcanoes, grottos, and sanctuaries, etc.)
You'll require the same gear whether traveling independently or on a liveaboard cruise as cruises occasionally stop off on islands for hikes, beaches, and coming into port, so this Galapagos packing list is perfect whether you're sleeping on a boat or on an island

General Planning and Galapagos Packing List Tips
Go lightweight
Get quick drying and moisture wicking clothing
Use your drybag to wash your clothes Learn how to here
Plan to be without internet
Bring a GoPro waterproof camera (like the Olympus TG-5 Tough Camera)
---
1. Go, Lightweight
Try to leave the heavy, cotton jeans at home. The islands are an adventurous place and everyone dresses accordingly, so don't feel like you need to overpack, planning to look good for too many different occasions
2. Bring quick drying and moisture wicking clothing
Whether it's in the water from snorkeling or sweat from hiking, you're going to get wet. Make sure the gear you take handles moisture well & dries quickly. Avoid cotton overall.
3. Use your drybag to wash your clothes
You'll learn quickly that the nutrient-rich & life filled water around the Galapagos Islands will leave your swimsuit smelling like a sea lion. Though there are laundry facilities all around that service by the kilogram, this isn't quite practical. Instead use the dry bag to wash your clothes quickly to have your swimsuit fresh for the next day.
4. Plan to be without internet
First, bring a book or a kindle to stay entertained in the quiet moments while riding a boat to/from an excursion or in the quieter times of the evening
Second, download all of your travel documents (itineraries, reservations, insurance documentation) for offline access.
5. Bring a GoPro waterproof camera (like the Olympus TG-5 Tough Camera)
The Gopro used with the collapsible handled and tripod works wonders for capturing moments in Galapagos.
If GoPro isn't your style, absolutely bring a waterproof camera, such as the Olympus TG-5 tough which I've been using.

The Galapagos Packing List by Activity
When it comes to planning for the Galapagos, you should pack by activity, just to ensure you have everything you need for the activities you have planned. Read on for an overview of what to bring based on each activity and finally a full Galapagos packing list.

Snorkeling, Swimming, and Excursions
---
Day Clothes for Hiking and Exploring
---
Nights Out
---
Footwear
Comfortable yet sturdy walking shoes, such as hiking boots or durable trainers
Water worthy footwear, such as flip flips or Xero Trails
---
Medications and Hygiene
Anti-diarrheal
Seasickness medication
Personal Medication
Reef safe sunblock – 50+ SPF
Hand sanitizer for keeping things clean and cleaning up scrapes
---
Backpacks and Daypacks
---
Tech
---
Travel Insurance: Do you need it
Highly recommend for this adventure. I use and recommend World Nomads.
Read this article for info on whether or not you actually need travel insurance
---
What to Rent (Instead of Bringing or Buying)
Long Wetsuit: No matter what tour providers tell you, get the longer wetsuit. Thank me later.
Snorkel and Mask: Test for fit and proper function the day prior. Take them home with you if possible. Ask about keeping them after the tour to explore the beaches on your own
Good fins: Ensure fins are included in the excursion and try them on for fit the night before

The Full Galapagos Packing List
Mid-weight fleece or compressible down jacket
3-4 x Baselayer T-shirts, ideally wool, sweat-wicking, and quick drying – one short sleeve and one long sleeve
**Optional** Regular t-shirts, using the base layer t-shirts for adventuring and t-shirts for lounging
Travel or hiking pants – Breathable, quick drying
Adventure Sandals, such as Xero Trails, Lunas, or Chocos
**Optional** Flip flops instead of adventure sandals
Sturdy walking shoes such as hiking boots or trainers
3-5 Pairs Travel underwear – anti-fuck, breathable, quick drying
Hat
Sunglasses
2 x Swimsuits
Smart Phone
Waterproof phone case
Headlamp / Flashlight
Reusable Water Bottle (Such as Kleen Kanteen or Nalgene)
Travel Towel (Lightweight, Quick Drying)
Seasickness Medication (Dramamine)
Anti-Diarrheal Medication (Immodium)
Travel Essentials

Copy of Passport (Digital and Physical Copy)

Galapagos FAQ
What is the cheapest way to get to the Galapagos Islands?|
The cheapest way to get to the Galapagos Islands is to fly from Guayaquil to Isla Santa Cruz. This is much cheaper than flying from Quito, much cheaper than flying into San Cristobal, and much cheaper than a cruise.
How do I get around on each Island?
Walking, biking, and taxi. For most beaches, private snorkeling, and exploring you can walk between the sites, such as the Grottos, a handful of beaches, and the Wall of Tears. For everything else, you can either rent a bike or hire a taxi driver for the day. If you need a driver for the day, ask your host the day before if they can arrange one for you.
How do I get between the islands?
The common, cheaper option is via ferry. To book a ferry, stop by any travel agent or tour provider the day before you want to depart (as early as possible) to book. The quicker, more expensive option is via a flight. Flights, in low season, from Isla Isabella to Isla San Cristobal rn ~$100 -$150 USD one way and take ~45 minutes
When should I visit the Galapagos Islands?
Any time of year is a fantastic time to come to Galapagos. Though rains are more likely during July and November, they will not dampen your experience much. The best option for choosing when to come to Galapagos is to pick your favorite animal, research its migration patterns, and find out which island its most likely to be on and when
Are there ATMs on the Island?
Yes, on Isla Santa Cruz and Isla San Cristobal. On Isla Isabella there is a single ATM that breaks down and runs out of money at times, so bring plenty of cash if traveling to Isla Isabella
How safe are the Galapagos Islands?

The Galapagos islands are extremely safe and there is little risk of petty crime. Your biggest risk is badgering an animal that otherwise doesn't want to be bothered

Other Great Galapagos Resources