For adventurous travelers that like to travel light (like carry on only), a great piece of footwear that is comfortable on long treks but muted enough to blend in the city is the holy grail of travel gear, and something I'm always on the lookout for. The GORUCK MACV-1 just might be a great replacement to your classic, multi-colored hiking boot.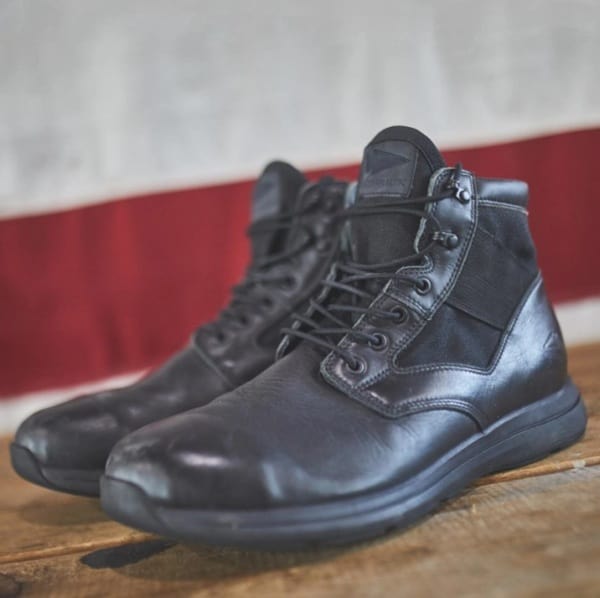 In this GORUCK MACV-1 review discover why this durably, minimalist, combat boot inspired trekking boot may be the perfect adventure shoe that keeps you comfy through any adventure but keeps it low key in the city.
This is a technical GORUCK MACV-1 review to assess the boots as a long- term traveler's hiking and adventure shoe.
Note: this article contains affiliate links. By clicking them when you purchase, you support the cost of research and writing at no cost to you. Thank you for your support!

Contents of this GORUCK MACV-1 Review

A little background on the GORUCK MACV-1 hiking boot, and its predecessor – the jungle boot
The GORUCK MACV-1 hiking boot is a lightweight, performance focused, military inspired trekking boot based on the 1970's era military "jungle boot". For many service members, the 70's era jungle boot is lauded as the best military boot ever over its lifetime.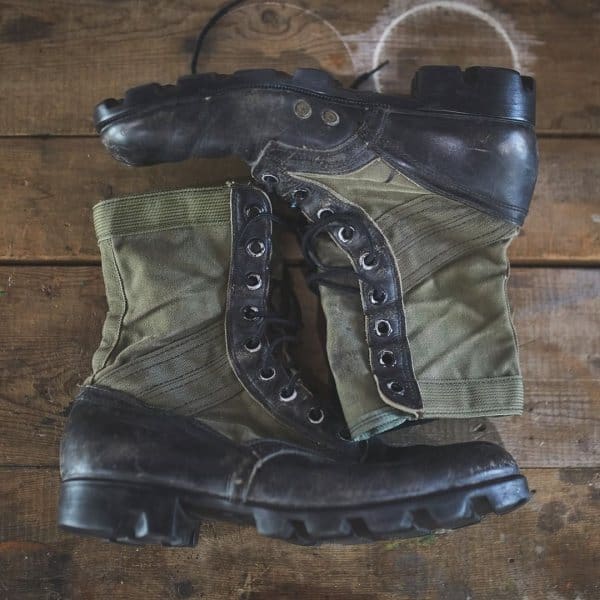 Though the original "jungle boot" always took some effort and patience to break-in, with its stiff leather and stiff rubber soles, the result was a minimalist boot that could do nearly anything, molded to your foot, and functioned like a second skin whether walking, hiking with weight, or full on sprinting. Every service member eventually fell in love with their jungle boots.
This idea, the same idea behind the jungle boot and the MACV-1, of a minimalist, lightweight, low profile hiking boot is a traveler's dream. A boot that collapses down to pack away, grips on anything, performs over miles of terrain, and could blend in to the real world would be perfect for travel. Could this be the MACV-1? Depending on your style…it just might be…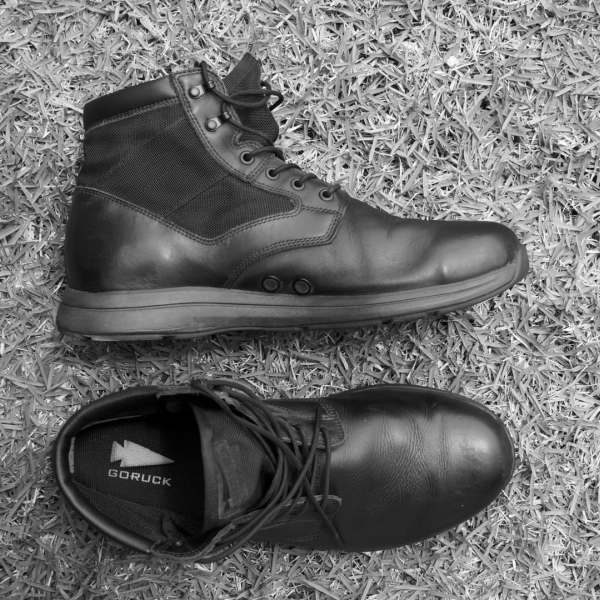 The Idea behind this Technical GORUCK MACV-1 Review for Travelers
For the last 18 months I've been traveling with the Altama OTB Maritime Assault shoes and the Xero Trails as my go to footwear with great results but readers have asked about new options. Specifically they've asked, "how suitable with the GORUCK MACV-1 be as a an adventure travel boot?"
To answer this question, I've ordered a pair to test while wandering and hiking through South America – but, that test won't be complete until late 2019. Until I've abused them enough to share a full opinion, I offer the following technical GORUCK MACV-1 review.
This "technical review" walks through the assessment and thought process I've gone through before even considering making these boots my adventure travel shoe of choice for the next stint of travel – or any travel gear at that.
---
As I travel for long periods with a single bag, anywhere from 3 months to over a year, whatever gear I start with I'm stuck with for the duration of that trip. High quality, durable, gear is either hard to come by or costs a fortune when you're in the far reaches of the earth – so you have to pick right the first time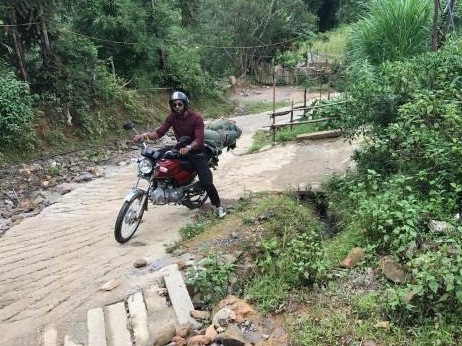 Whether I'm visiting museums in Europe, on a motorbike in Asia, or climbing a mountain somewhere in Africa or South America, I'm stuck with (and limited to) whatever I have in my bag. Anticipating this, before I go on any adventure I use my experience and knowledge of travel gear to carefully asses how suitable any piece of kit will be for my intended adventures, how comfortable it will be, and how good it will look during the times in between.
As such I'm constantly on the lookout for new pieces of versatile gear that are lightweight, durable, and improve the quality of my adventure travels.
The GORUCK MACV-1 boots are the latest piece of potential travel gear to pop up on my radar.
For the most part, a combo of gut instinct and learning from experience has made me pretty good at choosing gear that performs well, stays comfortable, and is durable enough to last through hard adventures. From an analytical standpoint, before buying I always examine the materials, construction, design, brand intentions and how these are likely to translate to comfort, durability, performance, versatility across travels, how good it will look casually (with clothing), and what initial daily users are saying – this is exactly how I've analyzed the MACV-1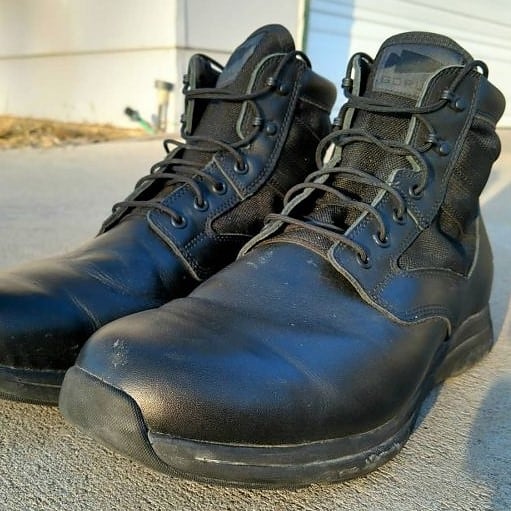 The bottom line, if you plan to play outside and hike hard and you appreciate old school military aesthetics; the MACV-1 may be a great, low profile option to replace those bulky multi-colored hiking boots. Read on to learn why.

Why is the GORUCK MACV-1 Potentially Good for Adventurous Travelers?
Why am I considering the GORUCK MACV-1 as testing for a good adventure travel shoe? Simply put, what qualities potentially make the GORUCK MACV-1 a great shoe for adventurous travel?
Lightweight Design
Great Performance as a hiking boot and great for epic treks
Durability
(Possibly) Packable
Muted aesthetics (depending on your tastes) that blend better than normal hiking boots
---
Lightweight Design
One of the primary design goals of GORUCK in creating the MACV-1 was to make the classic jungle boot lighter by reducing material and by reducing the unnecessary clutter on a boot that makes the boot heavier without truly making them perform better or more comfortably. The result is a boot that weighs in at just under 14 oz. (less than a pound). Compare this to the Merrel Moab II which is 18 oz., and a great hiking boot and one of the lightest, and you realize how light the MACV-1's actually are.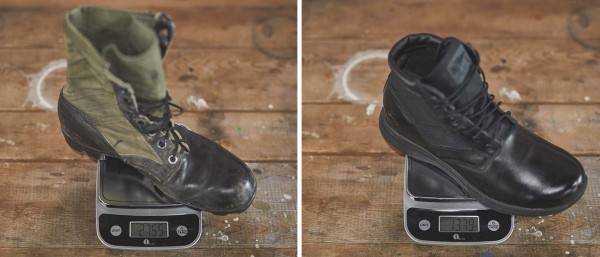 For travelers, this lighter weight not only makes hiking more enjoyable, but doesn't eat into that precious carry-on baggage weight allowance on budget airlines
---
Great Performance as a hiking boot and perfect for epic treks
These boots were designed to "ruck", or to hike far (think 20 miles) with heavy weight (think 50+ lbs). Many travel shoes I love, like the Altama OTB Maritime or the Lems Boulder Boot, are lightweight and packable as well and perform well when walking and on long hikes. However, I wouldn't make them my first choice for an epic trek like hiking to Everest Base Camp or Kiliminjaro, where foot fatigue and too much weight are issues to definitely worry about. For these adventures you definitely need a dedicated hiking boot or shoe, like the Merrel Moab II or the Lowa Renegade.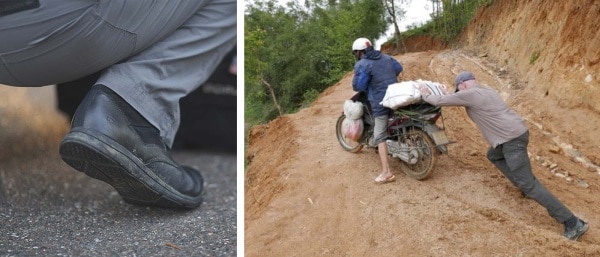 With the MACV-1, the design is tailored to adventurous travel, but the boot naturally has an aesthetic that is not as obtrusive as a bulking hiking boot.
---
Aesthetics (depending on your tastes) that blend
This one heavily depends on your personal tastes, but here's my perspective…
Many pieces of military gear double, in the "civilian world", as fashionable pieces if worn right, and much more fashionable than your average hiking gear.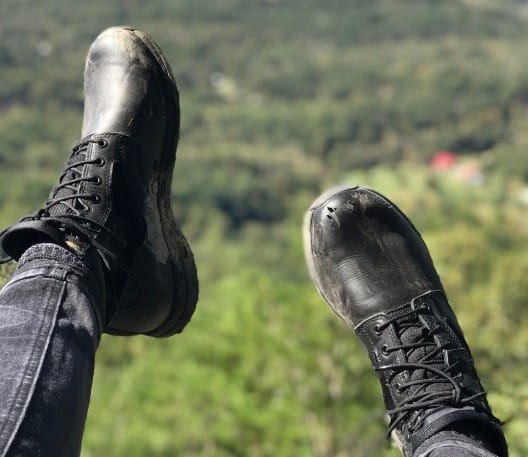 Great examples of this are the M-65 field jacket, aviator sunglasses, and (you guessed it) the 1970's era jungle combat boots.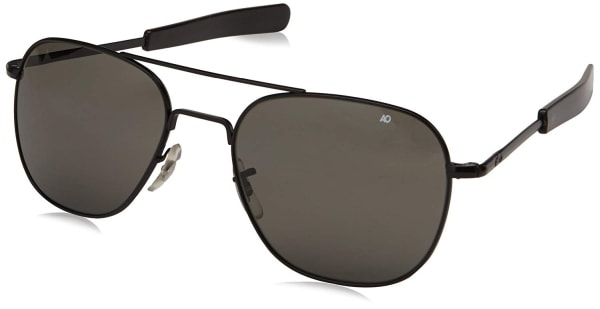 )
Look at the countless articles on GQ for how to wear combat boots fashionably. You won't find nearly as many on wearing hiking boots as fashionably.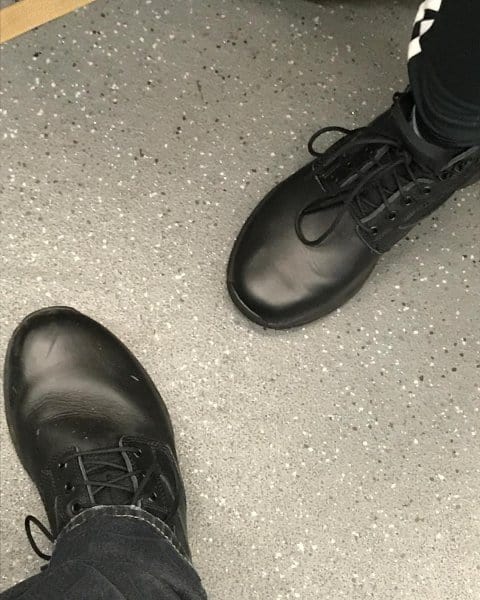 Granted, there are a few design cues that make the MACV-1's different from your Versace "military inspired" boots, but at the end of the day, a classic, all black combat boot (worn the correct way) is a much more fashionable option than the bright orange and green Merrels or hiking shoes.
For the long term traveler, having a pair of hiking boots that can tackle anything, feel comfortable, and can (creatively) be worn without too many odd looks means that single shoe will take you from Portugal to Africa to Mongolia, lightening your load, keeping you comfortable, adding to your adventure, and keeping you looking good.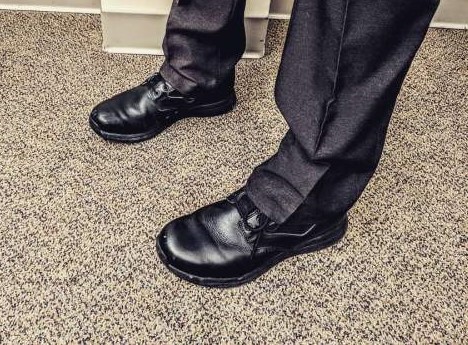 ---
Durability
For travelers on the road for extended periods, knowing that gear won't fail is important. In Laos, the sole literally fell out of my beloved Chuck Taylors while I was riding my motorcycle. Luckily, I had a pair of Lowa Renegade hiking boots I was saving for the Everest experience, but having gear that won't fail is a much better option than having extra gear. If you're hiking Kilimanjaro, motorbiking across Vietnam, or wandering through Patagonia, your best bet is investing in gear that will last the adventure.
I own quite a bit of GORUCK gear already, have been traveling with it for the last year. Not a single piece has failed me so far. So, though the MACV-1 is a new GORUCK product, I trust their workmanship and the 4 years of research and development that they've invested in these shoes.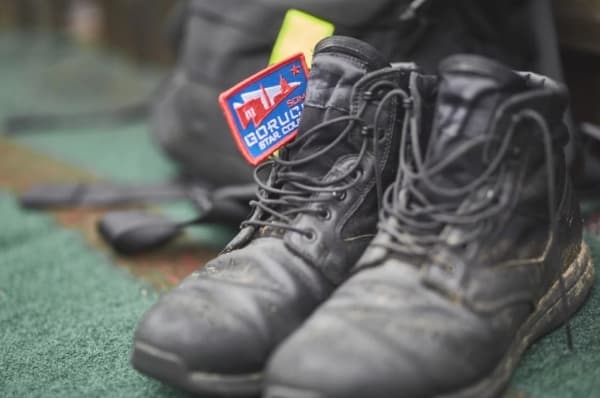 Additionally, the GORUCK SCARS Lifetime Guarantee on these shoes is extremely epic and takes the worries out of picking these up. If I ever do manage to bust these, GORUCK will replace them free of charge.
---
(Possibly) Packable
The team behind the GORUCK MACV-1 has reduced a lot of weight and bulk by methodically eliminating parts of the old jungle boot that are unnecessary for performance and durability – like extra stitching, ribbed rubber on the soles, and leather in unnecessary places.
One of the most interesting things was replacing the former leather and nylon components with super durable 1000D Cordura Nylon. This switch still offers ankle support and breathability, but unintentionally creates a boot that collapses easily…into your backpack.

Being lightweight combined with minimalist materials that pack easily make this a potentially travel ready adventure shoe that takes up minimal weight and space in your bag.

Quick Rollup of the Strengths and Weakness of the GORUCK MACV-1 for travel
---
Strengths
Lightweight design – half the weight of most boots
Collapsible and packable – thanks to durable 1000D Cordura nylon uppers
Heavily "adventure travel" focused shoe, designed for walking for long periods on rough trails
A "lower profile" hiking boot (black leather, minimal design) make it easier to travel with than multi-color hiking boots
Designed for lots of comfort in the long haul with heavy loads, with a durable yet cushiony EVA midsole
Built durable enough for hard adventures and long travels via full grain leather uppers and a durable rubber outsole
Durable rubber outsole provides traction in more circumstances and a longer boot life (if youu wear out the sole Contact GORUCK about a replacement
SCARS Guarantee means GORUCK will replace these boots if you ever
Durable, military and combat test DNA (adapts to your foot, is minimalist, lasts forever) includes minimalist, subtle cues you'll appreciate without knowing
Combat boot aesthetic makes for a boot that's easier to wear fashionably than your average hiking boot.
---
Weaknesses
Aesthetic – better looking than hiking boots, but if you're not a fan of combat boots then this might not matter
Soles (In Cold Weather) – The sole has an interesting, durable sneaker like sole that performs well in dry and wet, but creates issues in snow and terrain where lugged soles are needed
Price – At $195, this boot isn't cheap. (Checkout our GORUCK Discount Code page to find out how to save a little cash.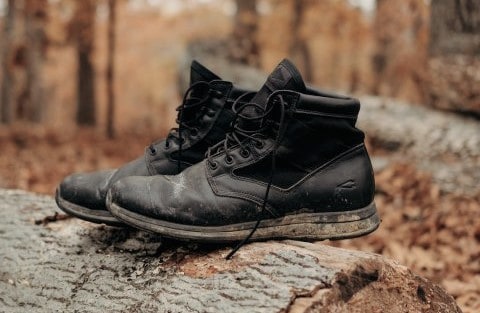 How does the GORUCK MACV-1 compare to alternatives
Traditional Hiking Boots
Other Travel Shoes (the Altama OTB)
Trainers
Current combat boots (Danners – weight, function, performance)
Lems Travel Boots
---
Traditional Hiking Boots
With the GORUCK MACV-1, black on black, smooth leather, and minimal design make the boots more aesthetically neutral. This means the MACV-1's blend into an outfit easier than your orange and black hiking boots while providing the same function and comfort.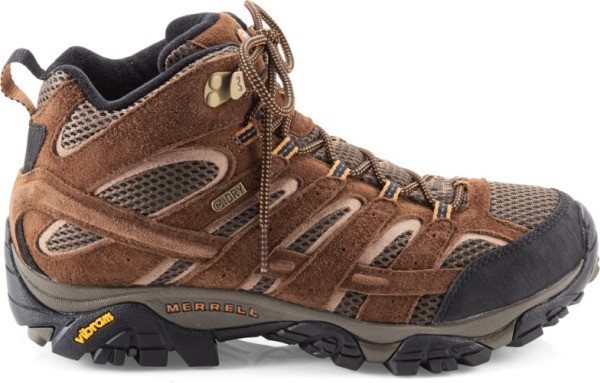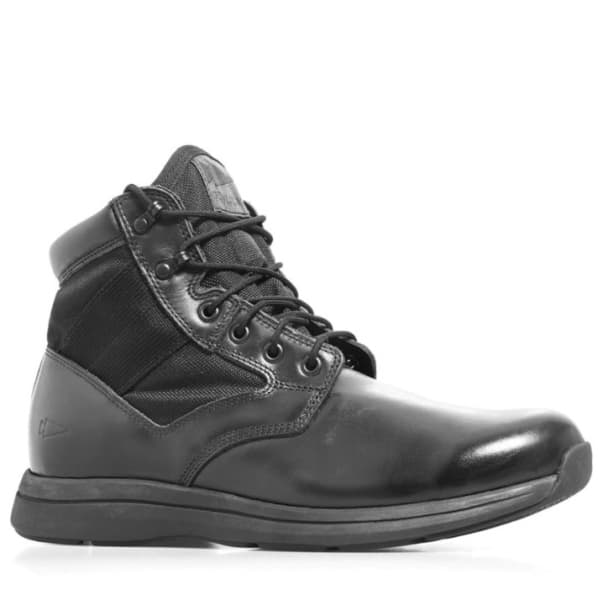 ---
Other Travel Shoes (the Altama OTB)
The DNA and design behind the MACV-1 is all hiking. While they are lightweight, you'll still have the sole cushioning and ankle support necessary for a multi-day trek, like in Patagonia or up Kilimanjaro. With other travel shoes, like my favorite Altama OTB Maritime Assault shoes, you get all around performance in a package that looks good enough to wear to the bar, but you'll want something more robust for Kilimanjaro.
If you only plan to dwell in cities, your regular travel shoe will be fine.
---
Trainers
Though your worn in trainers will likely be more comfortable than the MACV-1, you won't get the durability or ankle support. If you're only doing day hikes with less than 15-20lbs and not too frequently, your trainers should be fine.
If you're hiking sketchy terrain, like lava rocks in Galapagos repeatedly then you'll likely want a more durable sole, otherwise those things will get ripped apart. Additionally, if you're prone to rolling ankles on hikes, you'll want something a little higher that protects the ankle and the MACV-1 fits the bill.
---
Travel Boots (Like the Lems Boulder Boot)
Collapsible, minimalist, and lightweight boots are a great option for travelers, but if you're trekking hard with heavy weight then you want something sturdier. For example, when it comes to travel boots, the Lems Boulder Boot is a great option. They're comfortable and look great, but unfortunately, the minimalist design and sole leaves you feeling the ground a lot over long hikes and rocky terrain. If you're not use to "barefoot footwear" then this will fatigue your feet on extremely long hikes and multi-day treks, potentially leading to injury – especially if you're carrying heavier weight (20lbs+).
For day hiking travelers that are hiking with just a daypack, the Boulder Boot will rock. For multi-day trekkers carrying their life on their back, the more supportive and sturdy GORUCK MACV-1 is a better option.

Things to keep in mind if considering the GORUCK MACV-1 (for travel or otherwise)
If you do opt for the GORUCK MACV-1 as a traveler keep in mind that shoes are a touchy issue as people's feet and comfort requirements vary widely. I'm fairly confident that the GORUCK MACV-1 is a good travel ready boot…but I'm not certain whether it's a good boot for you and your needs.
To test whether the MACV-1 is for you, I recommend taking a few steps to get the most out of the shoe and understand whether or not its for you. At the end of your hard test period, if the boot isn't for you – don't hesitate to send it back. Don't get caught up in the hype or what other people are saying. Don't feel like you "should" like the boot. Just understand that each person's feet, gait, and comfort requirements are unique, and avoid forcing yourself into a footwear situation that could be costly or miserable.
Here are some more practical steps to testing the GORUCK MACV-1, that I'll be taking as well.
Test these boots hard during the test period: You have a 30 day window with GORUCK in which you can return for a full refund, so hike, run, and wander to see how these feel
Understand that leather shoes always have a break in period in which the leather stretches and molds to your feet. Yes, the ad copy says "no break in" but you'll need a couple hikes to see if they truly fit you
Pair these boots with midweight to lightweight wool socks being tough enough for the outdoors and soft enough for your feet)

Category by Category Review of the GORUCK MACV-1 Boot
---
Comfort
Of all the reviews that have come in on the GORUCK MACV-1 there are two camps and a single takeaway.
The takeaway is though these are advertised as "no break-in boots", they're all leather and made of durable materials – meaning – though they will be fairly comfortable to wear initially, the leather needs some time to mold and crease to your foot to perform at its best (just like the old jungle boots). Short to mid range hikes should be fine, but pulling a 20 miler on day 1 will likely give you a hotspot or two, especially if your feet aren't toughened.
The 2 camps for the boots are "these boots are completely awesome and comfortable from day 1" and "these boots feel like torture traps". After a bit of research I realized, both groups are actually right and its because of an innovative change GORUCK made to the jungle boot – moving the laces back, which hugs the foot differently and makes people more or less comfortable depending on the size (thickness) of their feet.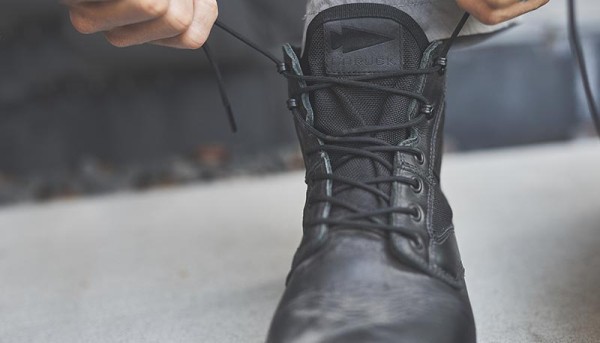 Examining The GORUCK MACV-1 Upgrade to the Jungle Boots: Moving the Laces back
Here's the situation: In your average running shoe, the lacing system extends all of the way down the shoe, nearly to the toes. The benefit of this design is that the shoes can be laced to fit nearly any foot type, regardless of how thick or narrow, and regardless of how high or low the arch is. The problem with this lacing system is though the shoe can be tightened to fit, it cinches the midfoot and forefoot like a cast – the result is restricted foot movement.
In natural foot movement, when walking barefoot, the foot has a lot of movement. The bones, tendons, and muscles through the foot arch move and adapt, and the forefoot widens and splays as it flattens. In response to this natural foot movement, healthier, more natural footwear designers aim to create a boxier, roomier midfoot and forefoot, allowing the foot to move naturally.
Here's GORUCKs Upgrade: To create a healthier boot, allowing the foot to splay and flex freely without being tightened in by the laces, GORUCK moved the laces on the boot back. This means that whenever the laces are tightened, this only tightens the ankle into the heel cup – it doesn't restrict movement of the forefoot and midfoot because the laces don't extend up that far. The forefoot is free to move in its "leather box".
Here's the problem: Not all feet are going to fit in this "one size fits all 'roomy toe box'". For those that don't (the "discomfort camp") they'll feel intense pressure on the top of the foot, just where the leather meets the laces.
Here's what it means for comfort (and what you should consider): If you're feeling this standard discomfort, you likely need to ditch the MACV-1. This doesn't mean the MACV-1 is a bad boot by any means (I'm actually impressed by what they've put into it) it just means the MACV-1 may not be great for your foot size and shape. A great product isn't necessarily great for everyone, and the small things (like innovative lacing position) that make the product miserable for one person (people with thick feet) make it a well designed product for others (people with narrow feet like me)
All in all, the MACV-1 has been reported as a very comfortable boot for most – but if you experience this common pain, understand the boot might not be for you and just check out some of or other travel shoe recommendations.
---
Aesthetics
I've seen plenty of reviews and complaints criticizing the look of the MACV-1, and here are my thoughts on it….
Fashionable military inspired apparel has been around for centuries and its pulled off with taste and class on a regular basis. From the legendary M-65 Field Coat, to the standard issue Navy Pea Coat, to the iconic "Aviator" sunglasses…to (you guessed it) the combat boot. The style is there it just depends on how you wear the gear.
If you know how to wear combat boots fashionably, the MACV-1's become a travel shoe with real potential.
If you wouldn't be caught dead wearing combat as a fashionable item then, yeah, the GORUCK MACV-1's are ugly as sin.
But…as a traveler I'm not necessarily looking for the perfect looking boot, I'm looking for a great performing boot that looks better than my orange and brown Merrel Moabs, that I can wear at the bar and have a conversation without getting odd looks. That's it.
Given the understated look of the MACV-1s, all black, leather, few accents, I think these high performing boots could fit that bill. And if you question how good you can actually look with a pair of combat boots, check out these articles from GQ
https://www.gq.com/story/the-cure-for-chelsea-boot-fatigue
https://www.gq.com/gallery/best-black-combat-army-boots-for-fall
https://www.gq.com/gallery/best-combat-boots-for-men
Or check out these pics of people rocking combat boots stylishly.
Bottom line: Are the GORUCK MACV-1s the best looking boot ever? Hell no! But…military inspired gear, worn sparingly, can look damn good. I think that can be the case with the MACV-1 combat boots, giving travelers the ability to walk to Everest but wear the same shoe without standing out as a "backpacker" everywhere they go.
---
Performance
In the area of performance, once users get beyond the break-in period they report that these boots perform epically. The light weight is a primary reason behind their great performance, but the heel cup stability, freedom of movement in the forefoot, and cushioning/support have lots of users raving after hiking with weight.
Grip is reported to be as expected for a hiking boot in wet and dry conditions – no better, no worse. If you're walking in snow, these will likely be insufficient as there aren't any "lugs"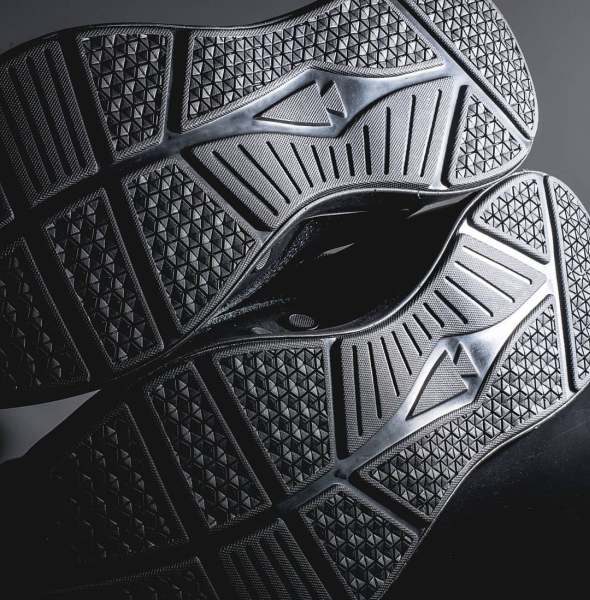 Weight is reported as being light as a feather
Ankle support is reported as being great as well, easily adjust by tightening/loosening the laces as feet get warmed up and swell.
Breathability is reported as good thanks to the breathable 1000D Cordura nylon in the upper portion and the "shielded eyelets" at the midfoot of the boot. Note that if you're looking for a waterproof boot, these aren't them…although you could theoretically pair them with GORE-TEX, waterproof, breathable socks like Sealskinz (which I'll be testing out later this year).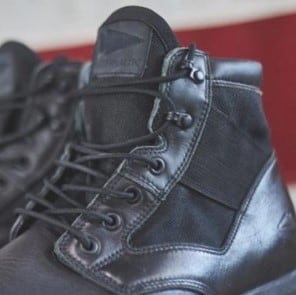 ---
Design Cues
Wide toe box: Allows for swelling and Foot Splay
Suede wrapped, injection molded heel cup: stabilizes heel, prevents movement, hotspots, and blisters
1000D uppers and nylon webbing give support, breathability, lighten wait, and make the boots a bit "collapsible" making them better for travel (like the Lems Boulder Boot)
Laces have been moved back on the boot to "lock in the heel" instead of clamping down on the top of the foot. This allows proper movement of the forefoot (similar to the "barefoot shoes" idea).
Speed laces and eyelets, allow easy and quick lace up even with the shoes are grimy and nasty
Water drainage and moisture ventilation holes along the arch of the foot allow for expelling moisture as you step
Durable and grippy rubber toe shield offers protection when scrambling
MACV-1 Sole midsole forefoot center line thickness of 10mm and heel center line thickness of 23mm (all based on size 9), which is a 13mm heel raise
Glue adhesion system, instead of sewing, avoids extra materials which add extra shoe weight
"Proudly not Waterproof" design allows the feet to breathe and dry naturally, instead of trapping in moisture and nastiness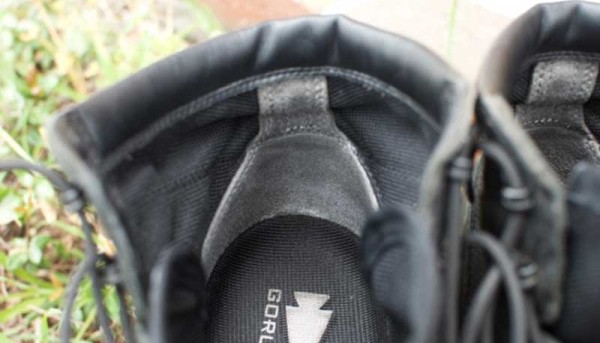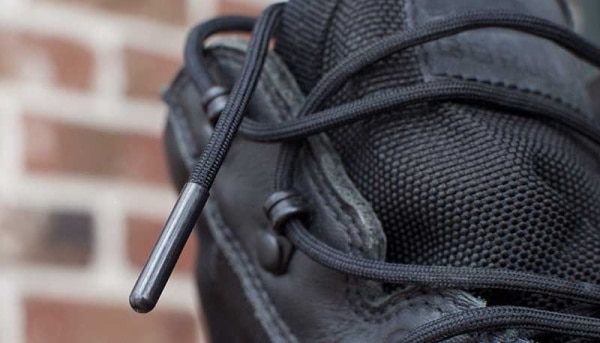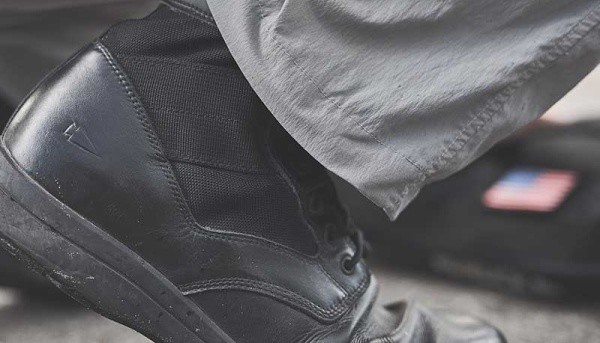 ---
Durability
Full grain leather uppers are proven to last
Cordura Nylon uppers are abrasion resistant and tear resistant, unofficially tested to 400lbs+
Glue Adhesion (of soles) system withstands upwards of 12.5 kg separation force – the industry standard is 2.8 – 3.5kg and are used instead of a stitched system to save more weight
---
Price and Value
At nearly $200, these boots are admittedly pricey.
But comparably, the Lowa Renegade GTX hiking boots (which are my favorite hiking boot to date) are ~$200 and the Lems Boulder Boot (which is one of the best packable, travel boots) is ~$150. Danner combat boots run ~$180, and even the Vivobarefoot Ra II (a great travel shoe) runs ~$150. This goes to show that though $200 is a lot to shell out, I think it is on par with the GORUCK MACV-1's peer group in terms of performance and travel shoes.
Additionally, the MACV-1 workhorse insert is a level up and closer to an aftermarket insert than the standard insert (Usually $20-$50). Think of it as already including a great insole like Superfeet and you cover that last $50 gap in price.
Verdict: Its worth the money if it works for you, so if you get the MACV-1 then test the hell out of it during the trial period to ensure you're satisfied.
Also look at our GORUCK Discount Codes List to save 25% or more…seriously…

MACV-1 Specs and Technical Info
Weight: .86lbs /13.7 oz. per boot
Materials

Full Grain Leather and 1000D Cordura Uppers

Durable EVA Rubber Midsole (EVA, provides durable cushioning to support walking with heavy loads, durability supports walking long periods, day after day without letting the shoe "rest"), works well at most temperatures

High traction rubber outsole (Aimed to work on slippery surfaces, wet or dry)

MACV-1's Workhorse Insert

Suede heel counter wraps an injection molded plastic (Thermo-Plastic Urethane) heel counter

Construction

Triple stitching at stress points

Glued sole (instead of stitched) tested to 12kg+ of force, compared to industry standard of 2.8 – 3.5kg

Price – At $195, (Checkout our GORUCK Discount Code page to save a bit more)

The Story and Creation of the GORUCK MACV-1
The GORUCK MACV-1 boots took 4 years to create via partnership between GORUCK, a former Reebok innovator (creator of the Reebok Pump), and an old Army Special Forces (MACV-1) soldier that experienced the Vietnam era jungle boot (the boot that inspired the MACV-1) at its best, and in its worst.
With this team put together, GORUCK set out to create the ultimate "rucking" boot, designed to be comfortable for miles of walking with heavy weight, backed by durability that GORUCK (and its SCARS lifetime guarantee) could get behind. With this aim in mind, they got to work
From the start, the team planned for the MACV-1 to be ""Lightweight like a running sneaker, tough like an assaulter's boot". The started with the classic 1970's area jungle boot and began dismantling it to remove any and everything that didn't truly add to comfort, durability, or performance. They shaved off unnecessary rubber, integrated a two layer "mid sole + out sole" design to balance longevity and comfort, and incorporated 1000D Cordura Nylon with the full grain leather uppers to create a breathable, flexible boot that's still tough as hell.
All of this weighs in at an insanely light at 14oz /.86 lbs per boot. For perspective, the Merrel Moab 2 hiking boot is 17 oz. per boot and the legendary Danner combat boots weigh in between 21 and 33 oz. apiece. So, in the area of making the MACV-1 light relative to its peer group, GORUCK crushed it.
The team stepped it up by improving how the boot hugs the foot and lets it function.
Most issues with shoes and boots, such as hotspots and blisters, come from your foot moving inside the boot. This friction creates hotspots that ultimately turn into blisters. To keep your foot snug, so the boot acts like a second skin, GORUCK threw in an injection molded tough plastic heel cup, that hugs your heel, then wrapped it in suede, to prevent your heel from sliding at all and allowing the heel cup to further shape to your foot with wear.
Finally the team threw in a premium insole. This insole is made of a "dual layer compression foam" that functions the same way the shoulder straps function on the GORUCK bags – and those shoulder straps are super comfy yet durable so I trust the approach. This adds a premium shoe insert that you would normally have to pay for (comparable to Superfeet insoles), but is designed specifically for the MACV-1.
Stack all of this together and you have the MACV-1 – a minimalist, no BS boot meant to stay comfy and last for miles without any added material or weight. The "combat boot" design and the fact that it is fairly collapsible make it another solid option to consider as that "multi-purpose, outdoor focused shoe" for adventurous travelers.

What are others saying?
There is an actual break-in period as the leather creases and soften with the movement of the foot. Slight initial discomfort (with a small number of users) at abates with wear
Some durability issues occurred in the first batch but were quickly handled by the SCARS guarantee, replacing the defective boots for free
The aesthetics are a matter of personal taste – rated as everything from horrible (by some), great aesthetics (by others)
Users with tall arches or thick foot beware – the innovative lacing position (moved further back) leaves less "adaptability" over the midfoot that is normally handled by loosening or tightening the laces. Though some users swear that the pain can be alleviated with different laces, or insoles I would aim to stick with a shoe that suits me out of the box. Personally, I have narrow feet with a low arch (like most people) so my decision to "go for" it is because these shoes will likely be good for me. But beware of this potential trouble spot during your test period as comfort (in this case) is dependent on the leather stretching a lot which requires time, lots of miles, and lots of discomfort.
The Cordura fabric upper collapsible very well and makes these shoes packable and nice for travel and stuffing at the bottom of your bag.

Verdict on this Technical GORUCK MACV-1 review for travelers and adventurers…
The GORUCK MACV-1 is a well-designed boot, targeting the hiking crowd but with great potential for adventurous travelers looking for a versatile boot in performance and aesthetic.
For Adventurous Travelers: If you're in the market for an adventure travel shoe, that is more boot than shoe, this may be it, providing a different aesthetic, long life and great durability, and adapts to your feet
For Casual Travelers: If you are a casual traveler, city dweller, a very light hiker, or will be trapped in urban areas there are many other, better options out there (See our Great 8 Travel Shoes for ideas)
HOWEVER
…this is a technical review of the GORUCK MACV-1, not a full review, and I'll reserve judgement until I've abused the boot personally.
For what the GORUCK MACV-1 is – a boot that has the tested DNA of a military jungle boot, simplified, made more durable with added accents and for comfort and durability – I believe GORUCK has done a great job. However, I look forward to testing the hell out of these boots during my months of travel to come before a true review, verdict, and recommendation.
I'll be taking a pair road tripping through the US and on through a central America surf trip to finally abuse the MACV-1s in Patagonia (Chile and Argentina) after which I'll write the full review, so stay tuned…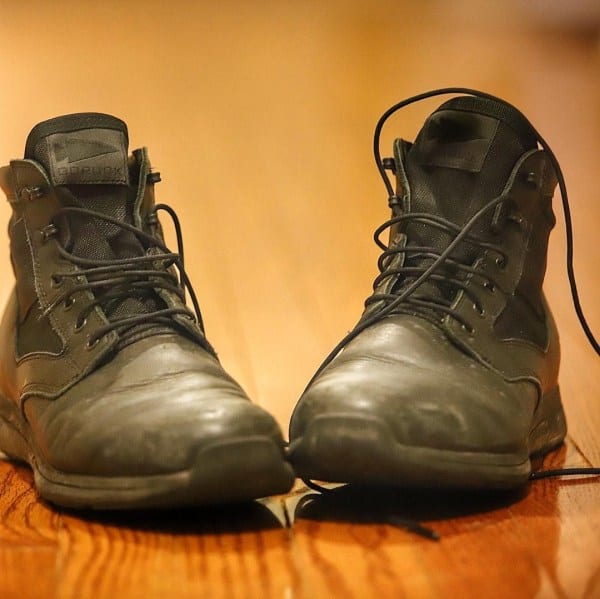 GORUCK MACV-1 Review
Packability

Aesthetic (for a hiking boot)

Durability

Comfort

Versatility
GORUCK MACV-1 Review: A lightweight, comfortable, travel ready boot
A great, minimalist trekking boot concept based on a proven platform. Though time will tell about the durability in the long term, the boot's lightweight, durable materials, and packable nature make it a great, potential adventure travel boot. We will follow up in a few months with the full-on and (hopefully) very abusive test through Patagonia.

Other Great Travel and GORUCK Content: