I previously wrote a review of the Altama OTB Maritime Assault Shoe as the perfect travel shoe. Nine months into wearing and traveling in the shoes, its time to check in after walking, running, hiking and even swimming. The Altama OTB Martime performed better than expected and still great.
Whether you're looking for stylish walking shoes for Europe or shoes durable enough to run, workout, and trek in during long term travels, the Altama OTB Maritime Assault shoes have been the all-around best travel shoes I've owned, and I can't recommend them more. (This is an Altama OTB review for travelers hunting for a single shoe that does it all)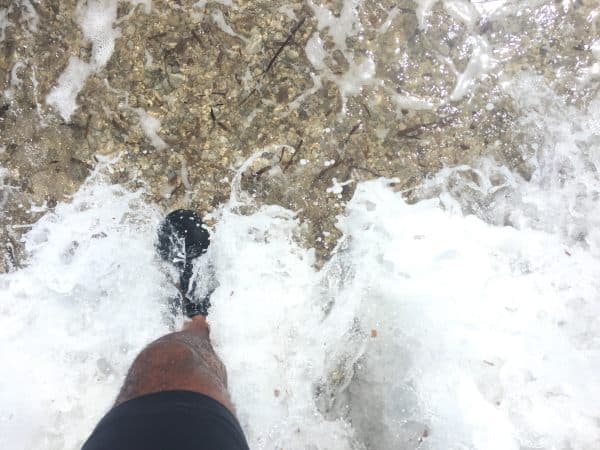 Quick Review of the Altama OTB Maritime Assault Shoe
The Altama OTB Maritime is a military-spec shoe designed for beach assaults and the rigors of combat, rolled into an understated, canvas shoe package. The result: the best travel shoes I have ever worn. These shoes are durable enough for hiking and adventures, versatile enough to run and workout in (if you're a minimalist runner) and stylish enough to wear around Europe with Chinos on a rooftop with a cocktail… after cleaning them up from the adventures, of course. All for a price tag of under $100.
Jokingly referred to as "Combat Chuck Taylors" these shoes are the only shoe you need during your travels regardless of how you adventure, and you'll still look good along the way. I prefer to think of the Altama OTB's as the "James Bond of Sneakers", smooth enough for classier circumstances but still rugged enough to get any job done.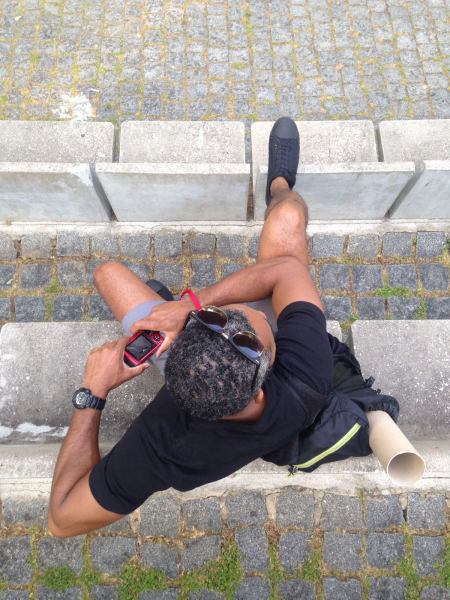 I knew all of this going in, but in the last 18 months the versatility, durability, and sleek look of these kicks has been awesome. From upscale bars with a traveler's sport coat in Portugal, to runs and swims on the beach in Greece, during my travels the Altama OTB's have lived up to the hype.
I wear these shoes on a daily basis, walking miles as I explore cities and ruins, workout and run, or get lost in the night. To boot, these shoes have proven to be far more durable than your average set of kicks. They've stood up to it amazingly with slight tread wear, as to be expected, but no abrasion, fraying, or anything loose. If you're looking for one shoe that does it all, then look no further.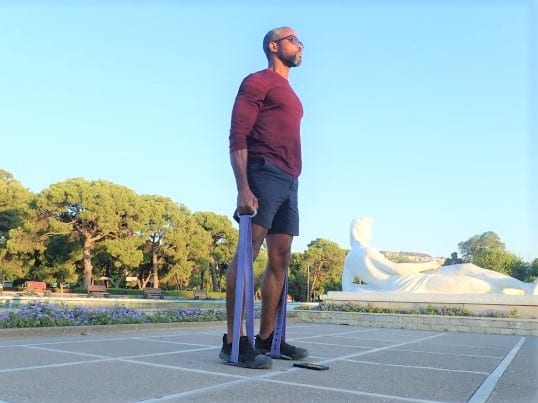 Pros of the Altama OTB Maritime Assault
Durable – Still in great condition after 9 months with slight treadwear
Versatile in function and aesthetic – I've run, jumped, swam, and partied in these shoes with no issues
Pack down small
Great for minimalists (runners and packers)
Classic, fashionable look – classic canvas shoe look dresses up or down easily. You may have
Great Price – For ~$70 on Amazon, its hard to find a better shoe
Insanely easy to clean – dish soap, an old toothbrush, and 5 minutes and these kicks look like new.
Quick drying – Cordura nylon uppers and waterproof insoles clean easily and dry in an afternoon
Break-in extremely well – Materials soften (e.g., Cordura Nylon uppers, SEAL Rubber Outsole, EVA waterproof insole) and mold to your feet continually with use
---
Cons of the Altama OTB Maritime Assault
Break-in period is long (~3 weeks) and the shoes absolutely need to be broken in to be comfortable
Not great for sockless wear as moisture collects under the foot due to waterproof insole, but I've had good experience swapping the insole for a "normal" one and then going barefoot
Narrow/small fit – ensure to go up 1-1.5 sizes for a proper fit)
Limited colors available – Black or Tan…that's it
Black eyelets will turn brass with wear
Haul loop can causes chinos to hang high – Some wearers have cut off the haul loop to improve the look

How to get the most from the Altama OTBMaritime Assault Shoes
Get breathable insoles, such as those in Vans or Converse Chuck Taylors, to swap out when going sockless
Wear merino wool socks for best performance, I recommend People Socks that are cheap, perform well, and feel great. Be sure to get one pair of wool ankle socks to stay stylish
Be sure to purchase 1 size larger than what you wear in Converse Chuck Taylors (1.5 sizes if you're at a half size) as these shoes run narrow and small

Verdict from an 18 Month Review of the Altama OTB Maritime Assault Shoe for Travel
After 18 months I can confidently say the Altama OTB Maritime Assault shoe is the best travel shoe I've owned. The classic, simple design looks great, but the durability over time and function in so many different environments are unmatched for the price.
Altama Maritime Assault Shoes Review for Travelers
Durability

Function

Price and Value

Style
Summary
The style of Chuck Taylors, the durability of combat boots, and the function of trail-ready hiking shoes make the Altama Maritime Assault Shoes ready for anything – whether you're traveling, kicking in doors, or enjoying roof top cocktails in London. Over a year of travel in these shoes from Europe, to the Middle East, to Asia, they've been comfortable, practical and functional on treks and adventuring, and perfect for concerts and cocktails in Singapore and Bali. All of this comes at an unbeatable price – better shoes for cheaper than suitable alternatives.
If you can only take one pair of shoes, take the Altama OTB Maritime Assault Shoes.
Though I wish the shoes were more comfortable for barefoot wear, combining these with merino wool socks makes them so functional I'm beyond satisfied…especially considering the price. For travelers looking for a single shoe that does everything well enough to be happy and looks good enough to be your only shoe, look no further than the Altama OTB Maritime Assault Shoe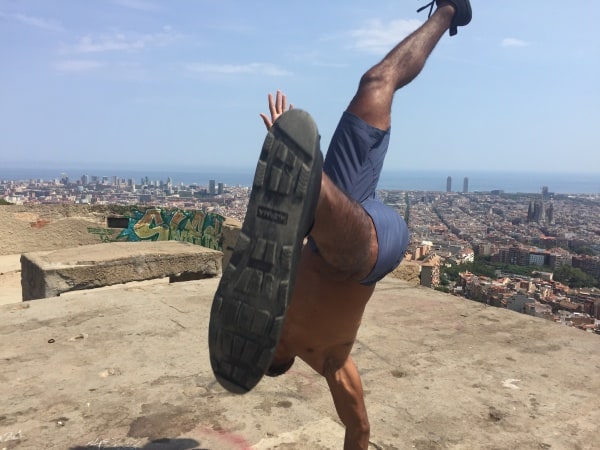 Also Consider these shoes in place of the Altama OTB
Renegade Lowa GTX – a very understated hiking shoe with a comfy sole that hikes well right out of the box. This shoe looks close to "normal" and served me well on the Everest Base Camp Trek
These "8 Great Travel Shoe's for Men" for other Travel shoe ideas
---

Don't forget the socks! Now that you're (almost) sold on the Altama OTB Assault shoe as the perfect shoe for your adventures, check out our list of the best wool socks for travel – including wool crew socks and ankle socks for every type of traveler or activity.

Full Review of the Altama OTB Maritime Assault Shoe as a Travel Shoes (18 Month Test)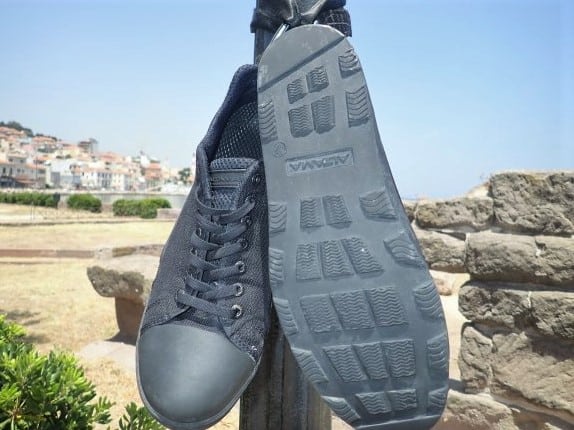 ---
Best Uses for the Altama OTB Maritime Assault Shoe
Adventurous Travelers aiming for a single shoe that does it all
Anyone looking for a single shoe that will last as long as you do yet still looks good (and is designed to survive anything)

My Experience with Altama OTB Maritime Assault shoe after 9 months of travel
Nine months ago I found the Altama OTB Maritime Assault shoe as I was prepping for one year of travel around the world. At the time, my plan was to travel with a single carry on sized backpack and no other luggage, so to save space I needed one shoe that could do it all – from running during workouts, to hiking through the mountains, to looking good with nice jeans on a rooftop in Europe.
The Altama OTB Maritime stood up to the 9 month challenge, performing better than even I expected. The shoes gripped, swam, and ran, with durability that keeps them looking good every step along the way. Specifically for travelers that are active and want to stay light with minimal gear, I highly recommend the Altama OTBs.

What made the Altama OTBs standout as a great travel shoe over the last 9 months?
---
Great Performance! Sturdy, durable, and comfortable enough for hiking & walking
During any good travel experience, you must explore. In the Balkans, I explored via hikes p mountains to castles and unimaginable viewpoints. In Greece ran to and explored the beaches. In many other cities, I walked for miles through urban terrain to learn and feel the cities. In Israel, I walked the 8 miles from Jerusalem to the West Bank in the heat of the day. For every one of these adventures, the Altamas were my shoe of choice, and did the job…well.
With the help of the merino wool socks I brought (Smartwool, REI brand, People Socks, and Darn Tough) my feet have stayed dry and relatively comfortable the entire way. Note that the outsoles of these shoes are made from a durable variant of rock climbing shoe rubber (to maximize grip when wet) so the soles are stiffer than the cushier soles of my Lowa Renegade GTX hiking shoes (which I love as well). Despite the stiffer soles initially, the Altamas still performed well and felt great once my feet adjusted to the shoes and the materials softened (over approximately 3 weeks). The climbing shoe rubber has been a great tradeoff for cushier soles as it has been great on slippery surfaces and when scrambling up sketchy rocks with the durability I need to last my travels.
I have absolutely walked more miles through cities, getting to hostels, participating in walking tours, and generally wandering (usually for great street food). My feet have stayed comfortable through miles of walking without a single hotspot or blister.
---
Suitable for running, if you are a minimalist runner…
When I travel, I'll run from time to time to explore cities quickly and stay in shape. Most of the time, I run in my Xero Trails – minimalist sandals that are designed for barefoot running. The rest of the time (~25%) I rock the Altamas. My runs range from 2-5 miles on terrains ranging from mountain trails to city streets.
If you're used to minimalist or barefoot running, the Altamas are a great option. The best comparison would be the Converse Chuck Taylors. If you feel comfortable running and working out in the Chucks, you will be comfortable running and working out in the Altama OTBs. If you would feel uncomfortable living actively in the Chucks, you will likely feel uncomfortable in the Altamas. Note that the Altamas do have better design in that the interior is a breathable nylon mesh and the lip of the uppers on the Altamas are rounded and more comfortable.
In terms of cushion and ground feel, the Chuck Taylors are a great way to gauge whether the Altamas will work for you as a running, hiking, and workout shoe.
---
Perform well if you decide to jump in the water, then drain and dry quickly afterwards…
For part of my travels I set aside some time for volunteer work, during which I had to do some very light open water rescue training. The design of the Altamas aims to create a "beach assault shoe" that performs well in the water, with fins on, and back on dry land as well. The design incorporates two water drainage ports on the sides of each shoe (to let water quickly drain out), waterproof insoles, and fast drying nylon uppers. To test the water prowess of the Altamas I kept them on for the duration of the exercise of jumping into the ocean and swimming out to rescue someone.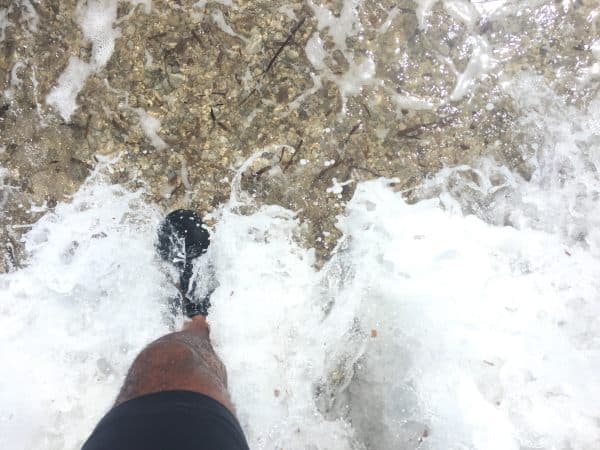 The Altama's performed, in the water and out of the water after, much better than I expected. In the water, as I kicked out to see to rescue the mock victim, the shoes didn't drag or feel waterlogged at all…it just felt like I was kicking with my normal feet.
When I got out of the water, I watch the water drain immediately out of the ports. As I walked off there was no squishy sound or awkward squishiness. The shoes still felt wet, but comfortable enough that I didn't even need to take them off…I just hopped in my car and drove off.
At home 15 minutes later that afternoon, the shoes had started to dry but I went ahead and rinsed them out in the shower, to get the ocean out of them. I popped out the insoles and set them in the sun to dry and by that night, the shoes were dry and looked (and smelled) brand new. Pretty awesome.
Going barefoot in the Altama OTB isn't great…the bottoms of your feet will accumulate sweat due to the waterproof insole…
The Altama OTB Martime Assault shoe is nearly great for wearing the shoe barefoot/sockless. Nearly. The shoe's upper is lined with a breathable nylon mesh that wicks moisture away from the skin keeping your feet happy…which makes the shoe nearly suited for barefoot wear.
The problem is the waterproof insole, which makes the shoe perfect for swimming but captures moisture under the foot if in direct contact with the skin. The two optional solutions are 1) to wear good socks – I always wear merino wool and they help the shoe perform amazingly — or 2) swap out the insoles for fabric insoles from vans or Converse — many readers have mentioned success, and comfort going barefoot. I recently picked up a pair of cheap, fairly flat inserts and have found that I can go sockless with these now, just like I can with my old Chuck Taylors, so I highly recommend picking up some cheap inserts if you would like to go sockless.
In any case I recommend great socks (always useful) and giving the "sole-swap" a try if you have any lying around. Absolutely keep the waterproofing insole though, they're quite useful if you plan to get wet.
…and the Altama OTB is perfect as stylish walking shoes for Europe, or dressed up for an "upscale" night out
After any great adventure, you have to celebrate…and during this trip I've worn the Altamas out at night to celebrate, plenty of times. My theory on shoes during travel is that neutral colored canvas shoes make the best travel shoes: versatile yet classy and they pack down small, while being casual enough for a summer day with shorts but, worn stylishly enough, can even go well with a suit.
In the past though, my problem with most canvas shoes has been durability to last through my adventures and trusting the shoes to be comfortable enough to walk long distances without breaking down (or breaking me down). The Altama OTB Maritime Assault shoe solves generally for the durability issue while the nylon mesh sidewall and waterproof rubber insole solve for comfort (with good socks, of course), making these great yet stylish walking shoe, and hiking shoe, candidates.
The aesthetics of these shoes speak for themselves…but this is an Altama OTB "review", so I'll speak on my experience with the looks of this shoe: they look great, dressed up or dressed down and even the Europeans I met thought so. I received quite a few complements on the look of Altama OTB and felt very comfortable going into upscale places.
One night on the town in chinos and a travel blazer, my Portuguese buddy passed me a compliment on the Altama OTB's, asked a few questions and then asked if I could pick him up a pair on my next trip to the US. The same happened in Italy a couple of months later. If I can wear these shoes out for a night out with locals in Italy or Portugal and get compliments, then we've absolutely landed a jackpot in the men's travel shoe arena. Granted, the haul loop on the back of the shoe can cause chino's to sit awkwardly, but I didn't mind adjusting the pants every once in a while and other users snipped the haul loop with no issues.

Functional Review of the Altama Maritime OTB Assault Shoe
Grip: The patented "SEAL Rubber", adapted from rock climbing shoe rubber but altered to maintain traction when wet, is impressively durable but still grips surfaces as if it were a car tire. The stiffness increases the shoes' "break-in period" but it's a welcome exchange for the durability you get. The rubber has worn and chipped slightly with the walking and jumping on rocks…but that is to be expected
Breathability: The uppers are lined with a nylon mesh that breathes very well to keep the tops of the feet dry, especially in hot weather
Insoles: Though the waterproof insoles are great for swimming…we won't be using these shoes for swimming much. The sole is a bit stiff and takes about 1 month to soften up but becomes comfortable and cushy after that. If you don't swap out the insole, plan on using merino wool socks most of the time to prevent the moisture (off your sweaty feet) from accumulating on the insole.

Design Overview (After 9 Months of Abuse)
Soles (Outsoles): As durable as described. The modified rock climbing shoe rubber shows slight wear and continues to maintain better traction than most other shoes I've used…in wet or dry conditions.
Insoles: Waterproof EVA insoles – I have a love hate relationship with these. The waterproof nature makes the soles incredibly easy to clean but also causes moisture to accumulate underneath the foot if you go sockless on warm days or before the shoes are well broken in. I solve this by wearing medium to light weight Merino wool socks, which you can wear up to 3 times before funky (I've tested a few times for curiosity's sake). I would avoid cotton socks because they trap the moisture a bit.
On the love side, as these soles soften, they feel comfier and comfier in the shoe. Though I bought breathable insoles for going sockless, I still keep these waterproof insoles on standby
Uppers: The 1000D Cordura Nylon uppers have held up very well, and the abrasion resistance is great. Regardless of running through sand and scrambling up rocks, the fabric looks like new (after a quick clean up with dish detergent and a toothbrush that takes 5 minutes total). No fading yet.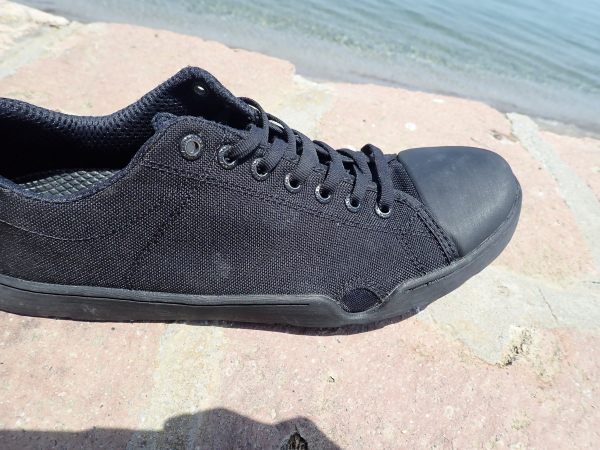 Laces: I'm not sure what's up with these, but they're a subtle bit of awesomeness. They're made of what I assume to be nylon and they're quite durable. Other than the slightly smashed tips (from stepping on them) not much sign of wear despite being dragged and stepped on.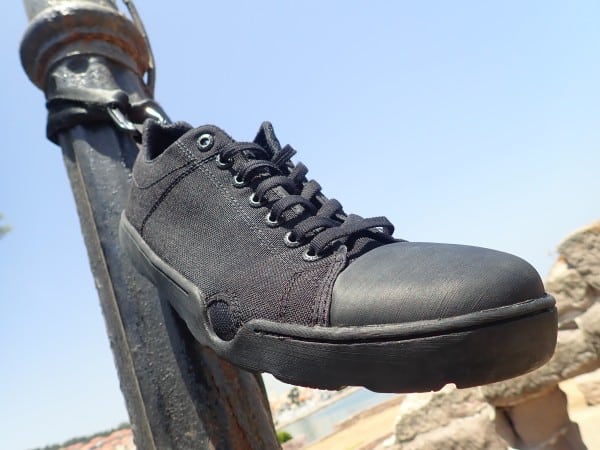 Fit: Stayed consistent throughout the 9 months. Comfortably snug on the foot without hotspots. Absolutely go up a size when initially purchasing, and 1.5 sizes if you're at a half size.
Drainage ports: Perform as said, draining after my ocean swim. These drainage, and the eyelets which the black paint rubbed off of, are the only points on the shoe, besides the outsole, that show signs of wear. There is slight fraying from abrasion, but the show no signs of holes…or the start of holes forming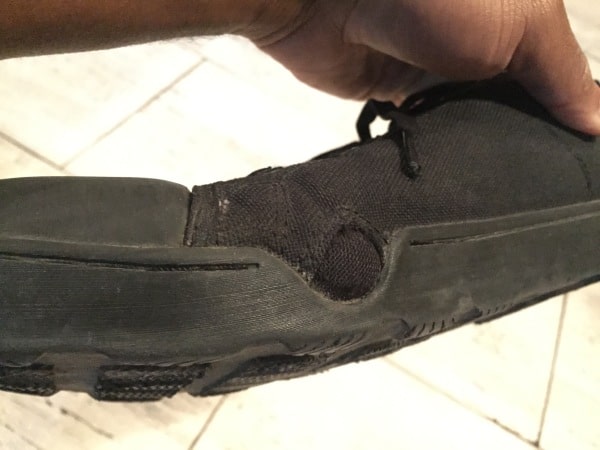 Eyelets: Intact but the black painting has rubbed off to expose the brass underneath. I don't mind this, but if you're expecting these to stay black, be warned they'll go brass within 6 months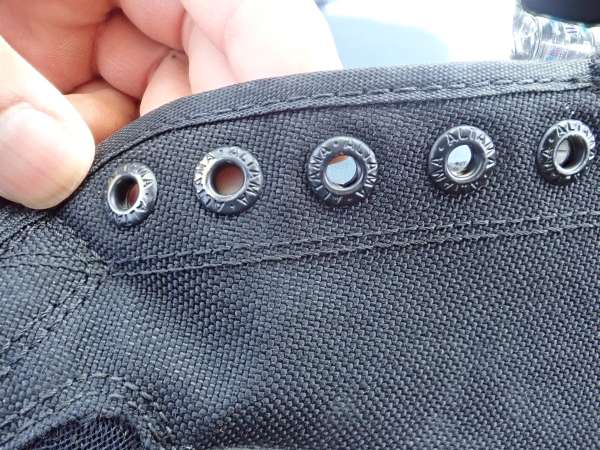 Trends over 9 months of wear
Cordura nylon uppers tend to soften, move better with the foot, and shape to the foot but still don't fray or abrade
Waterproof insole softens quite a bit after one month, becoming much more comfortable but still cause foot sweat on warm days and long runs if barefoot
Black eyelets wear to brass after approximately six months

Durability Review of the Altama OTB Martime Assault Shoe after 9 Months
Uppers show little fraying, fading, or signs of wear (great quality), but the drainage ports show slight abrasion…not enough to worry about though
Black paint on eyelets rubbed off to expose brass beneath, but eyelets remain sturdy and intact
Fabric stitching & welts are still good. There does tend to be a hefty and noticeable amount of glue on these shoes
Laces are in good condition (aside from the mashed up tips)
Minimal sole/tread wear, considering we're on month 9 and I wear these every other day
No noticeable fading
Bottom Line: Durability is unmatched compared to others shoes I've worn. Only combat boots have been more durable.

Tips for Getting the Most out of the Altamas
Pair these shoes with wool socks – I recommend at least one pair of no show ankle socks in black to stay stylish. The waterproof nature of the insoles caused my feet to sweat a little more than normal (especially during break-in). With cotton socks, I get 1-2 wears before the socks get stinky. With wool socks, I can get in 3-4 (don't tell the ladies I'm doing that though)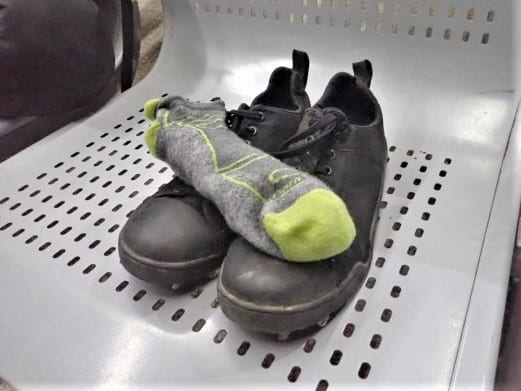 Expect a break in period of ~2-3 weeks with everyday wear to hit a point of comfort with the uppers and one month with the outsole and insole. Expect the shoes to continue to soften and mold to the feet (in a good way) after this point.
Pair these with the Xero Trails for running, hiking, and sandals stuff and you're set for any circumstance or occasion.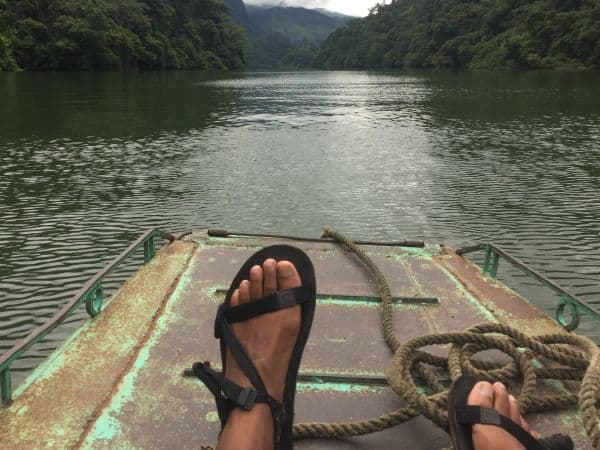 When purchasing, buy 1 to 1.5 sizes large than you normally wear in Converse Chuck Taylors. If you are at a half size normally at a half size, go up 1.5 sizes as these shoes fit short and narrow. If you have exceptionally wide feet, reconsider purchasing these.
Consider taking the breathable insoles from similar canvas shoes (Chuck Taylors, Vans) and placing them in these shoes which should (theoretically speaking…I haven't tested this) let you go barefoot in comfort. Try this out and let me know. Several readers have reported good results
When the shoes look a little dirty or get to funky clean with dish soap and an old toothbrush. Just remove the insoles, spend 5 minutes cleaning the shoes and the insoles separately with the old toothbrush and dish soap, leave in the sun to dry and the shoes will look as good as new once dry.

Specs of the Altama OTB Maritime Assault Shoe
---
Price
Warranty
Through Altama: One Year manufacturer warranty
Through Grunt Style (As the Grunt Style Raid Shoe) – Lifetime replacement, for your life…not the shoe's life
Size when packed:
Length: 11″ (size 10)
Sole thickness: ~3/8″ (with insole removed)
Collapsed/Packed Height: 1 1/2″ per shoe

Verdict on the Altama OTB Review
A good looking adventure ready shoe that performed better than expected and that I can't recommend enough. "The James Bond of sneakers".
Excellent shoe for getting wet
Extremely durable and still looks good after heavy wear
Cleans up easily
Perfect as a stylish walking for Europe as it looks great and can handle miles of travel
The James Bond of shoes – tougher than it looks and ready for what you throw at it, but looks good in the process of…anything)

OR
Checkout our list of the "Best Travel Shoes for Men" for more travel ready shoe ideas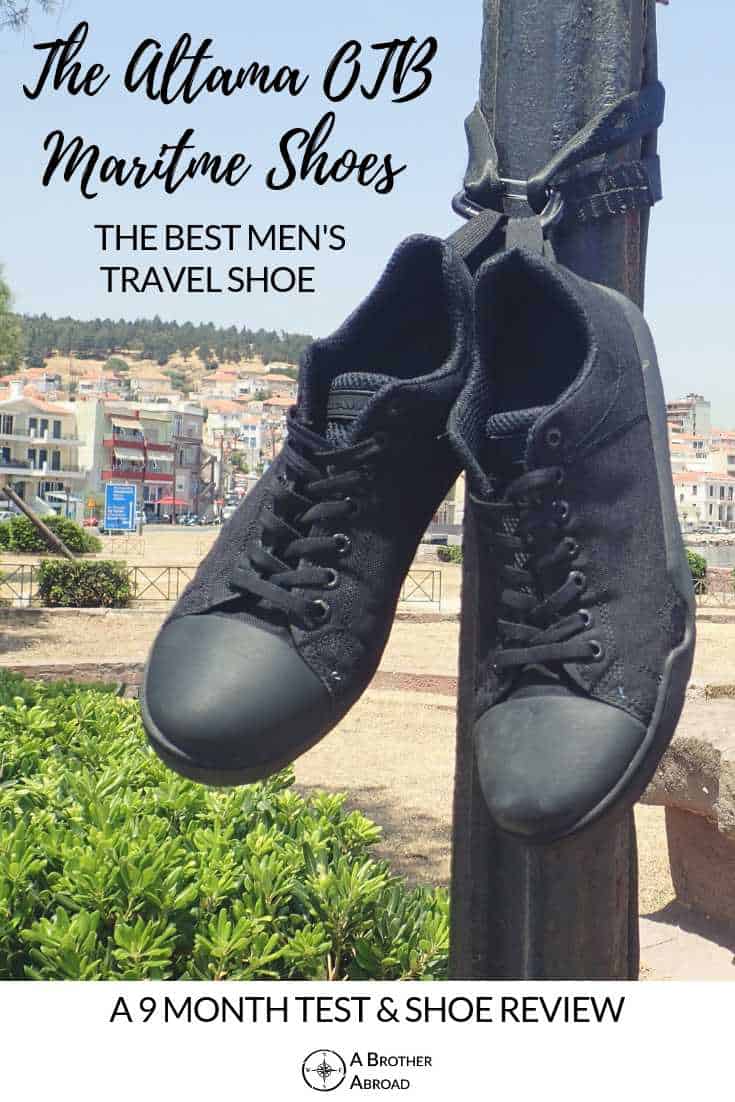 Other Great Travel Gear Content: