When traveling or moving often, whether as a backpacker, digital nomad, or commuting worker, with all of the tech we tend to carry staying organized is essential to sanity. Opening up a backpack to find a mass of entangled wires, losing that all important thumb drive or dongle, or accidentally leaving a Bluetooth mouse or pocket hard drive can be devastating – especially if you're far out in Southeast or South America where replacement thumb drives, cables, and hard drives are far from cheap.
The solution: The GORUCK Wire Dopp. A simple, tough, and functional electronics travel organizer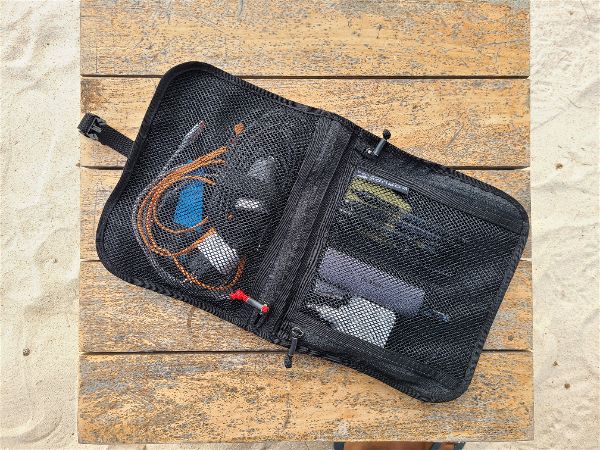 Historically, a "Dopp Kit" is the well organized toiletries bag that military service members carried with them around the world. The GORUCK Wire Dopp takes that idea to the place where we need it most – our tech.
The GORUCK Wire Dopp is a simple, functional, and durable option for keeping all of those cables, portable chargers, thumb drives, chips and more organized all for a solid price of $25.
I've been on the road as a digital nomad for 5 years now and I've lost/destroyed countless hard drives, thumb drives, blue tooth mice, cables, adapters, and more. I opted for the GORUCK Wire Dopp to keep things organized – and I love it. It keeps me organized, minimalist, and ready to grab everything I need for a day quickly and easily.
Read on to discover why I recommend this as an great option for staying organized on the road in this GORUCK Wire Dopp Review.
Note: This article contains affiliate links

CONTENTS OF THIS GORUCK WIRE DOPP REVIEW

GORUCK WIRE DOPP OVERVIEW
The GORUCK Wire Dopp takes the simplicity of design, functional approach, and durable materials and applies it to a simple cable organizer that is just big enough, just small enough, and will last a lifetime.
A clamshell design and 1000D Cordura Nylon outer lightly protects the contents withing. Three, flat, zippered mesh panel pockets allow you to easily stay organized and see where everything located. A nylon strap and tough little buckle round things out to secure the Dopp.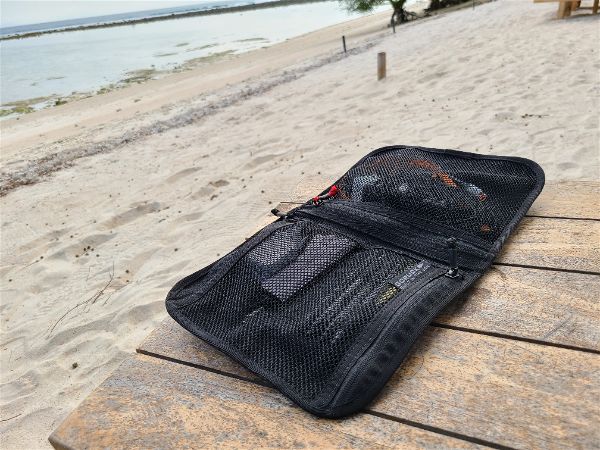 THE EXECUTION: SIMPLE AND MINIMALIST, FORCING MINIMALISM
In execution the size, organization, and simplicity of the Wire Dopp is just right. It is just roomy enough to hold the essentials – laptop cable, phone and peripherals charging cables, thumbs drives, pens, dongles, and the accessory of the day – but no so large that I have enough space for extras. I have to be selective about what I take and 99/100 I don't end up needing anything else through the day. The result is forced minimalism that makes me lighter and more efficient.
ALWAYS ORGANIZED, ALWAYS READY TO GO
The real beauty in using the Wire Dopp is in always being organized, and always being ready to go.
I often switch backpacks. Sometimes, on workdays, I'll go to a coworking space taking stacks of notes for a meeting. Other times, I'll to by GORUCK GR3 or Tortuga Outbreaker for a weeklong adventure. And some days I'll go "almost slick" taking a light daypack, a water bottle, and a laptop.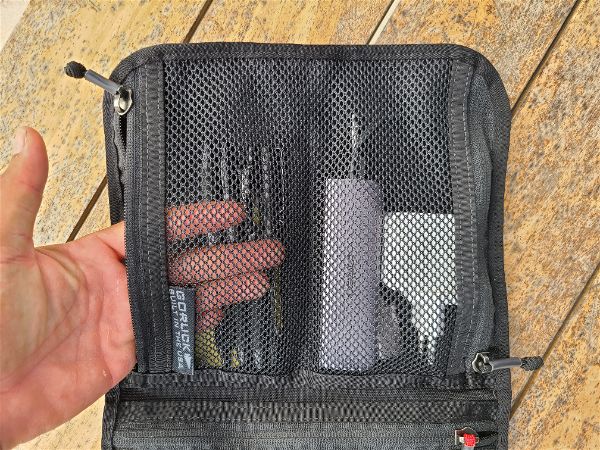 Considering nearly anytime I work I'm using my laptop and hotspotting on a phone that is nearly dying, leaving the wrong cable at home can hamper a day – or a week – of productivity.
Since I've been using the Wire Dopp, everything I need stays in one spot, organized. Thanks to the see through mesh, I flip it open quickly to see if everything is there, toss in the bag of the adventure, and I'm ready to go. No more forgetting essential cables and thumb drives. $25 for that kind of assurance is a solid deal.
COMPLAINTS ABOUT THE WIRE DOPP: IT'S BEEFY
Though I personally don't have any complaints about the wire Dopp, the one complaint I've heard is it is overbuilt. Some have suggested that the 1000D Cordura Nylon used on the outer shell adds too much weight and should be bumped down to 500D or something lighter. If you are worried about ounces, perhaps this may be an issues for you.
For me, I like and appreciate the 1000D Cordura. The thick material adds a "new school heirloom" quality to the case and because of the toughness it would be something your grand kids dig out of a box and use five decades from now. Think of it along the lines as a saddle leather over the shoulder briefcase. You could use something lighter, but using that tough material that brings durability and charm adds character to the piece.
Also, in the last 6 months of using the Dopp, the nylon has softened in a way that cushions my devices on hard surfaces when I set the case down. All in all the single complaint – overbuilding with 1000D Cordura – is something I like, and that doesn't make enough of a weight difference for me to care.
ESSENTIAL SPECS OF THE GORUCK WIRE DOPP
Price: $25
Weight: 6 ounces
Materials: 1000D Cordura Nylon outer, mesh lined inner pockets, YKK zippers, 20mm duraflex buckle and nylon strap closure
Warranty:
GORUCK SCARS Lifetime Guarantee

Pocket Measurements (3 Total):

Large: 8″ x 9.25″
2 x Small Pockets: 4.5″ x 7.5″

Dopp Measurements: 8.5″x9.5″ (closed)
PROS | CONS OF THE GORUCK WIRE DOPP
| | |
| --- | --- |
| PROS | CONS |
| "Heirloom quality" durability build, will last for years | Heavy, 1000D Cordura outer may turn some off |
| Minimalist and simple approach forces minimalist packing | |
| See through mesh lined pockets make everything visible and easily accessible | |
| 1000D Cordura nylon outer wears well and provides slight cushioning for electronics | |
| Flat design is great as it packs flat, laying against book, laptop, tablet, etc. | |
—————————————-
QUICK RATING OF THE GORUCK WIRE DOPP AS AN ELECTRONICS TRAVEL ORGANIZER
GORUCK WIRE DOPP SNAPSHOT

~$135 -$165

Read on to discover more about my experience with the GORUCK Sandbag.

Or, visit GORUCK to see available options before they sell out.

OVERALL

5/5




VALUE: At $25, cheap and worth every dollar – 5/5




5/5

MATERIALS: 1000D Cordura Nylon is a tough shell, tough buts smart mesh adds functionality, and the durable little buckle finishes materials 5/5




5/5

CONSTRUCTION: Heavily stitched, expect no issues 5/5




5/5

DESIGN AND FUNCTION: Clamshell, fold flat design with see through pockets, sized just right for cables, drives, and peripherals 5/5




5/5

DURABILITY | RELIABILITY: No issues in months of hard use, and backed by the SCARS lifetime guarantee




5/5

The simplicity and functionality of the Wire Dopp, in a mini size.
Mini Dimensions: 4.5″ x 9.75″
2x Mini Pocket Dimensions: 3.25″ x 9.75″
The mini has the same tough materials and build quality as the standard GORUCK Wire Dopp

FULL GORUCK WIRE DOPP REVIEW
MY EXPERIENCE USING THE GORUCK WIRE DOPP
As a DN and a day to day remote worker, by backpack is essentially my office. Whether I'm working at a coworking space, in a café, or on a beach, everything I need to work – laptop, charger, phone, cables, dongle, thumb drives, blue tooth head phones, pens, tablet, etc. – has to come with me. Packing every single one of these items separately is a recipe for ending up driving back home when my laptop goes dead as the best case scenario, and being screwed when in a remote Sri Lankan surf town as a worst case scenario.
The clear solution is get organized, and store everything in a single kit. In this case, the GORUCK Wire Dopp kit.
I've use the GORUCK Wire Dopp for a few months and love its simplicity, tough build, and low key way of forcing me to get organized and stay minimalist. I've had other options – pencil pouches, satchels, a dedicated pocket on my backpack – but having a single kit that I remove and transfer between bags, and keep things organized between switches, has worked much better.
—————————————-
DESIGN AND FEATURES
Clamshell style opening (like the GORUCK backpacks) protects your gear with 1000D Cordura outer, then unclips to make all of your gear available – surgery style
See through mesh pockets – make everything visible, so you're not digging in the darkness
Fold flat design, allows the Dopp kit to pack in an unintrusive way in your pack, same way your folded shirts and undies do
Perfectly sized pockets use space well yet force minimalism – they're large enough for a cable or two, but not large enough for ten. This encourages you to take what you need, and has plenty of space for it, but no more
—————————————-
MATERIALS
1000 Denier Cordura Nylon is the primary material in this organizer, and actually the only complaint from people.
A little background – 1000D Cordura Nylon is a tough, tear resistant, and abrasion resistant cloth used in the toughest bags. It has lots of military applications and is my preferred material in backpacks as after 15 years of use, I have yet to see Cordura nylone wear out.
For the complaining crowd, 1000D Cordura is too heavy for a small piece of kit like this.
On the contrary – I love it. Just as heirloom quality briefcases, toiletry kits, and accessories use thick, dense, top grain leather to create products that never fail and age with grace, using a heavyweight cloth adds character and durability I appreciate. Yeah, it adds up to a few extra ounces, but it will be something that your grandchildren argue about when they pull the Dopp out of your locker…and use it.
—————————————-
CONSTRUCTION, QUALITY, AND DURABILITY
The standard heavy duty stitching and military grade materials that come with all GORUCK gear add to the value of the GORUCK Wire Dopp.
To make it even better, the Wire Dopp is back by GORUCK's SCARS Lifetime Guarantee, so once you buy it you'll never have to worry about it again.
—————————————-
VALUE
At $25, this tech organizer runs about the same price as any other organizer, but will last far longer, and has a few functional points (lay flat design, see through pockets) that make it better for tech heavy nomads

THE VERDICT
If you carry a lot of tech daily (like I do), need to stay organized, and lean towards minimalist, the GORUCK Wire Dopp is a great value, packed with just the right elements of simplicity and function. At $25, you won't be able to beat it.