For anyone that lives an active lifestyle with a fast pace, where that involves Crossfit, kettlebell training, rucking, or even a little bit of the outdoors, your choice of footwear is nothing to take lightly. For the avid fitness enthusiast, spending 400+ hours a year in your training shoes isn't a stretch – so those shoes had better be comfortable and high performing. For fitness and enthusiasts with varied tastes of exercise, a great option for you just hit the market – the GORUCK Ballistic Trainer.
This common-sense yet innovative shoe takes the repeated "cross-trainer shoe" model and slams it head-on with GORUCK's standard of making simple yet tough gear. Whereas your average running shoes should be replaced every 3 to 6 months and are too soft in the uppers and soles for intense Crossfit and lifting, the GORUCK Ballistic Trainers are designed to last for years and designed to handle any HIIT workout, lift, or run you can throw at them.
I tested the Ballistic trainer on sock free 10k's, tens of miles of running and sprinting, sandbag Crossfit and kettlebell workouts, and impromptu rainy hikes through, and I'll share the details of how they performed in this full GORUCK Ballistic Trainer Review.
Spoiler alert, but these are possibly the most comfortable performance-oriented shoe I've ever worn
This is a GORUCK Ballistic Trainer Review for versatile wear. Not just for Crossfit and rucking, but for daily wear, home workouts, and travel.

CONTENTS OF THIS GORUCK BALLISTIC TRAINER REVIEW
FULL GORUCK BALLISTIC TRAINERS REVIEW

OVERVIEW OF THE BALLISTIC TRAINERS
With the Ballistic Trainer, GORUCK created an awesome "2-speed" trainer, built with an agile yet durable rucking boot in the back and a breathable, grippy, flexible training shoe upfront. By combining two different types of rubber compounds in the soles and two different types of materials in the uppers, these shoes effectively have "gears" tuned for support and long life when you're rucking or running and traction & flexibility during high-speed movements and HIIT training.
Beyond performance-related design, these shoes are comfortable – adequately cushioned in the right places and lined in a way that makes sockless/barefoot wear possible.
If you're into trainers and sturdy/durable shoes, these shoes are tops and hard to beat. For workouts, you'll be hard-pressed to find a more freeing, versatile shoe that is sufficient for cross-training.
For travelers, if you spend long days on your feet and walking, you'll appreciate the build, comfort, and breathability. In drier climates, these shoes will work perfectly as a hiking shoe too. Additionally, the understated look makes them versatile and easier to wear. If you're a fan of the look and breathable nature of knitted shoes like All Birds but want more durability and versatility in how you can use them, you need to check out the Ballistic Trainers.
HIGHLIGHTS OF THE GORUCK BALLISTIC TRAINERS
Designed for 2 "gears" of speed in exercise, slow speed, and high speed/explosive.

Maximum durability, stability, and arch support in heel oriented low-speed activities (rucking, lifts) along with a stiffer midfoot arch and heel cup to support slow, sustained movements and weighted movements.
Traction, breathability, and freedom of movement in toe/forefoot dominated Omni-directional explosive movements (sprinting, power lifts, plyometrics)

Takes the shoe industry "cross-trainer" standard and rebuilds with tougher materials – ballistic nylon, denser, more resilient foams – that perform better and last longer than the standard "3 to 6 months" before replacement
THE BALLISTIC TRAINERS ARE BEST FOR
Crossfit
HIIT workouts
Long days walking
Users that appreciate longer life in a shoe over a pillowy sole
Hard users that like the current "knit shoe trainers" trend
ESSENTIAL SPECS OF THE BALLISTIC TRAINER
Price: $125
Weight: 10.8 ounces per shoe
Best Use: Crossfit, trail hiking, walking, travel
Lifetime guarantee through GORUCK SCARS Program
PROS & CONS OF THE GORUCK BALLISTIC TRAINER
| | |
| --- | --- |
| PROS | CONS |
| Designed for 2 "gears": Quick and low speed, optimizing for performance in dynamic movements and longevity in slow movements | There will be a short "break in period" |
| Extremely breathable toe box keeps your feet comfortable during sweatilly intense workouts, and in hot and humid climates | Those used to "squishy" trainers will find these slightly stiff at firs |
| Muted look and design with knitted shoe aesthetics gives an understated and versatile style | May be too breathable for cooler seasons and climates, especially if cool and wet |
| | Low ankle cut is great for training, but may not deliver enough support for weighted (45lbs+) long hikes (10miles+) for most people |
GORUCK BALLISTIC TRAINER QUICK RATING

~$135 -$165

A Cross Trainer built tougher than average and designed for a longer life, use under heavy weight, and a more varied set of activities. After many workouts and miles of wear, this extremely breathable and adaptive shoe is possibly the most comfortable high performance shoe I've worn. Truly gripping in sprints and HIIT workouts. Sturdy and support in miles of low speed runs, rucking, and walking. If you're looking for a do it all shoe that's comfortable and won't need to be replaced in 6 months or a year, I recommend the GORUCK Ballistic trainers.

Read on to discover more about my experience with the GORUCK Ballistic Trainer.

Or, visit GORUCK to see available sizes and colors before they sell out.

OVERALL

4/5




VALUE: 4/5




4/5

MATERIALS: 5/5




5/5

CONSTRUCTION: 5/5




5/5

AESTHETICS & STYLE: 3.5/5




3.5/5

DESIGN AND FUNCTION: Handle placement makes these a versatile tool 5/5




5/5

DURABILITY | RELIABILITY: No issues in months of hard use, and backed by the SCARS lifetime guarantee




5/5

COMFORT: 3.5/5




3.5/5

CLICK HERE TO CHECK AVAILABILITY OF THE GORUCK BALLISTIC TRAINER
——————–
QUICK VERDICT ON THE GORUCK BALLISTIC TRAINER
A solid cross trainer, perfectly designed for HIIT, functional resistance training, and high-speed activities. Suppose you're prioritizing breathability, ankle range of motion. And durable tread, you'll enjoy the GORUCK Ballistic Trainer.
Highly recommended as a Crossfit training shoe and walking shoe.
CHECK OUT REVIEWS OF THESE SIMILAR PIECES OF FOOTWEAR
---
FULL GORUCK BALLISTIC TRAINERS REVIEW
HOW I TESTED THE GORUCK TRAINER AND WHY YOU SHOULD TRUST THIS REVIEW
There are a lot of talkers and experts on the internet with nothing to back up their words. However, I'm not one of them. I'm Crossfit Level 1 trainer, former Marine, and consummate travel that stays ready for adventure – on land and sea. I've trekked everything from Patagonian backcountry to the Himilayas and the Ho Chi Minh Trail solo, so I judge these shoes with the experience of getting fit for those adventures in mind. At home, Crossfit, kettlebell training, sandbag training, and running up mountains is how I stay fit – and I'm judging the Ballistic trainer on those criteria.
Over the last couple of months, I've tested the GORUCK Ballistic trainer on and off for travel, daily wear, and various HIIT workouts, but these were the most "interesting" events:
An 8.5 mile run without socks, on beaches around an island at noon (90 degrees outside)
Tens of miles walked on various terrain in the Bali heat (85 to 92 degrees)
A few miles walked soaking wet in the rain with a pack
One 5k ruck with ~30lbs
Several Sandbag HIIT workouts (all available here)
A few weeks of daily wear, skip the socks.
I share this info to communicate, I've attempted to abuse the Ballistic Trainers to feel out their highs and lows. We'll get into the details, but the summary is – these are a great pair of trainers for Crossfit and double as low ankle support rucking and hiking shoe as well. The soles are unquestionably stiffer than your average trainer, but if you prioritized durability and want shoes that you won't replace soon, the tradeoff is worth it. For low-speed movements (long shuffle runs, rucking), short-period explosive movements, lifting, and workouts in your box, these shoe rock.
If you want to run on pillows, look elsewhere. If you want a trainer that will stand up to abuse and is tuned to help you perform, you just might like these.
WHAT ARE THE GORUCK BALLISTIC TRAINERS
The GORUCK Ballistic Trainers are GORUCK's take on the traditional cross-training shoe while including their base standard of intense durability, suitability for an environment (from Crossfit gym to combat) end exceptionally tuned for heavy lifting, HIIT workouts, and rucking.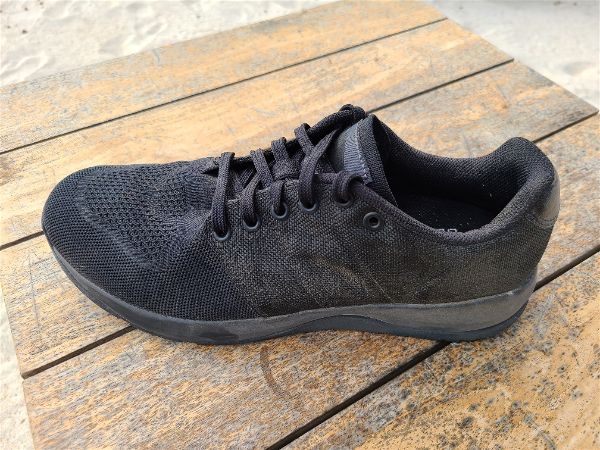 WHY THE BALLISTIC TRAINERS AND WHAT MAKES THEM DIFFERENT FROM OTHER TRAINERS
1. More durability throughout the sole and uppers than other trainers
Whereas most trainers and running shoe manufacturers suggest replacement every 3 to 6 months, the Ballistic Trainer's abrasion and stretch-resistant ballistic nylon uppers resist stretch and last far longer.
2. Each area of the soles and uppers are tuned for the activity they're used most in, and the respective intensity
The sole consists of the separate rubber compounds in the forefoot, midfoot, and heel, balancing traction in the front with long tread life in the back.
3. Denser EVA midsole than most trainers for heavy lifting and weighted (rucksack or weighted vest) workouts
Sturdier, more durable soles make these shoes more supportive underweighted movements and deliver a longer life overall. Your average cross trainer or running shoe's squishy sole needs to be replaced every six months even without the extra weight in workouts – adding weight pancakes their soles quickly. The Ballistic trainer's midsole is designed to last through it all.
MY EXPERIENCE WITH THE BALLISTIC TRAINERS
Over the few months I've been testing the Ballistic Trainer, these shoes have proved to be very different.
FIRST IMPRESSIONS
Out of the box, I noticed three things
1) The soles are damn sturdy but light. They're not nearly as stiff or heavy as a boot, but they are firm, especially in the heel and midfoot, but still flex well in the toe
2) The shoe is insanely breathable. Stand in a breeze, and you'll feel the air run between your toes. This served well on my eight miler in 90-degree heat, keeping my feet completely dry
3) These shoes are very supportive and comfortable. Tired feet happen when your feet work too hard, too long keeping you upright. I immediately felt how supportive the insoles (and arch supports) worked to assist my feet
WALKING AND DAILY LIFE
I've walked around town for tens of miles and motorbiked hundreds in these, and the big takeaway is they stay comfortable. The way your feet feel when I put on the shoes is the way they felt when I took them off.
GORUCK really did a great job with the Workhouse custom inserts they created specifically for this shoe and this size of the shoe. The shoe insert was so supportive walking that even after a full day of walking on beach sand and concrete, my feet weren't tired.
The breathability kept my feet dry and funk free. A few months of wear and, aside from a few hikes/rucks, I haven't worn socks. The warp knit in the toes allows vapor to flow out without much notice.
CROSSFIT, SANDBAG & HIIT WORKOUTS
Unfortunately, during a solid portion of the test, my town was in lockdown – no sweat at all. My Crossfit workouts, normally done with the standard Olympic bar, were done with a 120lbs Sandbag at home to recreate the normal Crossfit WODs (you can find the list of Sandbag Workouts here).
The shoes were solid all of the ways through. Most of the sandbag workouts included the standard Crossfit moves – thrusters, clean and presses, swings, and everything else you can imagine – in a much more unstable sandbag package. For heavy-weighted movements, I always prefer to go with shoes for the mechanical advantage of the heel-toe offset and honestly, to compensate for my lack of ankle mobility to keep my biomechanics/joint alignment healthy and effective during the moves.
Through all of the workouts, the soles felt sturdy and supportive, giving me the support exactly where I needed it. The ballistic nylon uppers and laces (which gave an oddly good amount of friction) hugged my feet and didn't give at all. No shifting. No need for relacing.
The 8mm offset was great. Not as extreme as the 13mm powerlifting shoe offset, but just enough to take pressure off my Achilles (making up for my lack of range), allowing me to set up properly in deep squats and power moves.
Additionally, in plyometrics and Omni-directional dynamic moves, like burpees, man-makers, and clockwork lunges, the shoe stayed in place laterally locking in the heel, with no movement or friction. Even after repeated high-speed movements, I didn't need to replace or tighten the shoe.
All around, for explosive movements and HIIT workouts, the Ballistic Trainer was a solid choice. More supportive underfoot and doing a better job of staying in place than any "supportive" trainer I've tried.
RUNNING AND WALKING IN 90 DEGREE HEAT ON A SANDY, HUMID ISLAND
Though the shoe did well in the Crossfitting and weightlifting category, as well as walking and daily wear, it still needs to be decent for running to be an acceptable all arounder.
So, I decided to test it the worst way possible – I went sockless and ran around an island at midday, in 91-degree heat, through sand, and on concrete. Why? First, this would encourage the most sweating in my feet, and sockless, I'd feel the flaws in seems and construction better. Secondly, the more miserable I was during the running test, the more miserable the shoes would feel – highlighting the flaws even further. In hindsight, that might not have been necessary, but it seemed like good logic at the time.
The tiny island of Gili Trawangan that I was on for a week is ~4.4miles all of the way around.
I tested the running prowess of the Ballistic Trainer by running an entire "lap" of 4.4 miles at noon with 90-degree heat on half beach sand and half brick road with no socks at an 8 to 8.5-minute mile pace.
The Verdict: Absolutely nothing. After 4.4 miles, my feet, knees, and legs felt fine.
The shoes breathed well enough that there was no sweat on my feet. The shoes were supportive enough that my feet weren't tired at all from my shuffle.
Also, keep in mind, I hadn't run more than 3 miles in 3 months, so the fact that my feet and ankles felt fine is a testament to the support and design.
Because my feet felt fresh, I left on another 4.4-mile loop after a 10-minute rest.
This time, things got interesting.
The second 4.4-mile loop was mostly wind sprints to test how the shoe performs at higher speeds. ¼ mile to ½ mile trots were interspersed with 100-meter sprints.
In the sprints, all toe oriented (no midfoot or heel strike), I noticed how much stiffer the sole is than other trainers. It felt almost awkward at first as if the toe rubber wouldn't bend enough. After the second 100 meter sprint, I got over the mental hurdle, and the shoes felt fine enough for the task. Keep in mind; this took place after a few days of "normal wear" and not enough break-in for how durable the materials are.
At around mile 7.5 in 90-degree heat and wind sprints, I finally developed a light hotspot on the instep of my foot, at the crease where the insole midfoot ends and creases with the uppers. Note that I 100% think this 1) would not have happened if I'd worn thin socks and 2) resulted from the power of the sprinting movement – continuing the 9-minute mile shuffle wouldn't have resulted in this.
These shoes are clearly built with durable materials and VERY supportive. At the beginning of the run, I felt myself adjusting my stride to the difference between these and my New Balance Minimus shoes. At the same time, I own lots of GORUCK gear, and it's all overbuilt and (despite the no break-in advertisement) all softens and molds to my body over time.
With the Ballistic trainers, I anticipate the rubber in the sole softening slightly to make sprints more natural and a slight amount of giving in the midsole.
ACCIDENTALLY MINI-RUCKING IN THE RAIN
On my latest travels between islands, I hopped off the boat hungry and ignoring rain clouds massing above the island to instead walk with my 30lbs backpack a mile further away from my hotel. The result – when I finished my meal, the island road of bricks and sandpits was dotted with puddles and flooding, and we had to walk 2 miles to get to our hotel, through the puddles, and through the rain.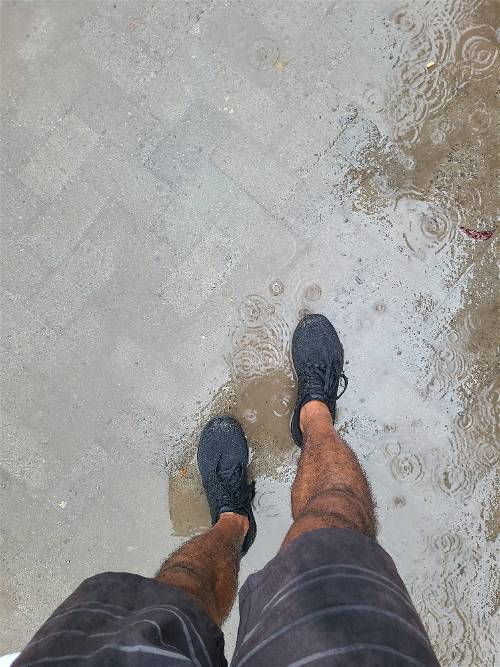 Again, I was sockless, and to my surprise, these shoes aren't that bad to walk in soaking wet, even with a weighted pack.
The squishiness was minimal, my feet didn't feel uncomfortable, and the uppers and lacing didn't loosen up a bit.
Once the rain ended (as it quickly does on tropical islands) and the sun came out, two hours in the sun and the Ballistic Trainers were bone dry. I shook out the sand, and all was good.
BOTTOM LINE FROM MY EXPERIENCE WITH THE GORUCK BALLISTIC TRAINERS
I honestly think the GORUCK Ballistic Trainer is an amazing shoe. As a traveler who tries to carry as little as possible wants to be ready for any adventure and engages in a wide variety of workout types, this shoe's intentional design for pretty much everything while being breathable, comfortable, and light is a clear win.
Last is the strongest point of these shoes – durability. I have literally sprinted the soles off shoes and had gear break on me in the backcountry. I hate gear that is comfortable for the first 10 minutes and needs to be replaced in 3 months or breaks partway through a trip forcing you to bounce between malls in Southeast Asia to find a pair of hiking shoes in your size that do the job half as well as your chosen ones.
I can confidently say if you buy these kicks for a three-year trip, you can count on them to perform – running, Crossfitting, rucking, and walking – for that three-year trip. From the fit and feel, that is the main reason I was happy with my experience testing the GORUCK Ballistic Trainers.

THINGS TO BE AWARE OF ON THE BALLISTIC TRAINERS
These are a "jack of all trades, master of none" shoe. If you're looking for one shoe that does it all, this is likely it. If you want ten different specialty shoes, look elsewhere.
The shoes will be stiffer than you're used to, out of the box, but the sole, uppers, and midsole will break-in.
These are "high performance" shoes. To get the most of them, you'll need to run, jump, lift, and hike.
These shoes are still great walking shoes – especially for hard ground, like packed trails and concrete
These aren't minimalist shoes and are built to be supportive to your arch, not your ankles. If you want ankle support, look into the mid-tops.

STYLE AND AESTHETICS OF THE BALLISTIC TRAINER
These shoes look good in a "new school trainer" sense. Knit shoes like Allbirds or Baabuk have become very popular for casual wear. On the same note, the GORUCK trainers look just as good.
A muted aesthetic thanks to minimal branding, materials that look high quality, and a finely cut finish make these something you comfortably wear with shorts on a summer day, and no one would guess how tough they are.
The GORUCK Ballistic trainers come in 3 colors.
White with light brown soles
Black with light brown soles
Black uppers on black soles
DAILY WEAR & TRAVEL FRIENDLINESS
Though the trainers aren't completely packable, due to their beefy soles, their function does make them very useful for travel as a walking shoe, and if the look fits your style, these could easily be your only travel shoe. Paired with some functional sandals, like the Xero Trails, you'll have a complete adventure travel footwear package. Add a stylish pair of packable shoes, like the **Glyphs loafers** that are good for nightlife and swanky nights out, and you're ready to travel the world for a year.
The extremely breathable uppers will keep your feet dry in hot concrete jungles. The sturdy, dual compound rubber sole feels stiffer than your average trainer but also feels more supportive. As a result, you'll be able to walk many more miles on tours without your feet and lower legs feeling fatigued.
For those that go minimalist (and sockless), I've spent the day in these shoes sockless many times and felt just fine. The smooth seams inside the shoe have no rough spots. The grippy heel cup is well padded and lined with breathable fabric, so there are no hotspots. And the breathable makeup naturally Eliminates a lot of foot sweating
All in all, the function of the Ballistic Trainers makes them a great travel shoe.

CATEGORY BY CATEGORY REVIEW OF THE BALLISTIC TRAINER
HIGHLIGHT FEATURES OF THE BALLISTIC TRAINER
Triple compound sole: Delivers the balance of durability and performance where you need them – traction for speed, durability for repetitive movements.
8mm heel drop: For a relatively neutral offset, with a balanced "mechanical advantage" for all activities.
The low top cut allows full ankle range of motion like a powerlifting shoe
The lacing system tightens well easily, locks the heel and midfoot in securely, and rarely comes untied thanks to "lace lock eyelets."
Custom, the high-density insert supports the three different arches of your foot and will last, holding shape and supporting longer than other trainers.
——————–
FIT, FEEL & SIZING
The Ballistic trainers feel like the perfect balance of a lightweight hiking shoe and an athletic shoe. The heel sole and support have the sturdiness and support of a boot with just enough give to be comfortable. The rear/heel uppers feel just as sturdy. Though breathable and padded, the heel counter/cup remains solid in a good way and cups the heel well.
By contrast, the forefoot sole is extremely grippy and flexible, giving the flexibility and traction (in the forefoot) of a basketball shoe or traditional cross-trainer.
The toe uppers are very breathable, so much that you can easily feel air passing through, and stretchy enough that the toe box doesn't even feel like it's there, leaving lots of room for foot splay and spread.
Around the midfoot, the shoe leaves just enough for slight movement, but not too much to allow the sliding that leads to blisters and hot spots.
The heel stays locked in place through fast, slow, and Omni-directional movements very well all the time, thanks to the molded heel cup, lacing system, and high friction laces.
In the area of comfort, the uppers all feel soft and comfortable, forming to your foot. The sole feels sturdy and supportive without feeling comfortable and will take some intentional break in to hit the sweet spot, but you'll get years of use in return.
——————–
SIZING
The Ballistic Trainers feel very true to size. I wear a 9 in Converse Chuck Taylors and have a 9 in the GORUCK Ballistic trainers, and they fit – in the heel and throughout the sole – feels like it can't get any better.
The heel locks in very well, and the midfoot stays locked in with little wiggle.
Thanks to the woven toe box, the toe box isn't even a concern in sizing. Length is perfect for me (and not really noticeable). The height and the width of the toe box don't matter much because the weave stretches seemingly without contact with the foot. The airflow and level of breathability almost make me forget the toe is there.
Bottom line: True to size and feels spacious in the toe, thanks to the breathability.
NOTE ON ANKLE CUT: THE ANKLE CUT IS DESIGNED FOR FREEDOM OF ANKLE MOVEMENT, NOT ANKLE SUPPORT
The Ballistic Trainers have a low-top ankle cut, which I love because it allows for a more unrestricted range of motion and freedom of movement, which is perfect for the activities and training these shoes are designed for. Crossfit, HIIT works, powerlifting and sandbag training all involve fast movements with a wide range of ankle motion – which is great. The further you go in your range of motion (safely), the more end range strength you build in the muscles around the joints, and the more durable your joints become.
Because most HIIT workouts are only 15 to 45 minutes and the weighted movements are very calculated, it's the perfect place to strip the ankle support that most mid-top boots have in order to put more stress on and effectively increase strength and mobility in the ankles. The trainers are designed for that.
– It was an interesting and familiar, but comfortable, feeling to have a shoe that allowed such a wide range of ankle movement and forefoot movement still be so sturdy in the heel and sole.
WEARING THE BALLISTIC TRAINERS SOCKLESS
On day 1, out of the box, I decided to take the GORUCK Cross Trainers out on a 5-mile run, no socks. I did this for two reasons, specifically relating to assessing the shoes for travel.
1. When you're traveling and hiking for weeks, eventually, you'll run out of clean socks. Having the option to go sockless comfortably and rinse your shoes out later is an awesome plan B, but the shoes still need to be comfortable.
2. If shoes perform well without socks on day 1, I've found they're great all-around wear shoes as they break in more.
On the GORUCK Cross Trainer's (not these shoes, but the predecessor and big brother), the only issues that hit were when a hotspot on my heel developed around mile 5 – neither a bad thing nor a good thing. The issue with the GORUCK Cross Trainer was the suede heel counter collected sweat, unlike the rest of the shoe that breathed it out perfectly and delivered a lot of grippy friction on my heel over time, creating a Hotspot.
The reason this wasn't bad is that the heel counter was designed to "lock-in" the heel for rucking and the assumption that any smart Rucker wears socks.
Now those were the I/O Cross Trainers, and we're reviewing the Ballistic Trainers.
So, what's the difference between the Ballistic Trainers and GORUCK Cross Trainers?
In the Ballistic trainers, GORUCK coated the heel counter and heel cup with breathable, low friction nylon mesh that still has enough friction to lock the heel in place, but not enough to create hotspots or be uncomfortable barefoot. This upgrade/evolution from the Cross Trainers effectively makes the Ballistic Trainers near perfect for sockless, wear, training, and general walking.
——————–
MATERIALS AND CONSTRUCTION OF THE BALLISTIC TRAINER
Toe Uppers: Breathable warp knit – single weave without seams is extremely breathable and flexible for highly dynamic, forefoot-oriented activity (plyometrics, sprints, etc.)
Midfoot Uppers: 1680 denier Cordura Ballistic Nylon – supportive, minimal stretch, and extremely abrasion-resistant and durable
Heel: Ballistic nylon upper, thermoplastic polyurethane heel cup is flexible yet tough, foam cushions – durable and supportive build for weight movements (lifting) and slow movements (hiking, rucking)
Toe sole: Cushioned, high traction rubber compound for highly dynamic, explosive, forefoot oriented activity (plyometrics, sprints, etc.)
Heel sole: Stable, long life-oriented durable rubber compound withstands repeated abrasion and impacts of heel strikes in rucking and hiking and supports heavy lifts
Insole: Custom molded Gradient Density™ EVA insert, denser and more durable than the industry standard, molded to support the three types of arches in your foot, and cut for this shoe and specific sizes

VALUE & PRICE: WORTH THE PERFORMANCE AND DURABILITY OVER OTHER TRAINERS
At ~$125, the Ballistic trainers sit right in the average price range for Cross Trainers – however, the Ballistic Trainers deliver much more value than your average trainer. This is thanks to:
1) Longer life and durability of the shoe
2) The GORUCK SCARS lifetime guarantee
LONGER LIFE
According to Asics and Brooks, the average running shoe should be replaced every 500 miles maximum or eight months maximum, due to the compression that takes place in the midsoles, wearing of the tread, and stretching that happens in the uppers, ultimately leading to a lack of support and protection in essential areas for your feet.
However, the Ballistic Trainers aren't your average shoe.
The uppers, made of Ballistic nylon-designed bulletproof vests, have minimal stretch over their lifetime.
The triple compound rubber tread optimizes tread life by activity and location on the foot – while the average shoe uses the same soft rubber across the foot.
The midsoles of the Ballistic trainer intentionally use a denser EVA foam that is denser in the heel and softer in the toe for max life.
In short, because the Ballistic Trainer is designed tougher for longer life, its already a value.
LIFETIME GUARANTEE
Straight from GORUCK,
"All GORUCK built gear, apparel, and footwear — everything we manufacture — comes with our Scars Lifetime Guarantee. If there is a defect in workmanship or materials or if you actually manage to wear our stuff out, GORUCK will fix or replace (at our discretion) your item, free of charge. No receipt is necessary — we can recognize our own stuff — and your date of purchase does not matter. Hence lifetime."
So, once you buy the Ballistic Trainers, you're covered for life. That is a hard value proposition to beat.
Click here to learn more about the GORUCK SCARS Guarantee.

COMPARISON TO OTHER SHOES: TRADITIONAL TRAINERS AND THE GORUCK I/O TRAINER
THE BALLISTIC TRAINER VS. TRADITIONAL CROSS-TRAINERS: NIKES, NEW BALANCE, ETC.
Normal running shoes are replaced every six months to a year (300 to 500 miles) due to sole compression and weakening of the outsole and tread, and excessive stretching of the uppers. The average running shoe is only designed to be worn three months to a year (300 to 500 miles), at which point the soles are expected to be too compressed, and the uppers too stretched (Source: New Balance).
Add the stress of a 300lbs lift session or miles with a 45lbs ruck, and failure is imminent. Every element of the Ballistic Trainer that is expected to fail in normal trainers is beefed up with materials that intentionally do not fail. The result is a slightly stiffer shoe upfront (that still breaks in well) but is better for weighted activities and delivers a longer life.
You will naturally get a longer life out of the Ballistic Trainers than you will Brooks, New Balance Trainers, and Nikes because of the sturdier materials. Once you break them in, you get a longer enjoyable life and save on buying shoes in the same period.
In contrast, if you don't mind replacing your shoes every 6 to 9 months and are buying trainers predominately for running – not weightlifting or Crossfit – traditional, soft-soled trainers may be right for you.
The Ballistic Trainer does have the DNA of a trainer, but the carefully selected and placed materials add up to a longer life and tuned performance across more activities. Thanks to the beefy build in the heel and midfoot, the Ballistic Trainers performed far better in weighted activities (lifts, rucking), especially after a few months and beyond, when running shoes are normally retired.
BALLISTIC TRAINERS VS. GORUCK I/O TRAINERS
The Ballistic Trainer is more of a Crossfit oriented and explosive training shoe more suitable for running vs. a rucking shoe with the soul of a boot (the GORUCK I/O Trainer)
The GORUCK I/O Trainer's suede heel cup adds tons more heel lock-in but eliminates the possibility of barefoot wear.
The GORUCK I/O Trainer's 1000D Cordura nylon toe box is tougher than the Ballistic Trainer's weave but isn't nearly as breathable.
Click here to read the full review on the GORUCK I/O Trainer.

THE VERDICT ON THE GORUCK BALLISTIC TRAINER
If you're in search of a training shoe that does it all – rucks, takes weight well, and handles explosive movements – and is built to last much longer than your average training shoe, the GORUCK Ballistic Trainers are likely for you. As long as you don't mind a slightly stiffer sole and a slight break-in period, to reach that normal level of sole "squishiness," you'll love the performance you get in return for these.
For travelers and daily wearers that don't mind a slightly firmer sole and also appreciate the new school "knitted shoe" aesthetic in a very neutral package visually, you'll also find a long-lasting high performing shoe in returns. Days of walks for miles in the city, long hikes on trails, and hours on your feet will make you appreciate these "do it all" shoes.
I highly recommend the GORUCK Ballistic Trainers

OTHER CONTENT TO FIND THE SHOE FOR YOU