Learn to surf is a bucket list worthy adventure and the Sri Lanka surf camps scene offers the chance to learn to surf, for cheap, in unbelievably warm water and on fun, plentiful surf breaks. But with all of the legendary surf spots, like Hikkaduwa and Arugam Bay, and 30+ Sri great surf schools across Sri Lanka's south coast, picking the surf school for you can be daunting.
Fortunately, this complete guide to the surf camps of Sri Lanka has you covered.
Read on for a guide to choosing the Sri Lanka surf camp and location best for you based on your experience, vibe, the time of year you want to travel, and more.

Contents of this Guide to the Sri Lanka Surf Camps

Why Choose Sri Lanka Camps to Learn to Surf
The Sri Lanka Surf Camps are Cheap
The Surf Breaks are amazing and plentiful
The surf in Sri Lanka is good anytime of year
Sri Lanka has surf breaks for every level, from beginner to pro – making progression (and an indefinite stay) very possible
The rest of Sri Lanka is amazing
---
Why Sri Lanka? The Sri Lanka Surf Camps are Cheap and Surf Conditions are Amazing
Sri Lanka is arguably one of the cheapest places in the world to learn how to surf.
Though Portugal is legendary, the water is wet suit cold year round and you're paying "Europe prices" for the experience…which means you'll either pay more or have a shorter stay.
Nicaragua and Costa Rica have near perfect conditions and warm water and are cheaper than California, but they still charge "North America prices".
Bali is fantastic, with the Canggu surf lesson scene pumping, cheap, and effective, but the heavy western presence still makes things pricier than Sri Lanka…and the Sri Lankan seafood is better and cheaper – though I still recommend learning to surf in Bali as a great option.
As great as these spots are, Sri Lanka is cheaper with warmer water and just as many (if not more) amazing breaks.
---
The Surf Breaks are amazing and plentiful
Whether you're beginner or on the cusp of going pro, there are countless spots and breaks that will challenge and entertain you – all within a short Tuk Tuk ride of each other, making it easy to progress and experience variety.
From foamy waves on sandy bottom beach breaks, to barreling hallow waves over shallow reef, you'll find every possible kind of surf experience you could ever want to try, and several opportunities for it too
---
The surf in Sri Lanka is good anytime of year
Whether you come during the southwest coast's best season, during November to April, or during the southeast coast's best season, from April to November, there will always be a place with constant sun, swell, and surf.
---
Sri Lanka has surf breaks for every level, from beginner to pro
Whether you need a nice, mellow foam wave with a soft sandy bottom so you're not afraid to eat it, or a 500 meter long hollow break coming off a legendary point, Sri Lanka has what you need.
Don't believe me? Check out the following Sri Lanka surf guides for a list of surf spots, breaks, and average waves. You will get excited.

What to Expect in Sri Lanka
---
What to Expect from the Experience
Regardless which of the Sri Lanka surf camps you're going to, expect the experience of getting there to be an adventure…but a good one.
If heading to the southwest coast around Hikkaduwa expect a couple hour ride – privately and calmly via personal taxi, or adventurously and cheap via local train (with no first class car). If heading to the southeast coast toward Arugam Bay, expect an 8+ hour beautiful ride through beautiful landscape that looks akin to the Garden of Eden with docile elephants on the sides of the road.
At your destination, expect "developing" infrastructure throughout town, chaotic traffic, and getting around via memorable "Tuk Tuk". The surf camps vary and level of luxury is correlated with price, but expect everything from "adventurous" to luxury.
The water will be warm and likely hotter than the air. Midday day sun will be hot enough to melt wax on boards if you're not getting wet enough, so be sure to stash water and stay hydrated.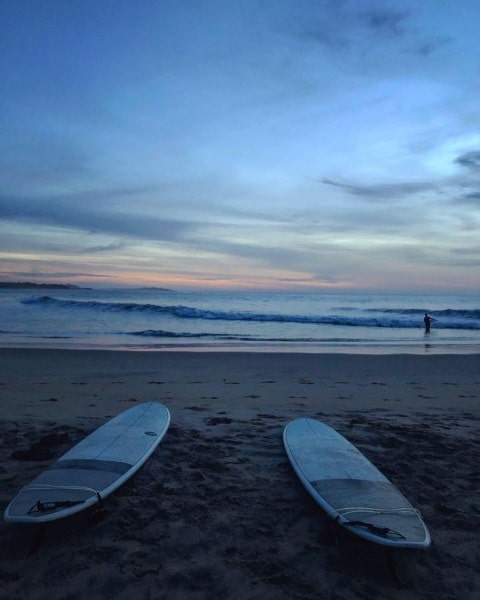 The food will be intensely memorable, based mainly around seafood with amazing seasonings and spices. Treat yourself to roadside juices and smoothies made from fresh, pre, and exotic fruits you'll rarely get at home.
Surfboards and gear will be well worn, slightly dinged, and not exactly "performance gear" unless you're paying a premium. This will suffice for new surfers, but experience surfers should consider bringing their own boards and gear.
After your surf camp experience, plan to explore the country and enjoy a place beyond what you could have imagined. From jungles and national parks, to serene beaches, to architecture and UNESCO world heritage sites, legendary train rides, and a complex and empathy inspiring history, your Sri Lanka experience beyond surfing will leave your mind blown.

Prices to Expect in Sri Lanka
Surf lessons: 2,000 Rupees (~$12 USD)
Board Rentals: 300 Rupees (~$1.70)
Tuk Tuk around town: 150 Rs. (~$.85)
Beer: 300 -1000 rupees ($1.70USD – $5.70 USD), depending on the establishment and beer.
Full Body Massage: ~$35 USD including spa treatment

Weather in Sri Lanka
Expect two distinct seasons: monsoon season and hot/dry/perfect.
Monsoon Season: Morning or evening showers hitting the East Coast and Southeast Coast during November to April and hitting the West Coast and Southwest Coast during April to November
Hot/Dry/Perfect: During the rest of the year, expect dry and hot

Best Times to Go to Sri Lanka Surf Camps
Best Time – November to April to the southeast coast of Sri Lanka: (Hikkaduwa, Midigam, Welligama, Mirissa, and Ahangama)
Still great – April to November to the southwest coast of Sri Lanka: (Arugam Bay)
The best time to go to Sri Lanka for surf camps is no doubt November to April, when surf is best on Southeast coast, around Hikkaduwa – just 2 hours from Colombo airport.
Coming between November and April sets you up very well, as the second biggest surf spot in Sri Lanka, Hikkaduwa, is on and pumping and in the middle of its best weather. Additionally, Hikkaduwa can easily be reached by a cheap and frequent train, several VIP buses or local buses, or a ~$70 taxi if you're really weary about keeping your board safe. Additionally, if the chaos of Hikkaduwa becomes too much, other surf spots such as Midigam, Welligama, Mirissa, and Ahangama, are all within a convenient hour ride away – making Hikkaduwa a great, versatile option to your sur trip at and hit one of the Sri Lanka surf camps.
…but…
Anytime is a good time of year to go to Sri Lanka. The sights will be beautiful, and though monsoons and intermittent showers may be hitting one side of the southern coast, the opposite side will have endless sun and perfect surf.
If you come between April to November, Arugam Bay will be your best bet. Though Arugam Bay is inconveniently on the other side of the country, an 8 hour ride away by taxi, this is arguably the best surf spot in Sri Lanka. Plan on the inconvenience and adventure of travel paying off heavily.

The Sri Lanka Surf Camps By Region
---
Hikkaduwa Surf
A quick 2 hour ride by train, taxi, or bus from Colombo, Sri Lanka's second best surf spot is convenient to get to and filled with epic waves.
Why Go: Excellent surf, convenient from Colombo
When: November to April
Vibe: Crowded, slight localism, and mildly tourist – but the swell pumps constantly
(Read our Hikkaduwa Surf Guide to learn more about what's in store)
---
Hikkaduwa Surf Camps

Weligama Surf
A small fishing village 1 hour from Hikkaduwa and 30 minutes from Galle on the southwest coast of Sri Lanka, that offers great surf and a balanced mix between a chill surf scene and truly local Sri Lankan culture. Welligama's bay around surrounding area offer numerous sandy beach breaks that are perfect for beginners:
Why Go: Plenty of beginner friendly breaks and a very chill vibe
When: November to April for the best weather and to avoid monsoon season
Vibe: Chill, local, and nearly devoid of the Hikkaduwa bustle and touristy vibe
---
Weligama Surf Camps

Midigama Surf
A small surf city near Welligama gives a bit of respite from the busier, more touristy places on the Southwest coast of Sri Lanka, offering the same great surf with a small town, more "Asia adventure" feel. Midigama is said to be more like what Hikkaduwa was back in the 1970's but lost with the increase in tourism.
Why Go: Peace and quiet, to get away from the crowds
When: November to April
Vibe: Chill and adventurous…yet close to more developed areas
---
Midigama Surf Camps

Mirissa
Just south of Weligama, Mirissa is a simple crescent shaped beach covered by palm trees with a sandy beach break with lefts and rights that are perfect for beginners.
Why Go: Beginners looking for a less crowded break
When: November to April for best weather and to avoid the monsoon season
Vibe: The same chill vibe of Weligama combining a chill surf scene with unchanged Sri Lankan culture
---
Mirissa Surf Camps
Surf & Yoga Mirissa (Location | Website | Trip Advisor)

Ahangama
Located between Weligama and Uniwatuna and Galle, a short 25 minute ride north of Weligama, this stretch of the Southwest coast of Sri Lanka is another emerging spot and has plenty of breaks for beginner, intermediate, and advanced surfers.
Why Go: A good stop on the way south from Hikkaduwa with much smaller crowds
When: November to April for the best weather and to avoid monsoons
Vibe: Chill and local, another emerging surf spot
---
Ahangama Surf Camps

Arugam Bay Surf
Arguably Sri Lanka's best and most legendary surf spot. An 8 hour ride from Colombo, this hidden surf paradise has every possible type of surf for every level and always has a break pumping. From point breaks with 500 meter long rides, to barrels, to foamy beach breaks for beginners, Arugam Bay has it all. If you grow tired of the "legendary", the known, and the crowds, simply hire a Tuk Tuk driver with a little knowledge and ride 20 minutes to a hidden break…where you'll be the only one riding.
Why Go: Epic surf for all levels
When: April to November for the best weather and to avoid monsoon season
Vibe: Can be packed and life here revolves around surf. Expect localism that reduces as you move away from the main breaks
(Read our Arugam Bay Surf Guide to learn more about what's in store)
---
Arugam Bay Surf Camps

More Great Sri Lanka Content
2 Week Sri Lanka Itinerary**
3 Week Sri Lanka Itinerary**