This kettlebell workout is one of my favorites and a complete smoker. No matter who you are, this workout will smoke you – hence the name "kettlehell".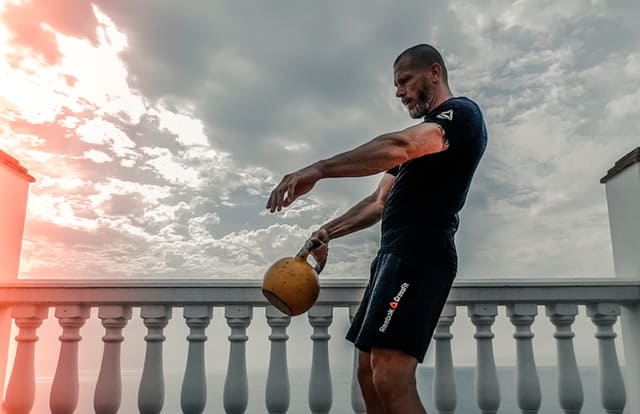 Traveling? Either improvise and use your backpack as a kettlbell, or pick up a sandbell and fill it with either water or sand.
---
CONTENTS
Note: This article may contain affiliate links that pay for the costs of writing at no cost to you
---

KETTLHELL WORKOUT
Using one kettlebell or dumbbell, run through 5 rounds of this circuit using a recommended 45lb kettlbell.
For beginners, scale the workout to 3 rounds using a 25lb kettlbell
---
Complete 5 Rounds as quickly as possible
20 Kettlebell Deadlifts (two handed)
20 Sumo Deadlift High Pulls (two-handed)
20 Kettlebell Swings (two-handed)
10 Kettlebell Swings (right hand)
10 Kettlebell Swings (left hand)
10 Clean and Presses (right hand)
10 Clean and Presses (left hand)
Repeat
Recommended Weight: 45lbs, scale to 25lbs to start

YOUR SOLUTION TO GETTING IN A KETTLEBELL WORKOUT ON THE ROAD
When traveling, one of the hardest workouts to get is a resistance workout, or finding weights (like kettlebells). My solution to that problem is the sandbell.
The sandbell is essentially an overbuilt waterproof dry bag that you can fill with water or sand, clip close, and then use the clip as a handle, effectively creating a "portable kettlebell".
Beyond use as a kettlebell, these bags make great sandbags, weights for weighted backpack workouts offering a cheaper and more versatile option.
Filled to the indicated line with sand these bags weigh in at 10lbs, 15lbs, or 20lbs, depending on the size bag you get.
For road warriors whose space is valuable, this bag is still a fully functioning dry bag useful for everything from keeping your electronics dry on wet adventures, to washing your clothes on the road.
But first and foremost, this thing is a kettlebell…so get after that kettlehell workout. You'll regret it, but it'll be good for you. I promise.
If the Kettlehell workout seems too intense, try doing 100 kettlebell swings a day to get started.
The 100 kettlebell swings a day approach is a great way to ease into kettlebell training, train your posterior chain (glutes, back of the legs, lower back) tone your core, and more in a quick strength workout. Follow it up with a quick 4.5 minute Tabata Protocol workout and you'll have a compact HIIT workout you can do anywhere!