Looking for the perfect backpack, especially as a new traveler, is one of the hardest parts of first-time travel planning, and even follow on travel planning. In this Osprey Farpoint 40 review, we'll aim to help you solve that problem quickly.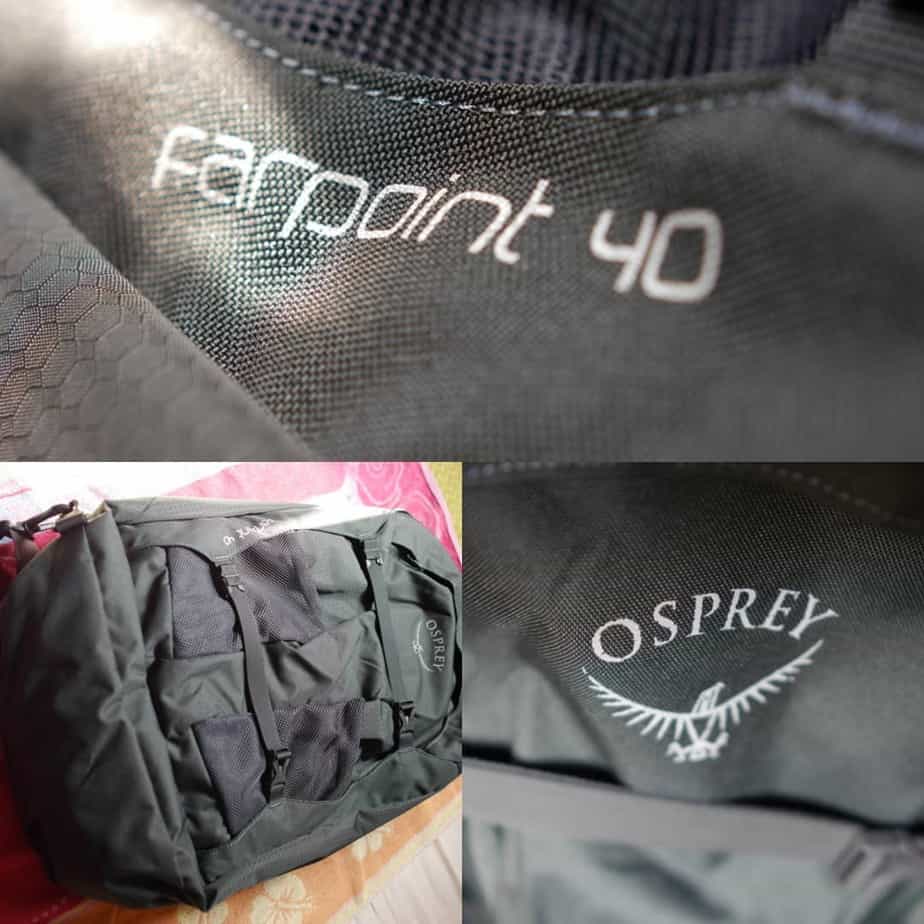 Finding a pack that is comfortable, has just enough space and organization, is durable enough to last for years, and doesn't cost an arm and a leg can feel like chasing a unicorn. Or at least as difficult as finding a beach in Thailand not overrun by tourists…buut all three are out there, somewhere!
Yes, the "perfect pack" will differ by traveler and traveler style, but the Osprey Farpoint 40 is one of the closest things you'll find for the price that suits the needs of most any traveler, whether new to the game or at their 100th country.
Read on for an Osprey Farpoint 40 review and 11 reasons why thousands of travelers have made this their first and last pack, and have loved it every step of the way.
This article contains affiliate links

Contents of this Osprey Farpoint 40 Review

11 Reasons the Osprey Farpoint 40 Travel Backpack is the Perfect Starter Travel Backpack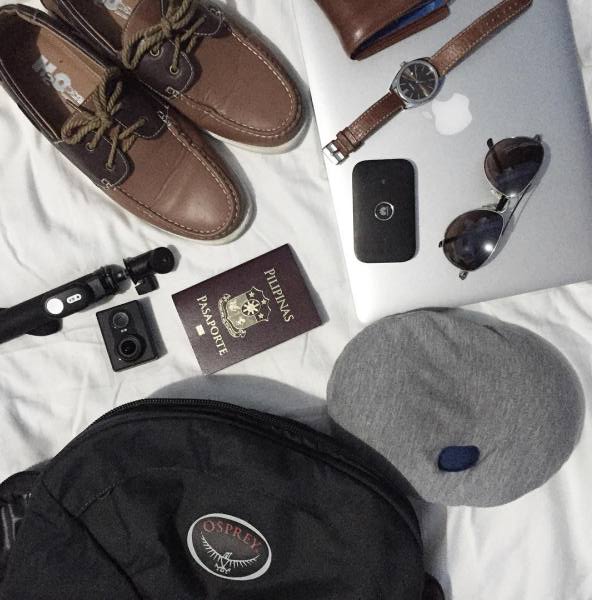 At $137, this bag is cheap and delivers great function and durability for a price that's hard to beat.
Durable and reliable build – more than a few of my friends have traveled hard with this pack for years
Perfectly sized at 40L – the dimensions leave enough room for weeks of travel yet are small enough to use as an airline carryon
Easy to pack thanks to a front panel with wraparound zipper and simple open space. Pair with Packing Cubes for the perfect travel setup
Solid reviews and reputation from comfort, to durability and lifespan, to the warranty
Osprey's "All Mighty Guarantee" means you can travel hard with no worries
Plenty of small details you don't realize you need which makes this bag perfect for first-time buyers
Available on nearly any continent without shipping issues and insane prices
Osprey is a trusted company known for solid gear, and standing by their gear and warranty
Cheap Osprey attachments and accessories make travel easier and mesh perfectly with this bag for the perfect travel kit, like lightweight daypacks, and packing cubes
New travelers and buyers can purchase this bag with confidence because the Farpoint 40 is stacked with all of the major features you'll need to travel easier, thanks to Osprey's years of testing and refinement
---
The "BLUF" (Bottom Line Up Front)
The Osprey Farpoint 40 is a near-perfect backpack for beginner travelers and first-time bag buyers. The perfect size for travel anywhere from a weekend to longer than a few weeks still fits as an airline carry-on. The nuanced features, like handles, compression straps, and pockets are in the right places, and storage for electronics fits your needs without realizing you had them. Last, the build materials and quality are good enough for this bag to last far beyond when you outgrow it.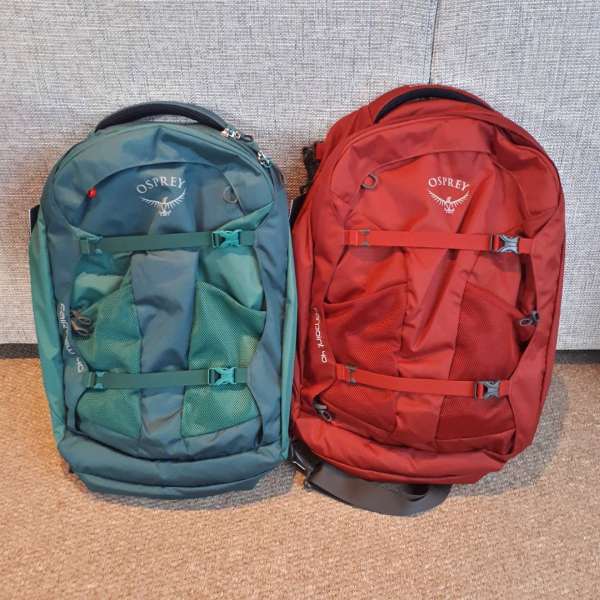 Note that the Farpoint 40 is a travel bag, very intentionally. Though the bag will suffice for hikes with light loads, it excels at moving you and your things by planes, trains, and automobiles conveniently. If you're traveling by foot or camping for extended periods and looking for a starter backpack, consider the REI Trail 40 instead. For everyone else trying to find that perfect first bag for weeks and months of travel, the Osprey Farpoint 40 is likely the best bag for you

Quick Review of the Osprey Farpoint 40
When it comes to carry-on-sized bag options, to be clear, the Osprey Farpoint 40 is legendary (been around a while) and widespread (tons of backpackers have them and are satisfied with them), and for good reason. Among the Osprey backpacks, the Farpoint 40 is arguably the most versatile, and the most appropriate for adventure, whether you're backpacking Europe (and plan to do Cinque Terre on the side), bouncing through Southeast Asia (hitting Bali and the best), or are wandering through South America (from Buenos Aires to Patagonia, to the Caribbean coast in Colombia).
However, with any good piece of gear, there are solid reasons why most people should grab it, and a few inconveniences about the gear that may mean it's not necessarily for you. So, let's look into the pros and cons of this generally awesome carry on size backpack.
Pros of the Osprey Farpoint 40 as a carry on sized bag
Padded carrying handles are conveniently placed on the top and sides, for easy quick transport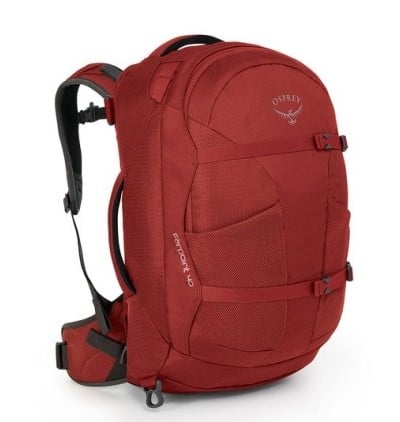 Shoulder straps and hip belt stow away completely, for snag-free overhead and under seat storage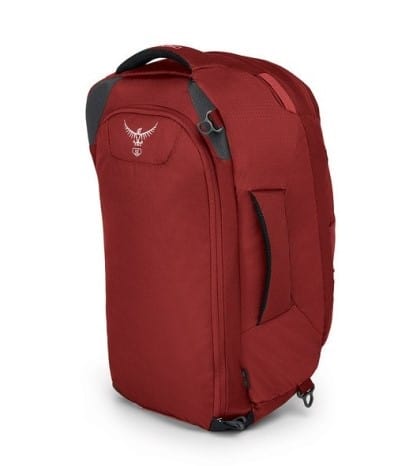 Special internal wire frame distributes weight between shoulder straps and hip belt for more comfort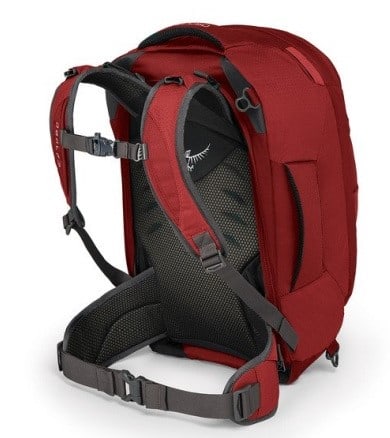 Convenient pocket placement externally and internally keeps your small, quick access items organized
Perfect airline carryon size accommodates plenty of gear for weeks or months, while still fitting overhead and under seat on planes, trains, and buses
Durable build with reliable materials from tough fabrics and high-quality stitching
Comfortable when worn thanks to the internal wire suspension system that distributes and shifts weight between shoulder straps and hip belt–
The price of this bag is very low considering what you get, making it a perfect entry-level ag
Osprey's "All Mighty Guarantee" keeps you covered on the off instance your bag has any issues. Osprey will "repair any damage or defect for any reason free of charge."
---
Cons of the Osprey Farpoint 40
Not the best backpack for hiking – day hikes are ok, but other backpacks are better for trekking
External mesh water bottle pockets are difficult to use if the bag is fully packed
Oddly placed laptop pocket (behind the front panel) is risky when overpacking and setting your bag down, face first.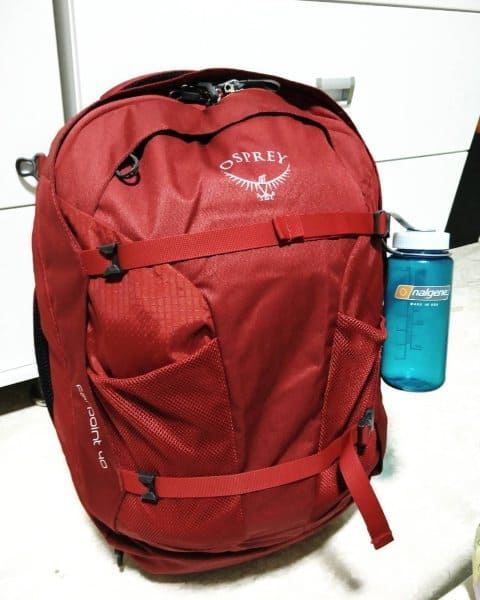 ---

Carry-On Compliance: The Osprey Farpoint 40 fits as a personal item and backpack of carry on size for most airlines, but not for the strictest European budget airlines
With the Osprey Farpoint 40L dimensions of 20" X 14" X 8" (50.8cm x 35.6cm x 20.3cm) this backpack fits as a perfect carry on for most international airlines. However, for extreme budget airlines like Ryanair, Easyjet, and all of those other painful (yet cheap) airlines, the Osprey Farpoint 40l is a touch too large. However, you'll be fine on Asia's budget airlines (such as Air Asia) taking the Osprey Farpoint 40L as a carry on.
Can you fit the Osprey Farpoint 40 under the seat in front of you? Yes, almost…
For most airlines, the dimensions for the available room under the seat in front of you are 18″x14″x8″, which the Osprey Farpoint 40's dimensions of 20" X 14" X 8" exceed by roughly 2 inches in length.
Does this mean that you can't fit the Farpoint 40 under a seat in front of you? Not quite – it depends on the airline. If you can get the backpack onto the airline as a carry on, most flight attendants won't enforce that "extra 2 inches" because it is barely visible. If they do, you can still place the bag into the overhead bin with no problem, as long as you're not on Ryanair or Easyjet.
Airline Carry on Restriction Dimension for Reference
Ryanair's carry on limit is 40cm x 20cm x 25cm (15.7"x 7.9" x 9.9" carry on limit for Ryanair in inches)
Easyjet carry on limit 45 x 36 x 20 cm (17.8" x 14.2" x 7.9" carry on limit for Easyjet in inches)
Air Asia carry on limit 56cm x 36cm x 23cm (22" x 14" x 9" carry on limit for AirAsia in inches)

Technical Details & Farpoint 40L Specs
Capacity: 40 liters / 2441 cubic inches
Dimensions: 20" X 14" X 8" (50.8cm x 35.6cm x 20.4cm)
Weight: 3.1lbs (1.4kg)
Materials: 210denier ripstop nylon
Carryon Compliance: Qualifies for most airlines, doesn't qualify for ultra strict airlines – like Ryanair and Easyjet
Laptop Compartment Size: Fits 15″ laptop with additional tablet pocket

Tips on what to look for in a carry on travel backpack
As you assess whether the Farpoint 40 is good for you or if there is a more suitable pack out there, consider these tips for what to look for in a good travel backpack
Carrying Handles
Airline carry on compliant size
Durable materials (400+ denier nylon, nylon straps, large durable zippers)
Laptop pocket
Electronics Pockets
Organization pockets or plan on buying packing cubes
Comfort – fit to your hips and shoulders with comfortable weight distribution
Vented back panel
Hidden security pockets
Convenient access, such as wrap-around zipper or clamshell style design
---
Quick Verdict on this Osprey Farpoint 40 Review
I highly recommend the Osprey Farpoint 40 is highly recommend as a travel pack, especially for new travelers or travelers with generic travel needs. If you're looking for a travel pack that hikes well, look at the REI Trail 40. Otherwise, the Osprey Farpoint 40 is a very safe bet for adventurous and lightweight travel.
Also consider:


Full Osprey Farpoint 40 Review
---
Who is the Osprey Farpoint 40 for?
Travelers
Backpackers (travel, not backcountry)
Best for travel in a single climate or region due to size
---
What Makes the Osprey Farpoint 40 Better than Other Bags?
Value, durability, versatility, and reliability
Value: At only $137 on Amazon and on REI, the Farpoint 40 is much cheaper than the options
Durability: Countless owners have traveled adventurously and hard for years with this bag with no issues
Carrying and weight distribution system: For those long walks between buses, trains, and hostels, the Farpoint stays comfortable
Nearly perfect for every traveler: For beginner travelers, this bag is a safe bet, offering everything you need. For other travelers, unless you need a pack you can scale mountains with, the Osprey Farpoint 40 will likely fit all of your travel needs
---
My experiences with the Osprey Farpoint 40: Seen in tens of countries around the world with happy users
I've had the pleasure of testing the Osprey Farpoint 40 on several occasions, but all of which took place during a period of one day or shorter…and I absolutely wouldn't recommend a pack solely based on such a short testing period. This pack came onto my radar during a one month stint of travel in Thailand.
My buddy (codename: Doc Strangelove) had the Farpoint 40 while I had the REI Trail 40. We both love our packs and argued about their merits all of the time. Since then, I've bumped into no less than 10 travelers with the same backpack, and every time I interrogate them about their thoughts, their experiences, the pack's shortfalls, and whether or not they would buy it again.
So far, every single traveler I've met would buy it again. For half of them, it was their first pack, and most of them have been using the pack for more than 2 years. None had any bag failures (zippers, ripped seams, etc.), and none had any plans of replacing the pack.
The only complaints were that the external mesh water bottle pockets and the front electronics pockets are difficult to use if the bag is overpacked.
Here are the highlights from the travelers I "interviewed" about their Farpoint 40.
The Impromptu Cycling Trip through Albania using the Osprey Farpoint 40
As I was traveling through Albania, after a stint in Croatia, I was making my way south to some fairly pristine and desolate beaches. One morning, as I left my hostel, I noticed a Farpoint 40 strapped to the back of a bicycle. I started taking pictures of the setup when the owner walked up and we started chatting. I took the opportunity to pick his brain about the bag.
This bicyclist loved the Farpoint 40, mainly due to its size (perfect travel carryon), how easy it is to pack, and how all of the straps zip away. You see, this fella started his 3 week Albania tour backpacking. One day, he was waiting on a bus at a bus station and noticed cyclists cruising by in their spandex ninja wear…and he got kind of jealous. He also noticed that across the street, a bike was for sale for around $100. So, like any rational traveler, he got off the bus and bought the bike and some bungee cords strapped the Farpoint 40 to the back of his bike and started riding towards his destination. It was a week later, after a week of riding, that I met him.
He was having an amazing time cycling and reiterated that with his last pack (a large summit bag, likely bigger than 55 liters) the bag would have been too big and likely had straps hanging everywhere. This wasn't the case with the Farpoint 40.
This case showed off the practical and functional design of the Farpoint. The travel focused design, with all of the straps stowing easily, made it perfectly easy to strap to a bike, without any dangling straps getting caught in the wheel. The size of the bag was small enough to fit well on the bike and still made riding natural while having enough space for everything one would need for a 3-week backpacking/cycling trip. Last, this fella took a spill riding around the corner and ended up crashing his bike. The bag was fine, with a small scratch, but no abraded holes due to the high-quality materials.
In the end, the Farpoint 40 was not only perfect for backpacking but also for this guy's impromptu cycling adventure too.
Backpackers in Croatia using the Osprey Farpoint 40
This was a simple group of great friends that I traveled with briefly. Admittedly, they were more touristy travelers than backpackers and probably would have more often used roller carry-ons in their travels. However, during their stint through Europe (and Croatia where I met them), the Farpoint 40 was a perfect balance. Internal storage and organization were just as good or better than any roller carry-on luggage, but the ability to wear the bag as a backpack was much more convenient for walking through towns from bus stations to hostels upstairs and hills – which happens quite often if you're traveling the right way in the Balkans fyi.
For these "tourist travelers," the Farpoint 40 provided the benefits of any other carry on luggage but made transit on buses, trains, and planes much easier.
Dr. Strangelove introducing me to the Farpoint 40 in Thailand
Doc is a good buddy so I had plenty of opportunities to pick his brain about his bag. When we first met, Doc had the bag for 2 years, and that was actually 2 years ago from now. He's traveled for stints of one week (like our one week blitz through the Balkans) to several months surfing and riding through Southeast Asia. Through it all he's loved that the load carries well when you're walking, the wraparound zip panel makes it easy to pack, and it's so durable he doesn't have to think about replacing it. Another testament to the simple yet near perfect design that Osprey has refined with decades of bag experience.

The Osprey Farpoint 40 as a carry on sized backpack for Travel
A nearly perfect travel backpack. The only things that need to be upgraded are moving the laptop compartment to the back, adding a few pockets (side and hip belt), and making the water bottle pockets usable when the bag is fully packed.
Outside of these common complaints, the bag is durable, comfortable to wear, fits as carry-on luggage on most airlines and also fits under the seat in most airlines. Countless travelers report owning this bag for 3+ years and still being completely satisfied with no intention of upgrading.
The main compartment is easily accessible, with the wrap around panel zip. Pairing this bag with 2 to 3 packing cubes makes packing and unpacking a breeze while staying organized the entire way.
The Osprey Farpoint 40 as a hiking backpack
Travel-focused features add too much weight for most ultralight backpackers that are interested in using thee Farpoint 40 as a hiking backpack, but, for travelers squeezing in a hike, the Farpoint 40 should be fine
The pack is missing features that make could make the backpack easy to access while wearing (hip belt pockets, external pockets on the side)
Improved quick access (to internal storage) and improved external storage, such as improved water bottle pockets, pockets for snacks, and external pockets for wet and dirty gear would be great
The Farpoint 40 is an excellent travel pack that will survive most outdoors experiences and will suffice for a quick trek of a couple of days, like the Inle Lake Trek in Myanmar, Torres del Paine in Patagonia, or even the Everest Base Camp Trek (if packed lightly). However, if your travels revolve around multi-day treks (like the Everest Base Camp Trek then get a pack that ditches the airplane travel-centric options to be a bit lighter and adds features that make the backpack easier to use while wearing. If you're looking for ideas for a cheap, reliable, comfortable backpack for hiking and camping, I can't recommend the REI Trail 40 enough.
With that said, I would be more than happy traveling adventurously for a year with the Osprey Farpoint 40 as my main pack.

Practical Pros | Cons of the Farpoint 40
Pros
Durable fabric, zippers, and stitching
Comfort thanks to extra padding in shoulder straps, back panel, and hip belt
Special internal support structure distributes weight very well between hips, shoulders, and back
Fits under the seat in most planes (even in Southeast Asia)
Cons
The bag could use pockets on hipbelt (similar to the REI Trail 40)
Water bottles do not fit the mesh pockets if the bag is completely full – you'll have to secure them using the mesh compression straps

A problem point for Digital Nomads: An awkward laptop sleeve pocket when overpacking
A major determiner of whether the Osprey Farpoint 40 is for you is the laptop & tablet pocket.
The laptop sleeve and tablet pocket on front sleeve mean you should be careful not to overpack as the rounded shape will put pressure on your devices potentially breaking them. If you don't mind underpacking slightly or storing your devices internally without a pocket, then you'll love this pack.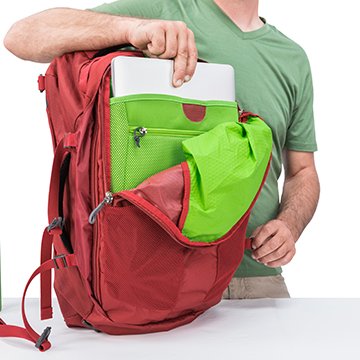 However, overpacking a backpack (with a natural curve) and the laptop in this position is a recipe for disaster, so be careful. I've broken two laptops personally by trusting the laptop sleeve.
So, the Osprey Farpoint 40 is still an excellent carry on size backpack for travel. However, if you are a digital nomad with tons of expensive, delicate tech (or a large expensive laptop) consider getting a different backpack with a dedicated, protected laptop pocket, such as the Tortuga Outbreaker, the GORUCK GR3 45L Travel Backpack, or any of these other great carry on sized backpacks.

Suggestions for using the Osprey Farpoint 40
Pair with two packing cubes to keep things organized
Pair with a lightweight daypack like the one Osprey offers

Materials, Construction, and Durability
The Farpoint 40 is a well made, time tested backpack that has proven to be durable and is the reason 1000's of backpackers have chosen it as their choice for traveling around the world.
The backpack uses a prudent mix of durable nylon in different weights/weaves to create a backpack that is tough enough but isn't too overbuilt
210 Denier Hex Diamond Ripstop Nylon for external, surfaces: Tough enough to stand overstuffing and normal abrasion
600 denier nylon packcloth on high abrasion areas (bottom, accent points, etc.): Has proven to handle the normal dragging, puncturing, pushing, and pulling that comes with travel, carried on or thrown under a bus
Holding this pack together is sufficiently heavy duty stitching to handle overstuffing, and zippers that are comfortably large to stay smooth and functional through the dust and grime of trails, but not overdone.

Design, Layout, and Function
The general layout and design of storage on the Osprey Farpoint 40 is sufficient, minimalist, and solid for travel, just like the other Osprey products. You won't find the specialized tech pockets of the Tortuga Outbreaker or Peak Design travel backpack, but as long as you pack light, the inner pockets and handful of outer pockets will be enough for virtually any trip.
Inside the Pack
The Osprey Farpoint 40 keeps going strong with "just enough" of everything to make it a good all-round pack. On the inside, internal compression straps, and a few extra zippered storage pockets give you enough spaces to stay organized but not go overboard.
Laptop and tablet sleeve with lockable zippers on the front of the pack – not the best, as it makes overpacking problematic and makes the laptop prone to bumps
Lockable zippers on the main compartment
2 compression straps (top and bottom of the bag)
2 internal compression straps make it easy to pack and keep your load situated
Large internal, zippered mesh pocket on the panel
This pack is cavernous, so I highly recommend picking up some of my recommended packing cubes to stay organized.
Outside of the Pack
Dotting the externals of the pack are a handful of storage conveniences and other elements that make for comfortable wear and travel – support, comfy straps, and harness – ultimately making the Osprey Farpoint 40 a comfy bag to wear and carry (as a carry on or hiking backpack) on those 20 hour multi-leg flights around the world, through airports, through metros and down streets while searching for a hostel, or impromptu hikes.
Hipbelt with a special system to transfer weight from shoulders to hips is comfy
Hipbelt and shoulder straps stow away during travel to avoid snagging on anything
Mesh, breathable and padded backpanel makes carrying for long time in the heat a comfortable experience.
Shoulder harness is sturdily build with shoulder straps that are just padded and comfy enough, making for a pack that is comfortable to use now but is durable enough to last years of travel
Two elastic mesh pockets on the front of the pack offer a place for quick storage and quick access or for holding water bottles or wet/dirty items
Padded top and side handles, for carry while the shoulder straps are stowed.
---

Size and Specs
S/M – 2319 Cu. In./ 38L, Dimensions – 20"x14"x8", 3.1lbs
M/L – 2441 Cu. In./ 40L, Dimensions – 21"x14"x9", 3.2lbs
Airline Carry on Restriction Dimension for Reference
Ryanair's carry on limit is 40cm x 20cm x 25cm (15.7"x 7.9" x 9.9" carry on limit for Ryanair in inches)
Easyjet carry on limit 45 x 36 x 20 cm (17.8" x 14.2" x 7.9" carry on limit for Easyjet in inches)
Air Asia carry on limit 56cm x 36cm x 23cm (22" x 14" x 9")

Best Places to Buy the Farpoint 40
Hands down, the best place to buy travel gear, in general, is REI. A wide selection, 1-year unlimited warranty & satisfaction guarantee, free shipping, and 10% back each year make shopping at are in general, or for the Osprey Farpoint 40.
Amazon is also a great place to buy the Osprey Farpoint 40, especially if you have Amazon Prime (if not, you can get it with a free trial) or are located outside of North America. I purchase a lot of my gear on Amazon because of the free shipping, free and easy returns, and whatever I'm purchasing is usually cheaper here or fairly close in price (~$5)
Purchasing straight from the manufacturer is always a solid option. Though the return policies will be a bit more liberal and forgiving with REI and Amazon, using Osprey's All Mighty Guarantee, which covers any damages or defects for free, will be easier if done directly through Osprey.

Comparison to other Popular 40L Backpacks
With all of the great travel backpacks on the market, deciding which is best for you, your travels, and your needs can be tough. To date, the best rivals and alternatives to the Farpoint 40 are the Osprey Farpoint 55, the Kelty Redwing 44, the Osprey Ozone 46, and the REI Trail 40.
Here, we'll review all of the popular alternatives to the Farpoint 40 backpack and help you decide which is best for you.
Osprey Farpoint 40 vs 55
The Osprey Farpoint 55 is essentially the same beloved travel pack as the Osprey Farpoint 40 – same durable cloth, general design, tuckaway shoulder straps and hipbelt, and function, but with an additional, very useful, zipoff daypack. This cool daypack accounts for the additional 15 liters of storage space.
Unfortunately, this cool addition of a daypack comes with an additional 4 inches of height. This extra 4 inches of height make the Osprey Farpoint 55 a touch too tall, technically, as a carry-on sized backpack for most airlines.
Osprey Farpoint 40 measurements and size
Small/Medium version 38 Liter capacity 20" X 14" X 8" 3.11 LBS.
Medium/Large version 40 Liter capacity 21" X 14" X 9". 3.17 LBS.
Osprey Farpoint 55 measurements and size
Small/Medium version 52 Liter capacity 24" X 13" X 12" 3.75 LBS.
Medium/Large version 55 Liter capacity 25" X 13" X 12". 3.9 LBS.
Which should you go for? The Osprey Farpoint 40 or Osprey Farpoint 55?
If you intend to take your travel backpack as a carry on, opt for the Osprey Farpoint 40. If you don't mind checking your bag when traveling, then opt for the Osprey Farpoint 55 – as the daypack and setup is convenient and all you need.
---
Kelty Redwing 44 vs Osprey Farpoint 40
The Kelty Redwing 44 is another legendary pack that is popular, and with good reason, but with a different crowd. The Kelty Redwing 44 is actually a tactical backpack, with 500 denier nylon throughout, a slick exterior (nothing to catch or get snagged) and a comfy shoulder strap carrying system.
The Redwing 44's only downside is, like the Farpoint 55, the backpack is a couple inches too tall for carry-on airline baggage restrictions at 24 x 12 x 16 in. However, if you can underpack the top pocket, you may be able to save the 3 inches necessary to get this bag onto airlines.

Bottom Line on this Osprey Farpoint 40 Review
The Osprey Farpoint 40 is a great pack for the price that's nearly perfect for carry-on only travel and travelers looking for their first bag. If you are in the market for a bag for traveling a few weeks to a few months on the road and are unsure what you want and need, save yourself some time and opt for the Osprey Farpoint 40. Like several of my friends and countless other adventurous travelers, you won't be disappointed.

FAQs
Is Osprey Farpoint 40 carry-on?
The Osprey Farpoint 40 is a carry-on sized backpack, and is allowed to be carried onto most international airlines due to its size of 20" X 14" X 8" (50.8cm x 35.6cm x 20.3cm). For budget airlines, such as Ryanair or Easyjet, the Osprey Farpoint 40 is a few inches to tall, so, always conform carry-on bag size restrictions with your airline before your flight.
Is the Osprey Farpoint 40 good for hiking?
The Osprey Farpoint 40 is comfortable as far as travel packs go, and will be sufficient for backpacking and travel with a touch of hiking.
However, if you are planning on a trekking heavy adventure, such as to Everest Base Camp or Patagonia, I suggest opting for a pack specifically designed for trekking in shoulder harness and hip belt system, fabrics, and storage
Is Osprey Farpoint good for backpacking?
The Osprey Farpoint 40 and 55 are two of the best backpacks for travel and backpacking as they are comfortable, offer great storage, and are extremely relative to other backpacks of similar quality.
Does Osprey Farpoint 40 fit under seat?
The Osprey Farpoint 40 will fit under the seat in front of you for most airlines, however the top or bottom of the bag will protrude by ~2 inches. If you are comfortable giving up the footspace on your flight, the Osprey Farpoint 40 will fit under the seat in front of you.

Other Great Starter and Travel Backpacks to Consider
The REI Trail 40: If you'll spend as much time hiking and camping as traveling
The REI Ruckpack 40: If you're looking for a budget-friendly, urban-focused pack

What other backpack other good carry-on size backpacks are out there?
Now that you know everything there is to know about the Osprey Farpoint 40 as a travel backpack and carry on pack, if it doesn't seem right for you then check out our list of the best carry on backpacks for travel to find the perfect pack for you.
If you have opted for the Farpoint 40, don't to grab all of the other necessary gear for enjoyable, lightweight travel to make the most use of that new carry on backpack.