Dive watches are a universal accessory in a man's wardrobe and in life and I think every man should own at least one. However, after shopping for and owning a few I know picking a good watch at a reasonable price is tough! To make choosing the right watch for you easy, I've compiled this list of the 29 best dive watches under $300, also divided by the best dive watches under $200 and $100. We'll end with the best newcomers and how to pick the best dive watch for your needs and budget.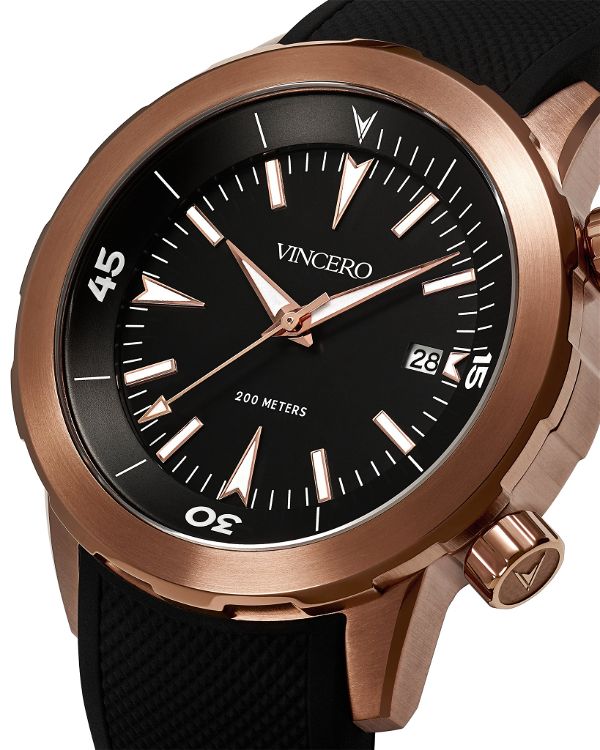 The essentially tough, rugged, and ready for adventure construction of dive watches combined with sleek and nonchalantly stylish exteriors balance masculine and elegant in a way that epitomizes a rough and adventure-ready gentleman. It makes sense that a dive watch is an essential timepiece for men, and my watch of choice over 55 countries traveled. During the 5 years I've been wandering the world, I've always kept a solid dive watch with me, from trekking Everest, to surfing on Bali.
However, picking a good yet affordable dive watch can be painful. On one end, the watch market is filled with low grade imposters that look like great watches but are prone to breaking. On the other end, overpriced luxury pieces flood the market wherein you pay for the brand and prestige, not the function.
Additionally, classic, staple affordable dive watches, like the Seiko SKX 007, 009, and 011, have been discontinued or experience price hikes that put them out of most men's reasonable budgets.
Right in between, ranging from $50 to $315 and suited for every activity from SCUBA diving, to combat zones, to daily life are the 29 great dive watches we'll review here. For dessert, we'll review 5 boutique watch shops that have popped up in the last 2 decades and are delivering stylish, feature-packed, high-quality watches that you should know about. They're not as time-tested as Seiko and Rolex yet but they're worth considering.
So, we'll cut through the fluff here, delivering the best watches today from across the market
Every man should have a solid timepiece, and we'll find yours

TABLE OF CONTENTS

QUICK LIST OF THE REST OF OUR 39 BEST DIVE WATCHES UNDER $300

THE PROBLEM WITH FINDING A GOOD DIVING WATCH UNDER $203, AND WHY YOU NEED THIS LIST
As prices rise and companies decide to make more money by either increasing prices or producing garbage and wrapping it in a bow, find decent, high quality products at a reasonable price becomes difficult. This is very true with dive watches.
THE REALIABLE, AFFORDABLE CLASSICS ARE DISAPPEARING AND BRANDS ARE "TIERING UP"
Go to watches such as the once $100 and near bullet proof Seiko dive watches, like the Seiko SKX007 dive watch (I've owned two and gifted away both) have been discontinued and replaced by $400 watches with few watches in the sub $200 range to fill the gap.
The "fallen" among legendary affordable watches includes all of these, so stop searching for those now.
Seiko SKX 007 (discontinued)
SKX 009 (No longer below the $200 price point – more like $450)
Seiko 5 SNZF15
Timex Allied Coastline
Victorinox Swiss Army Men's 241088 Maverick II Chronograph Watch
But there is plenty of hope. In this list we have 29 watches that are just as great and just as affordable.

WHAT IS A "DIVE WATCH"
A dive watch is best defined as a water-resistant, shock resistant, and pressure resistant wristwatch designed to be worn by someone who is playing recreational underwater diving. These watches are made to withstand pressures of up to 200 meters (660 ft). Dive watches are best used for scuba diving because they can resist minor impacts. The resulting product, the current dive watch, is a durable piece of machinery that can withstand pretty much any adventure you can throw at it.
Because luxury brands, like Rolex and Blancpain, pioneered the category, an element of style and focus on design has been in the dive watch's DNA since inception, just like the expectation for durability. Because of the way dive watches were "born", today even affordable dive watches carry design cues that make them just as suitable for a board room as for an adventure around the world.
TODAY THE ISO 6425 STANDARD FOR DIVE WATCHES ENSURES A TOUGH, RELIABLE PRODUCT
The ISO 6425 standard is a best practice for watches designed specifically for use in diving. It covers three different areas of importance to people who are diving often, including the watch's ability to resist water, shock, and pressure. Every "true" dive watch will be able to withstand a slew of abuse that few other timepieces can. If the watch face says "DIVER's xxxM" and comes from a reputable brand, you know that it meets the ISO 6425 dive watch standard. We'll review the tough criteria for these watches later so you know what your money is buying.
WHY GO FOR A DIVE WATCH, ABOVE OTHER WATCHES (FIELD WATCHES, DIGITAL WATCHES, DRESS WATCHES)
An affordable dive watch is a staple for every well dressed and especially adventurous man. Every man should own a watch, not including the one on his phone. Dive watches, due to there rugged build and simultaneous sleek design are the perfect choice because they can survive in any situation – on air, land, and sea – and look just as natural and stylish on a date in a park as they do on your wrist for a business meeting in a board room.
DIVE WATCHES ARE DESIGNED TO BE TOUGHER THAN OTHER WATCHES
Dive watches have evolved to be extremely rugged and not just survive intense environments, but maintain accuracy as well. A good dive watch generally exudes the following traits over other digital watches, aviator watches, field watches, and dress watches.
More Water Resistance: Certified dive watches can be submerged up to 200 meters
More Shock Resistance: Designed to withstand drops and bumps
More Scratch Resistance: Sapphire and mineral crystals, used in the window, are some of the hardest materials on the planet
As further testament, the choice watch of deep sea divers and aquatic commandos is some variation of the dive watch – analog or digital – for function and durability with Rolex, Omega, Luminox, Suunto, and Seiko topping the list. If a dive watch is tough enough for a SEAL, its tough enough for you.
DIVE WATCHES HAVE BEEN REINFORCING STYLE FOR 70+ YEARS.
Watch nearly any James Bond movie and on the main character's wrist you will find some variation of a dive watch, be it a Rolex or an Omega, whether he's sailing on a yacht or in a Tuxedo at a card table. That is how universal an option the dive watch is.
Get one good dive watch and you'll have the perfect watch for seaborne adventures, black tie affairs, and everything in between.

WHAT TO LOOK FOR IN A GOOD DIVE WATCH
So now, that you know why an affordable dive watch should be the first timepiece in your collection and why it is a wardrobe staple, let's talk about what to look for in a solid dive watch, to ensure your choice is functional, reliable, and worthy of adventure.
In short, the best affordable dive watches should have a sapphire crystal, 200m water resistance, solid movement (Japanese or in house), proven reputation, screw down crown, stainless steel case, solid links, and aesthetics YOU like.
For those that are becoming familiar with watch jargon, let's review each component of a good watch and what you should look for.
ISO 6425/1996 certification and "DIVER'S xxxM" marking
High quality automatic or quartz movement (the watch's motor)
Reputed build quality
Sapphire or hardened mineral glass "crystal" window
Water resistance to minimum 100 meters depth / 10 ATM (atmospheric units) of pressure
Screw down crown and back
---
ISO 6425 DIVE WATCH CERTIFICATION (IF POSSIBLE), INDICATED BY "DIVER" ON THE FACE
The international standard 6425 details exactly what a dive watch should be capable of, how it should be tested, and how to recognize if a watch is ISO 6425 compliant.
By definition a dive watch must have all of the following:
Water resistance to minimum 100 meter depth (10 ATM – atmospheric units of pressure) test at 125% of that pressure
Heat resistance to at least 45 degrees Celsius / 113 degrees Fahrenheit with condensation issues
Resistance to heat shock, taken from 40 degree Celsius to 5 degrees Celsius within 1 minute with no issues
Crowns and backing should resist overpressure for 125% of the depth rating
Shock resistance, by being hit with a 3kg /6.6lb hammer with no issues
For dive watches, every watch produced must pass these and other test's
If a dive watch has been tested and passed all ISO 6425 standards it can be marked with "DIVER'S WATCH xxxM" or "DIVER's xxxM". You can read more about the ISO 6425 standard here.
If you want a top notch watch ready for anything, be sure to get one with the "DIVER'S xxxM" marking and you'll be ready for anything
---
A HIGH QUALITY "MOVEMENT," THE MOTOR IN A WATCH
Movement: The "movement," also known as the "caliber" of the watch is the motor that powers the movement of the hands and any accessories – date, chronographs, etc. – and is essential to keeping the time accurate.
Movements fall into two categories – "quartz" or battery powered, and mechanical uses a wound spring to power movement. Mechanical movements are either "manual" or hand wound or they're "automatic."
Of the movements you'll see in the sub $300 watch class, the NH35A Japanese Automatic Movement and the Citizen Quartz Miyota movement are top tier for this price. Beyond this, "in house" made movements are best as long as the watch is from a reputable, legendary brand (like Orient, around since 1904 in some form).
AUTOMATIC DIVE WATCH OPTIONS
Automatic movement is a form of a mechanical watch in which the movement of the watch on your hand winds a spring in the watch which then powers the ticking of the hands. This spring generally has an amount of time it will power the watch while not moving – generally 30 to 45 hours. The beauty of automatic watches is you never have to buy batteries and the case backs sometimes have elegant windows that show the internal components.
QUARTZ DIVE WATCH OPTIONS
Quartz movement is a form of movement in which a battery supplies a charge to a quartz crystal which vibrates and keeps the watch synced, on time. Though this quartz movement is more advanced and accurate, it is perceived as less elegant. However, good quality quartz movements are cheaper than good automatic movements. The downside of quartz movement is you should plan on replacing the battery every couple years.
---
RELIABILITY, REPUTATION, AND BUILD QUALITY
Though brand doesn't matter, DNA and reliability do. Respected watch manufactures like Casio, Seiko, Timex, Rolex, and Omega have been churning out watches so long that they 1) have defined the category and 2) have thousands of use cases that confirm their quality. For our main list, we're delivering watches that have plenty of reviews that confirm their quality and very few that don't. By doing this, we avoid knockoffs and batch produced watches that look like legends but are destined to fail within a year.
But, we don't want to rule out newcomers with potential. New watch manufacturers like Depth Charge, Panzera, Vicero and Phoibos (we'll get to those later) present great looking watches that fit our specs but time will tell if they can take a beating – so, after our main list, we'll list the best new brands producing dive watches under $200 that have yet to be tested.
---
THE CRYSTAL "WINDOW" OF THE WATCH: AIM FOR SAPPHIRE OR HARDENED MINERAL GLASS
The "Crystal" is the name for the window of the watch and is most prone to scratching. Because of this, a good watch's crystal is a made of a hard material with natural scratch resistance. Sapphire and mineral glass are the most common options.
Sapphire is the best crystal you can get in a watch, as only diamond is harder, however sapphire is also the most expensive.
Mineral crystal is second to sapphire and though it isn't as hard and scratch resistant as sapphire, it is extremely scratch resistant. If you need to budget, switching from a sapphire crystal to a mineral crystal is likely where you'll compromise. Mineral glass crystals are commonly listed by manufacturers as "mineral" or a proprietary name like "Hardlex" mineral crystal.
Aim for a sapphire crystal if your budget can handle it but don't be heartbroken over mineral crystal.
My Seiko SKX007 came with me around the world, SCUBA diving, motorbiking, and to Everest, and I never had a problem with the mineral crystal
---
WATER RESISTANCE RATING: 100 METERS (10 ATM) MINIMUM, IDEALLY 200 METERS
Dive watch's water resistance is communicated by the depth, in feet or meters, that it can be submerged underwater without experiencing any issued. For a true dive watch, 200 meters is the minimum rating.
Water resistance may also be communicated in "ATMs" or "atmospheric units" of pressure that a watch can withstand.
1 ATM = 10 Meters = ~33 feet.
When watch shopping, aim for at least 100 meter water resistance rating and ideally 200 meters.
No, you will never go that deep but getting a watch that is overbuilt compared to your intended use means that water resistance will hold up better as the watch ages.
---
SOLID LINKS IN THE WRISTBAND
If you opt for a dive watch with a metal (steel) band, beware that some watch companies cut corners and save money by making the links hollow. Higher quality, more durable, and longer lasting watches have solid links. Go for solid linsk in your watch
---
ROTATING BEZEL THAT FUNCTIONS WELL
The rotating bezel is used in diving to mark and keep track of dive time. Though you will likely not use this in your daily life, having a watch whose bezel doesn't flop or move is essential for base level quality.
Also note that bezels rotate in one or both directions and whichever is best is completely a preference thing.
---
SCREW DOWN CROWN – TO KEEP WATER OUT
The winding wheel on the side of the watch that is used to adjust the time, adjust the date, and wind a watch is know as the "crown." For a dive watch, this "crown" needs to be the type that screws in, not just pulls, to ensure our watch has a sufficiently water tight seal.
---
SCREW ON BACKING – TO KEEP WATER OUT
Just as the crown needs to screw in to ensure we have a good seal, the back of the watch, which can be removed for maintenance, should screw on and off too.
---
CASE DIAMETER (PERSONAL PREFERENCE)
The case diameter measures the width of the watch, from the 3'oclock side to the 9'oclock side. Keep in mind that dive watches tend be much chunkier than field watches or casual/dress watches, and that's because of the components that seal the watch, protect it from shock, and ensure it'll stand up to the rigors of the sea. The watches on this range from a small 37mm for unisex watches, to 50mm for watches designed for 300 meter+ submersion.
The optimal case diameter depends solely on your preference and wrist size

THE BIG AFFORDABLE DIVE WATCH BRANDS YOU SHOULD KNOW
In the hunt for your perfect watch, you'll come across many brands and it will be difficult to decipher what's and what's bad. Before we get into our list of the best dive watches, here is a rundown of the big brands and what to expect:
SEIKO
Seiko is a legend in the watch space and in the affordable dive watch space as their watches are high quality and use the Seiko NH35A automatic movement, which is easily the top affordable automatic movement on the market. The Seiko SKX007 and 009 were excellent dive watches at the ~$100 mark that have since been discontinued and their successors have much higher pricetags – but for function and quality, you can't go wrong with a Seiko
CITIZEN
Citizen is another giant known for their watches and their Eco-drive solar recharged quartz movement. The watches themselves across Seiko's dive watch lines are high quality and the solar recharged quartz movement delivers accuracy while never having to replace a battery.
CASIO
While Casio does deliver some affordable analog dive watches, mostly made in China, the best options lie within Casio's "G-shock" line. Though these digital watches are less elegant than the analog counterparts, in terms of performance and toughness they are hard to beat, and deliver an extremely wide range of functionality – including tidal charts and lunar cycles for truly aquatic adventurers. Though I always carry an analog dive watch on my travels, I still carry a G-shock for freediving, surfing, and trekking.
TIMEX
Timex is a general monster within the watch industry that everyone knows of, however, their field and expedition watches excel much more than their dive watches. If you need a budget "dive inspired" watch, that might not get you to 50 fathoms deep but is reliable in everyday life and easy on the pocket, Timex is an option.
INVICTA
Invicta is a formerly Swiss but now American company that is often criticized for their marketing tactics but deliver great quality watches for the price. Invicta delivers a wide range of "homage" watches, which are essentially copies of high dollar classic Rolex, Omega, and Blancpain watches, which is frowned upon by watch connoisseurs. However, I personally choose function over brand any day. After I gave away my second Seiko SKX 009 and couldn't find a replacement, I opted for an Invicta and liked it much more than I expected to. If you're not a full watch snob that cares about brand – but function and aesthetic instead – Invicta's watches are a great option.
VOSTOK
In my hunt for watches, Vostok was by far the most interesting manufacturer. Vostok is a Russian watch manufacturer that produced tough dive watches for the Russian Ministry of Defense since 1965. The company's designs focus on pure functionality. These watches are like the dive equivalent of an AK-47. They're not finished the best or the prettiest, but they're tough. Extremely tough.
One user pressure tested a Vostok Amphibia (one of which I recommend) to the equivalent of a 400 meter dive with no issues! Vostok itself took this same $100 watch on a 2000 meter deep dive and experienced the same – zero issues.
Tough, sleek enough, and rough around the edges in execution, Vostok is a solid watch brand.
NEW BRANDS
At the end of this article, I'll share 5 great affordable dive watches from 5 new brands that haven't been fully vetted with years of abuse yet, but are up and coming and well worth noting.

WHY ARE THE BEST VALUE DIVE WATCHES IN THE "UNDER $300" PRICE RANGE?
The $300 target is the perfect upper limit for anyone looking for a dive watch that is all about function, has classic styling, is high quality, and doesn't want to pay extra for pure branding – like with an Omega, Rolex, or Cartier.
This target delivers the perfect balance of design, function, pedigree, and durability, at a price point that won't bother you if you lose it in a couple years – essentially the best of all worlds
THE PROBLEM WITH DIVE WATCHES BEYOND THE $250 PRICEPOINT
When it comes to dive watches, after a certain price point, you're paying for brand – instead of function or design. There are arguably several $500 or $1000 watches out there that deliver supercomputer like function, like the G-Shock Frogram, but those are few and far between
In 2008 researchers did a blind taste testing study on wines and realized that most people couldn't tell the difference between a $25 bottle of wine and a $250 bottle of wine. Some experts . $250 dive watches are the exact same – if no one told you the brand or price, few would be able to tell the difference between those and a $1000 or $5000 watch. If you want a single watch that does everything and is heirloom quality at a budget friendly price, check out our $250 dive watches.
In this article we'll solve that problem by delivering the best dive watches under $300 that look amazing, perform impeccably, and are tough enough to survive dive adventures and anything daily life can throw at them.

THE FULL LIST OF THE 29 BEST DIVE WATCHES UNDER $300

CHEAP DIVE WATCHES (~$50)
At only $50, this timepiece is a solid cheap dive watch and exceeds all expectations for a watch at this price point and it is one of the best value dive watches under $100. The Casio Duro is durable and tough because of purposeful design.
The black polyurethane band that measures 22 millimeters across and has a buckle clasp to keep it secure when actually diving. The case is solid stainless steel with a screw-down backing and crown to help protect from water leakage. Anti-reflective mineral lens window to protects from scratches. 200 meter water resistance rating make it ready for anything.
An amazing level of finish for the price and you won't be able to beat it for the money.
Movement: Quartz
Crystal: Mineral
Power Reserve: Lithium battery powere
Water Resistance: 200 meters
Case Diameter: 44mm
Features

Silicon strap by default
Screw down crown
Stainless steel case and stainless steel band

Price: $56
Where to buy: Amazon
The Invicta 932 is another great, really affordable dive watch at less than $50. The stylish design clearly takes from the classic Rolex submariner.
The components are great quality for the price – Japanese quartz movement, PC32A Caliber– and the depth rating is sufficient for any adventure you'll throw at it. This is possible the most stylish watch under $100.
Cons: This watch is on the smaller side at 37.5mm in diameter, so ensure that is what you're looking for.
Movement: Japanese quartz movement, PC32A Caliber
Crystal: Mineral
Water Resistance: 200 meters
Case Diameter: 37.55mm
Price: $45
Features: Stainless steel band
Where to buy: Amazon
Variants

BEST DIVE WATCHES UNDER ~$100
The Invicta Grand Diver is a best-selling best dive watches under $100 – at only $65. The stainless steel case is 42 mm in diameter, which is beefier than most other best timepiece models under $100.
It also features a Japanese Seiko NH35A automatic (self-winding) movement, which will keep accurate time without the need for manual adjustments. Furthermore, the water resistance is 300 meters deep and it also has great luminosity at night to help you see better wherever you are. Invicta packs a lot into a budget automatic watch for the Grand Diver.
For the pricepoint, the finish is great, great value, and high quality.
Movement: NH35A Japanese Automatic movement, 24 jewel
Crystal: Mineral Crystal
Power Reserve: ~44 hours
Water Resistance: 300 meter water resistance
Case Diameter: 47mm
Price: ~$104
What other reviewers say
Features:

Exhibition case back
Astounding 300 meter depth rating
Suitable for professional SCUBA diving
Unidirectional bezel
Screw down crown

Where to buy: Amazon
The Vostok Komandirskie is the epitome of a functional and durable dive watch over pretty packaging. This Russian made dive watch, just like its tougher brother the Amphibia delivers all of the function you want and need in a dive watch without any fluff. If you want an affordable watch that is ready for a dive, can be banged around, and will continue to work despite what you throw at it, this is it. "Russian made" is a cool bonus.
The Komandirskie's downsides and upsides are epitomized in its acrylic crystal window. You can expect this crystal to scratch more readily than Sapphire or mineral, but it won't break regardless of what you throw at it. Expect the same from this watch – it may scratch and ding over time, but it's built to last. "Slight scratches but bulletproof" sum up this watch
Volstok is a Russian watch maker known as the sole official watch supplier to the Russian Department of Defense. Vostok was founded in 1942 and has been supplying watches since 1965 and still supplies the modern Russian Army. All of Vostok's watches are 100% made in Russia and match their reputation with users as tough and utilitarian yet stylish dive watch.
Movement: Russian made automatic VOSTOK self-winding movement with 32 ruby jewels. The watch can also be wound manually.
Crystal: Acrylic
Power Reserve: Runs 31 hours between winding
Water Resistance: 200 Meters water resistance
Case Diameter: 42mm
Price: $106
Features: Anti-shock design
Where to buy: Amazon
INVICTA PRO DIVER 1953 SPECIAL EDITION | MODEL 31290
This watch was part of a quick run from the Invicta Vintage line. This "homage watch" is a near copy, of the legendary 1953 Rolex Submariner, one of the originators in the dive watch category. If you can't get your hands on one of those $20,000 watches but love the conservative style, the Invicta 1953 is a solid option.
Crystal: Mineral
Movement: Japanese NH35A Automatic, 24 Jewels
Water Resistance: 200 meters
Case Diameter: 40mm
Price: $140
What other reviewers say
Where to buy: Amazon
A high quality, adventure ready watch for a bargain price, this all black watch with modern and sporty styling balances old school with new school in aesthetics and to create a versatile watch.
Silicon strap and Citizen quartz movement round out another great, affordable, dive ready watch option compared to other dive watches.
Movement: Quartz movement (battery powered)
Crystal: Mineral
Water Resistance: 100 meters
Case Diameter: 42mm
Price: $105
Features: 5 year warranty from Citizen
Casio's best-selling analog diver's watch. This 100% stainless steel watch features a 100m water resistance with a hardlex crystal and a easy to read dial.
The best part is the illuminator which makes reading in the dark or at night easier.
Movement: Quartz
Crystal: Mineral
Water Resistance: 100m
Case Diameter: 44mm
Price: ~$97
Where to buy: Amazon

DIVE WATCHES UNDER $200
Though the Citizen PRT isn't marketed as a dive watch, it meets all of our specs and slides under the $200 price tag as an unconventional and stylish dive watch.
200 meters water resistance and beefy case, a mineral crystal, and the plus of Citizen's solar powered eco drive and never having to change the battery round out a great "dive watch" in an unconventional package
Movement: Patented "Citizen Eco-Drive" movement – Solar recharged quartz batter powered movement (Caliber J850)
Crystal: Mineral Crystal
Water Resistance: 200 meters
Case Diameter: 44mm
Price: $185
Features: 5 year warranty from Citizen, Stainless steel case construction
Similar Watches: The Citizen Promaster Automatic Dive Watch: Available on Amazon
Part of the Timex Archive project, this watch combines decades of exceptional design and construction to create a watch with a timeless, classic look, and the best construction and function cues from decades of design. This watch is designed to be amphibious, at home on land adventures or at sea as a dive worthy watch.
Movement: Quartz
Crystal: Mineral
Water Resistance: 100 meters
Case Diameter: 38mm
Price: $135
Features: Stainless steel case construction
The Orient ray 2 is a new classic produced by a small Japanese watch company with a long history. The Ray 2's classic and conservative styling attest to the great build quality many fans rave about for a watch at this pricepoint. The Watch's automatic movement, made in house by Orient, is one of the few very good movements made by small shops and not outsourced.
If you're looking for an affordable dive watch with heritage as one of your beginner dive watches and not from the big brands, the Ray 2 could be it.
ABOUT ORIENT WATCHES
Orient is a Japanese watch manufacturer that dates back to 1901 opened by Shogoro Yoshida as the "Yushida Watch Shop" and later grew with the Toyo Tokei manufacturing company in 1920 to produce watches. As the watch shop and manufacturer grew they reformed as the "Orient Watch" company after their 1950 watch design. Today, the company still produces excellent quality watches distinguished by production of all of their watch movements in house, by Orient.
Movement: Automatic movement produced in house by Orient (Orient Cal. F6922 Automatic movement)
Crystal: Mineral
Power Reserve: Power Reserve: 40 hours
Water Resistance: 200 meters
Case Diameter: 41.5mm diameter case
Price: $139
Where to buy: Amazon
The Orient Mako II is a slight step up from the Ray 2, and delivers a more scratch resistant, Sapphire crystal.
Movement: Automatic movement produced in house (Orient Cal. F6922 Automatic)
Crystal: Sapphire
Power Reserve: 40 hours
Water Resistance: 200 meters
Case Diameter: 41.8mm
Price: $139
Where to buy: Amazon
Variants: Orient Mako XL (Link); slightly larger at 44.5MM diameter
The Swiss watch company Wenger is the latest in a long line of Swiss makers of quality, affordable dive watches.
The company's latest offeringi s the Sea Force 3H. With its 200 meters water resistance rating and best-in-class Swizz quartz movement, it meets all of our specs and slides under the $200 price tag. 200 meters water resistance and beefy 43mm case, a mineral crystal round out a great "dive watch" in an unconventional package.
Movement: Swiss Quartz movement
Crystal: Sapphire coated mineral crystal
Water Resistance: 200 meters
Case Diameter: 43mm
Price: $149
Where to buy: Amazon
A true dive watch with tweaked design and a deeper blue face. Sturhling Original is newer in the watch market, but this hasn't stopped them from producing great, functional timepieces.
Cons: While many users love the Sturhling pieces for style and build quality, some reviewers reported having issues with quality control – timekeeping and water resistance. Sturhling original is a good option, but buy from an outlet with a solid return policy (like Amazon). Much like buying a Porsche, if you get one that lasts beyond a certain point without any issues, you've got a great one for life.
Movement: Swiss Quartz
Crystal: Krysterna (mineral glass)
Water Resistance: 200 meters
Case Diameter: 42mm
Price: $100
Where to buy: Amazon
Another great variant from Sturhling Original deliver the same great specs – Swiss Quartz movement, mineral crystal, and 200 meter water resistance rating – in a slightly different package.
Movement: Swiss Quartz
Crystal: Krysterna (mineral glass)
Water Resistance: 200 meters
Case Diameter: 42mm
Price: $65
Where to buy: Amazon
The Casio G-Shock has been a favorite of military personnel and civilians alike for decades. Casio uses a custom resin which is designed to absorb shocks from knocks and drops without any breakage. The best part is that it runs on solar power, so you never have to worry about changing batteries. 200 meter water resistance is the standard with G-Shock.
Though G-Shocks don't "look" like traditional dive watches, I can't recommend them enough. I've dived, surfed, and trekked around the world with them and they've never failed me. Thanks to new fashion trends, you can get away with wearing them anywhere. Regardless of the price, you won't be the durability and function of a G-Shock
Movement: Solar recharged quartz movement
Crystal: Mineral
Power Reserve: 6 Months
Water Resistance: 200 meters
Case Diameter: 42mm
Price: $117
Great Features: Multi-band atomic timekeeping
Similar Options: G-Shock XL All Black
The Casio G-Shock XL takes the same tough build and performance as the solar option, but without the solar power, and in a 10mm larger package. I've owned several G-Shocks, and each one has lasted about 3 years before it was time to replace the battery.
Movement: Quartz movement
Crystal: Mineral
Water Resistance: 200 meters
Case Diameter: 53mm
Price: $99
Features: ISO 6425 certified dive watch
Where to buy: Amazon
The Amphibia is a classic Vostok model made by the official supplier of the Defense Department of the Soviet Union and modern Russian Army, legendary for function and toughness.
On a forum, a use purchased an old used Vostok Amphibia and tested the watch to 400 meter depth pressure equivalent with no issues and only stopping to avoid damaging the pressure equipment (link here). The current SCUBA diving record is 332 meters, making this watch ready for anything.
Vostok even tested this model with a dive to 2000 meters depth with no issues
Additionally, the Vostok Amphibian gained pop culture street cred out west when it was worn by Bill Murray in Wes Anderson's Life Aquatic, as Bill Murray played a fictionalized homage to true life aquatic explorer Jacque Cousteau.
Movement: Russian 2416/710640 Vostok 2416 automatic movement
Crystal: Mineral crystal
Power Reserve: 44 hours
Water Resistance: 200 Meters water resistance
Case Diameter: 40mm case
Price: ~$120
Features: Screw down crown
Where to buy: Amazon

GREAT DIVE WATCHES UNDER $300
The successor to the legendary SKX007 and SKX009 dive watches. The same heavy duty build quality and reliable performance balanced with a classic design make up this dive watch that is well worth the money.
Movement: Japanese Automatic Movement
Crystal: Hardlex Mineral Crystal
Power Reserve: 41 hours
Water Resistance: 200 meters
Case Diameter: 45mm
Price: $275
Where to buy: Amazon
The Citizen Eco-Drive Promaster Diver has a true blue dive watch aesthetic backed by solar function, durability, and ISO certification.
It's a massive 44mm, which might not suit some, but what it lacks in size, it more than makes up for with style and durability. With 200m of water resistance and anti-reflective mineral crystal, this watch won't let you down no matter the adventure you take it on.
Movement: Patented "Citizen Eco-Drive" movement – Solar recharged quartz batter powered movement
Crystal: Mineral Crystal
Power Reserve: Limitless
Water Resistance: 200 meters
Case Diameter: 44mm
Price: $220
Features: 5 year warranty, stainless steel case construction
Variants: The Citizen Promaster Automatic Dive Watch: Available on Amazon
The SEIKO 5 Sports Watch SRPD55K1 is one of Seiko's best selling and most affordable sports watches. It's not as durable as some of the best dive watches, but it's still certified to 100 meters, has great visibility, and delivers in style and function more than most sports watches at this price point.
It has a stainless steel bracelet and stainless steel case with a Hardlex Mineral crystal, making it scratch resistant and giving it great durability. The automatic movement saves you from ever having to change the time or battery on your watch.
Movement: Japanese automatic movement
Crystal: Hardlex mineral crystal
Power Reserve: 41 hours
Water Resistance: 100 meters
Case Diameter: 42.5mm
Price: $220
Features: Screw down crown, see through, screw on case back
Where to buy: Amazon
Variants: Seiko SRPB81K, Seiko 5 Sports SRPD35K1 Dive Watch ("Pepsi")
The original "Navy Seal" watch. In 1992, a SEAL officer approached about developing a more reliable watch for Navy Seal commandos, suited for the varied amphibious missions and nighttime operations. The Luminox Navy Seal line was born.
Since then, the Navy SEALs have worked Luminox to test, refine, and produce a progressively tougher and more effective watch. This, The Original, is where it all started.
Movement: Swiss quartz movement
Crystal: Hardened mineral crystal
Water Resistance: 200 meters
Case Diameter: 43mm
Price: ~$252
Features: Carbonox carbon reinforced polycarbonate case for a lighter, tougher, more shock resistant watch, protected crown, Swiss made
Where to buy: Amazon
Variants to consider:
Inspired by the "original dive watch" the Blancpain Fifty Fathoms, back in 1953 pioneering the "dive watch" category. This great water delivers the standard Seiko performance and reliability in and "Homage" package.
Movement: Japanese automatic 7S36 Caliber self-winding movement
Crystal: Hardlex mineral crystal
Water Resistance: 100 meters
Case Diameter: 42mm
Price: $290
Where to buy: Amazon
The Kamasu one-ups the other two great Orient dive watches, the Mako and the Ray, by adding a sapphire crystal and beefing up the case by .8mm. Another great watch from high quality and tested brand.
Movement: Automatic movement produced in house (Orient Cal. F6922 Automatic)
Crystal: Sapphire
Power Reserve: 40 hours
Water Resistance: 200 meters
Case Diameter: 41mm
Price: $220
Where to buy: Amazon
Variants: Orient Mako XL (Link) – 44.5MM
NEW DIVE WATCHES WHOSE BRANDS ARE STILL TBD
These watches are'nt your typical dive watch and are interesting newcomers that I can't vouch for yet but time will tell. However, they deliver great styling and eye-catching specs
I honestly haven't tested or handled this watch (because) I can't buy it on Amazon, but it definitely piqued my interest and I'd love to take it out on a dive or two. The specs and features of the watch all for under $250, an impressive price for a timepiece designed and built in the UK. Reviewers reported the build quality and finish doing the specs justice as well
"Depth Charge" is a brand developed by Watch Shop to create the kinds of pieces they love selling.
Movement: Seiko NH35 Automatic movement
Crystal: Sapphire crystal
Water Resistance: 200 meters
Case Diameter: 41mm
Build: Stainless steel case and ceramic bezel
Price: $250
Features: Solid links
Where to buy: Watch Shop
VINCERO VESSEL
Dive watch "inspired," if you're looking for a watch that takes the functional and design cues of a dive watch and reinvents them, Vincero's Vessel watch may be up your alley.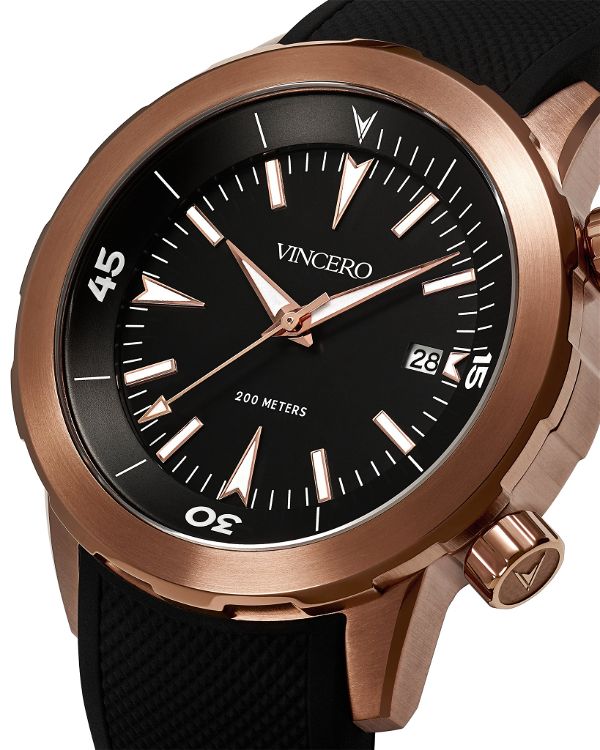 Vincero is a relatively new brand, started in 2010 by a cluster of friends that specifically moved to China to design and manufacture a better watch. All of the design and manufacturing is done in house and the components are of impeccable quality – Japanese quartz movement, Italian leather, and high quality surgical grade steel components make up the refined guts of this watch, topped of with an ocean ready silicon rubber strap.
Though this watch may not be suitable for fathoms deep (I have yet to test it), it'll look great on your wrist, looking rugged and refined at the same time
Movement: Japanese Citizen Quartz Miyota movement
Crystal: Sapphire
Water Resistance: 200 meters
Case Diameter: 44mm
Construction: 316L Surgical Steel
Price: $215
Where to buy: The Vincero Collective
PANZERA AQUAMARINE 38
A boutique watch shop based out of Sydney, Australia and manufacturing "modern vintage" timepieces whose quality exceeds their pricepoint since 2009. Peruse the site and you'll see that every watch exudes modern touches but still maintain cues from the classic dive and aviator watches that inspired them. All watches are assembled in either Australia or Switzerland using only Swiss, Italian, German, and Japanese components
The Aquamarine 38 is Panzeras entry level dive watch and boasts the style, design, and function that one would expect when taking the best of the old and updating it with only the essential innovations.
Movement: Japanese Citizen Quartz Miyota movement
Crystal: Sapphire
Water Resistance: 200 meters
Case Diameter: 38mm
Construction: 316L Surgical Steel
Price: $315
Where to buy: Panzera
PHOIBOS PROTEUS 300M AUTOMATIC DIVER WATCH (MODEL: PY028)
The Phoibus Proteus has pushed onto the scene inspired, with great reviews, strong specs, and some clearly rugged chic design. If you want a watch that is dive ready with heavy urban vibes, consider the Proteus
Movement: Japanese Seiko NH35A Automatic movement
Crystal: Domed Sapphire crystal with double anti-reflective coating
Water Resistance: 300 Meters
Case Diameter: 42mm diameter
Price: $299
Features: Italian leather strap, 316L surgical stainless steel construction, 120 click uni-directional bezel
Where to buy: Amazon
PHOIBOS REEF MASTER 300M AUTOMATIC DIVER WATCH
The Reef Master takes Phoibos' strong specs and puts them in a more visually classic package, with the exception of the Italian leather band
Movement: Japan Seiko Automatic NH35A movement
Crystal: Domed sapphire crystal with anti-reflective coating
Water Resistance: 300 meters
Case Diameter: 42mm
Price: $255
Features: Solid 316L surgical stainless steel case with 120 click, unidirectional bezel, Super-LumiNova BGW9 on hands, indices, and bezel marking
Where to buy: Amazon

What next? Find other great gear…
Now that you've found a solid watch at a great value, the next step is to add other stylish, functional clothing to your wardrobe.
This list of the best pants for a minimalist wardrobe is an excellent place to start, followed the most stylish and functional shorts for a minimalist wardrobe and the best shirts for travel and adventure.