For minimalists that prefer "carry-on only" travel, the Patagonia MLC 45L travel bags are excellent options for weekend adventures, business trips, or months of world travel. In this Patagonia MLC review, you'll discover my experience testing the Patagonia MLC 45L travel pack on a 3-month backpacking trip through Southeast Asia and loved it.
The Patagonia MLC or "Maximum Legal Carry-on" has existed since the 1990s and has evolved slowly, slightly, and intentionally into a tough and perfect carry-on travel bag. From the Patagonia MLC Headway to the eco-conscious update, the MLC Tres, and the nearly waterproofed Blackhole variants, these bags are perfectly simple and functional travel bags that perform well because of this intentional simplicity.
If you plan to hike mountains with the bag, take tons of tech, or plan to drive over it with a bus – there** are other better bags**. However, if you're a minimalist traveler or one bagger that wants an easy-to-carry bag that will (literally) last a lifetime and doesn't need to be checked, read on.
We'll review the soft-sided yet tough Tres MLC 45L, the heavily water-resistant Black Hole MLC 45, the discontinued (and reborn) ballistic nylon Patagonia Headway MLC, and the Black Hole Mini 26L to help you find out if the Patagonia MLC bags are right for you.
---
THE BOTTOM LINE OF THIS PATAGONIA MLC REVIEW
Even the potential negatives in this pack – large interior and overall size, utilitarian design and look, a price tag that contributes to eco-conscious causes – are actually positives for the right traveler.
If you are a minimalist traveler – that likes to travel with a single, carry-on sized bag – the Patagonia MLC 45L or "Maximum Legal Carry-on" is a fantastic pack. Tough, durable build backed by a reputed brand, comfortable and functional, and roomy enough to carry everything you'd need for three months of backpacking Southeast Asia or South America. You will need to add packing cubes to keep things organized in this cavernous bag, and extra **laptop protection** may be smart (the dedicated laptop pocket is soft), but this bag performs well enough to be a highly recommended purchase
QUICK PATAGONIA MLC REVIEW
Value: 3/5
Durability: 4/5
Performance: 4/5
Comfort: 3/5
Organization: 4/5
The Patagonia MLC 45L is a great carry-on travel bag; as long as you plan to live out of it, more than wearing it. The Patagonia MLC is more akin to a well-organized duffle bag with stowable straps. If you purchase the Patagonia MLC expecting a travel briefcase, not necessarily a backpack, you will not be disappointed.
---
WHO IS THE PATAGONIA MLC BEST FOR?
The Patagonia MLC 45L is a great, soft-sided carry-on bag. Keep in mind that because this bag doesn't have much structure or the beefy straps seen on most travel backpacks, this bag is best for moving for short periods – like from the airport to the hostel – and simply keeping things organized in between.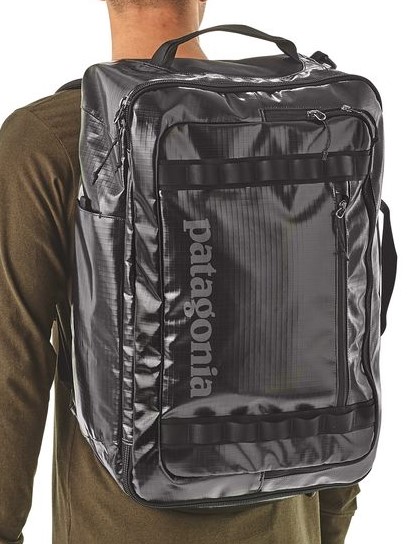 For one-baggers that aren't planning on hiking/camping with their main bag and don't need too much-built organization for electronics, the Patagonia MLC is a great, simple, durable carry-on bag that will serve you well.
Click here to see prices and availability at REI.com
Or
Go straight to Patagonia's website and discover the Black Hole MLC and the Tres MLC
---
ALSO, CONSIDER THESE PACKS…
Though I loved testing the bag for this Patagonia MLC review, and it will be perfect for most travelers, the MLC won't be perfect for everyone. The shoulder straps and lack of structure make this a less than ideal bag for hiking. The lack of organization means you'll need to add packing cubes. Lastly, the newer MLC Tres ditched the ballistic, Cordura nylon of the Headway MLC. We'll review the Patagonia MLC's strengths as well as its flaws in-depth, so you know what to expect – but for now, if you're are a hiker, carry lots of tech, or need maximum durability, check out these airline carry on friendly alternatives.
For Hikers: The REI Trail 40 for extremely outdoorsy types or the REI Ruckpack 40 for urban + outdoors adventures
For Tech Heavy Travelers and more Organization: Tortuga Outbreaker
For Durability: The GORUCK GR3
Duffle: Eagle Creek Cargo Hauler Duffle (40L)
On the other hand, if you simply need a great quality, minimalist carry on bag that requires a few packing cubes to stay organized, keep reading!

INTRO TO THE PATAGONIA MLC BAGS: TRES, BLACK HOLE, AND HEADWAY, 45L & 26L
The Patagonia MLC 45 Liter, short for the Patagonia "Maximum Legal Carry-on," is a simple yet functional bag that Patagonia has been building and selling since the 1990s.
QUICK REVIEW OF THE PATAGONIA MLC LINE
The MLC is designed with a clamshell-style zipper, dividing the bag into two well-separated sections and making it easy to pack and organize with the help of packing cubes.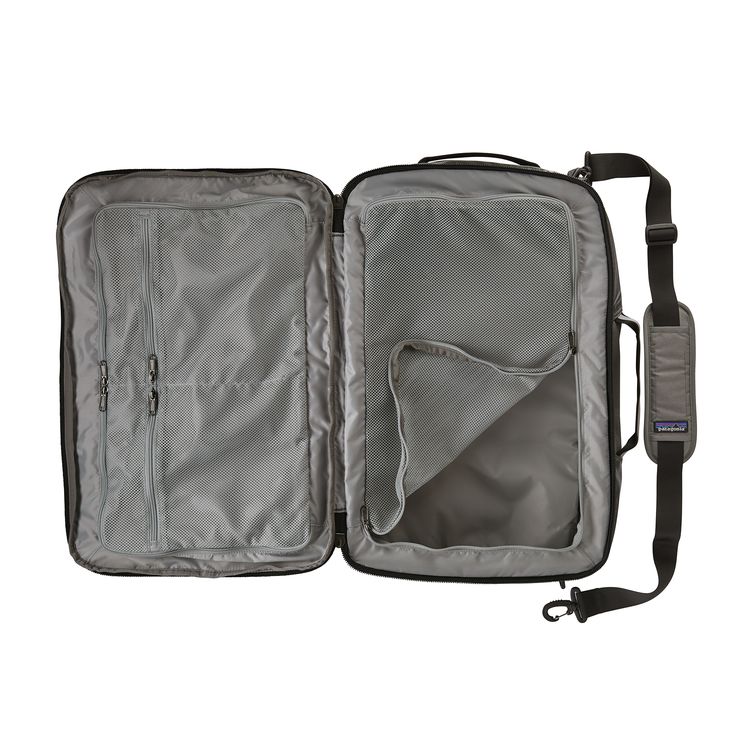 Within each of the sides are a handful more zippered pockets to organize smaller items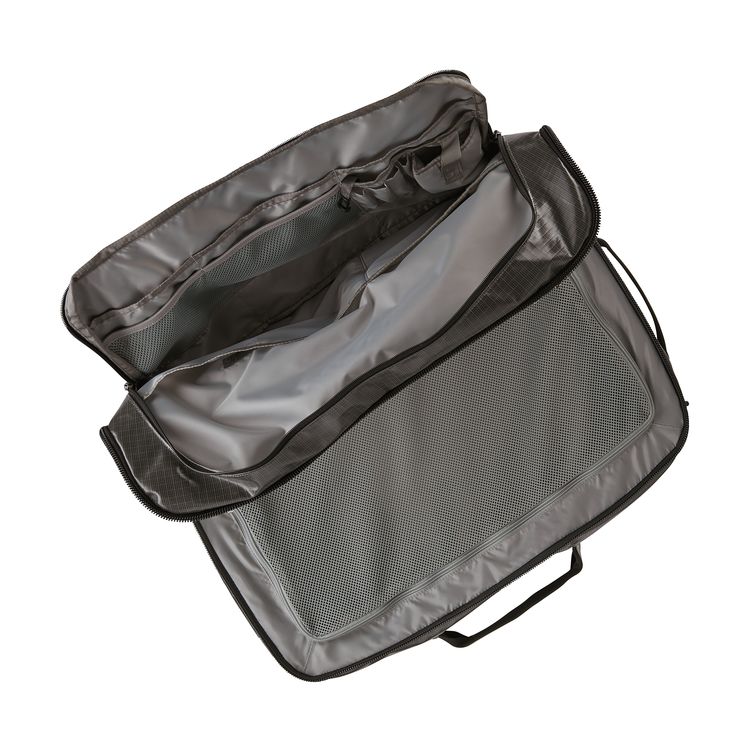 Though the legacy started with the Patagonia MLC Headway, a tough 960 denier Cordura nylon exterior that was abrasion and tear-resistant, the originator – the Headway – has been discontinued and replaced by the Tres, which is accompanied by the Black Hole.
The Patagonia MLC Tres is the successor to the MLC Headway – maintaining the same design and function but replacing the 960 denier Cordura nylon with eco-friendly material that is 50% recycled nylon and 50% tough nylon. Same great bag, new environmental friendliness.
The Patagonia Black Hole MLC 45L variant takes the same awesome, minimalist design and replaces the soft nylon with waterproof TPU ripstop polyester with a durable, water-resistant coating. Though the TPU polyester material is waterproof on its own, the zippers still allow leaks – but the waterproofing is still amazing.
---
SMALLER OPTIONS: THE 26 LITER MLC BLACK HOLE AND TRES BAGS
Read the Patagonia MLC 45L reviews, and you'll read over and over – this bag is HUGE. I've traveled for four years with nothing larger than a 45L, and I travel for months at a time. This should let you know how big this bag is and how suitable for long-term travel this bag is.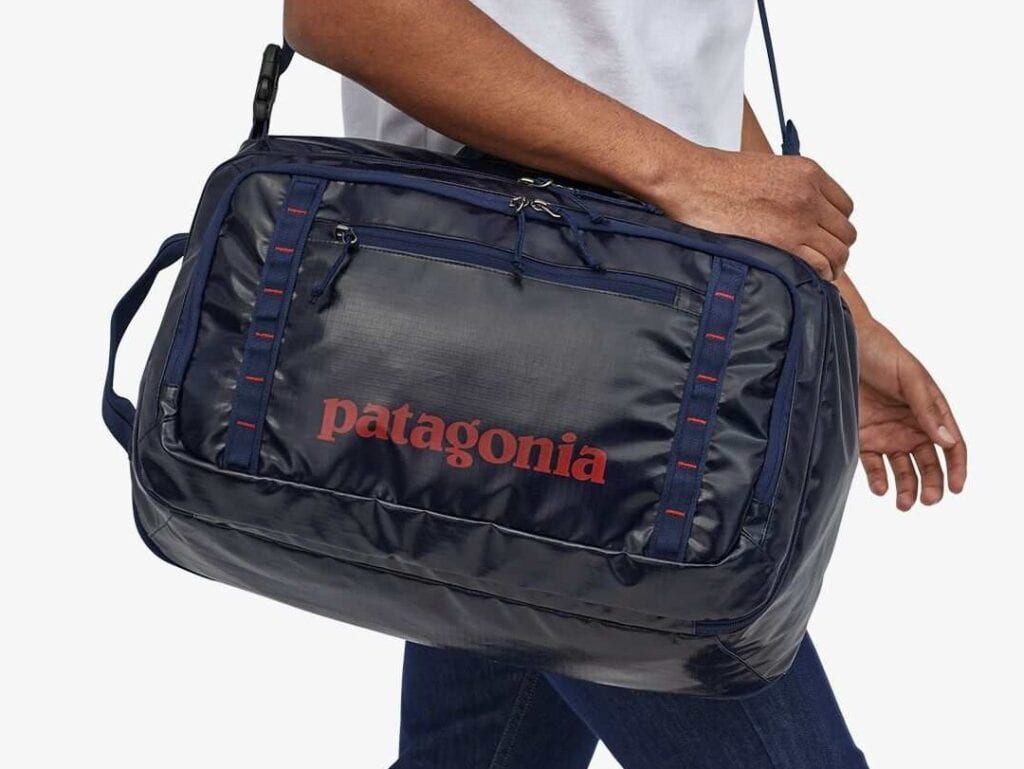 For those traveling for shorter periods, the smaller 26 liter MLC bags might be what you need.
The Patagonia Tres MLC 26L and the Patagonia Black Hole MLC 26L deliver the same materials, design, and function, in bags that are just over half the size.
As cool as these tiny bags look, if you're an aspiring DN or long term traveler, I recommend sticking with the full-sized 45-liter bags

MY EXPERIENCE WITH THE PATAGONIA MLC
I first learned about the Patagonia MLC carry-on bag during a three-month backpacking trip through Southeast Asia – Thailand, Laos, Cambodia, and Vietnam. At the time, I was carrying the REI Trail 40 which I loved. However, my traveling buddy carried his Patagonia MLC Tres 45L. Considering I'm a complete backpack nerd, I asked him to swap bags for a few weeks to try it out.
My buddy raved about this bag and completely loved its specific function and simplicity – just like his travel style. He carried a small packing list of clothes and only a cell phone for electronics. No laptop. No tablet. No excess. Just like the MLC.
He'd been using this bag for three years at that point, and it took him on numerous backpacking trips through Mexico and the rest of Central America, plenty of travels across the US, trips through Europe, and more. Now, he was on a three-month tour of Southeast Asia and still loving it…and he convinced me to try it.
And…I loved the Patagonia MLC Tres as a minimalist travel bag.
The open storage and simplicity combined well with my packing cubes.
I fit all of my gear in the bag, and I carried enough for a year of travel with everything I would need for Southeast Asia, South America, and Europe.
The MLC checked in easily on the strict, budget airlines of Southeast Asia and was easy to move with on the trains and buses that come with Southeast Asia backpacking – from Bangkok to Chiang Mai to Vietnam.
All in all, I loved the MLC as a travel bag but was happy to have my REI Trail 40 back for one reason – hiking.
Next on my trip through Asia was heading to Nepal to do the Everest Base Camp Trek. Though the Patagonia MLC is fabulous for a normal airline, bus, and train travels, it performs better as a briefcase and luggage than it does as a backpack, and I was happy to switch back to my REI Trail 40 for my trekking and hiking adventures.
A lack of structure and lightweight straps isn't much of a city travel problem but makes the bag unsuitable for hiking or extended daily wear.
Bottom line: If you need a bag to hike with or use for daily wear, look elsewhere. However, if you're looking for a minimalist travel bag, the Patagonia MLC is a great investment.

UPGRADES TO CONSIDER FOR THE PERFECT SETUP
1) Add a piece of Kydex plastic frame sheet to the laptop pocket for extra laptop protection and a slight bit of supportive rigidity in the bag
2) Add Tortuga packing cubes or these packing cubes for organization
3) Bring a collapsible yet comfortable daypack to use for daily adventures

PROS AND CONS OF THE PATAGONIA MLC 45L
PROS
CONS
– Maximum volume for a carry-on sized bag
– Collapsible design allows the bag to compress for strict/budget airlines
– Very tough construction
– Iron Clad guarantee backed by Patagonia
– Simple, well-tested design (since the '90s)
– Lightly padded laptop compartment
– Great organization and lots of briefcase style compartments
– Still requires packing cubes
– Lack of structure in the bag
– TPU material in the Black Hole variant can crease and scratch over time
– Can be uncomfortable during long periods of wear
– Not great as a backpack
Bottom Line on Pros and Cons of the Patagonia MLC: Fantastic carry-on luggage and "travel briefcase," but not a great backpack
This bag is a great piece of luggage and functions well as a "briefcase with straps" to make travel easier. However, the Patagonia MLC is not a backpack. If you anticipate long periods of backpack-style wear, look elsewhere. Traveling from the airport by train to a hostel will be just fine, and bring a nice **daypack** for those day hikes and adventures around the city
This bag is best used as a travel bag with short periods of wear while moving and keeping you organized in the times in between.

PATAGONIA BLACKHOLE MLC FEATURES
Fits as a carry-on on all planes (as long as we don't overpack)
Huge YKK zippers designed to work even when grimy and dirty
Stowable backpack straps are contoured to the shoulders and are comfortable for short periods of wear
45L size and cavernous interior make it possible to pack for nearly any length of travel
Great lifespan: The Tres (soft nylon) maintains the original appearance longer while the water-resistant Black Hole TPU outer cloth picks up creases sooner. Still, Patagonia's Ironclad guarantee and great build quality guarantee you'll get years of use from this bag.
1% for the planet promise guarantees Patagonia will donate 1% of the sale from this bag to saving the environment
Daisy chained lashing across the front of the bag, perfect for lashing or clipping small carabiners (set up differently on the Black Hole and the Tres, but fills the same function)
Heavy-duty, padded carrying handles on the top and side will handle whatever you throw into this bag
Durable nylon pulls on all zippers

DESIGN/AESTHETIC
The Patagonia MLC's design is practical, outdoorsy, and simple at its best. The "style" has been refined over the years to fit the standard Patagonia demographic that loves their outdoorsy look but values functional simplicity more. If that describes you, you'll like the overall look of this bag
If you are looking for a stylish bag with an urban-modern look (think Tortuga, Aer, or Tom Bihn), look elsewhere.
Personally, the muted color schemes (black on black, grey on black) add a crisp look to this bag that makes it look versatile enough for any kind of travel
The bag is designed to be carried brief case style, by the heavy duty padded top and side handles, or as a shoulder bag using the nicely padded comfortable shoulder strap, or as a backpack using the stowable countered shoulder straps.
Though this bag does have a lightly padded laptop pocket, I do recommend using a laptop sleeve or tablet sleeve for extra protection, or even a large Ziploc bag for waterproofing.
The backside of the MLC has a nice slot perfect for sliding the MLC over the handle on rolling luggage (for those business trips).
---
DESIGN/AESTHETIC OF THE BLACK HOLE MLC

INTERNAL ORGANIZATION: STORAGE AND POCKETS
1 x front document/slash pocket
1 x front panel pocket that unzips to expose six open and zippered pockets
Main compartment unzips clamshell-style to create two divided compartments within the bag, one larger, one smaller
The main compartment divider has two more zippered mesh pockets within the divider for further organization
Contoured shoulder straps stow away into a zippered pocket within the back panel
Laptop pocket fits a 15" laptop

DURABILITY
There's a reason the Patagonia MLC has been around since the 90's – because it performs well, and this bag is tough enough to live up to the Patagonia brand name. The only materials change in two and a half decades of selling the MLC line is switching from 960 denier Cordura nylon in the Patagonia MLC Headway, to 50% recycled nylon in the new MLC Tres variant. That's it.
Patagonia Black Hole MLC durability:
The TPU polyester material used in the Black MLC variant is tough and waterproof (in the main fabric, not at the zippers or seams) and can be expected to last a lifetime from a functional standpoint. The ripstop polyester (which gives the material its "gridded" look) ensures that tears or punctures due to accidents stay small. I've thrown Gorilla Tape on small punctures on my duffle, and it kept kicking just fine.
Do note that the TPU material in the Black Hole line will crease over time, changing its aesthetic from crisp and clean to well used as long as you understand and expect that – all good.
Patagonia MLC Tres durability:
This bag is made of tough nylon that is abrasion-resistant, tear-resistant, and puncture-resistant. Though this softer counterpart to the Black Hole doesn't have water resistance, you can expect this bag to maintain the same look (no creasing, no cracking) throughout its lifetime.
When I tested out my buddy's Patagonia MLC Tres, he'd owned it (and abused it) for three years, and after a quick wash, it always looked like new. No tears. No punctures. No issues.
Zippers, straps, stitching, and hardware
The stitching and hardware on both variants of this bag are tough enough to handle dragging and overstuffing. All plastic hardware is Duraflex. All zippers are burly YKK zippers.

ECO-FRIENDLINESS AND SUSTAINABILITY
Patagonia's gear is usually an excellent value, but it doesn't come cheap. Arguably though, it's still worth it, and in part, due to the eco-conscious (not just eco-friendly) approach, Patagonia is taking with these bags and its whole company.
A portion of the price tag you're paying for the Patagonia MLC supports the Patagonia "Ironclad guarantee." Though this guarantee benefits us, by offering to repair gear, the main aim is to keep gear out of landfills and in use longer. Less gear purchased means less petroleum processed to make polyester and nylon. Less gear discarded means less gear in landfills. So, by spending that extra money to pay for a program that keeps your gear in use longer, you (and Patagonia) are improving the planning.
Secondly, the higher price tag goes to support more "experimental" programs, like Patagonia's current move to make all of their gear from recycled materials – reducing petroleum processing and carbon emissions in the process.
100% recycled polyester, Bluesign certified fabric is used in the Black Hole MLC – made from recycled soda bottles, and recycled polyester clothing
50% of the nylon in the Tres MLC is made from recycled materials
CLICK HERE TO READ ABOUT HOW PATAGONIA IS TURNING SODA BOTTLES INTO TOUGH GEAR
---
Direct from Patagonia's website:
"For the Spring 2021 season, 84% of our polyester fabrics are made with recycled polyester. As a result, we reduced our CO₂e emissions by 14% compared to virgin polyester fabrics, which amounts to more than 3.1 million pounds of CO₂e.
CLICK HERE TO READ MORE ABOUT PATAGONIA'S RECYCLED MATERIALS EFFORTS
---
PATAGONIA DONATES 1% OF EVERY SALE TO ENVIRONMENTAL ENDEAVORS
Lastly, Patagonia is part of the 1% for the Planet alliance and donates 1% of the sales from every piece of gear sold to efforts aimed at saving and rehabilitating the environment

PERFORMANCE OF THE PATAGONIA MLC
This briefcase style travel pack is designed to 1) fit overhead as a carry-on and 2) keep your goods organized (with the help of the right packing cubes. This pack is not designed to be worn for extended periods.
The dimensions of this bag fit carry-on restrictions for most airlines, and the soft-sided lack of structure design made it easy to squeeze the bag into smaller carry-on restrictions of Asia's budget airlines.
However, that same soft-sided lack of structure made the bag awkward to wear for long periods (longer than 30 minutes) as the load tended to be uneven and hard objects packed in the bag can stick you in the back.
I recommend considering upgrading the bag by adding a Kydex plastic frame sheet which will add just enough structure and a little more laptop protection
---
If you need a minimalist bag for travel that doesn't involve moving far with it on your back, this bag is a solid choice.
However, if you plan to move more than every two days or walk long distances with your pack, aim for a true travel backpack.

COMPARABLE PACKS TO CONSIDER
Minimalist Clamshell Briefcase Style Bags:

PATAGONIA MLC 45L SIZE, WEIGHT, DIMENSIONS
Capacity: 45 Liters, 2,746 Cubic Inches
Weight: 1.5kg / 3.3lbs
Dimensions: 22.8 x 18 x 6.75 inches / 57.8 x 45.7 x 17.1 centimers
Max Laptop size: 17 inches
Dedicated Laptop Pocket: Yes
Material

Black Hole: 450 denier ripstop polyester with a TPU (Thermoplastic Polyurethane) laminate and DWR (durable water-resistant) finish, all Blue Design certified

Tres: 50% recycled nylon, 50% new, tear and abrasion-resistant nylon

IN THE END, WHICH BAG WOULD I CHOOSE?
I alternate between being a hard traveler and am abusive with my gear, so my go-to bag for adventures is the heavy and overbuilt GORUCK GR3. I opt for the digital nomad-centric, padded, and well-organized Tortuga Outbreaker on lighter travels where I bring lots of electronics.
However, if I were traveling without my 15lbs of electronics and didn't need a bag that a Himilayan yak could trample, I would absolutely take the Blackhole variant of the Patagonia MLC 45L bag with a few Tortuga packing cubes. Minimalist, lightweight, and carefree – this setup has island life written all over it.
For lightweight adventures, I highly recommend the Patagonia MLC 45L

PATAGONIA MLC VARIANTS
Patagonia Headway MLC 45L (940 denier Cordura Nylon) – Discontinued, now the Patagonia Tres MLC