For the digital nomad, backpacks and choosing the right one for you will be the toughest part of packing for your soon-to-come adventure.
When traveling the globe as a digital nomad, your backpack becomes the closest thing to a permanent home you will have. Whether you stay in a single place for three days or three months, having the right backpack will make life easier, more comfortable, and more enjoyable. The right digital nomad backpack for you will do everything you need and fit seamlessly into your nomad life. Whether you are frequently boarding flights, planes, and buses with fast-paced travel, using your backpack on daily jaunts to a coworking space, or escaping from your home base for a weekend adventure, the right backpack will do it all.
In the post, we'll review the best digital nomad backpacks for every type of nomad – tech-heavy travelers, minimalists, outdoorsy travelers, and those who travel to every climate and place. Regardless of who you are, we'll make life easier by helping you find the best backpack for your travels, your gear, and your adventures to come.

CONTENTS OF THE 17 BEST DIGITAL NOMAD BACKPACKS
Upfront: The Best Digital Nomad Backpacks, Daypacks, and Duffel Bags
Why does having the right backpack matter for digital nomads?
What's in a good travel pack, and what do digital nomads need?
Best Travel Bags for Digital Nomads
Best Duffel Bags for Digital Nomads
Best Daypacks for Digital Nomads
Best Collapsible Daypacks for Digital Nomads
What should you take? Travel pack, daypack, or duffel?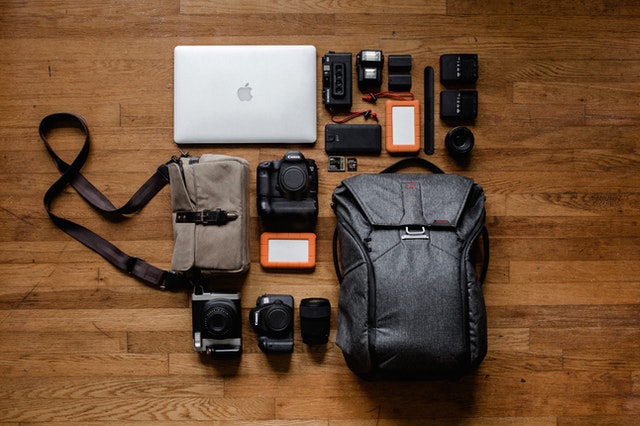 THE BEST DIGITAL NOMAD BACKPACKS BY CATEGORY (UPFRONT)
---
BEST TRAVEL PACKS FOR DIGITAL NOMADS

WHY DOES THE RIGHT BACKPACK MATTER FOR DIGITAL NOMADS
As a digital nomad, you will spend countless hours moving from one place to another with your backpack – in planes, taxis, buses, trains, and more. Though these experiences will be amazing and exhilarating, knowing that your entire life is on your back can have the potential for stress. If the bag is uncomfortable, if the bag becomes disorganized (and it's hard to find things quickly), or if your belongings get lost or broken while you're miles from home.
Having the right backpack mitigates all of these issues and allows you to focus on enjoying your travels instead of worrying about your belongings.
The best digital nomad backpacks offer these benefits:
Makes staying organized easy, with logical, intuitive pockets for tech-heavy travelers
Protects your things with special pockets for delicates (laptops) and valuables (money and passports)
Allows for carryon only travel for quicker movement, less likelihood of losing your things, and savings on checked bag fees
Durable enough to last years of hard travel
Versatile enough to be comfortable and durable in most activities – flying, daily commutes, and even hiking

WHAT TO LOOK FOR IN A GOOD DIGITAL NOMAD BACKPACK
There is no single "perfect travel backpack" that suits every kind of traveler, but there is a clear list of characteristics that make a backpack better for travel. Review this list of what the perfect travel backpack would have and judge your options accordingly.
Attributes of the perfect travel backpack:

THE BEST DIGITAL NOMAD BACKPACKS
---
(45L or 35L| $269 | Perfect for Urban Nomading)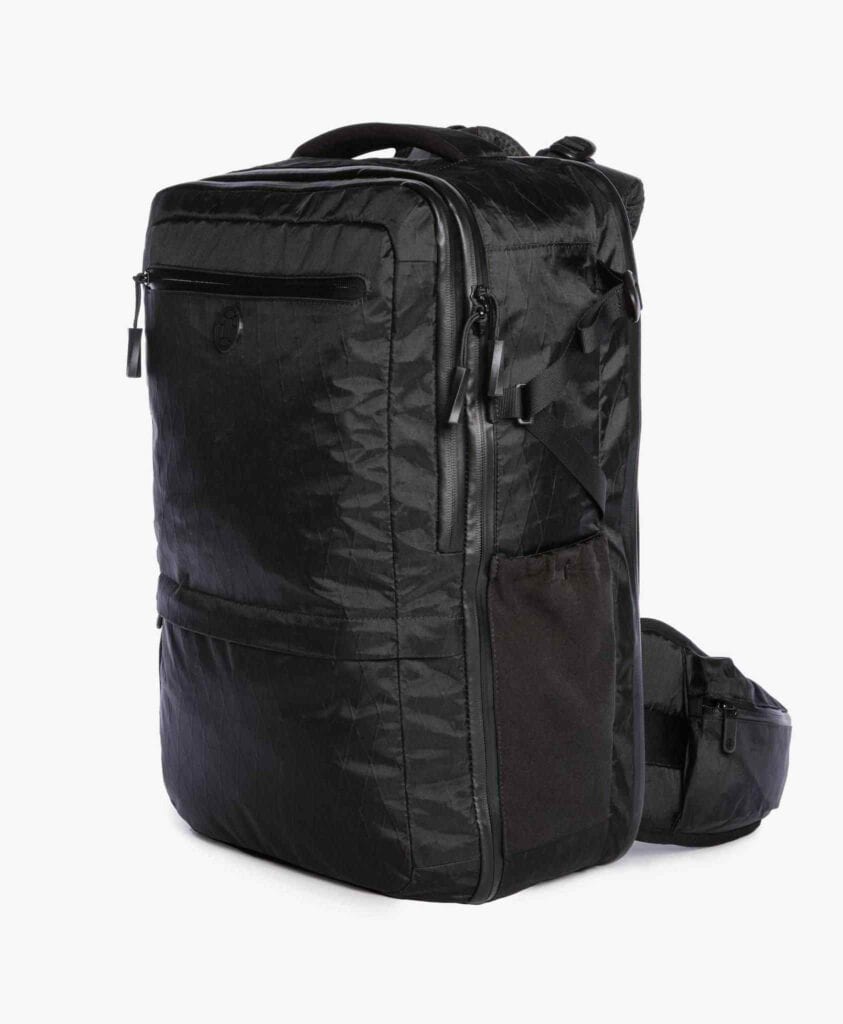 Roomy, well organized, and extremely comfortable, the Tortuga Outbreaker is arguably the best backpack for long-term world travelers and digital nomads.
Waterproof and durable sailcloth outer fabric held together with water-protected zippers creates a water-resistant bag that stands up extremely well to the rain. Great organization throughout makes it easy to keep everything – from underwear to tablet and laptop – in its proper place. Extremely padded shoulder straps and back panel, along with a padded, clamshell-style padded pocket for your laptop, make this an extremely great choice for long-term travel.
Pair with the Outbreaker Packing Cubes for an ultimate digital nomad backpack setup for long-term travel.
Size: 35L or 45L | 22″ x 14″ x 9" | 5.1lbs
Click here to purchase at Tortuga's site
---
(45L| $395| Perfect for Hard Use and Adventure Travel)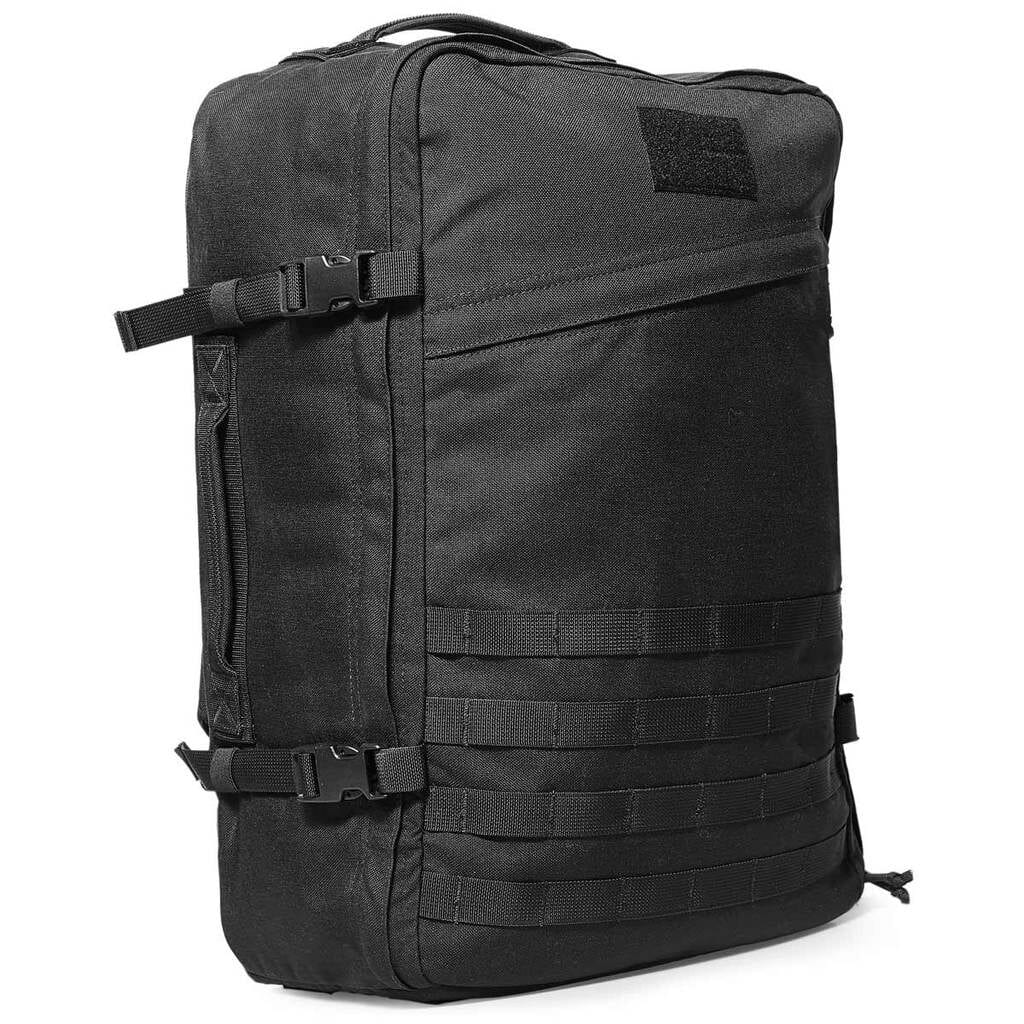 A spacious and tough military-grade and inspired ruck, this "travel ruck" is built to carry 450lbs+, is rainproof, and is made of abrasion and tear-resistant 1000D Cordura nylon throughout and a lifetime guarantee. If you need a travel bag that can handle abuse and survive the years, the GORUCK GR3 is it.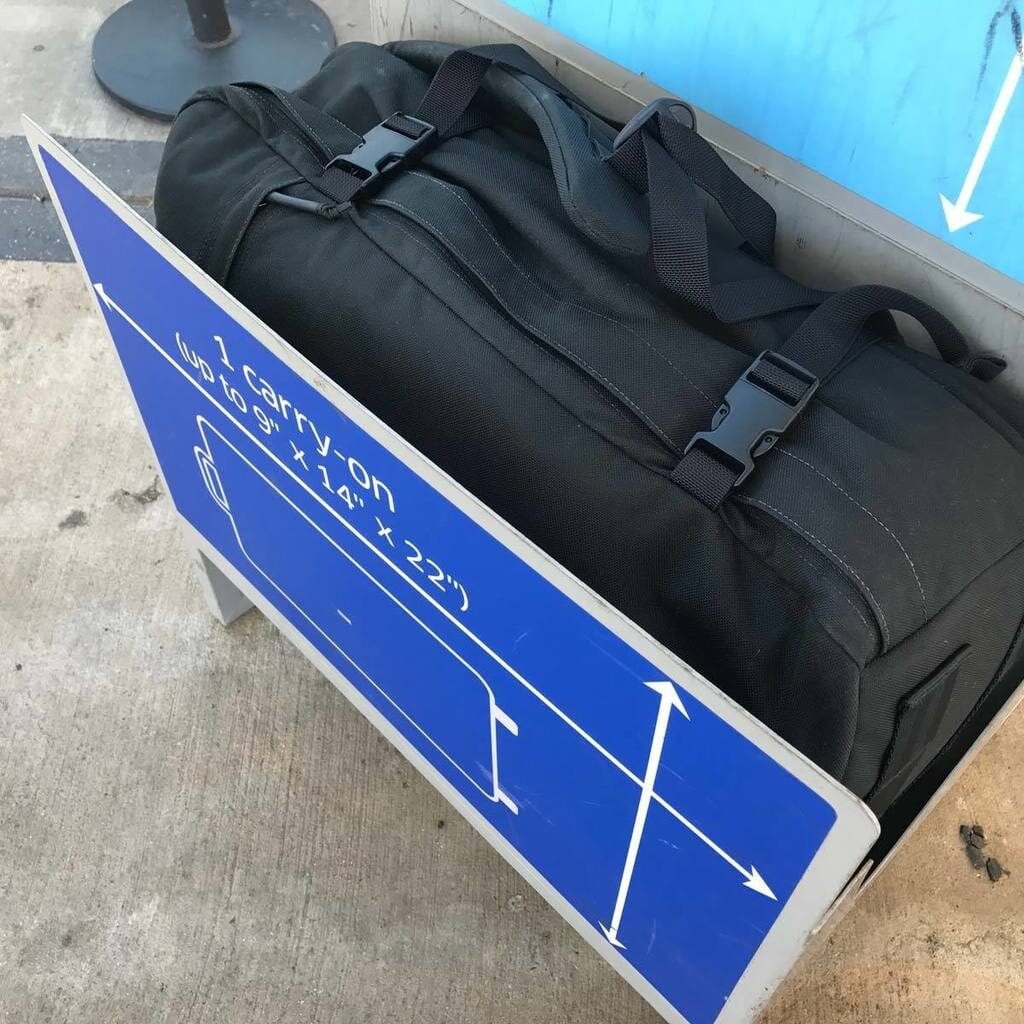 The clamshell-style design makes everything in the bag easily and quickly accessible, but plan on taking packing cubes as well to stay organized (I recommend any of these packing cubes). Two of my last four years traveling have been with this "travel ruck," and I can't recommend it more.
Click here to check out available colors of the GR3 at GORUCK
---
(40L and 34L | $375 | Hard Use and Adventure)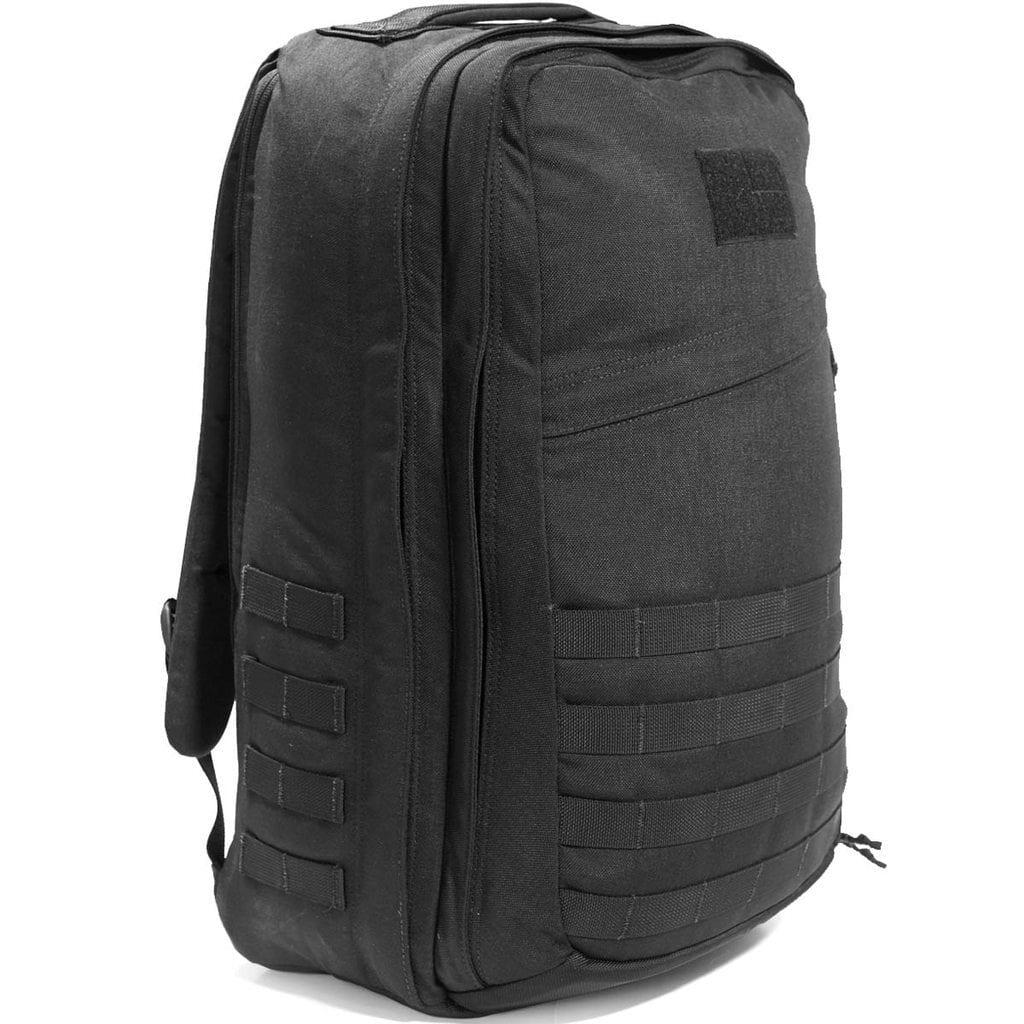 The GORUCK GR2 delivers the same toughness as the GR3, but with all of the organization you need and in a daypack-friendly bag. This ruck is still built rainproof, abrasion-resistant, tear-resistant, and ready to hold 450lbs loads. The GORUCK GR2 also has a two-compartment clamshell opening design with all panels lined with mesh pockets and a protected "bombproof laptop pocket" with rigged protection and a "false bottom."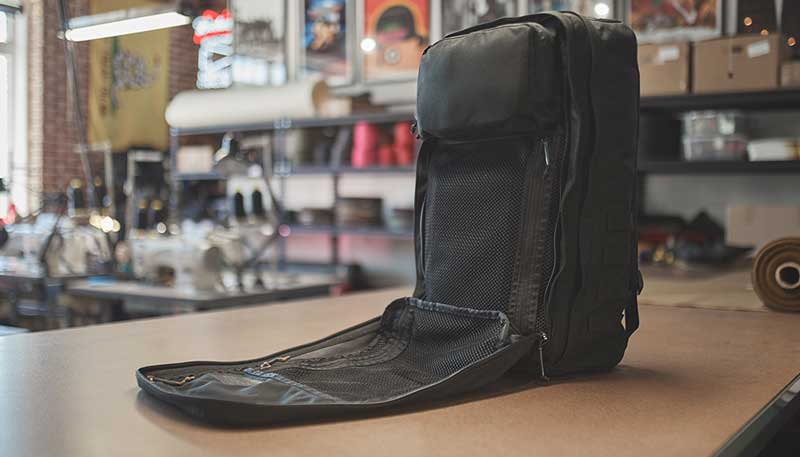 The GR2 is a perfect weekender backpack, and the 34L version is my go-to daypack. Pair this bag with a collapsible duffle (like the GORUCK Kit Bag or the Northface Base Camp duffel), and you'll still have a carry on friendly setup that can expand to fit all of your gear and gives you a great daypack/weekend pack for daily commutes and varied adventures
Read more in our full GORUCK GR2 review
Visit GORUCK.com to learn more about the GORUCK GR2
---
FARPOINT AND FAIRVIEW
(40L and 55L | $160 | Best for Hikers and Outdoorsy Travelers)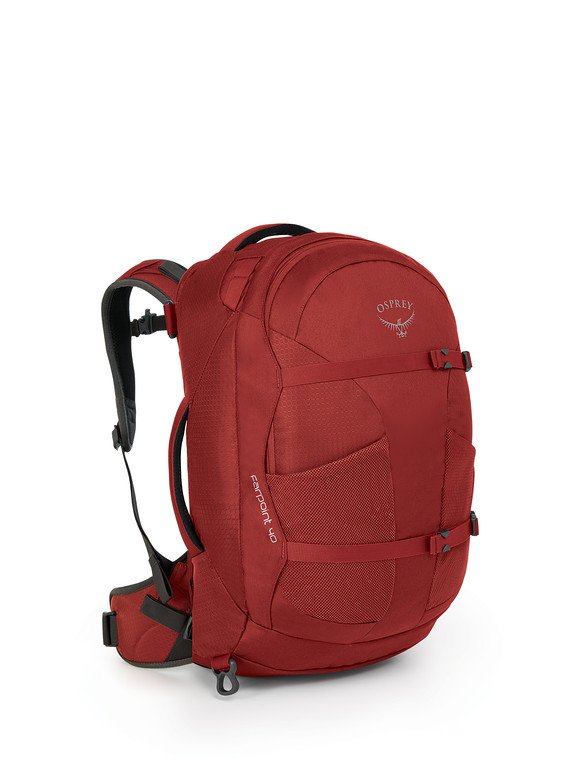 The Osprey Farpoint (men's line) and Fairview (women's line) are classics among the backpacking and long-term travel community for their all-around performance and durability. Carry on size, comfort, and small details common to outdoor and backcountry backpacks make this series perfect for urban travel, trekking, adventure travel, and the flights, buses, and trains in between.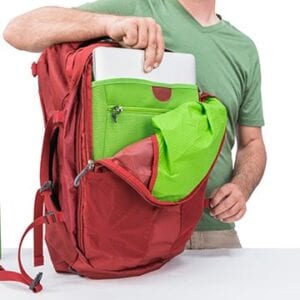 If you're a traveler that splits their time between urban travel and outdoor, the Osprey Farpoint or Fairview may be perfect for you
Carry on size and outdoor adventure and travel friendly
The same backpack as the Farpoint/Fairview 40, with an added zip-off daypacks with laptop/tablet sleeve, perfect for daily use between travels. To travel carryon only, zip off the daypack, and you're ready to travel
FARPOINT 55 TREK AND FAIRVIEW 50 TREK
If you will absolutely spend more time on the trail than in the city, consider getting the "trek" version of this pack designed to carry more like a backcountry backpacking backpack. An adjustable, ventilated back panel, extra padding on the shoulder and hip harnesses, and trekking friendly quick access pockets on the outside.
Click here to learn more about the Osprey Farpoint/Fairview Trek series at Osprey.com
Osprey packs are guaranteed for life
Click here to order the Osprey Farpoint or Osprey Fairview on Amazon with free shipping or Osprey.com
Hikers and trekkers, click here to learn more about the Farpoint/Fairview Trek
Also consider: The Osprey Porter 30 as a daypack, the Farpoint 55, Osprey Porter 46, and the REI Trail 40
---
(34L, 27L, or 22L | $163 | Water-Resistant, tough, urban, or adventure bag for DNs )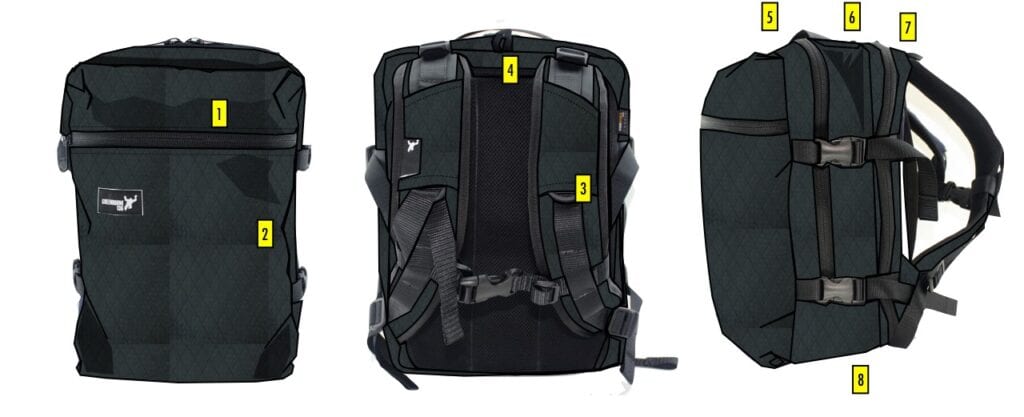 Greenroom136 is a boutique maker of tough backpacks that are intuitively designed to fit every piece of tech you have and put together with some of the most durable materials available.
I was lucky enough to meet the company's owner in Kuala Lumpur. He shared that he (a traveler and consummate entrepreneur at heart) designs his bags for others that split their lives between traveling and hustling their way to building an empire. Sounds like a solid digital nomad to me.
The Rainmaker is a clamshell-style opening bag with protected pockets for laptops, tablets, tech, and the rest of your travel gear. The Padded and mesh vented straps are reinforced with car seat belts for strength. Mesh panel style pockets dot the bag to keep everything else organized. Waterproof VXPac fabric is used throughout. Lastly, the shop will custom modify the bag to any specification you wish.
Either travel minimalist with the 34L Rainmaker or go for the smaller 27L Rainmaker and pair it with a compressible duffle bag for a solid travel setup.
Click here to learn more about the 34L VX42 Rainmaker at Greenroom136
Or check out the standard, 1000D Cordura nylon outer Greenroom136 Rainmaker, with less water resistance but made with the toughest fabric on the market, available here at Greenroom136's online shop
Or click here to check out the standard 1000D Cordura Nylon Rainmaker at Greenroom136
---
(40L| $280 |Best Urban Nomads with Lots of Tech)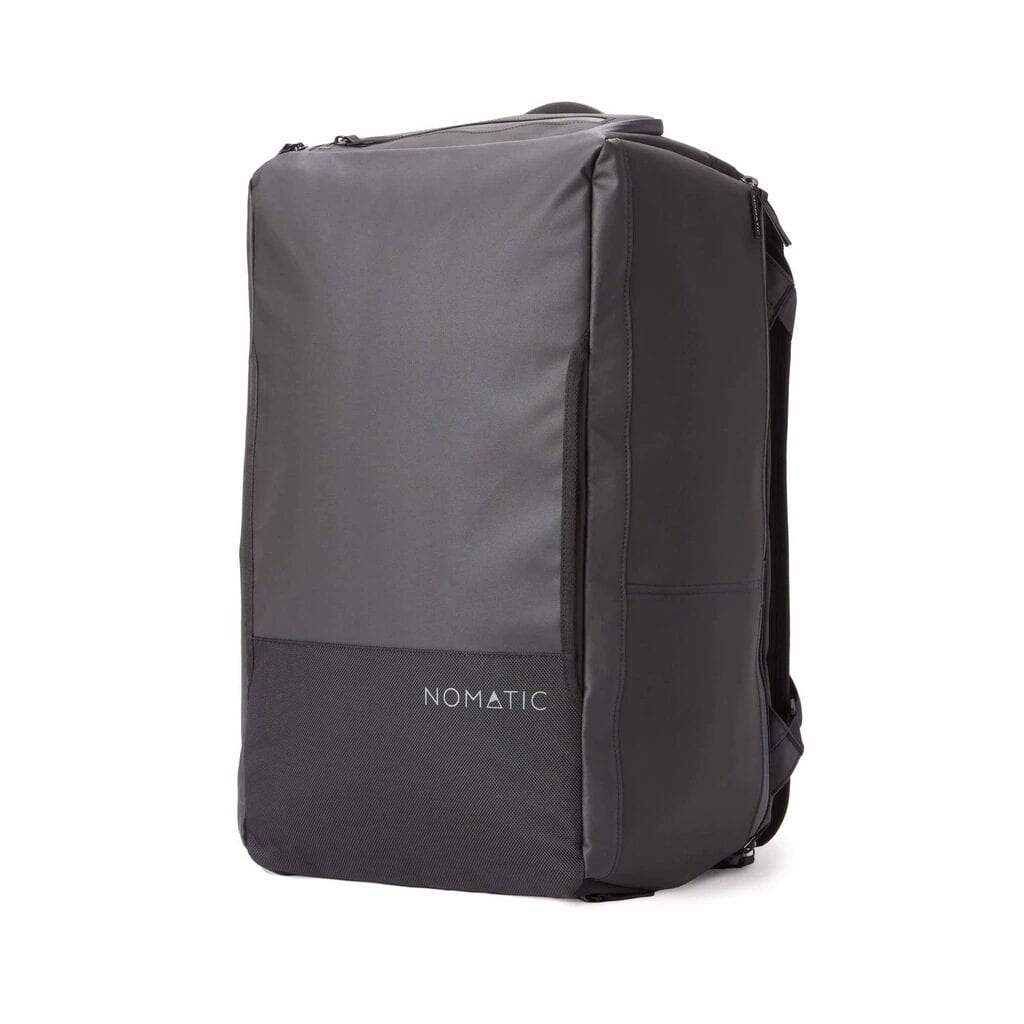 An obsessively designed travel bag perfect for carry-on-only urban adventures. Heavily water-resistant fabric and water-resistant zippers. Multiple compartments for shoes, clothes, small tech, laptop, dirty clothes, and more make this bag perfectly easy for a weekend getaway during our months traveling the world.
Click here to learn more about the Nomatic Travel Bag 2.0**
---
(35L| $349 | Urban Digital Nomads and Minimalist Travelers)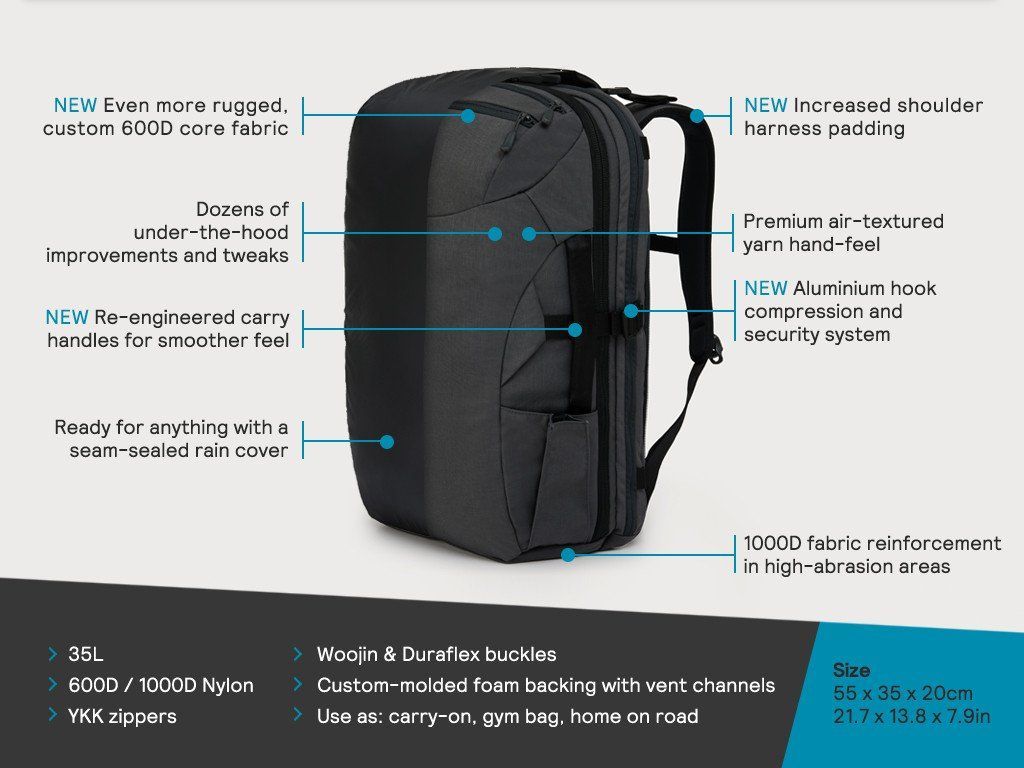 Another sleekly designed urban pack with a tough outer fabric, tons of well thought out tech, and security pockets finished with a clamshell-style padded laptop pocket. A wrap-around zipper allows the Minaal Carry-on. Top this bag off with packing cubes, and you'll be ready for any flight, bus, or train-based adventure.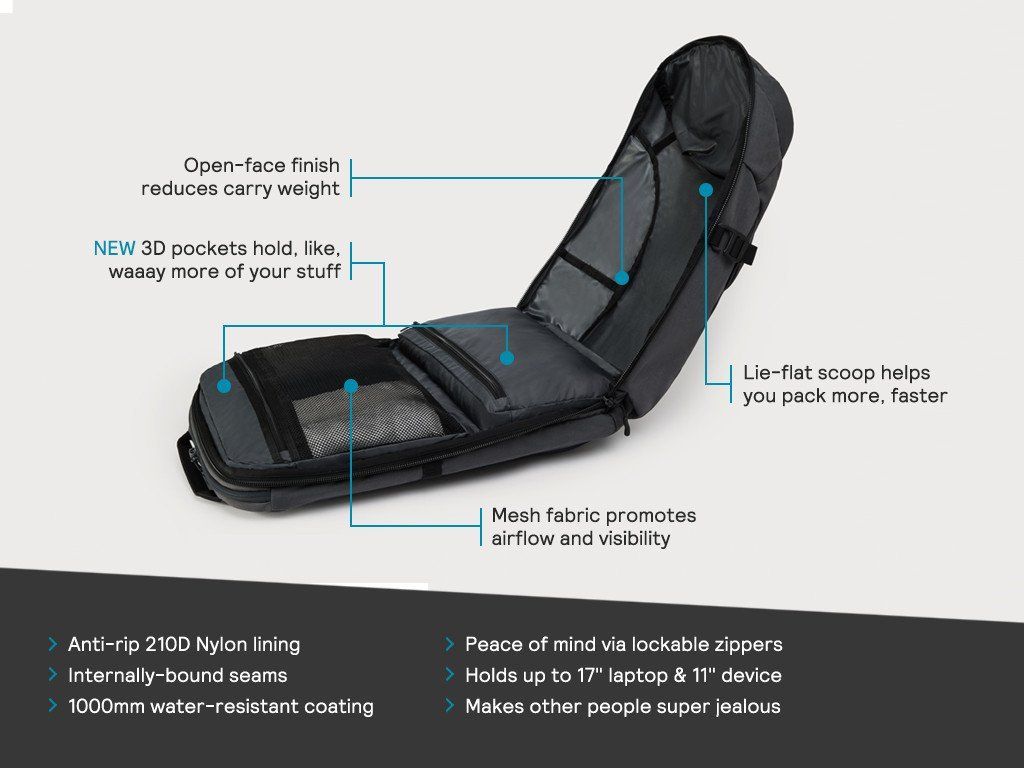 Discover more about the Minaal Carry-On 3.0 at Minaal's site
---
(33L|$230|Minimalist and Weekender Urban Travels)
A stylish and thoughtful piece of gear with all of the important elements to make travel comfortable and easy.
Given the size of this bag, if you're traveling for longer than a week or to multiple climates, plan on bringing a compact, compressible duffle bag. I recommend the GORUCK Kit Bag.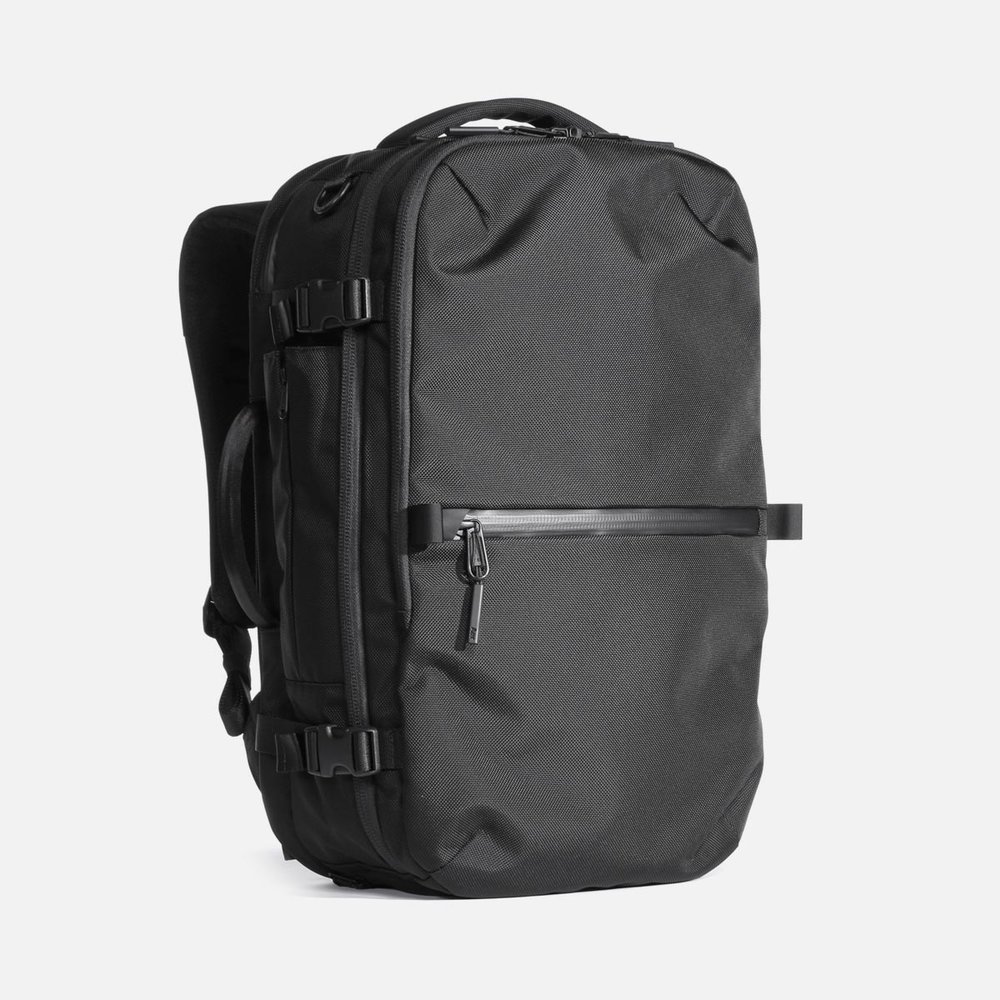 Click here to discover more about the Aer Travel Pack 2
---
(42L| $200 | Onebag, Minimalist Travel)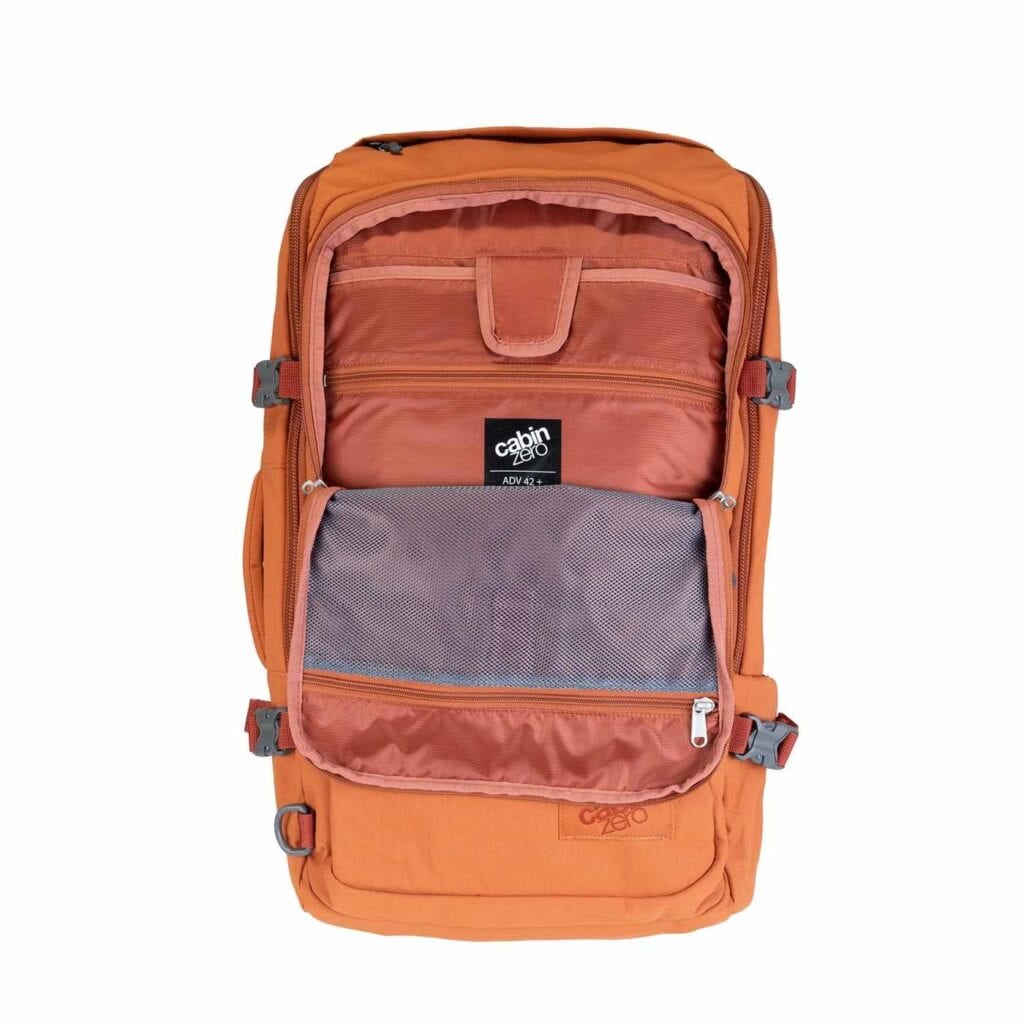 Reasonably priced, adventure-focused carry on bags with sleek exteriors, logical compartmented organization, and plenty of flashy colors (above and beyond the standard black urban bag). The Cabin Zero ADV (adventure) pro has a tough build, water resistance, a lot of organization, and will pass as a carry on for almost any flight.
Also, checkout out the panel strap laden and minimalist yet tough 44L Cabin Zero Military ($125), the water-resistant Cabin Zero 44L Urban pack ($150), and the simple yet functional and stylish Cabin Zero 42L Classic Pro ($175). All great options.
Cabin Zero in 42L and 44L size**
---
(40L EXPANDABLE TO 45L | $239 | Urban Travel Bag with Lots of Organization)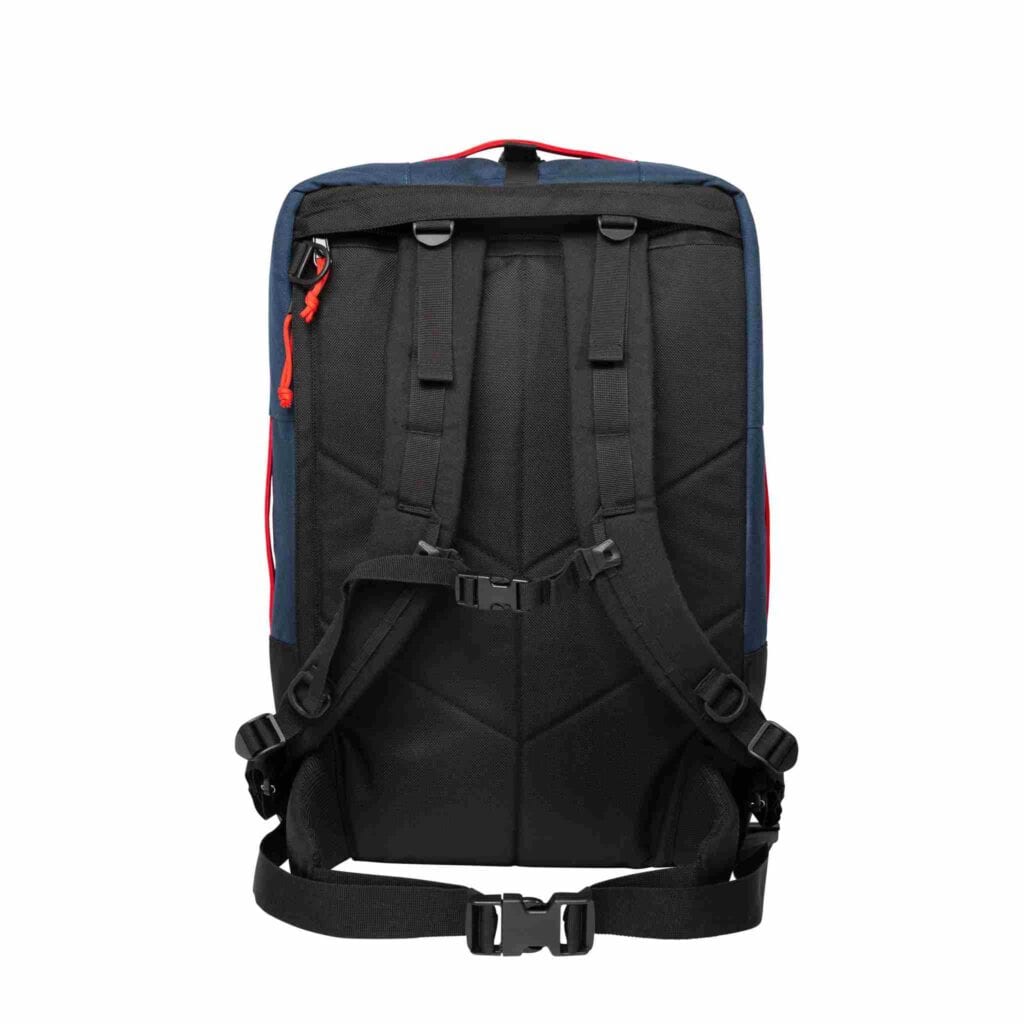 A practical carry on travel bag with large main compartments and plenty of small pockets to keep documents and tech organized. Durable materials (1000D Nylon, YKK zippers) mean this bag will last through travels and abuse. Fun colors add a stylish yet fun touch.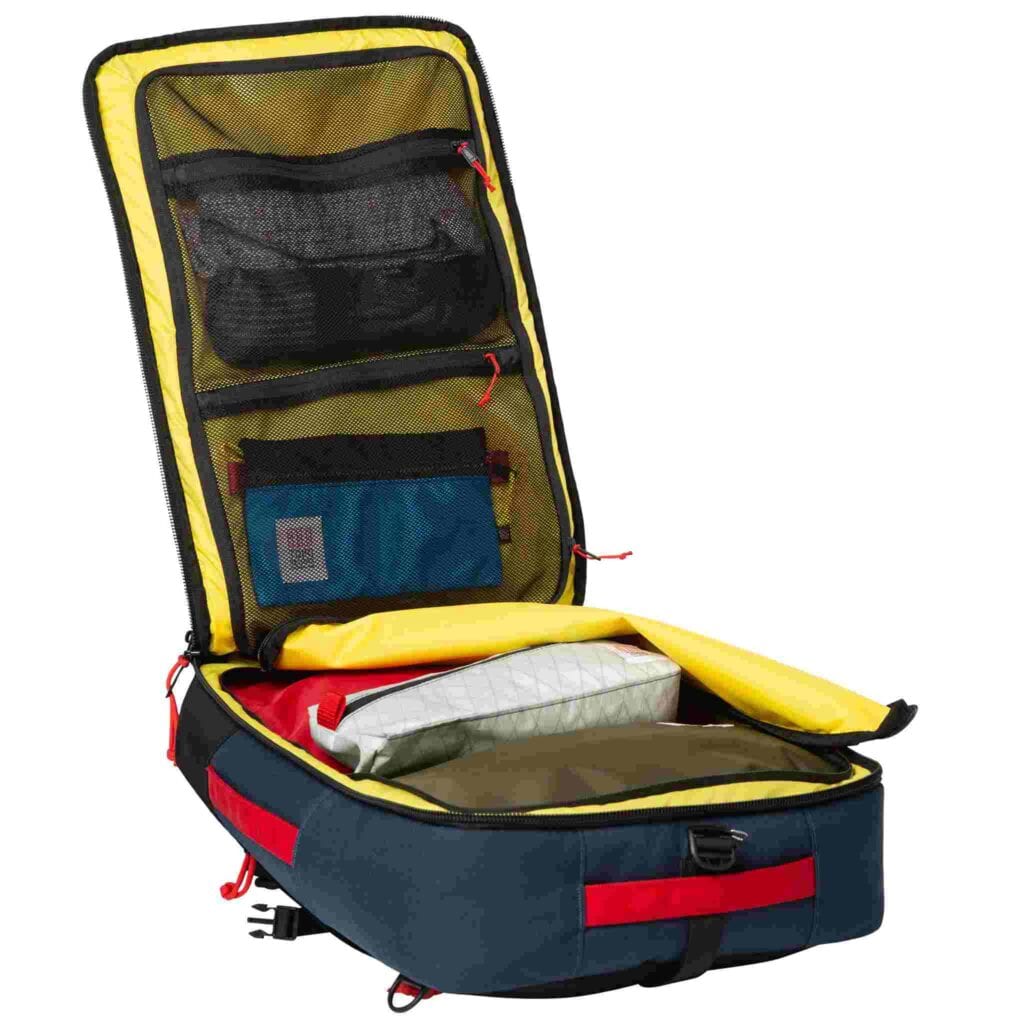 Pair with packing cubes for maximum function and organization.
Checkout the Topo Designs Travel Bag – 40L at Topo Designs**
---
( 45L/35L | $199/$179 | Urban Travelers)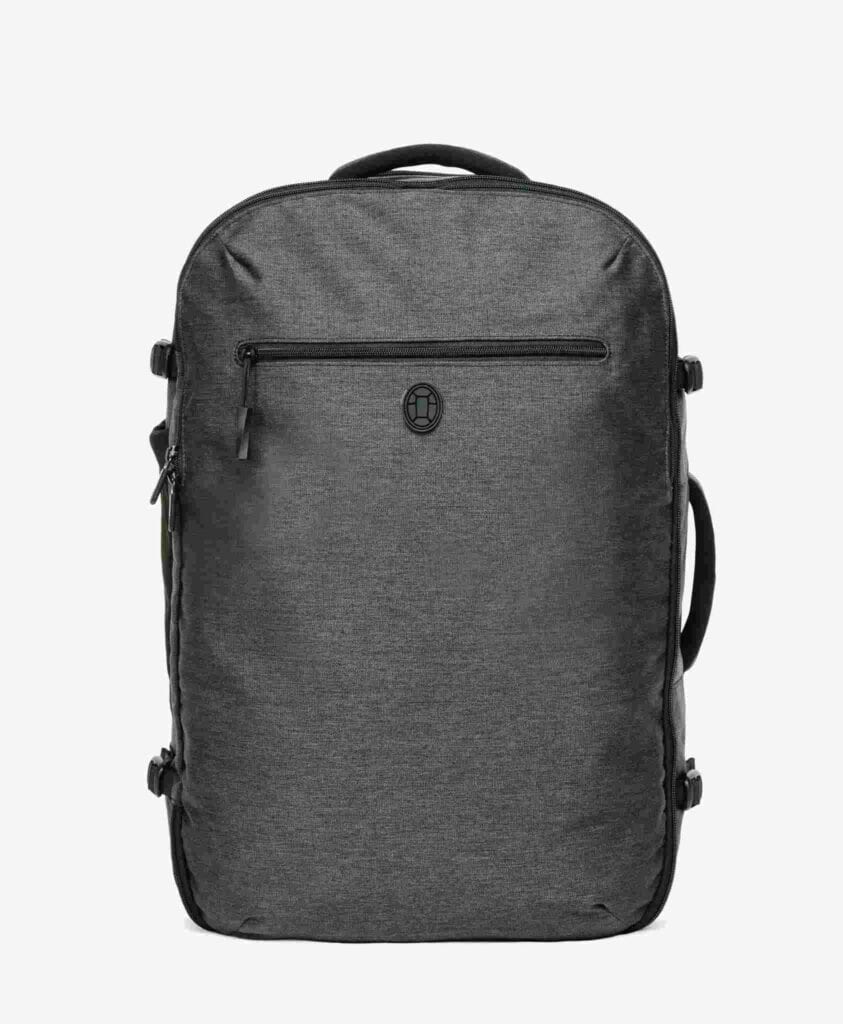 Much of the function of the Tortuga Outbreaker at a lower price point. Less water-resistant and durable fabric (but still great) and slightly less robust shoulder straps.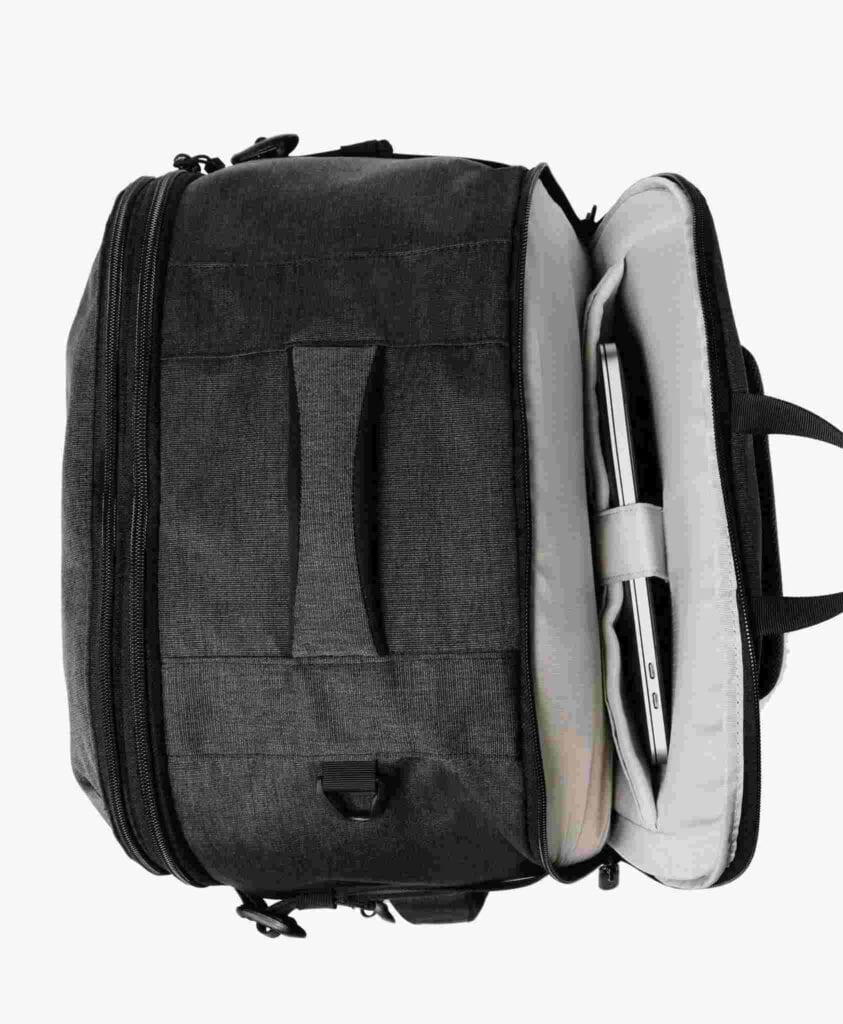 This bag still delivers many small storage spaces, a clamshell opening main compartment, and an extra clamshell-style pocket for your laptop. If you like the design of the Tortuga Outbreaker and don't need as much water resistance and tech organization, save yourself $100 and go for the Setout.
Don't forget the special Setout Packing Cubes to stay organized.
Click here to learn more about the Tortuga Setout
---
( 45L | $199 | Best for nomads concerned with security)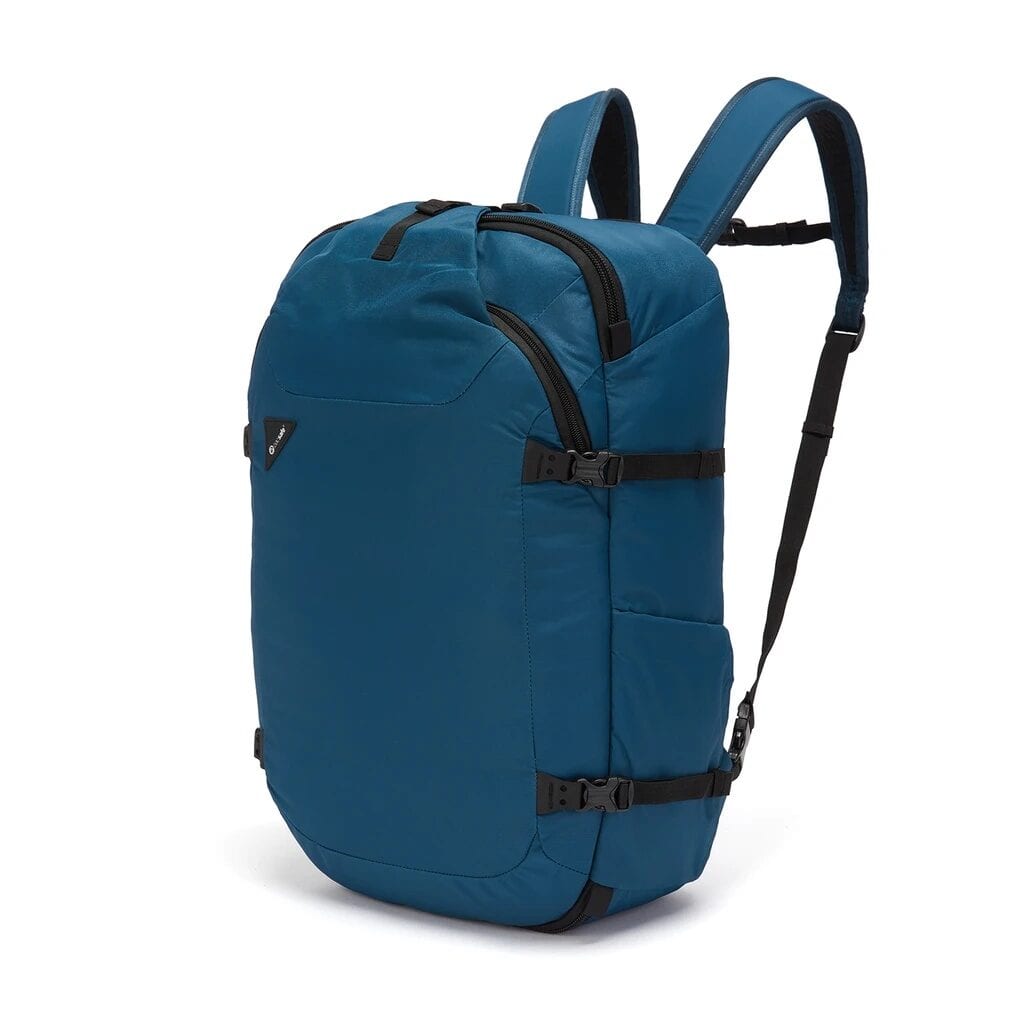 If you obsess about the safety of your gear and the potential for theft more than anything while traveling the world, the PacSafe then the Venturesafe EXP45 ECONYL® Anti-Theft Carry-On Travel Pack is the pack for you. This bag takes all of PacSafe's luggage anti-theft technology and wraps it in the long term travel-friendly carryon sized bag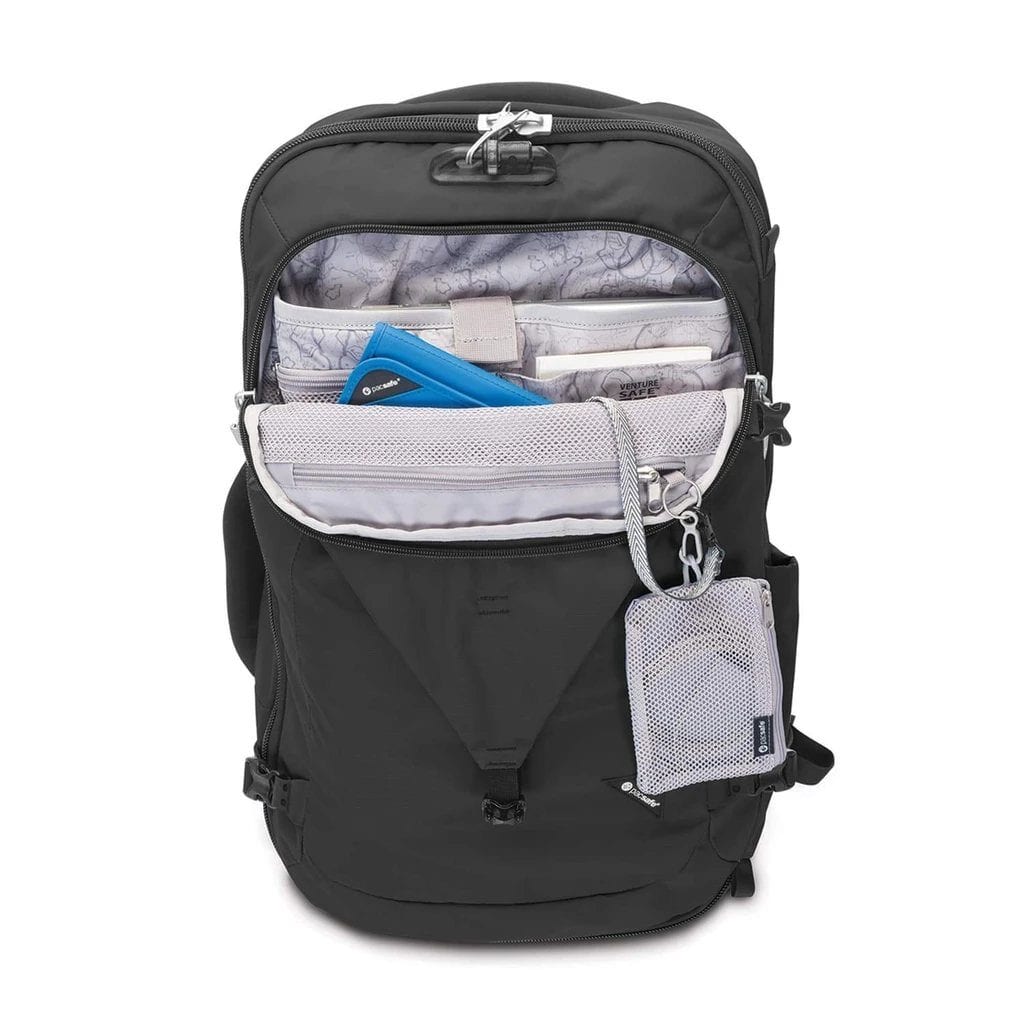 Cut resistant fabric reinforced with stainless steel wire mesh, "Roobar" locking system secures all zippers at a single point, reinforced anchor point for strapping your bag to a secure object, and tough recycled nylon (made from fishnets) makes this the pack to choose for
If you are traveling with extra gear but still want to keep everything safe, check out the 55L Venturesafe EXP55.
Click here to discover all sizes of the Pacsafe Venturesafe EXP
---
(40L| $159 | Budget Friendly, Long Term Travel Pack)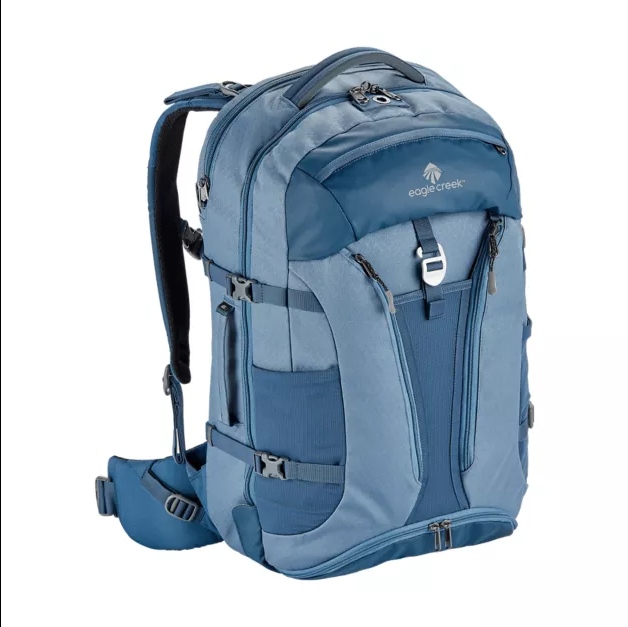 A great-priced, practical pack with solid organization perfect for any adventure and perfectly sized to fit as a carry-on for nearly any flight.
Click here to learn more about the Eagle Creek Global Companion 40L Travel Pack
---
(45L | $179 | Minimalist and "One-Bag" Travelers)
A minimalist and functional carry-on sized convertible travel pack and "travel-briefcase," the Patagonia Maximum Legal Carry-On (MLC) is a simple, practical bag that's perfect for staying on the move and organized. The Patagonia MLC is perfect for backpacking Southeast Asia, urban travels, and situations where you don't have to wear the bag for long periods but need to stay well organized when you're not moving.
The MLC comes in two variants – the heavily water-resistant MLC Black Hole made of TPU laminated ripstop polyester and the MLC Tres made of uber tough 630 denier recycled nylon.
Add a set of packing cubes, and you have an excellent carry-on option.
Read our full Patagonia MLC Review to discover more about this great bag
MLC at Patagonia and REI Online
---
(40L | $149 | Adventurous travelers splitting time between urban and outdoorsy environments)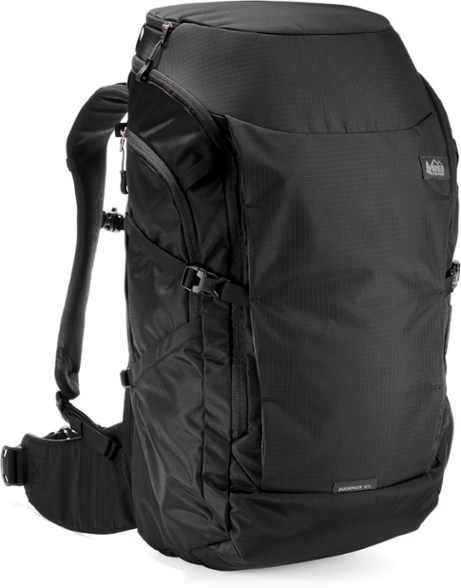 A perfect hybrid backpack with everything you need for travel and outdoor adventures. All of this in a single airplane-friendly carry-sized bag made of recycled fabrics.
If you're a balanced adventure and will be splitting time between streets and trails, the Ruckpack 40 is a great option
Click here to see the men's Ruckpack 40 at REI.com and click here for the women's REI Ruckpack 40
Or, read our full REI Ruckpack 40 review
---
(40L | $129 | Nomads that prefer outdoor adventures)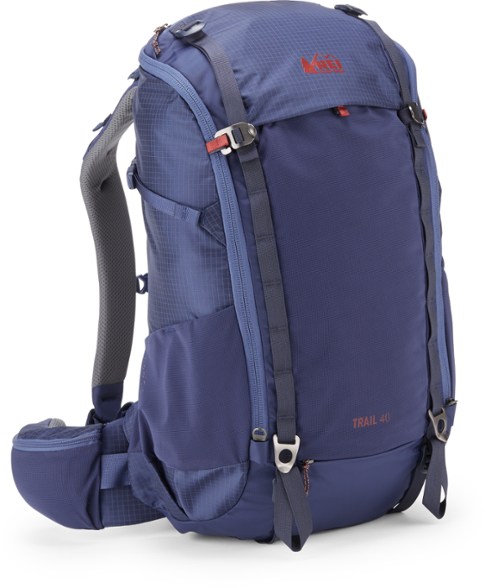 When it comes to carry-sized backpacks made for (and perfect for) hiking and trekking, the REI Trail 40 is hard to beat. Light in weight, comfortable shoulder harness, minimalist, and outdoor activity-focused organization, this bag is solid for a nomad who plan to spend most of their off time adventuring.
I personally used this bag for the first year of my travels, do the "digital nomad thing," and doing the Everest Base Camp Trek, and motorbiking the Ho Chi Minh Trail on the side. This bag was perfect for all of the above.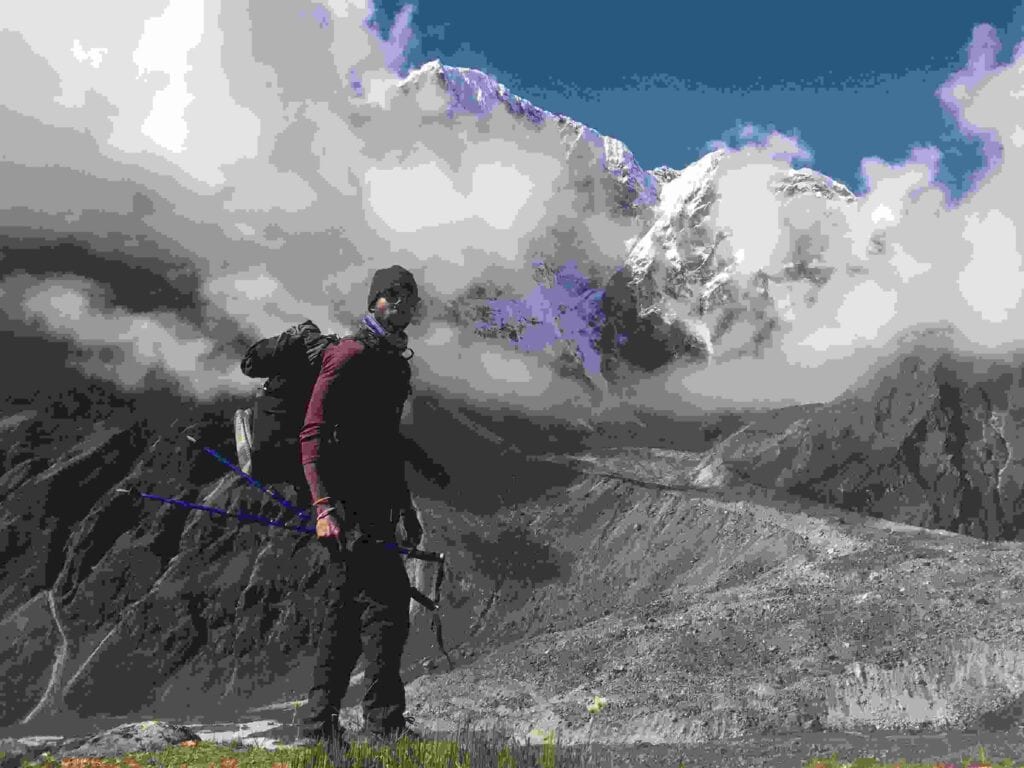 However, I recommend padded laptop protection (like a simple **neoprene sleeve**) and a large Ziploc bag for waterproofing
Key Features:

Contoured shoulder straps and back panel designed for hiking

Fabric and line made from 100% recycled material

Price: $129
Size: 40L | 22.5" x 13" x 10" |3lbs 1oz
Pros

Excellent for hiking and trekking

Cons

Hydration bladder pouch doubles as a laptop pocket, but you'll likely need extra protection for your laptop

Note

For laptops, consider bringing a padded laptop sleeve

Consider pairing this with a compressible travel duffle that can be strapped to the outside for expandable storage or leave behind storage (I recommend the **REI Road tripper Duffel or the GORUCK Kit Bag**)
---
( ~40L to ~50L| $45 | Budget friendly carry-on stravel pack)
A great value backpack for the money. If you're ready to travel but on a budget, this ~$50 pack is the best you can get for the money.
Keep in mind, the zippers and stitching are lighter and "medium-duty quality" compared to the rest of the packs on the page
Key Features:

Expandable design adds an extra 10 liters

Zippered laptop sleeve/pocket

Price: $45
Size: 39L expandable to 48 Liters | 15.75 x 21.5 x 8.25 | 3.7lbs
Pros

Price. Can't beat ~$45 for a carryon travel bag

Cons

This bag is made of lighter, cheaper materials and clearly won't last forever
Discover more about the Amazon Basics Carry-on Travel pack at Amazon.com
---
( 45L| $100 | Military grade travel pack at a great price)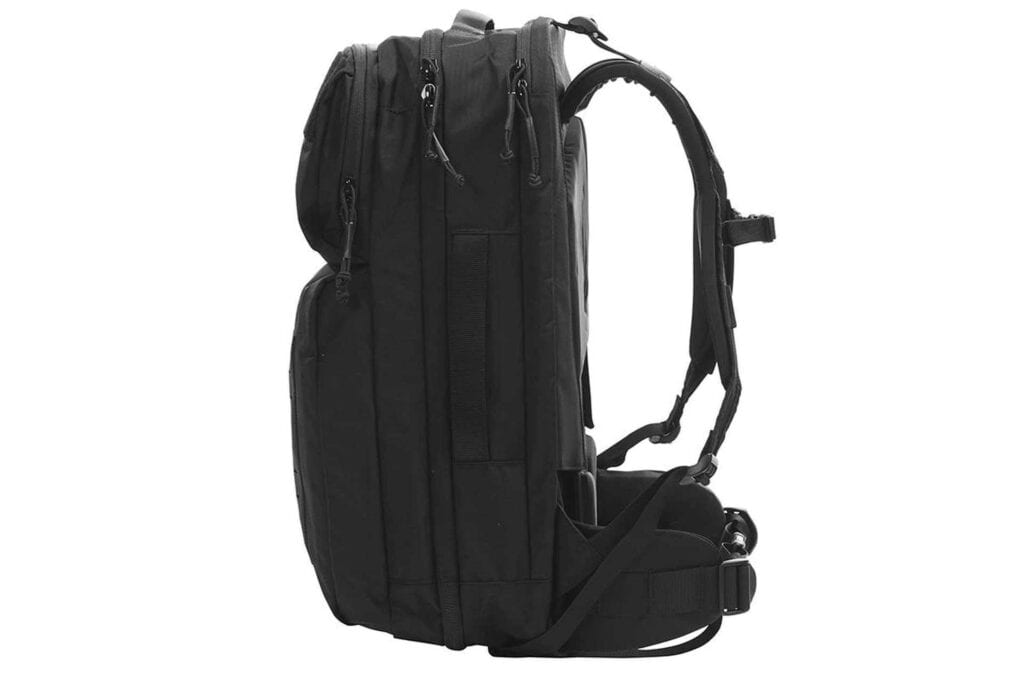 The Kelty Nomad is a well-organized, full-sized carry-on travel pack made with tough, military-grade materials and created by a company that is known for reliable, tough, and functional military and outdoors bags. At a price tag of ~$100 (on discount, normally $200) this bag is an EXCELLENT option for long-term travelers that will likely abuse their bags a bit and want something that will last a lifetime.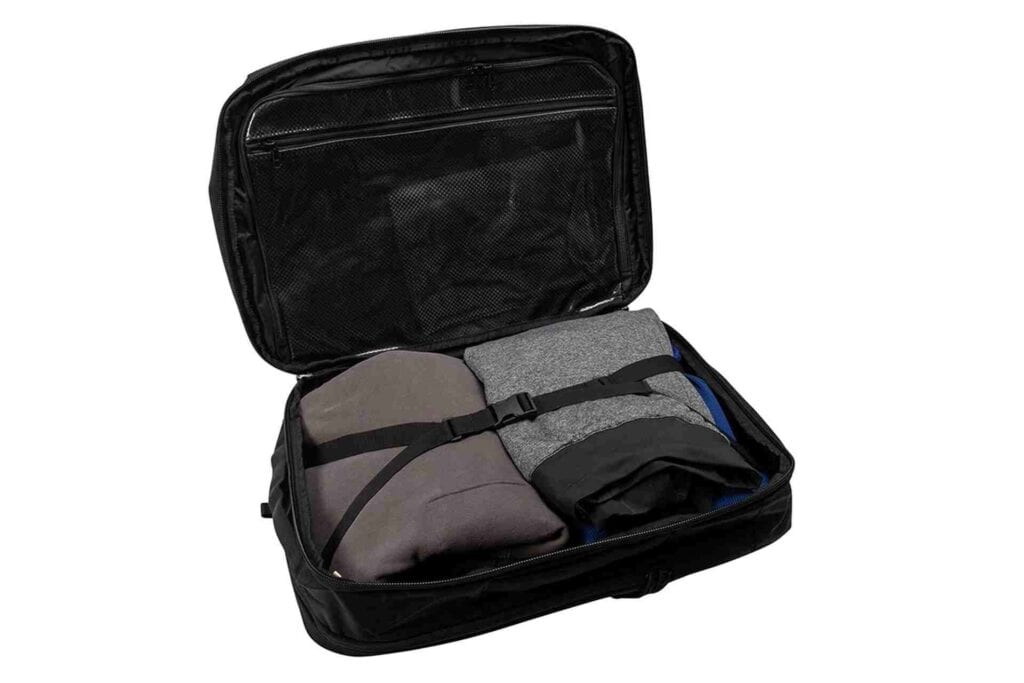 Key Features:

Internal, padded laptop sleeve in dedicated zippered pocket

Stowaway shoulder straps and removable, padded waistbelt

Laser cut webbing on front of pack allows for attachments for more space and organization

Carries as a backpack or briefcase thanks to top and side handles

860 denier ballistic nylon throughout

Size: 45L | 22"x14"x8.5" | 4.8lbs
Pros

Price. For the quality, $100 is hard to beat

Tough, military grade materials and build

Cons

A tad heavier than most bags, thanks to the tough materials
Discover more about the Kelty Nomad at Kelty.com

DIGITAL NOMAD BACKPACKS COMPARISON CHART
| | | | | | |
| --- | --- | --- | --- | --- | --- |
| PACK | | | PRICE | SIZE | WHERE TO BUY |
| Tortuga Outbreaker | | Urban | $269 | 45L |22"x14″x9"| 5.1lbs | Tortuga.com |
| GORUCK GR3 | | Hard Use | $395 | 45L | 22″x14″x9″ | 5.2lbs | GORUCK.com |
| GORUCK GR2 | | Hard Use | $375 | 40L | 12.5″x22"x9" | 4.8lbs | GORUCK.com |
| Osprey Farpoint 40, Fairview 40 | | Hiking | $160 | 40L | 21"x14"x9" | 3.17 LBS | Osprey.com or Amazon.com |
| Osprey Farpoint 55, Fairview 50 | | Hiking | $160 | 55L | 25"x13"x12" | 3.9 LBS. | Osprey.com or Amazon.com |
| Osprey Farpoint Trek 55 | | Hiking | $220 | 55L | 28"x15.5"x12" | 4.3lbs | Osprey.com or Amazon.com |
| LargeX Xustom Greenroom136 Rainmaker (34L) | | Hard Use, Urban | $163 | 34L | 12.2″x17.3″x9.8″ | | Greenroom136 |
| Nomatic Travel Backpack (40L) | | Urban | $280 | 40L | 9″x 21″ x 14″ | 3.4lbs | Nomatic.com |
| Minaal Carry On 2.0 | | Urban | $349 | 35L | 21.6"x13.7"x7.9" | 3.1lbs | Minaal.com |
| Aer Travel Pack 2 | | Urban | $230 | 33L | 21.5"x13.5"x8.5" | 3.7lbs | Aersf.com |
| CabinZero ADV PRO 40L | | Minimalist | $200 | 42L | 21.7″x13.8″x7.9″ | 3.5lbs | CabinZero.com |
| Top Designs Travel Bag | | Minimalist | $239 | 45L | 14″x22.5"x7.5″ | 3.7lbs | TopoDesigns.com |
| Tortuga Setout | | Urban | $199 | 45L | 22″x14″x 9" | 3.9lbs | Tortuga.com |
| Pac Safe Venture Safe (45L) | | Anti-theft | $199 | 45L | 21.7"x13.8"x 8.7" | 3.7lbs | Pacsafe.com |
| Eagle Creek Global Companion (40L) | | Budget | $159 | 40L | 14"x21.5"x8" | 3.5lbs | Amazon.com |
| Patagonia Black Hole MLC & Patagonia Tres MLC 45L | | Minimalist | $179 | 45L |21″x16 x6.7″| 3.1lbs | Patagonia.com |
| REI Ruckpack 40 | | Budget, Travel | $149 | 40L | 25"x14.5"x9"| 2.2lbs | REI.com |
| REI Trail 40 | | Budget, hiking | $129 | 40L | 22.5"x13"x10" | 3lbs | REI.com |
| Kelty Nomad | | Hard Use | $100 | 45L | 22"x14"x8.5" | 4.8lbs | Kelty.com |

WHAT TO LOOK FOR IN A GOOD DIGITAL NOMAD BACKPACK
There is no single "perfect travel backpack" that suits every kind of traveler, but there is a clear list of characteristics that make a backpack better for travel. Review this list of what the perfect travel backpack would have and judge your options accordingly. Keep reading to read more about each characteristic in-depth after the best digital nomad backpacks full list
Attributes of the perfect travel backpack:
Airplane Carry-On Friendly (size and shape), generally less than 45 liters and 9"x14"x22"
Still roomy enough to store everything for one year around the world
Comfortable, padded, and breathable shoulder straps, back panel, and removable hip belt
Durable build and materials: heavy-duty cloth, heavy-duty zippers
Good Organization: Logical pockets for items like laptops, tablets, documents, clothes, etc.
Laptop protection: False bottom, padding, rigid support
Comfortable back panel, straps, and how the bag generally sits
Fits your style of travel and adventure (urban, outdoors, minimalist, tech-heavy)
Water-resistant materials and zippers
Secure design and secure storage for valuables (passport, cash, credit cards, smartphone) with a little anti-theft protection
Good value for the price
Appropriate size and organization for your length of travel
Intuitive design makes it easier to access pockets and wear comfortably
Sleek exterior: No loose straps to catch on conveyor belts, or pockets exposed for pickpocketing
Clamshell style opening to access all contents easily
Optional: Size and design helps bag double as both carryon luggage and a daypack
---
CARRY ON SIZE: USUALLY 45 LITERS OR LESS
Traveling with a carry-on travel backpack and not checking your bags saves time, money, effort, and worry.
Being able to skip check-in at the airport will save at least an hour for each flight, and you won't have to worry about arriving 2 hours before departure (to check bags)
You'll save ~45 minutes not waiting for bags to come off the plane
You don't risk having an airline lose your bags or send them to the wrong country (which has happened to me twice)
You'll save thousands of dollars in checked bag fees
If you're traveling long term and absolutely can't squeeze your belongings into a 45-liter bag, consider getting a carry on sized travel bag and a collapsible duffle to pack your overflow items.
After the first year of travel, many digital nomads set up a base in a single city and travel for days or weeks on shorter trips to explore. Having the duffle bag will give you optional space for the big moves, but your primary, carryon sized travel backpack will be perfect for most adventures – weekend or weeks long
---
Durability
Materials, stitching, and build quality should last years of travel abuse
When you're miles from home, in Southeast Asia or rural South America, it's hard to replace a good digital nomad backpack. Your best bet is to invest in a quality backpack upfront.
Key build and durability points to look for in your backpack:
Durable cloth/material: 1000D Cordura nylon, ripstop nylon, sailcloth, etc.
Large, high-quality zippers: YKK zippers are a solid sign of quality.
Thick, padded, reinforced shoulder straps
Heavy-duty thread and stitching throughout, redundant at stress points: if you pull the fabric at the seams, the thread/stitching shouldn't stretch much under the stress
---
Good Organization
Plenty of well thought out pockets, suitable for your average packing list, and easily accessible anytime
The best backpacks on the market (and all of the ones on this list) were designed by long term travelers that know what the average packing list is like and what items need special pockets (laptop, smartphone, underwear, toiletries, etc.), as well as where to place them for easy access.
Think about your packing list and consider how well the pockets will help keep you organized. Additionally, think about if the bag allows you to access those time-sensitive needs (passport or credit cards while at the airline counter) while keeping them safe.
Remember, few bags are perfect for keeping your goods organized constantly, so packing cubes will become your best friend.
---
Specialized Laptop Storage and Protection
Most digital nomads will travel with a laptop – that is expensive and difficult to repair/replace – so having a dedicated space that protects your laptop is essential.
Ensure the dedicated pocket offers some padding and either offers rigidity (to protect the screen and laptop from flexing) or has space for a clipboard or protective sheet.
Additionally, a "false bottom" on the laptop pocket, giving a few inches between your laptop and the ground, is a great feature.
Regardless of how good the laptop pocket is, I recommend taking a lightly padded laptop sleeve (like a neoprene laptop sleeve**) for some shock absorption and a simple clipboard or piece of Kydex plastic as a frame sheet to protect your laptop from flexing.
---
Comfortable back panel, straps, and how the bag generally sits
If your adventures go as planned, you will spend more hours wearing this bag than you can count. Having a comfortable bag will make the difference between pleasurable and miserable memories.
Check these areas on the backpack for comfort:
Shoulder straps: Amply padded, contoured, and easily tightened/loosened
Supportive, Ergonomic Back Panel: Should be padded enough to be comfortable and rigid enough to avoid having anything in your bag poking you in the back.
Padded waist straps: Great for relieving the stress from your shoulders during long wear, but if they're not padded, they'll dig into your hips.
---
Padded handles on the top and sides
You won't always wear your backpack. Sometimes you'll be standing in line at a counter or waiting for a bus. Having those durable and padded handles means you don't have to take the bag on and off constantly, and carrying it by hand will be more comfortable
---
Fits your style of travel and adventure (urban, outdoors, minimalist, tech-heavy)
The "perfect travel" is different for all travelers. Whereas many would love to spend a year in urban Paris, I need motorbiking adventures once a month.
This is where the perfect backpack for each of us starts to vary heavily.
Think about what you want to do the most during your travels: hike, do city tours, live in the mountains, work your days away on a beach, etc.
Look for a pack that is comfortable and functional during those activities and in those places.
A digital nomad that spends months in Patagonia will benefit from having a worthy hiking pack. In contrast, a digital nomad traveling Indonesia with Bali as her base may prioritize water resistance.
Think about what you want your travels to be like, the activities you want to do, and where it will happen, and judge your backpack options accordingly.
---
Water-Resistant
Very few bags are completely waterproof, but having some degree of water resistance goes a long way, especially in the potentially wet climates of the Southeast Asian rainy season, whether the sky can go from sunny to monsoon to sunny with little notice.
Water-resistance is generally dependent on the bag material – 1000D Cordura nylon in the GORUCK GR3 is very rain resistant. In contrast, the TPU ripstop nylon of the Patagonia Black Hole MLC is completely waterproof, leaving only the zippers exposed and the same case with Tortuga's Proprietary Xpac sailcloth on the Tortuga Outbreaker.
Know that there is plenty of great water-resistant options. If you're in a place with a high likelihood of rain, plan accordingly, but check for at least a little water resistance in your bag
---
Secure design and secure storage for valuables (passport, cash, credit cards, smartphone)
Losing an expensive item, like a laptop or phone, or a difficult-to-replace item, like credit cards or a passport, while traveling can be heartbreaking.
Save yourself the stress by ensuring the bag has a few dedicated pockets that are still easily accessible for you but still hard for pickpocketers to access while you're wearing the bag—extra points for lockable zippers.
---
Good value for the price
I will warn you now that most amazing bags will not be cheap. But the benefits, durability, and stress-free experience you'll receive will be worth it. I've broken three backpacks that were ~$100 during my travels – once in the middle of a week-long hike through Patagonia and once in the middle of a three-month motorbike tour. Though I could stitch up these packs and repair them using extra rock climbing equipment, the experiences were miserable.
Since then, I have invested in extremely well-built bags – the GORUCK GR3, GORUCK GR2, and Tortuga Outbreaker, among them. These bags have been much more comfortable, much more functional, and have never broken on me. At the rate that they're wearing out, I'll have them for at least two more decades before anything goes wrong.
I am not saying that you should spend a lot on a bag or go cheap; I am saying consider the value you are getting for what you're for a bag. Invest in something that gives you immense benefit for the price. Even cheap backpacks cannot be worth the money.
---
Sleek exterior – no loose straps or pockets exposed for pickpocketing
Compression straps are good and useful but should be secured. Too many loose straps can get snagged on conveyor belts in the fantasy world that checked bags travel through. Save yourself some headache (and your bag some damage) by avoiding bags with too many straps or at least securing yours before you travel.
---
Clamshell style opening
I underestimated how much more convenient a clamshell-style opening backpack was over a top-loading backpack until I switched to my new travel bags. I highly recommend it.
Essentially, a clamshell-style opening pack unzips and splits in half, exposing everything in the bag almost immediately. This makes it easier to access anything in the bag very quickly.
---
Optional: Doubles both carryon luggage and a daypack
For truly minimalist travelers, being able to unload your travel pack and use it as your daypack for a hike or day of work at a coworking space is clutch. Don't forget the packing cubes to keep your gear organized.

QUESTIONS TO ASK WHEN FINDING THE RIGHT BACKPACK FOR YOU
This list is filled with "perfect packs," but perfect for who? Each pack is perfect for a different type of traveler with specific preferences.
Ask yourself the following questions and take note of the answers to rule out packs that aren't right for you and find the perfect pack for your adventure.
---
How often will you move when traveling?

If you're frequently moving, prioritize comfort and durability.

How much tech are you taking?

If you're taking more tech than the average traveler, aim for a pack with more dedicated pockets and protection or plan on buying extra protection and tech pouches

Are you able to pack all of your belongings into a 45L carry-on bag?

Best case scenario, you can travel with only a carry-on backpack. If you can't, consider taking a compressible duffle bag to use when your load gets bigger (in colder climates and carrying outdoor equipment) and empty when your load gets lighter (mailing things home, discarding clothes as you move to warmer climates).

Do you need a durable daypack for daily use or will a lightweight compressible daypack work?

Compressible daypacks are fantastic and functional for the average traveler, but if you're carrying 15lbs of laptop + tech to the coworking space daily, you may need a sturdier daypack. Option 1) take a travelpack that doubles as a daypack (like the GORUCK GR2) or 2) take a simple yet sturdy daypack that packs down like a Jansport school bag or the Fjallraven Kanken.

How varied will your travel be – urban, hiking/camping, aquatic? Does your bag need to do anything special?

Like those from Aer or Tortuga, Chic urban bags are awesome for city travel and general backpacking (between working as a DN). Still, hard use bags like the GORUCK GR3 or Northface Base Camp Duffel will result in less headache. Think about what you want to spend most of your time doing and ask if your prospective bag will excel with you or survive the experience. Water resistance, abrasion-resistant outer, special tech pockets, and even trekking worthiness will vary from bag to bag regardless of how good the bag is generally. Get a bag that excels at what you need

What seasons will you be traveling in? How will this affect how much you pack?

If you're traveling in the summer heat, a healthy packing list is light – shorts, t-shirts, flip flops, and adventure-ready sandals – making it easy to use a smaller, carryon sized pack. If you'll be traveling in the winter and cold weather – perhaps Europe or cool evenings trekking – then your bag will be larger, filled with rain shells, insulating layers, and durable pants. Plan accordingly.