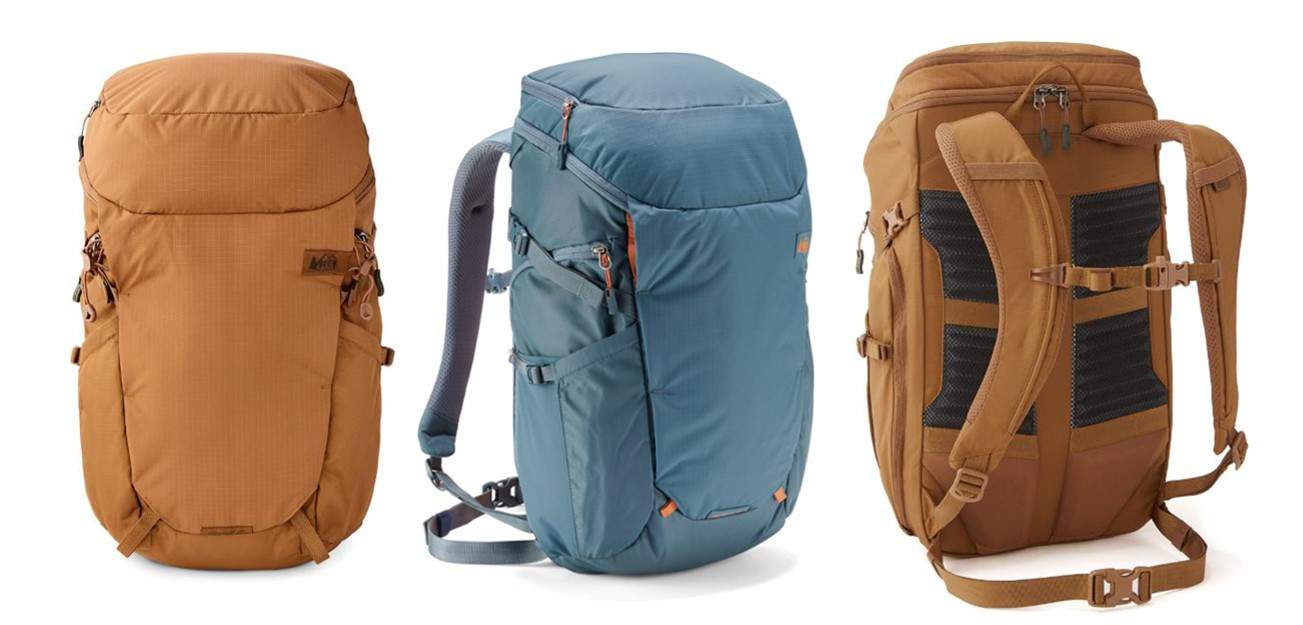 A functional, sturdy, and comfy everyday carry backpack with old school style and new school updates
The REI Ruckpack 28 is the little known everyday carry backpack version of the airline carryon focused REI Ruckpack 40 travel backpack and is one of the best EDC backpacks under $100 that I've found and tested to date. REI Ruckpack 28 Review Verdict: Considering the function, build, and price point, I highly recommend the REI Ruckpack 28 as an everyday backpack.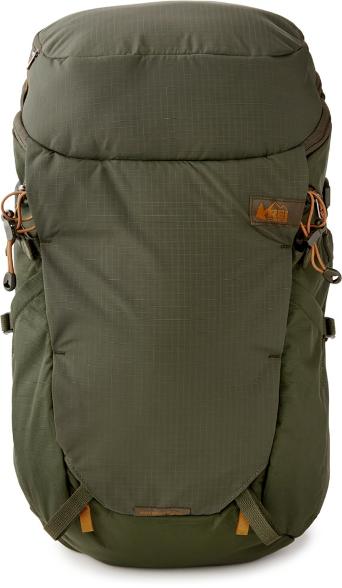 REI Ruckpack 28 Review: The Best EDC Backpack Under $100
With old school ruckpack design cues, minimalist look, great, durable materials and construction, and an awesome shoulder strap and back panel setup, this backpack is a great deal for daily use. If you are aiming for under $100 you'll be hard pressed to find better.
(…For more on the Ruckpack 40, check out our REI Ruckpack 40 Review…)
At the moment, I'm in Bosnia in the middle of a one year tour around the world. My Ruckpack 28 is sitting at home, in my beloved 4runner because I'm completing this trip with only one bag (my GORUCK GR3). The Ruckpack 28 is a great everyday carry backpack and I haven't seen many reviews on it, so I'm writing this REI ruckpack review from memory of my 3 months using the bag before I left home to travel the world.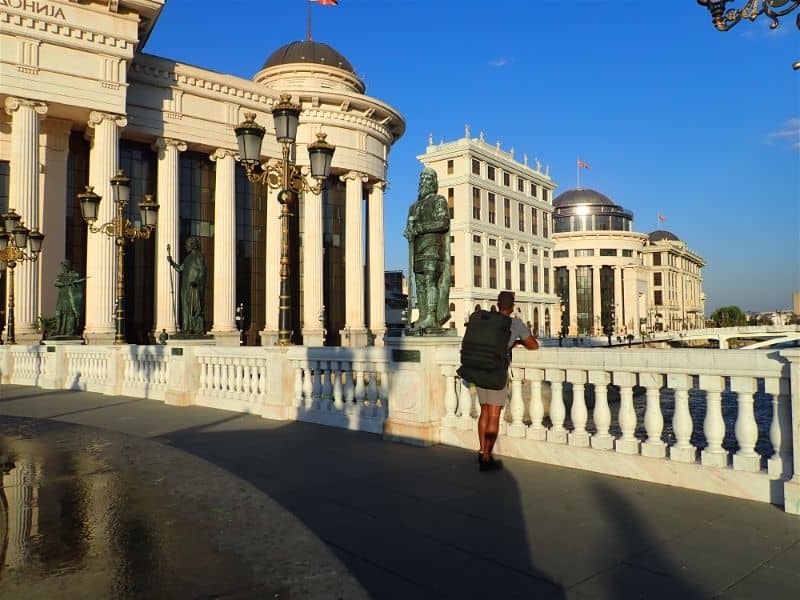 So, please excuse the lack of photos in this review. Rest assured, all of the information provided is from experience and the Ruckpack 28 will be my "everyday carry" bag when I get back to "the real world". If you have any questions, feel free to comment or email me at [email protected]

The 28L REI Ruckpack Review: My Experience
For 3 months I used the REI Ruckpack 28 daily while cycling everywhere in Dallas and Los Angeles (Venice Beach, Santa Monica, and the UCLA area) while carrying way too much stuff (e.g., laptop, cables, water, munchies, books, etc.) and finishing the day with grocery shopping. Through all of the cycling between crazy LA and Dallas drivers, the backpack stayed firmly in place on my back like a little person on for dear life.
On the weekends, the Ruckpack 28 pulled double duty very well as a hiking daypack. Occasionally, I over-weighted the ruckpack (~20lbs) for a weighted calisthenics and gymnastics workout on the monkey bars of Venice Beach's new muscle beach – essentially a jungle gym and gymnastics playground for adults. Through it all, the Ruckpack 28 performed well, stayed comfortable, and showed no signs of wear, stress, or damage at stress points. If I were actually back home, this would be my everyday carry backpack.
---
Best Uses for the Ruckpack 28
Everyday Urban Carry: Great for a casual bag for work, the gym, and carrying essentials for a day
Day Hikes: stayed comfortable with light weight on miles of walking around Malibu
A Solid Weekend bag (For the Minimalist Crowd): A couple of pairs of clothes, toiletries, and laptop fit in this bag perfectly
Minimalist Travel Bag (for longer travels): For minimalists, the Ruckpack 28 could suffice as a longer term travel bag…but I'd prefer with my GORUCK GR3 or the REI trail 40

Pros of the Ruckpack 28
Simple, minimalist design: streamlined exterior with few external pockets – means fewer things to break or go wrong down the road
Just enough space and pockets…but not too much
Well thought out storage design:water bottle pouches zip away, soft fabric lined side pockets are perfect for electronics, the side access zippered panel is great once you get used to it, and inner zippered mesh pockets are perfect for valuables, small items, and "quick access items"
Comfortable shoulder straps and back support stay comfortable all day and breathe reasonably well and are built much more durably than the straps on larger REI packs I've owned
High quality, durable materials: 210D Nylon, YKK zippers, great stitching
Reasonable Price: $110
REI's 1 year satisfaction guarantee warranty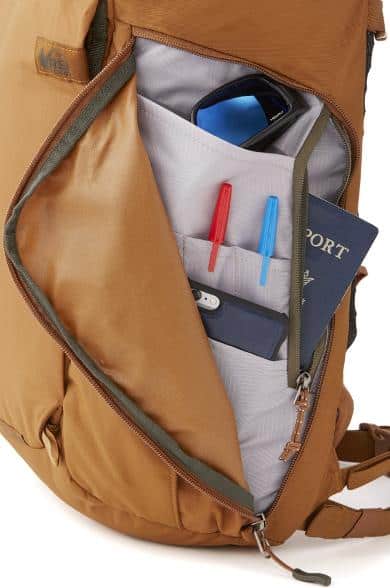 Cons of the Ruckpack 28
Top pocket design (things can fall out): If you forget to zip the top pocket, everything falls out
Thick side wall materials feel like they take up some of the 28L

Packing the backpack to efficiently use the side access zipper takes some practice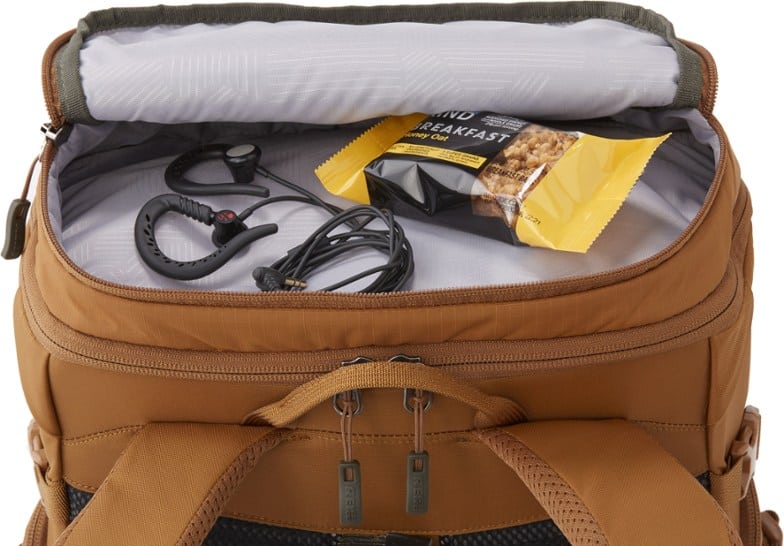 Design & Layout

Durability

Comfort
Summary
Simple, functional, and well built. This bag is designed with an understated look and tons of features that make it suitable for the trail, cycling downtown, or heading work on a daily basis without missing a beat. For $100, you will not be able to find a better built, more functional, and more durable everyday carry backpack than the REI Ruckpack 28.

Verdict on this REI Ruckpack 28 Review: Highly recommended
This bag is not only an excellent value for the price (~$100) in general but in my opinion is the best backpack under $100 that I've ever owned. Expect great use on the trail and off the trail for several years to come. I highly recommend this bag.

Other Great Backpacks to Consider
REI Recycled Ruckpack 28 | REI Ruckpack 18
---
REI's new variant of the RUckpack 28 maintains the same function and styling, while incorporating Bluesign® approved recycled ripstop nylon throughout. Even better, this eco-friendly daypack is the same price as the original Ruckpack 28.
The result: another functional, near perfect REI backpack for a great price while saving the planet.
---
If you love the function and design of the Ruckpack 28 but want something slightly more compact and minimalist, then the REI Ruckpack 18 may be perfect for you.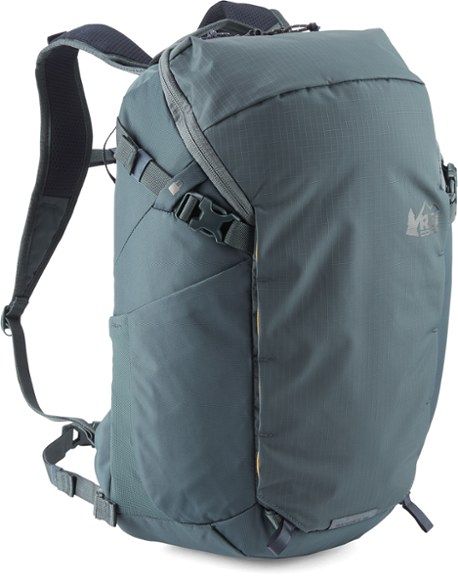 At 10 liters smaller, this pack still delivers all of the function of the Ruckpack 28 in a smaller size, but still large enough to fit a 15″ laptop.
Click here to read more in our full Ruckpack 18 Review


Full REI Ruckpack 28 Review
---
My Experience with the REI Ruckpack 28
Back home, I cycle everywhere to save cash on gas (for trips), get the exercise, and just have fun. So, between the coffee shop I'll work at in the morning and the happy hour lunch I'll hit in the afternoon I'm usually on my bike in a few miles of traffic between the crazy drivers of LA and Dallas.
Through all of this urban chaos, I need a backpack that can handle heavier than average loads for a daypack (10bs – 20lbs) between laptops, notebooks, electronics, and grocery shopping on the way home. I need the backpack to stick to me like glue but stay comfortable so I can focus on not dying in traffic, instead of adjusting my backpack. Foremost, I need the backpack to be durable enough to last for years…because I don't like wasting money on new gear. My Moon rock climbing bag lasted 10 years before I retired it, and I wanted the same in my next daily use pack
The resulting purchase was the REI Ruckpack 28 which I used as my EDC backpack ("everday carry backpack") for my 3 months back in the states, as a replacement to my dearly departed Moon rock climbing bag.
With the REI Ruckpack 28, I cycled everywhere in LA and Dallas, and the bag stored everything I needed for a day (laptop, munchies, notebooks, jacket, water, groceries etc.), usually between 10lbs and 20lbs. The bag performed well and stayed comfortable through it all. It stayed snug to my back without being uncomfortable or too tight, all while I weaved idiotically through traffic.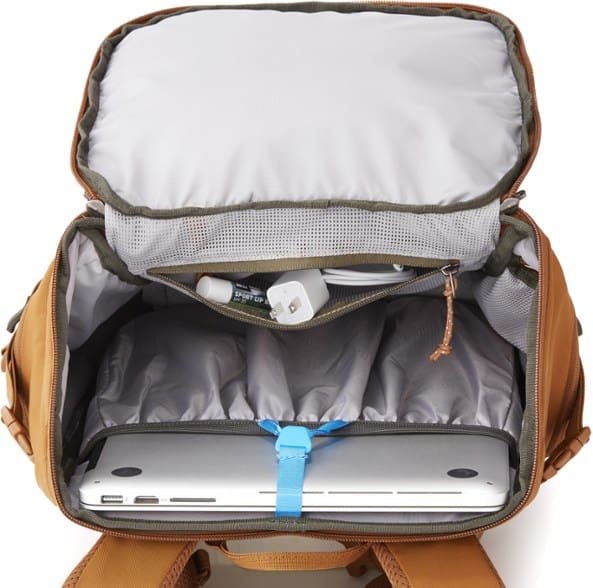 On the weekends, I toted the pack on long walks and hikes carrying everything I needed between sunup and sundown. Even while hiking and walking, the shoulder straps stayed comfortable and the straps and back support breathed relatively well (not impressively well), but I was still a bit sweaty underneath the pack.
The bottom line: The Ruckpack 28 exceeded my expectations for an everyday use pack, cycling, walking, and hiking, supporting loads well through hours of active use and movement, and keeping my things organized along the way. I really liked the look, design, layout, and performance of this bag, and will absolutely be using it again when I return back to the US.

The REI Ruckpack 28 as an Everyday Carry Backpack
The REI Ruckpack 28 was clearly designed to be an everyday carry backpack, performing well during a day on the trail by staying comfortable, but also performing well in the city and on urban terrain. From the laptop pouch, to water bottle and soft lined electronics pockets, to internal mesh pockets for organization, the Ruckpack 28 keeps things organized. The main compartment has plenty of space to hold whatever remains, whether those are groceries for the evening or clothes for a week-long trip Europe.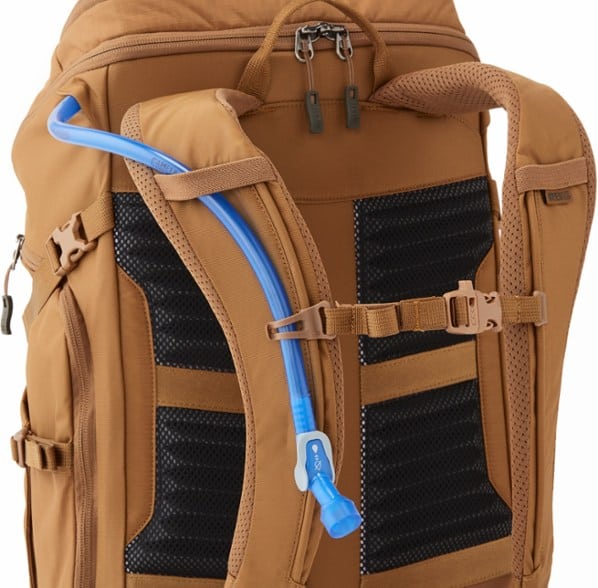 If you're walking to work or cycling between traffic (like I do) the bag's shoulder straps and back support stay in place and comfortable, even with heavier loads making it a pleasure (not a pain) to use the bag. Finally, the ruckpack's tough 210 denier nylon fabric and overbuilt shoulder straps (compared to previous REI bags) mean that you will get years of use from this bag, even with daily wear. Granted, other everyday carry backpack options like the GORUCK GR1 will outlast the REI Ruckpack 28, I still find the style, function, ease of use, construction quality, and value make the REI Ruckpack 28 the best EDC backpack on the market under $100.

The REI Ruckpack 28 as a Minimalist Travel Bag
For minimalist travelers, those either traveling for a few days at a time or living with fewer possessions, the Ruckpack 28 might be a great option as a minimalist travel bag. With the functional design and organization, including a laptop pocket, compartments for electronics and documents, and a few mesh interior organization pockets, the ruckpack has enough space and organization for a couple pairs of clothes and the underwear to last a week.
At any point, everything is fairly easy to access and the durability means you can make this your go to bag for heavy use. Pair the Ruckpack 28 with a few small packing cubes to keep things organized and you have a great minimalist travel bag option for moving light while you explore the world
---
Pros of the REI Ruckpack 28
Top opening, old school style ruckpack design gives this bag a great aethesthic
Daisy chains on the front panel come in very handy. WhileI used to store my climbing shoes on the inside, I can clip them, and a hundred other things, to the outside with no issues (and no mess inside the bag). I recommend picking up a few of the small Metolius climbing grade carabiners (~$5) to use for clipping things to this bag.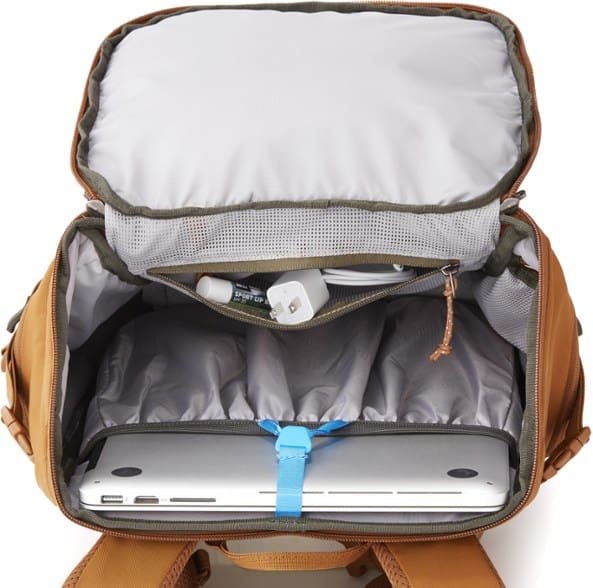 Like most REI backpacks, simple yet very functional design epitomized by "secret pouches" and zip away external pockets allows you to compartmentalize valuables (money, phone, credit cards) to avoid them getting pickpocketed while transiting on buses and trains
Side zippered pockets are extremely functional and zip away easily to no longer be noticeable
Zippered side access panel, for quickly getting into the main compartment without unzipping the top
---
Cons of the Ruckpack 28
The bag is well constructed and durable but the automatic downside is the thicker sidewalls feel bulkier and compromise packing space. The upside is the great construction makes this a buy.
The zippered top pocket is great, but if you forget to zip this top pocket (I may have a couple times) and everything spills out pretty quickly…so always zip up.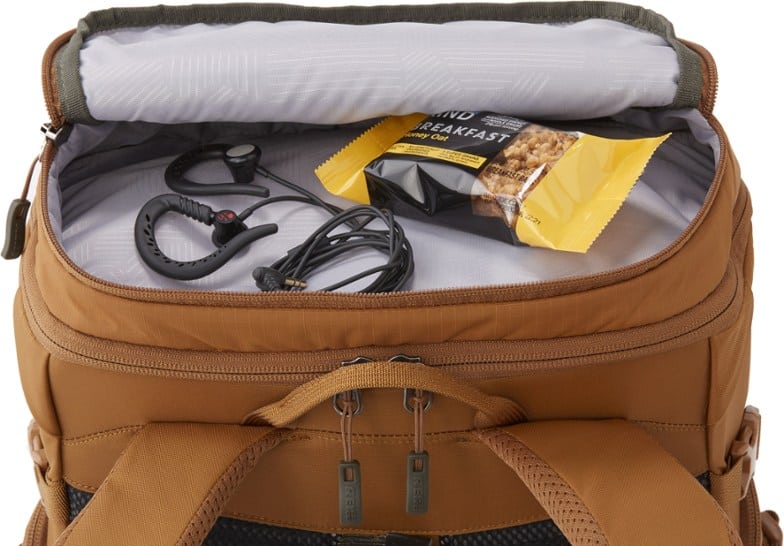 Design Review of the REI Ruckpack 28
Daisy chained webbing on the front face is useful if you have a few carabiners. Good for clipping hats, shoes, water bottles, etc.
Side zippered pockets have different functions, each very useful. The left side zippered pocket fits a water bottle. It won't fit a 32oz. Nalgene (the fatboys) but will fit a slim Klean Kanteen
The top panel (lid) pocket that can be accessed without unzipping the main compartment. Beware, if you leave this lid pocket unzipped, when you start moving all all of your goodies will go everywhere
Inner Mesh zippered main pocket spans the width of the front of the pack – great for tossing smaller items and charging cables in to keep the bag organized.
Laptop storage pocket that fits a water bladder – I kept my Surface Pro 3 in there with absolutely no issues
Comfortable Straps – Curved to fit your torso with cushy material and breathable mesh stays comfortable throughout the day and on long hikes and rides. The straps feel as beefy (durable and well built) as REI's larger packs, which is great for comfort and durability. In my experience, the weakest point on REI backpacks hassally been the point where the shoulder strap meets the bag, In this case the Ruckpack 28 straps feel like they could handle most loads that a 28L pack would normally be stuffed with.
---
Durability & Materials
After three months of city use, there was no noticeable wear to the 210 ripstop nylon outer fabric, despite being tossed around like normal in city life.
The Ruckpack 28 handled heavier than normal loads well with the shoulder straps cinched the bag tight without any visible wear on stress points (shoulder strap attachment points, handles, etc.) over 3 months.
The YKK zippers always functioned smoothly and even after sandy days at the beach never gave me any issues
---
Specs of the REI Ruckpack 28
What makes the Ruckpack 28 Great: Aesthetics, simplicity, travel and urban use focus, construction quality, value (price to features)
Price: $100
Warranty: One year, unconditional warranty
Size: 20x11x10 inches |53.5 x 28 x 25.5 cm
Capacity: 28L, 1.709 cubic inches
Weight: 2lbs 11oz | 1.2 kg.
Purpose: Daypack, Everyday Carry, Weekend Travel, Minimalist Travel
Design: Top opening, 2 external zippered side water bottle pockets, zippered top pocket, 2 internal zippered mesh pockets, zippered side access
Materials: 210 Denier Ripstop Nylon, YKK zippers

Verdict of thisREI Ruckpack 28 Review: Absolutely the Best Backpack Under $100
The REI Ruckpack 28 is durable, well built, and good looking backpack for daily city life and day long adventures outside of the city. The Ruckpack 28 is great value backpack as a minimalist travel bag but is one of the best EDC backpack options for the price category. Great aesthetics, functional and useful design, high quality construction, and comfort make this bag a great daily carry bag that I'll be using for years to come.
---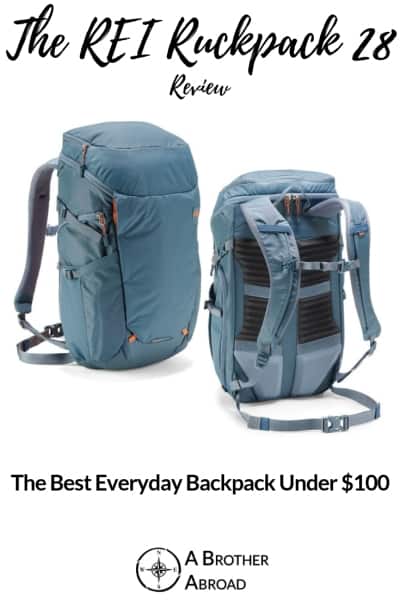 ---
Alternatives to the REI Ruckpack 28
---
OR

Other Great Travel Gear Content