Within the cluster of Cebu, Negros, and Bohol in the Vasaya Islands of the Philippines lies a smaller stop off with turquoise waters and unreal beaches. Siquijor Island. A cluster of white sands, clear turquoise waters, and warmth year round make the tourist spots in Siquijor great lures for everything from diving, to lounging, to motorbike mounted side adventures.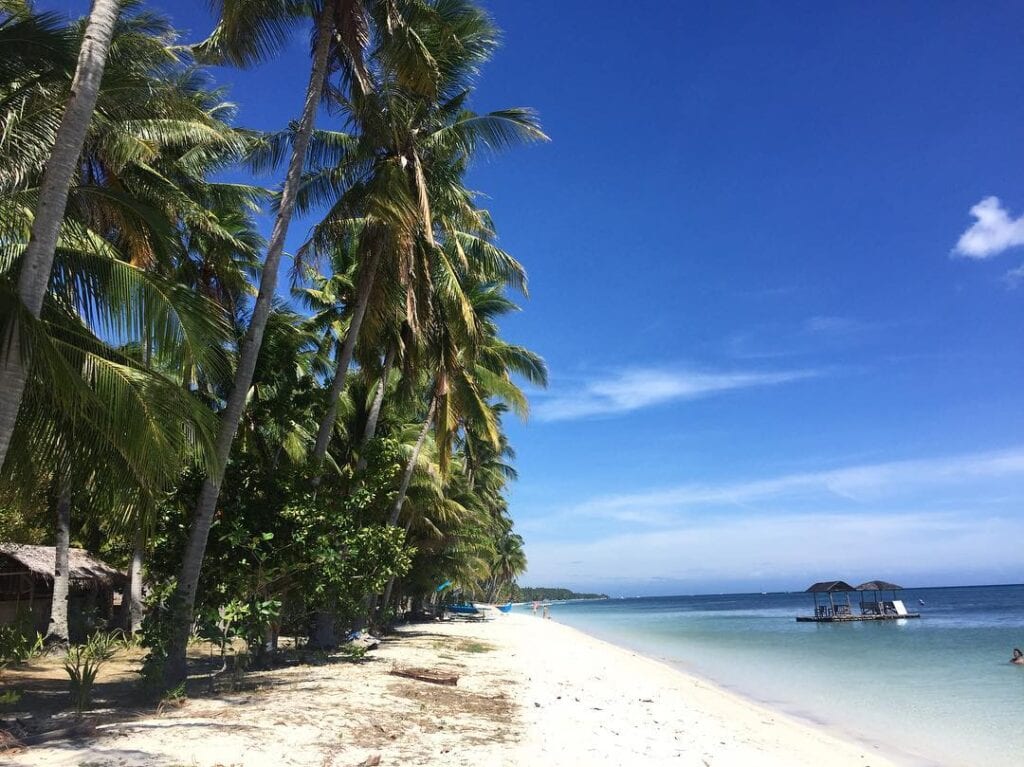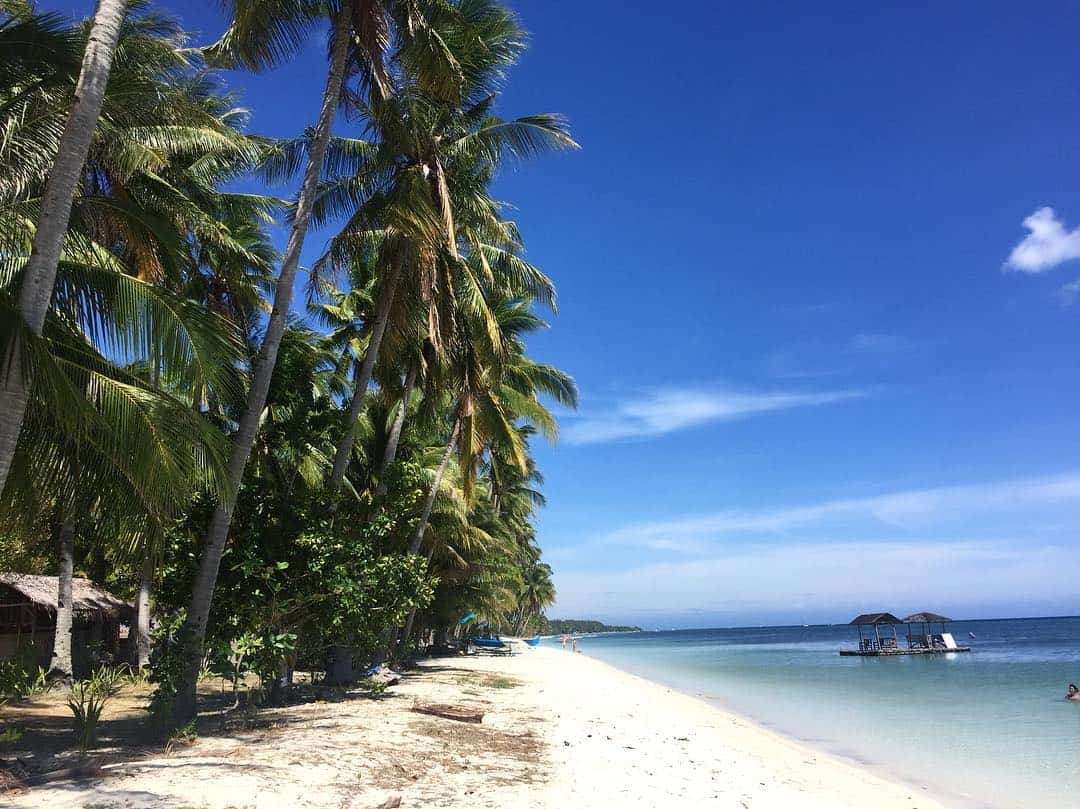 Between your experiences of swimming with whale sharks on Cebu, snorkeling and diving with turtles off Apo Island, and **motorbiking the Chocolate Hills and "rice field islands"** of Bohol, Siquijor is a worthwhile break that I highly recommend.
One day is plenty for exploring the island. Two to three days are perfect if you plan to dive the amazing dive sites or relax on a beach without the pressure of sightseeing. Regardless of your tastes, Siquijor is a nice bit of respite from the sometimes chaotic Philippine travel trail.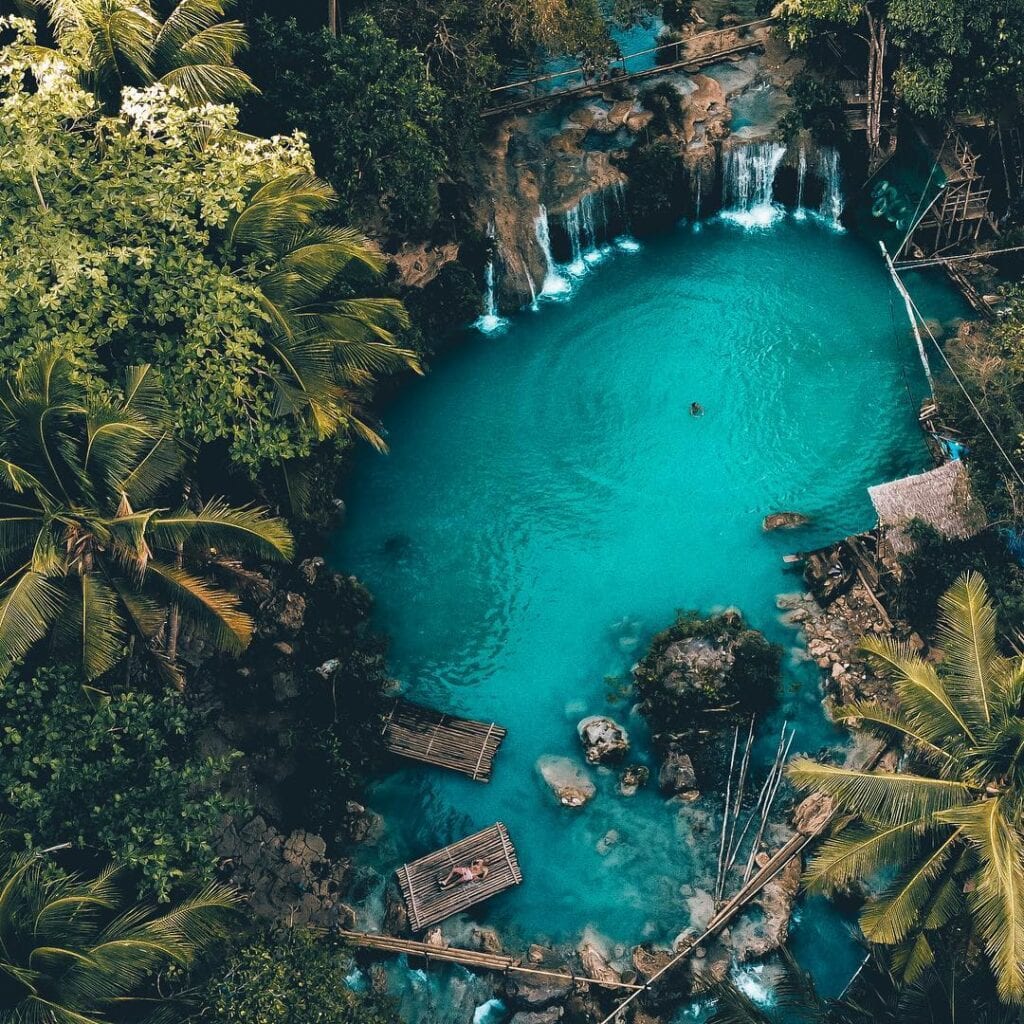 Contents
Daily Budget & Expenses
Where is Siqijor (in relation to other sites)
How to Get to Siquijor

From Cebu
From Dumagete
From….?

Where to Stay in Siquijor
Best Time to Visit Siquijor
Getting Around Siquijor
Wifi, Internet, and Connectivity on Siqijor

21 Best Tourist Spots in Siquijor and Things to Do on the "Island of Fire"
---
1. Rent a motorbike and ride the main rode around the Island of Siquijor.
Renting a motorbike is the perfect way to get around the island of Siquijor and see amazing views along the way. Without stops, this trip would take 2-3 hours, and you'll pass all of the major beaches and not so major beaches, making it the perfect Siquijor tour.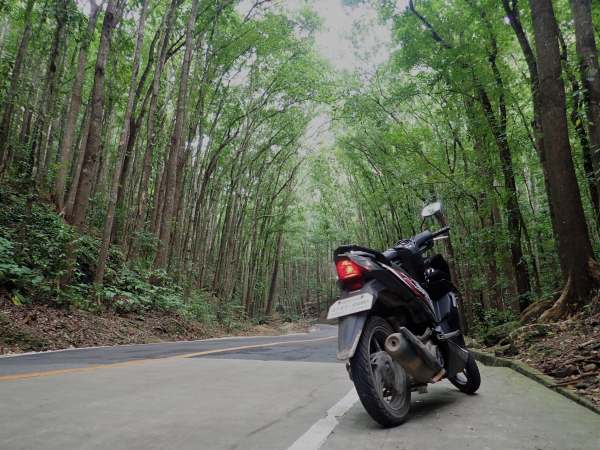 A scooter will run you roughly 350 PHP (~$7 USD) per day allowing you to wander freely and fitting those tight, backpacker budgets.
The best option for renting is through your host at your hostel or hotel. Your hostel or hotel managers are more vested in you having a good experience (and them getting a good review) so they'll steer you in the right direction.
Once you have your motorbike, it's time to ride! Simply ride the road labeled "Provincial Road" in Google Maps and Maps.me. The road is fully developed the entire way, and traffic is light enough that even novice riders will be comfortable with the cruise.
---
2. Visit the 400-year-Old Enchanted Balete Tree
The "Enchanted" Balete tree is over 400 years old. The "enchanted" part is that it's a miracle the tree survived that long. Fair enough.
If your travels have you needing a pedi, stick your feet in the pool in front the tree so the fish can give you a nibble pedicure. Gonna admit, I didn't do this. I'm not judging anyone…toe licking just isn't my thing. Especially not by fish. But you do you boo! I was kind of tempted.
This stop is only about 10 minutes…but it gave me a much appreciated chance for ice cream! It's for sale at the shop next to the tree and welcomed on a hot day before proceeding onto the next spot on my Siquijor itinerary.
---
3. Visit the Siquijor Butterfly Sanctuary
How could you miss the chance to be surrounded by butterflies? This attraction is admittedly small but is a wonderful stop off on your motorcycle tour.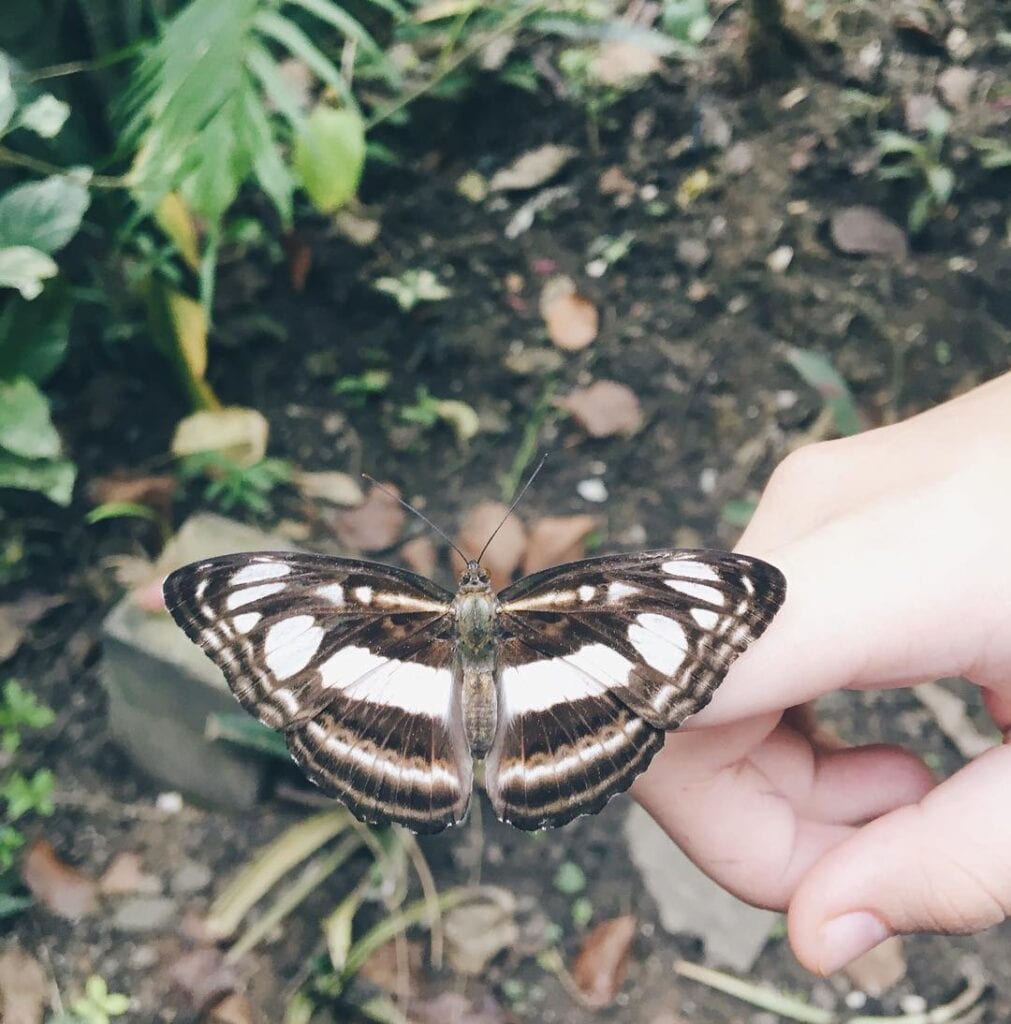 The sanctuary is located in the middle of the island, so cruising over gives you a chance to see more of the island than its beaches.
Entry Fee: 100 Pesos (~$2 USD)
4. Sun, Snorkel, and Sunset at San Juan Beach
A stretch of beach with white sands, turquoise waters, and plenty of areas to snorkel. San Juan beach is exactly what you expect to see in the Philippines. Just swim about 50 meters off shore and you'll find a nice reef to snorkel and enjoy. Or stay on the sand and enjoy the view.
Another perk of San Juan Beach is that its in the little area of San Juan, which has some of the best accommodations and food options on the island. This makes it a convenient place to swim and sun before walking a short ways for a snack or beverage.
Be sure to spend your sunsets at San Juan Beach as it is the most beautiful, west-facing beach on the island.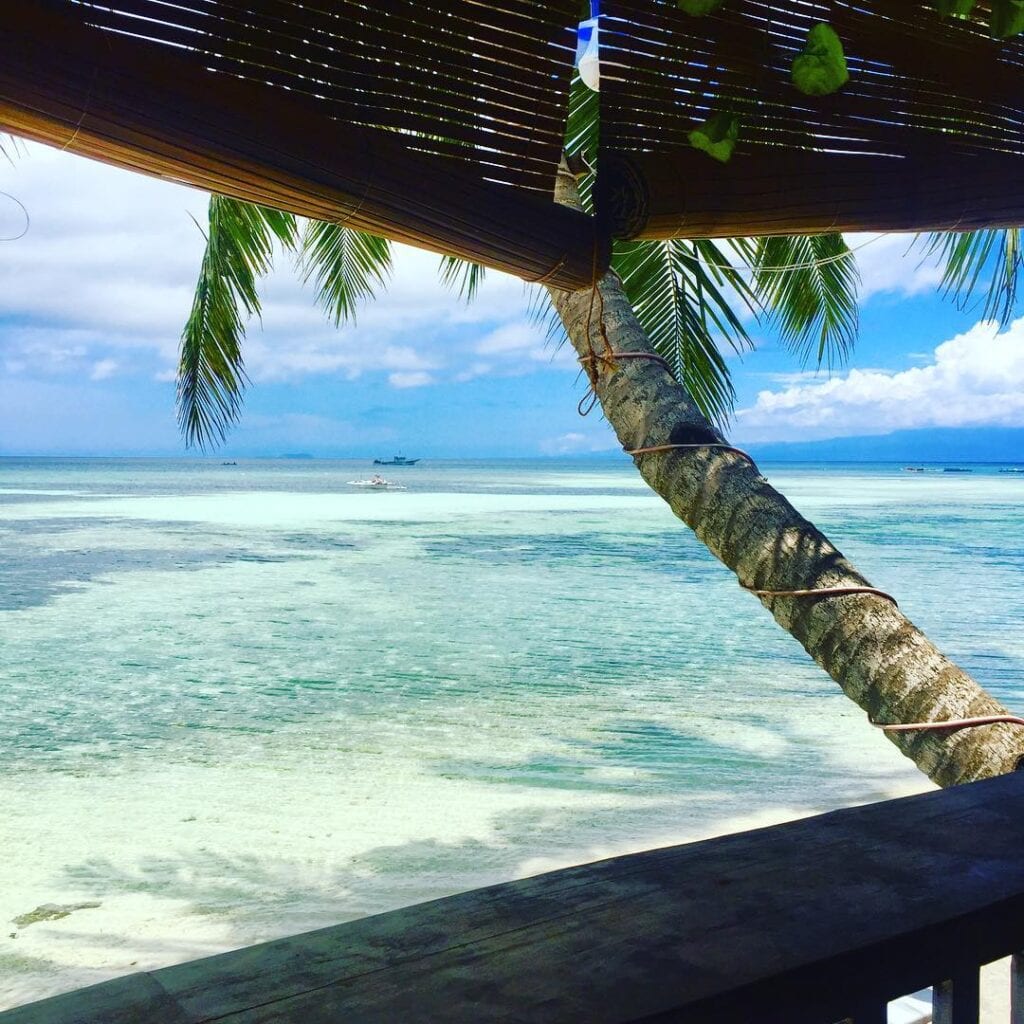 5. Saladong Beach and Saladong Beach Resort
Saladong beach is part of a beach resort and is more resort than beach. Entry will run 50 pesos. Inside, there are picnic tables and a restaurant. The beach here is actually quite small and there are better beaches elsewhere on the island, but the restaurant here makes Saladong beach a perfect stop on a motorbike tour around the island.
As small as the beach is, the sands are white and the water is warm. There is also a cliff to dive from with 7 and 10 meters height…I would wait for high tide though.
6. Paliton Beach
Paliton Beach is a little off the beaten path and you may even miss the access road if you 're not paying close attention, so ask a local if lost. This tiny stretch of beach is touted (by some) as being the most beautiful on the island. White sands and pristinely beautiful waters make for great views on the surface, while patchy reefs make for good snorkeling below.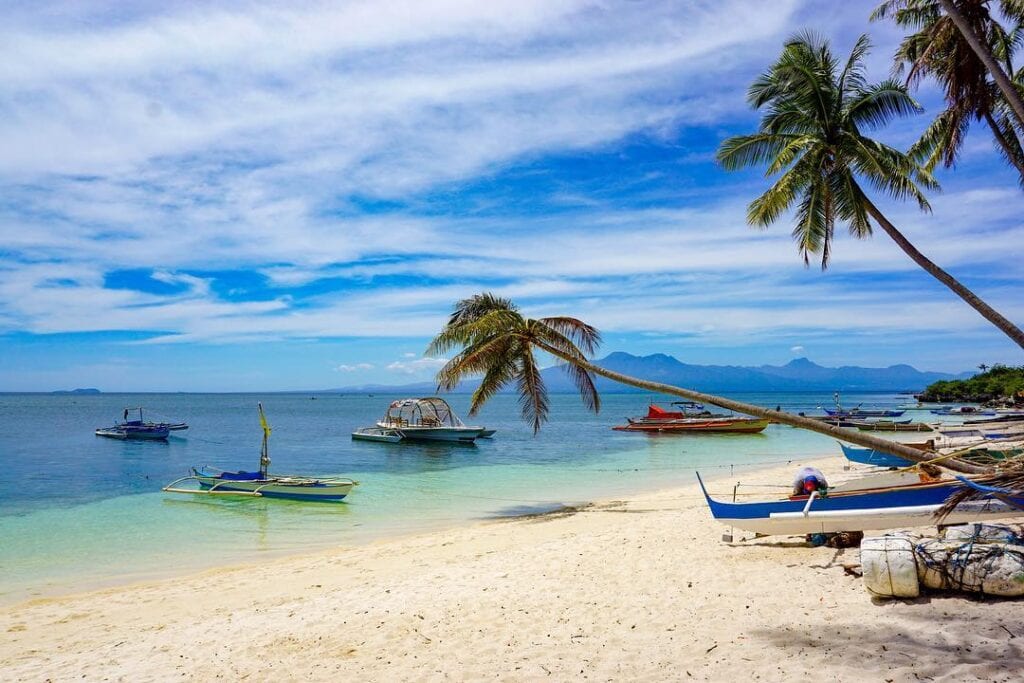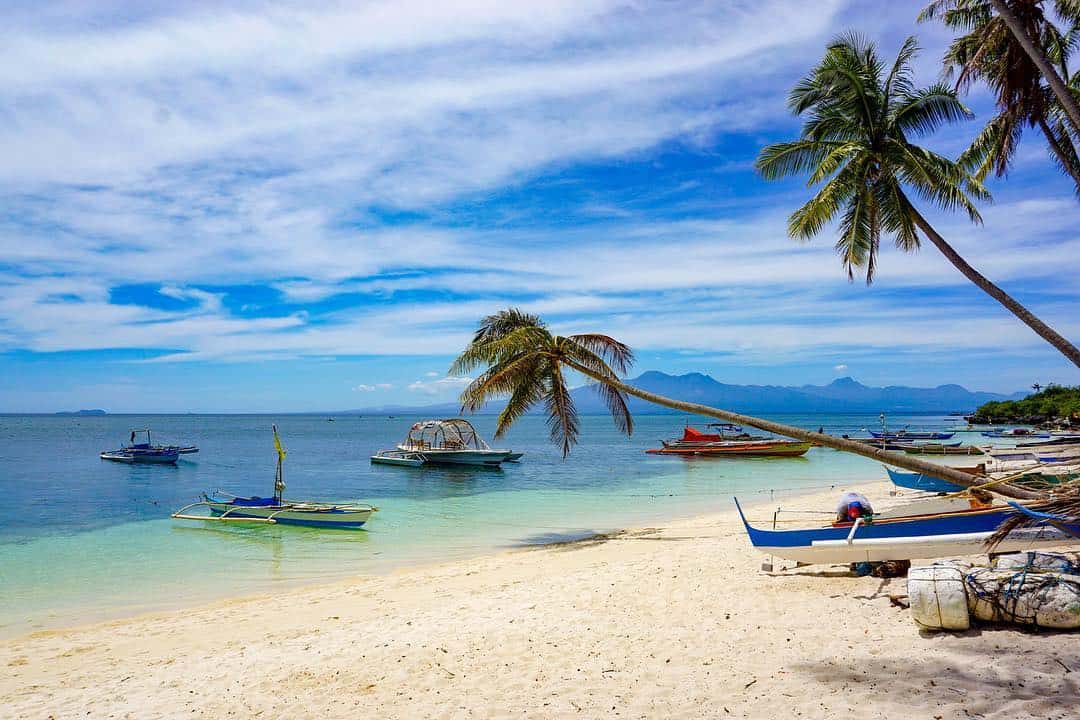 7. Kagusuan Beach
This beach, which is "officially closed", is more about the adventure than the destination. Depending where you're coming from on the island, getting there may take an hour by motorbike and you'll notice on arrival that this is far from being the most beautiful beach and there are absolutely no tourists. But, like I said, this beach is all about the adventure of getting there…ideally via motorycle. If you want a nice detour from your explorations of the island, add Kagusuan Beach as a stopoff
8. Visit Lugnason Falls
If the beaches of the Philippines haven't met all of your criteria for aquatic paradises, drop by Lugnason Falls. A series of falls with short hikes, maximum of 15 minutes each, takes you to various falls and pools where you can swim & chill, play on the rope swing, and even cliff dive. Be sure to go early to beat the crowds and beware that the falls are less spectacular in the dry season (~February), due to lack of rain.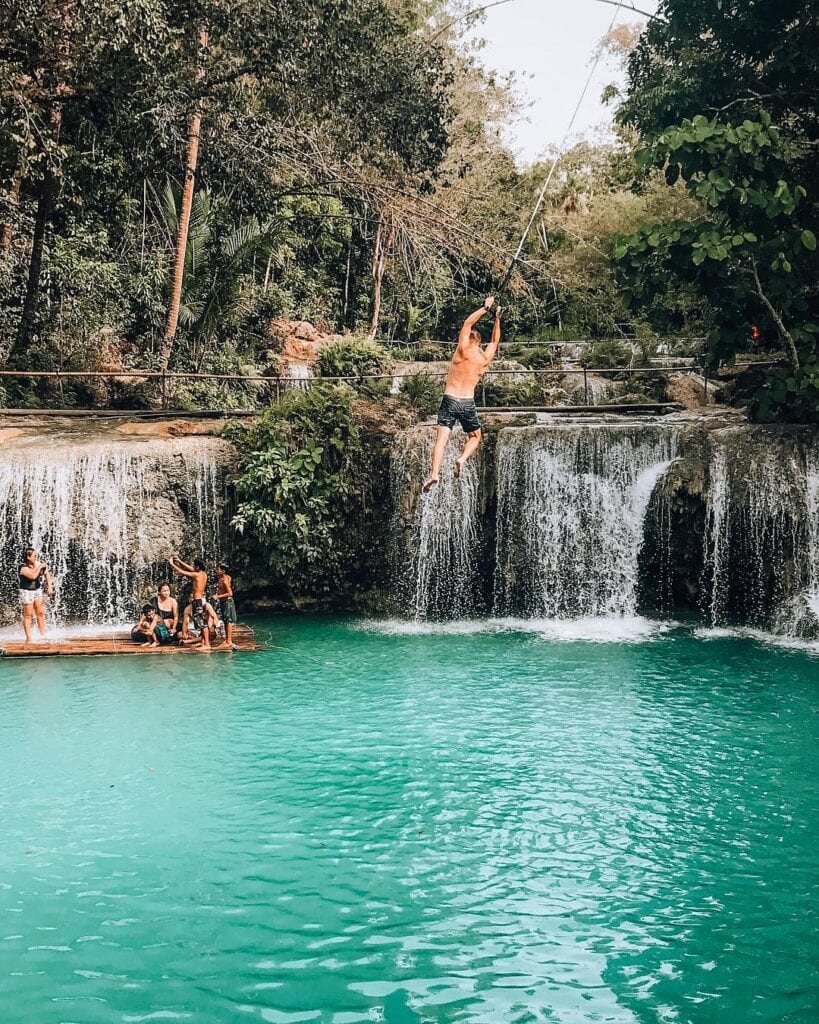 9. Cambuhaguay Falls
Closer to the far side (east) of the island you'll find another, fun waterfall – Cambuhaguay Falls. Jump into the pools, ride a bamboo raft, or simply splash and relax. Whatever you do, this Cambhaguay makes a lovely dip and respite from the heat that comes with tourist high season on Siquijor.
The falls open at 7AM and entry is free, you'll only pay for parking. Additionally, you can pay for a bamboo raft ride or to have a guide take you between the falls.
10. Gurwahon Spring Park
Moreso a mangrove tour via catwalk than a spring. The Gurwahon Spring Park is a series of wood and bamboo catwalks meandering through various mangroves for a calming, peaceful tour with a change of scenery between the single, tiny spring and the sea.
11. Capilay Springs
A park full of green surrounding a manmade swimming pool fed by cool, natural spring water. This spot makes for a great picnic or a break from the day. Entrance is free, but expect tons of tourists any time of day.
12. Mount Bandilaan Hike
If you're craving a hike, Mount Bandilaan may be a quick, satisfying fix. At 632 meters above sea level, Mount Bandilaan is the tallest point on Siquijor island and makes for a pleasant 20 minutes of hiking from the parking lot. If you crave a bit more of a hike, you can walk from the town of Siquijor which is roughly 10 kilometers away.
During Holy Week, healers come in droves to the mountain for special ceremonies and to provide their services, so be sure visit if you're in town then. For 2020, holy week is Sunday April 5 to Sunday April 11, but holy week shifts each year with the dates of Easter, so check on arrival to see if you're lucky enough to enjoy the festivities.
13. SCUBA Dive: Fun dive or certify
Countless islands in the Philippines are renowned for their undersea experiences at a cheap price, and Siquijor is no different. The water is warm, the coral reefs and gardens are flourishing, and the price is right. If you have the time, whether you're coming for a fun dive or need to get your open water certification, consider doing either on Siquijor.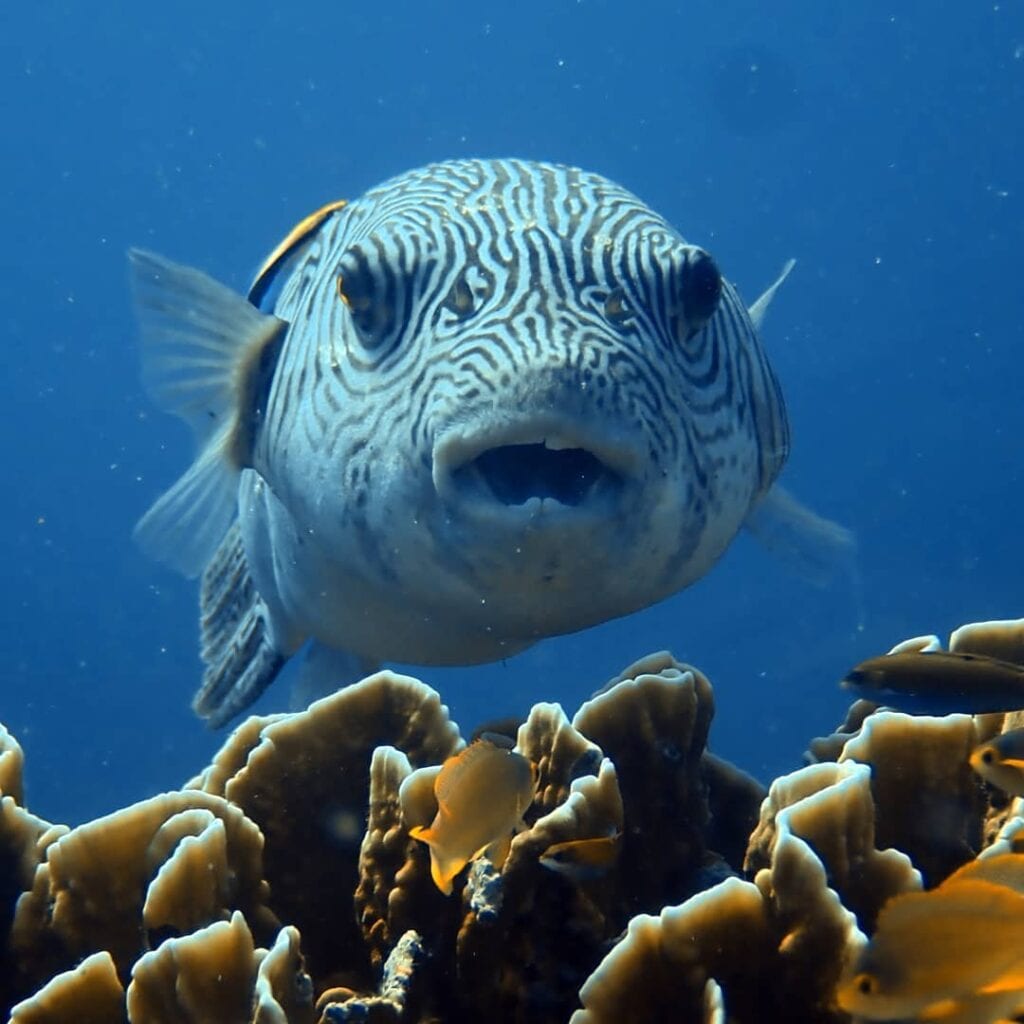 With our friends at Mystic Dives a fun dive will run you ~$25 USD and an Open Water Course will run ~$375 in water that's warmer, clearer, and more full of life than most other options around the globe.
Tell her "A Brother Abroad" sent ya!
14. Tubod Marine Sanctuary
Tubod Marine Sanctuary is another fantastic snorkeling spot. This small yet well-preserved coral garden is home to schools of colorful fish and easy swimming (no currents). Snorkeling is best at high tide, as the coral garden is right near the shore.
Tubod Marine Sanctuary Entry Fee: 50 Pesos (~$1 USD)
15. Visit the recovering reefs
In 2013, an earthquake in nearby Cebu and Bohol caused a tsunami that also devastated Siquijor. Along with tremendous damage on the island, a handful of the reefs facing the tsunami were raked clean. Today, efforts are being made to sector off these areas, allowing the reefs to regrow. If you love nature, this presents an opportunity to walk on sandbars at low tide and see what a reef in the making looks like. You can even hire a guide for a small fee to walk you out carefully to see the growing reef and emerging sea life up close, while your guide explains the process happening before your eyes
16. Kanheron Ranch
Essentially a bar with a "wild west" and cowboys theme and tons of memorabilia makes a fun stop off for anyone curious about the old American west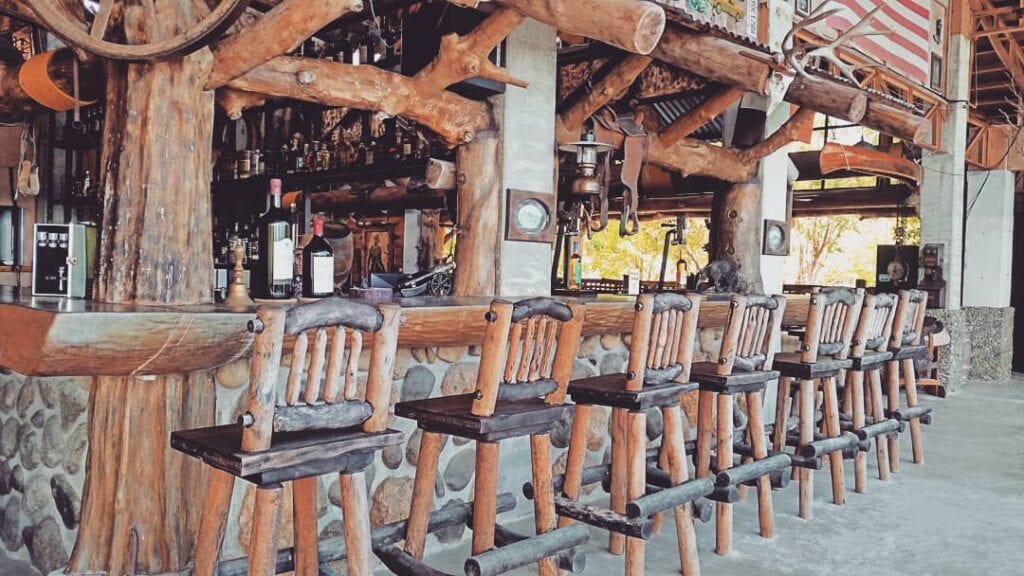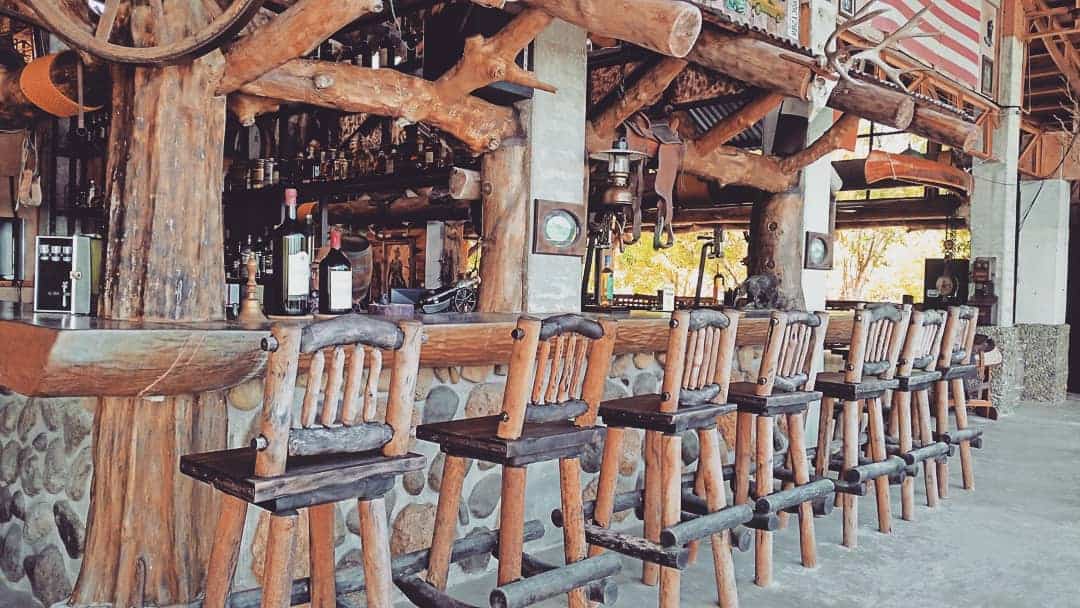 Open 9AM to 6PM daily
17. Marelle's Underwater World Musem
A small museum that showcases seashells and small marine life of the Philippines with an emphasis on educating and inspiring marine conservation efforts, in the Philippines and beyond.
Marelle's has an onsite café and restaurant as well, making it another stop off option on the Siquijor Island motorbike tour.
Open 7AM to 10PM daily
18. Swim and snorkel in the mangroves
A perfect complement to snorkeling in the coral gardens alongside the pristine, white sands beaches, snorkeling in the mangroves presents a complete different view and set of marine life for amateur aquatic adventurers. The ride between Lazi and Salagdoong beach presents the opportunity to play in the mangroves as do several other places on the island…so keep an eye out.
19. Visit Lazi Convent
A 130+ year old Roman Catholic church that is UNESCO World Heritage nominee site and a Philippine National Culture Treasure built from wood and stones from the sea. A beautiful site for those who love churches and architecture and unique in the predominately Buddhist, Hindu, and Muslim region of Asia.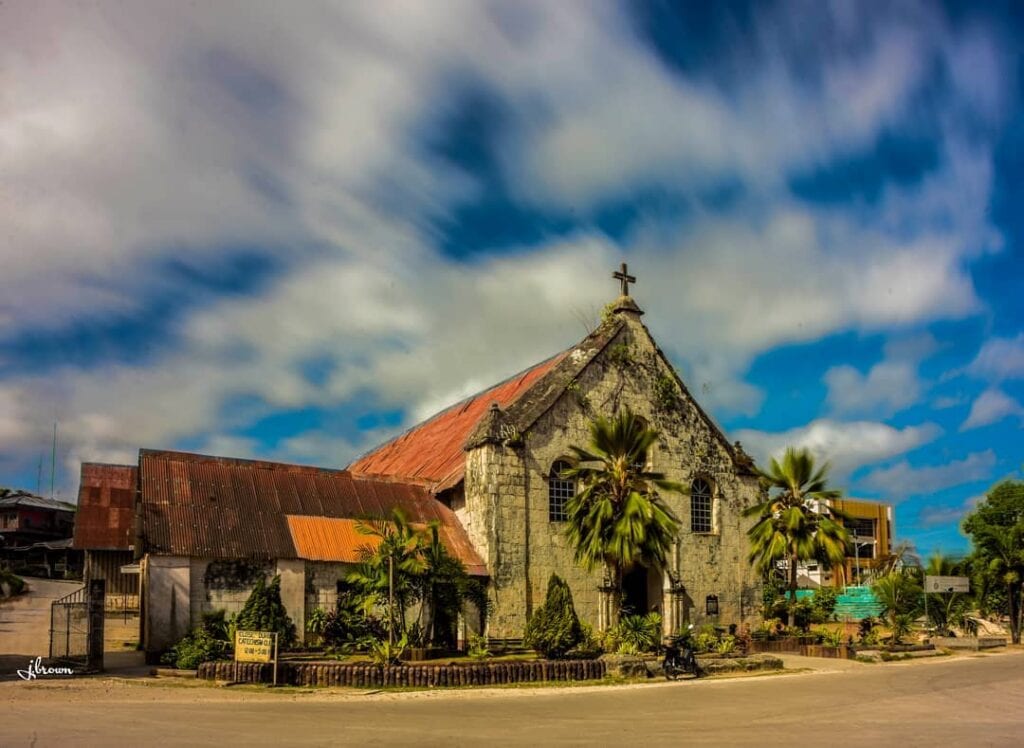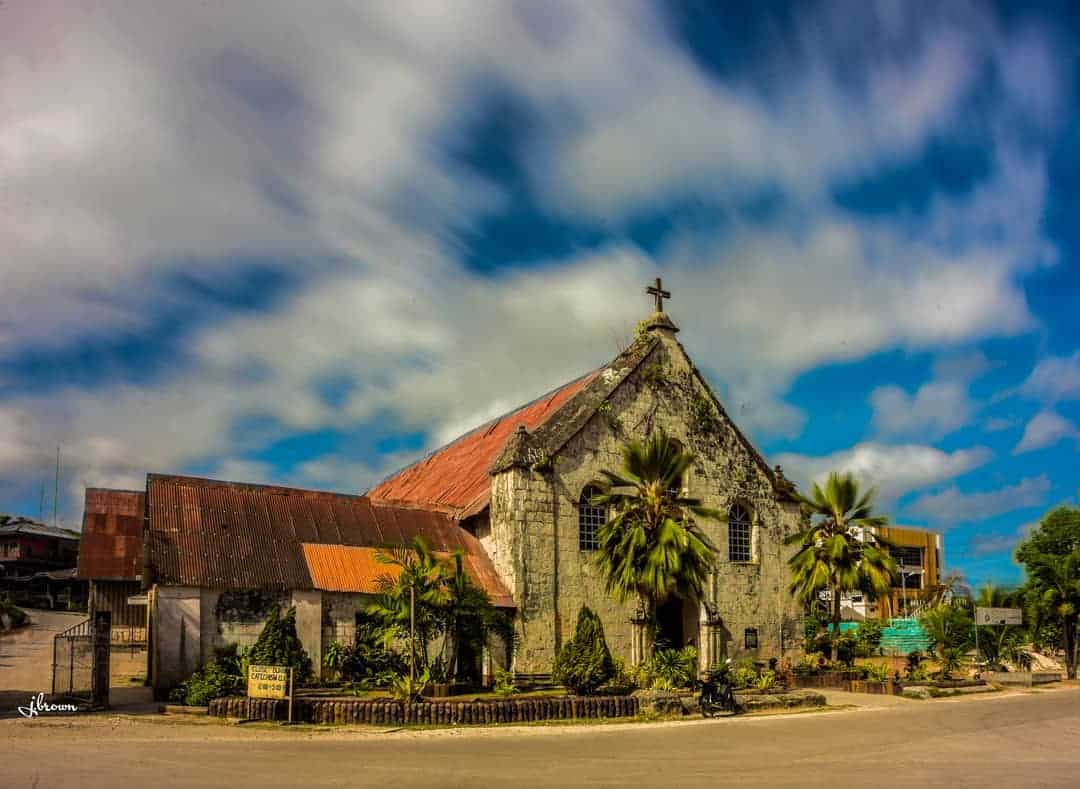 Note: @jobrown777 is an aspiring photographer whose account I stumbled on while researching Siquijor. He has some amazing shots from around the world. Show some love by checking out the rest of the artwork and following
20. St. Francis Assisi Church (Siquijor Church)
Built in 1783, the St. Franciss Assisi Parish contains the oldest church on the island. The church, convent, and bell tower that makeup the grounds are less than half a kilometer from the port and an easy site to see.
21. Mountain Bike Tour
With countless hills on the island, there are plenty of options to get in some downhill single-track riding and mountain bike meandering. Visit any of the tourist shops, or talk to your hostel/hotel provider about booking mountain bike tours.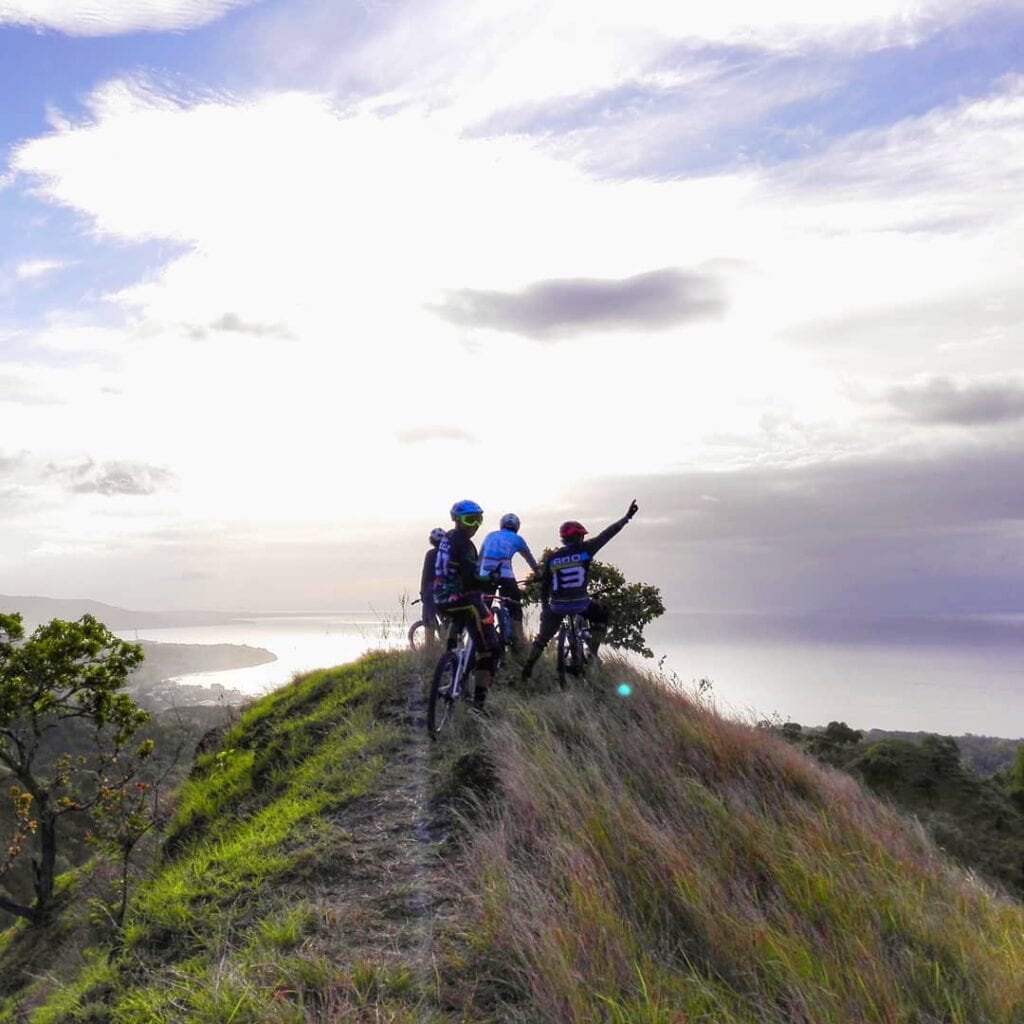 22. Cantabon Cave Tour
Tucked in the mountains, this cave was described to me as "the most beautiful in the Philippines". The cave extends for about 800 meters and a tour can take up to three hours as you walk and wiggle through the cave's spaces. The biggest draw of this cave is that it is completely undeveloped, so you get that adventurous feeling and a great contrast to the hills and beaches of Siquijor
You will have to pay an entrance fee and pay for a guide as guides are required. Also, dress accordingly because you will be getting wet and crawling around a bit.
Tour Price: 600 Pesos (~$12 USD) including guide and entry fee
23. Visit a healer
Whether you're looking for a cure to an illness or a love potion (seriously!!) Siquijor's healers are renowned for being effective. Siquijor's reputation for witchcraft began with rumors from Spanish sailors in the 1600's. The reputation continues as an aspect of the Siquijor culture today, preserved by the "mananambal" or witches/healers that are very proud to carry on the heritage.
To experience a healer on Siquijor, it is best to come during holy week which overlaps with healing week. During this period that occurs right around Easter but changes every year, healers come out in droves, in places such as Mount Bandilaan, to heal as a show of good faith to the community.
During other times of the year, talk to the manager at your accommodation and they'll put you on the right track for your healing experience.
24. Sunset on the west coast of the island in San Juan
After a long day of journeying and exploring, end the adventure in San Juan at the west coast of the island watching the sun drop into the sea. Between the vibe, the sands, the sea, and the sun, you'll be hard pressed to find a view and experience this beautiful and refreshing back home…so soak it up and enjoy.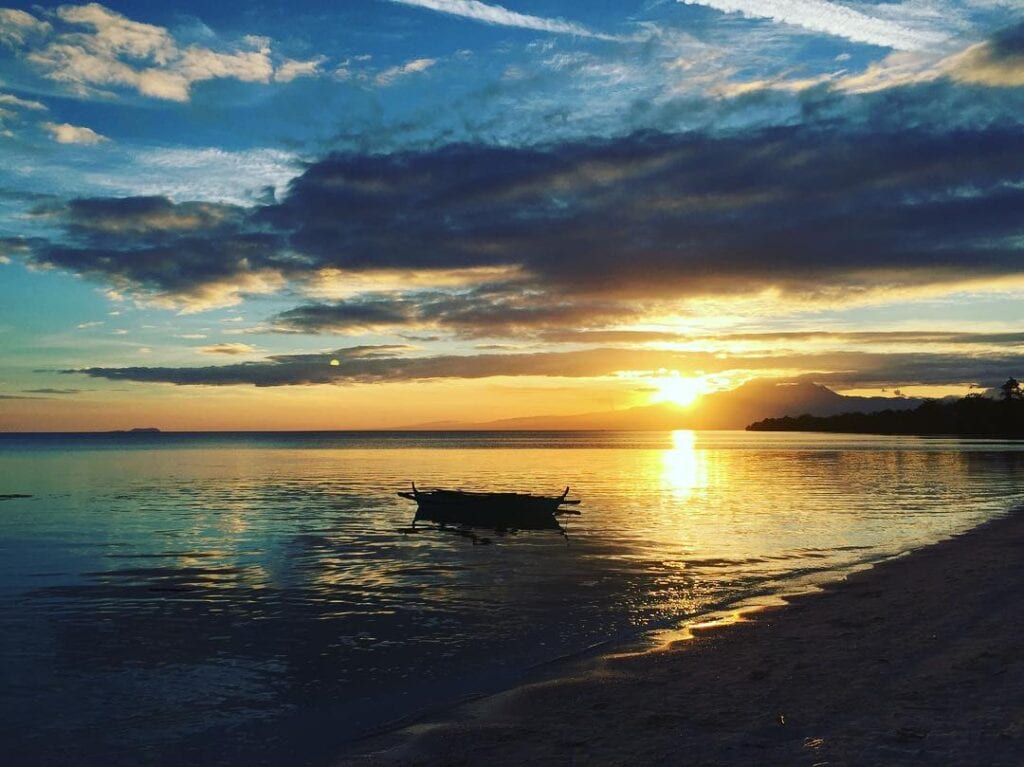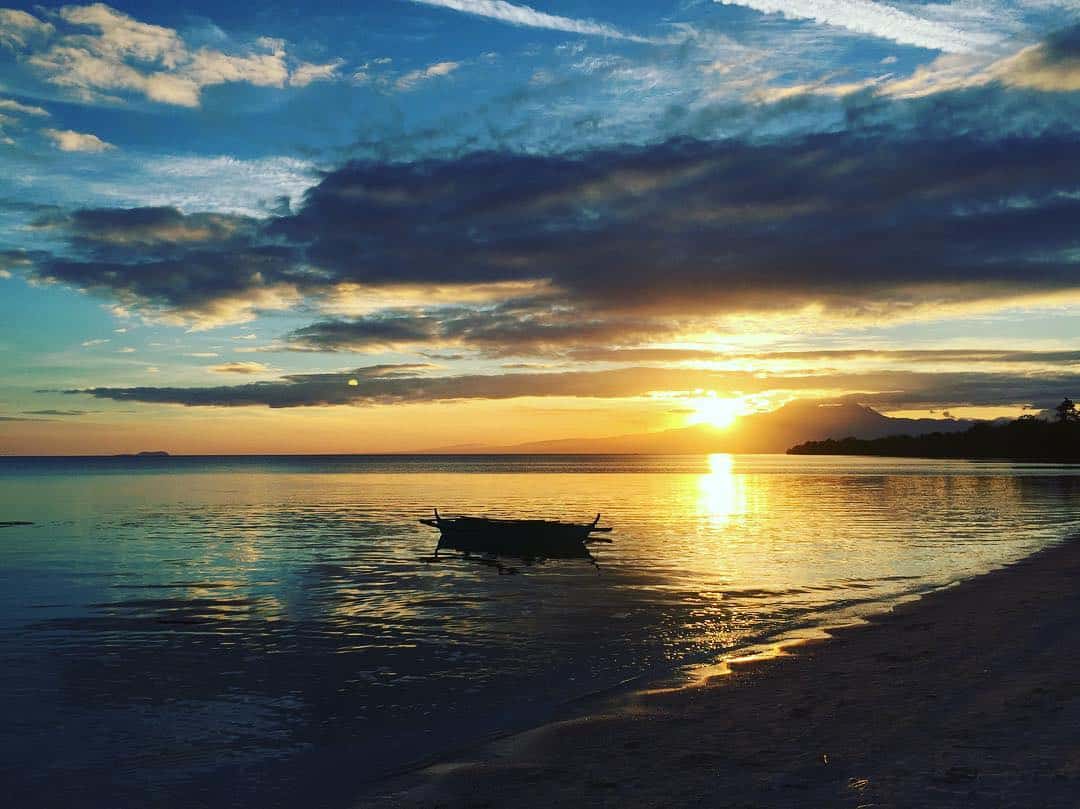 Here's a great vid of Siquijor to get you in the mood

Where to Eat and Drink in Siquijor
---
Monkey Business – in San Juan
If you have no idea where to eat, go to Monkey business. A cool vibe with upbeat music, and swings instead of bar stools, as well as a great menu of food, cocktails, and mocktails make this a trusty food spot for anyone. The food served is Filipino fusion, but there are plenty of western dishes on the menu for lunch and dinner. I highly recommend the lemongrass lemonade.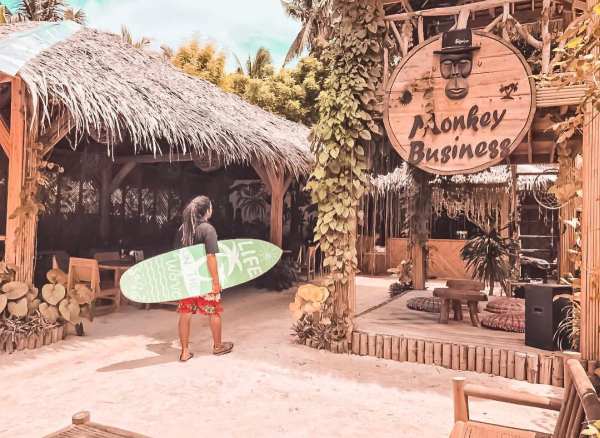 (**IMG** Siquijor Tourist Spots (User-monkeybusiness.siquijor) (50kb) **IMG**)
---
Bellview Kuzzina Bar and Restaurant (Collocated with the E.I. Hotel) – Near Siquijor Port
If you're near the Siquijor port, you'll only have a handful of not so great options for food. Save yourself some trouble by heading to the Bellview restaurant. This restaurant is in the first floor of a hotel and serves Filipino food and western food in large portions that are well prepared
---
M Restaurant– Near Siquijor Port
A purely local spot that serves quick snacks, like the local version of pizza and burgers…but honestly, they're not that great. However, I do recommend their fresh baked goods to take as to go snacks to go, as they're delicious, cheap, and packaged to go. I loaded up on the banana bread and pineapple upside down cake for 50 cents a slice for my cruise around the island by motorbike. The cakes hit the spot perfectly when I sat cliff side overlooking the ocean for a break and a snack
---
Al Capone's Pizzeria
Open 7 days a week from lunchtime until midnight, Al Capone's delivers pizzas, calzones, and sandwiches for 100 – 200 Pesos ($2 -$4 USD). This spot is one of the staples for western food, and the sandwiches make great to-go meals for motorcycle journeys.
---
Restaurant Saki
Restaurant Saki is repeatedly recommended just as much for the hilltop view as its Japanese dishes and Asian fusion dishes. Heads up if you're on a budget, this restaurant is a bit pricier than other options for eating on Siquijor, but you're mostly paying for the view.
---
Daily Budget & Expenses
Average Hostel Price: $8 per night – best booked in advance through Booking.com
Budget Hotel Price: $25-$50 per night – also best booked in advance through Booking.com
Cost of a Meal (Western Style): $5-$7
Daily Motorscooter Rental: $7
Average Daily Budget on Siquijor: $50 – $70 (without tours and entrance fees)
---
How to get to Siquijor
Getting to Siquijor is easy and cheap, just plan on it taking a bit of time, as the only way to arrive or leave is by ferry. Your best options for making your way to Siquijor are from Dumaguette on Negros Island, from Tagbilaran in Bohol, and from Cebu City. All three options are via ferry with plenty of departure times. To book, simply go to the port and purchase your ticket, optimally at least one day in advance to ensure you get the time that is best for your itinerary.
---
Leaving Siquijor
Siquijor has two separate ports: Siquijor port and Larena port.
The Siquijor port receives ferries from Dumaguette.
The Larena port, 20 minutes motorbike ride away from Siquijor port, receives boats from Cebu City and Tagbilaran, Bohol.
Going to Dumaguete and Apo Island:
Leave from Siquijor Ferry Terminal. Ticket price -200 Pesos. Be sure to check in and get your seat one hour prior
Going to Tagbilaran, Bohol
Leave from Larena ferry port. Boats leave once daily at 12:30PM. Be sure to check in at least one hour prior to confirm your seat. I recommend booking 24 hours in advance as seats tend to book out.
Going to Cebu City
The ferry to Cebu City leaves from the Larena Port multiple times daily

Where to stay on Siquijor: San Juan
Not all beaches in the Philippines were created equal. Lucky for you, the best beaches on Siquijor are clustered around the little area of San Juan, on the southwest part of the island. All of the best accommodation on the island is also conveniently situated along the little stretch of road that runs through this "beach village" of San Juan. Staying here, in San Juan, allows you to walk to the best places to snorkel and dive, and easily find your choice of cuisine, Filipino or Western, when you're done with the beach.
Renting snorkel equipment or a motorbike, or arranging a dive through one of the dive shops here in San Juan is very easy too.
For specific places to say, Booking.com has the best selection, but consider these spots to keep things interesting…
For a unique experience: GLAMPING Siquijor – Exactly what it sounds like, this "campsite" sits on a pristine stretch of San Juan's white sand beaches. Large, luxury tents sit within view of the ocean, walking distance from plenty of bars and restaurants, and in a great location for sunsets. When booking, note that the tents further back from the ocean are cheaper at half the price.
Be sure to book well in advance as reservations at this spot book up quickly. When I showed up, they were fully booked out for the next week.

Best Time to Visit Siquijor
Nearly any time of year is great for visiting siquijor. The weather stays above the 70's (23 Celsius) most of the year making it consistently warm enough to swim comfortably. Do note that the temperatures can get into the 90's Fahrenheit (30+ Celsius) between late May and September.
Tourist high seasons are in April, May, and September. If you come during these months, book ahead as the best accommodation will book quickly and not be available on arrival or what remains will be very overpriced by Southeast Asia standards.

Getting Around Siquijor
For getting around Siquijor you will hae two options: renting a motorbike, or hiring a tricycle.
A rented motorbike is by far the best, cheapest, and most convenient way to move around the island. The roads on Siquijor are well paved, traffic isn't bad at all, and scooters only cost ~$7 per day. Having your scooter gives you the freedom to explore the beaches and locales as you see fit on the 3 hour cruise of Siquijor Island's circumferential road. To rent a scooter, your best bet is renting from your hotel or guesthouse, or the provider they recommend. This ensures a better experience as the quality of the service the scooter rental provides is linked to your review of the hotel, giving your hotel/hostel an incentive to look out for your best interests.
Tricycles, on the other hand, are simply motorcycles fitted with a sidecar to carry a few people. On Siquijor, the rates for hiring tricycles are always overpriced during the initial ask and require a bit of negotiating. Even after negotiating, expect to pay much more than the ~$7 USD it would cost to rent your own scooter.
---
Wifi, Internet, and Connectivity on Siqijor
Don't expect extremely fast wifi on Siquijor. Most restaurants catering to tourists and most hotels and guesthouses do have wifi with moderate speeds. Your best bet is to buy a local SIM card with data (~$7) before leaving Manila and Cebu. Cell and data signal through local carriers is reliable through most of the island…just don't expect that data to be too fast either.

Other Great Reads on the Philippines
Other Content to Help you plan your tour of the Philippines
A Note on the Photograpy: ABA is taking an opportunity to go social. Many of the images to be featured over the coming months are shared from social media accounts. I've run into tons of aspiring photographers, creators, and small businesses. I've decided to hunt them out and share their images in my content to increase reach. If you like what you see, support their work with a follow (all accounts linked in photo credits).