The Everest Base Camp Trek is arguably one of the most beautiful, rewarding multi-day treks on the planet. Unfortunately, the austerity, remoteness, and unpredictable weather of the Himalayas makes most people question Everest Base Camp Trek difficulty and whether they can complete it.
I'll put your worries aside now – can do it, and you should do it. With the right preparation and planning, the EBC trek and seeing Mount Everest with your own eyes is an achievable and enjoyable experience.
Read on to learn the 7 aspects that determine how difficult the Everest Base Camp trek is for you, 23 tips for making the trek easy, and 5 common myths about the trek that you should definitely not let stop you.
Welcome to the Everest Base Camp Trek

Contents of this Article on the Everest Base Camp Trek Difficulty

How difficult is the Everest Base Camp Trek?
The Everest Base Camp is undoubtedly strenuous, requiring trekkers to walk 130km / 81 miles during 10-14 days and ascend over 8,000 feet. But strenuous does not mean impossible. The Everest Base Camp Trek is achievable for most healthy individuals, requiring only preparation, patience, and the willingness to just keep walking.
The most difficult aspects of the Everest Base Camp trek are caused by altitude and distance. Fortunately for trekkers, the answer to this problem is to move slowly and prepare properly. Read on for a more detailed review of what makes the Everest Base Camp Trek difficult and how you (or anyone) can complete it by implementing a few good tips.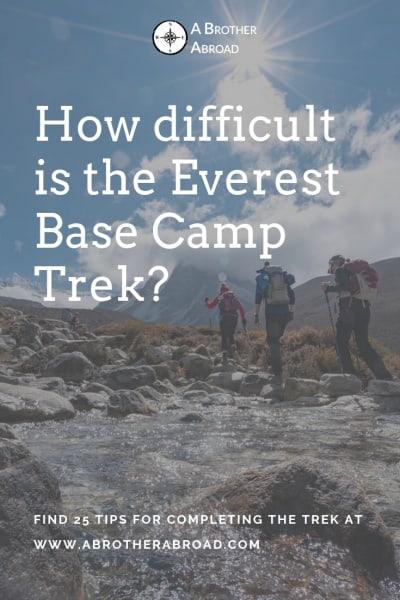 7 Important Aspects of Everest Base Camp Trek Difficulty
Below you'll discover the five elements that affect how difficult the Everest Base Camp Trek will be for you. Thankfully, each one of these can be overcome with patience, planning, and preparation so continue reading for 30 tips on how to overcome these difficulties and make your trek as easy as cake and just as enjoyable.
Here we'll review how the following elements factor into Everest Base Camp Trek difficulty:

Altitude & Altitude Sickness Risk
Altitude is undoubtedly the biggest factor in Everest Base Camp Trek difficulty and risk, due to lower oxygen levels at higher altitudes.
At higher elevations, the density of air is much lower, meaning that in every breath you take at altitude there is much less oxygen in that breath. At 11,000 ft., each breath of air only has 65% of the oxygen that same breath would have at sea level.
This means that you must breathe more to get the amount of oxygen your body is used to having for normal activities. The result is that when you arrive at altitude even small tasks like walking (or trekking) will leave you feeling winded. This isn't a major issue, as the body will eventually "acclimatize", adjusting to the lower oxygen levels and air pressure, as long as you walk and ascend slowly.
When climbers and trekkers ignore this feeling of windedness and other symptoms, they risk altitude sickness. Altitude sickness occurs when climbers ascend too quickly, not giving the body time to adjust to the altitude, and can ultimately lead to cerebral or pulmonary edema. Above 8,000 feet elevation, altitude sickness becomes a risk
How to overcome the issue of altitude and risk of altitude sickness:
Walk slowly
Ascend no more than 1,000 feet (~300 meters) per day
Allow time for acclimatization: Take a rest day for every 3,000 feet (915 meters) of ascent
Follow a good Everest Base Camp Trek itinerary that plans out distances, altitudes, and days
The body is a unique and well-designed machine. If you stay hydrated, ascend slowly, and monitor symptoms of altitude sickness, such as tiredness, dizziness, headaches, etc. then your body will adapt to the altitude.

Length of the Trek: 81 Miles/130 km round trip
Though the trek is considerably long, by chopping the trek into bit sized chunks over 10-14 days, the distances become very much manageable. Most days will only consist of 6km-10km according to this Everest Base Camp Itinerary and the longest day of 12.5km is on "flat" ground for the final trek from Gorek Shep to Everest Base Camp, after you're already acclimatized and fit.
How to Overcome the Difficulty of Distance on the Everest Base Camp Trek:
Walk plenty before the Everest trek to ensure your feet and legs are condition to the walking
Walk slower than you normally hike, to conserve energy and stave off altitude sickness
Start early, so you can take your time
Consider hiring a porter to carry your bags and make the distance more enjoyable
Use a good itinerary, that chops up the distance just right

Duration of the Trek: 10-14 Days of Walking
Whether its boredom you're worried about or the day to day wear and tear on your body that has you concerned, 14 days of trekking can be a long time. Ensure that you stay in tip top shape during the walk, and maintain your sanity and level of enjoyment
How to overcome the difficulty of time on the trek
Bring a good book for entertainment in the evenings
Consider joining a small group trek with travelers that you might have enjoyed the company of in Kathmandu. Having a good group can make the days fly by pleasantly instead of dragging on in silence
Stretch every night to help your body recover quickly from the day's walk
Prepare with cardio workouts, strength training, and walking/running up to 12 km minimum

Poor Infrastructure on the Everest Base Camp Trek: Lodging, Showering, and Connectivity
The facilities and the teahouses along the trek route will undoubtedly not be as swanky as in Kathmandu. Heat will be turned off at night, electricity will be expensive, and a warm shower will be an expensive rarity above Namche Bazaar. All of this, compounded with long walks at high altitude canbe a bit demoralizing…if you let it. So, don't. Instead, stay positive, embrace every moment of the experience, and prepare properly by packing the right things before the trip using our Everest Base Camp Packing List.
How to overcome the difficulty of poor/lacking infrastructure on the trek
Embrace and enjoy the experience
Bring a portable charger
Pack the appropriate gear to stay warm and comfy through by following our Everest Base Camp Packing List
Bring your favorite junk food (especially chocolate) to keep your spirits up on the trek

Flights from Kathmandu to Lukla are frequently delayed or canceled due to weather
For countless reasons, flights from Kathmand to Lukla Airport (at the start of the Everest Trek) are bumped or cancelled frequently, weather due to weather, logistics, or just natural Nepali chaos. You can change this risk, but you can mitigate it. Purchase your flight as early as possible, online, and go for the first flight of the day. If flights are bumped, the first flight becomes the second and so on, meaning you will still have more to get out than you would have if you were to book a later flight
How to overcome the difficulty of flight delays and cancellations
Book the first flight of the day
Book online
Book as early as possible

Weather at high altitudes can be unpredictable and brutal
At high altitude weather patterns can be unpredictable and when the weather comes it is much more harsh than on sea level. Simple rainstorms can sweep through with the cold and quickly turn into snow. As trekkers, our best tool is proper planning and packing the gear necessary to stay dry, warm, and comfortable regardless of the weather and plan to trek during what has historically been the best season.
Overcome the difficulties of weather by
Coming during the right season
Leaving early to give plenty of time for delays
Coming during the right season:
The first week of October is the best time to come, just after monsoon season ends. The weather will be at its warmest, the rains will have cleared the dust away making Everest views crystal clear, and trekker hordes will be at their smallest.
Packing the right gear:
Use our Everest Base Camp Packing List to ensure you're bringing all of the essentials. As a mental check, ensure that you have everything to keep yourself dry and warm if you're caught in the rain and the gear to keep yourself warm through the inevitably cold nights. Even during "summer" Everest Base Camp temperatures will dip below freezing at night
Leaving early to give plenty of time for weather delays on the hike
If you leave early on your day's hike, you can always stop and take cover if a storm hits, without worry of being caught outside after dark. Alternatively, if you're in a built up area like Namche Bazar and bad weather is approaching you can spare a day to wait out the weather…if you've planned in extra time

Food on the Everest Trek can be a risk, causing diarrhea or worse
When hiking the Everest Base Camp Trek, eating the wrong food is one thing that can sneak up on you and ruin your hike. Not only will your stomach be dealing with new bacteria and food handling in Nepal (compared to your home) the lack of consistent refrigeration, due to intermittent electricity, make eating meat a bit of a risk. Additionally, your body have difficulties digesting meat the higher you go in altitude. A simple key to overcoming these food hurdles is by eating vegetarian and only eating cooked items.
Here are some useful practices for overcoming the health difficulties of food on the Everest Trek:
Do not eat the yak!
Eat only vegetarian
Stick to Dahl Baht
Carry and use water purification tablets
Do not eat the yak!
As exotic and interesting as it sounds, the yak meat in the yak steak or yak chili has had spotty refrigeration to frequent power outages and there is no way to know how long it has sat unrefrigerated. Personally, I made the mistake of eating yak the last night of the trek and ended up throwing up all night and then hiking from Namche Bazar to Lukla Airport with horrible diarrhea. Mind you, I've only gotten sick traveling twice in 50+ countries…so be smart, and don't eat the yak.
Eat only vegetarian
By sticking to breads and cooked grains and vegetables you eliminate most of the risk of getting sick on the EBC trek. Stay away from raw vegetables that may have been washed in unpurified water.
Stick to Dahl Bhat
Dal Bhat is a soup made with rice and lentils. It is the cheapest food available on the trek and oddly the healthiest. Rice and lentils mixed together create complete protein (amino acid profile), are easy to digest, and contains tons of energy (carbohydrates) to fuel you the next day. Additionally, Dahl Bhat is bottomless on the trek, so if you order one plate, its all you can eat.
Carry and use water purification tablets
Read on for more info…

Drinking the right water and Staying Hydrated
Water is essential to life and health, and this doesn't change on the Everest Base Camp Trek. Unfortunately, at high altitude your body loses water more quickly than at sea level through sweat and exhalation. Counter this by continually sipping water. For a low activity day 2 liters for the average woman and 3 liters for the average man is the minimum. If you feel headaches coming on, drink more water. If you're not sweating, drink more water.
Water is accessible on the trek, via teahouse and restaurants faucets but you won't be able to drink it without purifying it. Be sure to bring plenty of water purification tablets – enough for 4 liters a day for the duration of the trek. Steri-pens do work if the water isn't cloudy but beware that filters, such as the lifestraw are insufficient. For a list of portable water filters and purifiers that do work, read or list of the 4 best portable water purifiers, and our review on the Lifestraw Go and facts travelers should know before using it.
Overcome the health difficulties of water on the Everest Trek by:
Now that you know what makes the Everest Base Camp Trek challenging, you may be reconsidering your goal of climbing to the top of Kala Pattar to see Mount Everest for yourself. Don't reconsider. Just go!
Most of the reasons people decide not to take on the Everest Base Camp Trek aren't significant enough to even think about deterring you from your dream of checking off a bucketlist item. Regardless of what you've heard, you should absolutely go (as long as your doctor approves). Read on for the biggest misconceptions about the Everest Base Camp Trek.

Misconceptions about the Everest Base Camp Trek
---
Myth 1: You have to be extremely fit to trek to Everest
Reality: You don't
The most important thing on the Everest Trek is to keep walking, and walk slowly. If you can do this at sea level, you can do it in the Himalayas. Yes, you will notice it will be more difficult to breathe, but the hike is still very much doable. I saw kids as young as 12, the elderly, and even overweight people on various stretches of the trek.
I do recommend getting fit before, by hiking or rucking, or even by doing some of these Crossfit travel workouts, to strengthen your legs, condition them for walking, and improve your cardio. The more you prepare, the more enjoyable the trek will be.
---
Myth 2: The trek is extremely costly
Reality: It's not. $1,000 for a solo trekker is easily possible
The Everest Base Camp Trek cost is remarkably cheap, given the experience you're receiving in return for your money. A solo trekker taking 12 days can easily complete the trek for less than $1,000. $1,000 and a bit of walking is a cheap price for seeing the highest point on earth.
---
Myth 3: Planning and logistics for the trek are difficult
Reality: I planned nearly nothing before the trek
I flew to Nepal from Myanmar with only a flight to Lukla airport from Kathmandu booked the day prior. I didn't reserve a single tea house and didn't purchase any permits before entering the park. Simply showing up in Kathmand, buying a new rain jacket and renting a sleeping bag, flying to Lukla, and just walking sufficed. If you're a poor planner but adapt easily, you'll be fine. But…I highly recommend planning.
---
Myth 4: You have to bring everything – nothing can be bought in Kathmandu or on the trek
Reality: Kathmand has everything you could imagine, and for cheap
Kathmandu is a mecca for knockoff outdoor gear that will last for at least one trek, after which you can donate it to the local porters. Sleeping bags and camping/cooking equipment can be rented very cheaply
I absolutely recommend bringing your own boots, high quality, from home, and well broken in. Boots are the one thing you do not want to be second rate or risk have failing on the trek.
For a list of what else to absolutely bring and where to acquire equipment in Kathmandu, check out our Everest Base Camp Packing List.
---
Myth 5: You will be alone if you go solo, making the trek dangerous
Reality: Solitude is easy to find on the trek, but you're never truly alone when traveling through the Himalyas
The EBC trek is a well trafficked hike. Though you can hike ahead easily and be alone, like I was hiking with horses for hours, there is always someone behind you, be it another trekker, a guide, or a porter.

25 Tips to Make the Everest Base Camp Trek Easier and Safer
These 25 straightforward tips will help you plan better and more efficiently, stay safer on the trek, and stay comfy along the way…
Everest Base Camp Trek Tips
Walk slowly to stay comfortable and avoid altitude sickness
Don't ascend more the 1000 Feet / 300 meters per day and rest 1 day for every 3000 meters
Carry Diamox (altitude sickness medication) for altitude sickness and over the counter headache meds the discomfort of acclimatizing
Drink plenty of water – at least 3 liters per day
Bring plenty of water purification tablets – enough for 4 liters a day for the entire trek, at least
Bring a portable battery charger – or 2 if you're carrying extra electronics. Phone charging is paid by the hour on the trek
Get a local SIM card to stay connected. Cell data coverage is reliable up to Pheriche and Dingboche
Buy the first flight of the day, to allow room for delays
Don't shy away from using a guide or porter to make the experience more enjoyable
Pick the right gear for the Everest trek to 1) Stay dry, 2) stay warm, and 3) Stay comfortable
Plan on not showering for most of the trek. Namche Bazar is the only practical place to shower
Use trekking poles to move quickly and save your knees
Don't eat meat. Go vegetarian for the trek to avoid getting sick
Do eat the Dahl Baht and garlic soup with ginger tea to stay healthy and acclimatize quickly
Be the first to arrive into the next village to get the best accommodations
Don't drink alcohol on the way up due to altitude sickness risk. Intoxication masks altitude sickness symptoms
Get travel insurance that covers high altitude trekking and helicopter evacuations
Bring your own treats (chocolate & junk food), its pricey and stale on the trek
Ensure you have a reliable, tested Everest trek itinerary
Do plenty of cardio training before the trek
Do plenty of strength training before the trek
Do the trek at the beginning of the season in October (second best option is May)
Manage your Everest Base Camp Trek costs by going solo, sticking to "dal baht", booking your flight in advance, and bringing a portable charger
Just do it. Whatever it takes, whatever happens, you won't regret it

A Great, Amateur Everest Trek documentary, to get you in the mood

Frequently Asked Questions on the Everest Base Camp Trek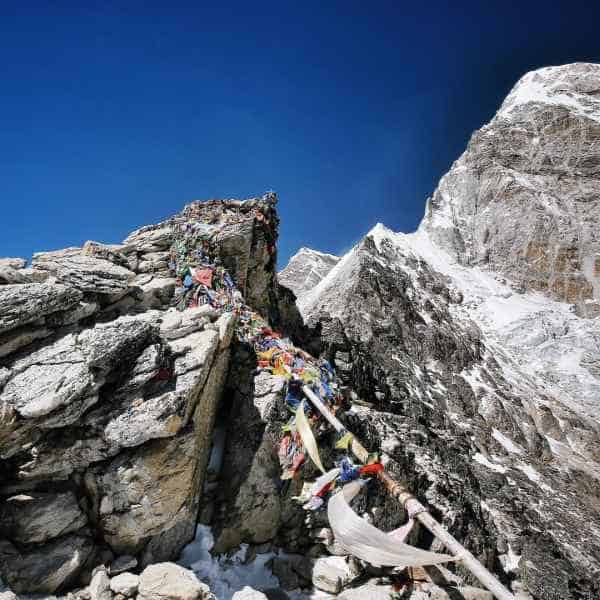 Is the Everest Base Camp Trek worth it?
Absolutely. The trek itself is serene and the panoramic view of the Himalayas from Kala Patthar is something no camera can capture
Is the Everest Base Camp Trek dangerous?
The biggest risk on the Everest Base Camp Trek is altitude sickness, which can be managed by walking slowly, carrying Diamox (just in case), and purchasing travel insurance to cover emergency evacuations
How much does it cost to trek to Everest Base Camp?
This depends on how you travel, whether you use a guide or porter, and what kind of accommodations you pick but the Everest Base Camp Trek Cost can be as little as $1,000
How long does it take to get to Everest Base Camp?
This depends on your fitness level and how acclimatized you are to altitude, but on average the Everest Base Camp Trek takes 10-14 days. This itinerary of the Everest Trek, with days and distances, is a good place to start with planning
What are the elevation gains like on the Everest Base Camp Trek?
The highest single day of hiking has an elevation gain of 784meters/+2,583 feet
How far is the walk to Everest Base Camp?
130 kilometers / 81 Miles round trip
Do I need to book tours or teahouses in advance on the Everest Base Camp Trek?
Beyond Namche Bazar, only guides and porters can book teahouses. To get the best teahouse, simply arrive first.
What gear is needed for the Everest Base Camp Trek?
The essentials will be a good backpack, comfortable boots that are broken in, clothing layers to stay warm and dry in temperatures as low as freezing, and water purification tablets. Beyond that, portable chargers, chocolate and candy, and a local SIM card are extremely useful. Ensure that your gear in total weighs less than 10kg.
Consult our full Everest Base Camp Trek Packing List for full info on what to take on the trek
Is Lukla airport dangerous?
Lukla airport is more difficult to take off and land from than most airports due to length and topography. However the odds of a crash are low because pilots are specially trained and certified to fly on short takeoff and landing airports and specifically Lukla airport.
For more information read this article: "Why is Lukla considered the most dangerous airport in the world?"
What is the highest point on the Everest Base Camp Trek?
The viewpoint on Kala Patthar, which is one of two places to see Mount Everest on the trek, is the highest point on the trek at 5,545 m (18,192 ft)
How fit do I have to be for the trek?
If you can hike for 5 hours, you're fit enough for the trek (just confirm with your doctor)
When is the best time to do the Everest Base Camp Trek?
Early October, just at the end of the monsoon season. The weather is at its warmest. The sky is at its clearest. The crowds are at their smallest.
How do I find a porter or guide?
The best, most cost effective way is to stay at a well rated guesthouse for trekkers. Most guesthouses in Kathmandu catering to trekkers are run by former Trek guides. These guides will either have a reputable company that can provide the service for a good price or will be able to connect you with a guide/porter that they approve of.
What vaccinations do I need for Nepal, the Himalayas, and Everest Base Camp?
Consult the CDC travel webpage for medicines and vaccinations recommended for Nepal for the latest government recommendations, and speak with your Physician.
At the time of writing, the CDC recommends the following vaccinations:
Can I eat the food on the Everest Base Camp Trek?
Yes, but stick to vegetarian food and cooked vegetables. Don't eat meat for the duration of the trek to avoid food poisoning. Don't drink alcohol on the ascent as intoxication masks the warning signs and symptoms of altitude sickness
Can I drink the water on the Everest Base Camp Trek? How to I get water on the Trek?
Water can be attained from several faucets, on the trek route or in restaurants and guesthouses but be sure to purify all water before drinking, ideally using water purification tablets purchased in Kathmandu.
If you opt to use a water filter, such as a Lifestraw, know its limitations and suitability for Nepali drinking water before. You may still need to use purification tablets with the water filter to ensure the water is suitable to drink.
Learn more by reading our list of best portable water filters for travelers.
What Everest Base Camp Tours are recommended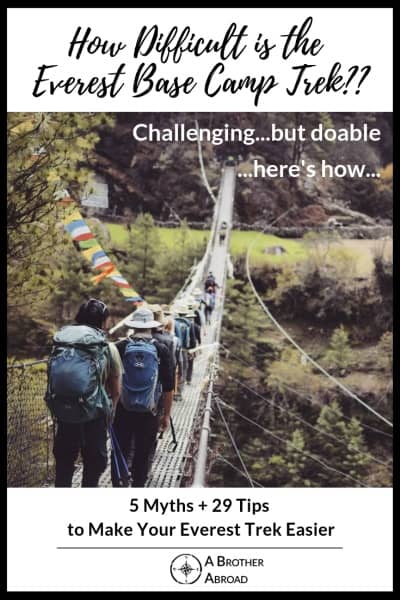 ---
Other great content to help you complete the Everest Base Camp Trek