Creating a minimalist yet versatile wardrobe, ready for urban exploring, outdoor adventures, and staying stylish for nightlife, is tough – especially for travelers. However, picking the right mix of clothes to keep your backpack light but keep you feeling clean when you can't wash, warm in cool climates, and comfortable in hot weather can improve the quality of your travels a lot. Even better, picking high-quality Merino wool clothing is one of the best ways to hit that packing and travel goal.
In this Unbound Merino T-shirt review, I'll share how this lightweight, versatile, and classically stylish shirt performed in the hot Southeast Asian heat, cool mountains of Bali's volcano lands, and adventures between Indonesian islands over months of wear with just a few washes.
Read on to discover how Unbound Merino has created a near-perfect Merino travel shirt, suited for every region of the globe and at a great price for what you get.
This article contains affiliate links

---
CONTENTS OF THIS UNBOUND MERINO T-SHIRT REVIEW
---
A QUICK REVIEW OF MY EXPERIENCE TRAVELING WITH THE UNBOUND MERINO T-SHIRT
The Unbound Merino T-Shirt is an excellent t-shirt option for travelers and minimalists. The high-quality Merino felt soft and comfortable enough to wear for days or weeks at a time. Within two months, I washed this shirt exactly three times. Naturally stretchy knit and fabric make for a trim fit. The high quality and soft Merino wool blend with "classic basics" styling to make this Merino shirt wearable in nearly any circumstance. From a hike in the heat to hours-long motorbike rides to wearing performing on stage for a crowd of 200+ and the congratulatory cocktails afterward, this shirt will keep you comfortable and looking good.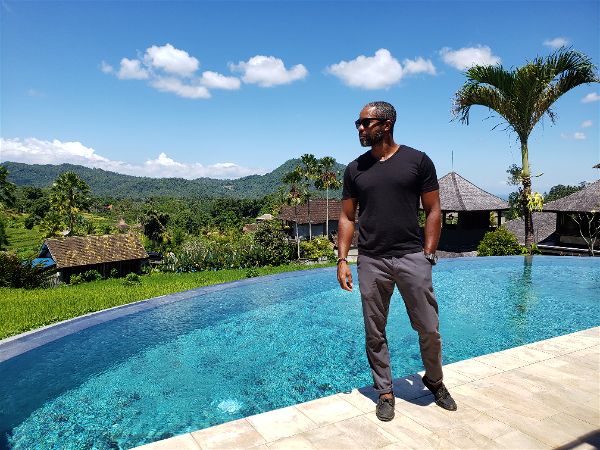 The Merino wool is ultrafine, well-constructed (knit and stitching), and high performance, ultimately resisting odor for my weeks of use without washing, drying quickly after bouts with rain, and wicking sweat in the heat. Last, reinforced stitching and the Unbound Merino promise make this a shirt I expect to last a long time.
VERDICT
Though the price tag seems steep, the quality of the shirt, the performance you'll get, and how much you will be able to reduce your wardrobe make this shirt a great value.
With two Unbound Merino shirts (and that's it) in your pack, you'll have a full shirt wardrobe, lightweight, and ready to travel the world with, through varied adventures and minimal washing (think 10 to 20 wears between washes).
From my experience with the Unbound Merino tee, taking into account comfort, style & aesthetics, the odor resistance I experienced, and how quickly this shirt dried after rain, getting sweaty, and handwashing, I could easily take only two of these shirts (plus a mid-layer like the Unbound Merino hoodie, and a shell-like the Bluffworks Field jacket) and be ready for indefinite travel, (nearly) anywhere in the world, any time of year.
If you're in the market for Merino wool shirts, building a minimalist wardrobe, or packing your bags to travel the world, I highly recommend the Unbound Merino T-shirt V-Neck.
UNBOUND MERINO T-SHIRT REVIEW

~$75

An all-around great Merino t-shirt that performs as well as other high-performance Merino brands while looking just as great and wearing easily for weeks.


Though the price seems steep, purchasing two of these shirts can replace an entire set of shirts in a travel wardrobe, making the price equal, but the value much higher for Unbound Merino

If you travel or are aiming for a minimalist wardrobe, I highly recommend the Unbound Merino T-Shirt


4.7/5

«««««

Style | Fit – Classic style looks good and lasts through trends with a modernly stylish fit

«««««

Performance – Resisted odor for weeks, dried quickly, still felt cool in SEA heat

«««««

Price | Value – $150 buys an entire travel shirt wardrobe

««««

Comfort – Felt as soft as a worn-in cotton t-shirt out of the box, no-itching

«««««

Durability – TBD. However, reinforced stitching and Unbound Guarantee are promising

««««(TBD)

Material | Construction – Extremely soft and high-quality material, thoughtful, quality construction

«««««

CLICK TO CHECK AVAILABILITY OF THE UNBOUND MERINO V-NECK T-SHIRT
PROS | CONS OF THE UNBOUND MERINO T-SHIRT
| | |
| --- | --- |
| PROS | CONS |
| Stylish fit and cut – equally suited for daily wear, an active lifestyle, and in the office (under a blazer) | Does one "pilling" after the first wash, then all good – however, the pilling will wear away (back to normal) over time |
| Softness – like a worn cotton shirt straight out of the package | Durability in the long term TBD |
| Price & Value relative to other wool clothing | Price – relative to synthetics |
| Lightweight feel compared to other wool | |
| Lack of itch, like a normal shirt | |
| Ethically sourced wool | |
| Active style fit | |
| All of the qualities of good wool gear (dries quickly, wicks sweat, wears for 1+ weeks without odor, wrinkle-resistant) | |
| Shirt's knit allows the shirt to move with your body while feeling light | |
---
---
FULL UNBOUND MERINO T-SHIRT REVIEW
WHO IS "UNBOUND MERINO," AND WHAT MAKES THEIR GEAR AWESOME?
Unbound Merino was started by three friends and constant travelers who saw a problem finding stylish, functional clothing for travelers and saw Merino wool as the answer – if done right. Though there are tens of respectable Merino wool brands on the market for hiking and adventure, the Unbound Merino team wanted to make pieces that were as suited and comfortable for a hike as they would be in a nice restaurant or day at a classy museum. "High-performing clothing that is versatile enough for any occasion."

Started by travelers aiming to make travel (and packing) easier by having to carry less
Specialize in doing stylish, fashionable basic (Tees, Henleys, hoodies, sweat pants, etc.) in high-quality Merino to combine a timeless, non-trendy style with high function
All of the garments use more ultrafine Merino wool, adding comfort
Thoughtful construction, standard reinforced stitching, and the Unbound Merino promise and return policy lend durability and reliability
Sustainably and responsibly sourced Merino wool from independent farms in Australia makes supporting Unbound Merino an eco-conscious decision
The result of Unbound Merino's vision – great clothing that is stylish enough for daily wear, thanks to a "fashion basics" and classics approach, can be worn longer without washes allowing travelers to pack less.
Unbound Merino's clothes are more stylishly designed and cut than other Merino wool brands while using high-quality Merino constructed better. As a result, Unbound's gear performs better and is suited to more situations and uses, replacing more pieces in your wardrobe – activewear and daily wear alike.
MERINO WOOL BENEFITS
Why you should add Merino Wool to your travel wardrobe
Unbound Merino's approach brings the most out of wool via design, construction, and quality control – as some wool brands fall short. But to fully appreciate Unbound Merino's products and understand what makes them well worth the price tag, you have to understand the raw power of Merino wool.
Merino wool is the original performance fabric. In the long-term, Merino wool outperforms synthetics (polyester, nylon) and cotton by far in insulative properties, how it dries, and how it resists odor.
WOOL VS. COTTON

Over cotton, Merino wool wicks and dries sweat quickly while also insulating when wet. So, if you get caught in a cool rain, wool will still keep you warm, while cotton fabrics will suck the heat from your body. Additionally, wool will dry quickly while you wear it. Cotton, on the other hand, is very slow to dry, especially while wearing it.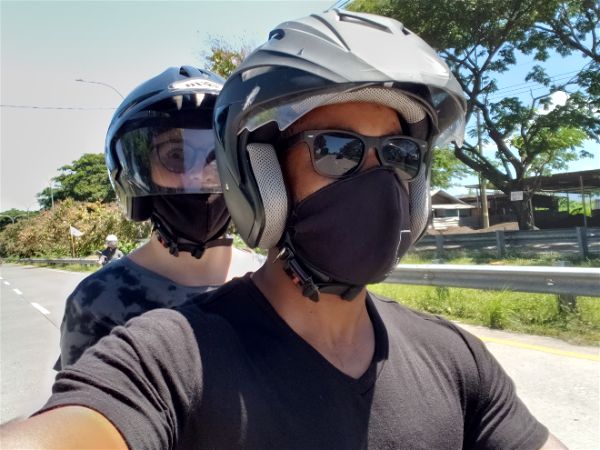 Additionally, cotton t-shirts need to be washed after almost every wear, while Merino wool shirts can be worn 10 to 20 times between washes. After washing (by hand, perhaps if you're traveling), a cotton shirt could take 12 to 24 hours to dry properly, while Merino wool can dry as fast as a few hours or be worn damp and allowed to dry
WOOL VS. NYLON, POLYESTER, AND OTHER SYNTHETIC FABRICS

Compared to synthetic fabrics, Merino wool resists odor far better between washes and over its lifetime.
Synthetic fabrics will need more washes between wears (2 to 3 wears between washes for shirts) which is better than cotton. However, synthetic fabrics progressively hold more odor over time. Though the shirts may be cheap (roughly half the price of Merino), extended wear between washes will cause the shirts to stink permanently.
THE STRAIGHT BENEFITS OF MERINO WOOL

Those points above are the major benefits of Merino wool, but there are still plenty more benefits that make Merino the best performance fabric for travelers and adventurers
Keeps you cool in the heat: Merino wool will cool you in the heat thanks to sweat-wicking properties and quick-drying properties
Keeps you warm in the cool: Dry or wet, Merino wool still insulates and keeps you warm
Antimicrobial and odor resistant: Merino wool naturally resists odors allowing you to get 10 to 20 wears from a single Merino shirt between washes
Keeps you dry/Dries more quickly: Sweat/moisture wicking and fast drying nature keeps you dry whether you're coming out of a workout or out of the rain
Soft, "worn cotton" feel makes this a shirt you'll want to wear: Ultrafine Merino wool is naturally soft and not itchy, giving the softness of worn cotton from day 1
Great for "travel washes": Quick-drying (for wearing in the rain, or wash + dry overnight) (dried in minutes, absolutely within 24 hours)
Anti-wrinkle: Merino wool naturally resists wrinkles, letting you stay classy without an iron
Maintains "slimming fit" between washes: Naturally, elasticity in the knit and fabric make the clothing feel and fit like just out of the wash, even after weeks of wear
What makes the Unbound Merino T-shirt better than other Merino shirts?
Unbound Merino is a reliable brand delivering a wide range of travel-friendly Merino basics, and Merino is the OG performance fabric, but how do the two collide in the Unbound Merino t-shirt?
Well, the result is what I would easily call one of the top 5 Merino wool t-shirts and travelers, period. I say top 3 because tastes will vary, so if you want a heavier weight, feel Outlier may beat this shirt, or if you want a cheaper shirt, Woolly may be a better fit.
However, at the price point, for the value and for world travel wear year-round, the Unbound Merino T-shirt ties with the Outlier Ultrafine Merino Cut One shirt as the best Merino wool shirt I've tested yet. If you plan to spend most of your time in hot, tropical places (like Central America or Southeast Asia), the heavily breathable, seemingly lighter weight knit of the Unbound Merino t-shirt is your best option on the market.
Here's what the Unbound Merino T-shirt did better than other shirts I've tried:
Classic, timeless, and flattering styling and cut: The Unbound v-neck t-shirt is perfectly slim in the right places giving it that classic, slim and trim, t-shirt look. Not baggy. Great design and modern cut gives the shirt an elegance that fits stylishly fits daily life as well and transitions well to the office (under a blazer) or dressed up for a night out
Stretchy fit allows active movement and comfy wear: The quality construction of the Unbound Merino shirt clearly uses the innate nature of wool and intentional knitting to make the fabric slightly elastic (like a synthetic activewear shirt or workout shirt) that allows more movement. The elasticity stays between washes as well.
Super soft, Ultra-fine Merino: Every wool brand promises this, and most still end up feeling itchy. The Unbound Merino tee legitimately has no itch, feels fantastic on the skin, and feels as soft as 100% cotton t-shirts after years of wear and hundreds of washes.
Reinforced stitching: Close examination shows high-quality stitching, and after a month of frequent wear and movement, zero loose stitches. Though it has only been a month, the Unbound Promise leaves me confident the construction and stitching will last.
Light Feel: A seemingly lighter knit makes this shirt equally wearable in hot, humid heat (think, black shirt in 90+ degrees F, ~32 degrees C), with it feeling no warmer than any other shirt I own. Still felt great at night during cool rides through mountain highlands

Bottom Line: Everything about this shirt makes it suitable for the office, or the backpacker trail
---
MY EXPERIENCE WITH UNBOUND
Over a month of straight wear and two months of general testing, I sweated, worked out, napped, wandered, and explored in the Merino to see what it could and could not do.
Here's a snapshot of the experience:
1 Week of straight daily wear without washing (motorbiking, carrying bags, nightlife)
Several motorbiking weekends motorbiking trips to the cool mountains and volcano country, getting caught in the rain and wearing this as the only shirt for the trip
Couple of short day hikes (few kilometers, ~2 hours at midday heat)
Weekend trip to the other islands in Indonesia, flying, catching ferries, carrying bags, exploring, and sweating through the heat
Impromptu "grease the groove" workouts during the day of ring and parallettes calisthenics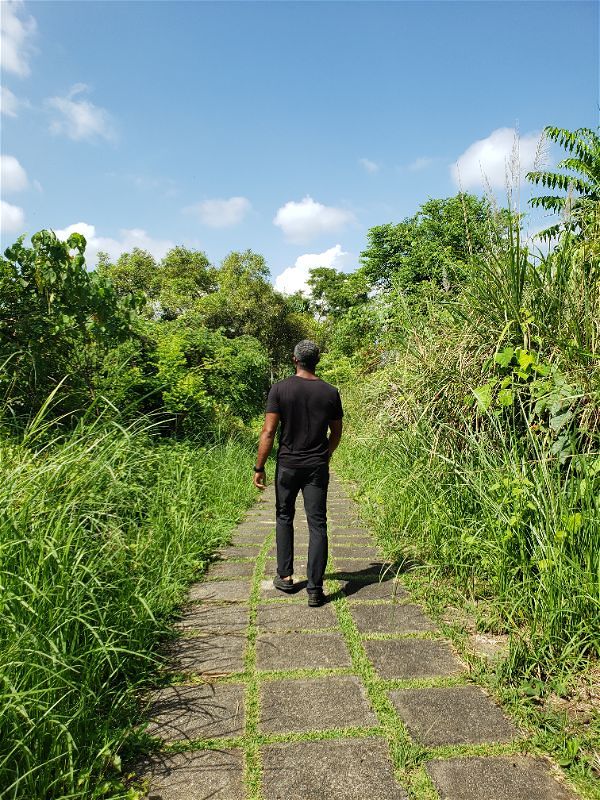 How did the shirt perform?

Even in the heat of Bali daily, in a black shirt, the high-quality Merino and lightweight, elastic knit kept me dry and comfortable
The knit of this shirt, which at first seems too light for fears of durability, was perfect for the Bali heat but still comfortable to wear during cool nights, keeping me warmer than a cotton tee in the high country of Ubud, and paired well with the Merino hoodie
The shirt resisted wrinkles, always looking fresh when I put it on and looked good enough to perform stand-up comedy on stage to a crowd of 200 people followed by cocktails and nightlife
No sign of odor after weeks of wear and no washing, even when I finally broke down and washed it
One thing to address: Pilling
I noticed in other reviews that reviewers noticed pilling in the shirt over time. I also noticed pilling in the shirt immediately after the first wash, which altered its clean, smooth aesthetic. However, Unbound Merino points out that "pilling" is common in Merino wool shirts and comes from the shorter, loose fibers working their way to the shirt's surface. Over time, these short, unessential fibers will naturally pull away from the shirt, leaving the clean aesthetic we like.
If you want to speed up that process, Unbound recommends throwing the shirt in the washer with a pair of jeans (you can read more here in Unbound's Ultimate Guide to Merino)
My Experience Washing: Gentle or hand wash, hang dry
Through the weeks of wear since this test, I've washed this shirt as I do all of my Merino wool:
Gentle wash, or travel hand wash in a dry bag only. Nothing heavy duty
Gentle soap, no bleach or softeners
Hang dry, out of the sun and heat – ABSOLUTELY no tumble drying
10 wears minimum before washing – washes do break Merino wool down, so I avoid unnecessary washes
With that, I haven't noticed any durability issues with this shirt. Keep in mind, if you do read a bad review, double-check what their care process was. Any Merino wool shirt will break down if washed too much or tumble dried on high heat.
For more info, check out Unbound Merino's care instructions.
FINAL THOUGHTS FROM TESTING THE UNBOUND MERINO T-SHIRT
The lightweight knit, soft, comfy feel, and natural stretch make this shirt a solid wool baselayer for adventuring or a good daily wear shirt. Pairing the Unbound Merino T-shirt with a mid-layer (like the M-65 field jack liner or the Unbound Merino Hoodie) and windproof/waterproof shell (like the Patagonia Torrent Shell or the Bluffworks Field jacket) I have a complete traveler wardrobe for nearly any climate or adventure.
After a month of wear and wandering, I could easily travel indefinitely (think, a year of traveling the world) with only 2 of these Merino T-shirts, a mid-layer, and a rain shell. These shirts rock.
---
WHO DO I RECOMMEND THE UNBOUND MERINO TEE FOR: TRAVELERS AND MINIMALISTS
FOR TRAVELERS
This shirt performs so well in such varied circumstances, two is all you need for your entire wardrobe, whereas the average around the world traveler takes ~5 shirts.
Additionally, with these two shirts, you'll only have to wash them once or twice a month. Taking five cotton shirts, you will still wash once a week at best.
I recommend opting for the two t-shirt option, or – if the budget doesn't allow – grab a single Merino t-shirt and pair it with 2 to 3 synthetic t-shirts to create that minimalist wardrobe with less damage to the pocket.
Personally, I would still keep at least one "hard use" shirt for intense workouts or situations where the shirt might get snagged or torn (i.e., hiking through tough brush). For urban dwellers, two shirts are plenty
FOR MINIMALISTS
In the year before I started traveling the world, I aimed to get rid of as much as possible, lightening my load, minimizing what I had to put in storage, and getting into a "less is better" mindset. I loved having less way more than I expected – but that feeling only came when the few things I had still did everything I needed. This shirt could easily be one of those minimalist "things."
Expect each Unbound Merino shirt you purchase to replace five cotton t-shirts or 3 to 4 synthetic shirts, keeping you covered for a week. The very basic styling and coloring mean you could easily get away with wearing the same shirt day after day, as those who care will assume it is a different shirt (it smells clean, right?), and most people actually won't care.
Again, I would keep one hard use shirt, but once you get into the mindset that you don't "need" another shirt for daily wear, you'll be able to shed most of your wardrobe after grabbing two Merino wool shirts.
Click here to see colors and other styles of the Unbound T-shirt

---
OTHER UNBOUND STYLES TO CONSIDER
The Unbound Merino T-shirt is great, but I also like the brand in general. I highly recommend checking out these other Unbound Merino pieces I am currently testing
If you're aiming to create that perfect travel wardrobe, I recommend considering these other immaculate pieces
---