For many people in Bali, whether they're vacationers passing through that need to get some quick work done, business types on a two week trip through Asia (with a weekend to spare) or nomads making a living the digital universe, work needs to happen at some point. When the time comes, one of the many Ubud coworking spaces available will perfectly fit your needs.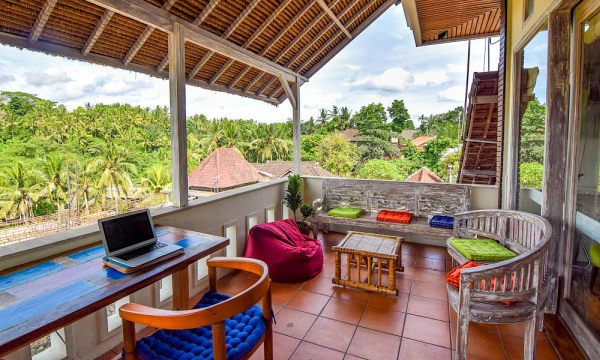 Though the diverse and amazing café and restaurant scene is a comfy possibility for getting work done, many transplants, long stayers, and a coffee shop/restaurant owners frown on taking up a table for hours in this cluttered digital nomad scene on Bali. On a more positive note, finding a dedicated, quiet space with AC, a good internet connection, and 8 hours without interruption (or having to move tables) can be a real productivity booster. After hours, being able to easily socialize with like-minded potential friends is a huge plus that'll definitely make your time on Bali sweeter.
Lucky for you, Bali, and specifically Ubud, offer a great array of coworking space options. With so many great Ubud coworking space options, it can be difficult finding the one right for you…until now.
Read on for our list of the 7 best coworking spaces in Ubud
---
Contents of this Ubud Coworking Spaces List

Overview of the Bali and Ubud Coworking Spaces
For my first month on Bali, I reluctantly opted for a coworking space, but the productivity boost, the routine that resulted, and clear line between work and play (that can easily blur as a digital nomad) became much clearer. The result made my time on the island better by being more productive at work, more enjoyable outside of work, and more mindful all around. Because of this, if you're coming to Bali with work goals, I highly recommend opting for a coworking space – thinking of that membership fee as an investment in productivity.
So now that you're sold on coworking spaces, while specifically should you pick an Ubud coworking space to park your laptop?
---
Why is coworking in Ubud perfect for nomads, vacationers, and travelers
Ubud and its coworking spaces offer three main benefits over Canggu and the nomad friendly workspaces on the rest of Bali
Ubud's hilly jungles backdrop with a more spiritual crowd offer a completely different, more chill vibe compared to the beachy surf town feel of Canggu and further south
The Ubud coworking spaces are cheaper than elsewhere in Bali while maintaining a high standard for comfort, facilities, and service
The atmosphere of the city is much quieter than in Canggu, Kuta, Seminyak, and further south
Ultimately the Ubud coworking scene is affordable and comfortable with the backdrop of a tranquil village of locals and nomads/travelers that helps boost productivity, making it perfect to crunch out that project and meet your goals.
---
What to look for in a good coworking space
Wherever you go on Bali there will be plenty of coworking spaces to choose from. To make sure you're not locked into a month of coworking misery (by your standards) look at these factors to assess if the potential coworking space is right for you
Facilities
Is there sufficient air-conditioned space (if you need that)?
Are bathrooms and showers available?
Are conference rooms or meeting rooms available? Is there an extra charge?
Are skype booths available? How much time do you get in the Skype booths per month?
Are there fun bits, like bean bags, a garden space, or pool, to mix up your work session?
Atmosphere
What is the crowd like? Completely quiet and introverted (where you won't meet anyone) or social?
How collaborative is the workspace? Active announcements board? Skill sharing?
Services
Are networking, social events, and training events provided multiple times per week?
Food and Survival
Onsite coffee shop?
Onsite restaurant? Boxed lunches, set meals, or full menu?
Are there nap spaces? (Don't underestimate the value of these?!?!)
Now, let's jump into the 7 best Ubud coworking spaces….

Google Map of the Ubud coworking space options
Coworking Ubud: A List of Options
(Click to jump to any coworking space that catches your eye)

Outpost
A robust and acclaimed coworking space near Ubud's monkey forest, with a restaurant, great setup, a great sense of community, and coliving options to your productivity, fun, and growth in a tight, shared circle.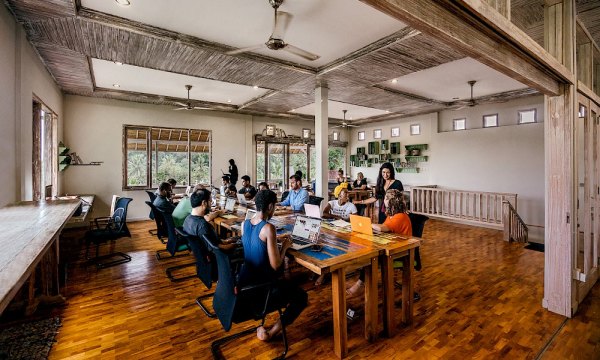 The Ubud coworking space has a two-floor setup including a large, enclosed, air-conditioned ground floor and an open air balcony facing a river upstairs, and garden working spaces. Meeting rooms and conference rooms are available for booking
Facilities and Amenities:
Large, air-conditioned workspace downstairs
Breezy, open-air workspace upstairs and balcony with river views
Pool
Garden space (suitable for working…or not)
Kitchen
Skype booths
Printing/Scanning facilities
Outpost Coworking Prices
Unlimited Month – $190 USD / 2.7M IDR
70 Hrs / Month – $115 USD / 1.625M IDR
25 hrs /Month – $49 USD / 680k IDR
Daily – $16 USD / 220k IDR
Unlimited (Night Owl – 5PM to 8 AM) – $110 / 1.5M IDR
Unlimited 3 Months – $545 / 7.2M IDR
OUTPOST Coliving:
Outpost's Ubud coworking spaces also offer coliving spaces that include an air-conditioned private room, ensuite bathroom, fast internet, and breakfast
OUTPOST Coliving Rates
Daily – $68 USD
Weekly – $339 USD
4 Weeks – $1039 USD
12 Weeks – $2751
https://destinationoutpost.co/location/ubud
Hours: Access to workspaces 24 hours, 7 days a week
Location: Jl. Raya Singakerta Jl. Raya Nyuh Kuning, MAS, Kecamatan Ubud

Hubud
An extremely well appointed coworking space in Ubud, with coliving options available, touted by Forbes and Lonely Planet as one of the 10 best coworking spaces on earth. A beautiful bamboo architecture theme runs throughout this making for a beautiful aesthetic that adds to its location, situated close to Ubud's monkey forest.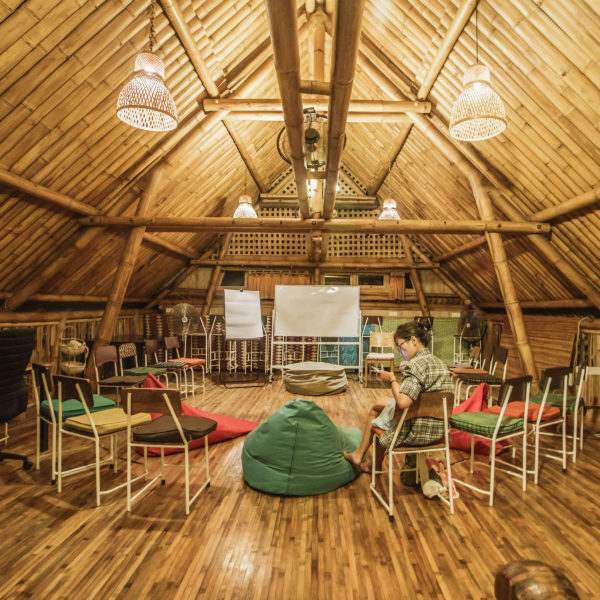 Hubud also has a "Co-Giving" program, allowing members to volunteer and give back to the Balinese community through skill sharing and social impact projects with local businesses.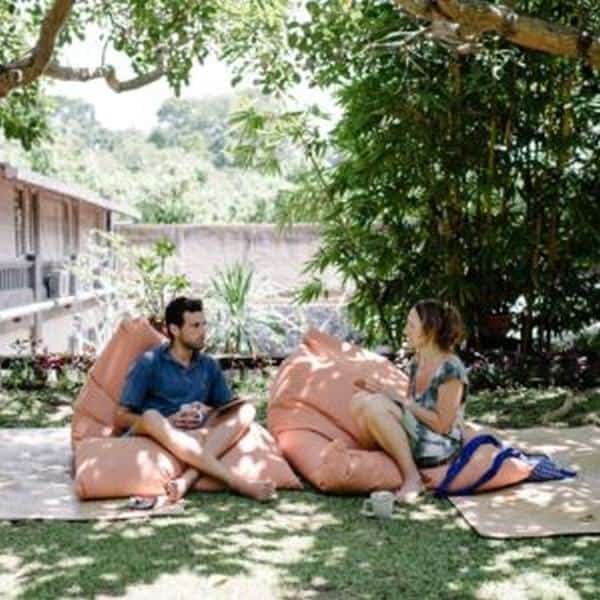 If Ubud isn't enough for you, membership also gives you access to the Dojo Bali coworking space in Canggu
Facilities and Amenities:
Onsite restaurant with a full menu as well as vegetarian, vegan, andgluten-free options

Several event spaces and meetings rooms available for scheduling
Storage lockers available 24/7
Allotted Skype Booth Hours
Mail Service and Mailing Address
Printing Service
Price:
Unlimited Month: 2.9M IDR / ~$209 USD
100 Hours / Month: 1.8M IDR / ~$128
50 Hours / Month: 1.1M IDR / ~$78
30 Hours / Month: 800k IDR / ~$57
Day Pass: 220k IDR / ~$16
Events/Networking/Collaboration:
Frequent networking events and workshops on an array of personal and professional development topics
Online community to network and collaborate
Hours: 24 hours on weekdays, 9 AM to midnight on weekends
Website: www.Hubud.org
Location: Jl. Monkey Forest No.88X, Ubud, Kecamatan Ubud

Campus Ubud Creative Coworking
A newer event space and coworking venue that is a much cheaper option among the other, more expensive Ubud coworking space options while still providing the function and comfort you need to work remotely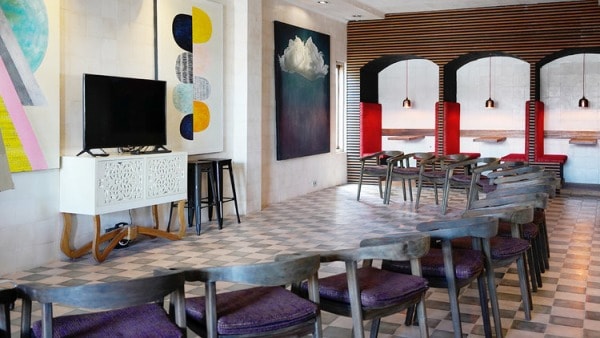 Facilities and Amenities:
Air-conditioned working spaces
Catering option for meetings and events
Events/Networking/Collaboration: This space is half event space, half coworking space (in spirit) providing workshops for professional and personal development
Price:
Monthly: 700k IDR / ~$50 USD
Weekly: 200k IDR / $15 USD
Daily: 70k IDR / ~$5
Hours: **
Website: www.campusubud.com
Location: Ubud, Kecamatan Ubud, Kabupaten Gianyar, Bali
Coliving: None available

Roam Ubud Coworking and Coliving
An upscale coliving space with ample coworking space so you can work, live, and socialize in a community of like-minded people in the comforts of luxurious details.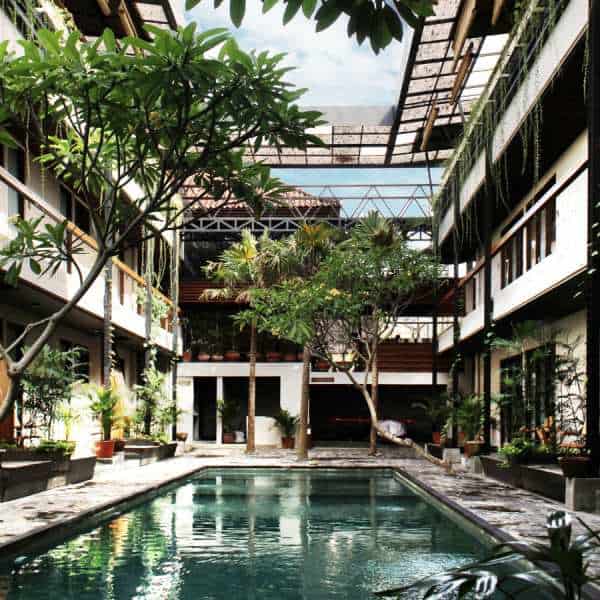 Roam Ubud is a former boutique hotel converted into a coliving space with 24 well-appointed rooms, wrapped around a pool, topped with a rooftop café, communal kitchen, and yoga room, and interspersed with coworking spaces. All rooms are private with private bathrooms, sitting areas, and a private patio area.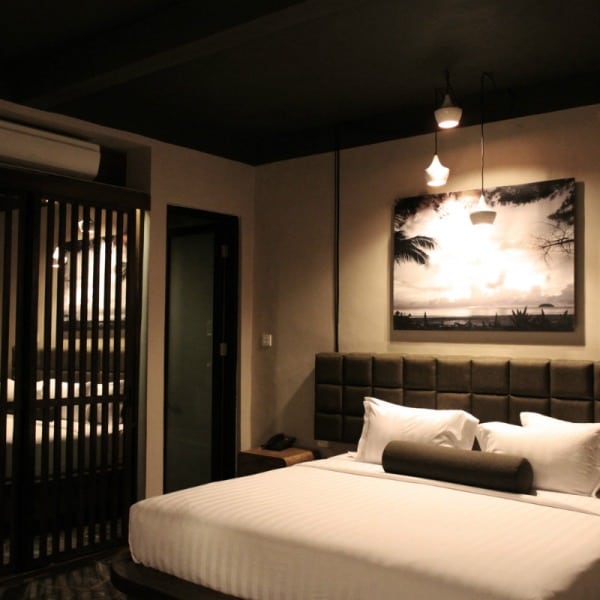 Why Roam coliving and coworking? Quite frankly, its more luxurious and guarantees a much higher standard, such as luxury kitchen utensils, extremely fast internet, and luxurious "boutique hotel" touches to your room. Additionally, you're guaranteed a community of neighbors that are not only on the same grind as you but have the same tastes as well.
Facilities and Amenities:
Pool
Rooftop café
Communal kitchen, fully equipped
Yoga studio
Full coworking spaces
Price: Prices start at ~$57 USD per night but lower to $50 per night with monthly stays or "Roam Credit". Coworking space included in price.
Hours: Coworking spaces accessible 24 hours a day, 7 days a week
Website: https://www.roam.co/places/ubud
Location: Jalan Raya Penestanan Kelod Ubud
Events/Networking/Collaboration: Nightly talks, yoga, Capoeira, etc.
Other locations in San Francisco, London, Miami, and Tokyo

IGDORE
A coworking space created by scientists, for scientists, students, and entrepreneurs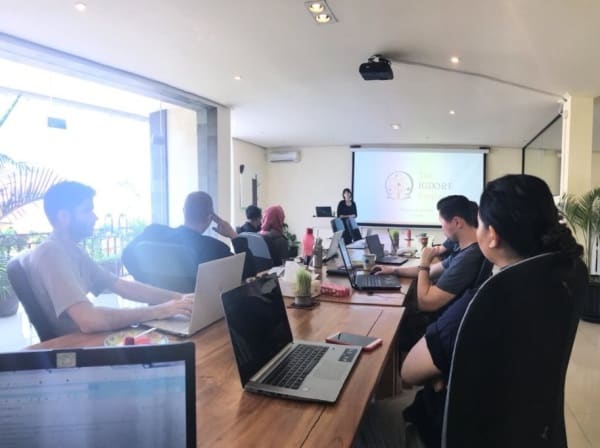 A two-story coworking space that provides a library, working spaces, and cozy reading spaces on the first floor and a second floor with three smaller rooms for meetings or private work along with a kitchen, lunch room, and terrace.
Dedicated desks, private offices, and meeting rooms available for an additional fee
Facilities and Amenities:
Library
Kitchen
Bathrooms
Terrace
IGDORE Membership Price:
Monthly: 2.7M IDR
Weekly: 700k IDR
Daily: 150k IDR
Hours: Open 24 hours a day, 7 days a week
Website: www.IGDORE.org/coworking-space , [email protected]
Coliving: None available
Location: Jl. Made Lebah No.12, Peliatan, Kecamatan Ubud

The Onion Collective (Temple of Chill)
A homestay, restaurant, and "passion lab" in Ubud that provides fiber optic internet, free coffee/tea, and an exceptional menu so that you can work continuously through the day (or night) at a very reasonable price.
The homestay provides a handful of more traditional/low key accommodation options in close proximity to your workplace to help you stay in the groove
Coliving/Homestay Prices:
Dorms start at $13 per night, available on AirBnB
---
---
Facilities and Amenities:
Standing Desks
Onsite Restaurant
Coworking Membership Prices:
Monthly: 1M IDR
Weekly: 300k IDR
Daily: 50k IDR
www.TheOnionCo.com , www.TheOnionCo.com/Homestay
Location: Jl. Raya Pengosekan Ubud, Ubud, Kecamatan Ubud

Hustler's Villa
A low key villa that lives up to its name as a no-nonsense coworking space for hustling nomads and travelers. Daily or monthly coworking space access is available for cheap, or all coworking amenities are available for villa guests.

Facilities and Amenities:
Fast wifi
Breakfast included
Concierge – to make navigating Ubud and Bali much easier
Mailing Address
Onsite café and restaurant with 20% of food and drinks
Coworking Membership Prices:
Monthly: 1.5M IDR
Daily: 100K IDR
Coliving Prices:
Dorm: ~$21/Night
Private Room: ~$34/Night
Hours: Coworking spaces available 24 hours a day, 7 days a week
Website: https://www.hustlersvilla.com/coworking, https://www.hustlersvilla.com/booking
Events/Networking/Collaboration: Regular brunches, masterminds, and hot seat events
Location: Jl. Raya Mawang No.98, Lodtunduh, Kecamatan Ubud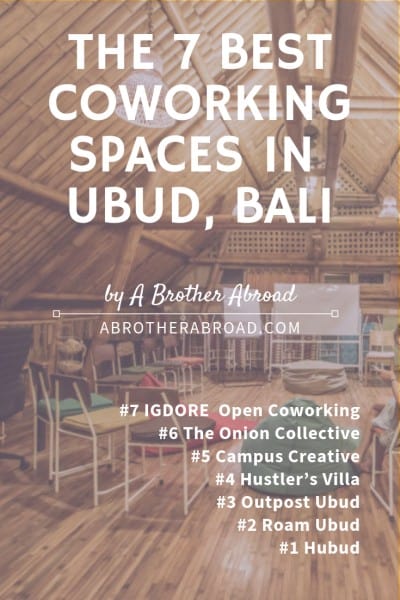 Other Great Bali Coworking Content:
**The Best Coworking Spaces of Bali**
Other Great Content on Bali