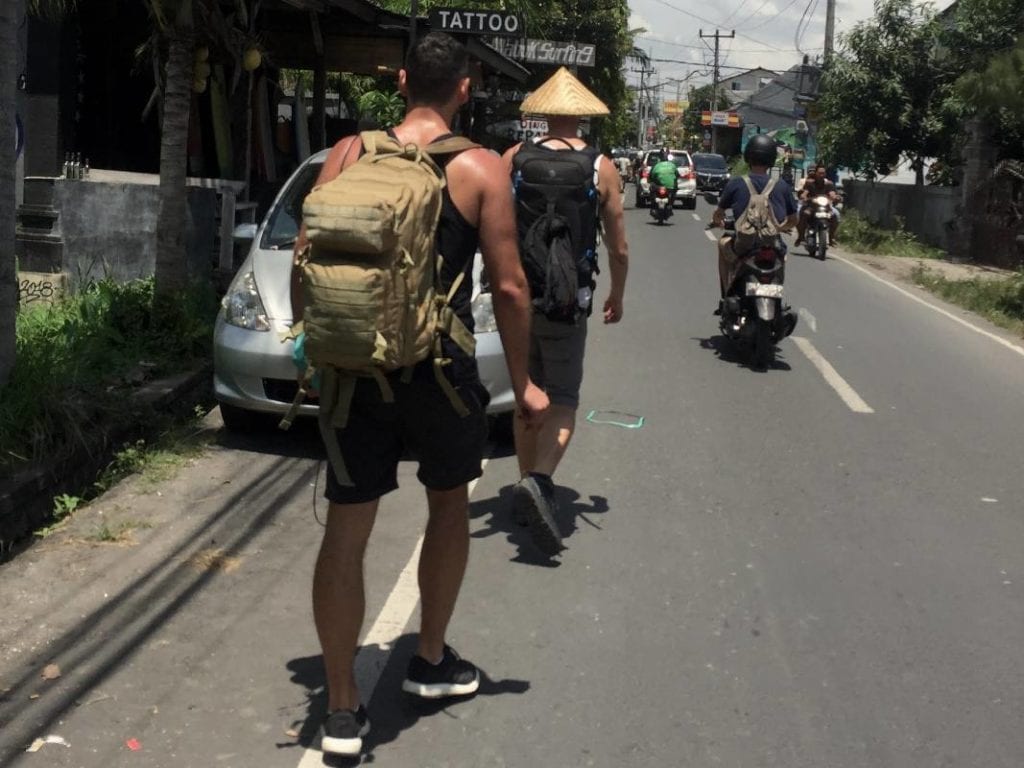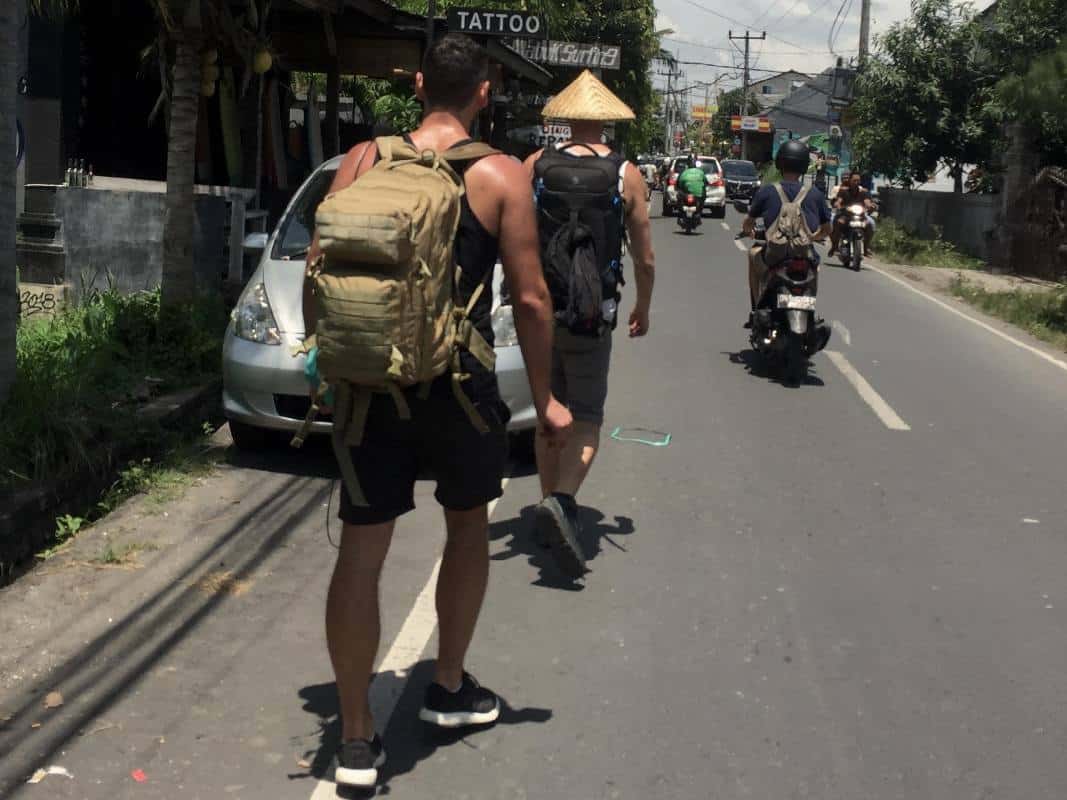 As travelers and daily users hunt for the perfect travel backpack, combining function, durability, and value, the search has expanded beyond traditional book bags and hiking rucksacks. The realm of tactical backpacks intended for military grade abuse is now filled with great tactical travel backpack options, from military travel backpacks specifically designed for combat, hunting, and the backcountry, to minimalist tactical backpacks with small footprints and tons of function making for the perfect everyday carry backpack.
Whatever your aim and however long you intend to wander, if a durable, long lasting, minimalist, yet still highly functional backpack is what you're after, then a tactical backpack for everyday use or travel may be exactly what you need..
---
I've spent 3+ years traveling the world through 55 countries and counting, and one of the biggest factors of how much (or how little) I enjoy the experience of moving from place to place has been my backpack. I've had backpacks literally break on day three of seven in the back country. I've had packs that proved much less functional than expected with extended use, lead me to ditch them mid trip. And I've had backpacks that were built exactly how I needed – comfortably padded back panel and shoulder straps, the durability to stand being thrown off motorbikes, sat on, and overstuffed over years of abuse, and built with the simple, minimalist function that makes living out of them a breeze.
The last backpack I described, the perfect backpacks for travel, have all been tactical travel backpacks, built with military grade hardware (1000D Cordura, duraflex buckles, insanely redundant heavy duty nylon stitching), great worksmanship, the simple function of pockets and webbing that makes adapting that pack and living out of them a breeze. All of this comes while still being a minimalist tactical backpack – not bulky, no unnecessary garbage added, and maintaining a sleek, low profile. This is why after years of travel, I adamantly recommend military travel backpacks for adventure travelers.
Read on to discover the tactical travel backpacks I recommend for travel, adventure, and hard use.
---
Jump to our list of the best tactical backpacks for travelers
The Best Tactical Backpack and GORUCK Alternatives for Travelers and Daily Carry
Contents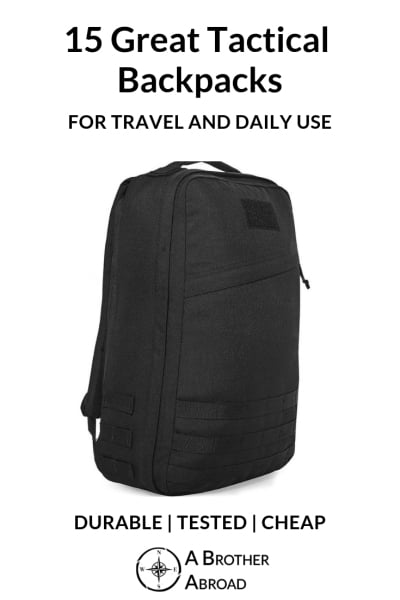 ---
When it comes to travel and everyday carry in the civilian world, which is the best tactical backpack for the job? Which backpack provides amazing function, durability to outlast your adventures, but at a price tag that won't break the bank…or be well worth it, if it does?
The GORUCK line may have done a great job of breaching the non-military market, as all of their bags are touted for simplicity, function, and durability, but the high price tag has travelers looking for good GORUCK alternatives.
Based on my years of experience traveling and breaking gear in warzones, combined with thousands of user reviews available on the internet, here is a list of the best tactical backpack and GORUCK alternative options on the market – perfect for travelers and wearers that value durability, function, and value over all else when shopping for a backpack
---
Over traditional outdoor and travel backpacks, the best tactical backpacks provide more durability, useful modular design (making it easy to add storage), and the comfort of being tested in some of the harshest environments and conditions imaginable. This "natural selection" weeds out the performers from the non-performers, and has created a market of well-priced "buy it for life" backpacks – as long as you can tolerate a slightly "tacticool" look and a bit heavier weight.
I've traveled for 9 months with a tactical backpack (the GORUCK GR3, which I purchased before the price hike) and, for me at least, the tradeoffs have been well worth it. As a hard user and occasional adventurer, I've broken a couple backpacks mid-adventure and never want the experience of backpack failure again. Now, I'm willing to pay a little extra and carry a little extra weight for that "buy it for life" quality in a backpack.
BUT, with so many high dollar items and wannabes on the tactical backpack market, this list aims to provide a few reliable, pre-vetted options to start your tactical backpack search.
Jump to our list of the best tactical backpacks for travelers

Why Get a Tactical Pack
With all of the other backpack options that are lighter, cheaper, and prettier than your classic tan, Hummer of a Cordura nylon rucksack, why would anyone opt for a military styled ruck? Because what you get for the price, and how long you can expect it to last through heavy abuse, is pretty awesome.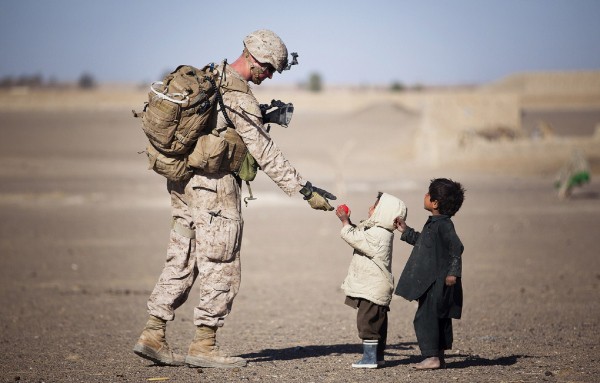 Price to value & Bang for buck
$200 will get you an excellent tactical backpack that checks all of the boxes of a good pack and will last you at least a decade of hard use, likely longer.
---
Proven Durability
The best tactical backpacks have been being abused since around 2003, and are still beloved by their owners. I still have my Spec Ops Brand T.H.E
---
"Buy It For Life" Quality
See above. The ALICE pack, the granddaddy of all tactical backpacks, is still for sale as a surplus item, even though it hasn't been in service for years. Kind of impressive. That is the standard that tactical backpacks.
---
Heavy Load Capacity
Though the GORUCK line is the only line that touts testing to hold 450lbs, I've run and exercised with plenty of iron plates in my other tactical backpacks without so much as a busted stitch.
---
Modular, Easily Expandable Storage:
Need more space? The ubiquitous MOLLE webbing makes it easy to add anything from a water bottle holder, to electronics pockets and even just good ol' extra space. My GR3 is 45L, but the collapsible 18L stuff sack that clips to the bottom makes it a 63L ruck in a heartbeat, but collapsible to airline carry on size just as quickly
We know the benefits of the best tactical backpack candidates, but how can we tell the best from the mediocre posers when we're sifting through options?

Look for these traits in a good tactical backpack
High denier nylon materials, ideally 1000D Cordura Nylon
Repurposed, heavy duty strap used throughout in webbing, compression straps, and shoulder straps – such as straps used for cargo operations, climbing, and rescue operations.
Over-padded shoulder straps reinforced with heavy-duty straps,
Large, durable zippers from a proven manufacturer (such as YKK #10) that'll work in sandy, grimy conditions
High tensile nylon thread in all stitching
Military-grade, heavy-duty plastic hardware for buckles and clasps
History of use by hard users (military, hunters, rescue, tactical law enforcement, etc.) with good reviews
---
Look for these Signs of a Low Quality Tactical Backpack
Polyester cloth in anything external
Low denier cloth materials (less than 500D)
Overly "tacticool" looking bags with buzzword filled landing pages
No tactical track record or tactical use focused design

The Tradeoffs of Using a Tactical Backpack
The combat ready durability of tactical backpacks absolutely comes with a few sacrifices that you need to understand before aiming for a tactical backpack
Generally higher weight compared to other backpacks. (If you need to level up on strength, check out our articles "the only bodyweight fitness routine you need " and "An acrobat's guide to a bulletproof upper body"). A good tactical pack is a great addition to these workouts.
Generally higher price tag compared to other packs as reasonable tactical backpacks can be twice the price of their "civilian" counterparts – but you get more than twice the backpack lifetime in return
"Tacticool" look created by MOLLE webbing and abrasion resistant nylon that looks a little less than fashionable. More in some packs than others, but it is undeniably there
You can have any color you want…as long as its black (or tan…or green)
If any of these traits are a non-starter for you in backpacks, then I'll save you some time…don't even bother looking at the list of tactical backpacks below. Though the best tactical backpacks achieve a reasonable balance between these 4 downsides you'll rarely find a truly badass tactical bag that doesn't have each of these to some degree. If you're looking for a "not-so-tactical" backpack I recommend checking out these carry on backpack options.
On the other hand, if those tradeoffs are worth it for a bag that will last a lifetime (literally…you can still buy surplus bags from the Vietnam War era. Think on that.) and can hold your bodyweight, read on for some great options

The Best Tactical Backpacks for Travel and Everyday Carry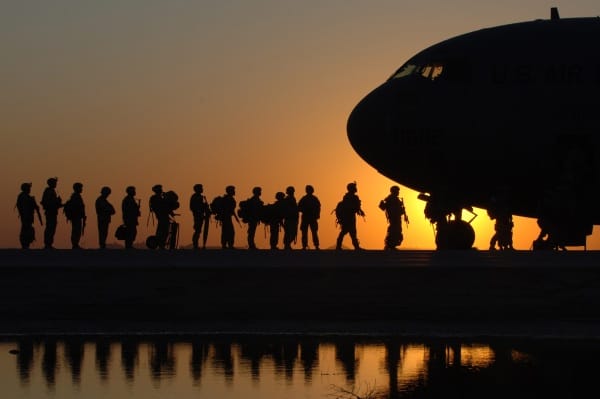 ---
---
---

Daypacks (10L to 25L)
Great for everyday use and weekend trips (for minimalist packers)
---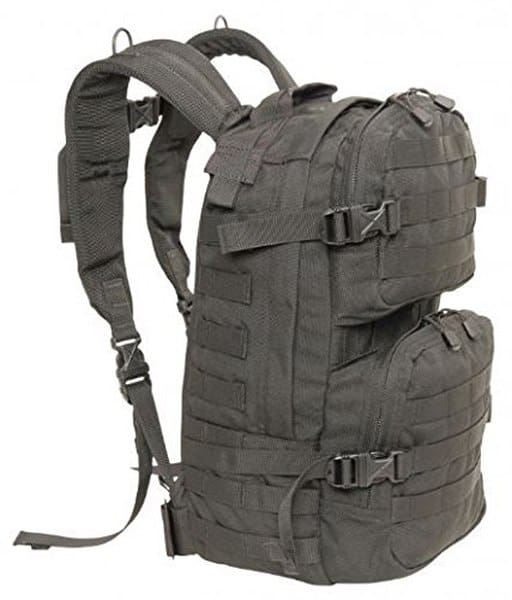 1000D Cordura Nylon outer material, heavily padded straps, and heavy duty plastic hardware make this bag an excellent tactical backpack for the price. I used this bag's big brother (the T.H.E. Pack) and predecessor through years of abuse with heavy weight everywhere from combat zones to backcountry gorges rock climbing, and it took it all in stride
100% made in the US and guaranteed for life. If you're looking for a lower priced GORUCK GR1 alternative, the Spec Ops Brand T.H.E. Everyday carry backpack is it.
Materials: 1050D Nylon, #10 YKK Zippers
Size: 22 Liters (1376 Cu. In.)
Design: 3 Pocket setup: Main, front bottom, and front top; MOLLE webbing all around for you to add storage as you wish
---
Details of the Spec Ops "Tactical Hold Everything" Pack
Tough as nails for the price
Proven brand that delivers solid gear without the hype
Extra Padded shoulder straps support heavy well, making it a great, low cost replacement to the GORUCK
Reinforced drag handle (so you can drag someone wearing the pack)
100% Made in the USA
Guaranteed for Life
Cons
All around MOLLE webbing gives a bit of a "tacticool" look

A trusted and reliable Everyday Carry bag for the price. Durable. Comfortable. Functional.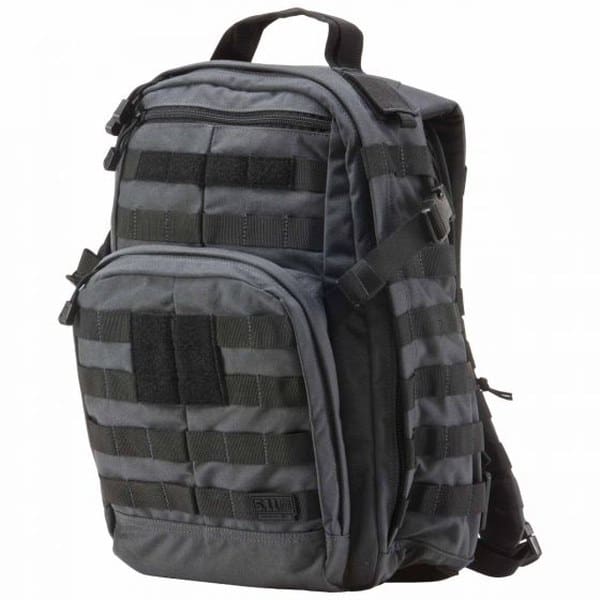 5.11 Tactical. A proven tactical brand that started in the law enforcement market and crept into combat zones thanks to word of mouth and a good reputation. Their most popular daypack, the 24 liter 5.11 Rush 12, delivers ample storage, tons of organization, and a quality build great materials for a close to unbeatable price
---
Material: 1050D Nylon, YKK® zippers
Size: 24 Liters | ~1500 Cu. In.
2 compartment design with plenty of pockets
Contoured, heavily padded yoke style shoulder straps
16 individual compartments to keep quick access gear organized

Insanely well-constructed bags with tough materials and obsessive organization. Perfect for daily carry and weekend trips. 27L and 22L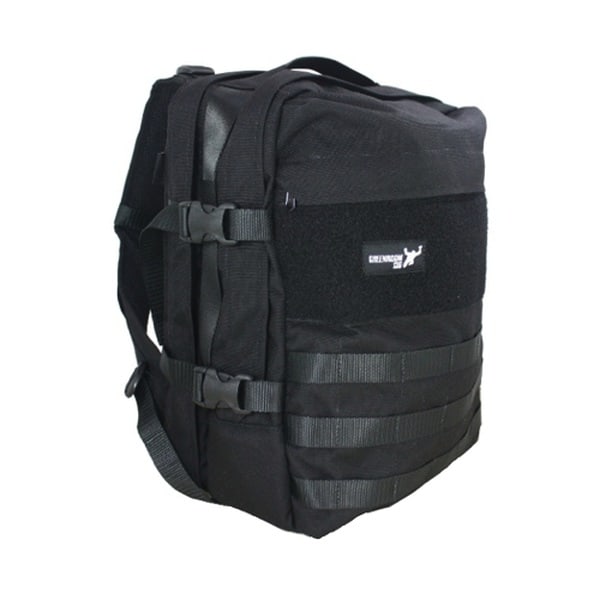 Greenroom136 is a small manufacturer out of Malaysia with an almost intimate approach to producing durable bags. The Greenroom136 Rainmaker isn't actually intended for tactical use, but the materials, build quality, durability, and reviews make it a bag worth considering.
Abrasaion resistant Cordura on the outer portions, straps reinforced with car seat belt webbing, and simple, practical organization make this bag a steal at its price
If this manufacturer interests you, also consider the Greenroom 136 Genesis
Material: 1000D Cordura Nylon shell, 420D Ripstop Interior. YKK zippers. Straps and handles reinforced with 2″ and 1.5″ nylon safety belts (yup, car seatbelts)
Size: Large: 27L | Medium: 22L
Open flat design with 2 compartments: main, and TSA friendly laptop compartment (closest to back)
Large (27L) carries most 15″ laptops
Medium (22L) carries most 13″ laptops
Load lifters
Or click here read our full review on the GreenRoom136 Rainmaker

A compact, durable AF bag from a trusted tactical gear manufacturer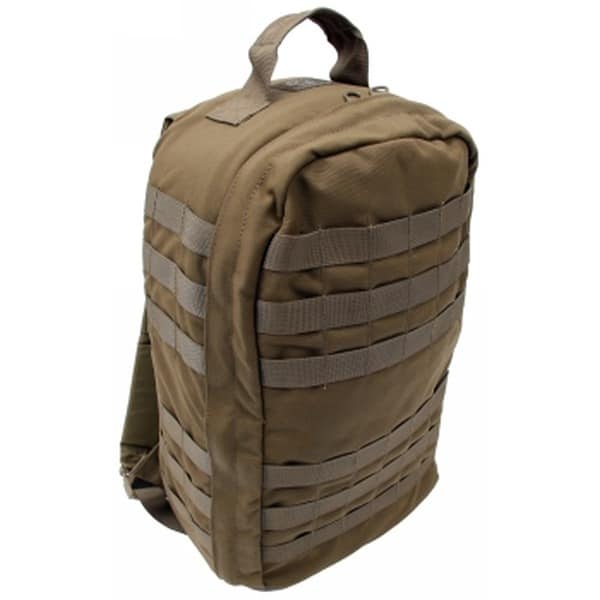 A classic and simple pack design from WWII, updated by the Tactical Tailor – a company started by an Army Scout that got his start sewing use specific military gear in his barracks room.
The M5 Medic Pack is the basis for modern military medic packs, which were the basis for the GORUCK line. With the same DNA, durable materials, and dedication to construction, the M5 Medic pack is another great alternative to the GORUCK GR1 as an everyday carry tactical backpack.
Price: $207 at TacticalTailor.com
Size: 1008 Cu. In., 16.4 Liters
Heavily padded shoulder straps
Open flat design
Made in the USA
Great GORUCK Alternative

A tested, comfortable, and extremely compact daypack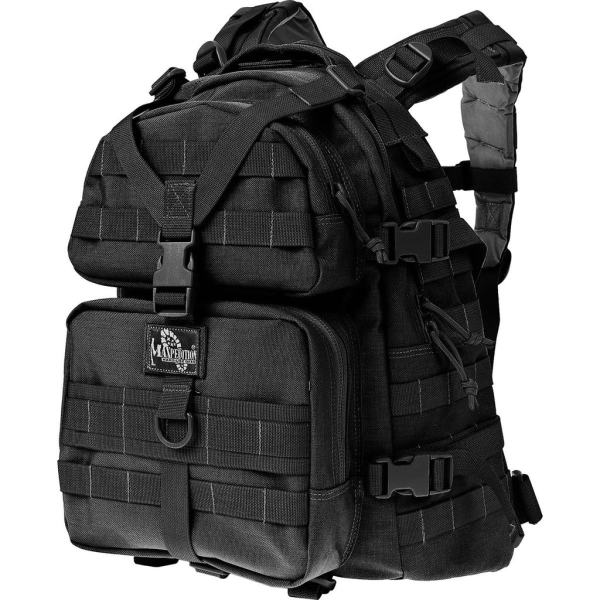 A time tested and thoroughly abused small tactical backpack that excels in comfort, keeping the load stabilized, and durability. 1000D Cordura, mil-spec webbing, and reinforced abrasion points make this an everyday carry backpack that will last for years.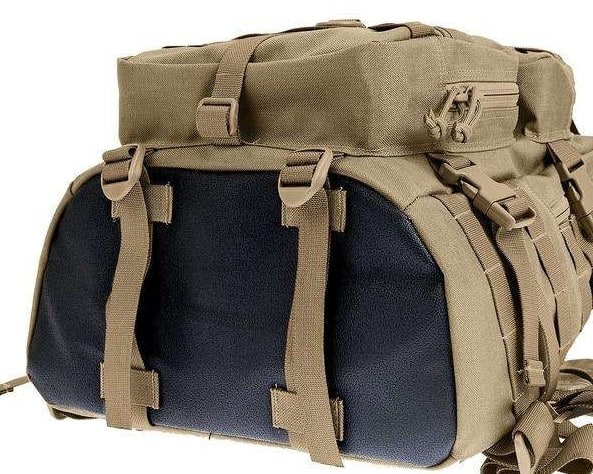 Materials: Teflon coated 1000D ballistic nylon fabric (water and abrasion resistant), YKK zippers, duraflex plastic hardware, high tensile nylon thread stitching,
Size: 1400 Cu. In., 23L
Weight: 3.4lbs
---
ALSO CHECK OUT
The 23L Maxpedition Falcon II, $180 on Maxpedition.com, $121 on Amazon.com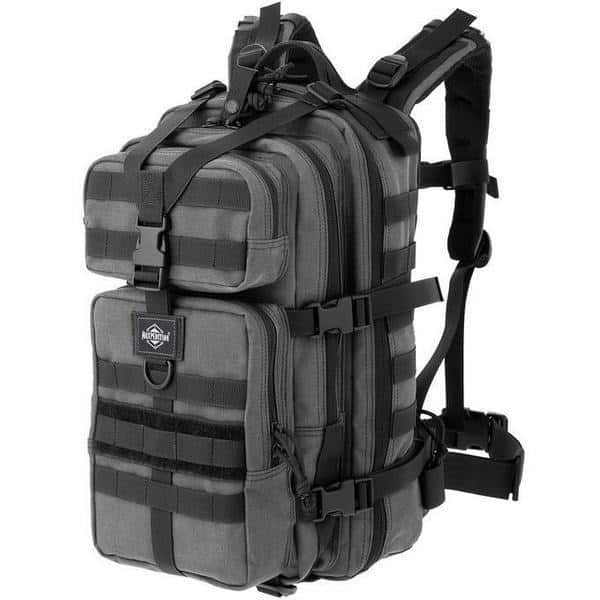 ---
The 23L Maxpedition Riftcore, $219 on Maxpedition.com, $145 on Amazon.com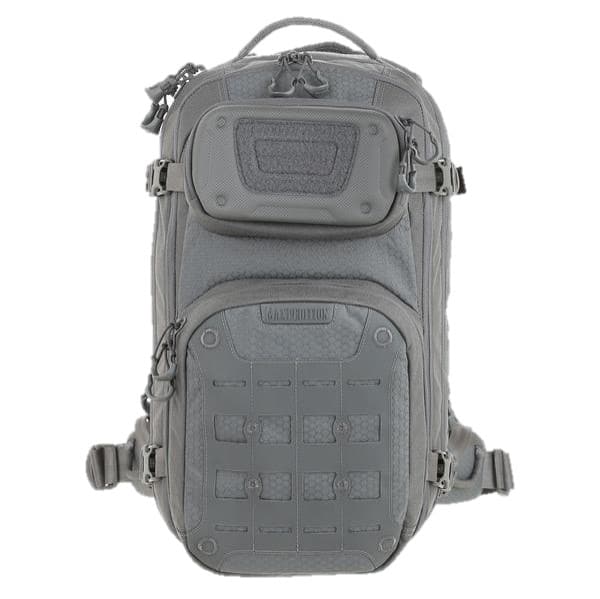 A tough workhorse of a tactical backpack with minimalist, low profile design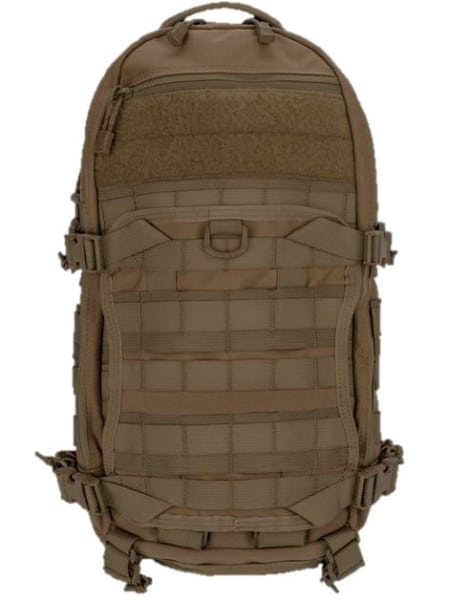 An impressively designed and ruggedly built bag that has a streamlined form but is big on MOLLE enabled modularity. Talk to anyone who has owned one and you'll hear nothing but praise.
Material: 1000D Cordura Nylon
Size: 22L, 1350 Cu. In
Weight: 3.7lbs,1.7 Kg

Comfortable, tough, affordable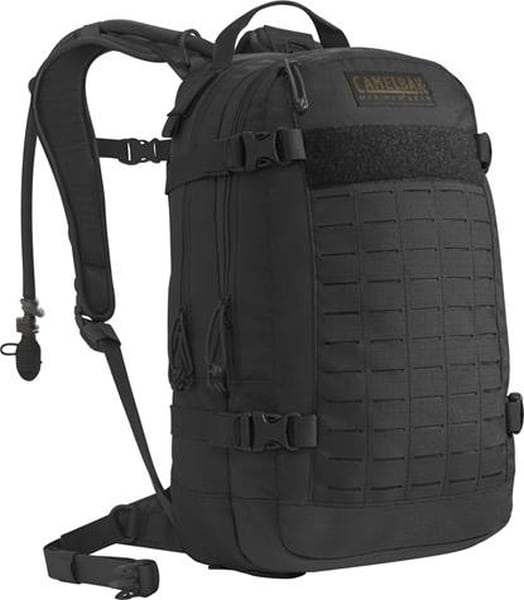 A lightweight tactical backpack from a reliable manufacturer for "medium use" tactical bags. Don't expect the HAWG to last forever in tactical environments, but expect a long life under normal conditions.
Price: $180 on Camelbak site, $130 on Amazon.com
Material: 500D Cordura Nylon
Size: 22L
Weight: 1.15 Kg, 2lbs 8 oz.
Cons: 500D Outer instead of 1000D Cordura outer translates to a shorter lifetime

Great valuable, gets the job done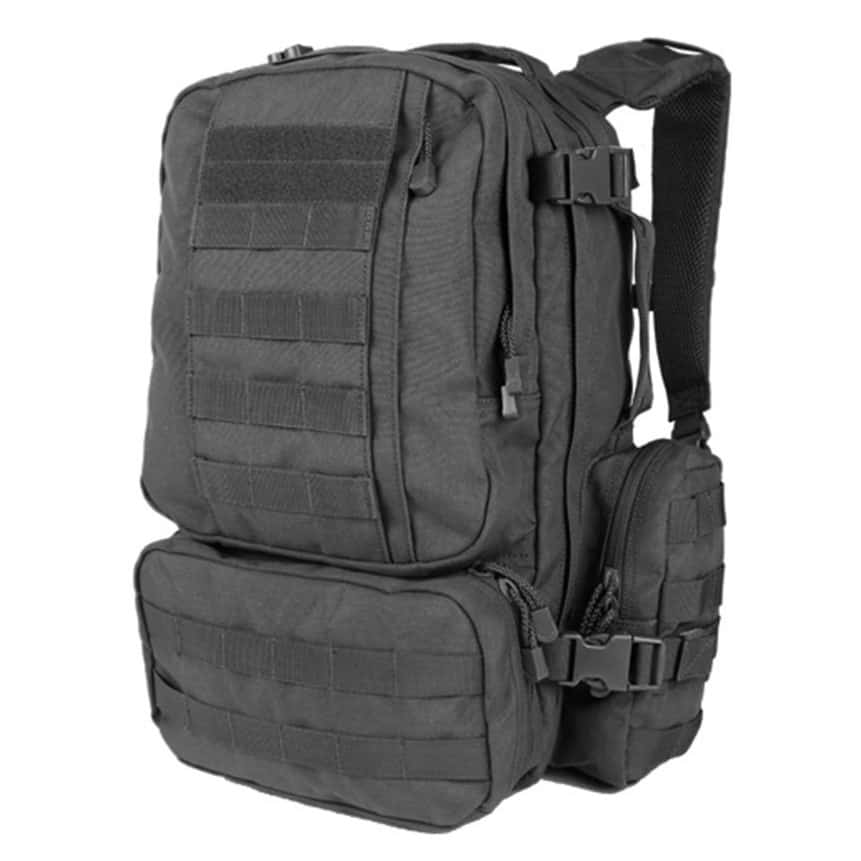 A budget, tactical pack for users that aren't as rough on their gear but still want most of the benefits of a tactical backpack. Condor Outdoor produces mostly unbranded packs that duplicate the most popular tactical pack designs and incorporate materials that are "close enough". The result is a pack free of marketing that is arguably worth the money.
Condor Convoy pack is a simple, scaled down version of the company's poplar 3 day pack and designed for "everyday carry".
Also Consider the Condor Outdoor Backpacks:

Insanely well built, ready for anything, perfect for everyday carry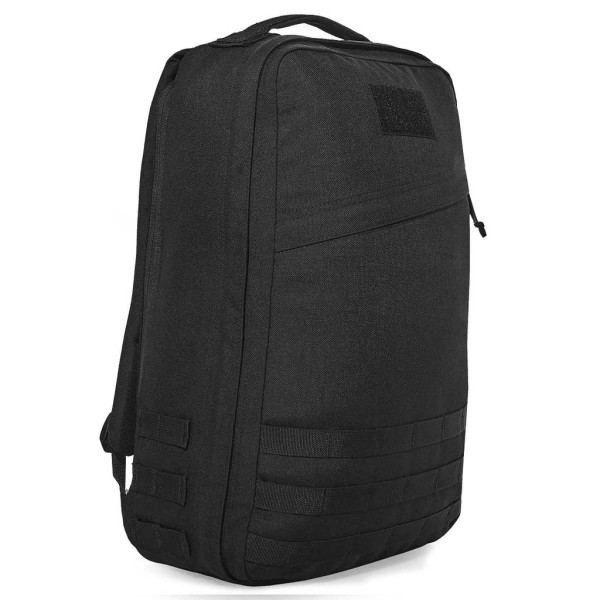 A made in the US, damn bulletproof pack built to carry 400lbs minimum and built, tested, and refined in GORUCK's adventure events that mirror the hellacious Army Special Forces Selection process. The requisite 1000D Cordura throughout, amply padded straps for heavy loads, and a generally slick, not too tactical look, make this an excellent option…if you can stomach the pricetag…
GORUCK recently hiked up prices on all of their backpacks to, what some believe, are unreasonable prices – but- for a bag built to last for decades and backed by a lifetime warranty through their Scars Program, how much is a bag like that actually worth? Let the argument begin…
Size: 21L, 26L
Use: Daypack
Materials: 1000D Nylon, YKK Zippers
Weight: 3.2lbs | 1.5kg
Open flat "clamshell" design
Zippered "bombproof laptop compartment" in back panel with false bottom, to prevent laptop contact with ground
Tested to 400lbs at all stress points
---
ALSO CHECK OUT

3 Day & Weekender Packs (26L to 40L)
Suitable for travel lengths of a few days to a few weeks
---
A tough, minimalist, sleek classic at a great price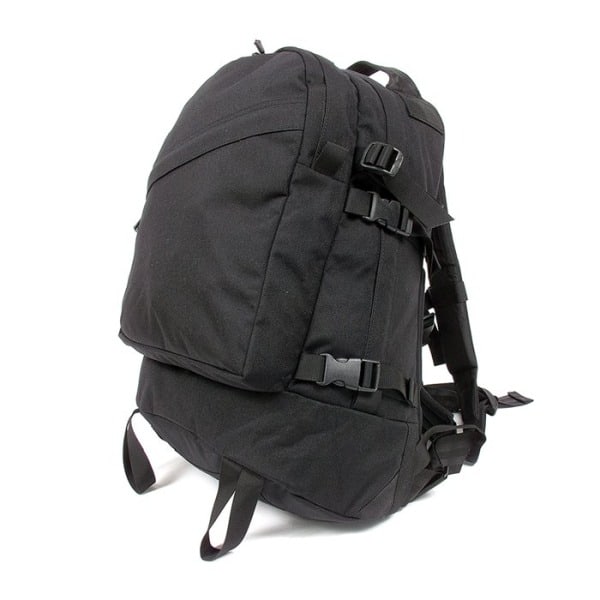 A simple, less tactical looking backpack with ample durability and a great reputation. Simple, straightforward, and a low key legend with combat veterans. Google pictures from Iraq and Afghanistan, and you'll no doubt see this pack on countless dirty, grimy Marines and soldiers…and many of them still have this pack today.
The Blackhawk 3 Day assault checks all of the boxes of a good multi day use tactical pack: 1000D outer, simple design, heavy duty plastic hardware, heavy duty construction with reinforced drag handle and stress points, and a solid reputation. The pack's slick look and lack of MOLLE webbing has a much less tactical look than the clickbait backpacks on Amazon.
For $89, this is another solid, reliable, great value tactical backpack option.
---
Price: $144 on Blackhawk website, $89 on Amazon.com
Materials: 1000D Nylon, YKK Zippers
Size: 37 Liters | 2000 Cu. In.
Straight forward design has a main compartment and front compartment, and quick access slant pocket
Lack of MOLLE webbing gives a much less tactical look
Padded waistbelt and sternum strap included

Spacious and organized yet minimalist. Great for EDC or travel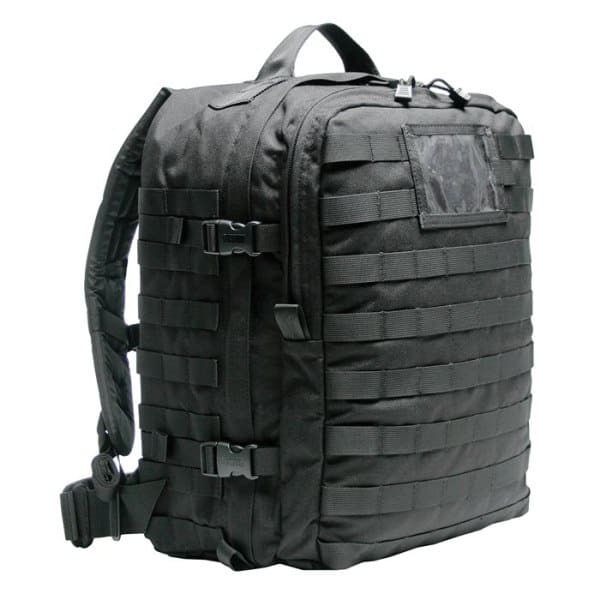 For the crowd interested in the GORUCK GR2 (but not the pricetag), the Blackhawk – Special Operations Medical Backpack is another great option – as the GORUCK line is inspired by military medic packs, which is exactly what this pack is, and comes at an extremely reasonable price.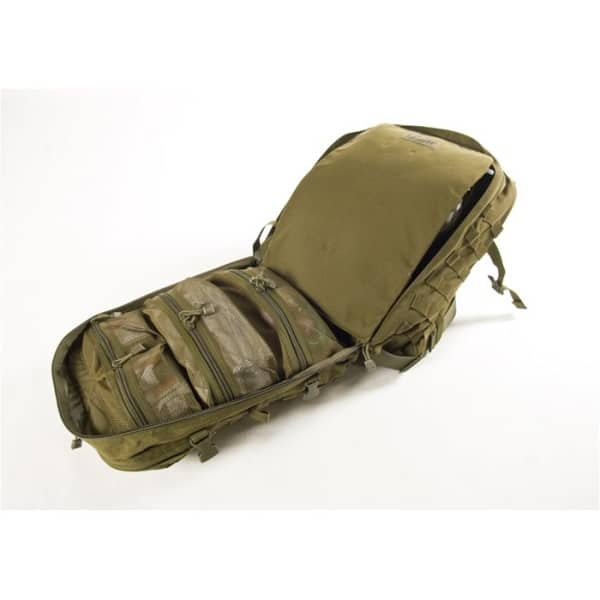 This pack maintains the simple, space maximizing boxy style with an open flat ("clamshell") design that makes all of the cargo accessible. Three internal panel pockets help you keep things organized without needing packing cubes. A separation panel adds one more layer of organization. Finally, heavily padded shoulder straps, 1000D nylon, and heavy duty stitching backup the functionality with durability make this pack hard to beat at a price of $150
---
Details of the Blackhawk Special Operations Medical Pack
Materials: 1000D Cordura Nylon, YKK Zippers
Size: 36L | 2225 Cu. In.
Open flat style, compartmentalized medic bag
3 Internal Panel Pockets
Divider panel
MOLLE on all panels

Tough, comfortable, functional, proven. A great "extended use" pack for the price.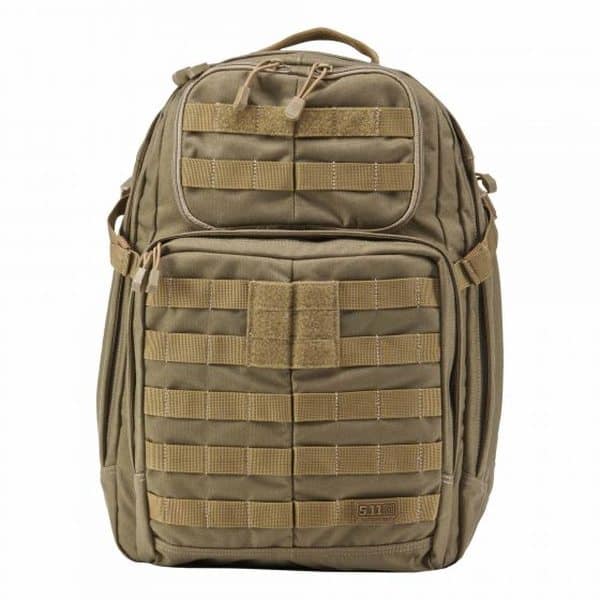 A straight forward, heavy duty 3 day bag with extensive organization: pockets, slots, and compartments galore from a trusted brand that provides reliable tactical gear aimed at the law enforcement community. Though this bag is dipped in MOLLE webbing, it is understated for daily wear without too much issue. As long as the design suits you, a great bag for the price.
Details of the 5.11 Rush 24
Material: 1050D Nylon with Durable Water Repellent Coating, Self-repairing YKK® zippers
Size: 37L | 2275 Cu. In.
Zippered side water bottle pockets
"5.11 Tiered system" allows you to attach a daypack, like the Rush 12, easily to this ruck.

One of the best packs on the market. Tough, insanely comfortable, ready for anything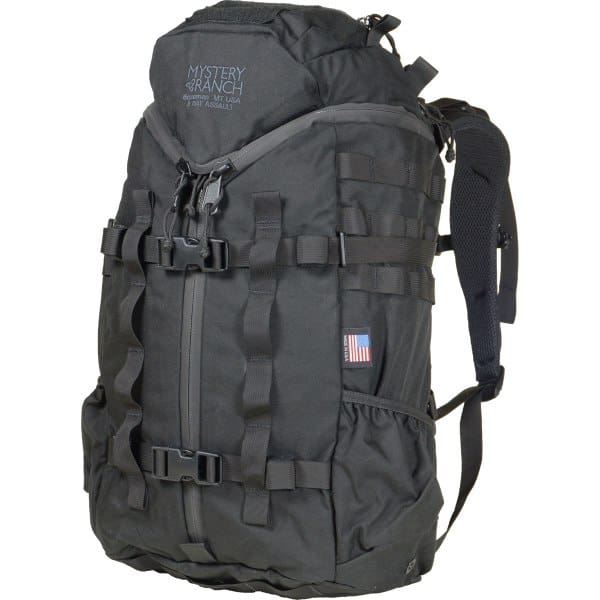 Another tough as nails and well-reviewed backpack from a brand rooted in hunting – another hard use, no BS activity (and customer group) – that naturally selects great gear for functionality and value. Though the packs are pricier than many you've seen, the quality is nearly unmatched.
The Mystery Ranch 3 Day Assault has a very functional design that's subdued enough to pass for a "normal" pack in civilian life. The unique 3 zip setup makes accessing anywhere in the pack easy. While MOLLE webbing for adding extra storage and daisy chain webbing are added in the areas that are practical without being overdone.
---
Details of the Mystery Ranch 3 Day Assault Pack
Materials: 500D Cordura Fabric, YKK Zippers
Size: 30L | 1800 Cu. In.
Weight: 4.6lbs
3 Zip design makes accessing anywhere in the pack easy
Conservative yet practical use of daisy chain (for lashing) and MOLLE webbing for storage expansion
Collapsible Waist Belt – stores under water bottle pocket
Waistbelt
Warrantied for material and workmanship for the practical life of the product
Made in the USA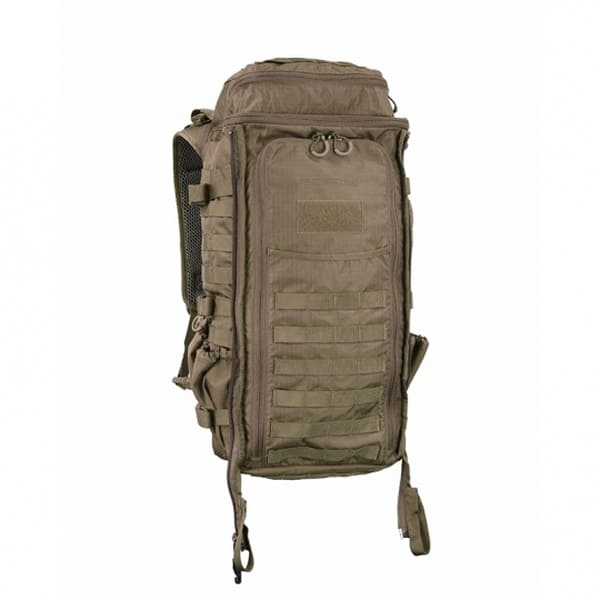 A very functional and capable small tactical backpack for the price. Front and top loading design. Boxy style maximizes use of space. Internal organization is minimalist yet functional. If 29L is too small for you, MOLLE webbing covers (nearly) the entire pack, making the addition of tailored storage easy.
---
Details of the Eberlstock Little Brother Pack
Materials: 500D Cordura Nylon
Size: 29L, 1800 Cu. In.
Weight: ~4lbs
Front loading and top loading design
MOLLE lining top, bottom, and side panels
6 internal pockets and 2 external (water bottle) pockets to keep things organized
Load lifters
Breathable back panel
The lifetime warranty of materials and workmanship defects (but not wear & tear or abuse).
ALSO CHECK OUT

A tough, urban and travel ready daily carry and weekender backpack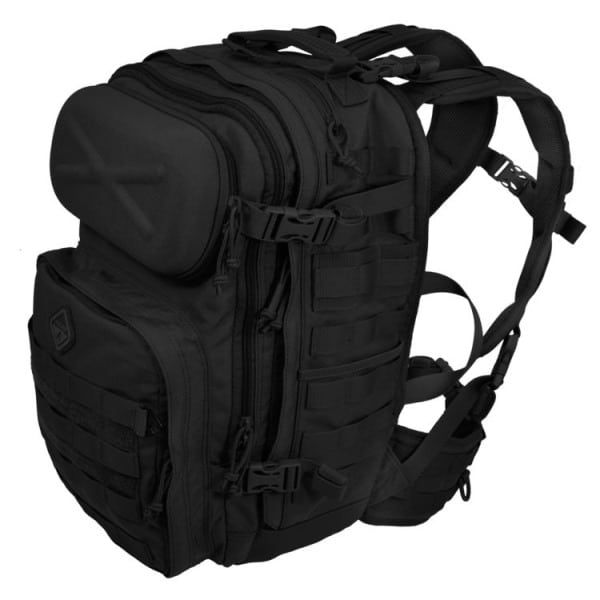 A 3 day sized pack with ample pockets and storage compartments in a design. Avoid the Scorpion and Grayman models, or at least go in knowing that they're built with lighter materials.
My thoughts on the Hazard 4 Brand: Hazard 4 is a younger company whose roots lie outside of the areas I would normally consider for tactical backpacks (e.g., military, law enforcement, hunting, fire, rescue, etc.) but their designs show promise as do the materials used. Before purchasing a backpack from this company, I heavily suggest checking the reviews for the specific pack and weighing those against your intended use.
---
Details of the Hazard 4 Patrol
Price: $115
Material: 1000D Cordura
Size: 36L, 2200 Cu. In.
Weight: 4lbs
Large main compartment with open flat design and two front pockets
Easy access (side zip) laptop compartment in back panel
Cons
Hit the checkmarks but brand lacks validation from law enforcement, rescue, and tactical use
Lack of tactical track record, so this is listed as a potential option but the recommendation is "TBD"

A tough, weekend and adventure ready bag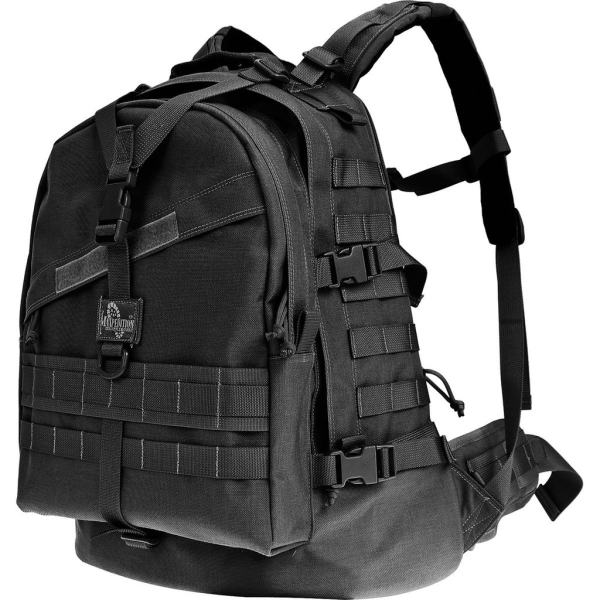 A classically simple 3 day pack design made with durable tested materials and updated over the years. The Vulture II is differentiated by its compression system design, which keeps loads from shifting when you're on the move, and well reinforced stress points
Price: $119
Material: Teflon coated 1000D ballistic nylon fabric (water and abrasion resistant). high tensile nylon thread (stitching), YKK zippers & Duraflex plastic hardware
Size: 37L | 2100 Cu. In.
Weight: 3.7lbs
Simple 3 Day Assault pack design with main compartment, front compartment, and slant front pocket
Inner zippered mesh pocket for quick access items and document storage
Non-slip, abrasion resistant bottom (not nylon) ensures a much longer pack life

High tech design and styling make this backpack as urban ready as it is tactical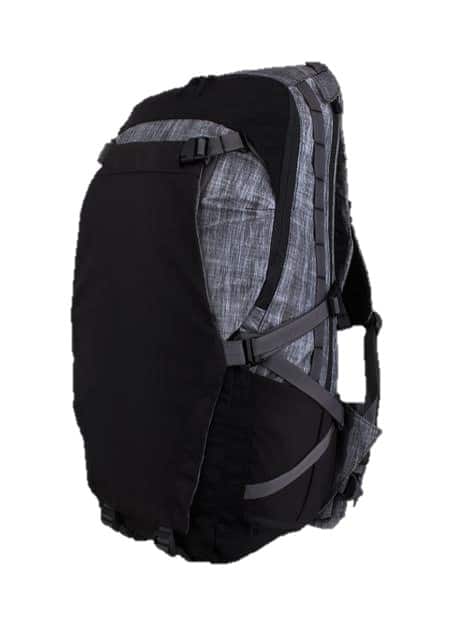 A low-key pack with a great design and a slew of satisfied users. The external look is somewhere between tactical and backcountry (likely because this isn't intended to be a tactical pack) which makes it more palatable. Owners praise its comfort, functional design, and simplicity while still allowing modular expansion via conservative placement of MOLLE/PALS webbing. The single (potential) downside is the use of "sailcloth", a cloth touted for durability but has only recently started to be used in packs (like the Tortuga Outbreaker). Sailcloth's durability in hard use packs is unproven so there is still question as to its suitability for hard use, tactical use, and buy it for life gear.
Material: Sailcloth
Size: 37L | 2550 Cu. In.
Weight: 3.5lbs | 1.6 kg
---
ALSO CONSIDER
---

GORUCK GR2 (26L | 34L | 40L, $495)
GORUCK GR2: A well-known member of the tactical backpack market. Beloved (before the recent price hike) by anyone who didn't mind the weight and the price tag. As long as you don't mind the $495 price, an extra pound or two for a pack that's guaranteed to last a lifetime, you'll love the GR2.
The GORUCK GR2's selling point is durability and hard use, as it is tested to carry a minimum of 450lbs and is covered by GORUCK's SCARS Guarantee just in case you decide to exceed a quarter-ton of cargo.
Compared to the predecessors in the GORUCK line, the GR1 (21L, 27L) and others, the GR2 is more geared for travel. The military medic bag inspired open flat design along with the split compartment and mesh panel pockets make it easy to store your gear and keep it organized. For travels of a few days to a few weeks, the GORUCK GR2 has you covered and will likely last a lifetime.
---
Price: $495 on GORUCK.com
Materials: 1000D Nylon, YKK Zippers, Mil-spec plastic hardware
Size: 26L, 34L, and 40L
Weight: 4.75lbs
"Bombproof laptop compartment" easy, zippered access and stored behind back panel
Panel of main compartment has two, large, zippered mesh pockets
Panel of outer compartment has two, large, zippered mesh pockets and 1 Cordura nylon "field pouch"
---
Pros:
Great yet simple organization is perfect for travel
Cons:
Price: $495 is a steep price for any bag
---
Notes: For more info read GORUCK Alternative Backpacks and A Brother Abroad's GORUCK GR2 Review for Travel

Extended Use & Long Range Packs – Carry on Sized (40L+)
Suitable for long term travels of a few weeks or longer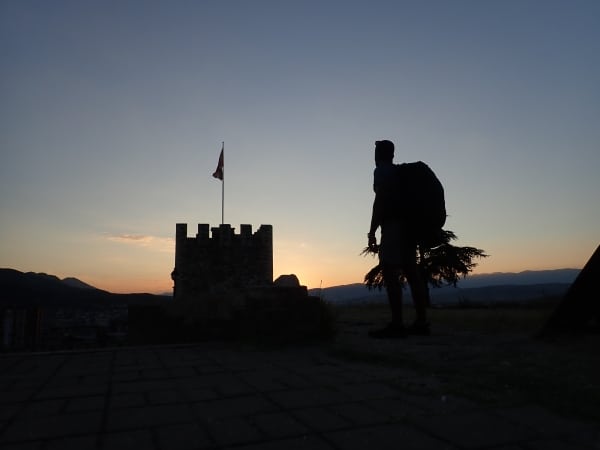 Some of my favorite adventures didn't happen until months into my travels. If you're going to last that long (comfortably) you'll need a little more space. These carry on sized tactical backpacks are small enough to fit on a plane, big enough to fit your adventures, and durable enough last it all.

A tough, proven, and roomy pack worthy of daily carry or minimalist, long term travel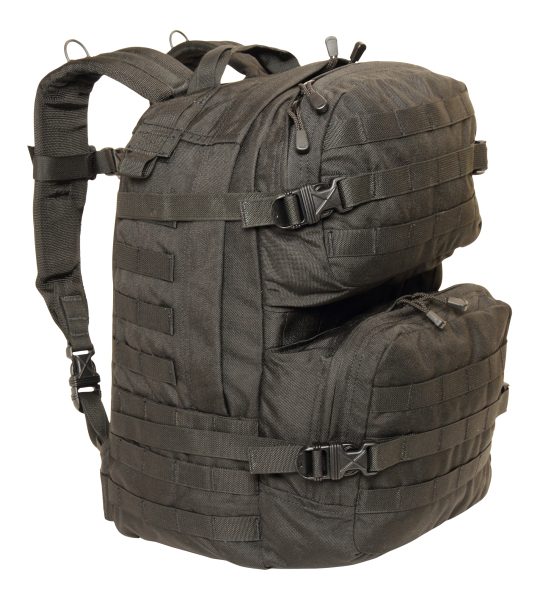 An unsung hero of the tactical backpack market. At $140 (on Amazon), this pack – that is guaranteed for life, made in the US, and durably constructed from 1000D Cordura, fat #10 YKK zippers, and heavy duty plastic hardware – is arguably the best tactical backpack you can get for under $150.
I've owned this pack for roughly 15 years…I think? Its been to war a couple times, tons of climbing trips, lots of flights, and several runs with iron plates in it. Through it all not a single stitch has popped, and not a single hole has abraded through. The Spec Ops Brand T.H.E. has a lifetime guarantee, but I bet you won't need it.
---
Price: $140 on Amazon.com
Material: 1000D Cordura Nylon, #10 YKK Zippers
Size: 41L | 2500 Cu. In.
Front and side MOLLE webbing
Removable rigid back panel
Top opening
Single Inner Mesh Pokcet
Double Layer Pack Top eliminates stress failure associated with excessive use of carry/drag handle.
Extra Padded shoulder straps support heavy weight well, making it a great, low cost GORUCK alternative
100% Made in the USA
Guaranteed for Life
Over 250,000 packs and not a single pack returned with harness failure

An upgrade on my personal favorite, the T.H.E pack by Spec OPs. Equally tough and more functional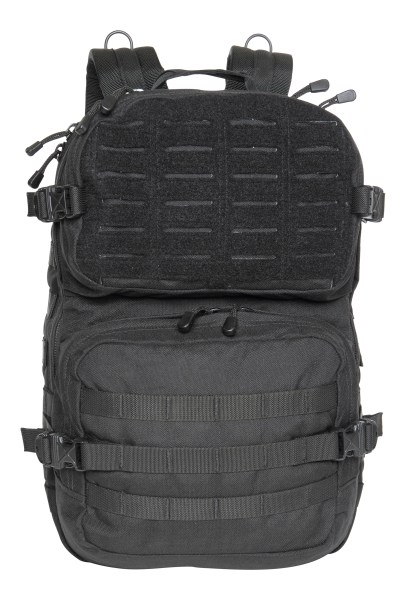 A 2013 updated version of the near bulletproof original Spec Ops Brand T.H.E pack. This update adds a zippered laptop pocket integrated into the back panel and moves the main compartment zipper forward, to create a more clamshell like design.
Material: 1000D Cordura Nylon
Size: 41L
Open Flat Design
Zippered back Panel for Laptop storage

An amazingly comfortable, tough, and reliable tactical backpack perfect for long term adventure travel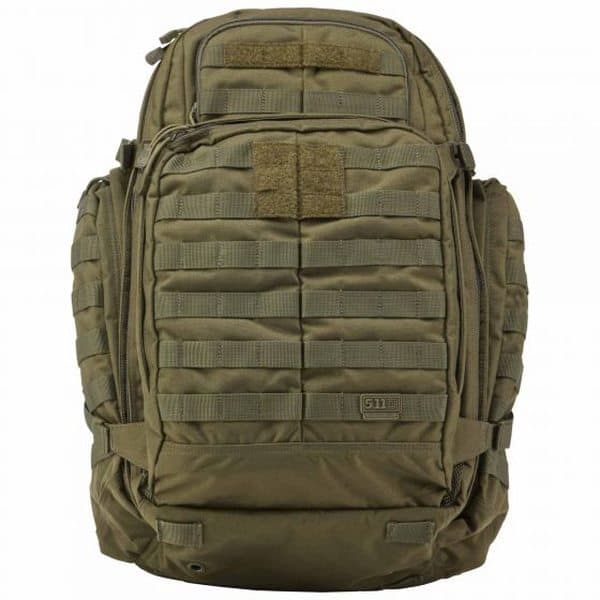 A sturdy tactical backpack with tons of storage at a great price. Though the "Rush 72" is marketed as a 3 day bag, the 55L of storage and plethora of pockets. If you want a tough with ample storage and organization at a great price, the Rush 72 is it
Price: $170
Material: Water repellent 1050D Nylon
Size: 55L | 3342 Cu. In.
Front compartment with several storage pockets for electronics, documents, etc.
Main compartment
Two side storage compartments and front top compartment hold quick-access items
MOLLE webbing for modular expansion and customization
Padded waistbelt

A cheaper alternative to the 5.11 Rush 72, with less durability but still a great value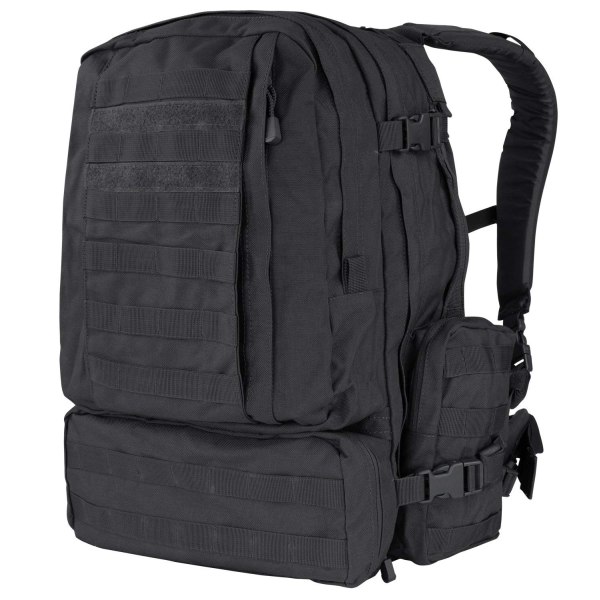 An oddly simple yet functional alternative to all the high priced tactical backpacks on the market. For years, Condor Outdoor has been making nearly unbranded duplicates of the most popular backpacks and pieces of tactical gear. What's the win for you? You get a tactical backpack that's just as good as the big name alternative (or close enough) for about 1/3 of the price.
The Condor Outdoor 3 Day may (or may not) make it to hell and back, but from I've seen it will definitely make it all of the way into the depths of hell until the mission is completed. You can dump the tattered bag there and just leave with a good story…then buy the same pack on Amazon for peanuts when you return.
---
Also Consider from Condor Outdoor: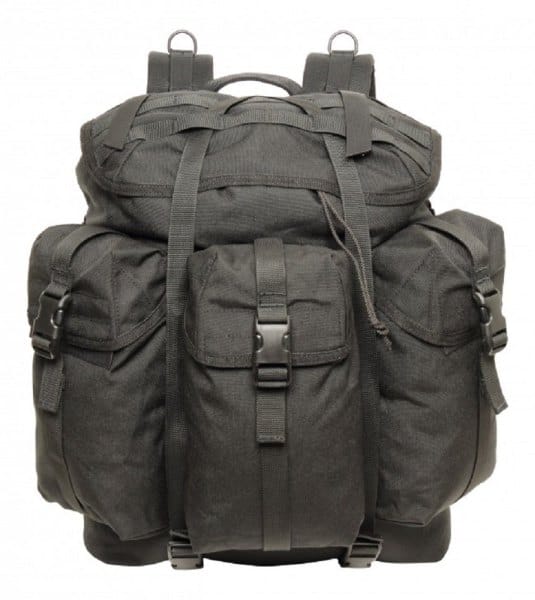 Okay…the name's a little much, but we'll give this pack a pass as its based on (possibly) the most intensely tested pack of all time. In the Recon Ruck Ultra, Spec Ops brand took the loved and hated (but mostly loved) ALICE pack and updated it with 1000D Nylon and durable plastic hardware. If you require a little more rigidity with the heavy loads, this pack is easily compatible with the old ALICE pack external frames.
One of the best features is that this pack's classic roots give it a much more civilian friendly design these days, considering most modern tactical packs are painted in MOLLE and this one isn't. This pack merely appears to be a remake of something from Vietnam (which it is) updated to be more durable and comfortable. If you've considered buying a surplus ALICE pack, consider picking up the Recon Ruck Ultra instead.
Price: $170 to $185 on Amazon.com
Material: 1000D Cordura Nylon
Size: 37L, 2285 Cu. In.
Based completely on the legendary ALICE pack

An insanely tough rucksack designed to be a full sized carry on and perfect for long term travel
The GORUCK GR3. A 45L travel pack built to carry a minimum of 450lbs and backed by a lifetime warranty through the SCARS program. If you're traveling around the world and need a pack that won't break…this is the pack for you.
As a full sized carry on backpack, the GR3 maximizes use of space by taking up every allowable inch based on airline carryon bag restrictions. The packs wraparound zipper and clamshell, open flat design let you access anything, anywhere in the pack easily, without unpacking everything. The minimalist design of the GR3 is its strong suit – just add packing cubes and you have a great travel pack (I know, I've used in 20 countries over the last 9 months).
Price: $545 on GORUCK.com. $415 with earned service discount
Materials: 1000D Nylon with reinforced stitching, YKK Zippers
Size: 45L
Weight: ~5.15lbs
Single main compartment maximizes use of space
3 zippered pockets on inside of front panel – 2 mesh and 1 Cordura nylon
External front slant pocket
Zippered "bombproof laptop pocket" in back panel of backpack
Covered by GORUCK's SCARS guarantee for life

Share it on Pinterest

Other Great Content on Tough, Travel Ready Backpacks