The right pair of men's travel shorts, that look good and perform well through your adventures are the perfect addition to your travel wardrobe
Most people enjoy traveling to sunny places with warm weather and refreshing water, so for most travelers bringing a good pair of shorts is essential. Just make sure these travel shorts are light, quick-drying, and fashionable by picking one of these proven pairs of travel-ready shorts.
CONTENTS
7 Great Men's Travel Shorts for Any Kind of Travel
There is no "perfect" pair of travel shorts – but – there is the possibility of finding a pair of men's travel shorts that perform well in the activities you have planned, pack down small, and look good by your standards. The first step in picking a good pair of travel shorts is ensuring they have the right materials and features that make traveling, and moving quickly, easier
What to look for in a good pair of Travel Shorts
---
Synthetic materials that are quick-drying, lightly water-resistant, odor-resistant, and stain resistant
Synthetic materials, such as blends between nylon and polyester with slight stretch added, created the perfect function for versatile frequently worn shorts.
The quick-drying nature allows you to go for a swim and dry while walking or wash the shorts in a sink a hang dry without the worry of waiting two days for dry shorts.
Stain and odor resistance let's you get more wears in between washes without the look (or smell) of the shorts giving you away. This way you can spend more time sightseeing and less time hunting for a laundromat.
---
Flow-through pockets, allowing water to pass through when swimming
Flow-through pockets, usually incorporated with mesh that lets water flow through, is a luxurious plus that makes unassuming shorts more suitable for swimming.
---
Zippered security pockets
No matter how vigilant you are while traveling, pickpockets can happen. Having a zippered pocket makes this a little less likely. Zippered pockets are also great for storing items while you head in for a swim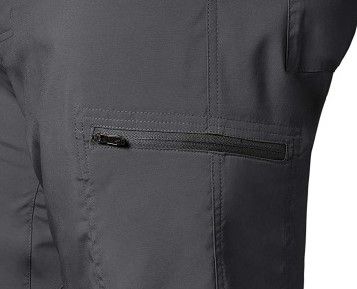 ---
Versatile Design, Cut, and Style
There are plenty of men's travel shorts on the market, but, unlike women's travel shorts most of the options lack any style or fashion sense.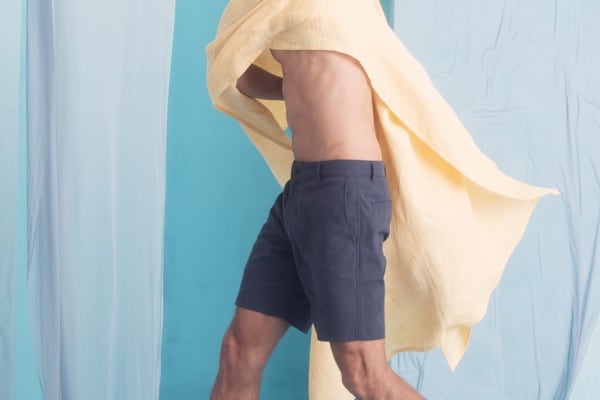 A big differentiator between most shorts, and the dictator of the conditions you can wear them in, are the style and cut. Plenty of shorts are made of very technical nylon and polyester blends that perform well but aren't at all suited for the rooftop bar. In a warm-weather location, chinos style shorts will be suitable for virtually everywhere while running shorts just might get you turned away.
To step up your fashion game while traveling, aim for shorts with a classic yet fashionable fit.
---
Drawstring
If you plan on getting wet in your shorts, a durable drawstring is a plus. After losing my shorts surfing one time, I spent half a day adding drawstrings to my shorts…and it was well worth it.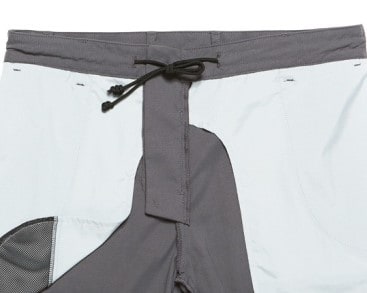 BEST TYPES OF MEN'S TRAVEL SHORTS
---
Cut like a short pair of the classic "Chinos" khakis, the shorts version of chinos have a great look, and if constructed of technical materials (polyester, nylon, quick-drying, etc.) they'll be the most versatile short you own, going from swimming to nightlife without missing a beat.
---
For those spending more time in the great outdoors, hiking shorts will be extremely useful. Generally built of more durable fabrics that are sweat-wicking and quick-drying, these shorts tend to have more secure pockets and a looser, more comfortable cut, although newer hiking shorts add slight stretch in to achieve more of a form fit.
If you're a hiker or simply looking for a very functional pair of shorts and don't care as much about style, pickup hiking shorts.
---
Generally streamlined with fewer pockets and built with stretchy and athletic materials, athletic shorts, and running shorts create a great activewear option at the sacrifice of pockets. These shorts are usually created to be sweat-wicking and quick-drying, making them doubly suited for swimming and beachside activities.
With several new companies designing "gym shorts" with a more fashion-forward fit, it's easy to find a pair of athletic shorts that are easy to wear all day and still look good.
If you're getting a pair of these, pick up a slim fit waist pack to hold your extra items in the missing pockets.
---
Made to get wet and dry quickly, but (with a bit of stretch) made to move with you and stay stylish at the same time. Designed in shorties or longs, board shorts provide great water-focused function and good looks…and they're absolutely essential if you plan on surfing. If your vacation will revolve around the water, pickup some board shorts.
How to Pick A Good Pair of Travel Shorts
---
The perfect travel short depends heavily on your plans and your style. To figure out the best travel shorts for you, ask yourself:
What activities will you be doing?
What's most important for you to do in your shorts?
– Looking good? Aim for chinos shorts.
– Hiking and trekking? Aimi for hiking shorts.
– Running? Aim for athletic shorts or running.
– Swimming & getting wet? Aim for board shorts.
– Walking around town? Aim for running shorts, hiking shorts, or chinos with technical fabrics
---
Tip: In the end, pair at least one activewear short with one casual wear short
One pair of travel shorts (casual) to look good casually, such as chino style shorts, ideally made with "technical" fabrics
One pair of activewear travel shorts suitable for your most common activities, such as shorts for hiking, running, or swimming. Hiking shorts, running shorts, and board shorts will be your best activewear option
Additional Tips for Buying a Good Pair of Travel Shorts:
Search Amazon for Travel Clothing
Consider going to a tailor to fix "almost" shorts
Budget option: Pair one casual short with one technical short
Check used clothing forums for used pieces of great, high dollar gear.
If you can't find the perfect pair of shorts due to pockets, carry a good backpack or pickup a slim waist bag to hold your valuables while on the move
---
Search Amazon for Travel Clothing
Several big manufacturers as well as no name manufacturers have 100's of great shorts between $15 and $35 that you'll never see in the stores. Thanks to Amazon's generous return possibility you can order these with free shipping through Amazon Prime and ship them back for free, with free shipping, if they don't suit you. I've done this plenty of gear and it makes the shopping experience much less stressful and
---
Consider going to a tailor to fix "almost" shorts
Sometimes a manufacturer has great fabrics, the perfect pockets setup, and a decent idea…but the fit is just off. Don't be afraid to buy a $15 pair of shorts and take them to a tailor for $10 to shorten the length, narrow the legs, or slim the waist. In the end, you'll have a better fitting short for only $25, which is 1/5 the price of the high dollar brands.
I've done this with hiking pants several times, and converted $15 wrinkle-free oxford dress shirts from Uniqlo to beach-worthy short sleeve button-downs for an extra $10. Don't be afraid to talk to a tailor about making your gear more fashion-forward , on the cheap
---
Check used clothing forums to get great, high dollar gear on the cheap.
From eBay to Reddit used gear site, plenty of people are passing off lightly used yet excellent pieces of gear at half the purchase price. Check these options out before dismissing the price.
---
If you can't find the perfect pair of shorts due to pockets, carry a good backpack or pickup a slim fit waist bag
I haven't found the perfect short with a great pocket set up yet, so I either carry a backpack with me all the time or carry this slim fit waist bag that fits under my shirt.
Anytime I'm walking through a crowded metroplex with passport and credit cards, I feel 10x more comfortable with this thing slung across my chest or under my shirt. For $10, it's a great investment.
The Best Travel Shorts for Any International Adventure
---
Chino's Shorts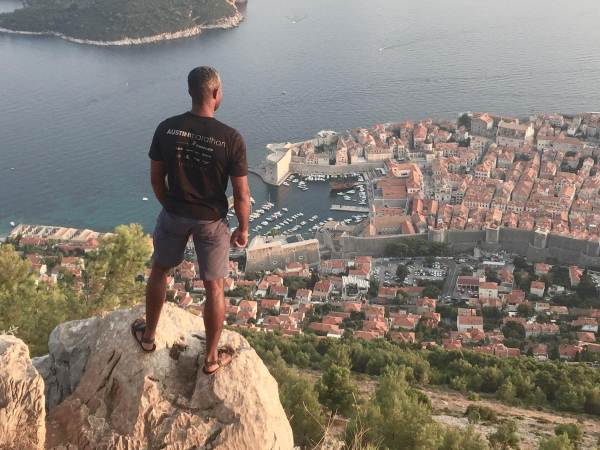 Quite possibly the most perfect travel shorts ever created. The Outlier New Way Shorts are cut like a very fashionable Chino, made of extremely durable fabric, designed to be swam in, and dry quickly while fighting odor. I've worn these shorts for over a week while testing them out, hiking, in cities, and in pools…and still got complements. If you're traveling, you need the Outlier New Way Shorts
Price: $120
Materials: Made of strong, durable and lightweight "F. Cloth" of 97% Nylon, 3% Elastane canvas woven in Sweden fromtexturized Cordura grade nylon yarns, treated with a light durable water resistant coating
8″ inseam
Mesh, flow through pockets
YKK 7″ zipper
Tailored cut
Made in Portugal with Swedish fabrics
---
Hiking Shorts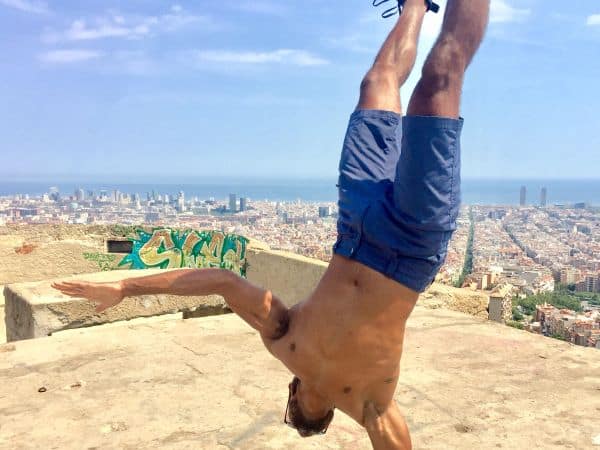 I have owned the Columbia Titanium Silver Ridge Stretch for over a year of travel, and as my hiking, workout, and adventure shorts, they've never failed me. Lightweight and quick-drying with just enough stretch to fit any activity, these shorts will keep you comfy anywhere and clean p easily afterward. The bonus is that these shorts are understated and stylish for hiking shorts making them another great men's travel shorts option.
---
Board Shorts
My boardshorts of choice during my adventures learning to surf on Bali. Hefty stretch in durable material with a zippered side pocket makes these quick drying shorts perfect for the water, working out, or just strolling in style.
---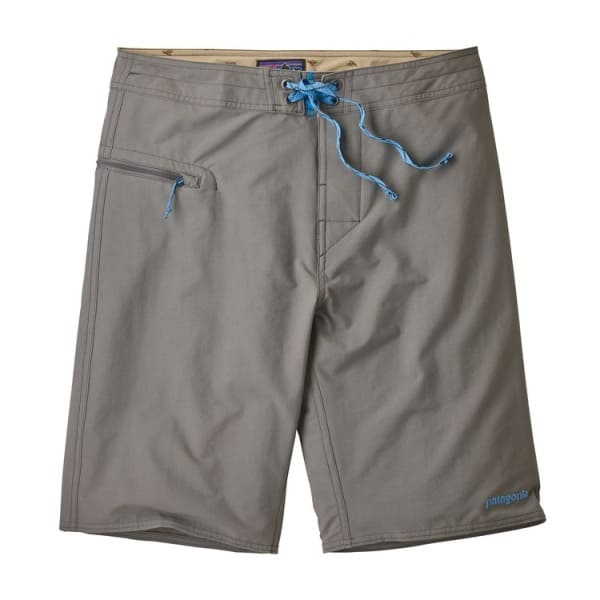 A time tested board short from a company that offers great activewear clothing by dirtbags, for dirtbags. These shorts double amazingly as travel shorts, given their comfort, easy washing, and quick drying nature and low key styling
---
Athletic Shorts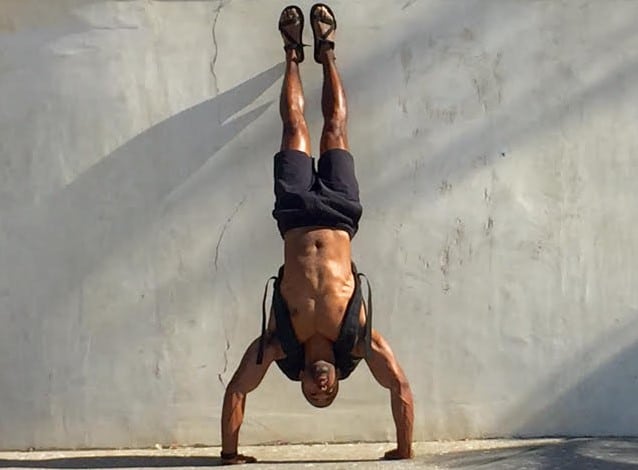 A cheap yet high performing pair of running shorts. Thin & lightweight yet durable material packs down small and dries quickly after washing by hand. When worn in a neutral color without decoration and with a button-down shirt the Nike Challenger and Flex short wear shockingly well in casual settings, making them perfect for travel.
---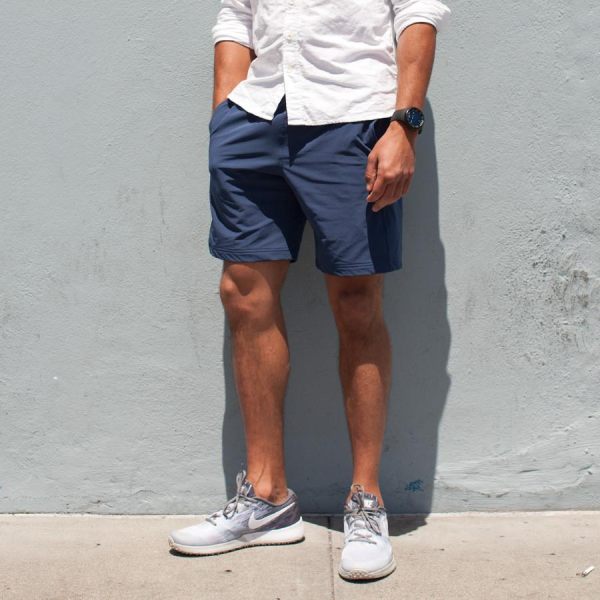 Designed to be a fashionable gym short that you can wear far beyond the gym, the Myles Apparel Everday Shorts succeed. Made of durable yet quick-drying and odor-resistant fabric (to hide any traces of your workout), these shorts are cut more like a casual Chino short but have the stretch to prevent hampering your workouts. Pair with a short sleeve button down and you have an extremely versatile pair of shorts.
Price: $58 at Myles Apparel
4 Way Stretch
Durable double weave nylon with water repellent finish
Deep, flow through mesh pockets
---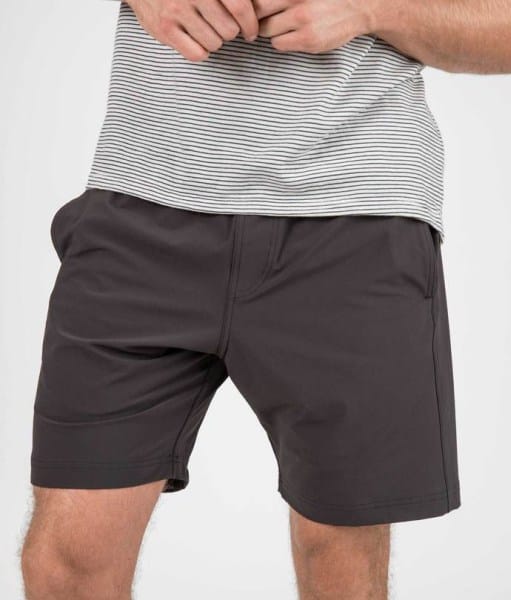 Similar to the Myles Apparel Everyday Shorts, Olivers Apparel does a great job with the All Over Short creating a gym short that you can easily wear anywhere.
4 Way Stretch
Stretch Weave: Water repellent, moisture wicking, soft and light. "All weather and all purpose"
Inner Pocket for Security
Deep, flow through mesh pockets
---
You may like these other travel gear articles: