As much as I hate to admit it, the perfect men's travel shirt doesn't exist. You might find comfortable travel shirts that look good – but those same "perfect travel shirts" may be too delicate to adventure hard in, dry too slowly, and get destroyed when you drop it off at a Southeast Asian laundry kiosk. On the other hand, a shirt may dry quickly and withstand a beating but be a little too ugly to be your only shirt. So what's the solution?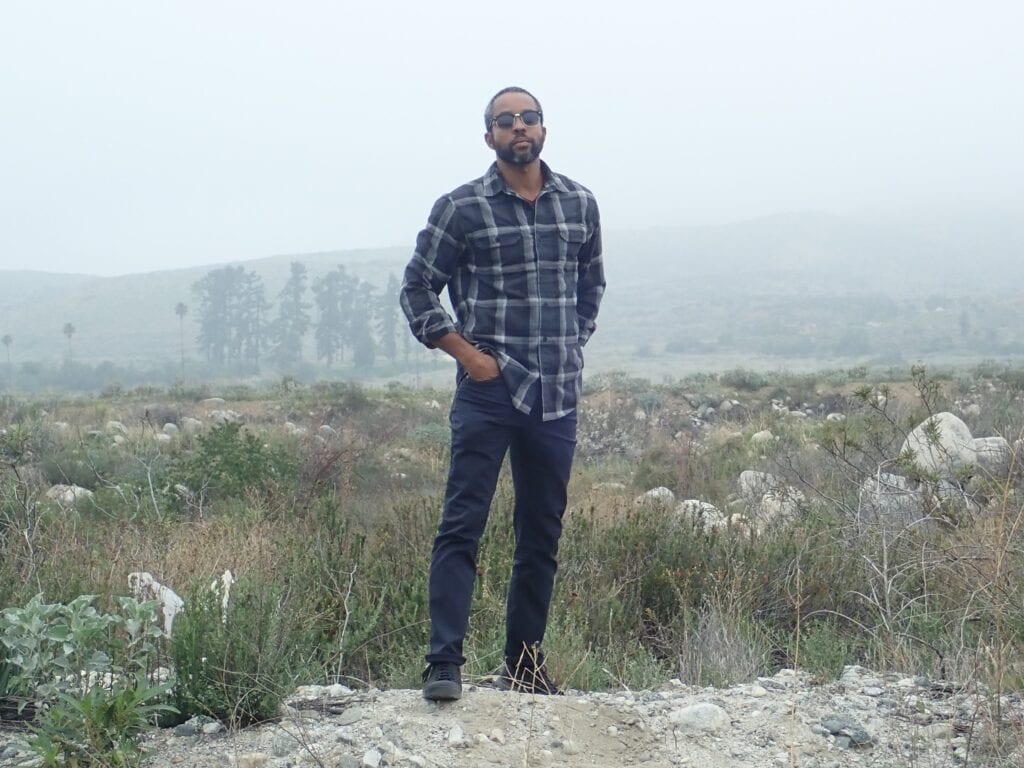 The solution to the "perfect travel shirt" problem is to strategically pick a few shirts for your travels with a dedicated shirt for looking good, a few shirts for adventuring and wandering hard, and an all-purpose shirt that sits somewhere in between – and I think I've mastered this compromise.
Read on to discover my favorite shirts for traveling, adventuring, and still looking good along the way

CONTENTS OF THIS GUIDE TO THE BEST MEN'S TRAVEL SHIRTS

THE OPTIMAL SHIRT SETUP FOR TRAVEL
If you want your packing list to be ready for anything, pack the following shirts in addition to some travel-ready pants and travel-worthy shoes:
One shirt for looking good and going out – a versatile button down shirt, ideally short sleeve oxford that is sweat wicking and wrinkle free or a denim shirt
One shirt that doubles as a warmth layer but can be worn anywhere – I'm a fan of lightweight, technical flannel shirts
Three or more travel friendly t-shits –a mix of short sleeves, V-necks, and Henleys made of wool, synthetic materials (polyester), or a proven active wear blend to dry quickly and resist funk
If you stick to these three options, you'll keep your bags light while still being ready for any occasion or adventure. Read on to discover my favorite options for Men's travel shirts.

WHAT TO LOOK FOR IN A GREAT TRAVEL SHIRT
Keep in mind that though a shirt might be branded as a great "travel shirt" it still may be over kill (or inadequate) for your travels. To pick the right travel shirt, that will keep you comfortable, looking good, and smelling good through whatever travels you have in store, think heavily about your destination and consider these points in your potential shirts…
What is the right style for your travels (if any) based on the destination if any?
What materials are best (polyester, wool, or an active wear cotton blend)?
Durability: How hard will your adventures be on these shirts?
Versatility: What situations will you need to dress for?
Smell and dirt resistance: How often will you be able to shower and do laundry?
---
What is the right style for your travels (if any) based on the destination if any?
If you're going to Europe, having a nice short sleeve button down is highly recommended. If you're going to Southeast Asia, don't even think about taking any long sleeve shirts.
If you're doing the Banana Pancake Trail (Thailandà Laosà Vietnamà Cambodia) and the most you'll do is a pub crawl, ditch the fancy stuff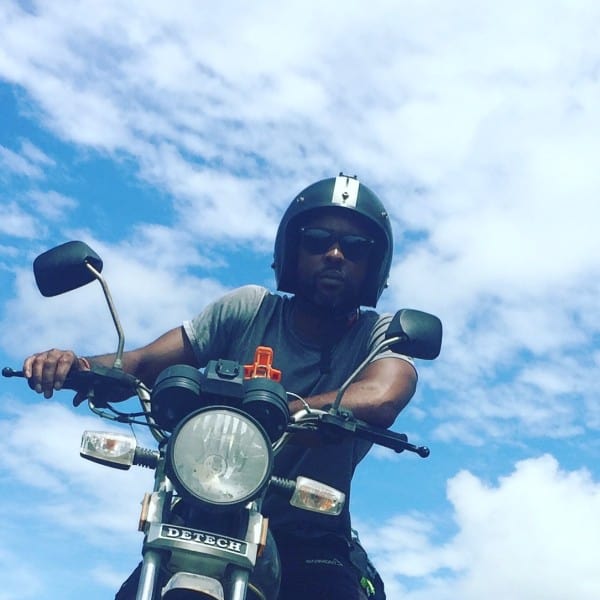 And if you're heading to Bali, plan on beachwear and your "nice clothes" being shorts and a nice short sleeve shirt.
In any case, think about the situations you'll be in and the style required (or not required) to avoid extra clothing. Here's a quick cheat list to help
South America: It may get chilly and adventurous, especially if you're going to Patagonia, so a long sleeve flannel, an "island-ish" short sleeve button down, and plenty of Merino Wool/Quick Dry t-shirts will do you well. Also, bring a set of nice clothes – as Buenos Aires, Rio, Cusco, and Medellin have some amazing nightlife
Europe: You'll only need one or two "adventurous" pairs of clothes at most (unless you're trekking). Dress for the seasons as winter in Europe is vastly different than summer
Middle East: Dress conservatively and plan for the deserts to be hot by day and cold by night. You'll be surprised how far a wool t-shirt and flannel button-down will take you here.
North America: Dress for the seasons and for specific locations. We're all across the board in the US and Canadialand.
Central America: No long sleeves. Plan to exist completely in shorts and sandals.
---
What materials are best (polyester, wool, or an active wear cotton blend)?
If you can afford it, wool is the most amazing material for shirts. (Read about how I decided to wear a wool shirt for a week straight to test the idea). They resist funk, still keep you warm when wet, and dry quickly. The only downside is these shirts will breakdown quicker than polyester – especial if you're using an industrial washer.
Polyester/synthetic shirts are an excellent, cheap option, especially for hard adventuring. You can purchase them at target for ~$10 or less and they stand up to heavy abuse. Along the way, they dry quickly and insulate when wet. The downside is they don't resist funk too well. Personally, I always hike and travel (by bus, train, and plane) in synthetic shirts because they're so cheap I don't care if they get destroyed. I recommend picking up at least a couple synthetic t-shirts for routine wear in hard conditions.
Cotton: Limit how much of your wardrobe is cotton. Depending on how often you're getting wet and how often you wash, cotton can be fine or can be a complete pain. On the upside, some cotton shirts look good, they're extremely durable, and they can stand to go a good amount of time between washes in a pinch (denim, not necessarily t-shirts). The only options I consider in cotton are Short sleeve button downs which class up very well, and denim shirts which are super durable, look good, and are a great protect layer for light adventures (like motorbiking in Asia.
---
Durability: How hard will your adventures be on these shirts?
The only upside of cotton is that it is much tougher than wool and polyester, with good abrasion resistance and actually gets better with wear. This is why my denim shirt was my shirt of choice to wear during my motorbike ride through Vietnam, to save a little skin just in case I fell. All the while, it still looked good enough for the bars.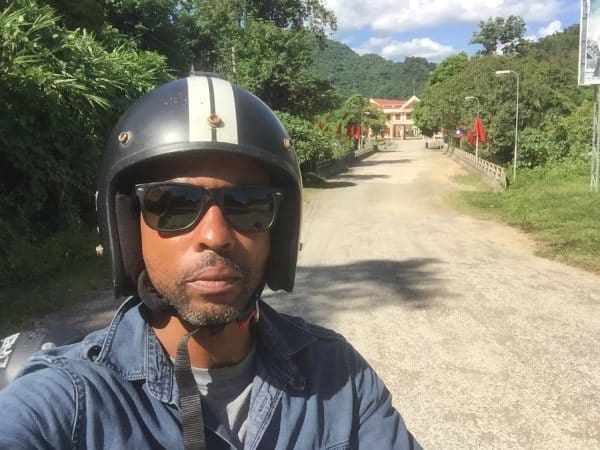 ---
Smell and dirt resistance: How often will you be able to shower and do laundry?
If you're in Europe and (should be) showering everyday and have laundry nearby, materials and worrying about getting smelly shouldn't be too much of an issue.
On the other hand, if you're moving super quickly through humid Southeast Asia or adventuring through South America and can only wash ever week and a half, do yourself a favor and get shirts made of technical materials (wool, polyester, etc.) that wick sweat, resist odor, and do more to keep you dry.
Now that you know what to look for in a travel shirt, let's take a closer look at your options

THE BEST MEN'S TRAVEL SHIRTS
T-Shirts (Wool, Polyester, and active wear blends – timeless, simple, near perfect travel shirts)
Technical Flannel Shirts (every traveler should have one)
Wrinkle Free Dress Shirts (great for looking good anywhere)
Short Sleeve Oxfords (great for looking good anywhere)
Denim travel shirts (the "all-arounder" and travel shirt underdog)
Hawaiian Shirts (for Beachy Travel)

BEST T-SHIRTS FOR TRAVEL
(Wool, Polyester, and active wear blends)
As unexciting as it sounds, t-shirts are by far the best travel shirt option. They've been around for ages, worn in every activity, and performed well while staying stylish every step of the way. If you take only one type of shirt traveling, stick to t-shirts.
In terms of style, you can't go wrong with a well fitting t-shirt.
The small packing foot print of t-shirts makes them easy to pack and wash, lightening your load and making life easier.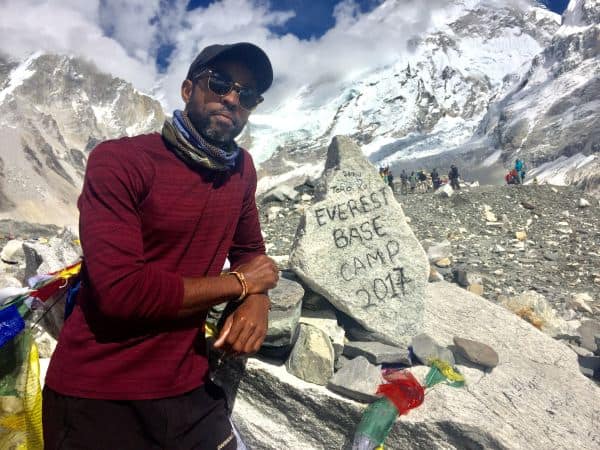 Some might insist that t-shirts are too boring to wear for a year straight. I disagree.
To stay looking good (and not get bored), avoid traditional crew neck t-shirts and light V-neck and Henley shirts in dark colors (grey, burgundy, darker blue, black).
For material, invest in at least two wool shirts and grab two cheaper synthetic shirts.
I have been very satisfied with Wooly's merino wool t-shirts, Bluffworks' synthetic travel t shirt, Outlier's insanely great Ultrafine Merino shirt, and a handful of others I've tested and highly recommend below.
For active wear synthetic shirts, my go to is actually the Hylete Icon-2 performance Henley, designed as gym wear but looks so great I wear it on nights out. For a Target's G9 Champion brand shirts which are comparable in quality, function, and style to Lulu Lemon's men's line and quite a few of Nike's pieces, but available for ~$10 to $20 for us budget travelers.
But let's not get ahead of ourselves…read on for the 17 best travel t-shirts for men, and you'll definitely find the perfect gear for your upcoming travels.

My Favorite T-Shirts for Travel
---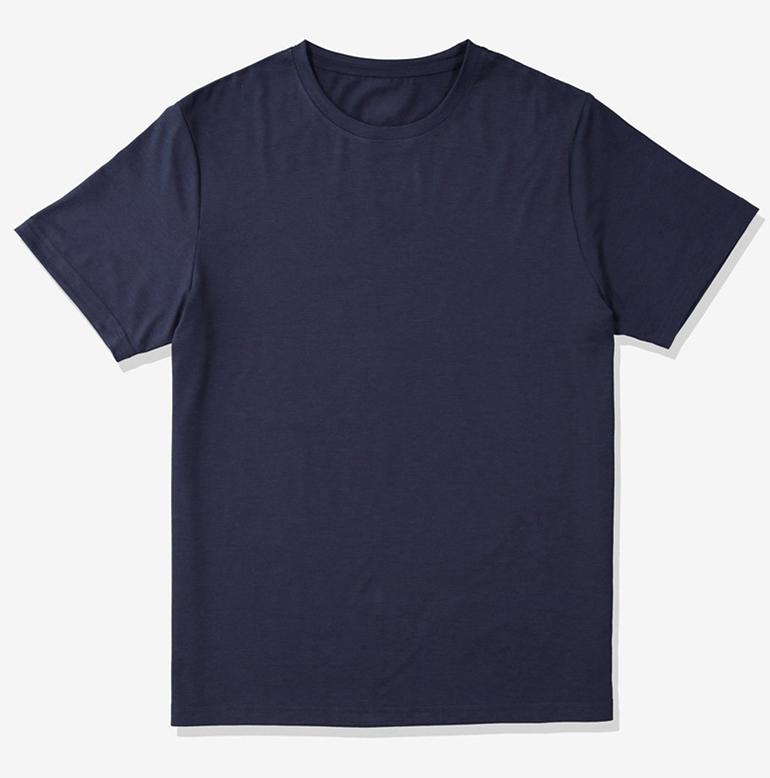 This amazing t-shirt was obsessively designed specifically for travel. If you're trying to keep your bags light by getting a shirt that you can wear over and over (without washing) in a variety of conditions, the Bluffworks Threshold T is a perfect candidate.
High breathability, great odor resistance, and a feel softer than cotton make this a great shirt to wear. A unique synthetic blend keeps this shirt super light while drying quickly and making hand washes and line drying possible for "one bag" travelers"
Where to buy: Click to see more colors at Bluffworks Online
---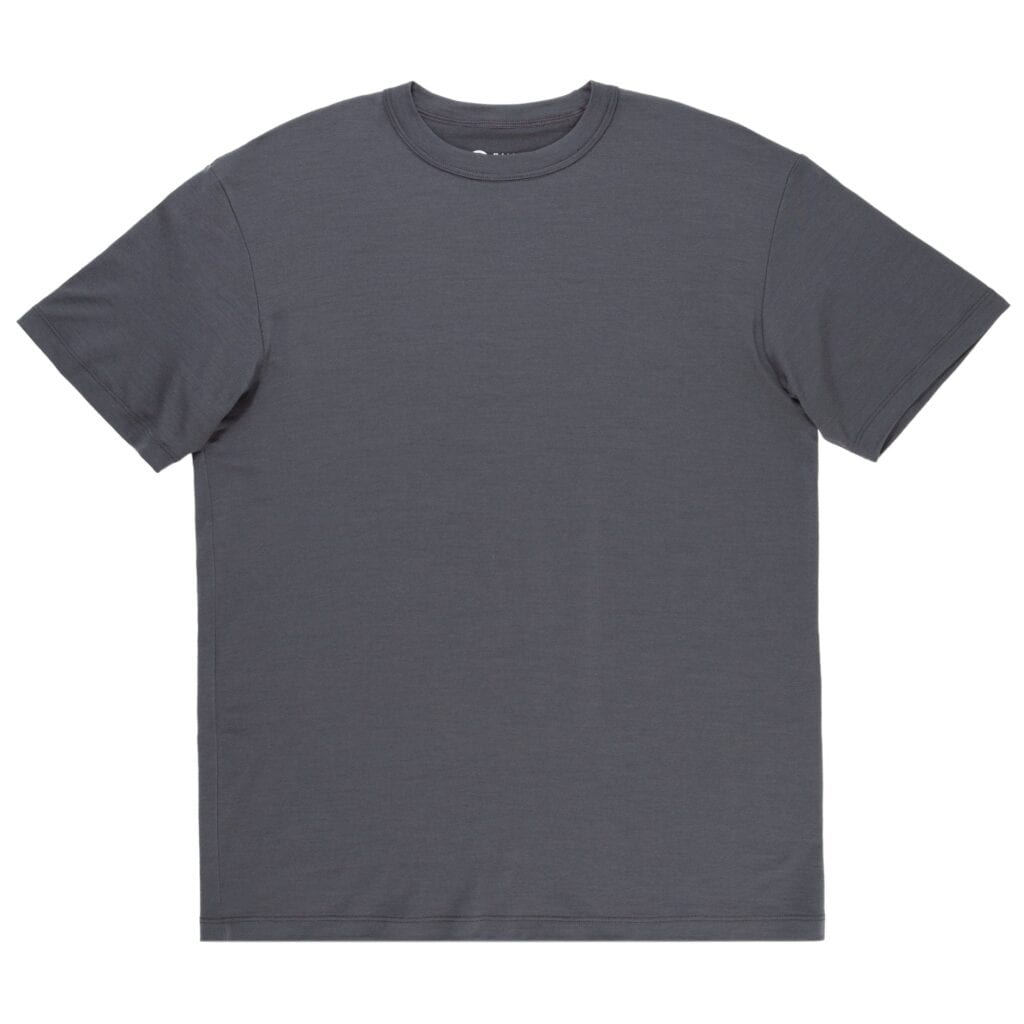 This is insanely soft yet comfortable and durable shirt is absolutely the best wool shirt I have ever owned.
Made of 100% extremely fine Merino wool, this shirt naturally resists odor (I've worn the shirt for a week straight to test), dries quickly, and does a wonderful job keeping me cool even in tropical climates.
The construction is top notch, very durable and cut with a just slim enough and stylish fit. With 2 or 3 of these shirts, a traveler could easily wander the world with these as their only shirts.
Where to buy: Click to see more colors Outlier Online
---
The Hylete Icon 2 Henley is a perfect blend of style and function that fits daily life, adventure, and travel equally. The quad blend performance fabric (that is stretchy, odor resisting, and quick drying) and design are actually intended as hard core exercise that can be worn in everyday life. With the classic Henley stylish three button front, this dresses up nicely with Chinos and a blazer or will simply keep you looking good on long treks.
From the cool highlands of the Himilayas to the warm days and posh night clubs of Bali, this Hylete Henley has been a favorite piece of apparel in my pack and will continue to be. I highly recommend this affordable yet stylish piece of performance gear for your travels
Where to buy: Click to see more colors available at Hylete Online.
---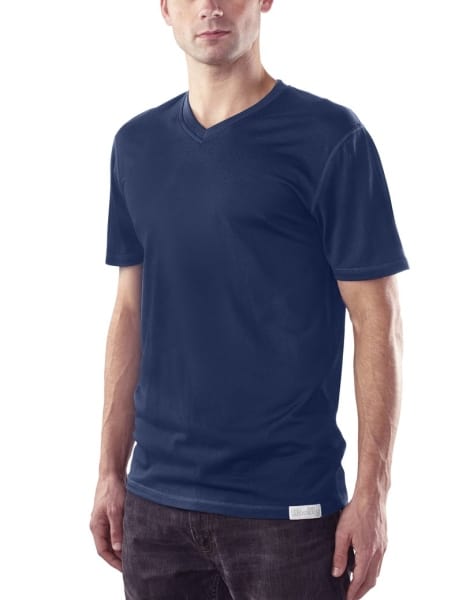 Woolly Clothing offers great wool clothing direct to you, which means its cheaper than many other options. I own a few of their shirts (a V-neck and a Henley) and wholeheartedly vouch for the. Great style. Great performance
Where to buy: Check out the selection of Woolly Clothing on Amazon
---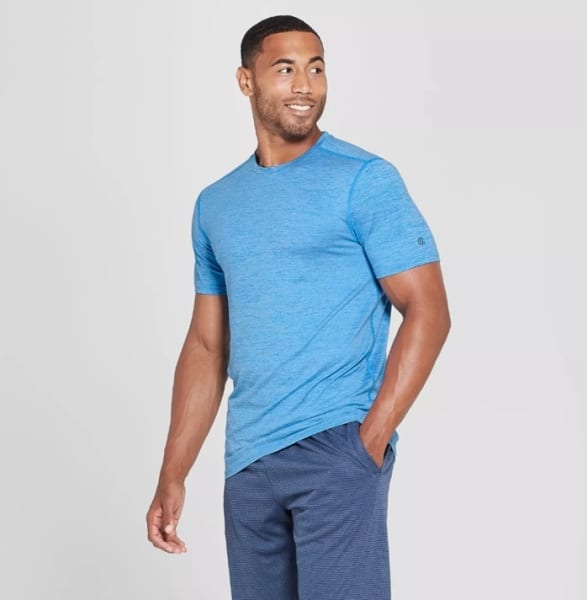 Champion C9 is Target's in house attempt to compete with active wear giants like Nike and Lulelemon for the men's athletic wear market. The result is great gym wear that wears beyond the gym for a great price. I always load up on a few of these shirts for upcoming travels whenever I'm in the US.
Where to buy: $12.99 at Target
---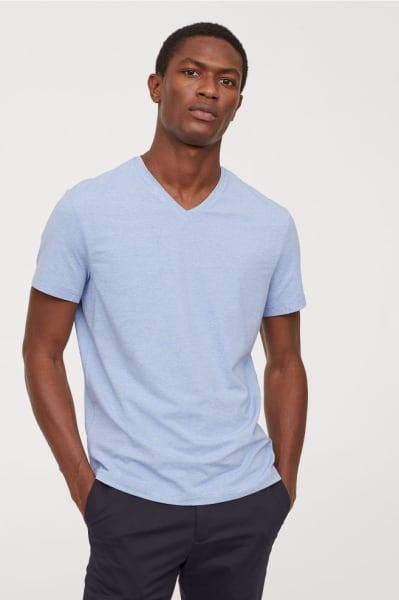 Though these shirts somewhat break my rule of avoiding cotton, the 95% cotton/5% Elastene blend works extremely well. Not only do these shirts fit well and maintain that fit, they dry much quicker than normal cotton shirts and resist funk pretty well too. I tested these shirts against high dollar "performance cotton" shirts from other brands (think $60-$80 per shirt) and the H&M slim fit shirts performed much better.
If you're ever traveling and in a pinch need some shirts anywhere in the world, just drop by an H&M and pick these up.
Where to buy: $24.99 for 3 at H&M Online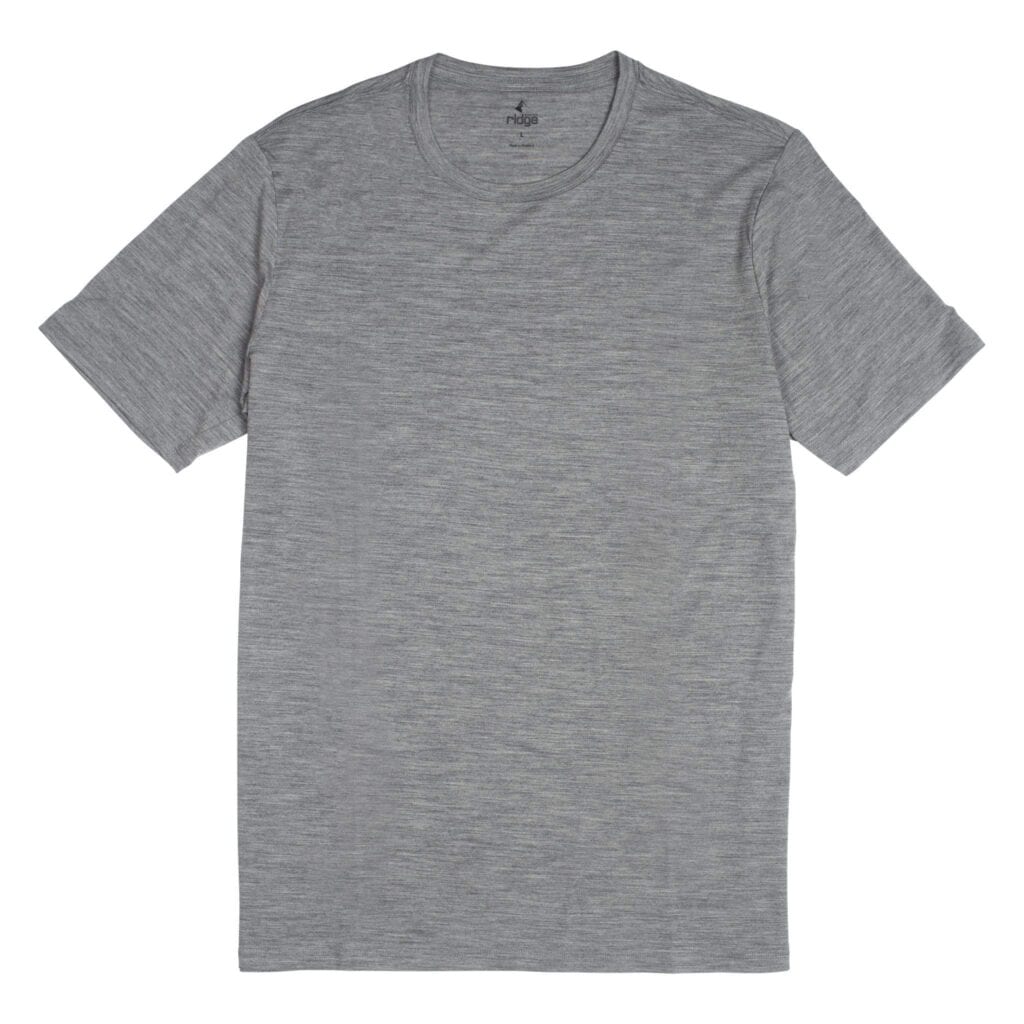 The Ridge Merino Journey tee is an awesome, travel-ready wool tee-shirt design for durability, hard use, and quick-drying comfort while still fighting funk. This Merino Wool shirt combines 13% nylon into the fabric, making it twice as durable as your average, 100% Merino wool t-shirt. The result is a high performing wool t-shirt that you can abuse for years.
I've carried my Ridge Merino Journey tee shirt for just over 2 years of travel and worn it for a week straight without washing, and the anti-microbial nature of the wool keeps me smelling fresh. Hard use of trekking, hand washing, and abrasion from backpacks hasn't damaged the shirt at all over the two years, proving this is one tough t-shirt
If you're looking for a single, comfortable t-shirt that looks good and is adventure ready, check out the Ridge Merino Journey t-shirt.
Where to buy: Click to see availability at Ridge Merino online

TECHNICAL FLANNEL SHIRTS
A single technical flannel shirt is a priceless addition to the traveler wardrobe. Wool flannel shirts are great (I have a Pendleton Board Shirt that I love) and there are plenty of other synthetic "technical flannel" shirts combine nylon and polyester to be just as warm, more durable, and are much lighter and easier to pack.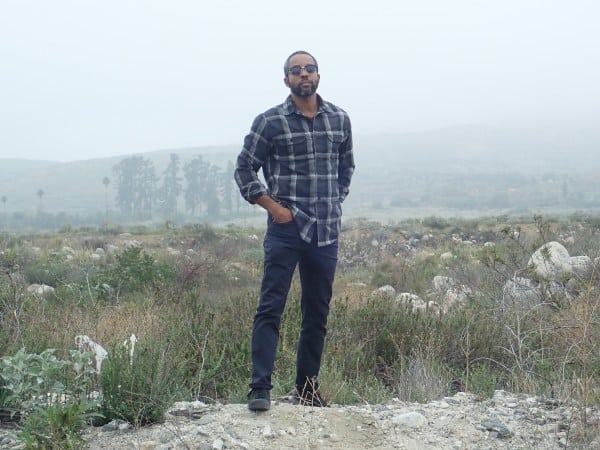 Additionally, the right flannel shirts can add a touch of style if you pick the right one. My current flannel works in nearly any occasion, and my Uniqlo Oxford Travel shirt works in the rest of those classy sitauations.
I tested Eddie Bauer's Traveler Flannel Shirt and fell in love (you'll see pictures all over the site of me in it) and purchased 3 while it was on sale. Plus, there are several other options for travel ready technical flannel shirts– read on to discover my picks
---
MY FAVORITE FLANNEL SHIRTS FOR TRAVEL
---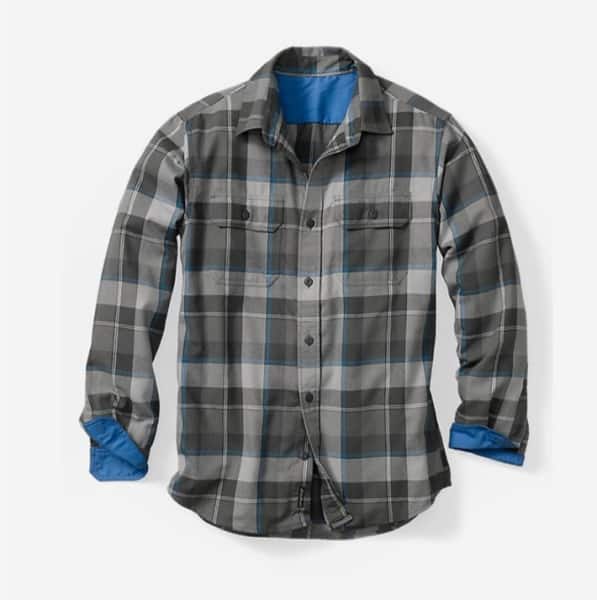 A flannel shirt crafted perfectly for travelers. Lightweight polyester and "FreeDry" technology insulates like a jacket when cold but wicks moisture and breathes to keep you cool and dry in the heat. The fit on this shirt is more classic, giving you room to move make it great for exploring the outdoors and getting active. The cuff accent colors offer a great touch too.
I've toted this shirt around for the last year, love it, and can't recommend it enough.
Where to buy: From $35 to $70 at Eddie Bauer Online
---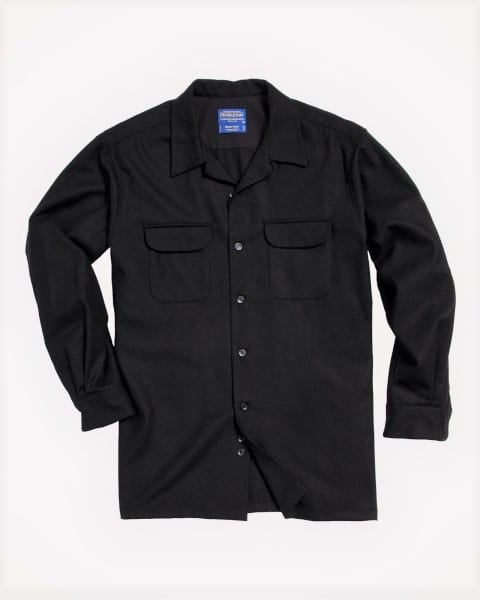 The Pendleton Board shirt, originally rocked by surfers in the 60's is a classic that goes anywhere, and being 100% virgin wool is extremely functional too. It stays warm through the cold and the rain and still breathes in the heat. I've worn mine around more campfires and in more national parks than I can remember – and with good reason. Better yet, I can wear it right into the city and no one is the wiser.
A timeless shirt that you'll literally be able to wear forever
Where to buy: $135 at Pendleton.com
---
10. ICEBREAKER LODGE SHIRT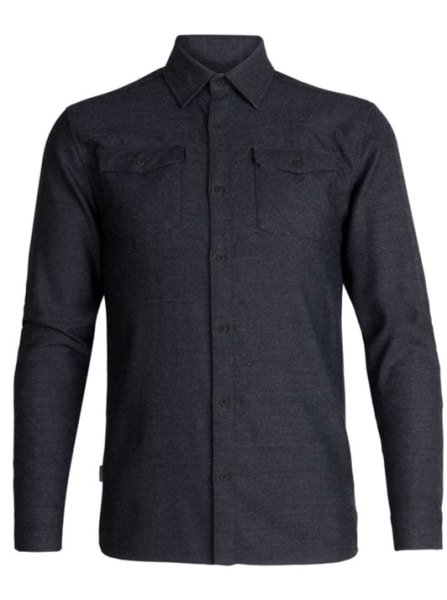 Icebreaker's new take on a classic. 100% Merino Wool, this shirt is as technical as it gets, performing in the outdoors (and traveling) while still looking good enough for city life.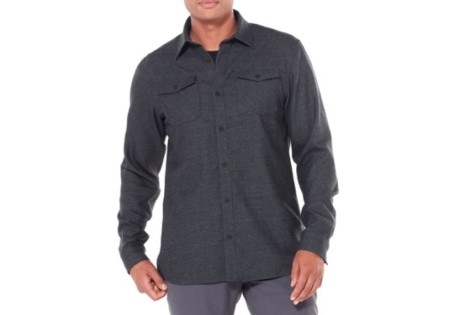 The Merino wool fights odor and stays warm throughout. Pair with a Merino wool t-shirt for best results
Where to buy: $135 at REI online
---

TRAVEL READY DRESS SHIRTS
Most commonly labeled "easy care" and targeting business travelers, these shirts are a perfect "dress up" shirt for travelers. They are usually sweat wicking, breathable, and wrinkle free but have the cut of a nicer button down Oxford.
Best yet, good options can be had for very cheap through Uniqlo and H&M and even better options can be found through Bluffworks that cost a bit more but are well worth the money.
One of my two current "dress up" shirts is actually a Uniqlo easy care oxford that I wore through the cold season of Europe and then came to Asia, chopped of the sleeves and had it sewn for ~$5, and now wear as my island shirt. But there are plenty of shirts that you won't have to chop in order to look good. Read on for my faves.
---
---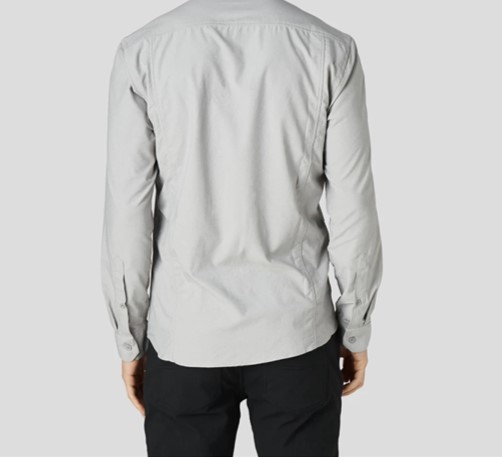 This high tech, travel focused, easy care button down gives you the style of a dress shirt and the durability/easy care you need for travel.
49% Nylon added to the fabric delivers abrasion resistance and easy care properties that make a good shirt to tuck in the bottom of your bag or bring as your only shirt.
Finally, the slim and stylish fit make this shirt perfect for daily wear and long term "one bag" travel just as much as outdoor adventures.
The Merino wool fights odor and stays warm throughout. Pair with a Merino wool t-shirt for best results
Where to buy: $109 at Western Rise | Click here to check available colors
---
12. UNIQLO EASY CARE DRESS SHIRT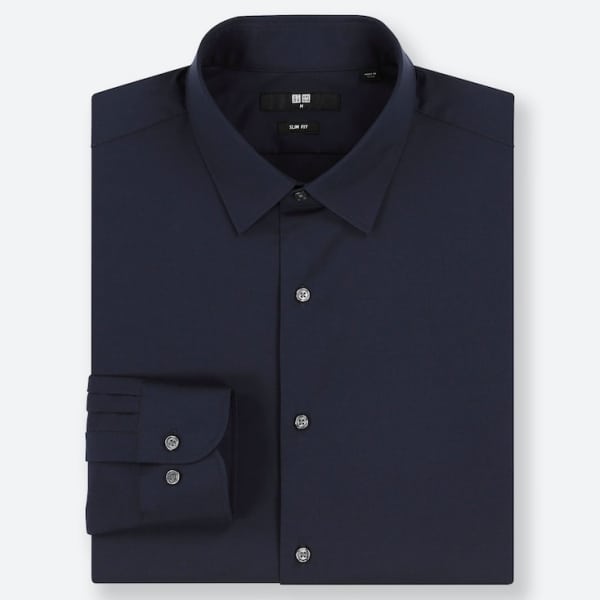 If you're on a budget and still need to look good during your travels, Uniqlo's easy care dress shirts are a great option. The technical materials breathe, wick sweat, and resist wrinkles so you can wear them longer without caring. I wore one of these through Europe and then chopped of the sleeves to make it my casual island shirt…worked like a charm!
Where to buy: $29.90 at Uniqlo.com
---
13. BLUFFWORKS MEDIAN TRAVEL SHIRT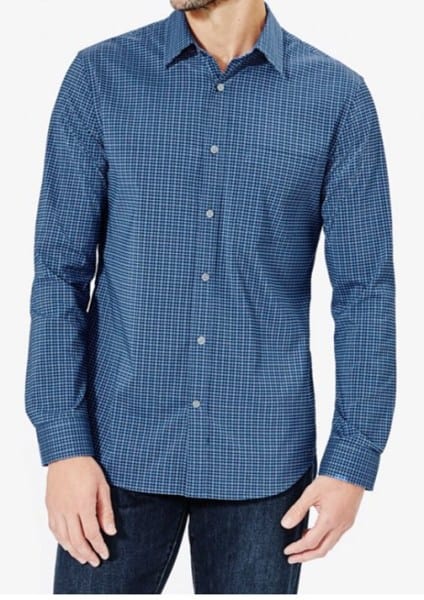 A completely "technical" dress shirt, blending 98% polyester and 2% spandex gives the sweat wicking, anti-microbial qualities so you can wear longer, along with wrinkle resisting qualities and freedom of movement so you can stay comfortable along the way. If you need to "class up" on the road, the Bluffworks Meridian dress shirt is a safe bet.
Where to buy: $98 at Bluffworks

SHORT SLEEVE OXFORD SHIRTS
Though these commonly break the travel rule of "no cotton", they actually manage to work very well.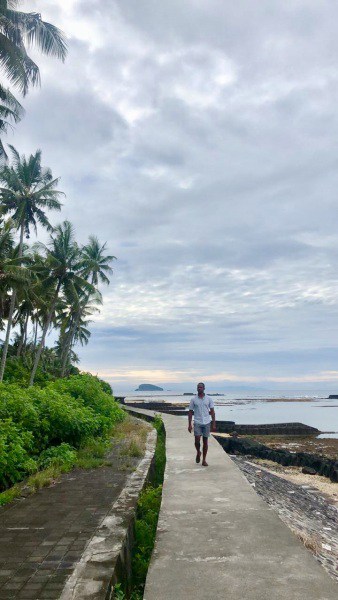 First, the airflow you get from a button prevents you from sweating all over it and getting it completely nasty
Second, most people only wear button down shirts when lounging, so you get away with washing it infrequently.
Third, these shirts are always quite durable and can actually go a little longer without a wash than your common cotton t-shirt.
Last, these are a classic style staple that can be had for cheap and worn with a bit of versatility. My go to spot is the Gap – as the shirts always have a classic cut, have a more timeless design (fits just as well in the 1970's as now and can be worn anywhere in the world), and you can always pay $5 to have the shirt tailored and the fit improved later on.
---
14. GAP OXFORD SHORT SLEEVE SHIRT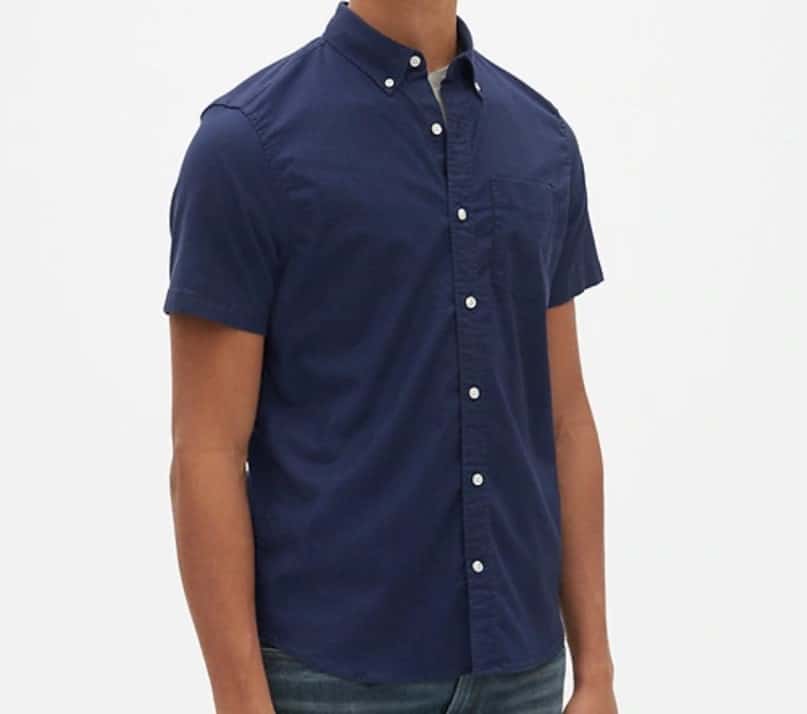 A classic shirt made simply and durably make this another one of my go-to shirts when traveling. The construction is surprisingly good meaning it will work on hikes and in active situations if you feel like pushing it. Though this shirt is cotton, it breathes well enough to avoid funk for longer than your active t-shirt. Beyond the adventures, it looks good enough for most any situation.
Where to buy: Starting at $35 at Gap online

MY FAVORITE DENIM SHIRTS FOR TRAVEL
Denim shirts are the unsung hero of travel shirts. There is a reason that Levis Strauss made his "can't bust 'em" gear for goldmining rough necks out of cotton denim – because it works. Denim shirts are a great all around travel shirt that sits side by side with the technical flannel.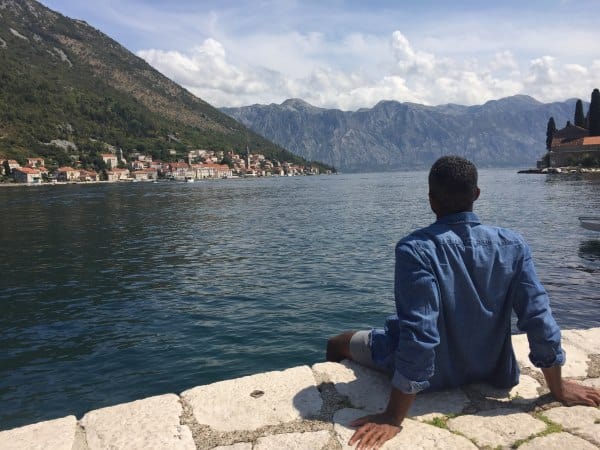 Granted, these denim shirts don't insulate as well, suck when wet, and take forever to dry, but they look better than flannel and are better if you're in a situation where you might get thrown around and need an extra layer of skin – like riding a motorbike anywhere in Southeast Asia. Plus, the denim shirt looks good.
A travel tip I got from my buddy "Dr. Strangelove" and his Spanish friends was to actually carry a denim button down on adventures to throw on for nice pics – instead of wearing that sweaty hiking shirt. That's actually excellent advice – but I'm a touch too apathetic to execute.
So, if you want a good all-around shirt, that looks good, and you won't be getting too wet or sweaty, consider the denim shirt.
---
15. GAP DENIM SHIRTS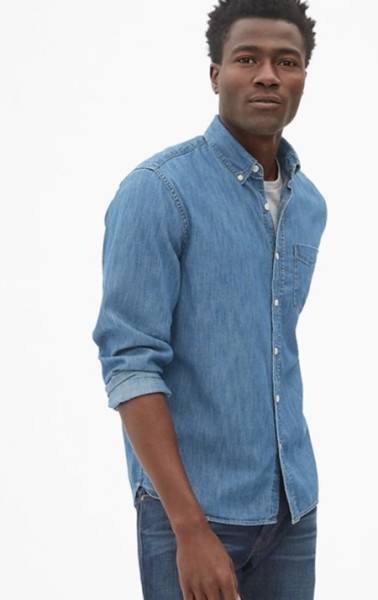 Classic cut and fit and constructed well enough to last through your travels. I have a couple Gap denim shirts that I've worn for years and countless countries, and they keep getting better with age. They're durable and look good too.
Where to buy: From $40 at Gap
---
16. THE ORIGINAL: LEVI'S DENIM SHIRT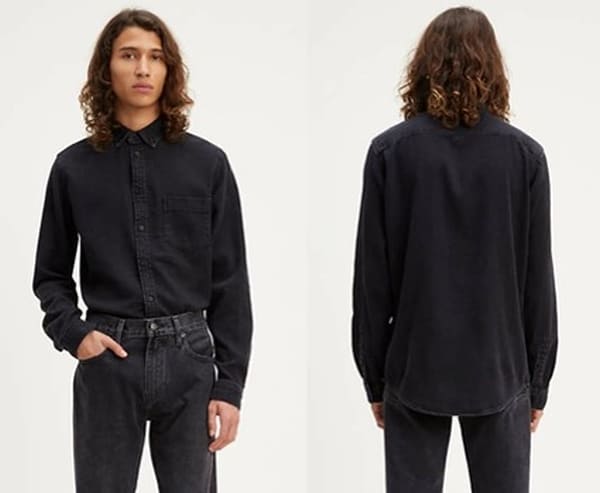 Levi Strauss did something right with his first couple of creations, cementing "denim" as a style staple. If you're going to pick up a denim shirt, you can't go wrong with the original – Levi's
Where to buy: Levis.com

HAWAIIAN SHIRTS
Though you wouldn't expect to see it on this list, if you are venturing to hot or humid climates, Hawaiian shirts are an excellent option. For one, they're fun. People may judge you, but those who don't will automatically assume you're fun.
Second, they're traditional Hawaiian shirts for a reason. They're great in the heat and allow just enough breeze while blocking the sun. They're also perfect for when you've just gotten out of the water. So, if you're heading to the islands, consider having some fun and making a Hawaiian shirt your shirt of choice.
Where should you buy these? Honestly…nowhere in the US. Buy one on the road as a souvenir. You can have a custom one made in Southeast Asia for cheap or buy the Balinese version (with real coconut buttons) when you're in the area.

So, you have your perfect travel shirt setup and now need something to layer over it to stay dry, warm, and stylish…what do you choose?
There are literally thousands of options to choose from, between waterproof puffy down jackets, to rainproof shells, but my travels have led me to…exactly one.
This waterproof, windproof take on the classic M-65 military issue field jacket combines the best of style and function that travelers need.
Top of your torso by checking out this Bluffworks Field Jacket Review for full details and even better pictures…
[mv_video doNotAutoplayNorOptimizePlacement="false" doNotOptimizePlacement="false" jsonLd="true" key="pbligjoyey4fz93bz5zp" sticky="false" thumbnail="https://mediavine-res.cloudinary.com/video/upload/pbligjoyey4fz93bz5zp.jpg" title="Bluffworks Field Jacket Review by A Brother Abroad" volume="70″]

Now that you have the top half of your wardrobe for travel worked out, what's next? Clearly you should figure out the best pair of bottoms for your trip by checking out the 15 best travel pants for men and the 5 best travel shorts for men followed closely by my 8 favorite travel shoes for men to create your perfect travel rig.

Like it? Pin it!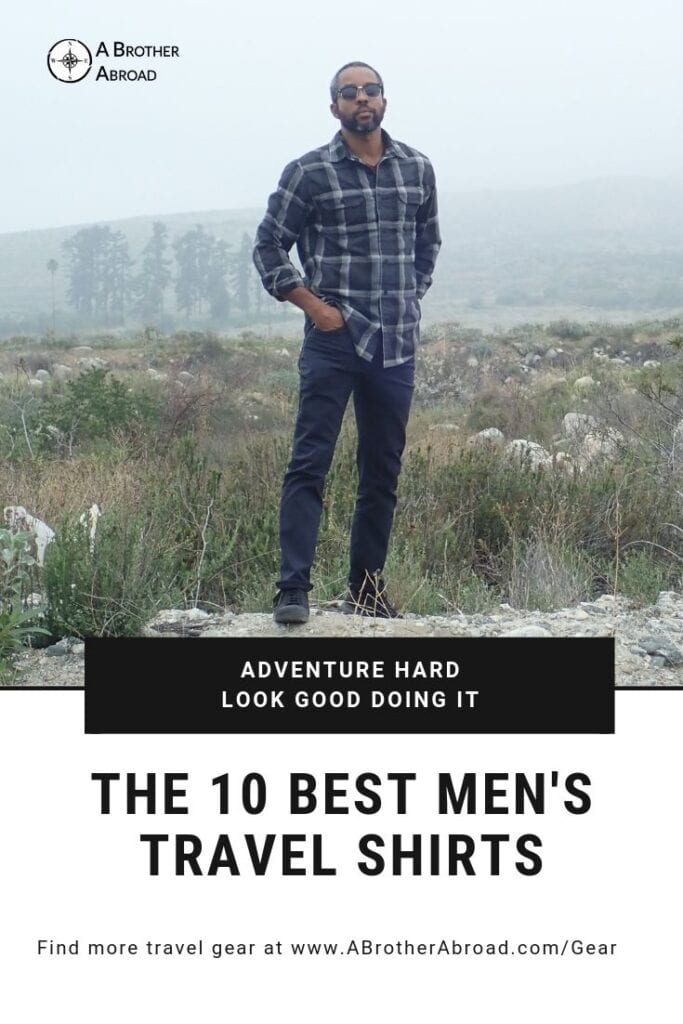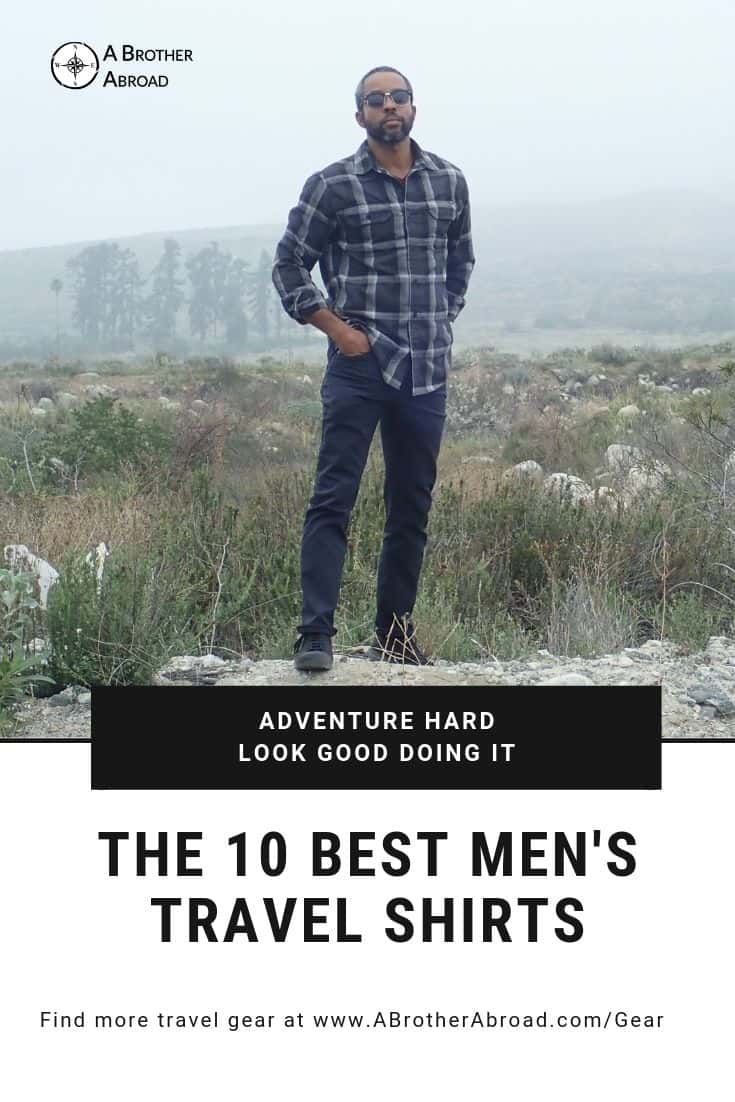 Other Great Travel Gear Content: