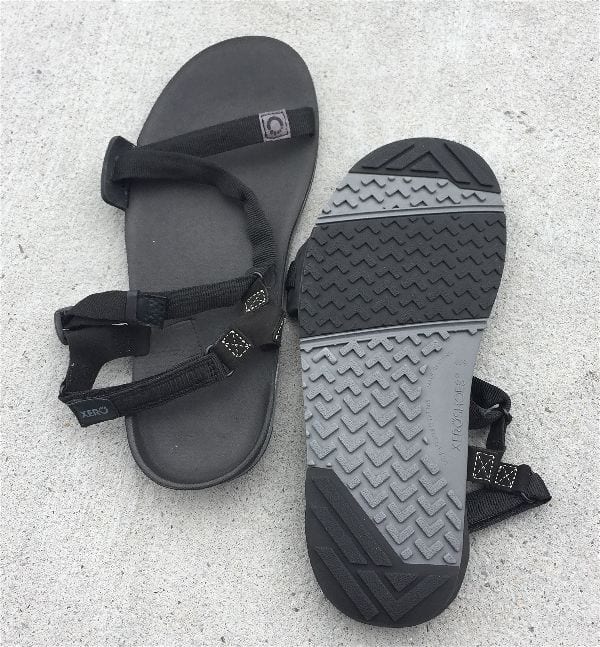 Xero Sandals' Z-Trails are the best travel sandals on the market – they're functional and rugged enough for adventurous travelers while still looking good enough to wear casually. The sandals are lightweight and roll up small enough to fit in the palm your hand yet durable as car tires while still hugging your feet snuggly and comfortably enough to walk, run, hike, workout or swim without missing a beat.
Once you get off the mountain/beach/trail, their simple and minimalist sandal design looks great and fits into more casual and relaxing experiences, also making these my vote as the best sandals for men available. For travelers that want to be ready for any adventure, while keeping their backpack light and looking good, I highly recommend the Xero Z-Trail minimalist sandals.
Long term travelers need versatile, high performing gear that still looks good and keeps their bags light – The Xero Z-trail fits the bill as the best travel sandal I've traveled with to date. This minimalist sandal is designed as a car tire (seriously) that hugs your feet with a comfortable layer of specially designed foam and soft, comfy nylon straps that keep the sandals hugging your feet. The result is a lightweight sandal (think flip-flops) that stays tight enough to walk and hike with (think Chacos), but rugged and high performing enough to run with in a minimalist way (think Nike Free). The result is a sandal that does everything, and in hot, wet, and beachy environments such as southeast Asia or the Caribbean these could be your only shoe.
After 6 months of testing this shoe while traveling through Southeast Asia, from Ho Chi Minh City to Myanmar, these are hands down my favorite sandal. I've hiked and walked hundreds of miles in them, ridden hundreds of miles by motorbike while wearing the sandals. I've swam, snorkeled, and bar crawled in these for hours, hiked down streams, cliff dived, and abseiled/rappelled down waterfalls, all in these sandals. To top it off, these were still my go to kicks with jeans and a nice t-shirt for rooftop cocktails…and they've performed great in every event. That is why these are hands down the best travel sandals for backpackers and adventurous travelers and the best sandals for men on the market. If you'll be on the road for a long time and plan to get "off the road" as well, do yourself a favor and pickup Xero Z-trail Minimalist sandals before you leave.
Initial Observations of the Z-Trail
Pros | Cons
Pros:

EXTREMELY durable design – 5,000 mile warranty
Highly functional: Great for running, hiking, and walking.
Stay very secure during water activities – not waterproof, but are quick dryinmg

Con:

For running: allow a couple weeks for your feet to adjust if you are new to running in minimalist footwear (See our minimalist footwear adaption plan)
After 6 months of wear with no washing – slightly slippery when wet. The cure: don't be a slob…give the shoes a quick wash with dish soap or detergent
Straps may bunch slightly when overly tightened. The cure: don't tighten the sandals as much. If the sandal

Strong points

For trips to southeast Asia or anywhere that sandals prevail and adventure is an option, bring these. They'll become your go-to kicks quickly
Who these Sandals are for: Travelers, Adventurers, Minimalists, and "One Bag" Packers
Long Term Travelers
Adventurous Travelers
Minimialist Packers & Travelers ("One Baggers")
Minimalist hikers, runners, and athletes
Men (in general)
Women interested in exchanging their "gladiator sandals" for something functional enough to hike and run in
Anyone avoiding Chacos, Merrel's and other hiking sandals because they're too big and chunky
Who these Sandals aren't for:
Anyone unwilling to adjust to minimalist (thin soled) footwear
Anyone who needs a mattress for a sandal sole (cushy soles)
Anyone who needs their sandals to be extremely pretty
The Bottom Line for the Xero Z-Trail minimalist sandals
After 6 months of testing, I love these sandals because they do everything well, which is exactly what adventurous long-term backpackers and "one bag" travelers need. I'm comfortable making the Xero Z-trail minimalist sandals my only shoes (along with the Altama Maritime Assault Shoe for rockier hikes) for 6 months of traveling around the world in search of adventure – from running with the bulls, to scaling Kilimanjaro, and plenty of nights out in between, these will be my sandal of choice
Highly recommended for long term travelers and travelers that pack light but do a wide range of adventures
I recommend pairing the Xero Z-Trails with the Altama Maritime Assault Shoe for your travels. This set of footwear will durable and high performing enough to have travelers ready for virtually any adventure
---
An In Depth Xero Z-Trail Review
Travel with the Xero Sandals
The Xero Z-trail minimalist sandals are small enough to fit in your palm or pocket while adding minimal weight to your bag, keeping you ready for adventure without sacrificing space making them the best travel sandal available
The Z-Trail's light weight means these sandals add little to your bag
The flexible (and easily packable) sole, takes up virtually no space, and roll up to pack easily into any pocket available making them easily accessible anytime.
Weight:4 oz per sandal!
Size: Rolls up small enough to fit in discretely into a water bottle pouch
Performance:
The Xero Z-Trails are also some of the best hiking sandals around because of their versatility and what these sandals do in addition to hiking: from running and exercising, to adventuring and riding motorbikes. These minimalist sandals hugged my feet tight and performed well
The Z-Trail's are notoriously designed after running sandals worn by the "Tarahamura running people" of Mexico, that live their lives as runners. Keeping with the tradition, these shoes have only what is necessary – high performing soles and comfy yet high performing straps. The result is a minimalist, non-chunky design that looks a little better than a sleek pair of flip flops (think Havanians). Have you noticed how female travelers tend to pack those "gladiator sandals"? You know why? Because they're not only functional (good for walking, pack small, etc.) but because they look better than many alternatives (hiking sandals, Birkenstocks, etc.) by keeping the clutter to a minimum. The Z-Trail's look good and perform well by doing the same – just being minimalist
Performance overview
Lugged Sole designed from tire rubber stays durable and grips in all conditions: The soles are designed from car tire rubber made to last 5,000 miles with an effective chevron lugged pattern for increased traction
Tubular nylon straps stay comfortable yet tight as they move with you: These straps are soft enough to be comfortable in any activity but strong enough to stay in place and not stretch during quick movements – such as running and jumping.
As minimalist footwear, when rocks become sharper or smaller (1-2 inches big) you will feel them more in these sandals than you will in hiking boots but it will be manageable.
The only place I didn't use these sandals heavily was on the Everest Base Camp Trek because of the number of miles walked (~70 in 8 days) and the very rocky terrain at the end. A more rigid shoe with a more cushioned sole is a must for long, strenuous treks like these. For every other adventure in Southeast Asia, these sandals were on duty at least 75% of the time.
The Xero Z-Trails as Running Sandals
My 6-month trip in Southeast Asia ended with an 8 day, ~72 mile trek through the Himalayas to Everest Base Camp – which meant I needed to get in shape. The Z-Trail sandals were my only workout and running footwear for the entire 6 months preparation training…and they performed amazingly! For those accustomed to minimalist, thin soled, and zero drop footwear, these are the best running sandals available in my opinion. Keep reading to find out how I learned this. (For those that aren't used to running in minimalist footwear, I highly recommend considering the transition to minimalist footwear, to lighten your bag and improve your health).
Running: 3-5 Mile Run Tests: During the 6 months traveling through Asia, the Xero Z-Trails were my only running shoes. I was a track athlete in high school and an avid runner in the Marines, so I know a thing or two about moving quick on my feet. I ran at least once a week on runs ranging from anywhere between 2 and 8 miles under "various conditions". Read on for details on each type of run
Racing Tuk Tuks in Thailand (Sprinting): In the earlier hours before traffic gets heavy in Chiang Mai, Thailand Tuk Tuk drivers (the moto-taxi's with a carriage on back) meander around looking for passengers. Several times, if there was an open street, I would joking challenge these Tuk Tuks to a sprint for about a block or so, just for a laugh. To be honest, I usually won the first 25-50 meters, and lost after that, but the Z-trails won every time. The sandals hugged my feet and gripped the pavement enough for me to sprint top speed with no issues, though sprinting on asphalt with such thin soles did take some adapting in my stride. Thick hiking sandals (or my hiking boots) would have been to chunky and heavy for this kind of nonsense.
Running through Bangkok and Hanoi (Jogging): One of the best ways to learn any city is to go for a long run just after sunrise. I tested the Z-Trail by running several times ~4 miles in Bangkok and Hanoi, mostly on pavement. This included intermittent sprints across roads to avoid becoming road kill, and the Z-trails did well in short sprints too. Even with the humidity, sweat, and varying speeds, the sandals stayed in place.
Trail runs on Koh Tao Island (Jogging): On Kho Tao, Thailand, a tiny island notorious for hippy backpackers and dive schools, I relaxed for a week in peaceful paradise. In between exploring by motorbike and snorkeling, I would strap on the Z-Trail sandals and jog around the island and up whatever hills and mountains I could find. The only downside to wearing the Z-trails on Koh Tao's trails was that I had to clear out the small pebbles every once in a while…as they would get caught between my feet and the sandal soles, but this is easily done without taking off the sandals and is not enough of an inconvenience to keep me from wearing the sandals
For more fun and inspiration around minimalist running checkout the book "Born to Run", one of my favorites. The book is about the Tarahamura "running tribe" that have been running for generations in the sandals that inspired the Z-trails – but in races that last up to 70 miles over 3 days! It's an amazing read…and inspiring for those looking for a little fitness motivation.
The Xero Z-Trail Sandals as Hiking Sandals
Hiking (5 Miles): The car tire rubber that these sandals are made from grips well on any terrain while giving your feet more "ground feel" than your average hiking boot. The downside of this increased "ground feel" will be feeling pebbles and small rocks a bit more. These shoes shine best in jungle and beachy areas where you often hike to a beach or waterfall. With these, you can jump right in and jump out to continue your hike without removing the sandal. Show me a pair of flip flops or hiking boots that can do that!
Trekking to Inle Lake in Myanmar: I started the Inle Lake Trek in Myanmar wearing my favorite boots (the Lowa Renegade Low Tops), but after wearing the Xero Z-trails and Chuck Taylors for 6 months straight, the Burmese heat made my feet feel miserable. The trails were too slick for my Chuck's, so I made a portion of the trek in my Xero Sandals. It would have been a very bad idea to do the whole trek in them, as we detoured through some fields with uncomfortable burs (not to mention supposed Burmese Pythons slithering around), but it was refreshing to alternate between hiking in my Xero's and my hiking boots
My experience hiking: On several hikes to waterfalls, beaches, and viewpoints, these sandals did their job well. Do note that after a few months, the topside (side touching your feet) of the soles can become a bit slippery when wet. Just fix this by washing the nasty little things with some dish detergent and you'll be back in the adventure business.
The Xero Z-Trails Sandals as Workout Sandals
Working Out: As long as you're careful not to drop a weight on your toe, these sandals are equally great as workout sandals. The running sandal focused designed keeps the rubber hugging your feet during sprints, and the "zero drop" sole keeps your foot flat and in a healthy position during weight lifting. My workouts of choice are powerlifting, Crossfit style workouts, and gymnastics interspersed with sprints, stairs, and lunges. Through all of them, the Z-Trail performed better than I did….as much as I hate to admit it. Just don't drop a kettlebell on your toe.
The Xero Z-Trails Sandals as Adventure Sandals
Wearing the Z-Trail Sandals during the Motorycle Diaires: The Z-trails are truly all-around performing adventure sandal On a two -month trip by motorcycle through Vietnam and Laos, I actually broke one of my cardinal rules of riding…and wore these sandals as I rode my motorcycle. You see, in Southeast Asia, no locals wear shoes – they all wear sandals. It's just too damn hot. Your feet get sweaty, nasty, and uncomfortable. If you wear socks in your shoes, you overheat. If you don't wear socks in your shoes, your feet smell like fermented death afterwards. If you wear sandals, you have this cool breeze gliding over your feet as you ride. So why are the Z-trails perfect for taking this unnecessary risk?
The Z-Trails stayed glued to the bottom of my feet. So when I nearly dumped (crashed) my motorcycle while wearing these sandals, I was able to step down onto the road, get running, and push my bike back up before it hit the ground and while the sandal stuck to the bottom of my feet. Now, if the Z-trails can keep me from crashing a motorcycle, I can't think of an adventure they can't handle
**Note** – 1) The bike I was riding was tiny…if it was larger, this story would have been much worse 2) I highly advise against riding a motorcycle in sandals, regardless of what kind they are 3) I still love these sandals
Playing in the Water
Verdict on the Z-Trails as Adventure Sandals: They get the job done and will suffice in nearly any adventure. For heavy adventure, keep more sturdy shoes handy but still alternate with the Z-Trails to stay comfortable
Things to consider when adventuring in the Xero Z-Trail sandals
Adapting to Minimalist Footwear takes time: For normal walking and hiking on moderate terrain, nearly anyone should be able to adapt to these shoes if common sense is applied. For sprinting and running longer distances, if you're not experienced wearing minimalist footwear research "running in minimalist footwear" for information on how to adapt to running in these shoes while avoiding injuries
Slippery when wet: As you use these shoes in hot and humid climates, the sweat from your feet will collect on the topside of the soles. You won't notice this at all normally, until the sandals get wet and the tops of the soles get slippery. Take care of this by cleaning the sandals with dish soap to wash off the oils every once in a while, and you'll be running at top speed again.
Adventurously stylish sandals: the Z-trails are definitely worth the space in your bag
The Xero Z-Trails accomplish the feat of being stylish sandals by keeping the look minimalist and low key
The Z-trail's low profile and low key design are what make the sandals look good – for men at least. Similar to how most female backpackers default to the trusty "gladiator sandal" when going out and going classy, the Z-Trails one-up chunkier hiking sandals by not only performing well but looking good at night by way of a minimalist look. Whether paired with shorts or jeans, you might not get into the Academy Awards, but you'll look a lot better when toasting to the day's adventures
Durable Sandals proved by a 5,000 mile warranty:
Extremely durable materials and high-quality construction ensure these durable sandals will last through whatever travels and adventures await you on your path
Soles made from car tires last and grip every step of the way: The soles are seriously designed from car tire rubber, called "Feel True Rubber", inspired by some makeshift sandals that a pair of Tarahamura Indians made during a race from rope and an old car tire that they salvaged. The soles have been updated with a section of "Feel True Foam" which adds comfort on trails without compromising the "5,000 mile" durability standard.
High strength tubular nylon webbing for straps: The tubular nylon is soft from the get-go, but strong enough and durable enough to be used in my rock climbing equipment.
5,000 mile warranty: Direct from Xero:
"If you wear your FeelTrue® outsoles (or FeelTrue® section of Z-Trail) down to less than 1mm thick at the ball or heel of the foot (not an edge), we'll replace them with the same product for the following price:
"60% off MSRP (full, non-sale, listed, retail price) for the product, plus shipping.
"When people ask, "How long will my Xero Shoes last?" we say, "We don't know, but it's going to be a long, long time!" (I've put well over 5,000 miles on mine.)
That's why we offer this 5,000 mile sole warranty."
Bottom line on durability: Car tire rubber and rock climbing materials make the Xero Z-Trails a pair of very durable sandals. After 6 months of running, hiking, and cruising, I'm confident they'll last every one of the promised 5,000 miles
Specs of the Xero Z-Trail Minimalist Sandals
Size: 10mm thick
Weight: 5.4 ounces per shoe
Travel Sandal and shoe comparison
The Xero Z-Trail: More durable than sneakers, more versatile and better looking than hiking boots
Flip Flops
(such as Havaianas, Rainbows, or OluKai)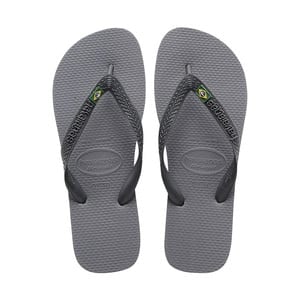 Havaianas – for relaxing, beach times with no adventure in sight, flip flops are a still a solid option
The Xero Z-Trails provide the same minimalist feel, and stylish look that flip flops provide while staying secure and allowing you to run, hike, and adventure with more durability.
If you're staying on the beach or by the pool, you can get away with the flip flops. If you're walking around and want to keep your pack light while adventuring, opt for the Xero Z-Trails.
When standing around (at home) I still rock my OluKai flip flops and love them…it's a requirement as a Californian. But for travel, I'm only taking my Xeros
Hiking Sandals
(such as Chacos or Tevas)
Chaco's provide a thicker, cushier sole which gives more protection on rocky terrain but compromises packing space and makes the sandals unsuitable for running.
For those planning to wear heavier packs (40+ lbs over 3 or more days) and intend to bring only their hiking sandals (not hiking boots to change to), consider sticking with the chunkier hiking shoe as you'll need the protection and comfort to stay happy.
If your hikes are shorter (1-3 days) with loads around 25lbs or less, or you'll also bring hiking shoes or boots the Z-trail is a viable option hiking option.
Additionally, if you will also bring a hiking shoe or boot and plan on treks 3+ days long with a pack over 25lbs, the Z-trail is a great addition to wear in spurts and wear around camp at night.
Other Minimalist Sandals
The primary difference between the Xero Z-trails and other sandals is the strapping system, which goes over the top of the foot instead of between the toes on all other shoes
The second major difference is sole design – each of the other flagship minimalist sandal soles are crafted from a single piece of rubber. The Xero Z-Trails combination of car tire rubber with patented foam combine comfort with extreme durability
The third difference: Xero Z-Trails (and Z-Treks) are the cheapest, while still performing amazingly
But you should definitely research on your own (I always do), so here are other great minimalist footwear brands

Luna Sandals (1mm thicker Vibram soles)
Bedrock Sandals (3mm thicker soles than the Xero Z-trails and made by Vibram
Shamma Sandals
Earth Runners (Vegan footwear, 2mm thinner than the Xeros)
Why are the Z-Trails the best sandals for men?
The Xero Z-Trails accomplish the feat of being stylish sandals by keeping it minimal and low key
The Z-trails are a more sleek, stylish sandal than the chunkier, alternative hiking sandals for men without sacrificing performance
The nature of the Z-trails encourages the use of the lower legs in a more active way that gets you in better shape, simply by walking
These things aren't ugly. 'nuff said?
Why are the Z-Trails the best sandals for women?
While women frequently opt for the "gladiator sandals" that do look "prettier" than the Z-trails, these are still a very understated yet stylish sandal for women yet much more durable and functional than the gladiator sandals, making it worth bringing the Z-trails as an additional (or replacement) sandal
These sandals are a more functional version of your beloved "gladiator sandals", except they let you run, jump, and play…like a girl should. But you can easily bring those and these too.
The Bottom Line for the Xero Z-trail Review
I recommend the Z-Trails for travelers and adventures trying to keep their bags light, especially travelers comfortable with minimalist footwear
Travelers attempting to carry everything in one bag and packing light but need gear that performs multiple functions well will love these sandals
For travelers headed to Southeast Asia, a place full of adventures where no one wears shoes, these sandals are a perfect fit
Suggestion: Pair with the Altama Maritime Assault Boot – a rugged Converse style boot suitable for hiking and adventure – to cover all of your footwear needs without hampering your adventures. (Read the Altama Maritime Assault Boot review here)
Where to Buy Xero Shoes, Xero Sandals, and the Z-Trails
Xero Online for ~$79.99 + shipping and including a 5,000 mile warranty
Amazon: Purchase the Xero Z-trails for ~$84.99 with free shipping through Amazon Prime's Free Trial

(This has been a review of the of the Xero Z-trail: The Best Sandals for Travel)