Men's Travel Pants: The unicorn of the travel wardrobe | What to take and how to avoid overpacking are some of the most vexing problems in travel prep. Having durable clothing that looks good, doesn't get dirty, and performs well from the city to the trail definitely makes packing and planning easier and this is why nearly every minimalist traveler is on the search for the perfect pair of travel pants.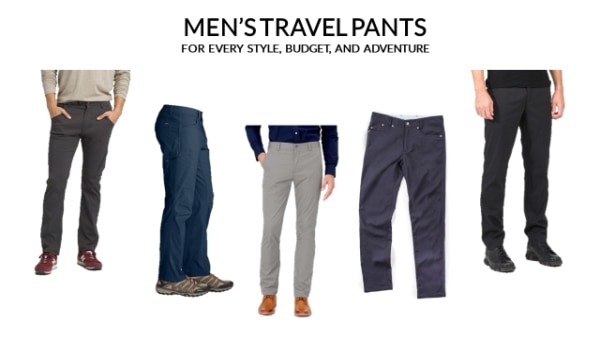 Having the perfect travel pants is one piece in a system that let's you travel the world with only a carry on backpack, avoiding baggage fees, the risk of losing baggage, and making the process of getting into and out of airports much easier. The perfect travel could be your single pant for an entire trip – making your bag smaller and lighter and your life a bit more simple.
Unfortunately, the perfect travel pants don't exist, but there are plenty of options, depending on your type of travel, style, and individual needs. To find the best travel pants for your needs, style, and adventure, we first need to understand what contributes to a great travel pant
This article contains affiliate links

15+ Great Men's Travel Pants for Every Style and Budget
---
CONTENTS

What determines a Good Pair of Men's Travel Pants?
Materials & Construction & Construction, Style, and Travel Appropriateness…
---
---
Materials & Constructions in Travel Pants
When it comes to assessing a potential pair of travel pants men need to judge the pants on a few, select traits to ensure a comfortable, durable, and stylish pair of pants suited to their unique travels and adventures.
The perfect travel pants for men will have all of the traits listed below to some degree, but will never have all perfectly.
Hiking pants will be durable and breath foremost.
Travel ready chinos will have a refined cut, be stain and wrinkle resistant, and be able to go days without washing.
Travel ready jeans will be comfortable and stylish, while being lightweight, drying quicker than normal, and adding a bit of stretch.
The bottom line: When looking for the perfect travel pants men need to prioritize the traits for the travel and activities to come and the style/materials necessary. Use the following list as a checklist of what to look for in those perfect pants
Breathable: Do the pants allow air (and water vapor from sweat) to pass through easily? Or is moisture easily trapped?
Moisture wicking: For sweat that accumulates next to the skin, does the fabric transfer it out to dry? Or trap it next to the skin.
Quick drying: How quickly do the pants dry? How well do they dry in the shade or in lower temperatures?
Durable: How well does the pants' fabric stand up to abrasion
Odor Resistant: How many washes can you skip before the funk becomes too strong?
Dirt and stain Resistant: resistance to dirt and grim will let you skip washes when on the move
Water resistant: Small spills rolling off the pants and light rain being shed quickly will ease your life
Slight stretch: Slight freedom of movement makes the pants more suitable for active activities and comfortable on long flights
Packable (low bulk and weight): When folded or rolled, how much space do the pants take up compared to other clothes?
Reinforcement in high stress areas: Gusseted crotches and additional layers of cloth at the knees will let you use these pants a little harder without worry and save you the time and money of replacing them anytime soon
---
Style & Cut in a Pair of Men's Travel Pants
Style and cut arguably has the most influence on how versatile a pair of pants are. If trimmed too baggily and with too much a hiking cut, you won't be able to blend in at that nice restaurant you'll go to from time to time. If the cut is too trendy and fashionable, you'll be out of style by the time you return from your trip or the cut will restrict your movement making the pants unsuitable for hiking and adventure activities (I'm looking at you skinny jeans).
The best men's travel pants will have a timeless, neutral fit, not too baggy, not too slim, with just enough room to let you move. This approach will lead to a pair of pants that you can wear for years virtually anywhere without issue
Key Points to Look for in the Style and Cut of Travel Pants
Neutral styling – fits in the city but isn't restrictive in the backcountry
Slightly active cut for freedom of movement (aided by slight stretch in the Materials & Constructions)
Pants that are styled & cut like jeans, chinos, or minimalist hiking pants tend to be more suitable for a wider range of circumstances and stand the test of style over time.
---
Travel Specific Features that Improve a Pair of Pants
If you had all of the above, you might have the perfect pant, but not the perfect travel pant…yet.
The best travel clothing companies add their own tiny features that enhance or ease how you travel. A few examples include
Hidden security pockets: Travel pants with hidden pockets ward off pickpockets and make it easier to travel through public spaces with
Zippered or buttoned pockets to ward off pickpockets
Stow pockets: that allow you to stow the pants into themselves
Extra comfort: Soft waistband, slight stretch, and soft lined internal fabric make for a pair of comfortable travel pants. Mens pants normally prioritize function – adding comfort makes for a pair of pants ready for daily wear.

Pro Tips for Picking Up a Great Pair of Travel Pants
1. Search the used market for high dollar brands
Ebay and and Reddit used gear forums are great options for picking up great, lightly used gear within your budget.
2. Ditch the Traditional Jeans when Traveling beyond city limits
Once upon a time, Levi Strauss' jeans were a wonderfully high tech innovation. Its not that time anymore. Traditional cotton jeans are heavy, dry slowly, and restrict movement in a way that make them horrible for the outdoors or any activity that's potentially wet or has a lot of movement. If your travels are confined to the cities, jeans may work. If you adventure beyond city limits, do yourself a favor and ditch the jeans in favor of one of the travel upgrades below.
3. Pick a pair pants that are suited to your activities and travel style instead of a pair of pants that do everything
If you'll spend most of a vacation hiking, then your pants don't need to look like slacks, just stylish (like the Foehn Brise Pants). However, if you don't plan on trouncing through the woods, a techy pair of slacks (like the Bluffworks Ascender Chinos). But if you do need to adventure everywhere and do everything, paying a little extra for an unbeatable pant (like the Western Rise Evolution Pantshttps://western-rise.pxf.io/at-pant). Aim for pants that fit your task, your adventure, your style, and that's it, and it will make finding the perfect travel pants mens easiest travel task.
Now, let's get into our list of the best travel pants for men…
---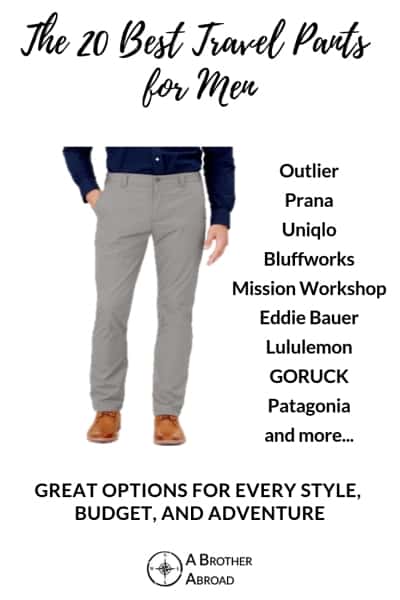 The Best Travel Pants Available (A Running List)

The Most Perfect Travel Pants for Men I have Ever Tested…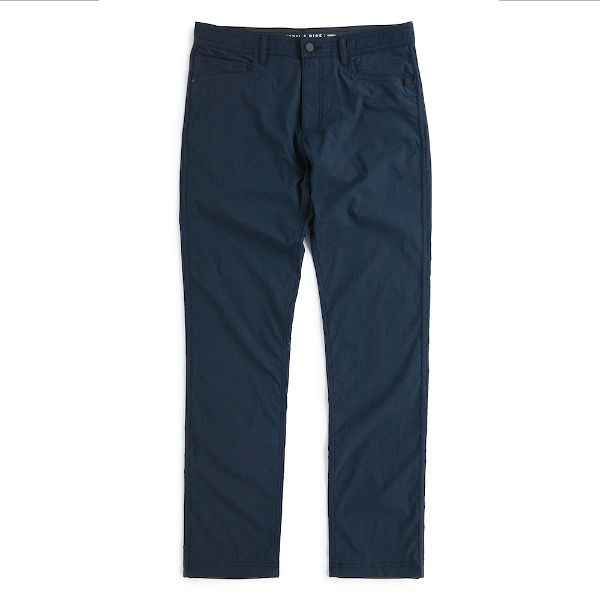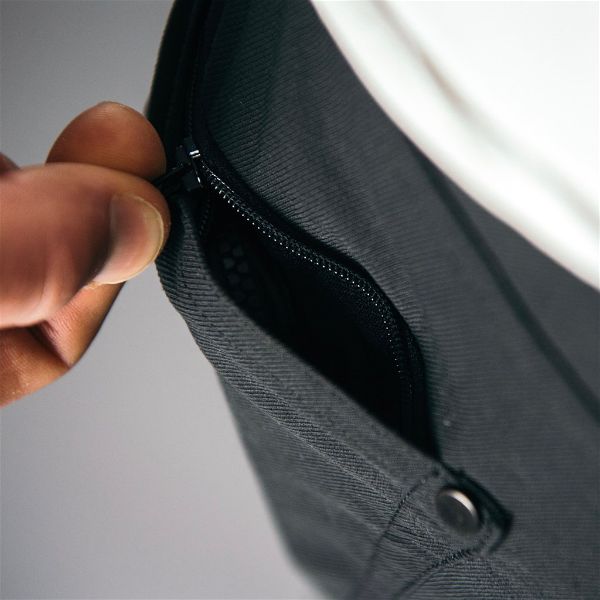 Price: $149
Style: 5 pocket jeans with a slimmer cut, without being too slim. Would fit perfectly for a night out or a day in the office
Materials & Construction

Custom made Supplex nylon combines hundreds of extremely tiny, strong, and air texturized threads combining them into a single, durable, yet soft fabric. Tough enough for use in rock climbing gear. Repels stains, dries quickly, packs small, and is extremely light.
Durable hardware throughout

Travel Readiness Features:

Two hidden zippered pockets
Water resistant finish
Repels grime, dirt, and stains like no other

The perfect travels pants (mens) for hiking, adventuring, and casually styled travel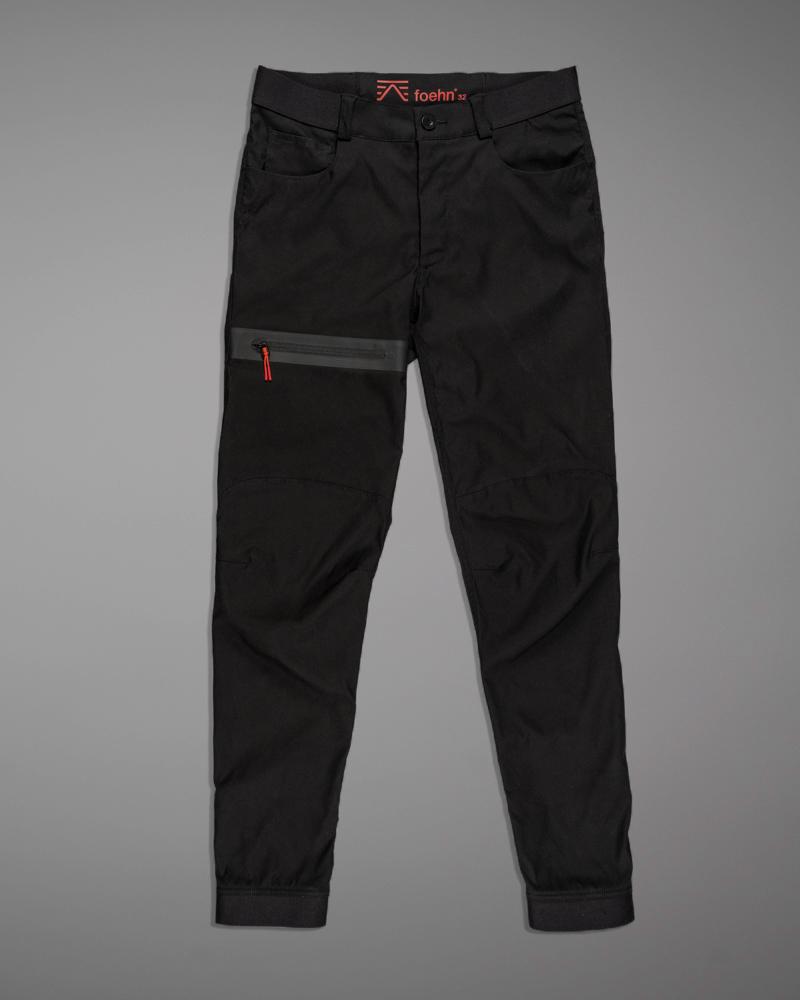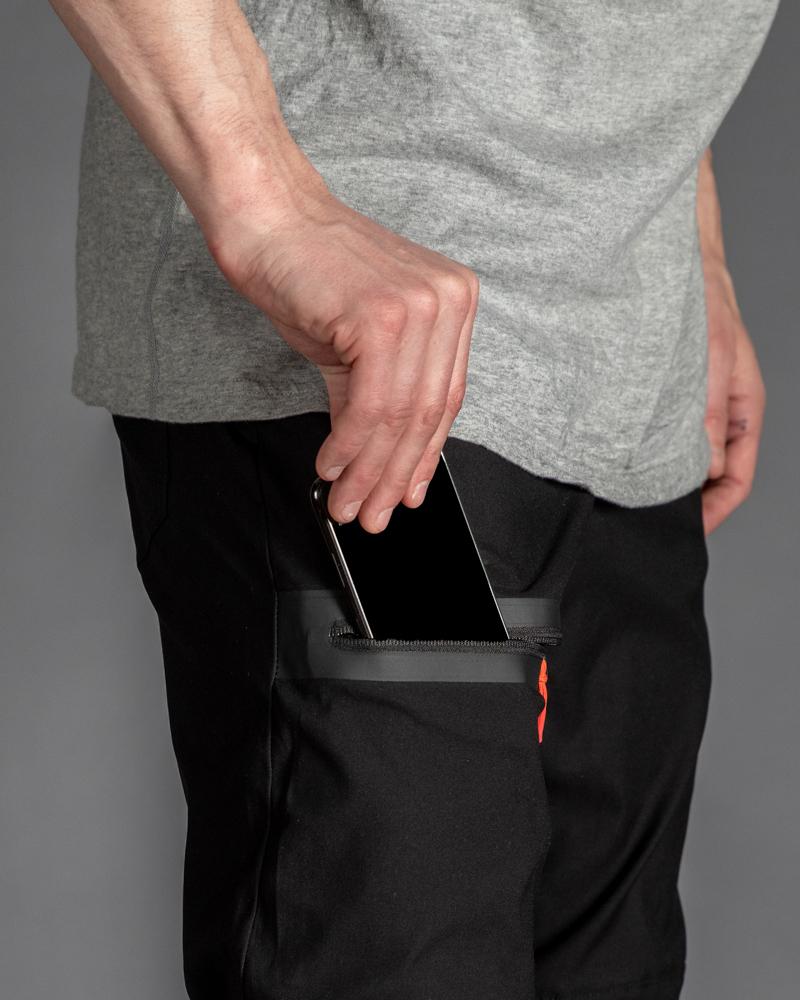 Price: $130
Style: Jeans styling with a hybrid track pant-hiking pant construction. Best of all worlds.
Materials & Construction

Durable Water Repellant Finished 100% polyester fabric designed for stretch, hard use, and abrasion, finished with YKK hardware

Travel Readiness Features:

Stretch fabric and soft feel make for tons of comfort
Zippered thigh pocket with internal mesh organization proves useful for passports and tech

Tough pants with a lifetime warranty, designed for hard use.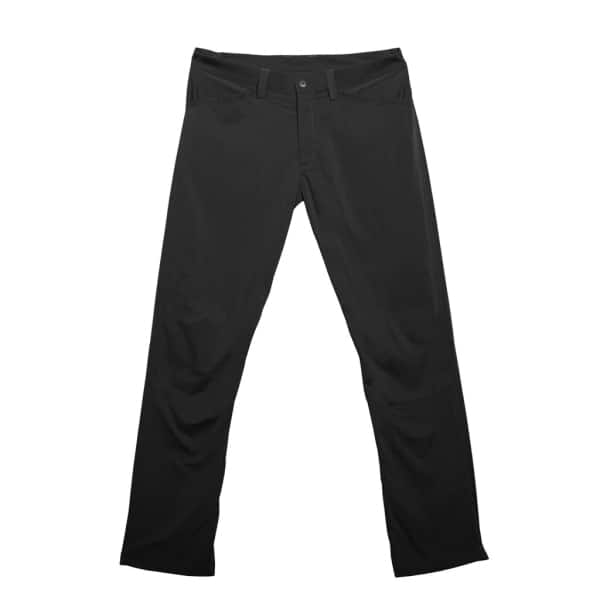 The design of jeans built with a 2-way stretch GORUCK's "ToughDry" fabric that packs down small and dries fast (Same fabric as the GORUCK Challenge Pants in a jean cut for understated, everyday wear)
Price: $165
Style: Jeans
Materials & Construction

94% nylon, 6% spandex
Made in the USA

Lifetime Warranty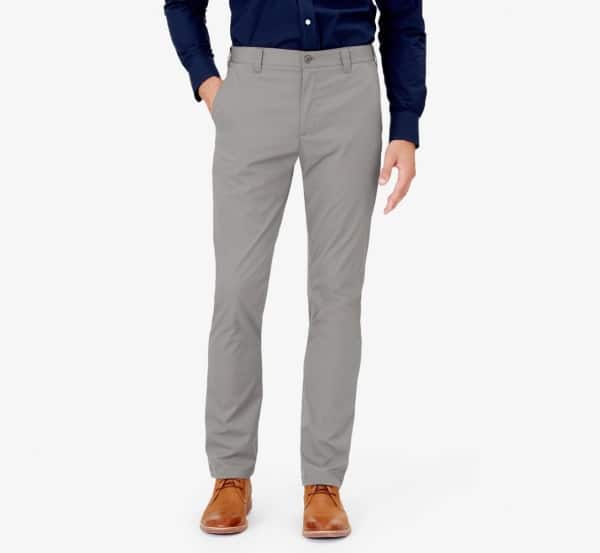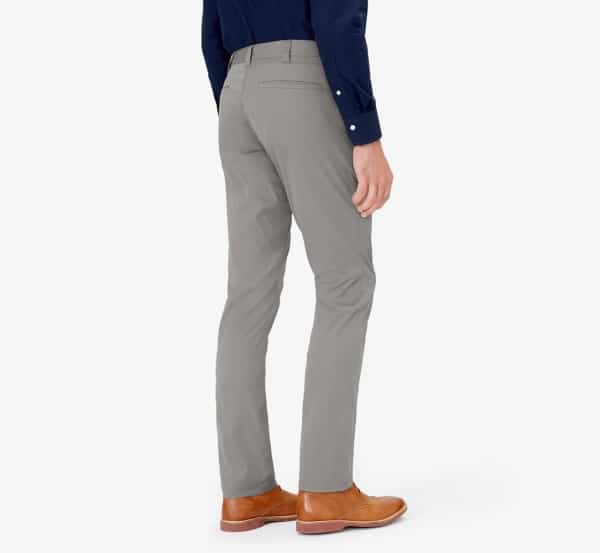 "Stretch, breathability, wrinkle resistance, and comfort, but without leaving you looking like part of the tourist herd." Designed to be an extremley technical, cotton free pair of office pants, but they'll do just fine keeping you looking snazzy during your travels.
Price: $125 on Bluffworks.com
Style: Chinos
Travel Readiness Features: Anti theft "secret pocket"
Materials & Construction:

100% polyester, quick drying with nylon pockets

Also Consider the Bluffworks Originals for 'only $98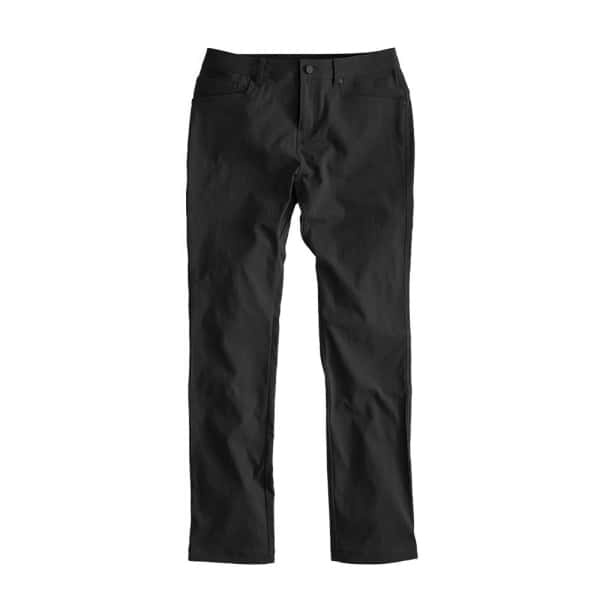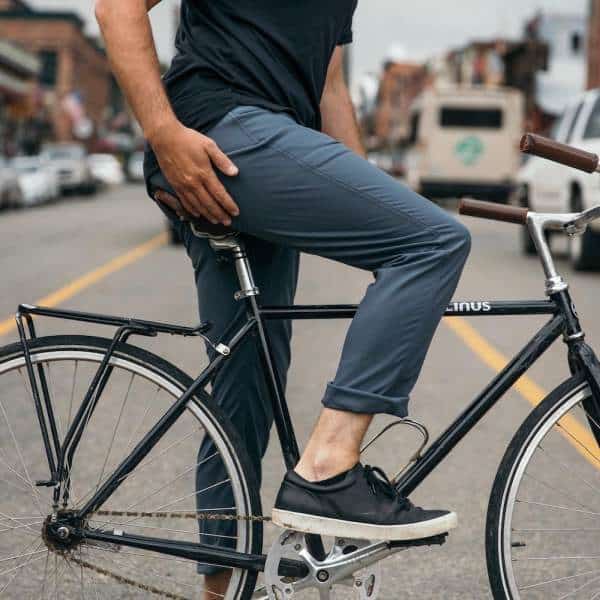 "Extremely durable, stretch nylon canvas with air-texturized fibers makes them both lighter and more durable than cotton denim. The AT Cloth sheds water in a light rainstorm, dries extremely fast when wet… "
Price: $128
Style: Jeans
Travel Readiness Features: Rear right hidden zippered pocket

Materials & Construction: air-texturized rugged nylon canvas with slight 2 way stretch (97% nylon, 3% spandex), finished with a durable water repellent. YKK Zippers

Made in America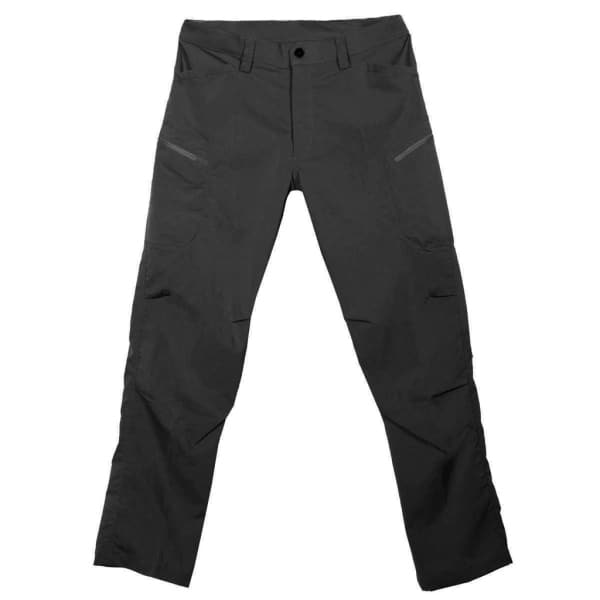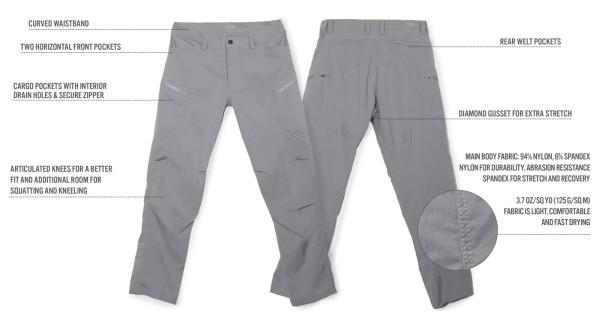 Price: $195
Style: Hiking
Travel Readiness Features
Zippered cargo pockets with drain holes
Materials & Construction

94% nylon, 6% spandex
Abrasion resistant with two way stretch
Diamond gusset (diamond shaped piece sewn into the crotch area) for extra stretch during high steps and squats
Articulated knees for greater range of motion
Made in USA

Lifetime Guarantee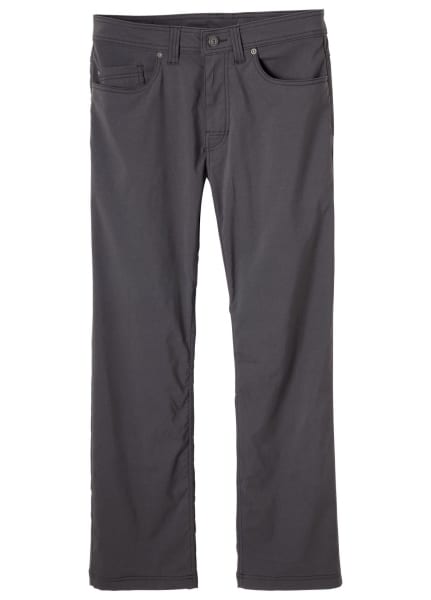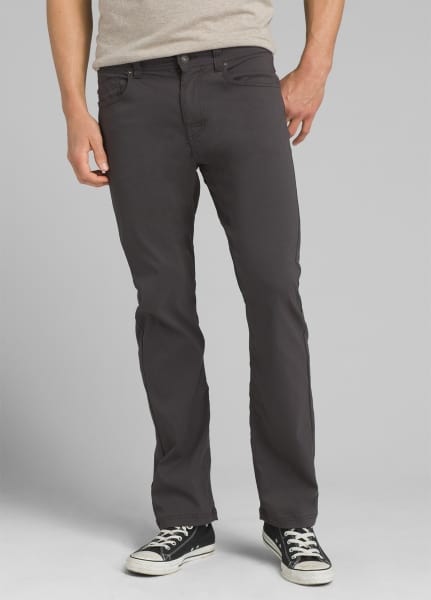 Price: $79.99
Style: Jeans
Materials & Construction

"Stretch Zion fabric" with 97% Nylon, 3% Spandex

Travel Readiness Features: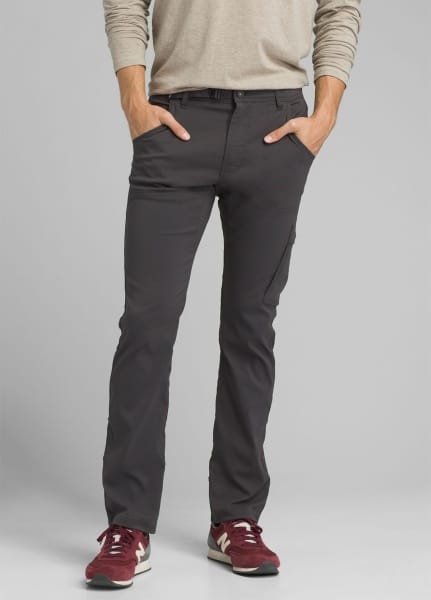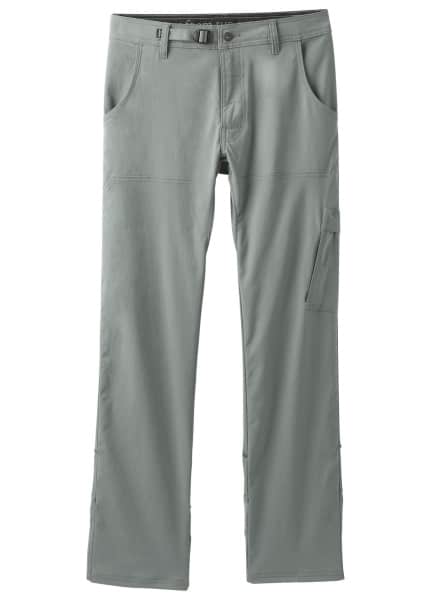 Price: $89
Style: Jean/Hiking (yet…pretty stylish for a hiking pant)
Travel Readiness Features
Mesh, flow through pockets
Materials & Construction

97% Nylon / 3% Spandex
Durable Water Repellent Finish
Quick dry stretch performance fabric
Abrasion resistant

Also See: The Stretch Zion Pant – for a fuller fit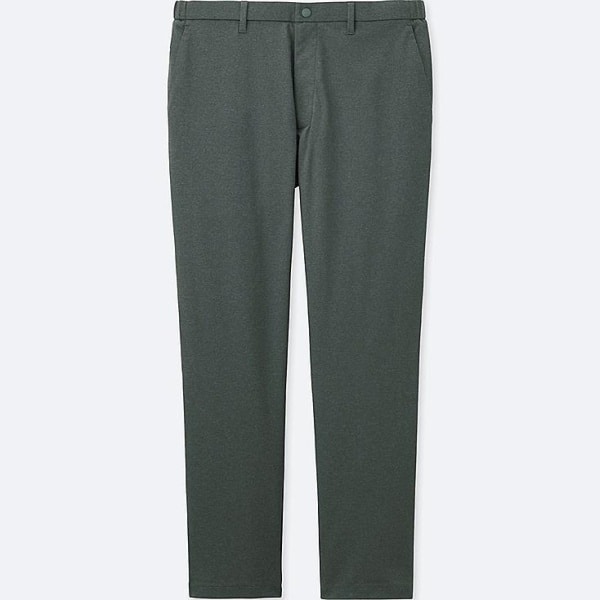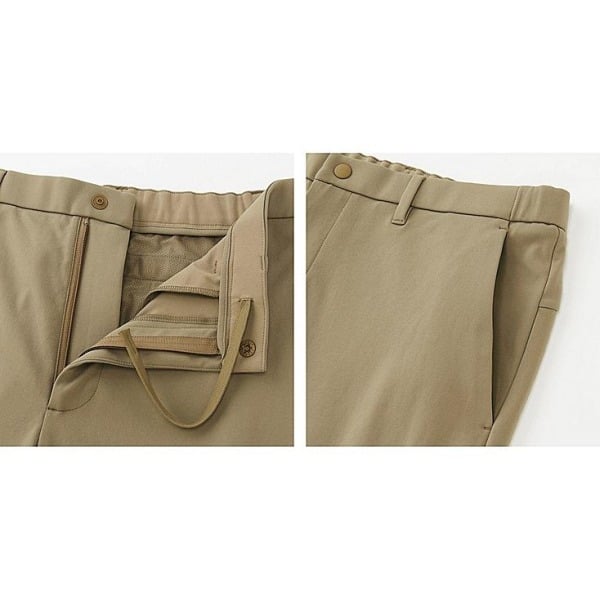 A budget friendly pair of travel chinos that are completely synthetic, odor fighting, and ready to be your single pair of travel pants. If you manage to find something cheaper, let me know.
Quick Drying
Anti-Microbial
Anti-Odor
Nylon/Polyester/Spandex blend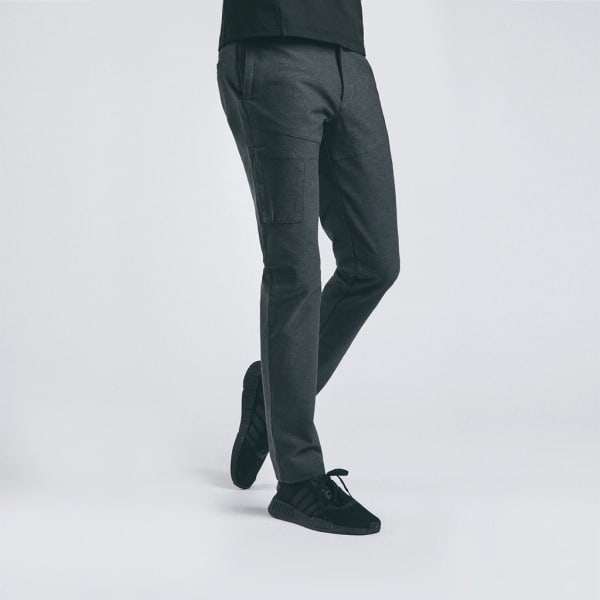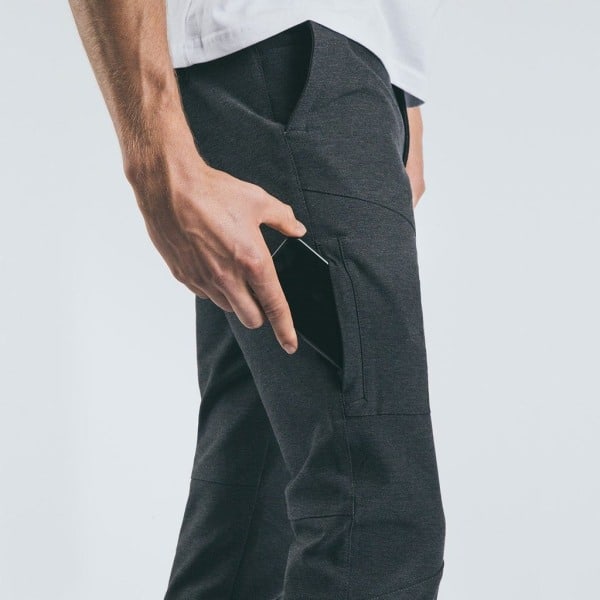 Price: $285
Style: Jeans
Materials & Construction:

4 way stretch
Abrasion-resistant, breathable, wicks moisture via Durable Water Repellent Finish, and retains shape
55% Cotton / 35% Polyamide / 10% Elastane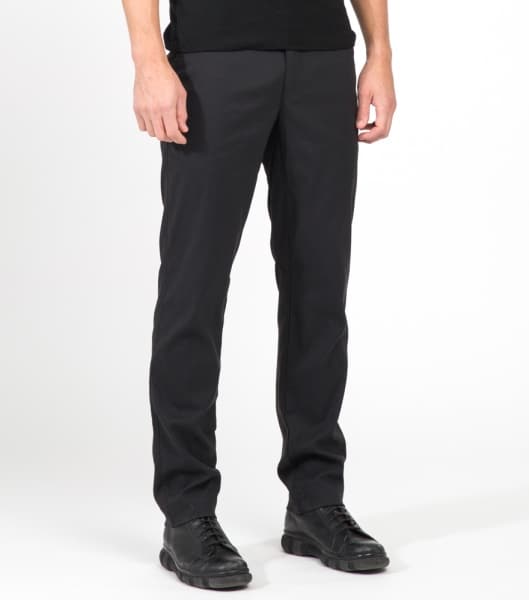 Much cheaper and durable than the famed Outlier Slim Dungarees and though they lack the 4 way stretch (2 way instead), they look great and perform better than most men's pants for travel and have a fashionable cut that still fits perfectly in the office.
Read more in our Review of the Outlier Slim Dungarees
or
Outlier Clothing Review: Assessing the Slim Dungarees, Strong Dungarees, Futureworks, and the New Way Shorts for Travel.
Price: $140
Style: Chinos
Materials & Construction:

Lightweight and breathable, while the light DWR
2 Way Stretch
97% Nylon, 3% Elastane canvas from Cordura yarns woven in Sweden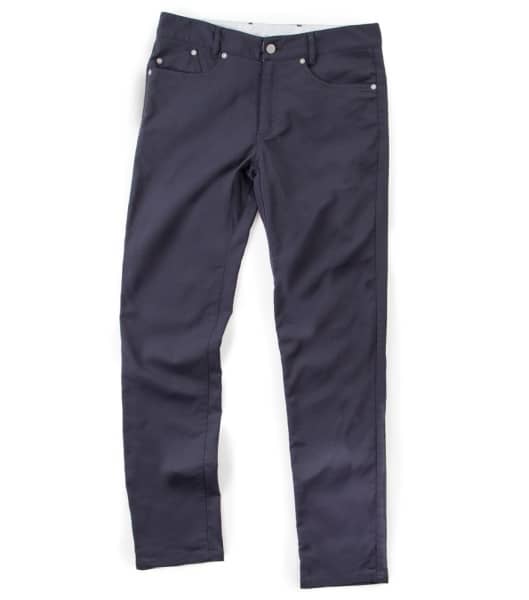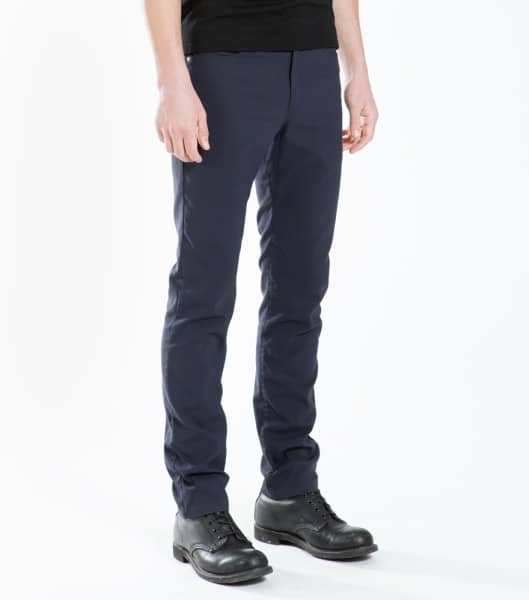 A high-tech 4 way stretch material molded into the cut of a fashionable jean. Freeing enough to run hike and do yoga in, slick enough to wear to the office, and technical enough to stay dry and stave off odor every step of the way.
Read more in our Outlier Clothing Review: Assessing Slim Dungarees, Strong Dungarees, Futureworks, and the New Way Shorts for Travel.
Price: $198
Style: Jeans
Materials & Construction

Made from Outliers' Workcloth Doubleweave Canvas of
82% Nylon, 16% Polyester, 2% Elastane
4 way stretch
Stays dry in light rain, yet dries fast if it does get wet
Stain resistant
Made in Portugal with Swiss fabric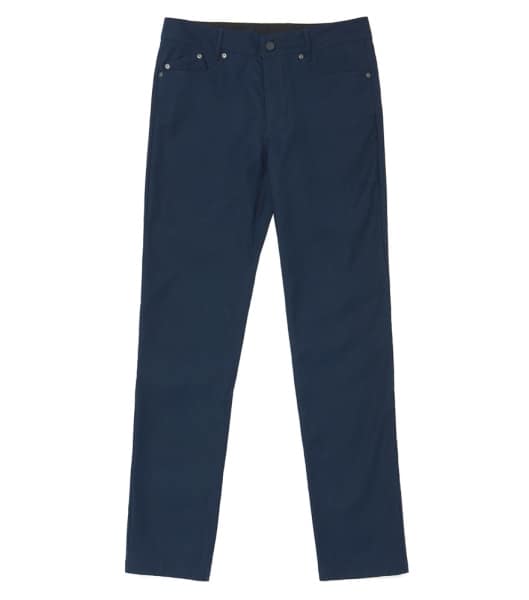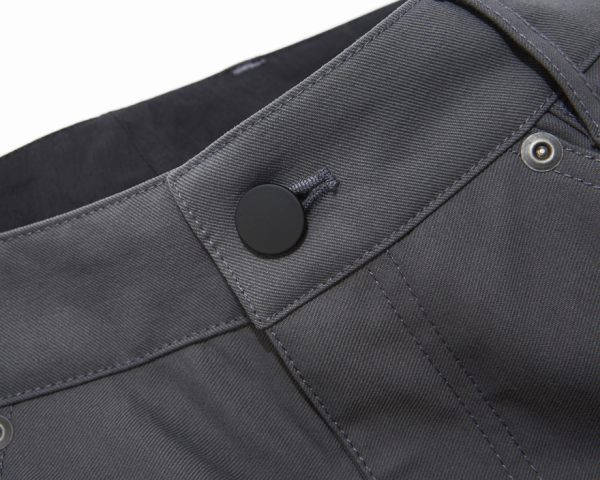 Designed from a tough technical "Strongtwill" to be the bulletproof pants that Levis Strauss intended to make. Add slight stretch, quick drying, and odor resistant properties and you have a damn tough pair of travel pants. I wore mine for 3 months and still didn't break them in.
Read more in our Outlier Clothing Review: Assessing the Slim Dungarees, Strong Dungarees, Futureworks, and the New Way Shorts for Travel.
Price: $198
Style: Jeans
Materials & Construction:

Made from Strongtwill, 96% Nylon, 4% Elastane,
dubbed by Outlier as "a tough as fuck fabric." (From my experience wearing them, I'm inclined to agree)
Slight 2 way stretch
Slight water resistance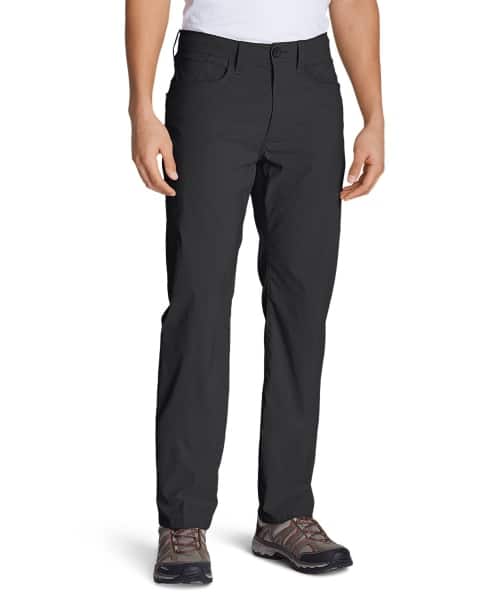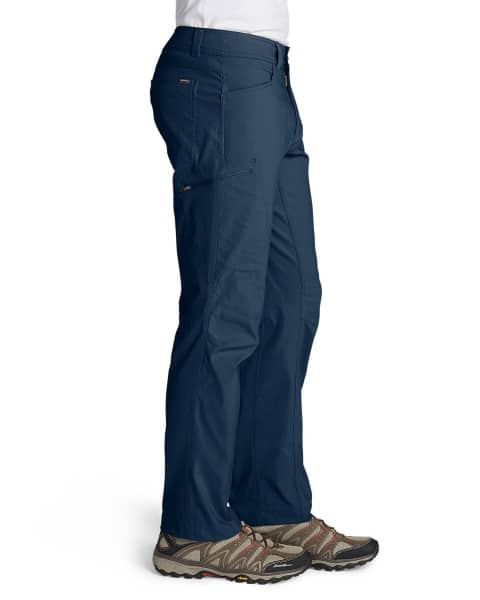 Price: $50
Style: Jeans
Materials & Constructions

94% nylon/6% spandex
Water Repellent Finish
2 Way Stretch Fabric

Lifetime Gurantee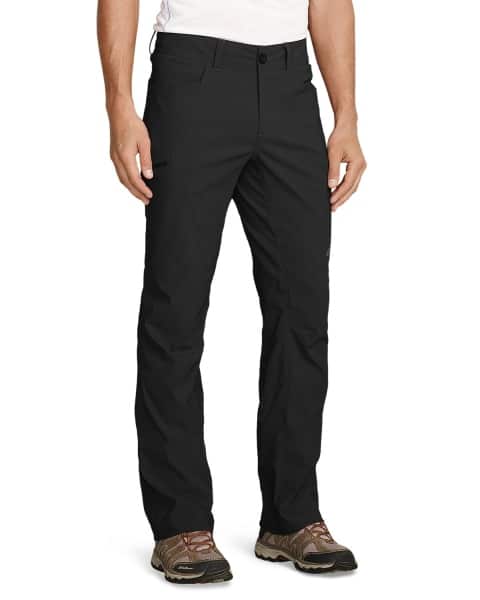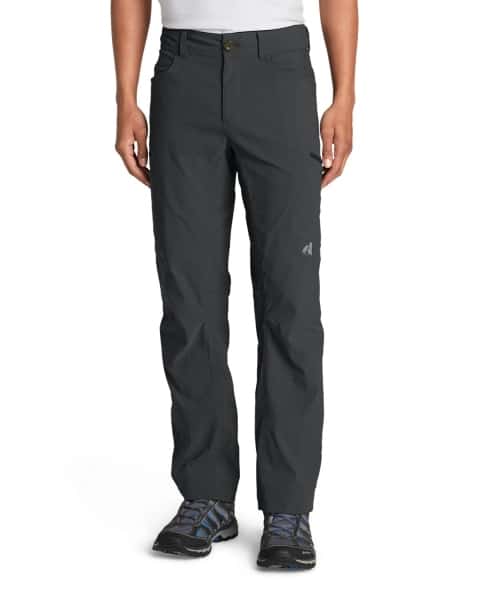 A traditional guide pant designed for all season use, updated with technical fabrics, streamlined fit, and
Price: $60 at Eddie Bauer Online
Style: Hiking Pant
Travel Readiness Features
Secure zip cargo pocket
Materials & Construction:

94% nylon/6% spandex Two way nylon, spandex stretch
Durable water repellent finish
Lightweight fabric packs down small

Lifetime Guarantee

Price: $128
Style: Chinos
Travel Readiness Features

Hidden zippered hip pocket

Materials & Construction

Sweat-wicking
4 Way Stretch
Synthetic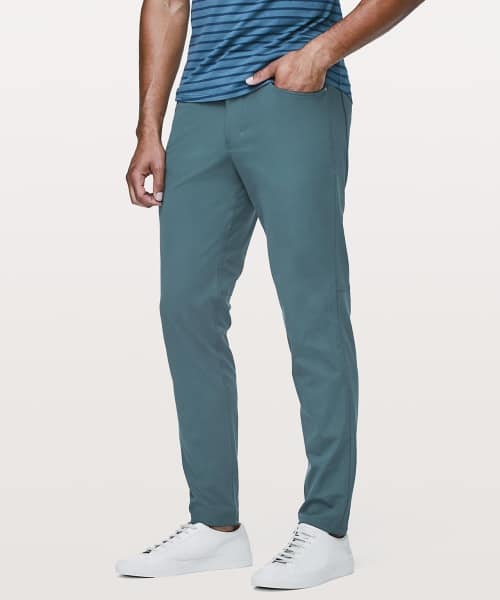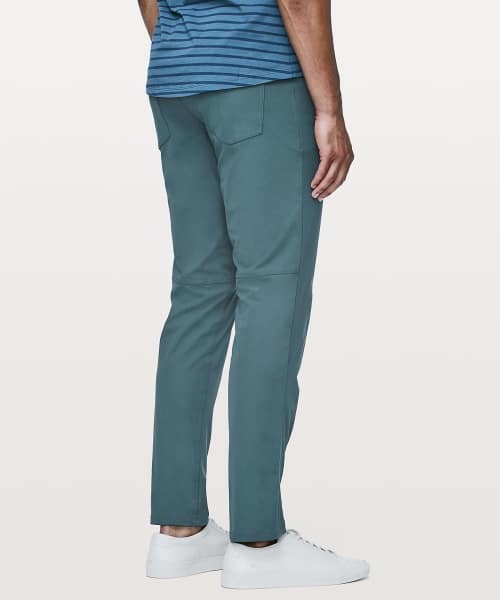 Price: $79 at Lululemon.com
Style: Jeans
Travel Readiness Features

Hidden zippered hip pocket for stowing phone

Materials & Construction

Sweatwicking
4 Way Stretch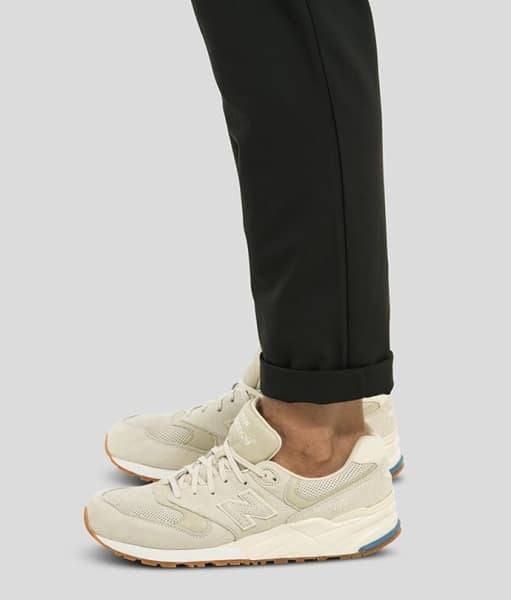 Style: Jean
Materials & Construction

4-way stretch.
Durable CORDURA threads
Italian Hardware

12 Month Return Policy


Price: $89 at Patagonia.com, $62 at REI.com
Style: Hiking Pants
Materials & Construction

4 Way Stretch
Durable Water Repellent (DWR) finish
95% nylon (67% recycled)/5% spandex

Travel Readiness Features

2 front hand zip pockets; 2 rear zip pockets; zip thigh pocket holds a multitool or your lip balm

Other great travel gear articles