Wander Southeast Asia for more than 5 minutes and you'll notice something funny – everyone handles business in sandals. And by "business" I mean everything from hard work in rice fields, hiking up mountains with loads on their back, and every other kind of hard labor you can imagine. All in sandals.
So what does this have to do with you? Picking up the best travel sandals you can find before your trip will add comfort, add convenience, and lighten your pack more than you think.
Take a lesson from the Southeast Asians that work harder than most ever will, and make bringing a good pair of adventure-ready sandals a priority for your travels.
This article contains affiliate links

CONTENTS

WHY YOU NEED A GOOD PAIR OF TRAVEL SANDALS FOR YOUR ADVENTURES: TO HANDLE THE HEAT AND STAY ADVENTURE READY
The three main reasons I always carry a solid pair of sandals are:
In hot and tropical climates, adventure sandals are always better than boots or shoes
Having a pair of strap up, adventure ready sandals is invaluable for wet adventures like snorkeling trips, canyoning, and anything else
Always, have a pair of sandals for hostel showers
---
1. In hot and tropical climates, adventure sandals are always better than boots or shoes
2. Having a pair of strap up, adventure ready sandals is invaluable for wet adventures like snorkeling trips, canyoning, and anything else
For some of the best adventures in Southeast Asia, you need a solid pair of adventure sandals like Xeros, Tevas, or Chacos. When I was motorbiking through Laos and Vietnam in the humid heat, or hiking up mountains in the free time, my trusty boots were comfy but couldn't vent well enough to keep my feet dry, and pooled up water during downpours.
After a whole two days of riding in the humid heat, I switched to riding my motorbike the next few thousand kilometers in my Xero Trails. I hiked in these sandals, rappelled down waterfalls in the sandals, and even worked out in them.
If you're traveling to the hot humid of Southeast Asia, adventure sandals are lighter and more comfier than boots, so don't forget them.
Not sure where to start? Jump to these sandals for your adventure travels:
---
Always, have a pair of sandals for hostel showers
I've seen (and heard) some pretty grimy things go down in hostel showers, and also seen the athlete's foot travelers have gotten for going barefoot. This one goes nearly without saying, but if you want to avoid infections on your feet, especially if you have scratches and cuts, bring a pair quick drying flip flops with you that are durable enough to wear around during the day.
Though most any flip flops will work, even the $3 ones from your local minimart in Southeast Asia, I can personally recommend these three:
All rubber, durable, and lightweight, these two options are guaranteed good investments
And though these sandals tend to be a bit beefier and slower drying, they're so comfortable, durable, and stylish that if you want an all around sandal that'll last a lifetime, they're worth the tradeoff.
Beefy soles with lots of grip adventures on the trail, leather or synthetic leather footbeds that mold to your feet, and beefy straps make these long lasting, practical, and stylish investments.
---
Now, let's look a little closer at each of these great options to see which one is best for your tastes and adventures

OUR LIST OF THE BEST TRAVEL SANDALS FOR RELAXING, ADVENTURING, AND STYLING

BEST MINIMALIST SANDALS
If you're traveling lightweight, aiming to travel with only a carry on bag or reduce your bag, minimalist sandals for travel are a must – without sacrificing comfort. These minimalist sandals are lightweight and packable but well built enough to walk all day, run, hike, workout, swim, and more.
XERO Z-TRAILS
These minimalist sandals are modeled after the Huarache running sandals that fueled the original barefoot running crazy. Car tires for soles, a solid webbing system that keeps the sandal strapped to your foot even when running, and a 5,000 mile warranty (literally) make these a great option for adventures. The thin profile and roll-up, easy to pack sole also make them super convenient for travel.
All of these reasons are exactly why I wore these sandals as much as I wore boots during my first year of travel. Motorbiking Vietnam, Laos, Cambodia, and Thailand, short stints through the Himalayas while hiking to Everest Base Camp. In between the adventures I always worked out and ran in these sandals too.
Keep in mind that the low profile on these sandals does take a little adjustment, so follow a normal "barefoot shoe" transition plan before doing any running in these – but if you do plan start running in these, expect some amazing results.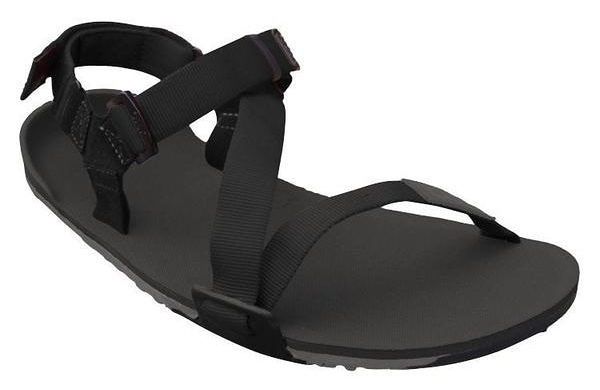 Click here to read our full Xero Z-Trail Review
or
Click here to see more styles, colors, and the latest discounts
LUNA LEADVILLE TRAIL
A counterpart to the Xero Z-Trails, Luna's deliver the same lightweight, packable, adventure ready show but with a "between the toe" design instead of an the "over the toe" design that the Xero's have – so choosing Xeros vs. Lunas just depends on personal preference.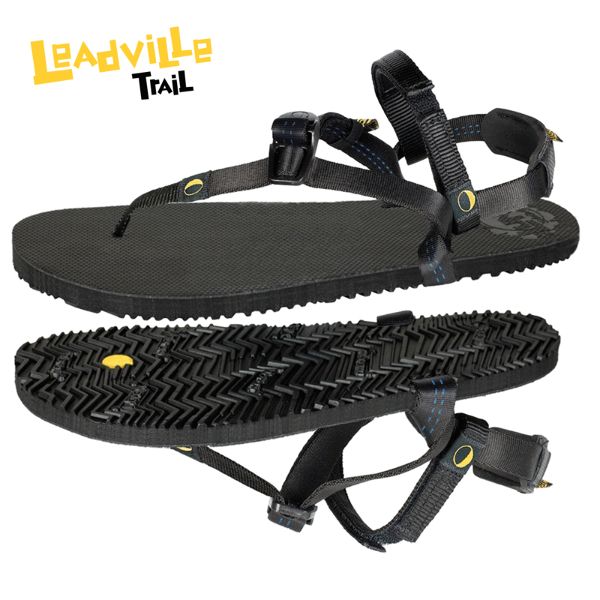 Lunas come in a handful of variants with the Mono, Oso, Leadville Trail, and Origen 2.0 with varying tread aggressiveness and sole thickness (and cushioning) to suit your level of comfort and offroad adventures.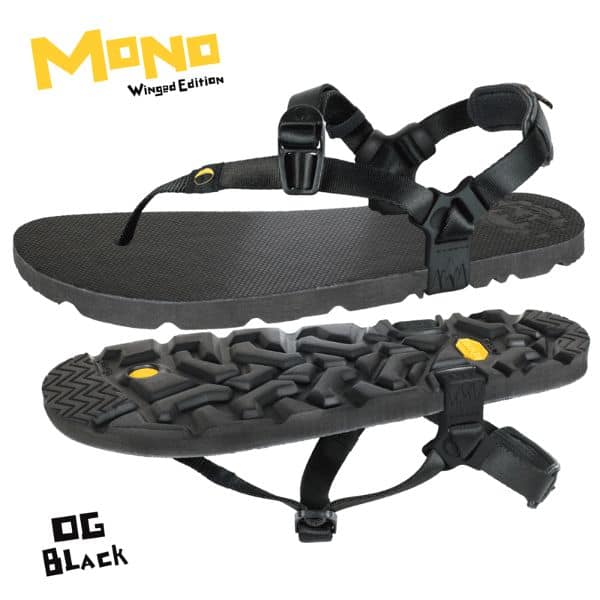 Click here to check out the full Luna Sandals Line

BEST WALKING SANDALS
A pair of good walking sandals is an excellent addition to find, test, and pack well before your travels. These sandals, the most comfortable walking sandals available according to other travelers, combine arch support, contoured footbed designs, and a design that complements foot shape to ensure comfort through miles of walking through city and light trail alike.
CHACOS LOWDOWN SANDAL
Or Checkout the more lightweight, minimalist version, the Chaco's Lowdown Sandal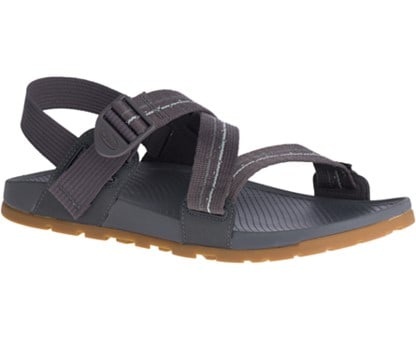 Click here to see the Chacos Lowdown Sandal
---
More Comfortable Walking Sandals:
Ecco Yucatan Sandal**
Birkenstock Arizona**

BEST HIKING SANDALS
If you plan to adventure into the outdoors and back country, a pair of solid hiking sandals are a must. If you plan on adventuring near water, or in the hot heat of summer that can make non-breathing hiking boots miserable, then consider these hiking boots. Durable rubber outsoles (so you don't feel sharp, jagged rocks underfoot on rocky terrain), comfy footbeds, and quick dry foot straps made of thick and comfy materials essentially take the soles of of hiking boots and the function of a beefy sandal to create the best of both worlds.
CHACOS Z-CLOUD
Chacos are a classic and a staple as adventure and hiking ready sandals. Chacos are a bit beefier than the Xero Z-trails mean you don't have to worry about adjusting to barefoot shoes – just strap them up and go.
Originally created for whitewater rafting guides that have to trek and hike between river runs. Chacos are essentially the sole of a hiking shoe with a comfortable and quick strap up system making these perfect for hiking and adventuring in hot and wet climates for long distances without getting tired feet.
The Chacos Z/Cloud is a classic, well suited to adventure with the Chacos Banded Z/Cloud offering a slightly more secure fit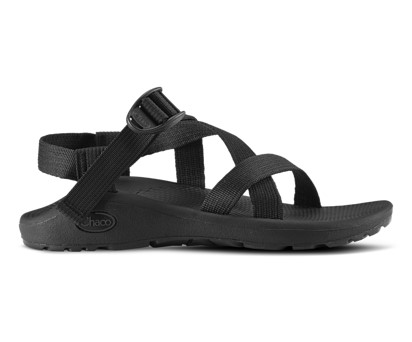 Click here to see available styles of the Chacos Z/Cloud
Other Great Hiking Sandals**
Keen Newport H2: Water friendly and comfortable sandals beefy enough to hike hard terrain and rocky trails

Best Flip Flops
Flip flops are the undisputed king of foot wear for those who love to wear sandals. These flip flops tech the cheap, rubber "foot thongs" and level up with better quality, design, and comfort, for a packable pair of footwear that excels on the beach, in the city, and everywhere else in between that you can get away with wearing them.
INDOSOLES ESSENTLS
Indonesian born and produced by a fellow Californian, Indosoles were inspired by the Indo practice of taking old car tires, stripping the tread, and cutting them into sandals that last nearly forever. The Indosoles founder and team recognized that upcycling flip flops from car tires is not only an eco-friendly practice but creates tough sandals with a fairly long life – and I love them.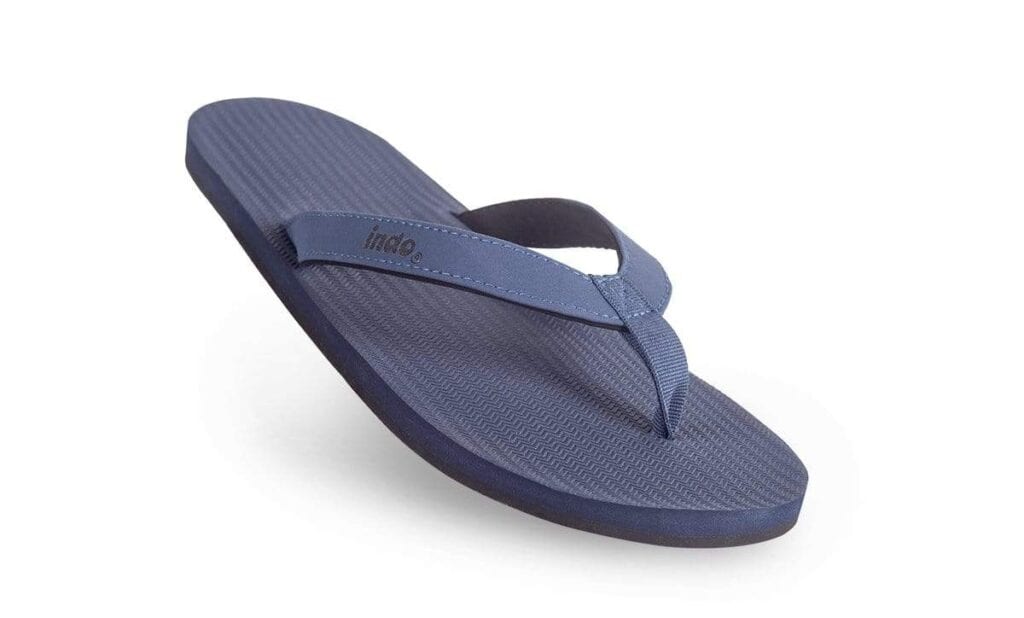 The sole of Indosoles is made of reconstituted car tires with a hefty tread pattern that's good enough for light hiking – if you're used to hiking in flip flops. The foot bed is made of a softer rubber that's durable but molds to the shape of your foot, hugging it more over time.
If you're in the market for flip flops, I highly recommend the Indosole ESSENTLS Flip Flops as they look great, and are a great value for the money. Both the flip flops, and the slides if that's your style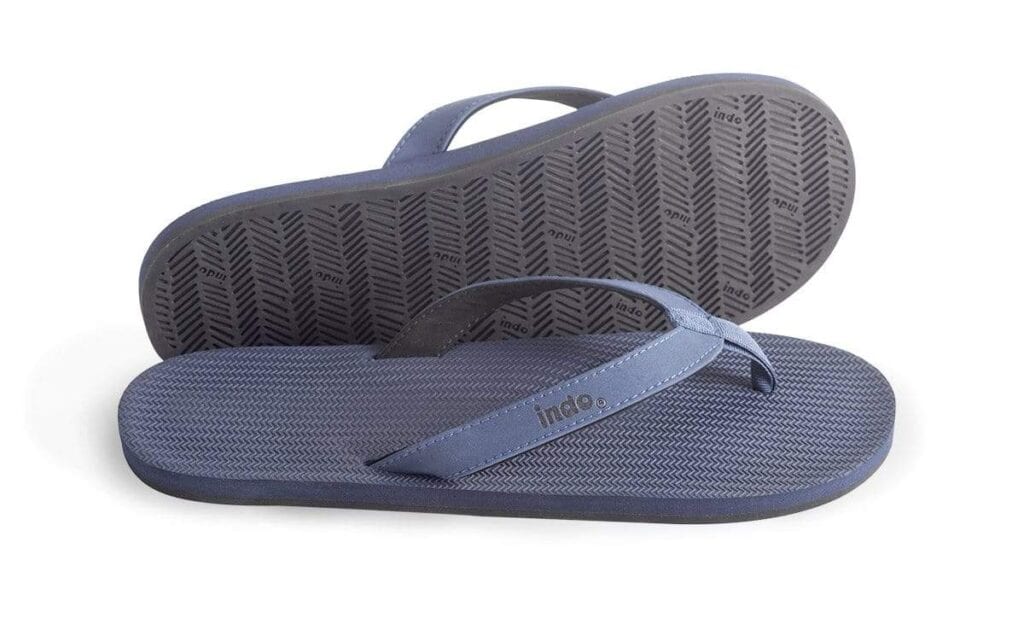 For the ladies looking for something a little different, the Indosole ESSNTLS Slides are solidly comfortable and just as great.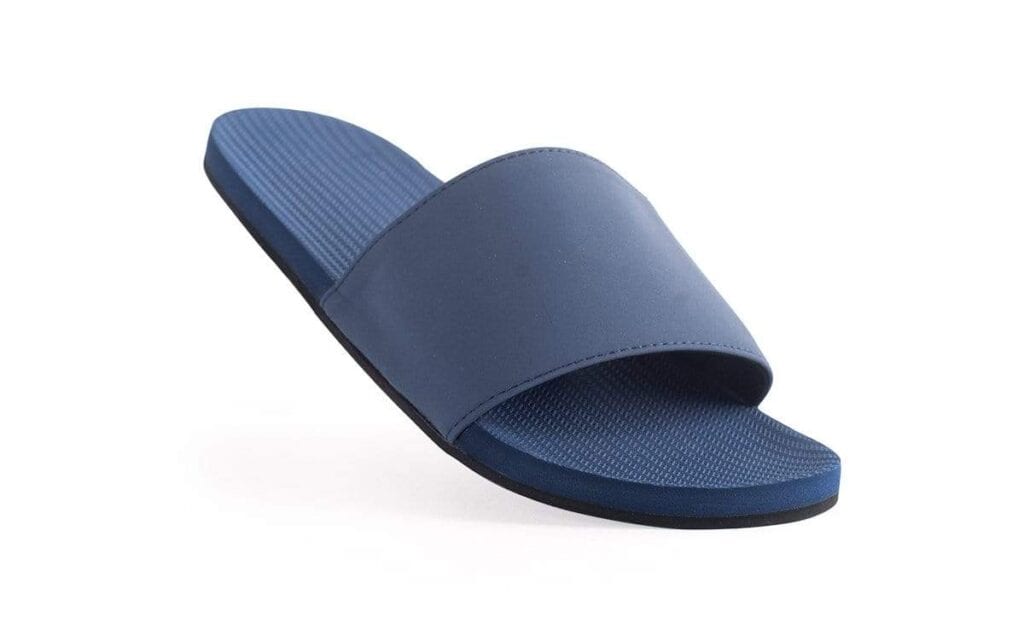 Click here to check out the Indosoles collection

Brazilian made Havaiana's are a classic staple among flip flops. Designed in a country that has pro level beach culture, sleek enough to wear in most circumstances, and durable enough to last through your travels. The simple Havaiana's are an excellent travel choice.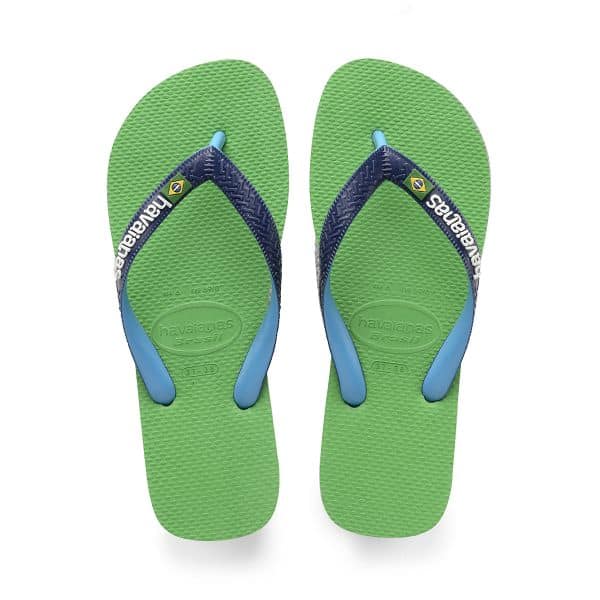 Click here to see the best of Havaiana's sandals
REEF SANDALS – FANNING, PHANTOM, AND ROVER
Reef sandals are another staple piece of footwear when it comes to flip flops for an active lifestyle. Great quality, good fit and feel, and all at a great price. To be honest, Reef has so many styles that I can barely recommend just a couple.
If you want a beer bottle opener, opt for the Reef Fanning – rubber and man made leather in a contoured, durable sandal.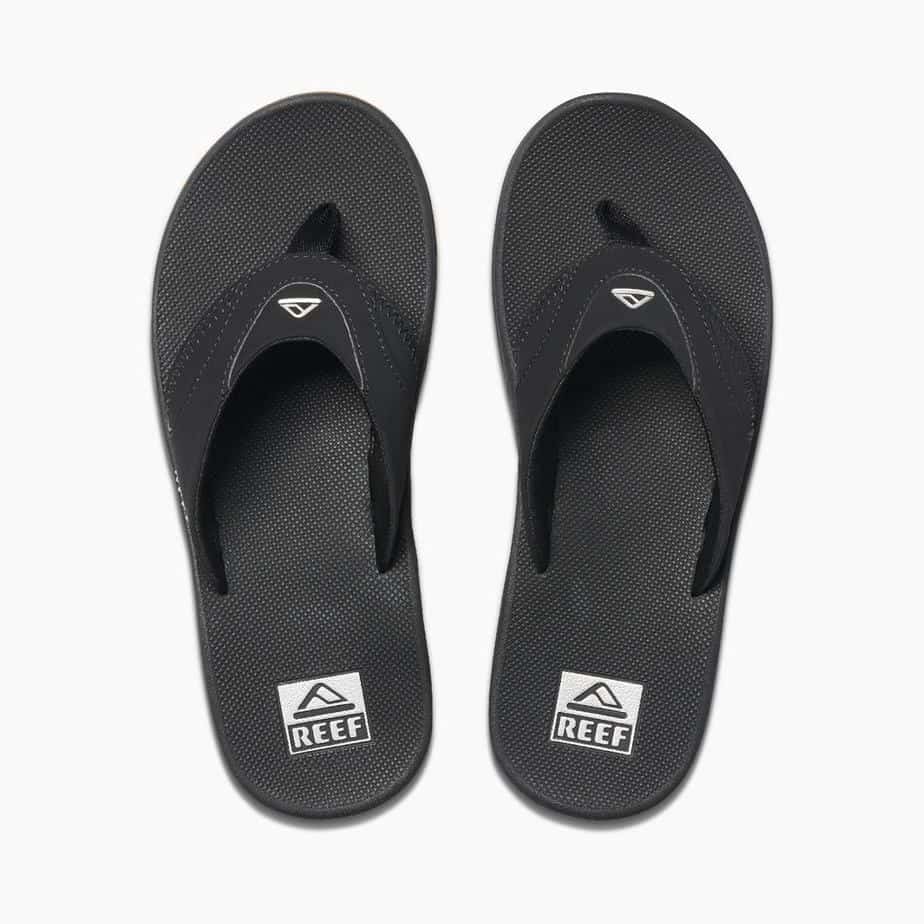 ---
The Reef Phantom sandal is another solid option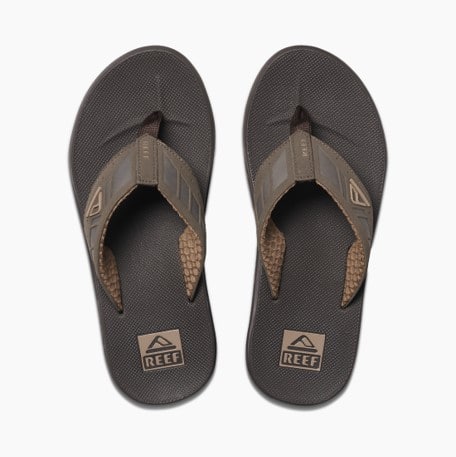 ---
The Reef Rover is another durable, waterproof option with great tread and solid enough for lots of walking.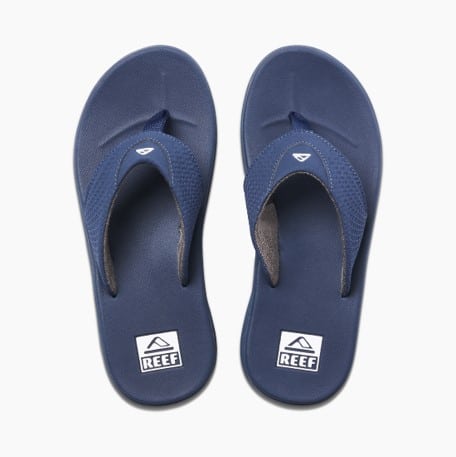 Sandals with Ankle Straps
For many people, sandals are almost perfect for relaxing, but the slippy sliding nature can get annoying. If you need a little more of a secure fit, consider getting comfortable sandals with an ankle strap.
Sandals with Ankle Straps

Waterproof Sandals
Whether you're preparing for boat rides between islands in Thailand and Indonesia, or simply getting shoes that can double as shower shoes, picking a good pair of fully waterproof sandals can keep your feet comfy and clean. These fully waterproof sandals all dry quickly, making them easy to pack, and are nonporous, making them less prone to funky smells after months of wear.
Other waterproof sandals:

STYLISH SANDALS
Just because your feet are comfy and free doesn't mean you can't look good. These stylish sandals, that combine design, leather accents, and time proven bits and pieces to make a pair of sandals that look great.
Throughout Southeast Asia, the Middle East, and Hawaii, sandals are so much a part of the culture that they make up some of our best options for good looking sandals.
"We fill a niche by providing premium leather sandals that can be worn in place of dress shoes, to support a laid-back island lifestyle," that's how Hawaii born Bill Worthington, founder of OluKai, describes his sandals.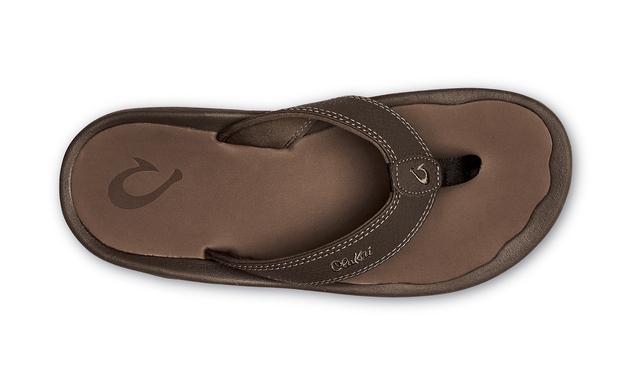 Durably built with great foot support and designed for the demands of Hawaiian waterman, these sandals are filled with function and practicality while still looking great.
This style backed with durability and tons of function makes for a versatile sandal that you can wear exploring or just look good in the evenings.
The OluKai Ohana and Welo are my favorites as adventure ready travel sandals, but I highly recommend checking out the full line as they have plenty of great, classy, leather sandal options.
---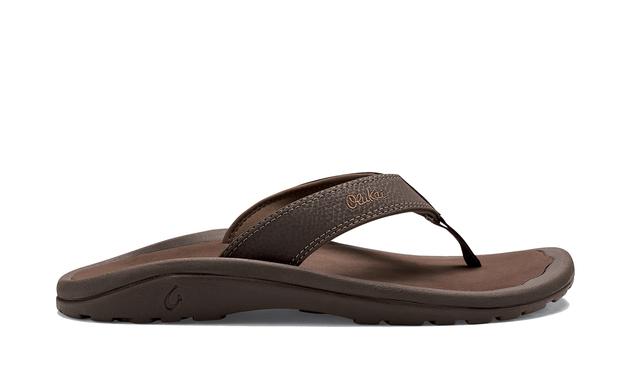 Click here to see all styles of the Olukai Ohana at REI OR Head to Amazon for free shipping on your order
---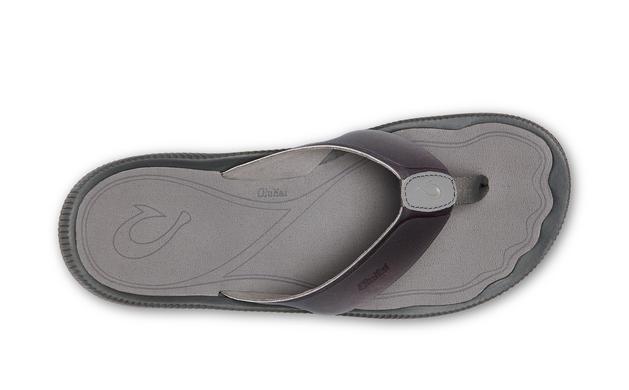 Head to Amazon for free shipping on your order
Or click here see the full Olukai Line
California made Rainbow sandals are some of my favorite leather sandals. These sandals are simple in look, durable in design, and mold to your feet like no other in addition to being guaranteed for the life of the sole.
If you want a more casual look, the array of leather sandals from Rainbow look great, mold to your feet, and develop a lot of character over time.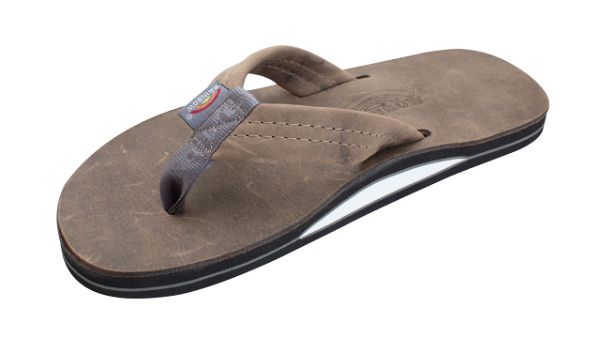 Click here to check out the various colors and styles of the Rainbow leather sandal
Click here to see the selection on Amazon (with free shipping)
---
If you want the same style of sandal but have a higher arch or require more foot support, check out the double layer sandal that has even more cushioning that molds to your foot (and higher arches) over time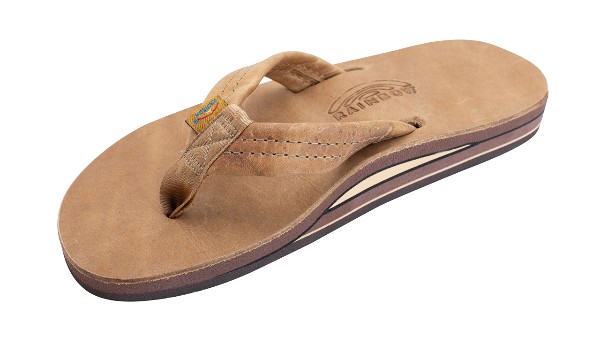 Click here to check out the various colors and styles of the double layered Rainbow leather sandal
Click here to see the selection on Amazon (with free shipping)
---
For a cheaper option that is just as great and does soak up as much water, opt for the rubber Rainbow sandals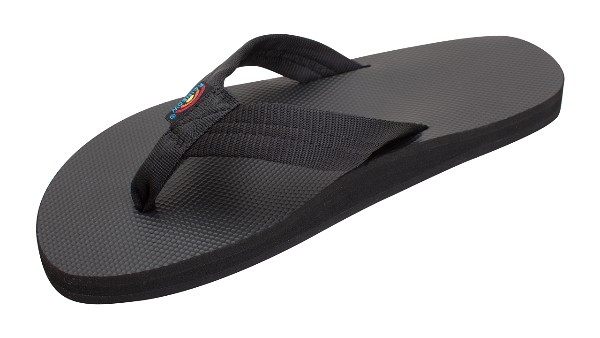 Click here to check out the various colors and styles of the Rainbow rubber sandal
---
Still curious what makes Rainbow sandals so great? Check out this video that details how Rainbow sandals are made.


Travel Sandals for Women
When it comes to travel sandals, women have it much better than men, with countless dressy sandals, gladiator sandals, comfortable walking sandals that still look good, and countless other options. These options combine the best of women's sandals for looking good while still prioritizing comfort and function.
Other Great Travel Sandals for Women:**
Taos Sandals: Comfortable and cute walking sandals for women, perfect for travel (available here**). Tough, comfy, withstand odor, and female travelers report wearing them everyday happily
Sam Edelman Sandals: A "dressy" travel dandal, durable, and great for round the world travels (available here**)
Jambu Sandals
Crocs Serena: Waterproof and comfy with a dressy sandal design and snug fit**
Keen – Mary Janes: Mary Janes, and Mary Janes Sienna**
Born Shoes Sandals: Great insoles and padding, and perfect for standing all day while still looking good**

GREAT RELATED CONTENT