A solid pair of calisthenics parallettes are a great addition to your home and travel gym because they unlock so many muscle and strength-building exercises – no gym or weights required.
However, with all sizes, materials (Steel, wood, and PVC), and price ranges, finding the right parallettes for you can be tough. Lucky for you, we've simplified everything you need to know and created an ultimate list of the best parallettes for calisthenics.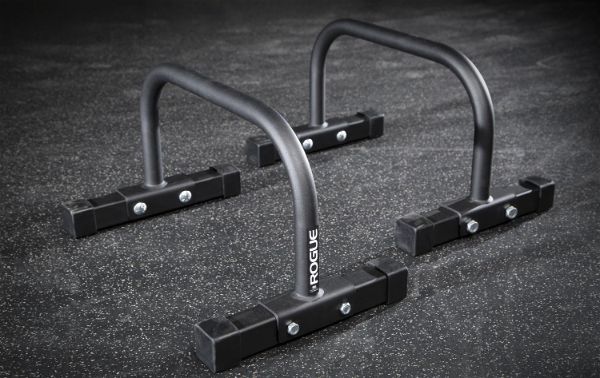 In this guide, we'll give you the best-recommended parallettes for beginners, travel workouts, advanced calisthenics athletes, and more.
Read on for the full list of the 25 best calisthenics parallettes
This article contains affiliate links

CONTENTS OF OUR LIST OF THE BEST CALISTHENICS PARALLETTES

WHY DO YOU NEED PARALLETTES?
Parallettes are a simple and cheap fitness tool that allows all you to do calisthenics with very high resistance – moreso than most weighted exercises – while training mobility.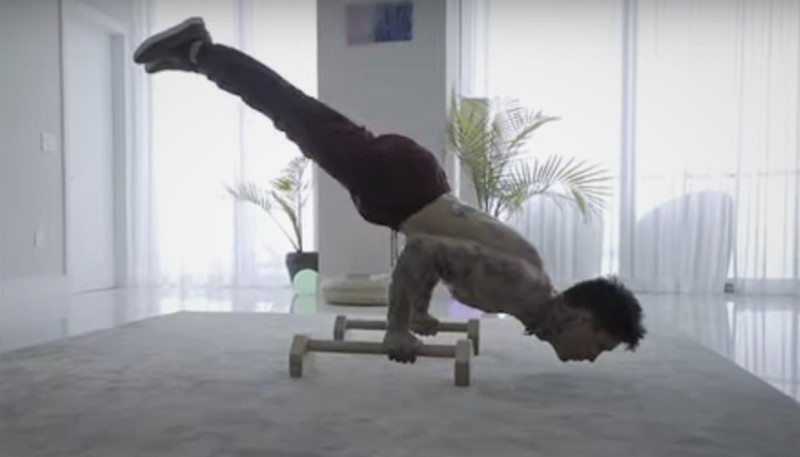 Best benefits of training with parallettes:
Builds strength and muscle with intense upper body workouts from home
Develops mobility in a way that weights can't
Endless versatility of movements
Rivals weights and gym machines for results in strength and muscle development
Compensates for lacking wrist mobility, allowing more upper body movements than simply doing movements on the floor

BEST PARALLETTES UPFRONT

WHAT YOU SHOULD ASSESS WHEN CHOOSING THE RIGHT PARALLETTES FOR YOUR NEEDS AND SKILL LEVEL
Click on each category to learn more about how to decide what's right for you, or read on past our recommendations

THE 15 BEST CALISTHENICS PARALLETTES FOR EVERYONE: BEGINNERS, CHEAP, DIY, EXPERT, AND MORE

METAL PARALLETTE BARS
---
(Steel, 14″ tall, $125)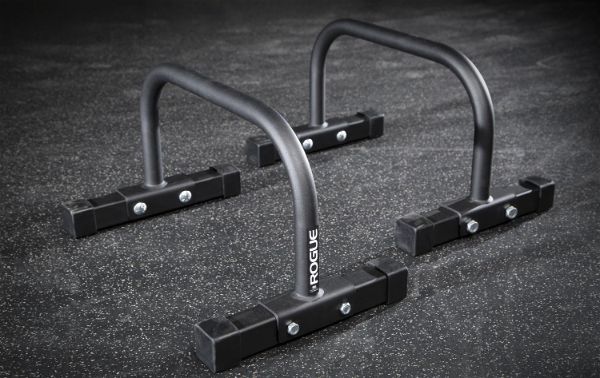 These easy to assemble yet sturdily built parallettes are the best parallettes metal parallettes on this list. The high clearance, unique design, in which the pieces fit together (the lip from the curved handle covers the base of the parallettes) ensures more stability, durability in the long run, and the ability to handle heavy loads
Pros:

Extremely tough, high-quality steel and bolt-together construction

Rubber feet for traction eliminates movement under heavy loads

Textured powder coating for grip

Cons:

On the heavier side, so not convenient to take to parks or travel with

Dimensions
Where to buy: Rogue webstore
---
(Steel, 13.5″, $80)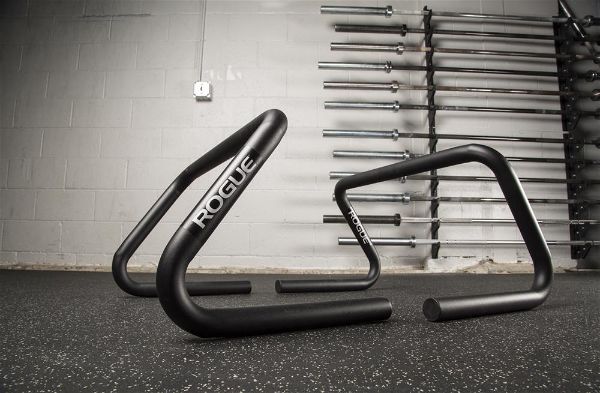 These cheaper and lighter parallettes from the same solid brand (Rogue Fitness) are tough and will last without a doubt. These parallettes are best for beginners or calisthenics athletes that won't be using these for handstand movements. With solid steel and high-quality construction, these parallettes will last forever.
Pros:

Great quality materials and construction translate to durability

No welds or weak points to break

Textured powder black coating assists grip

Cons:

Rounded edge can make give a slight wobble that makes some people feel uncomfortable in a handstand pushup – not recommended for inverted movements

Dimensions
Where to buy: Rogue Fitness Webstore
---
(Steel, 12″ tall, $58)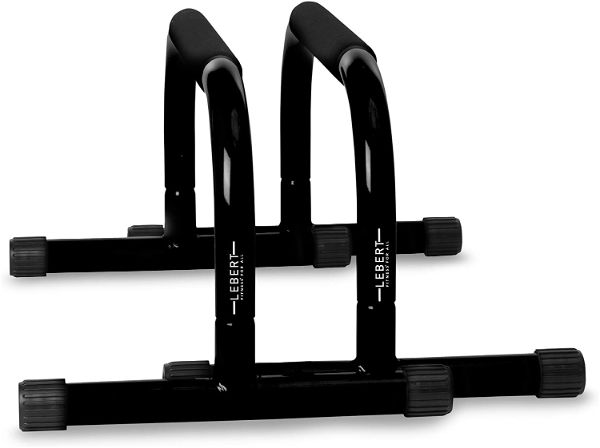 High quality at a great price and lightweight (for steel construction), making them a great option to take to the park or move your workout
Best for home gyms, but you move around the house frequently or plan to workout in the park
Pros:

Excellent value of quality and durability for the price

Cons:

Though the parallettes themselves will last for years, the foam rubber handles will not

Dimensions:
Weight capacity: 400lbs
Where to buy: Lebert Fitness Amazon Store
---
(Steel, 12″ tall, $80)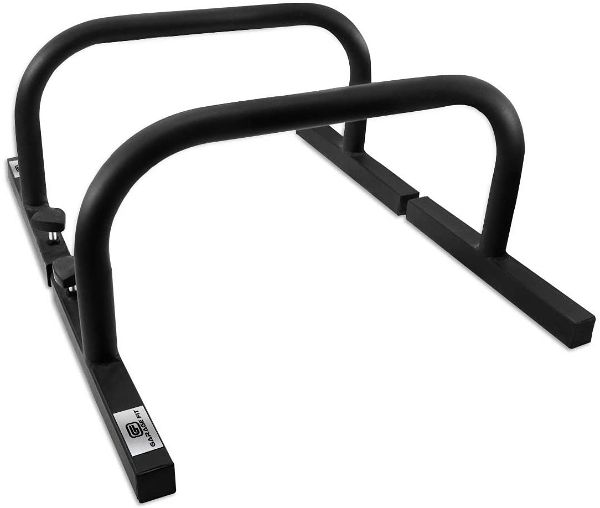 These simple and toughly built parallettes are the perfect height and length. A safety connector between the parallettes locks them in place to prevent tipping and slipping. Tough steel build will last a lifetime.
Great parallettes for the price.
Pros:

Safety connector screw between parallettes keeps the parallettes in place – no sliding or tipping possible

Reinforced welds at all connection points

Powder-coated grip finish

Tough build will last for years

Cons:

None – fantastic for the price

Dimensions:
Where to buy: Garage Fit Amazon Store
---
ULTIMATE BODY PRESS PARALLETTES
(Steel, 12″ tall, $70)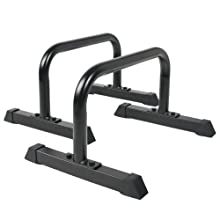 Another great, budget-friendly, yet a high-quality option. The dimensions are great for all parallette calisthenics movements, and the materials and construction are solid enough to last a lifetime.
However, these parallettes are lighter (~15lbs) than the alternative, making them easier to move around the house or toss in the car before going to the park.
Pros:

Rubber feet improve stability

Commercial-grade materials and build

Cons:

The grips' finish can feel slippery when palms are sweaty and may require taping

Some users reported rusting on receipt of the product

Dimensions:
Where to buy: Ultimate Body Amazon Webstore
---
WOOD PARALLETTES
(Wood + 7.5" x 18" – $65)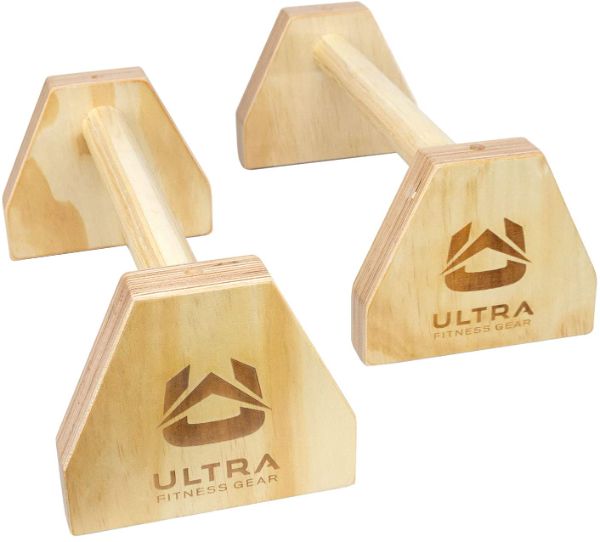 Well built, solid dimensions, lightweight, and "locally portable" (around the house, outside, and to the park), these wood parallettes are a great option for those that prefer the feel and function of wood over other materials.
Pros:

Wood handles are naturally non-slip

Rubber feet keep the parallettes in place

Screw fastened construction means longer life and more durability

Good height makes "pass-through" movements possible

Screw fastened construction delivers more durability and a longer lifespan

Cons:

Less than our ideal 12″, you'll have to try harder for the L-sit to handstand movement

Dimensions:
Weight capacity: 400lbs
Where to buy: Amazon
---
(Ash Wood, 2 5/8″ height, $30)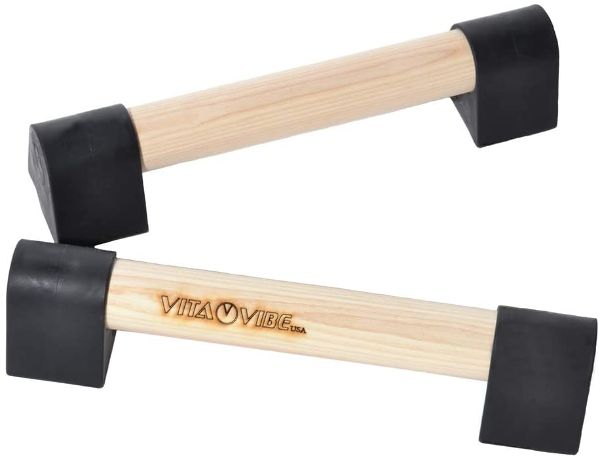 These tiny yet durable and effective parallettes are awesome for travelers or those who like to carry their gym in their backpacks for workouts anywhere.
An Ash hardwood handle set in solid rubber feet (screwed and glued) makes for sturdy, durable, and super functional parallettes. However, keep in mind that because the clearance is so low, these are best used on hard surfaces (carpeted surfaces and soft surfaces won't work well), and you'll have to use these on the improvised "chair parallettes" method to get enough clearance for pass-throughs.
An all-around great set of wooden, portable parallettes.
Pros:

Comes in 9-inch or 12-inch length

Hardwood construction (Ash Wood)

Rubber feet provide max traction without damaging floors

Ultra-portable, compact design

Rubber feet and high stability allow us to set these on chairs to simulate taller parallettes

Simple design of hardwood and glued and screwed in solid rubber feet mean high durability and long life

Cons:

Low height limits possible movements

Low clearance to ground means these aren't good for carpeted surfaces

Dimensions:

Grip Width: 1.5″ Diameter

Weight capacity: 250lbs
Where to buy: Vita Vibe Amazon Store
---
(Wood, 18" long, $80) ($79.99, 18" long)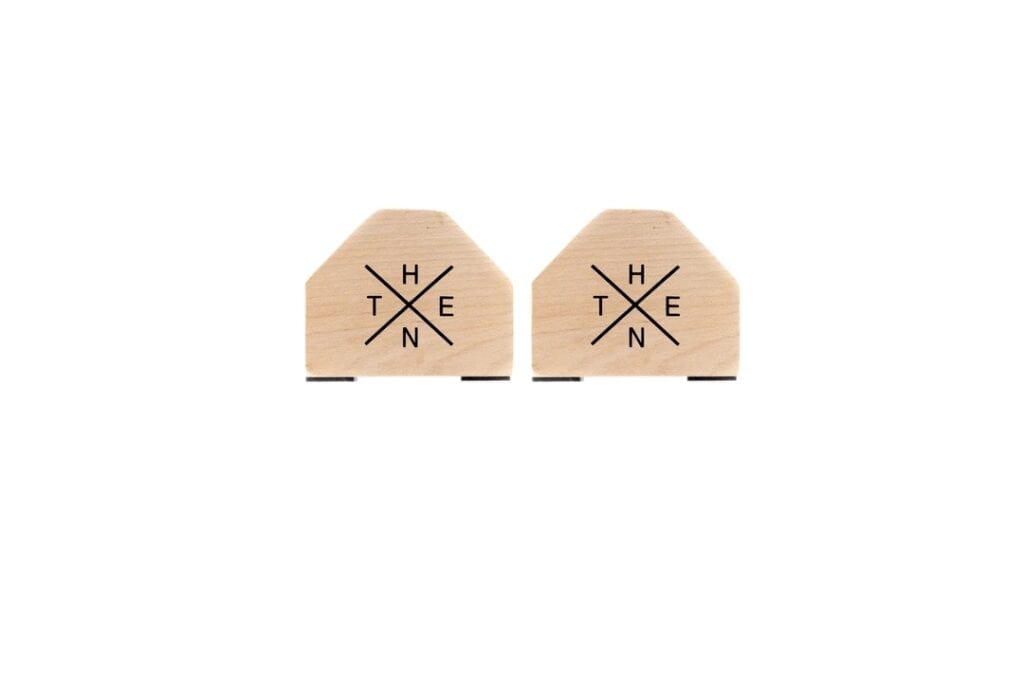 Simple, straightforward wood parallettes with lots of stability yet high quality. Designed and sold by online fitness celebrity Chris Heria.
Features

Long (18″) design improves stability

High quality, well-reviewed parallettes

Screw fastened pieces improve durability and stability

Dimensions
Where to Buy: Thenx.com
PACKABLE AND PORTABLE PARALLETTES
(Plastic/Foam, 7" x 5.7", $49)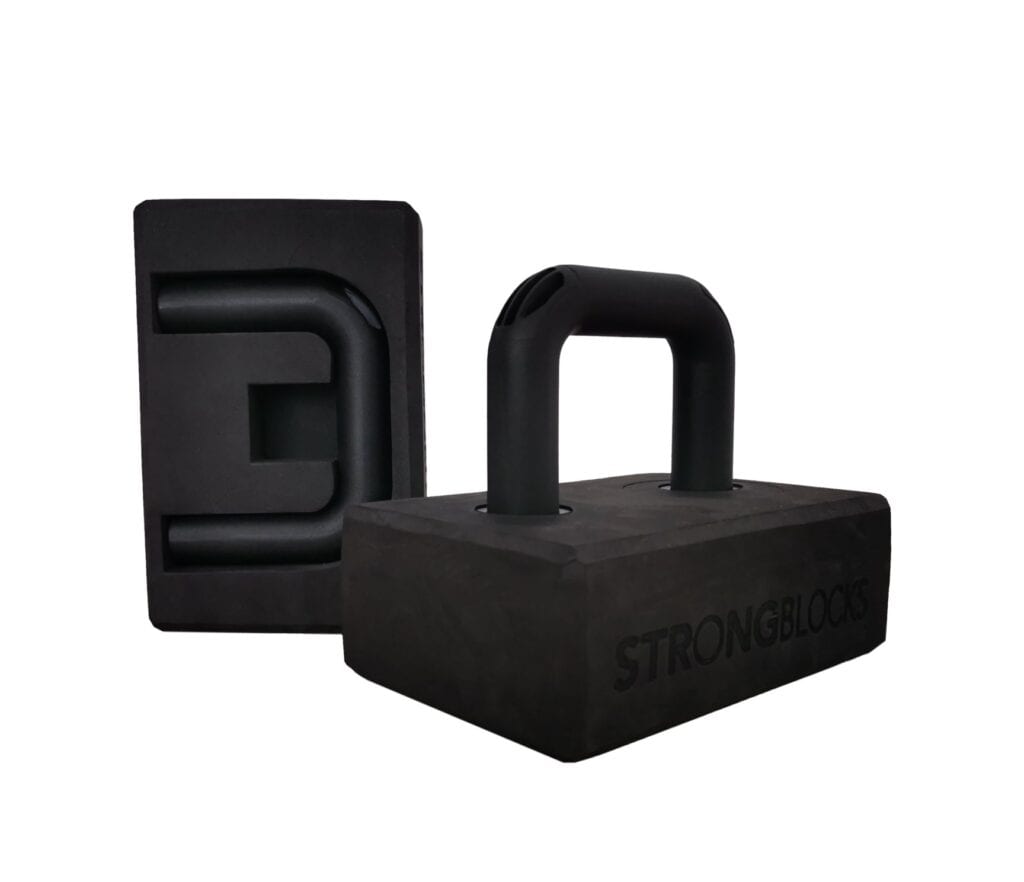 Strong blocks are an awesome set of Yoga blocks that easily convert to pushups stands/mini-parallettes via a super solid PVC handle stored in the block.
Pros:

Versatile – yoga blocks and push up stands

Cons:

Low clearance makes it difficult to do some movements

Dimensions:
Weight capacity: 220lbs
Where to Buy: Baseblocks Website
---
(Polymer coated aluminum, 12″ length x 3.5″ height, $10)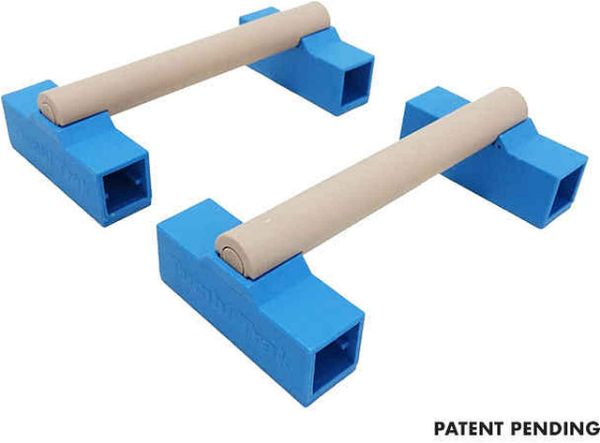 A cheap, reliable, and extremely portable set of parallettes that can be short push up handles or connected to create long parallettes
Pros:

Very portable and packable

Cons:

Handle height is very low to the ground making "pass-through" movements difficult

Durability assessment: Polymer coated aluminum construction assures a long life
Dimensions
Weight capacity: 250lbs
Where to Buy: TumblTrak website
---
(Wood and steel, 8.6″ x5″, $50)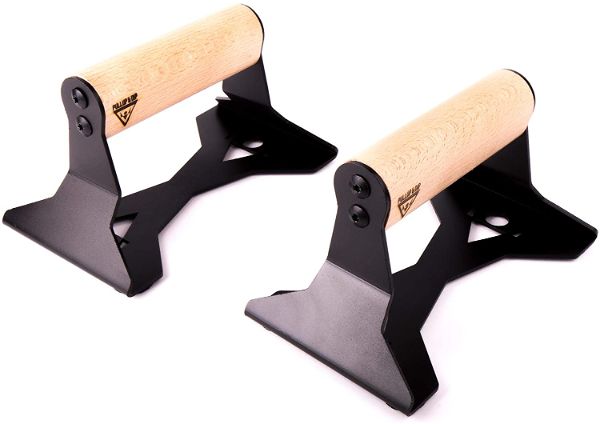 Wood and steel combine to create a tough pair of parallettes that feel good in your hands, are sturdy and come at a great price
Pros:

Wooden handle + metal delivers comfy grip and durability

Anti-slip rubber footings

Minimalist, well-engineered design leaves little to go wrong

Great price for the materials and construction

Dimensions:
Weight capacity: 440lbs
Where to Buy: Pullup & Dip Amazon Store
---
(Steel Handle + plastic legs, 5″ tall, $14)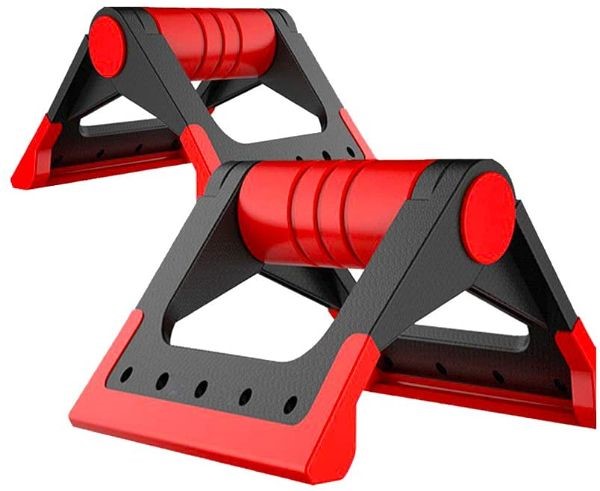 An ultra-portable pair of collapsible push-up handles at a great price. Keep in mind that because these are made of plastic, there is slight flex with heavy loads. However, hundreds of users have reported great use and nothing breaking
Pros:

Awesome foldable and packable design

Cons:

Some flex in the bars and cushioned grips may feel uncomfortable

Dimensions:
Weight capacity: 660lbs
Where to Buy: Aihoye Amazon Store
---
(Aluminum, Portable, 8″, $45)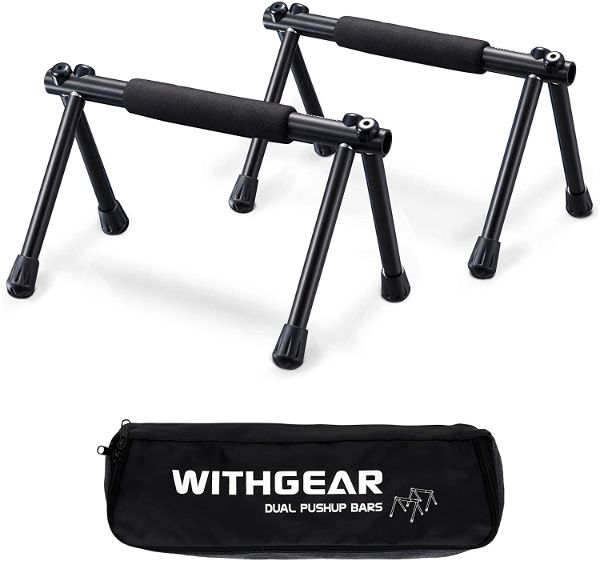 Another great, portable parallettes option, these lightweight yet tough aluminum parallettes assemble and disassemble easily, making your parallettes workout possible anywhere.
Pros:

Internal elastic cord design keeps all of the pieces together

Extremely portable and packable

One year money-back guarantee

Cons:

Foam rubber grips will breakdown after a while

No screws to hold the stands together, only the internal bungee

Dimensions:
Weight capacity: 660lbs
Where to Buy: Withgear Amazon Store
---
BUDGET PARALLETTES
(Steel, $16.55)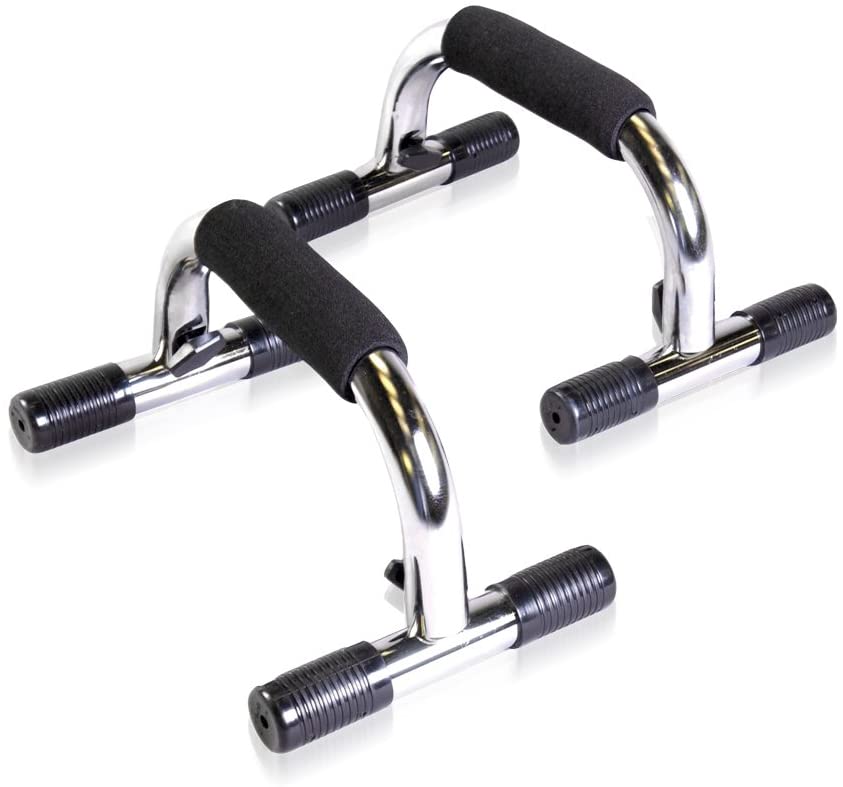 These straightforward, durable, and simple pushup bars get the job done. The rubber grip footings on the bottom add extra traction if you want to elevate these push-up stands on chairs for full pass-through movements.
Pros:
Cons:

Foam handle wraps will degrade over time

Where to Buy: Amazon
---
(Steel, 12" x 24", $60)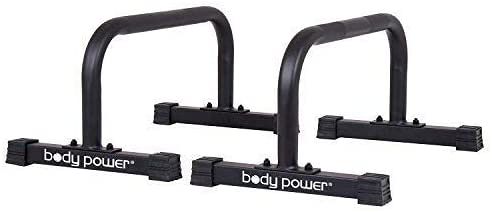 These parallettes are the best for beginners thanks to a budget-friendly price, sturdy build, and dimensions that allow for all of the parallettes calisthenics movements you'll start with and progress through.
Best Features

Knurled grip for better control

High-quality steel and construction translate to high durability

Dimensions:
Weight Capacity: 380lbs
Where to Buy: Amazon
---
(Steel, 14.5" x 19", $49)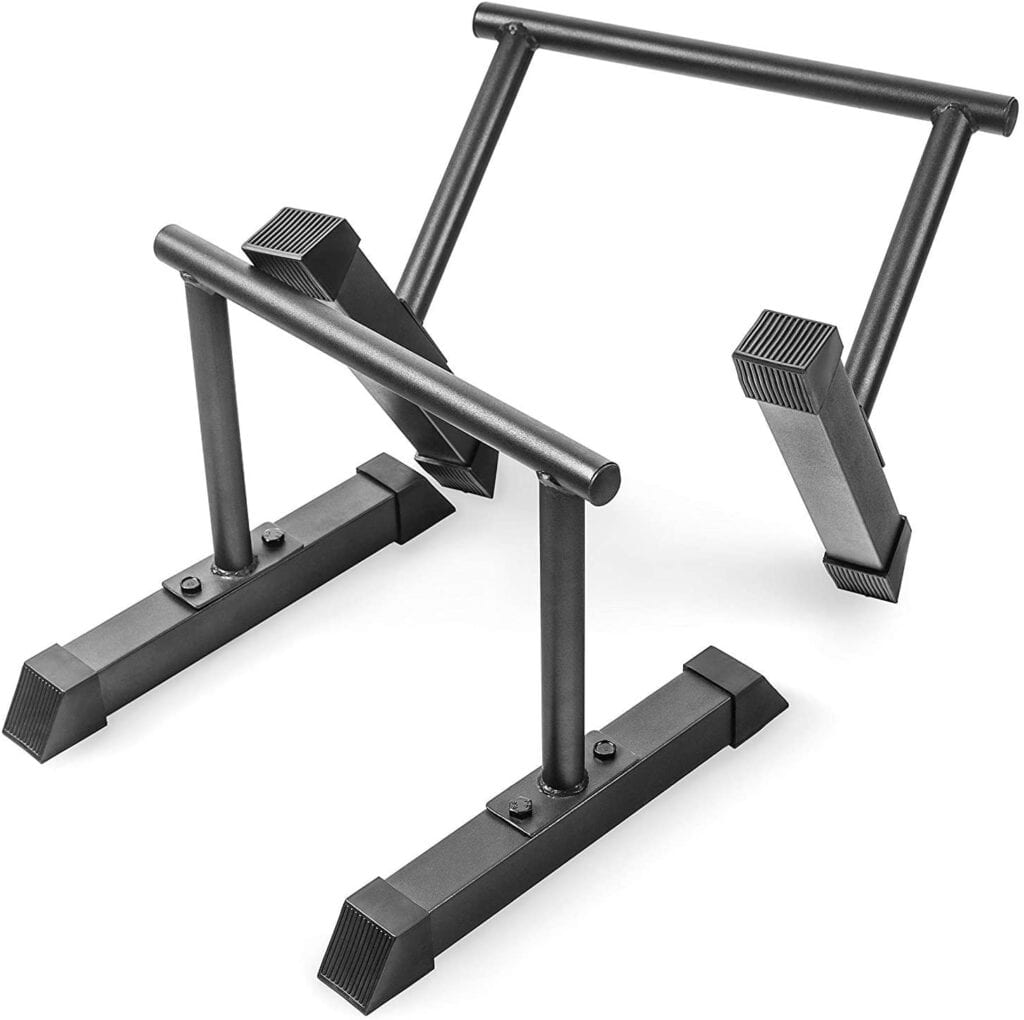 Pros:

Matte powder coating for improved grip

Rubber end caps on feet improve grip

Low price for metal parallettes

Cons:
Dimensions:
Where to Buy: Xtek Gym Store on Amazon
---

BEST WOOD + METAL PARRALLETTES
(Ashwood + Steel, 12″ tall, $179)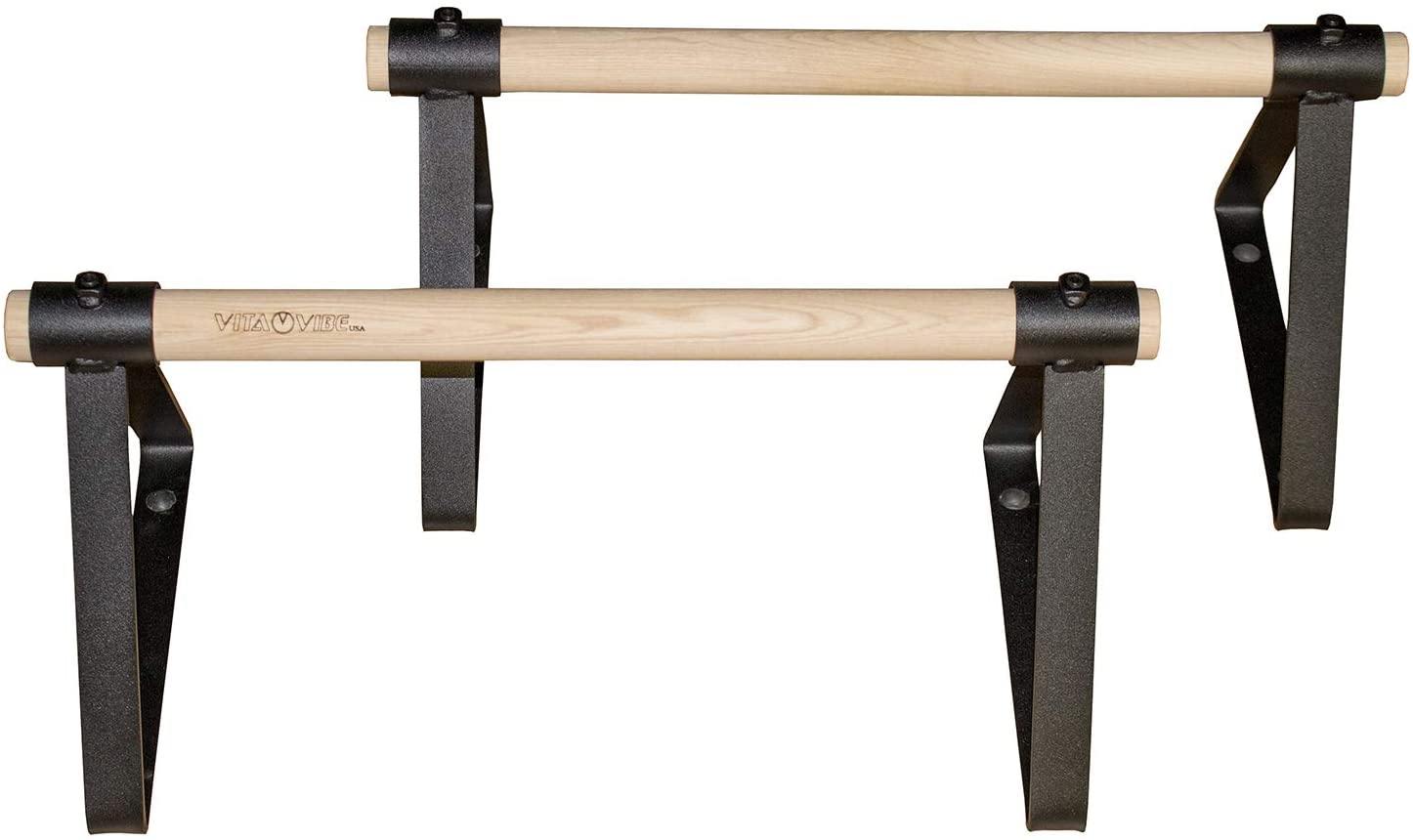 High-quality parallettes that are durable and sturdy, thanks to the steel base, and feel great in the hands, thanks to the Ash hardwood.
Pros:

Ash hardwood with powder-coated steel base

10 year warranty (made in the US)

Cons:
Dimensions:
Weight Capacity: 300lbs
Where to Buy: Vita Vibe store on Amazon
---
(Hardwood + Steel, 11.8″ tall, $179)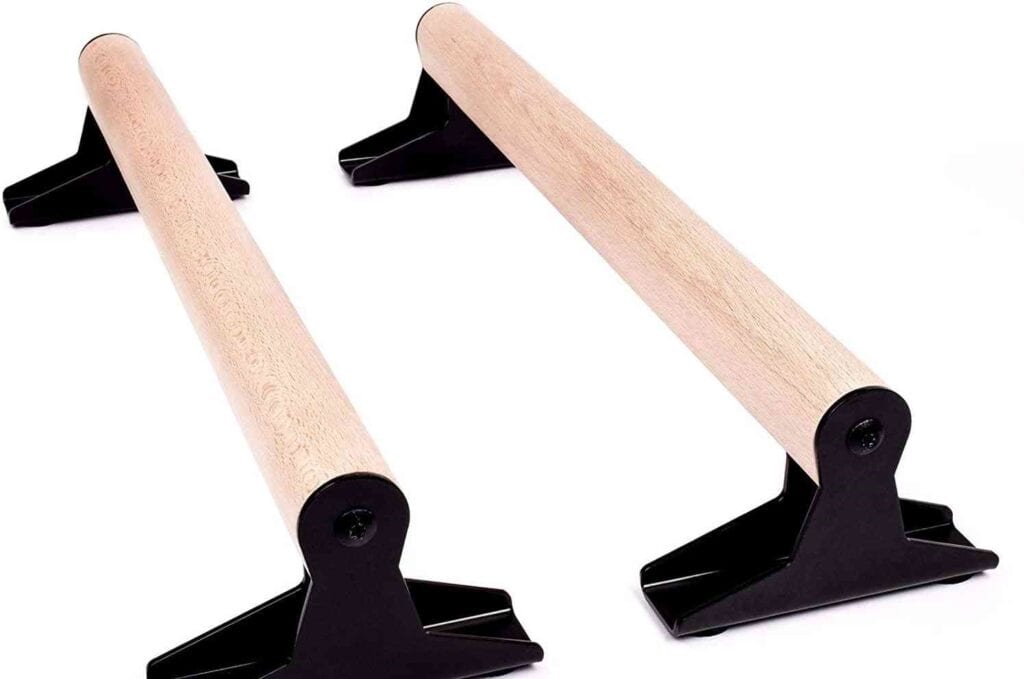 High quality and luxurious, these parallettes combine wood and Steel into a generously lengthy and tall design to create simple yet versatile parallettes with a great feel
Pros:

Great combo of grip comfort (thanks to wood) and durability (thanks to metal)

Ebook guide to parallettes workouts included

Cons:
Dimensions:
Weight Capacity: 400lbs
Where to Buy: PULLUP & DIP Amazon Store
---
DIP STATIONS
(Steel, 35″ tall, $59)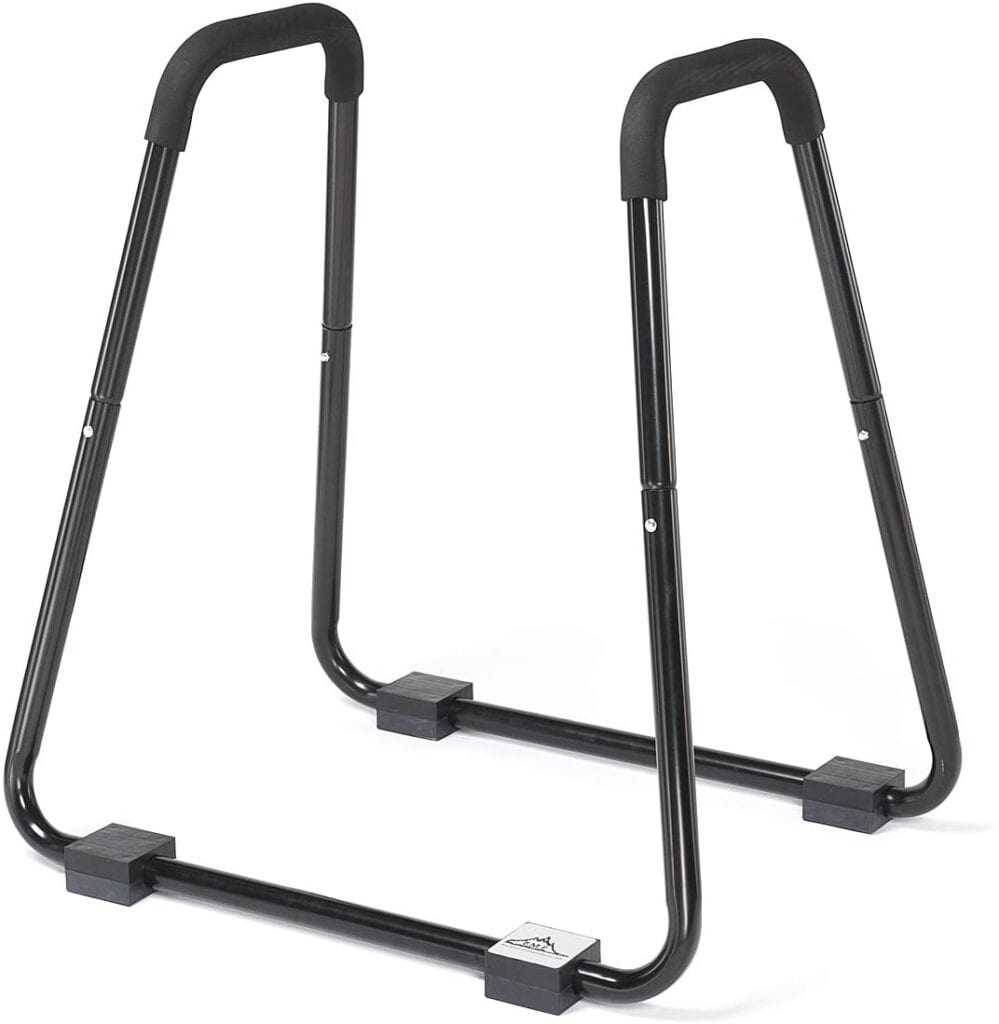 A straightforward dip station at a great price. Though the base is too narrow (compared to the height) for dynamic movements and inverted movements, this setup is perfect for dips, weighted dips, push-up variations, planche progressions, and even levers.
Pros:

Solid for dips and most parallettes movements

Cons:

Base is too narrow for handstands and inverted movements

Foam-wrapped grips will peel off with use.

Dimensions:
Weight Capacity: 3000lbs
Where to buy: Black Mountain Amazon Store
---
(Steel, 31″ tall, $100)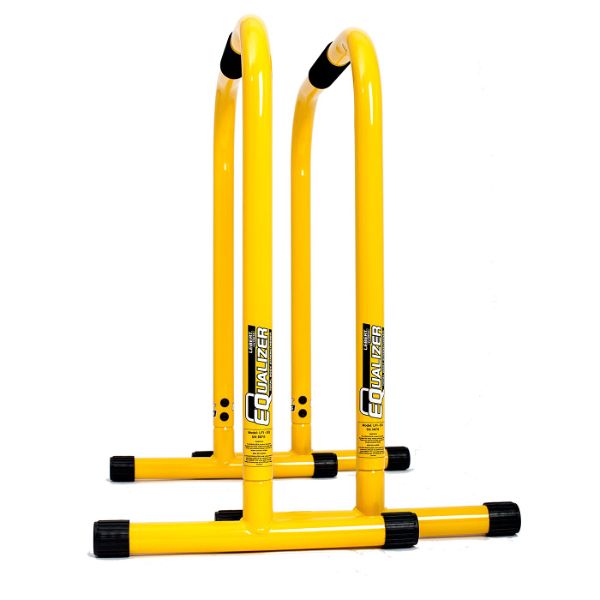 A trusted brand in the calisthenics space and well-reviewed dip station allows you to do weighted dips, pushups, planche movements, and even levers (underneath).
Pros:

High enough to allow for pulling movements (rows, levers)

Cons:

Too tall for inverted movements (handstands)

Dimensions:
Weight Capacity: 400lbs
Where to Buy: Lebert Amazon Store
---
(Steel, 32″ tall, 25 inches long, $80)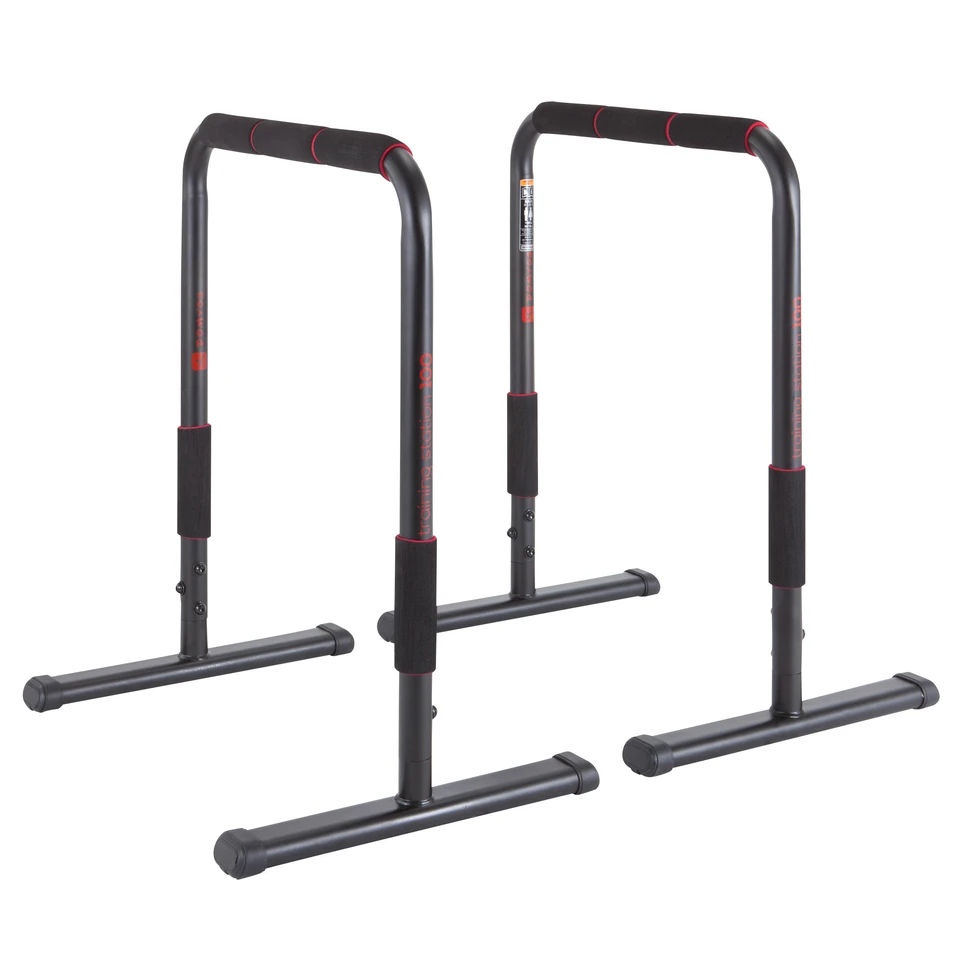 A budget-friendly dip station from a trusted brand. Simple, straightforward, and tall enough to allow for pulling movements (i.e., rows) and levers.
Pros:

One of the few you can try in-store first

Lightweight (for Steel) and easy to move around

Cons:

Height to base length isn't stable enough for inverted movements

Dimensions:
Weight Capacity: 285lbs
Where to Buy: A local Decathlon store or Decathlon Online
IMPROVISED PARALLETTE OPTIONS
If you are on a tight budget or simply want to avoid buying one more fitness tool, these three "improvised parallettes" options will get the job done.
1. USE 2 CHAIRS
Simply find two sturdy chairs (ideally with flat seats) and place the chairs facing each other, seats in, shoulder-width apart.
Now, place your palms on the seats, and you have improvised parallettes/dip bars.
---
2. DIP RINGS (SET TO LOWER LEVEL)
Get a great piece of gear and avoid investing in too many separate sets of equipment, then pick up gymnastics rings, lower them to a few inches (5″ to 10″) above the floor. You now have the handles necessary to do most parallette movements.
Though wood gymnastics rings, such as these from Rogue, are the kind I prefer, if you plan to leave your rings outside, then get plastic rings such as these
If you need a way to anchor rings in your house, get a portable pullup bar like this and hang the rings from the pull-up bar. Lower the rings as low as you need to, and you now have improvised parallettes rings and an easily accessible pull-up bar
---
3. PAIR OF DUMBBELLS / DUMBBELLS + CHAIRS
If simply using chairs leaves your wrists hurting, grab a pair of flat-sided dumbbells from the hotel gym, place them on a pair of chairs (set up as mentioned in the section above), and you have pair of improvised parallettes with handles.
OTHER GREAT PARALLETTES TO CONSIDER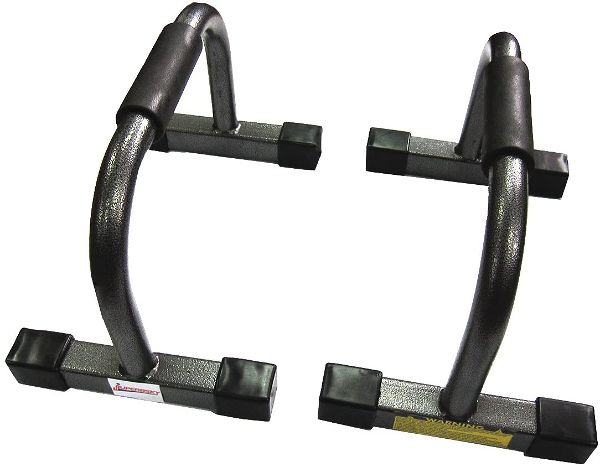 ---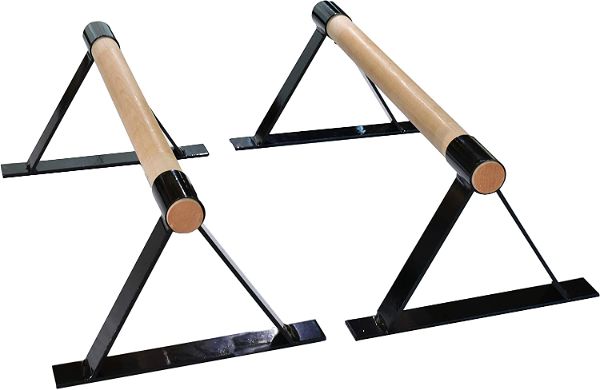 WHAT YOU SHOULD ASSESS WHEN CHOOSING THE RIGHT PARALLETTES FOR YOUR NEEDS AND SKILL LEVEL
---
THE RIGHT MATERIAL FOR YOU: WOOD VS. PVC VS. METAL
Parallettes from PVC, wood, metal or a combo are all great – and what fits best for you depends on your personal preferences, how you will acquire your parallettes (build or buy), and your budget.
Steel: Sturdiest, but not portable as metal parallettes tend to be heavy.
Wood: Best grip when sweaty, most comfortable, but need to be cleaned often because they are porous
PVC: Best and cheapest for DIY, last for years and are sturdy, but require adapting the grip as they become slippery when palms get sweaty
Combo of wood and Steel: Highest performance as they deliver the grip comfort of wood and the structural sturdiness of Steel
PVC is by far the easiest, very reliable for reliable DIY parallettes, and can be made for less than $25 in less than 30 minutes. Wood DIY parallettes are possible, slightly more expensive, and will take more time and patience to make sturdy.
Wood parallettes have the best grip feel, as the grip remains very good even when sweaty, and the grip has a slight amount of "give" that feels good, and that metal and PVC parallettes don't. Also, falling onto wooden parallettes doesn't hurt as much as banging an elbow on metal. In most gymnastics gyms, you're likely to see wooden parallettes. However, all of that sweat does build up, and the porous nature of wood can cause the parallettes to become unsanitary if you don't clean them.
Metal parallettes are the most durable and the sturdiest, boosting your confidence and comfort during inverted movements. Additionally, the knurling on the grip makes it so that even sweaty grip isn't an issue. However, DIY or ordered complete, metal parallettes are the most expensive, and their weight makes them unsuitable for travel workouts – but they'll last forever.
---
RIGHT SIZE FOR YOUR NEEDS: LENGTH + HEIGHT + DIAMETER
12″ high parallettes are the most versatile and accommodate the most movements. The base length should be minimum 20″, 24″ minimum is optimal
Shorter "pushup bars" are too low to the ground (usually only 2″ to 5″ off the ground) to allow for movements such as the L-sit, dips, and deficit handstands or transitioning movements like L-sit to handstand. Additionally, the low height allows you to use shorter parallettes while maintaining good stability, making these some of the best options for portability. However, if you only plan to do basic handstands, pushups, and planches, the low price and portability make these a good option.
Dip bars or dip stations tend to be much taller at ~22″ +, allowing for a full range of movements. However, ensure that the base of the bars is wide enough to provide stability in handstand and inverted movements. Ensure that you can do a handstand on the bars without kicking the ceiling of wherever you will primarily train.
High Parallettes split the perfect difference at ~12″. Aim for a base ~18″ + inches for solid stability. High parallettes allow you to do every movement parallette exercise possible with one exception – you will have to do your dips in an L-sit position or feet elevated position –. In contrast, dip bars allow you to perform dips with feet beneath you.
Aside from the dips variation, high parallettes allow you to floor movements while relieving the stress from your wrists (planchet variation, pushups), full-range inverted movements (deficit handstand pushups), and a full range of transition movements (L-sit to handstand, 90-degree pushups)
The Bottom Line: Pick the right height and length for the movements you aspire to do.
~12″ High parallettes will give you the best balance of function, movements you can perform, and portability.
---
TRAVEL FRIENDLINESS AND PORTABILITY: PACKABILITY + WEIGHT
Consider this – will you use your parallettes only at home?
If you will only use your parallettes at home, will you consistently leave them in the same place or move them from room to room?
If your parallettes will stay in the same room, a solid dip station is the best investment. The height and stability will allow you to do a full range of movements, encouraging you to move it more, and you won't have to worry about lugging the bars around, so portability isn't a concern.
Suppose you will be working out in other areas of the house or outside, consider getting high parallettes – this way. In that case, they'll be lighter and easier to move (encouraging you to use them more), and you won't bang into any walls while moving them around.
If you are traveling and want to take your parallettes, you'll need to plan accordingly, too, by aiming for portable parallettes or, ideally, portable push-up bars.
The compact size of the push-up bars makes them ideal for travel, and a collapsible push-up bar is best.
To compensate for the low height and allow for more movements, set your push-up bars on a two-chair setup similar to our chair improvised push-up bar setup.
---
STABILITY: BASE WIDE ENOUGH FOR HEIGHT? STURDY ENOUGH BUILD? CAN HANDLE INVERTED MOVEMENTS?
Stability is of little concern with push-up bars because the handles are so low to the ground it is difficult to tip them over, but will be more of a concern with parallettes (~12″ tall) and dip bars ~22+ inches tall).
With both parallettes and dip bars, if you plan to do inverted movements such as handstand, go for a base width that is 1.5 to 2 times the height of the bars.
---
GRIP (TEXTURE, MATERIAL, DIAMETER)
During intense parallette training, your palms will get sweaty, reduce grip, and make those upside-down movements much riskier. Having a pair of bars that naturally handle moisture well and allow you to maintain grip will help you feel much more comfortable.
Wood parallettes naturally have the best grip because of their porous nature.
Metal parallettes can become slippery when moist, but this is no problem when a knurled grip is used (such as the group on Olympic weightlifting bars and dumbbells), making this a non-issue while still being easy to clean.
PVC Parallettes naturally have possibly the worst grip, but this can be fixed by sanding the grip to add knurling, adding grip tape, or using strings of PVC glue on the handle to add texture to grip. My current parallettes are PVC parallettes, so despite the inconvenience of slippery grip, PVC parallettes are still very functional, and I love using mine.
Generally, remember that the width of the grip and the texture of the grip will dramatically affect your ability to do movements regardless of which material you use. I find 2″ grips to be best, far better than 1.5″ width grips.
---
DURABILITY
Metal parallettes are the best for home gyms as they have the longest lifespan and withstand the greatest loads. However, you sacrifice weight and portability – but if you're not moving your parallettes anywhere, sacrificing portability for materials that will last a lifetime is smart.
Wood parallettes feel great in the hands and are light enough weight that they are easy to move, but the parallettes will start to wobble over the years of use. They will need to be repaired or replaced – the great feel and performance of wood parallettes are balanced by wood being the least durable material compared with metal and PVC.
PVC parallettes are extremely durable, at most requiring a regluing once a decade – if that. PVC parallettes made of 2 inches, schedule 80 PVC, have been tested with loads over 1000lbs making PVC the perfect material for balancing durability and portability.
---
LOW P-BARS VS. HIGH P-BARS VS. DIP BAR STATIONS
All of these elements will very much be affected by the "type" of parallettes you choose. Parallettes can come in three heights, low in "push up bars" (~2 to 5 inches), medium in high parallettes (~12 inches tall), and tall in dip bars (22 inches +).
Due to stability and ground clearance (as discussed in the "size" section), functionality and portability vary between pushup bars, high parallettes, and dip bars. Choose the one that best fits all of your needs for maximum satisfaction.
Bottom Line: Parallettes (~12″ tall) will deliver the best function all around and push-up bars and dip bars.
High P-Bars (12″+) will offer the right balance of stability and height and portability
High P-bars are the perfect height for your home gym
L-Sit to Hand Press
Dips/L-sit Dips
Low bars are too low to do dip variations – dips, L-sit dips, and shoot throughs (Dips + shoot through + pseudo planche pushups
Possible Exercises: Planche variations, pseudo planche, pushups, Handstands
Exercises not possible: L-sit to handstand push up, dips with feet suspended beneath
For travelers and those who move their parallettes frequently, pushup bars are a great option
Dip Bars/ Dip Bar Station
Exercises Possible: All movements, if the height vs. base offers sufficient stability
In a permanent home gym, dip bars are an awesomely quick convenience

CALISTHENICS PARALLETTES FAQS
Which are the best parallettes for calisthenics?
How should you use parallettes for calisthenics

Work through these five essential parallettes calisthenic movements

Will parallettes build muscle?

Parallettes will build muscle because the leverage created puts just as much, if not more, resistance on your muscles than you would with traditional weightlifting.

What muscles do parallettes work?

Depending on the specific movement, parallettes work the shoulders (front, side, and rear), chest, abdominal muscles, traps, lats, lower back, glutes, and the rest of the posterior muscle chain

How tall should parallettes be?

The optimal height for parallettes is 12″ or more, with a width at the base that is long enough to maintain stability through all movements.

Are parallette bars worth it?

Yes, parallettes are one of the lowest cost yet most functional pieces of workout equipment, making for strength and muscle-building workout without weights.

What's the hardest calisthenics move?

The hardest parallettes calisthenics moves are the 90-degree pushup and the I-sit.

WHAT NEXT
Now that you've chosen a great pair of parallettes check out our full list of 33 great parallette exercises.
Also, complement your parallettes with a solid pair of ultra portable gymnastics rings that you can make at home and setup anywhere.