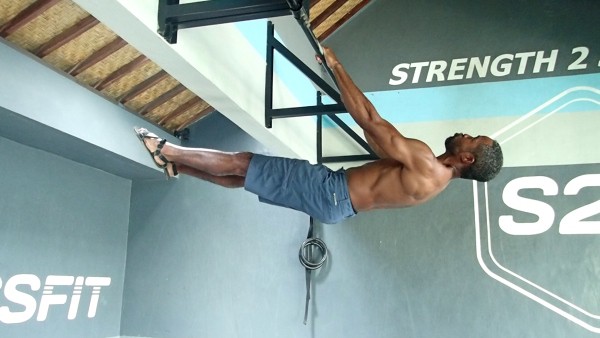 These DIY gymnastics rings to follow are the best and perfect for travel, easy to install and remove indoors and outdoors alike and let you get in a great workout, anywhere.
---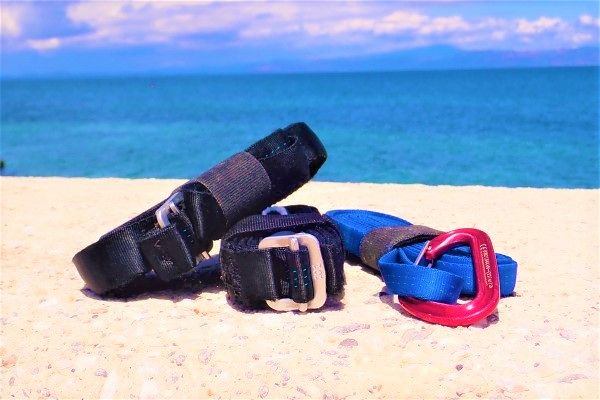 Gymnastics rings and suspension training workouts are some of the easiest, most convenient, and most effective fitness options for upper body strength and muscle on the road. Compared to lifting weights and hitting the gym, gymnastics rings have benefits for your body and your fitness routines while traveling.
If you understand a few essential gymnastics rings and a few essential suspension training exercises, not only can you build a more balanced body, but rings are also portable enough to take anywhere. But, we can do even better, with an even more portable piece of versatile, travel-ready fitness gear.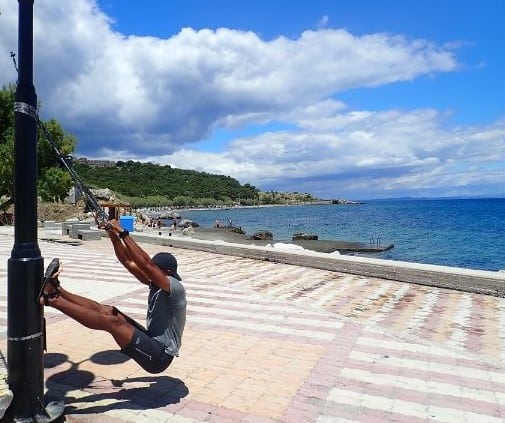 I've managed to create a DIY gymnastic rings styled suspension trainer that packs down small, costs less than $30 to make at home and takes less than 10 minutes to make. This "gymnastics rings styled suspension trainer" makes it possible to do suspension training, high resistance upper body calisthenics, and even gymnastics movements (like levers and muscle ups) virtually anywhere.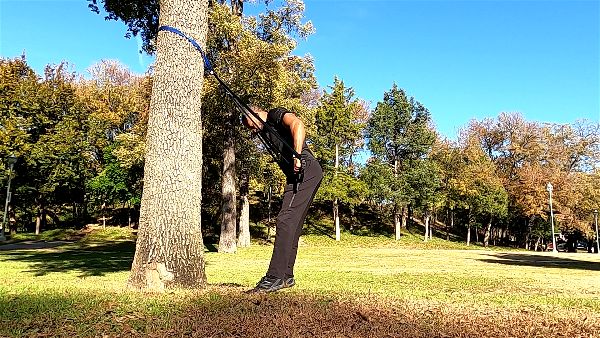 Read on for detailed instructions for how to build this DIY gymnastics rings styled suspension trainer in less than 10 minutes and for less than $30. Keep reading to discover the essential exercises to use with your gymnastics rings, and my favorite gymnastics rings workouts for beginner workouts and advanced workouts.
This article may contain affiliate links

CONTENTS OF THIS DIY GYMNASTICS RINGS & SUSPENSION TRAINER TUTORIAL

WHY GYMNASTICS RINGS ARE THE BEST FOR TRAVEL WORKOUTS AND HOME GYMS
Regardless of where I travel to and how long, my fitness is of the utmost importance to me. If I travel right, my travels take me on new adventures into the outdoors, hopefully with risky experiences that being in shape definitely make easier.
The rest of the time, when I'm just lounging in paradise, feeling good (and looking good) is still a priority. Unfortunately, though I want to stay fit everywhere in the world, there isn't always a gym "everywhere," especially in those adventurous places – and other times, I feel like getting in a workout at home, or in my apartment.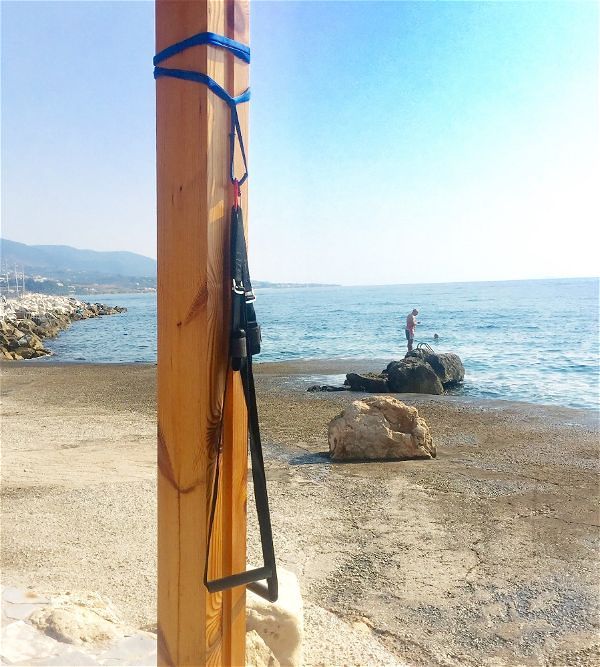 When it comes to workouts, resistance training that builds and maintains strength and muscle is a must. We all know running is great for cardio, rucking is great for endurance and lower body strength and stamina. However, a fitness program (for men or women) isn't complete without upper body resistance training for maintaining strength and toning. I can't take a gym or a bagful of weights every I go, but I can take a suspension trainer.
When it comes to suspension trainers compact enough for travel, I love the Pocket Monkii for its function and portability. However, these DIY Gymnastic Rings and indoor/outdoor anchor that I'm about to share with you are a cheap, easy to make, and versatile option if your budget can't fit the Pocket Monkii Bars suspension trainer right now. Not only do they set up extremely quickly, but they allow you to do pullups, dips, rows, high pulls, overhead presses, biceps curls, triceps extensions, and many more in your hotel room, your garage, or on a tree in the park.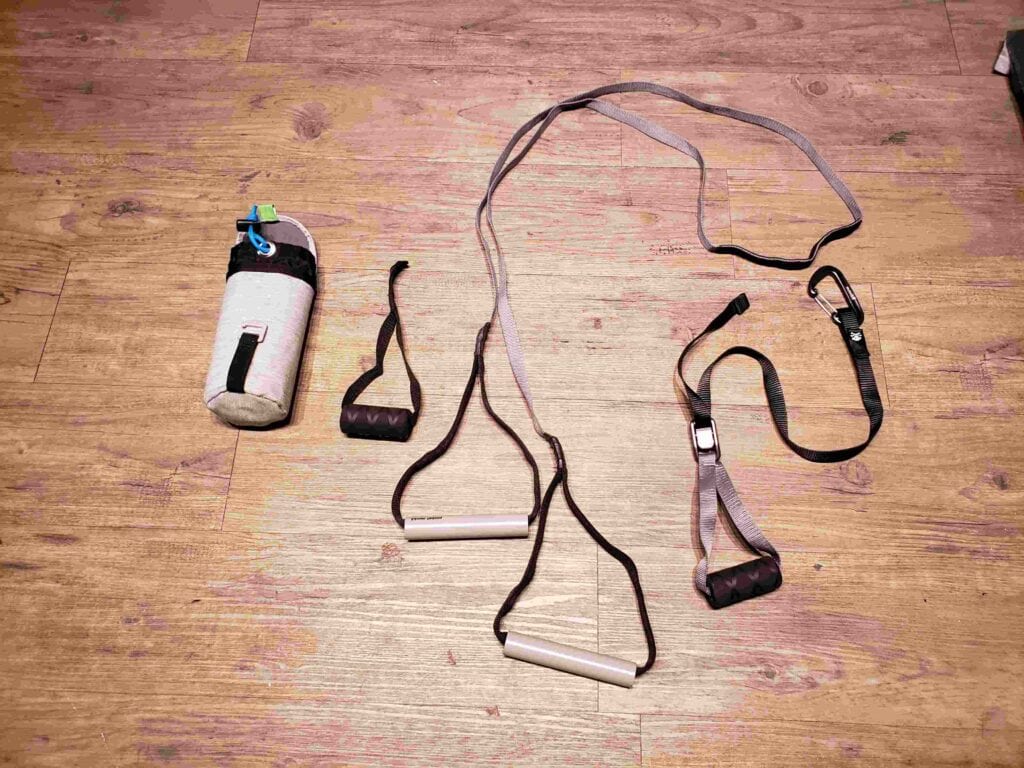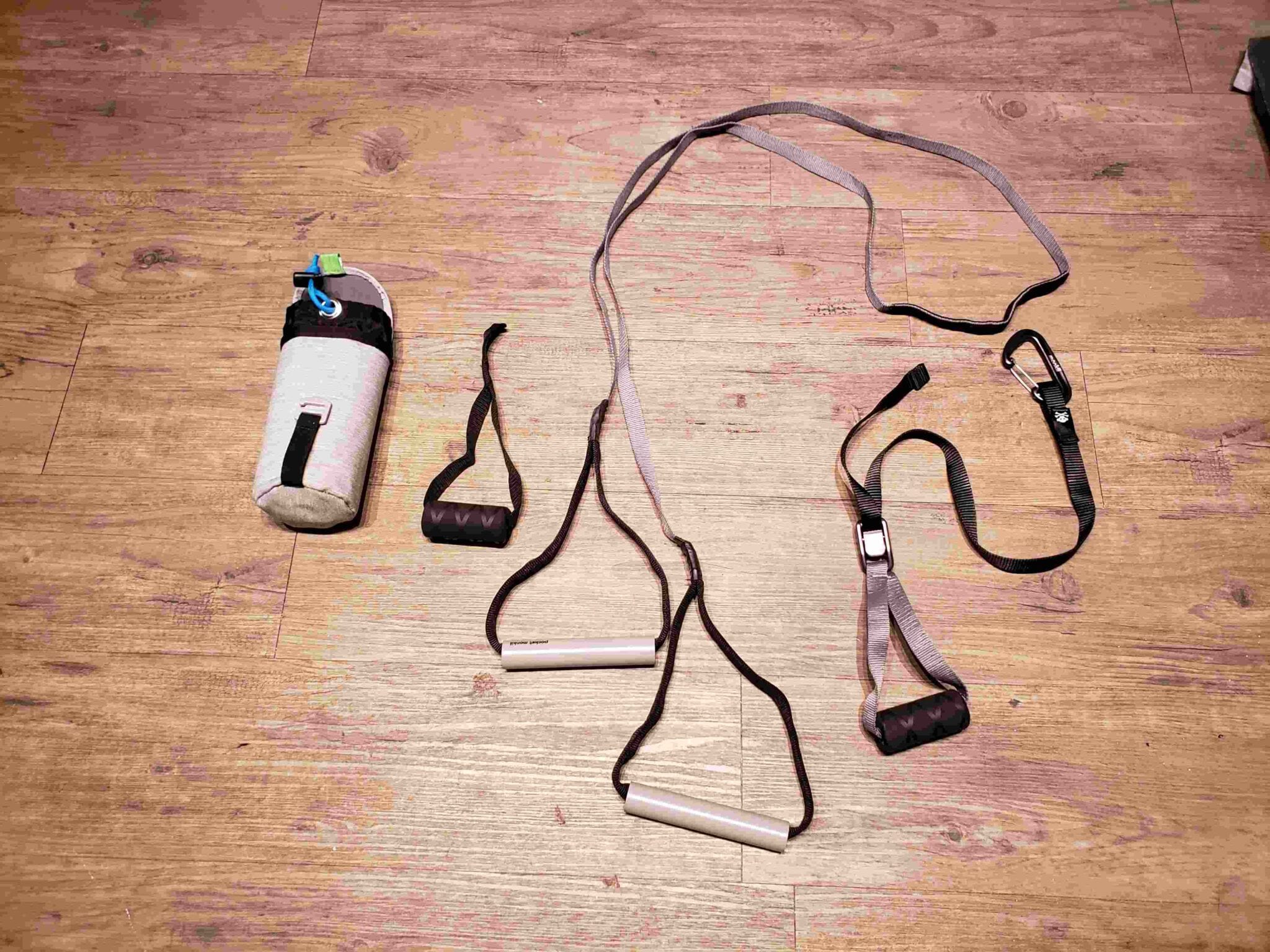 Ultimately, this DIY gymnastics rings styled suspension trainer allows you to get a strength and muscle building and toning upper body workout, anywhere.

Not sure how these DIY gymnastics rings compare to suspension trainers like the TRX and using weights? Click here to jump to the comparison of gymnastics rings vs. TRX suspension trainers or jump to the gymnastics rings vs. weights comparison.
If you're ready to add gymnastics rings to your fitness routine, read on to learn how I make my compact, portable, and cheap gymnastics rings (DIY).

HOW TO MAKE MY DIY GYMNASTICS RINGS STYLED SUSPENSION TRAINER FOR TRAVEL AND HOME GYMS
Making this gymnastics rings styled suspension trainer is remarkably quick, easy, and cheap. Though you can do a few stitches to make the product complete, I've added directions to tie a few knots instead – to create an easy enough option for anyone. The entire process of making them takes less than 10 minutes, and the materials should cost less than $30 (on the expensive side).
Materials Needed to Make the Gymnastics Rings
Optional Materials
Velcro Wrap strap – for packing up your gymnastics rings in an organized way
1 – 3-inch piece of PVC for door anchor
1 – 12-inch piece of tubular nylon webbing for door anchor
Tools Needed
OR
Sewing Machine – As odd as it is, I bought a cheap Singer a long time ago and use it for tons of projects now

A FEW NOTES ON THE MATERIALS I RECOMMEND FOR YOUR GYMNASTICS RINGS
I recommend these specific materials each for their own reasons. I've rock climbed for years, and have been making my own gear just as long. During those experiences, I found these bits and pieces (listed below) deliver great bang for buck, durability, and function over other options. Here's how.
1′ Wide Tubular Nylon Webbing: This extremely strong yet smooth webbing won't scratch, cut, or abrade your skin while rubbing on your arms during dips. The smooth texture also allows the handles to slide easily during exercises movements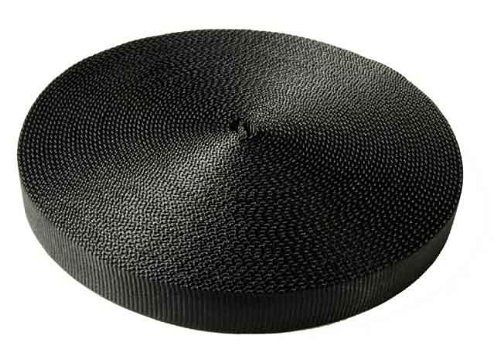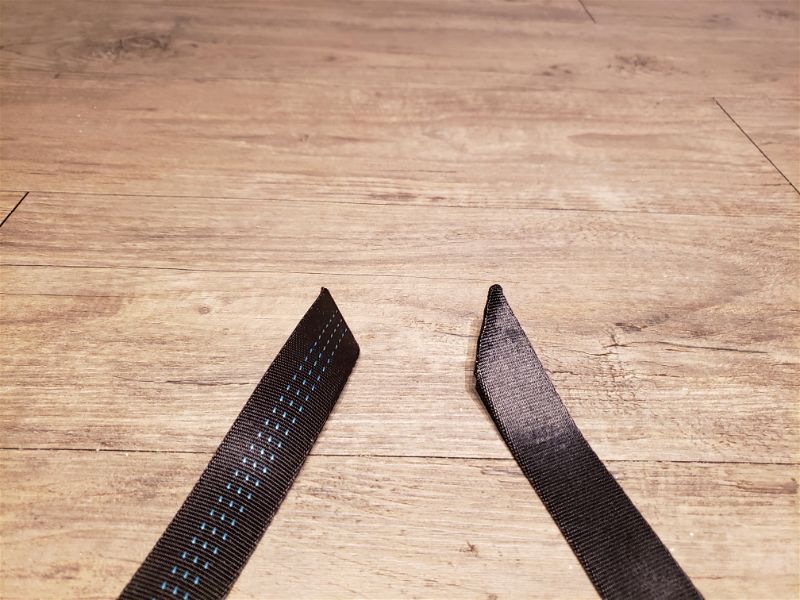 Cinch Buckles from OnRope1: These are a clutch item in your suspension trainer as they're climbing grade and made to secure at least 500lbs. If you opt for another option, check the weight rating is high enough to hold body weight and stress during exercises.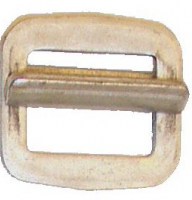 This Heavy Duty Nylon thread from Amazon: I've ordered plenty of spools of thread, and though many dealers list "heavy-duty" in the title, this one actually is. If you opt for another thread, ensure its nylon, ensure its heavy-duty, and check the tensile strength rating.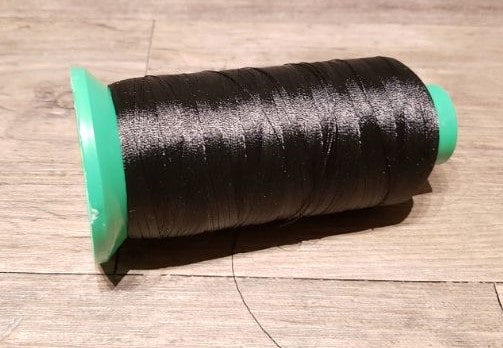 Metolius FS Mini II Carabiner: A compact carabiner that can hold the weight of a truck and still costs less than $10. Ultimately, it's a cheap option you can rely on that keeps your "rig" compact and light, making it the best option I've found.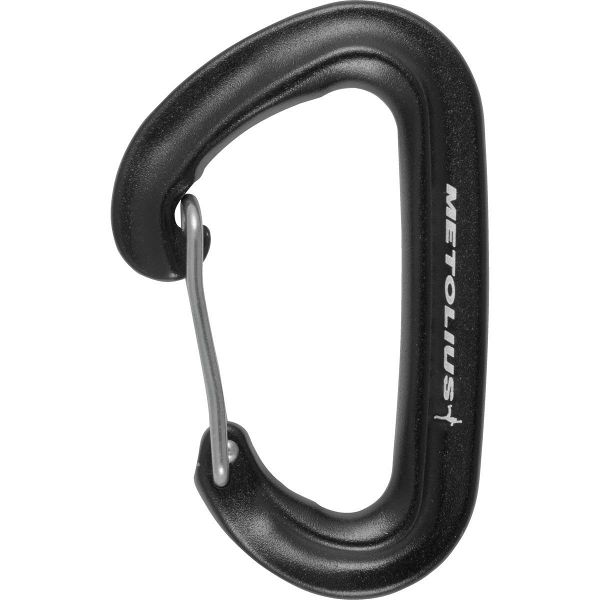 Cut your PVC pipe into two – 6-inch pieces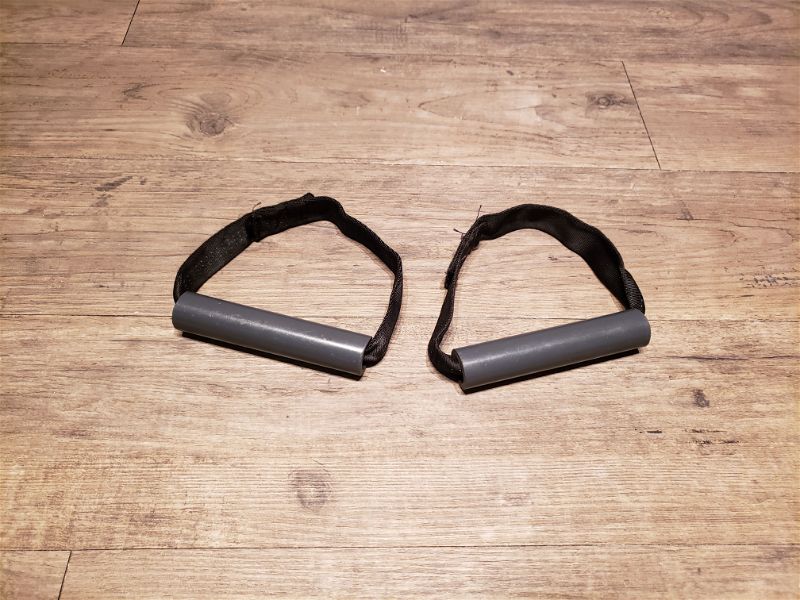 2. Cut your tubular nylon webbing into two 12 foot lengths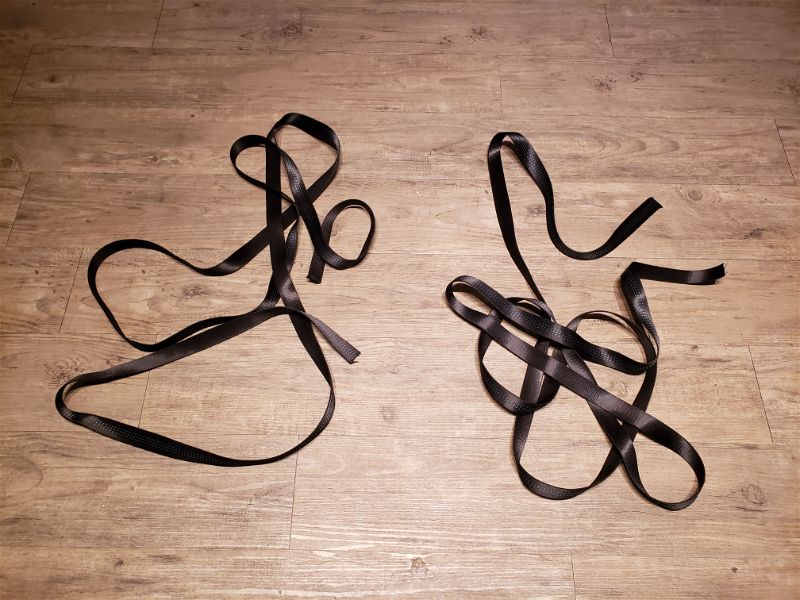 3. Sew one end of each loop around the non-sliding side of your cinch (by hand or sewing machine)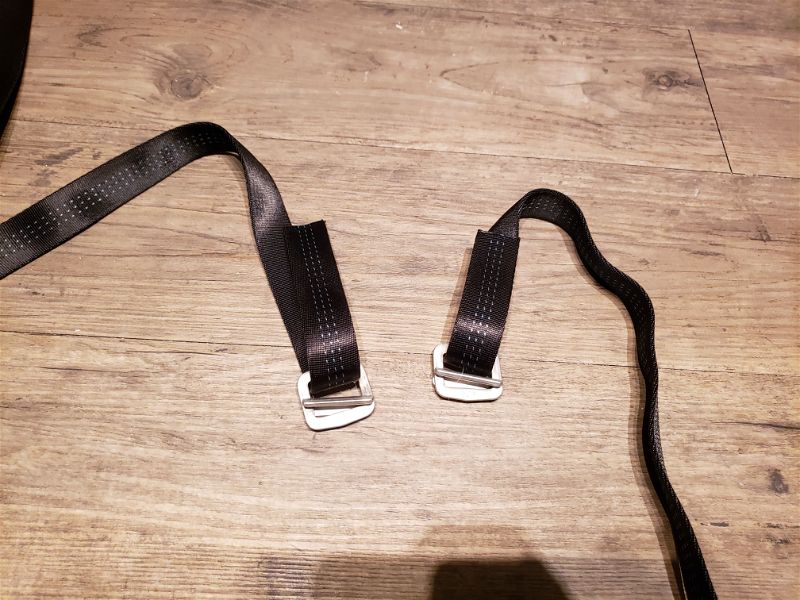 4. If you sew, I recommend making at least 4 to 5 rows of 10-15 stitches at least. I recommend taking into account the tensile strength of the thread, divide 500lbs by that, and sew double that number of stitches. This "overkill stitching" could support up to 1000lbs+ loads. In reality, it gives us the durability we need to continue using the gymnastics rings as they age, and the stitching naturally weakens.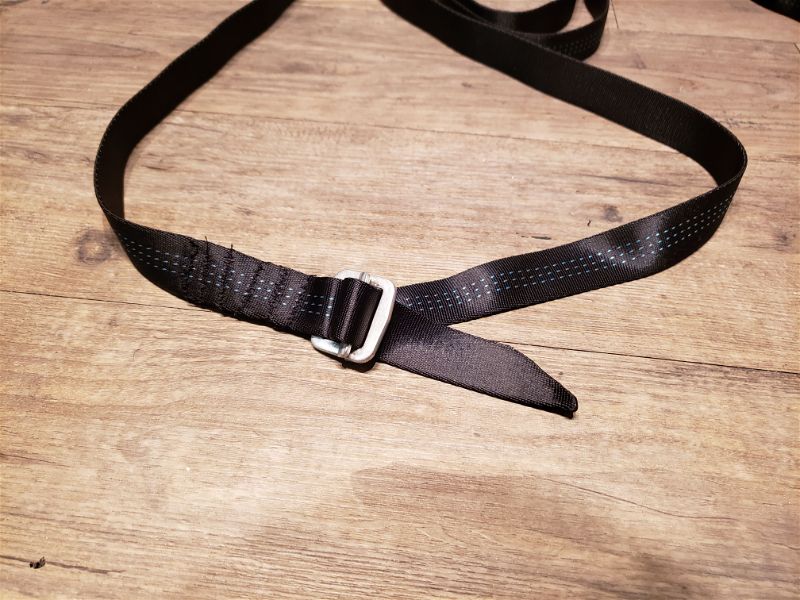 If you don't want to sew, tie a figure 8 knot around the cinch. This knot will hold hundreds of pounds, and well beyond your body weight, with no
Run the loose end of each strap through its PVC pipe handle and then feed the webbing through the cinch.
---
MAKING A GYMNASTIC RINGS DOOR ANCHOR
Gather the 3 inch piece of PVC pipe and the 21 inch piece of tubular nylon webbing
Run the 21 inch piece of webbing through the PVC Pipe
Sew the ends of the tubular nylon together using the same number of stitches you used on your gymnastics rings, overlapping the tape by about 3 inches – OR – tie the ends together with a water knot (similar to the handles below, but with longer straps)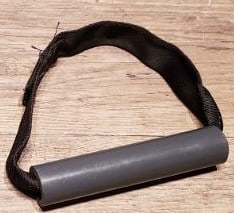 4. Setup the door anchor by throwing it over a door – closing inward – closing the door, and clipping the gymnastics rings in with a carabine. See below for images and details

Take your runner and tie a figure 8 knot in one end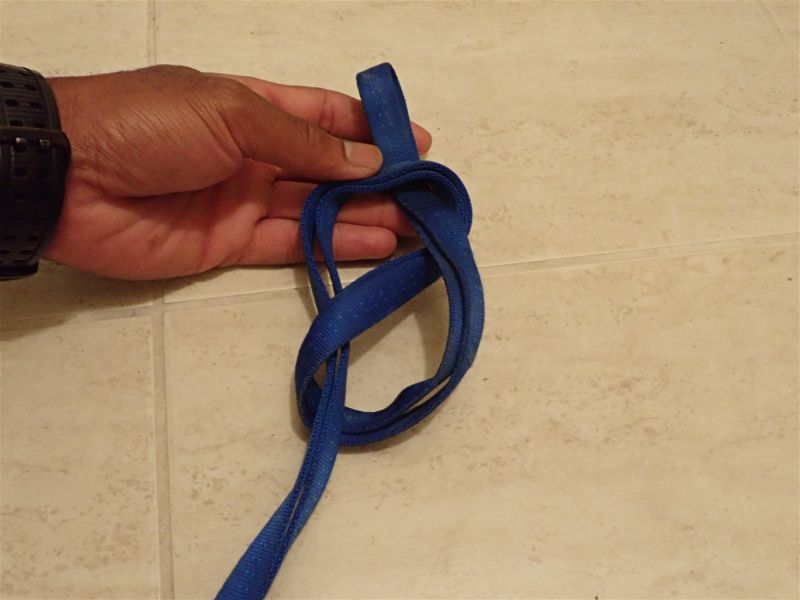 2. Throw the knotted end over a doorway, pulling the runner, so the door closes inward (to protect the door hinges)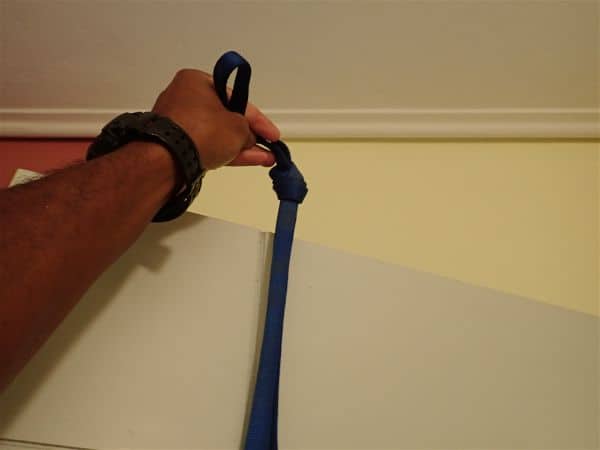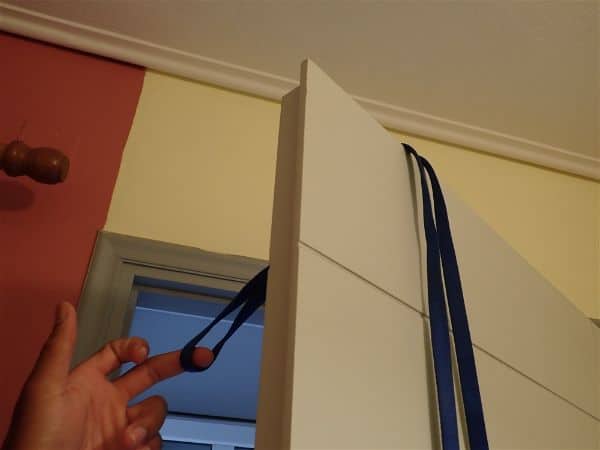 3. Clip the carabiner into the free loop of the runner (now your anchor)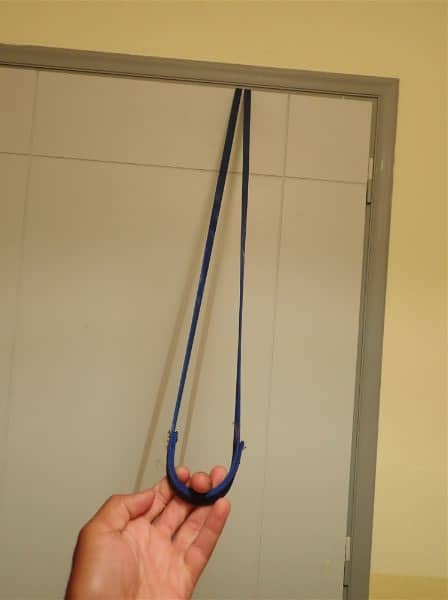 4. Clip the gymnastic rings suspension trainer into the carabiner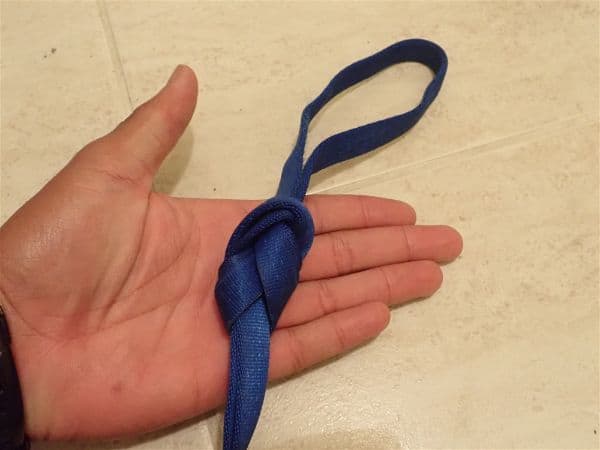 Take the runner and wrap it (possibly several times) around a sturdy, vertical object – like a post, tree, or pole – using enough wraps will create enough friction to keep the anchor from sliding
2. Run one free end of the runner through the other end of the runner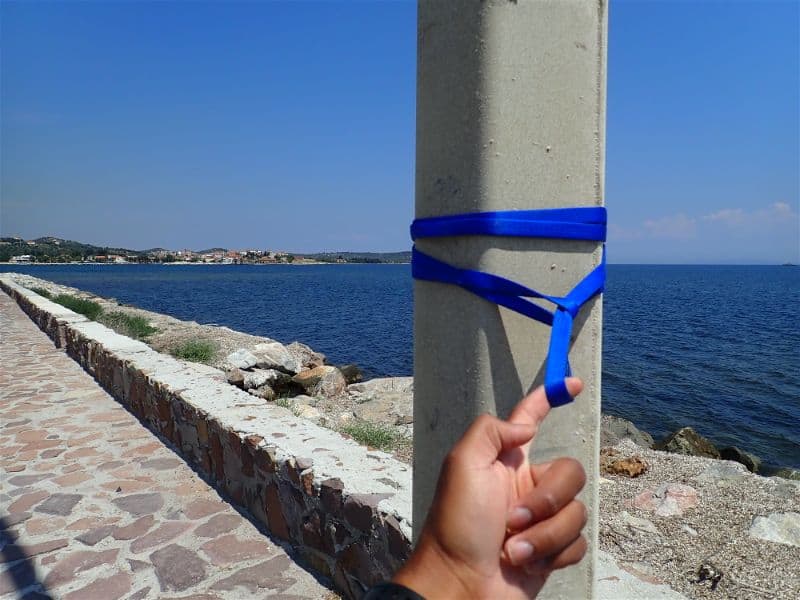 3. Clip a carabiner into the free end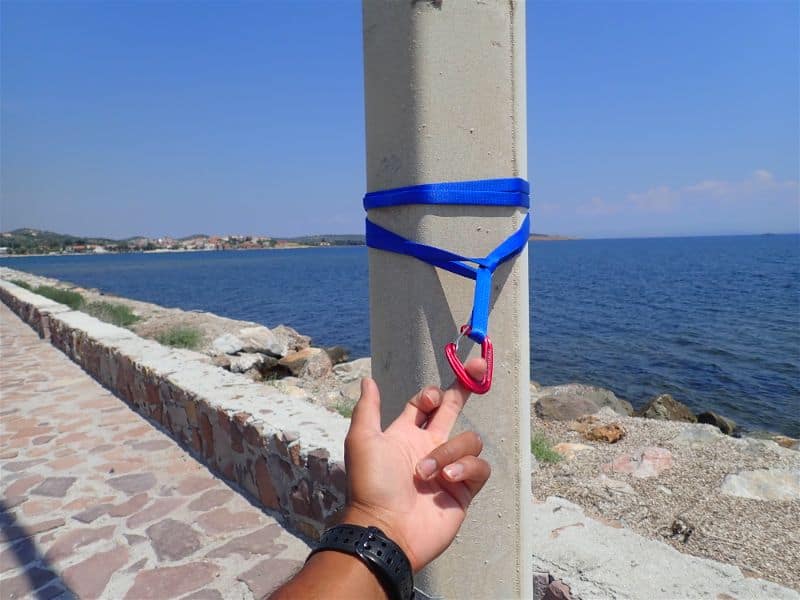 4. Clip your gymnastics rings suspension trainer into the carabiner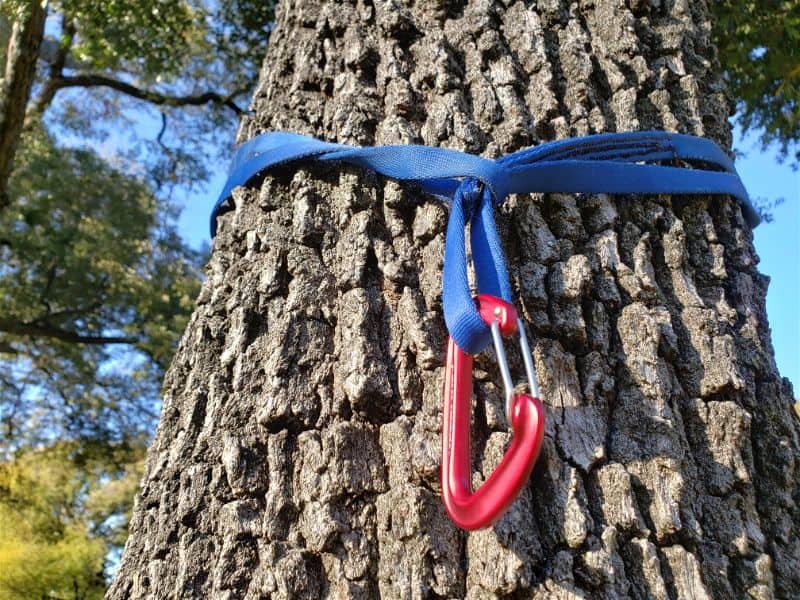 ---
Take your PVC pipe gymnastics rings door anchor and set the portion of the pipe over the doorway
Close the door, ensuring you are pulling the door closed (not open) to save the hinges
Hook your carabiner into the free loop of the anchor
Clip your gymnastics rings suspension trainer into the carabiner

Now you know how to make a great pair of gymnastics rings to stay fit anywhere – but how do you know gymnastics rings are the best option for you, compared to bringing a suspension trainer along, like a TRX or Pocket Monkii, or simply hitting the gym and lifting weights?
The simple answers are…
Gymnastics rings, compared to weights and weightlifting, easily build a more muscularly balanced body. It may be more difficult to increase resistance against a very specific muscle, like the biceps muscle. However, in the process, you will develop more core strength and strength in the muscles needed to stabilize that movement when using gymnastics rings instead of weights. Additionally, these DIY gymnastics are compact and travel easily…unlike weights
Gymnastics rings, vs. TRX or suspension trainers like the Pocket Monkii, gives the same portability with more versatility, and allows you to movements like levers and muscle ups. However, traditional Gymnastics rings still aren't as portable as the Pocket Monkii. If you're interested in staying fit on the road, but don't want to build my gymnastics rings, pick up the Pocket Monkii. I've tested it extensively and you can read all about it in this Pocket Monkii Review**.
Now on to the detailed answers…

---
Suspension trainers like the TRX and the Pocket Monkii are excellent pieces of fitness equipment but suited to very different situations.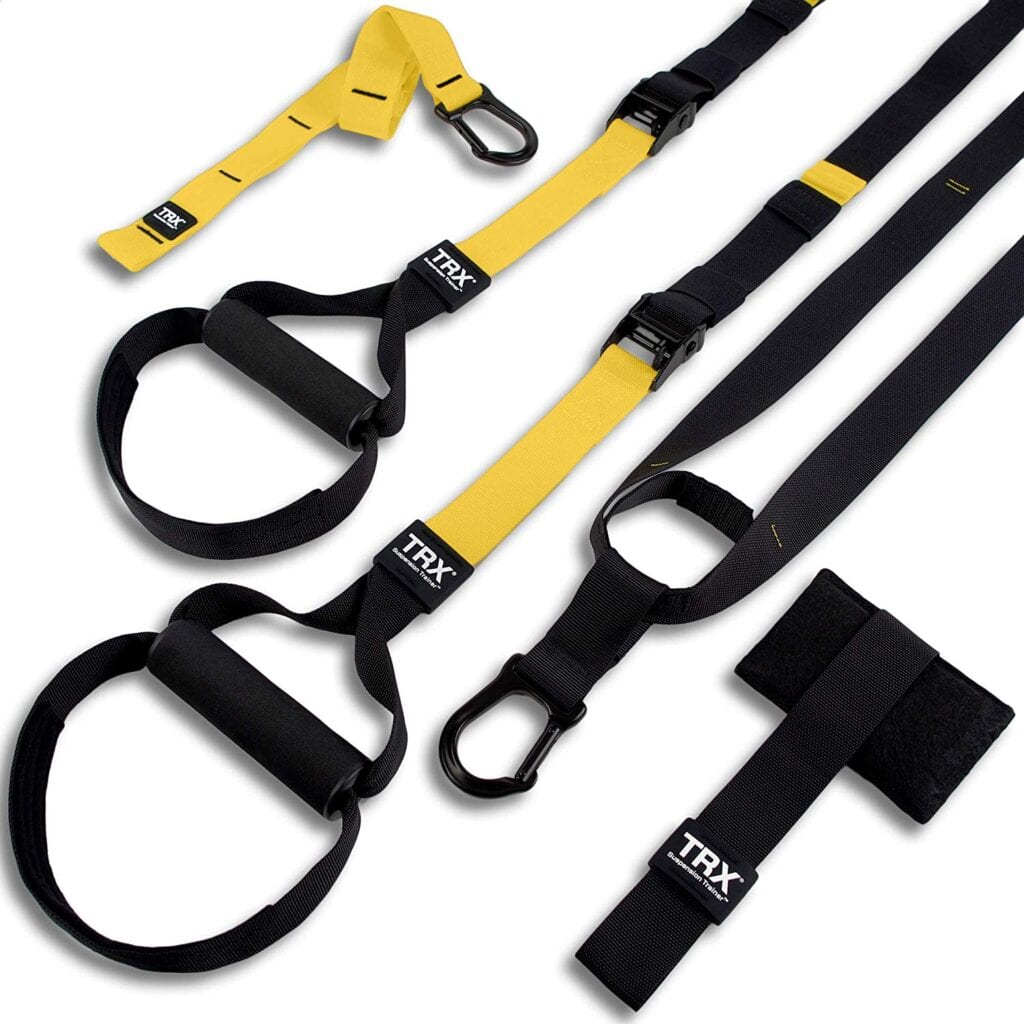 When making the comparison of gymnastic rings vs. TRX suspension trainer, the three main differences are:
these gymnastics rings are much cheaper than the TRX, roughly ~$25 to make yourself compared to the ~$100+ price tag of the TRX while delivering much of the same function
The DIY Gymnastic rings are much lighter, less bulky, and pack down smaller than your average TRX. This compact footprint makes the DIY rings much more suitable for lightweight, carry on only travel.
Though the "DIY gymnastic rings" function well as a suspension trainer, they can easily be set up as traditional gymnastics rings, hanging from a pull-up bar or appropriate anchor. This allows for advanced upper body movements like levers and full muscle ups with a simple piece of gear
Outside of these differences, my DIY gymnastics rings deliver much of the same function as the TRX. With the climbing runner and carabiner, they can be anchored nearly anywhere, from hotel rooms to lamp posts, to trees in a park. You can still perform a wide range of gymnastics style calisthenics. The components are still an extremely heavy-duty on the DIY gymnastics rings with the weakest point tested to 500lbs. As long as you stitch the rig together well, your DIY gymnastics rings will support at least 500lbs reliably.
I've owned a TRX, and ultimately, I've chosen these gymnastics rings time and time again because they're cheaper, lighter, and more versatile than a TRX. Though the TRX is great, compact gymnastics rings are better for travel and more advanced gymnastics workouts, ultimately making building strength and muscle easier on the road.
---
Compact suspension trainers like the Pocket Monkii are great pieces of fitness equipment that allow you to get in a great upper body workout anywhere. The main benefit of compact suspension trainers like the Pocket Monkii is that these suspension trainers are more portable than traditional gymnastics rings.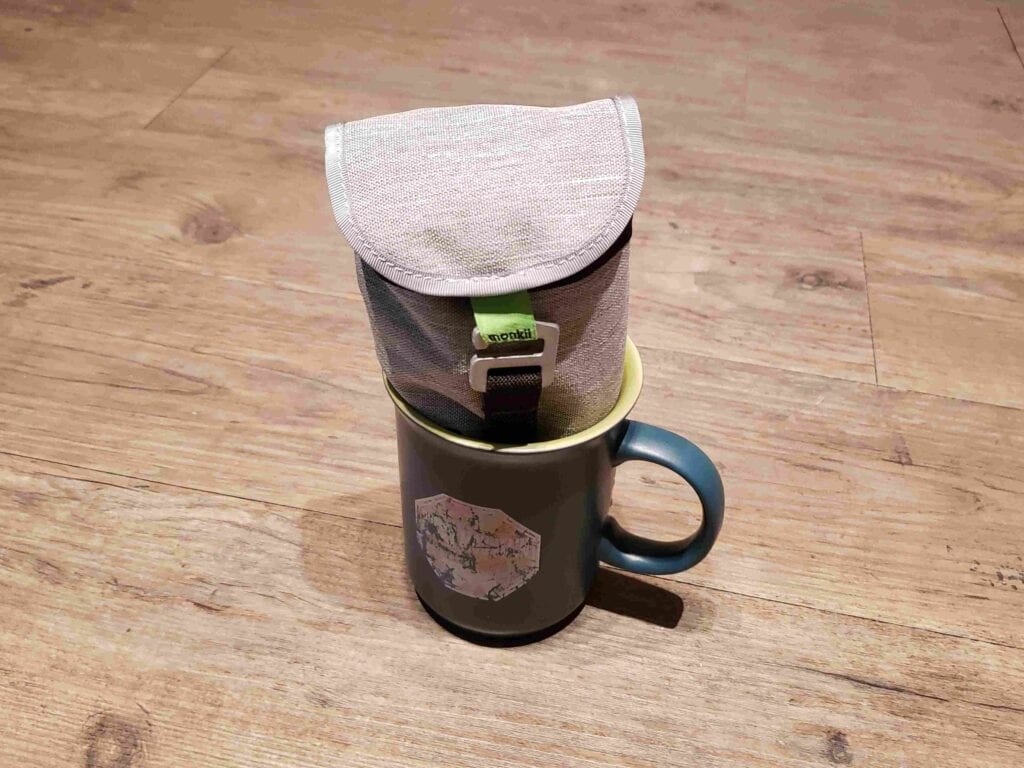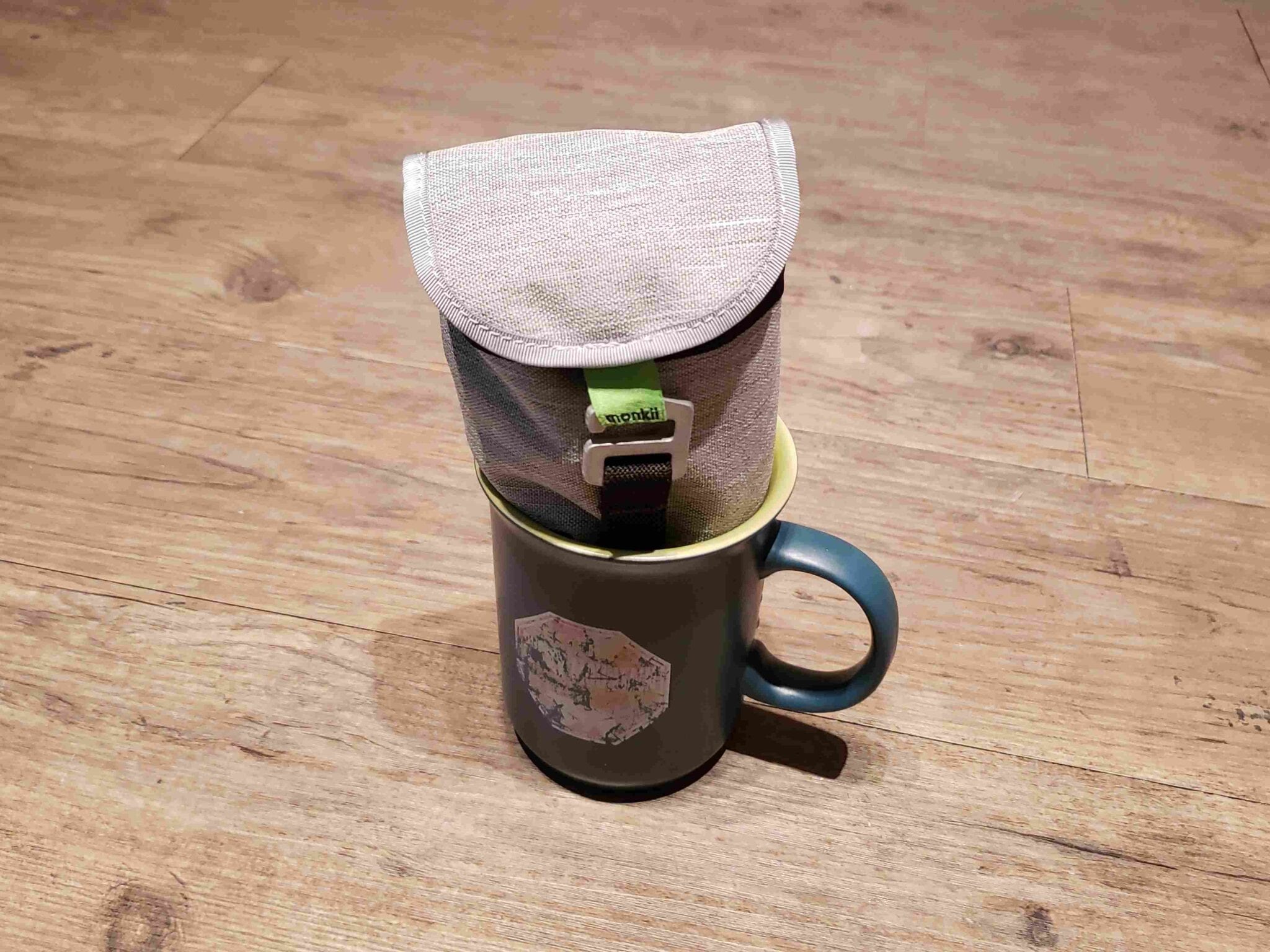 Gymnastics rings deliver an awesome workout. With the addition of a great anchor for setting up indoors and outdoors, these rings can be used like suspension trainers while also doing exercises you can only do with gymnastics rings. The problem is traditional gymnastics rings have a fairly bulky pair of handles – the rings.
My DIY gymnastics rings use a simple, straight, 6″ PVC handle to make the trainer more compact, like the other good suspension trainers. You'll still be able to do gymnastics movements if you have an overhead anchor available.
Ultimately if you travel and can't take a bulky workout system or you need to setup easily and quickly in a hotel room or park, DIY gymnastics rings or a Pocket Monkii are best.
Of course, if you don't feel up to making your own gymnastics rings or suspension trainer, grab the Pocket Monkii. You can read my **full review of the Pocket Monkii here…**
---
Comparing gymnastics rings vs. weights, the primary difference is with gymnastics rings it is easier to build a well balanced, durable body using a very portable system. With weights, it is easier to achieve higher resistance and build muscle more easily in targeted body parts but can only be done when a gym is around.
Lets take a closer look…
---
---
The Pros and Cons of Gymnastics Rings
---
PROS
Portable
Cheap
Forces development of "supporting muscles" to increase resistance on major muscle groups – ultimately building a muscularly balanced body
Very few people will "max out" on gymnastics style exercises and development (levers, muscle-ups, one-armed pull-ups, etc.) meaning with the right knowledge, gymnastics rings always deliver a challenging workout
---
CONS
Learning Curve: Understanding the exercise movements and how to target your desired muscle group, and how to "progress" through exercise difficulty and resistance takes time
Limited "Targeted" Resistance: Bodybuilders using free weights will naturally be "bigger" than elite gymnasts simply because there is no limit to the amount of weight (and resistance) you can find in a gym. With gymnastics style movements, you are ultimately limited to your bodyweight – though very few ever achieve max potential
---
---
The Pros and Cons of Weights and Weightlifting (Compare to Gymnastics Rings)
---
PROS
Easy to increase exercise difficulty (just add weight)
Easy to learn – just pick up the weight and move it
---
CONS
Not portable – weights usually require being in a gym
More Expensive – being in a gym requires a gym membership
Risk of "unbalanced muscular development" – overdeveloping major muscle groups or antagonist muscle groups simply by increasing weight without doing an opposing movement to balance the exercise's muscular development
---
…and what I recommend for travel and general fitness…
If your goal is simply to build strength and muscle, and you don't travel much (or at least always have access to a well-equipped gym) then weights may be a good option for you. Just ensure your workouts develop strength and muscle in a balanced, functional way for long term health and fitness.
However, if you're looking for a way to build a strong, durable, functional, yet muscularly balanced body – using equipment you can easily take anywhere, these DIY gymnastics rings are an excellent fit for you. The learning curve is a bit more difficult, but the payoff of functional, strength-building workouts anywhere is worth it.
---
My Approach: Gymnastics Rings as My Fitness Option of Choice While Traveling
Ultimately, I have adapted a gymnastics style approach to upper body fitness so that I can get a good upper body strength workout in anywhere – and I've been very impressed with the results, building muscle, maintaining strength, and building a very natural and balanced body without the need of a gym

HOW TO USE YOUR DIY GYMNASTICS RINGS TO BUILD MUSCLE AND STRENGTH ON THE ROAD
Understanding the exercises and movements possible with gymnastics rings is the hard part. Once you figure that out, getting a great upper body workout anywhere will be a cinch.
To get you started, read on for the essential gymnastics rings beginner exercises and workouts, along with some more advanced ones.
---
Though you can find hundreds of gymnastics rings exercises and suspension trainer exercise variations on the Monkii app and the TRX app, you only need a handful of exercises to develop the body of your dreams – in both looks and performance. These essential gymnastics rings exercises are all you need to get started building a "ready for anything" upper body and a convenient yet effective home workout.
Pull Up*
Dip*
Overhead Press *
High Pull*
Row*
Assisted One Armed Push with Suspension Trainer/Gymnastics Rings*
---
Muscle Ups*
Reverse Muscle Up (Suspension Trainer High Pull + Transition + Overhead Press)*
Front Lever Progressions
Back Lever Progressions
---
SUPPLEMENTAL EXERCISES
Handstand Hold (aim for a 3-minute hold)
V-Up Hold (for core, aim for a 3-minute hold)

HOW TO GET A GREAT UPPER BODY WORKOUT USING GYMNASTICS RINGS
Once you understand and internalize the basic exercise movements with gymnastics rings, getting in a balanced upper-body workout that builds strength is easy anywhere.
To get your workout in, run through the movements as follows in the beginner workout. If your goal is to build strength and muscle, aim for 6 to 10 repetitions in each set, progressively increasing the difficulty to stay within that repetition range. Keep rest periods within 30 seconds to 1 minute
If you are new to working out or want to "tone" and condition stamina and endurance, aim for 15 to 25 repetitions in each set. This rep range will be easier, and lighter on your muscles while taxing your cardiovascular system a bit more. Keep rest periods between 0 and 25 seconds
---
The Perfect Beginner Gymnastics Rings Workout for Upper Body
Built on the essential gymnastics rings exercises, this simple, straight forward and effective workout is balanced, effective enough for anyone, and easily scales in difficulty. Aim to this gymnastics rings workout 2-3 times weekly, complemented by a good lower body exercise routine.
3 -5 sets of Pull-Ups
3 -5 sets of Dips
3 -5 sets of Overhead Press
3 -5 sets of High Pulls
3 -5 sets of Rows
3 -5 sets of Push-Ups or Assisted One Armed Push with Suspension Trainer/Gymnastics Rings
My Travel and Home Workout with My Gymnastics Rings Suspension Trainer

Once you're ready to level up, go all-in with this gymnastics rings strength training workout. With high-intensity movements that are extremely demanding on your core, you might not put on muscle as quickly as you would with weights but the strength gains, mobility gains, and balanced health you'll gain will be unmatched.
Note that this workout does require an overhead anchoring system that allows free space in front and behind you. I find pull up bars (at parks), or strong trees make the best anchors outdoors – and add the view is pretty awesome too
---
PART 1
3-5 Sets of 6-10 Repetitions of the following 2 exercises
Muscle Up

OR – 5 Pull-Ups + 5 Dips + 5 "Muscle Up Transitions" (from top of pullup to dip starting position) performed without rest

Reverse Muscle Up (Suspension Trainer High Pull + Transition + Overhead Press)
---
PART 2
3-5 Sets of the Following Movements Performed to near failure
Front Lever progressions – either lowering into the front lever for reps, raising into the front lever for reps, pushing into the front lever for reps, or static holding in the front lever for time
Back Lever – either lowering into the back lever for reps, "pushing" into the back lever for reps or static holding front lever for time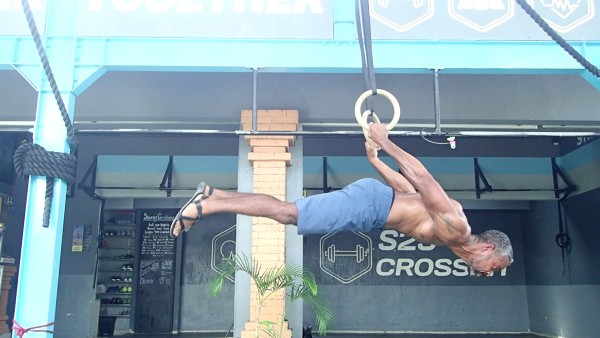 Though this gymnastics rings styled suspension trainer delivers a great workout, the resistance is a little too high to stay at it long enough without rest to get a cardio workout. For traveling, and working out anywhere, I recommend the following options for getting in a great, quick cardio workout as a supplement to your gymnastics rings upper body workout
Tabata (My Favorite): Tabata Burpees for One Full Round, or Tabata with pushups, squats, and pull-ups
KettleBell/Sandbell/Backpack Training: Perform 100 – 200 Kettlebell Swings without rest. Gymnastics rings and kettlebells are one of the best ways to build a great body with minimal equipment.
Running
Jump Roping
Rucking
---
Gymnastics rings exercises and suspension training movements force a continuous core workout. Because the core muscles (both abdominal and lower back) must be engaged to do any of the movements properly, the abs are constantly working.
However, if you need a "core smoker" to finish off the workout while you're on the road, aim to accumulate 3 minutes performing any of these movements
V-Up Hold
Planks
Dynamic Planks
Pike (using the suspension trainer)
Note: Core is Continuous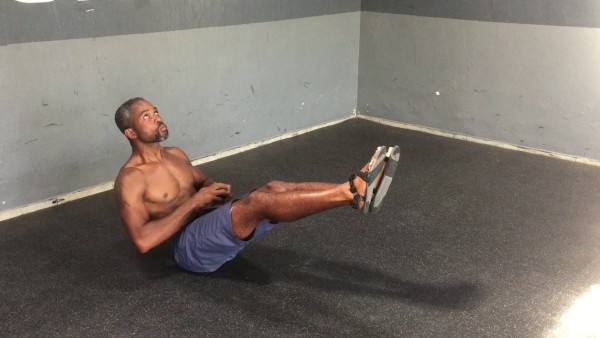 Well-rounded fitness isn't all about strength, and it isn't all about the upper body either. Add an extra tool or two to your travel workout kit to hit legs, cardio, and recovery. These are the favorites that I take everywhere
OTHER GREAT FITNESS CONTENT