The perfect travel wardrobe not only keeps you looking good and feeling comfortable (dry, good temperature, and odor-free) but is also minimalist – packing down small enough to fit into airplane carry-on luggage while wearing for months. Creating that perfect, minimalist, travel-ready wardrobe needs a few pieces of solid Merino wool clothing. In this Unbound Merino review, I'll reveal why I loved the Unbound Merino T-shirt and Merino hoodie after wearing for weeks straight without washing, and on adventures motorbiking and hiking from the hot heat of beaches to the cool highlands in Bali's volcanic countryside.
Finding the right shirts and insulation layers that are odor-fighting, durable, stylish, and functional enough to fit any activity, all at a reasonable price, is tough – until now. That's where Unbound Merino comes in.
Over my last few travel trips in Bali, I've tested Unbound Merino's core pieces to see how well they fit into "travel life." Not just daily travel life but stylish nightlife, impromptu motorbiking and hiking adventures, travels around the hot tropics of Southeast Asia, and more. Spoiler alert – I'm now a fan of Unbound Merino.
Unbound Merino's approach to simple, stylishly well cut, and high-quality wardrobe basics (think t-shirts, hoodies, sweat pants, and more) is a near-perfect execution, ideal for minimalist wardrobes and the minimalist traveler (like me).
In this Unbound Merino review, we'll look at their high quality but relatively low-cost Merino Wool basics that have improved my travel packing game immensely. Read on to discover how the Unbound Merino T-Shirt, Merino wool Hoodie, and Merino wool Polo shirt have earned a permanent place in my travel pack and daily wardrobe
(Note: This article contains affiliate links)

WHY YOU NEED A MINIMALIST WARDROBE + WHY THE ANSWER IS STYLISH BASICS & MERINO WOOL
Traveling lighter and with less inherently makes travel easier, cheaper, and more enjoyable
One of the major problems we (as travelers) have is usually packing too much. We're always capable of finding our way without an itinerary. We can always save a little money by eating cheap eats or having beers in a park with friends. And we can always shift as plans do.
Traveling with a 50lb bag that you have to check on planes (and pay an extra $50 for) then lug that bag up and downstairs, onto trains and buses can be tiresome and taxing – whether you're on a three-day weekend adventure or a three month trip around Southeast Asia.
However – sometimes overpacking just isn't our fault. Not completely, anyway. For instance, if you travel to Argentina, you'll need separate shirts for the stylish city life of Buenos Aires and the backcountry of Patagonia, and you'll need enough shirts to last 3 to 5 days between washes. Add that up, and you'll need six shirts easily – unless all of your clothes look good and perform well (quick-drying, odor resisting, and durable).
This is where having a well-crafted minimalist wardrobe is possible.
This is also where adding Merino wool (the ultimate performance fabric) clothing to your wardrobe is a huge opportunity.
Lastly, having versatile yet stylish basics – like solid color t-shirts, stylishly versatile insulating sweaters, and knit hoodies – finishes a solid wardrobe.
A minimalist wardrobe keeps you comfortable in all conditions, and ready for near any activity, while keeping your bag light – saving you from checked bag fees, stressful travel, and the stress that comes with clutter.

WHY MERINO WOOL FOR TRAVEL AND MINIMALIST WARDROBES
Merino wool performs well without developing odor after weeks of wear – ultimately, you carry less clothing that does more for you
Merino wool is the original and (arguably) the ultimate performance fabric – in comfort, function, and style.
Wool, in general, is amazing.
Wool's heat-regulating properties allow the wool to keep you warm when it's cool and cool when it's warm out – just look at the pictures of me happily wearing a black wool t-shirt on sweltering 90-degree Bali.
Wool naturally dries quickly, even while you're wearing it. This means that 1) wool wicks away sweat to dry more quickly than cotton or synthetic fabrics, and 2) wool is perfect if you want to wash a shirt (by hand or in the shower) and want it to dry overnight. In my experience, wool can dry as quickly as a few hours at room temperature, while cotton takes a day minimum.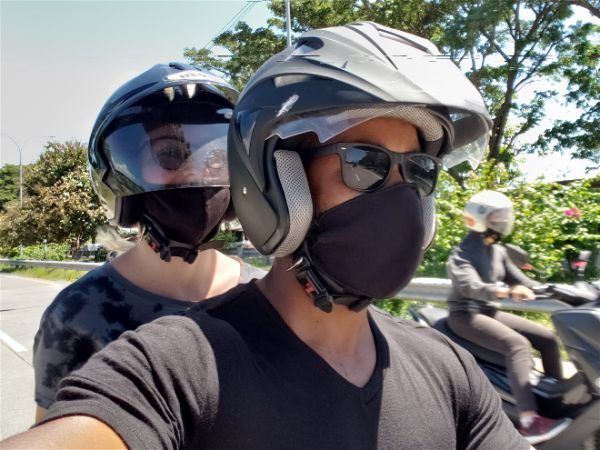 Wool naturally resists odor, allowing you to wear it for days without washes. I've managed to wear a single Merino wool T-shirt for three weeks without washing and smelling bad. And I've worn my Unbound Merino gear for two weeks straight – daily work, midday workouts, and weekend motorbike trips – with no issues.
Because of wool's natural anti-microbial properties, wool prevents bacteria from growing in the sweat that accumulates in the shirt, thus preventing odor even after weeks of wear.
On the other hand, Cotton gets one day wear, perhaps two maximum, before odor develops. And cheaper synthetic shirts (think workout shirts) tend to hold odor even after they've been washed, after heavy sweating.
Merino wool is extremely fine and soft to the touch – like worn-in cotton. If you remember wool pieces, like scarves and knitted hats, being itchy and uncomfortable, that's because you haven't tried Merino wool.
Merino wool's ultrafine strands knit to create a garment that's soft to the touch, like a cotton t-shirt that's been washed hundreds of times, making it perfect to wear directly on the skin as a t-shirt or base layer for hiking and trekking.
Odor resistance, heat regulation, quick-drying, and moisture-wicking properties in a fabric that is soft to the touch make Merino wool the ultimate material for daily wear, travel, and adventure activities
---
Now, Unbound Merino has taken this already awesome, ultrafine Merino and used it in versatile fashion basics that can be worn or on adventures – and that is what sets Unbound Merino apart from other wool clothing brands.

WHY UNBOUND MERINO
Unbound Merino crafts soft, high-quality Merino wool into stylish and versatile "fashion basics," making a tiny wardrobe versatile enough for any situation
Unbound Merino makes Merino wool basics, done well.
Look at any piece of Unbound Merino gear, and you find the same thing – a timeless piece of very basic clothing that is cut very well and minimal branding.
Unbound Merino takes the finest available Merino Wool, ethically and sustainably sourced from Australia, and uses it for timeless yet stylishly basic wardrobe pieces – like t-shirts, hoodies, sweat pants, and knit sweaters – all in solid colors.
If you are building a minimalist or travel-ready wardrobe, why are "basics" so great?
Because fashion "basics" don't go out of style: they've been in style for nearly a century, so your wardrobe won't go out of style
The functional versatility of basics is very high – which is why you often wear solid colored t-shirts to the office, the gym, on your hike, and to the bars at night – you get more use out of a single piece of clothing
Fashion basics layer and pair well in style and function: A Merino wool t-shirt keeps you warm and layers well under a Merino hoodie or sweater, and additionally on top of Merino wool sweat pants. A wardrobe like that adapts quickly from a day at the beach to a night in cool mountains.
And Unbound Merino beats the competition in how it does these basics.
I've tested three pieces of Unbound Merino gear – the Unbound T-shirt, the Merino Hoodie, and the Merino Polo.
All three clothing pieces have been around for nearly a century and are still in style with no sign of going out of style.
T-shirt: Invented 1898
Polo shirt: Invented 1896
Hoodie: Invented in the 1930's
The cut on all three pieces was modern, fashion-forward, and stylish in a less trendy but more timeless way
The natural stretch (on top of the natural properties of Merino wool) made them comfortable to wear through any activity – hiking, pull-ups between work, motorbiking, etc.
Finally, the great quality knit and double stitching (more than I've seen on other shirts) means 1) I can wear these pieces harder than others without worrying about failing during a trip, and 2) I'll be able to use them longer, making them worth the investment.
Any Merino Wool is better than getting none, but Unbound Merino executes in a way that improves the function and comfort of its shirts.
Is Unbound Merino good for Travelers?
Unbound Merino is perfect for travelers, especially minimalist travelers.
I traveled the world with only a single 40-liter REI backpack and later a 45-liter GORUCK backpack for the last four years, so I know something about travel and minimalist wardrobes.
Because Unbound Merino's shirts do what they claim and are so comfortable, you could seriously get away with having only 2 for a year-long trip, even if you don't get to wash for a couple of weeks or end up in some sweaty climates.
The amount of space taking Merino shirts will save you absolutely makes it worth it – but the style and comfort from getting Unbound Merino gear make the purchase a no-brainer.
IS UNBOUND MERINO GOOD FOR DAILY MINIMALIST WARDROBES?
Unbound Merino gear is, in my opinion, absolutely solid for minimalists planning a daily wardrobe.
In the year before I left for travel around the world, I moved to a minimalist lifestyle to declutter everything and get back to the basics. For my wardrobe, the basics were suits and slacks for work, jeans, t-shirts, and a hoodie, with a few pieces to layer on for weekend hikes.
The emptied closet not only felt less cluttered but made picking outfits daily easier. Also, the emptier closet made packing up a storage unit to travel the world a lot easier – and the clothes in my closet naturally fit into my minimalist travel wardrobe.
Though Unbound Merino wasn't established yet when I went through my process of minimizing, Unbound Merino's shirts would have been a great choice and easy fit for that daily, minimalist wardrobe.
If you want to minimize your daily wear wardrobe, I highly recommend checking out Unbound Merino's basics and Unbound Merino's packages.

ABOUT UNBOUND MERINO
Quick Facts About Unbound Merino
Established in December 2016
All wool is ethically and humanely sourced from independent farms in Australia
Committed to designing/constructing clothes that stand up to abuse and a lifetime of wear
Designed with the idea of using the high-performance nature of Merino wool in understated clothing, stylish enough to wear anywhere
"In a world dominated by fast fashion, we've slowed things down. We produce timeless, versatile pieces that have you looking great in any situation and can be worn for weeks on end without needing a wash. Unbound Merino will declutter your life, allow you to travel lighter than ever, and focus on the things that actually matter. Behind every simple piece we create there are three extraordinary benefits – Simplicity, Versatility and Performance."

"We reject disposable and flashy seasonal trends. We forgo logos that have you standing out in a crowd. Instead, our statements of true quality are made quietly and with purpose. We believe the best design is no design at all and less really is better."
"We want you to pack and own less, that means our designs have to do more. Our understated and stylish clothing ensures you will look your best anywhere life takes you."
"We were drawn to the incredible natural benefits of Merino wool. The fabric was perfectly suited for travel, but it was typically designed as high performance outdoor activewear, with flashy logos and unnecessary embellishments. Sure, it performed great on a hike, but we wanted something that did that and also looked great at a restaurant, in a museum, at a rock concert and out on the town.
"After years of researching, designing, and prototyping – we partnered with industry leaders to create the most stylish, versatile and highest performing Merino wool clothing that's made specifically for travel and everyday life.
"Our purpose is to create simple, high performance clothing that is versatile enough for any occasion."
(Quotes taken from Unbound Merino's About page – so eloquent I couldn't resist sharing them

MY EXPERIENCE WITH UNBOUND MERINO
Over the past month, I've tested the Unbound Merino T-shirt, the Unbound Merino Hoodie, and their Polo shirt.
For the entire time of the testing period, I've lived and explored Bali during the hottest time of the year, averaging 34.4 Celsius / ~93 Fahrenheit and the rainiest time of the year. During this hot yet wet month (all of April), I wore the shirt on motorbike adventures from the sun-soaked beaches to the cool highlands around the island's volcanoes, through countless surprise rainstorms, over days straight of wear while bouncing between a few of the many islands here, while nervously sweating doing standup comedy, and a few workouts, treks, and post-surf yoga sessions.
This adventurous lifestyle in such a hot, wet, and varied environment may not seem like the perfect place to wear wool – but that's why this test was so perfect.
My goal was to wear Unbound Merino through as many hard use conditions as possible for as long as possible, to see how comfortable the clothing kept me feeling and how long each piece could thrive between washes while still smelling acceptably fresh.
The quick verdict: I found all three pieces to feel great, look good, and stay fresh after weeks of nasty use and bad hygiene. There wasn't a single experience in which the gear didn't perform well. The great performance of Unbound Merino's clothing was partly due to the great quality Merino wool, partly due to the thoughtful and reliable construction (stitching, other materials), and partly due to timeless "basics" and easy-to-wear style.
Unbound's gear has earned a permanent place in my wardrobe.
I'll review each piece of gear quickly here and in-depth in its own post, but I'll summarize my experiences with all three pieces first…
---
COMFORT
UNBOUND'S GEAR FEELS PLEASANTLY "WORN IN" FROM FIRST WEAR, PERFORMS WELL IN ALL TEMPERATURES
All three pieces (t-shirt, polo, and hoodie) felt soft on the skin from the very first wear – comparable to that soft on the skin feeling you get with 100% cotton t-shirts that have been washed hundreds of times. In the Merino and wool gear I've tested, this has been the biggest factor in whether I actually could or will wear a shirt for days. For instance, my beloved Pendleton wool flannel is too itchy to wear directly on the skin, and my cheaper Woolly brand t-shirt took a good six months of wash and wear to feel "cotton t-shirt soft."
On the other hand, Unbound's Merino felt soft right out of the package – hence why I was able to wear it for a week straight right after my gear arrived.
UNBOUND'S GEAR STAYED COMFORTABLE IN HOT TEMPERATURES
Most of my travel-ready clothing is black, which is great for hiding dirt but horrible in blazing Bali heat…unless it's a good wool shirt.
Unbound's shirt (t-shirt and polo) perfectly balanced the weight and density of the wool knit so that even in the heat, the wool felt light on the skin and the opposite of smothering. That perfect weight combined with Merino's natural sweat wicking and moisture management properties meant I stayed comfortable and dry after hours of motorbiking and hiking in the Bali sun, and that's wearing black!
When I first felt the Unbound t-shirt, it felt slightly lightweight, almost see-through, which worried me. I later realized that lighter weight made it a perfect base layer or stylish t-shirt on hot, sunny days.
And that weight stayed just as comfortable on cool nights.
Though I "live" 5 minutes from the beach in Bali, where temperatures regularly reach the 90's Fahrenheit / 30's Celsius, my latest adventures took me to the cool highlands around Ubud and Sidemen (next to the volcano, Mount Agung). The temperature can be a chilly 20 to 30 degrees cooler in these areas, but the t-shirt and polo handled the switch with absolutely no issues, still feeling comfortable. Once the temps dropped into the 60's Fahrenheit, throwing the Merino Hoodie on top added that perfect "crisp" of warmth – while still staying stylish, mind you.
AND GREAT FOR ANY CONDITIONS, YOU CAN THROW AT IT
One of Merino wool's most awesome and unsung benefits is how it can dry quickly even while being worn. I experienced this firsthand after getting caught in a rainstorm for an hour-long ride.
As we were motorbiking the hour ride from Ubud (cool, high country) to Canggu (beachy paradise), we got caught in a normal yet sudden rainy season torrent of rain. I rode for about 10 minutes, getting wet along the way before I found a turnoff to throw on my rain jacket (the waterproof yet breathable Bluffworks Field Jacket fyi, which paired amazingly well with the T-shirt and hoodie). I rode in the rain with a rain jacket over my now wet Unbound t-shirt for about 30 minutes before arriving in sunny Canggu.
By the time I'd arrived in Canggu and fully escaped the storm, the t-shirt underneath had already dried and was still smelling fresh (or at least neutral).
ADD THE MERINO HOODIE AND A WINDPROOF/WATERPROOF RAIN SHELL FOR ALL-CONDITION READINESS
The experience of getting caught in the rain and adding my rain jacket on top of the t-shirt – and drying so quickly – made me realized how potent Merino wool could be when layered well.
I layered the Merino Hoodie over my t-shirt and under my Bluffworks jacket during another trip through the mountains.
Not only does the Merino hoodie feel good on the skin – thanks to using the same awesome Merino – but it has a slim, stretchy fit that layers well under jackets. If you are traveling to cooler mountain climates or traveling in the winter, I highly recommend the Merino hoodie. The more I use it, the more practical I realize it is, all while still being classically stylish and comfy.
Bottom line: The combination of soft and high-quality Merino wool with the lighter weight knit in the Merino wool t-shirt makes it the best I've tested for warmer climates and varied conditions – helping it dry quickly whether on your skin or drying overnight after a sink wash. This performance combo makes this shirt a no brainer for minimalist and one bag travelers

PIECE BY PIECE UNBOUND MERINO REVIEW AND EXPERIENCES
---
In short, the Unbound Merino T-shirt is awesome. The simple, classic styling of their V-neck wool t-shirt made it a versatile piece in my wardrobe – looking good as I performed standup comedy and survived Canggu nightlife. Functional, solid construction allowed enough natural stretch to stay comfortable through all activities – yoga, calisthenics, hiking, motorbiking, and boringly sitting at a desk for hours.
My favorite part of this t-shirt is the cut of the design and the fabric's resilience after days of wear.
The shirt's fit is modernly slim, fitting comfortably yet slimly at the shoulders, arms, and waist, without being too tight and without unnecessary bagginess. This trim design gives the shirt a classier look that transitions easily from day to night.
The resilience, or slight stretch, within the fabric stays with days of wear, meaning this t-shirt fits and feels the same way on day one or day 12. I have never owned a cotton tee with that same readiness for extended wear.
Lastly, the odor resistance, sweat management properties of this shirt rock. I wore this shirt for two weeks without a wash in which I motorbiked and traveled between Indonesian islands, worked out, performed on stage, stood in smoke-filled bars, and more. At the end of the two weeks, the shirt still felt good and smelled "neutral" at best.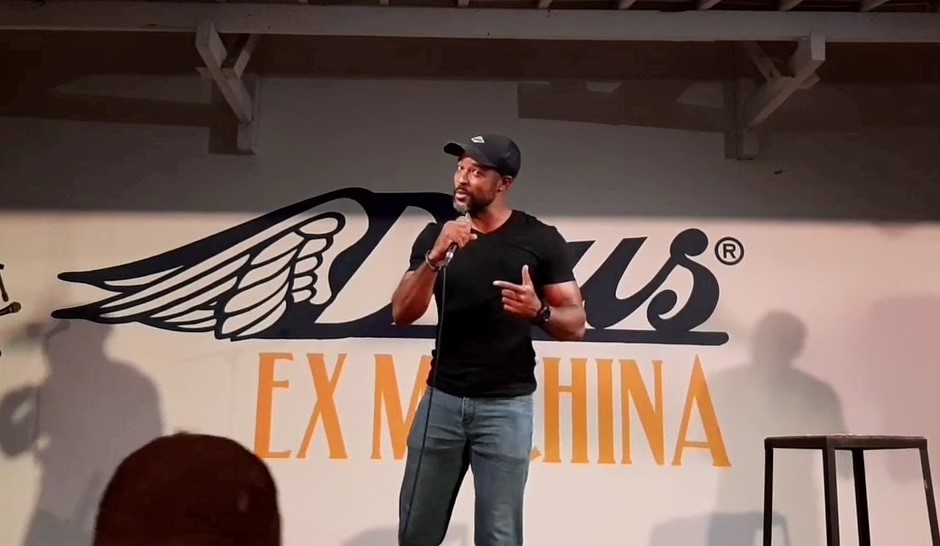 This shirt could easily be your only shirt for an entire trip. Buy two, and you have all the shirts you need.
If you're a minimalist or a traveler looking for multi-functional clothes that do more, get the Unbound Merino T-shirt. It's worth the price tag.
Click here to discover more about the Unbound Merino T-Shirt
or
Click here to review the full Unbound Merino T-Shirt Review
---
The Unbound Merino hoodie is another solid reboot of a classic. 97% ultrafine Merino wool for performance and 3% elastane to give this breathable knit hoodie's fabric resilience and a modern, slim fit.
Hoodies have been around for nearly a century because they are equally stylish in an urban, modern way and functional because they feel cozy and lock the cold out. Unfortunately, most hoodies are made of cotton or synthetics, making them too bulky for travel, not warm enough for much cooler conditions, and prone to getting funky and smelly.
The Unbound Merino hoodie solves is more packable and compressible and warmer than cotton, and synthetic hoodies will still keep you warm when wet and will go for months of wear without a wash.
Though I normally lean toward techy gear for my insulation layers – like the M-65 field jacket liner or quarter zip synthetic base layers – I was taken off guard by how well this hoodie performs while still be stylish.
For my test, this hoodie was my go-to insulation layer for evening trips in the cool hill and rice country of Bali, around Ubud, and in the still picturesque area of Sidemen. The Merino hoodie kept me warmer than I'd expect and never felt "too warm."
The knit sweater construction of the Merino hoodie allowed me to pack it down to the size of a couple of folded shirts. This packability allowed me to fit the hoodie and about four days' worth of clothes into an 8-inch x 12-inch x 2-inch packing cube – proof that the Unbound Hoodie is minimalist traveler friendly.
The Merino wool knit is heavily breathable, meaning once the wind kicks up, you will lose some heat, but pair this hoodie with a waterproof shell jacket (I use the Bluffworks Field Jacket), and you'll be equally ready for cool cities and impromptu mountain adventures – and stylishly minimalist every step of the way.
Just like with the Unbound Merino t-shirt, whether you are a minimalist that is aiming for highly multi-functional pieces for your wardrobe or a traveler planning to wander the world with a single bag and you need packable garments that keep you ready for (almost) anything, the Unbound Merino hoodie will likely make your travels easier, more stylish, and more comfortable.
Click here to discover more about the Unbound Merino Hoodie
---
As much as I love the classic, basic t-shirt, sometimes we have to step up our "professionalism" a bit. In those cases (which I honestly don't experience much anymore), having a polo t-shirt is very handy. But honestly, these polos are great for dressing up for a date, going on stage.
I did one comedy set in the polo tee for a full test, and I got more than a handful of comments about how shockingly professional I looked.
Was I having a business meeting before?
Was I going on a date?
I got these comments jokingly (it was a comedy club anyways) the entire night. Though they were half-serious, I did get many compliments on how nice the Merino Polo.
In addition to the "dressed up" look, the Merino Polo delivers performance along the same lines as the Unbound Merino tee shirt – although the Merino Polo is 53% superfine Merino wool, 47% Polyester. However, as comfortable as I would be wearing this shirt for a week between washes (I promise to test it soon), the synthetic polyester, which lends a little more softness and stretch, will dampen the odor resistance and the durability of the shirt compared to the 100% Merino wool t-shirt.
Don't get me wrong, this polo is still fantastic, better than most, and a great option for travelers – however – I recommend picking up the 100 % Merino wool t-shirt by Unbound first, thanks to its hard-wearing versatility. Then, if you want one shirt to "class up," add the Merino Polo, and you'll be ready for anything.
Whereas many travelers opt for one Merino wool button-down dress shirt as their one nice shirt, I find those shirts to be overkill for most, and if you're in a warmer climate, the Merino Polo is much better, more comfortable option.
If you're a traveler and need one shirt that is just professional enough and looks good enough for a seriously classy date, the Merino Polo is worth adding to your bag.
Click here to discover more about the Unbound Merino Polo

HOW UNBOUND MERINO COMPARES TO OTHER TOP MERINO WOOL BRANDS
---
OUTLIER VS. UNBOUND MERINO
I have more than a few pieces of Outlier gear, including the Outlier Merino Cut One shirt – which is another amazing Merino wool shirt in fit, function, and quality but also clocks in about $45 more expensive at $120 a shirt.
The major difference I found between the Unbound Merino t-shirt and the Outlier shirt was weight – the Outlier Merino shirt had a tighter knit and heavier feel. Though the Outlier Merino shirt was awesome, I found the lighter feel of the unbound Merino to suit my travels through hot climates and cool climates better as the lighter Unbound shirt managed moisture better in the hot sun. Pairing the Unbound t-shirt with the hoodie at night solved the problems of being cool.
So which is better, Outlier's Merino shirt or Unbound Merino's shirt? Honestly – both. My ideal wardrobe would have the Unbound t-shirt, perfectly suited for hot climates, and one of the heavier Outlier Merino shirts.
However, if your budget can't handle that, opt for two Unbound T-shirts, and you'll be equally satisfied.
WOOLLY CLOTHING VS. UNBOUND MERINO
Woolly clothing delivers cheaper (~$15 cheaper) Merino v-neck t-shirts than Unbound Merino; however, there is a noticeable difference.
The ultrafine Merino in Unbound is soft to the touch on the skin from day 1. With Woolly, though Woolly is using Merino wool, there will be a slight itch as it breaks in. Now, I use my Unbound shirt for daily wear and the Woolly shirt as a baselayer for hiking or situations wherein I would care if my Unbound Merino shirt was damaged, but I don't care much about damaging my Woolly shirt.
For the extra $15, I recommend opting for Unbound Merino.

THE VERDICT ON UNBOUND MERINO (WHAT, AND WHO FOR)
Unbound's gear all-around lives up to Unbound's promise of "simple gear with extraordinary performance." Great quality materials, great construction, timeless and comfortable fit and style, and the performance you need to wear for extended periods in all conditions.
If you are a minimalist aiming to buy fewer pieces of clothing that are more versatile, last longer, and are worth the money – I highly recommend Unbound Merino.
If you are a traveler (or "onebagger") aiming to build a wardrobe that fits in a carry on sized backpack but will keep you ready and comfortable through most anything as you travel the world (like me), add a few key Unbound Merino pieces to your back.
All around, I highly recommend Unbound Merino

WHAT NEXT
Now that you know why Unbound Merino, read the following in-depth reviews to understand which pieces to add to your wardrobed
Full Unbound Merino T-shirt review**
Full Unbound Merino Hoodie review**
Full Unbound Merino Polo review**
If you already know which Merino wool tops you'll be getting, I highly reading our reviews for these other pieces of high-performance, minimalist travel gear.
The Bluffworks Field Jacket – is the most stylish travel-ready rain shell I've found
The Outlier Futureworks all wear chinos – which I rocked for three years
The Western Rise Evolution Pants – the highest performance jeans I've found
Last, check out our list of my 15 favorite backpacks for minimalist world travel