Canggu is the coolest new hotspot on Bali and arguably in Southeast Asia. Whether you want to surf, sun, socialize, or get spiritual, it's all possible here…and the Canggu hostels scene is impressively set up to make this all possible in style. I guarantee you'll be surprised at how awesome the accommodations are, and you'll be ready to plan your next escape once you see what's waiting in "The Gu". Don't believe me? Just keep reading to discover the best hostels in Canggu, all perfect for your upcoming Bali escape.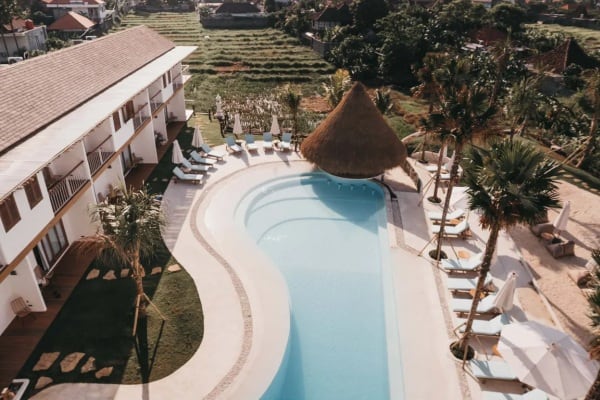 When you're traveling through Canggu, hostels are a great option whether you're trying to save money, make new friends, or just stay in that "traveler scene". Any hostel you pick will be cheap and filled with travelers in that same "island mindset" you'll definitely be in, ready to enjoy a night or an adventure on a whim with you.
Unfortunately, picking the best hostel in Canggu for you can be tough if you've never been to Bali before. Finding a hostel with the right location, vibe, and level of "swankiness" can take your trip from average to memorably epic.
Lucky for you, I've wandered through Canggu plenty and stumbled on the best Canggu Hostels to fuel your partying, chilling, adventuring, relaxing, and whatever-ing needs.
Read on to discover the 19 best hostels in Canggu for every type of traveler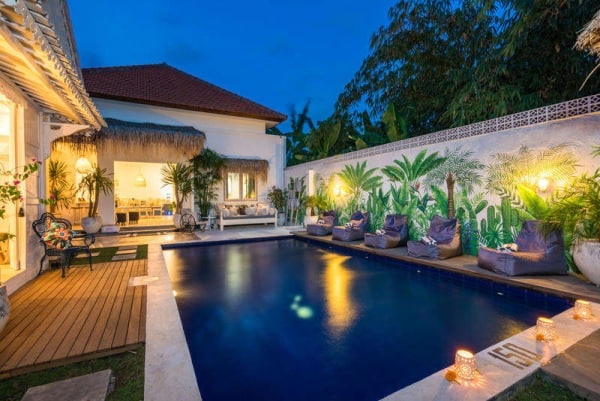 Note from Carlitos: I recommend booking as soon as you know which hostel you want and when you're coming. These are literally the best Canggu hostels, and some of the best I've stayed in throughout Southeast and elsewhere, so they book up in advance. I've attached links to all of them to make research and booking easy. Please note that this article does contain some affiliate links that fund this site. Happy trails peeps…

Contents of the 11 Best Canggu Hostels List
…to get you in that island mood…
---
An Intro to the Areas of Canggu: Berawa, Batu Bolong, and Pererenan
Any good trip to Bali should start and end in Canggu. Yeah, of c­ourse, you could opt for the likes of Seminyak and Kuta with their beach clubs and raging nightlife. You could even go further south to Nusa Dua and Uluwatu, to catch a different vibe or watch nearly pro surfers tear it up. However, I recommend Canggu.
There are so many things to do in Canggu that you'll be hard-pressed not to find your brand of relaxation (or adventure) that's great for starting or capping off a trip. But even within Canggu, you have a large handful of "neighborhoods", small clusters of guesthouses, bars, and restaurants between ricefields – and each of those 'hoods fits a different aim, goal, and personality. It's amazing how much, and how much variety, can be packed into a walking distance sized space, but that's exactly what Canggu is. Let's quickly review the areas of Canggu to help you get a better idea of where the best Canggu hostels are for you.
---
Batu Bolong
For most people, "Pantai Batu Bolong" or "Batu Bolong Beach", and the main road running up to it will be the best place to stay. Batu Bolong beach is great for beginner surfers, and the area is filled with plenty of food, nightlife, yoga, and coffee options, all within walking distance. This area is a bit busier than the other two options, while still being comfortable and walkable
---
Berawa
For the in-between crowd, that may to go to busier Kuta but may want a little more quiet, staying near Pantai Berawa, or "Berawa Beach", is a great option. Food options are aplenty here, and a great beach is in walking distance, but most nightlife shuts down sometime between 10 pm and Midnight, depending on the night (except for Finn's Beach Club and the rager styled "Vault" club). Luckily, the Berawa area of Canggu is only a 5 or 10-minute scooter ride to the never-ending nightlife of Batu Bolong (Sandbar hosts dancing on the beach until 3 am to 4 am, sometimes to sunrise). Even better, you can hop a taxi for 40k IDR (~$3) to party in Seminyak and Kuta (we're looking at you La Favela).
---
Pererenan
If peace and quiet with a touch of surfing is what you crave, head to Pererennan. The area is still only 5-10 minutes from the nightlife and conveniences of Batu Bolong but is purely quiet and peaceful. Villas are cheaper here and the vibe is serene. If you have your own transport (like a scooter) and need to settle down after a trip, consider Pererenan.
Now, onto the best Canggu Hostels list…

Top Hostel in Canggu (Likely in Bali)
Sometimes you just want that 5-star accommodation feel at a shared accommodation price. With fancy facilities, capsule-like beds, and pools & grounds that'll make it difficult to leave, these hostels offer swanky shared accommodation. This way, solo travelers can meet people, budget travelers can travel guilt-free, and everyone leaves with that pampered, refreshed feeling. The following are the swankier hostels in Canggu.
---
Price: 4 Bed Dorm $25 USD /Night
Area: Batu Bolong area of Canggu, just off the main drag. Near plenty of Canggu nightlife, restaurants, cafes, and yoga studios
Hostel Type: Luxury hostel with a party backdrop – likely the swankiest pool party hostel you've ever stayed at.
Why Stay Here: Two Jacuzzis, a store, onsite restaurant, and the epic Alternative Beach. This place is swanky AF.
The accommodations are extremely comfortable, perks are better than most other hostels around, and alternative beach rounds this place out as possibly the nicest hostel on Bali. At Alternative Beach, free yoga sessions, a Saturday night pool party with DJ, and countless other events are the norm, but still, keep an eye out for special events. The restaurant at alt beach is unlike most you've seen at hostels, offering high-class meals, juices, smoothies, and everything else to fit your level of relaxation, eating style or fitness goals. There is a fairly awesome onsite gym too…if you can pry yourself away from the amazing pool.
If you want to live the high life during your time in Canggu, stay at Kosone.
Book Kosone Hostel on Hostelworld

Party Hostels
If you're coming to Canggu with a side intention of partying, as a follow up to Kuta and Gili T, these hostels will be right up your alley. Keep in mind though that most of the hostels on this list are walking distance to solid beach nightlife or a car ride to the clubbing and bars of Kuta and Seminyak, so you'll be able to soak up the party at any hostel. These hostels attract more of a nightlife traveler, and the tendency to form groups that go on into the night is a little higher. If that's what you're aiming for, check out these party hostels.
---
Price: $8.70 US dorm bed per night – capsule-style private beds
Area: Berawa Beach area, 3 mins to Finn's beach club and Berawa Beach
Hostel Type: Party, Capsule Beds
Why Stay Here: To connect with other partying travelers, to be midway between Canggu and Kuta/Seminyak
What makes The Escape Hostel a Party Hostel? A rooftop infinity pool, a rooftop lounge with music that rocks into the early AM and a crowd of people that easily connects to carpool over to Batu Bolong or down to Seminyak make this a definite Launchpad for partiers.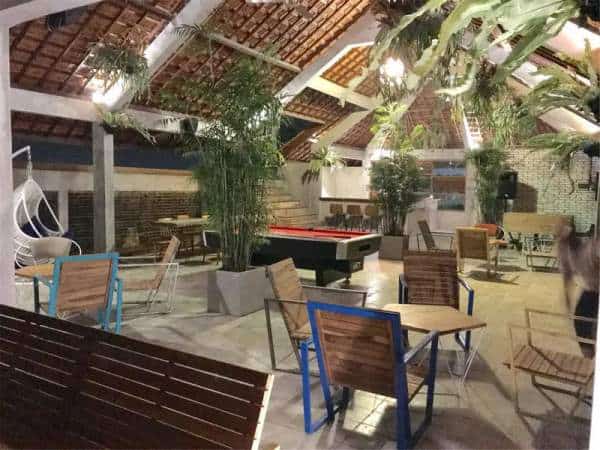 Book The Escape Hostel at Hostelworld
---
Black Pearl Hostel
Price: $13.25 USD per dorm bed (20 Beds, 5 Rooms)
Area: Batu Bolong Beach
Hostel Type: Party, Chill
Why Stay Here: Close to everything from surfing at Old Man's (Batu Bolong), to tons of food, coffee shops, yoga, studios, bars and plenty of other things to do in Canggu
What makes the Black Pearl a Party Hostel? A combination of vibe, layout, and location. Black Pearl Hostel's layout surrounds an awesome pool with a bar and food shack right next to, so evening parties are convenient and you don't have to go anywhere. Once the crew has assembled, curfew (quiet hours) hits at 11, encouraging the mob to walk over to Old Man's, Sandbar, Gimme Shelter, or any of the countless other party spots that are a 5-minute walk away and go until the early light.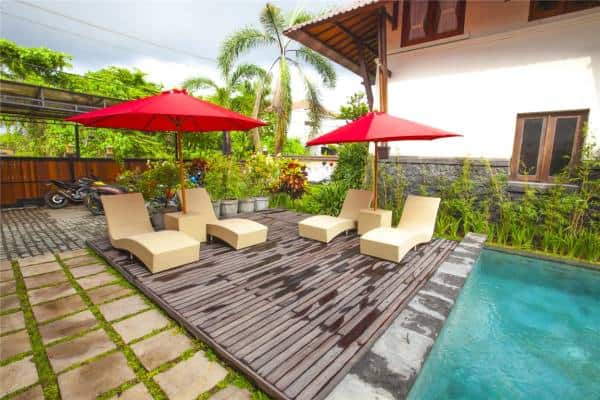 Book Black Pearl Hostel at Hostelworld

Swanky Hostels
---
Gypsymoon Bali is tucked a little further back in Canggu to provide peace and quiet amidst luxurious accommodations. Clean, modern facilities, solid wifi, and great staff make this a classy, comfy alternative to the pool party-centric hostels common on Bali.
Price: 4 Bed Dorms for $19, 4 Bed Rooms for $17
Area: Batu Bolong area of Canggu, 2.5 Km from bat Bolong beach
Hostel Type: Swanky, quiet, great for chilling
Why Stay Here: You want to party where you party and sleep (quietly and comfortably) where you sleep, never having the lifestyles meet.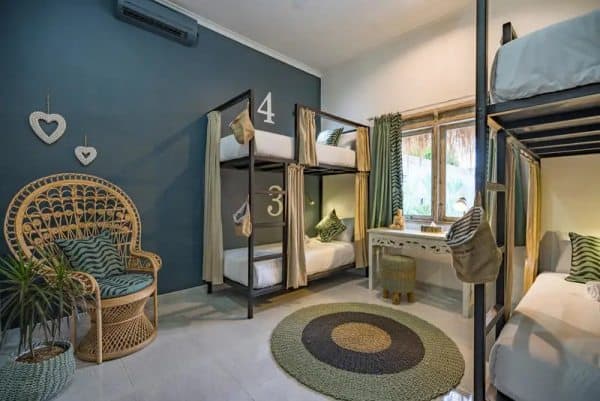 Book Gypsymoon Bali on Hostelworld
---
Picture taking a luxury villa on Bali, turning it into a villa, and adding some chill-tastic bits and pieces to make lounging a luxury. That's Waterborn Bali.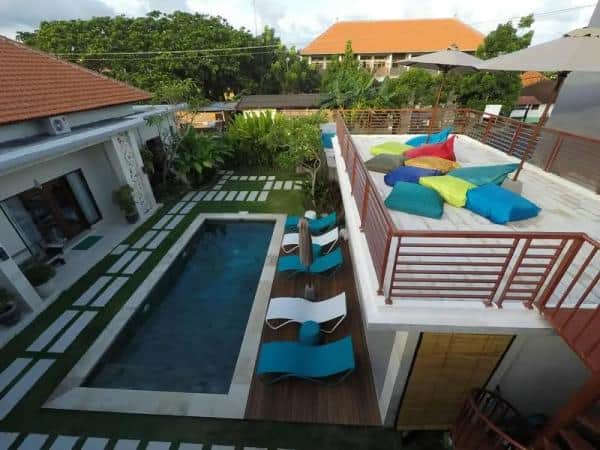 The hostel is in a great spot, walking distance to nightlife, beaches & surfing, cafes, yoga studios, restaurants, and everything else your vacay focused heart could desire.
Perks include big, cushy mattress, a free breakfast (that's actually served late afternoon for those "hangover hospital" patients), strong wifi, and a modern designed wrapped around an awesome pool surrounded by bean bags. Private rooms are available.
Price: $18 US 5 bed dorm per night; Privates for $34-$50 per night
Area: Batu Bolong beach area in the middle of everything. Close to the restaurants and nightlife around Deus Ex Machina, Temple of Enthusiasm, 2-minute scooter ride to the beach and surfing
Hostel Type: Chill, Swanky
Why Stay Here: Great location on Batu Bolong near restaurants, parties, and beaches, with a luxurious, quiet atmosphere to recover in.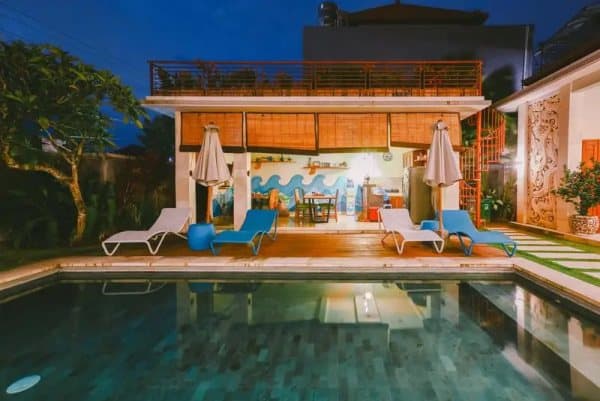 Book Waterborn Bali at Hostelworld
---
A level up in luxury that will taint you for life. The Farm offers an unreal lounge area, with a cool pool setup in one area and rice field views in another, extremely comfy and private beds, and luxurious small touches that you have to see to believe.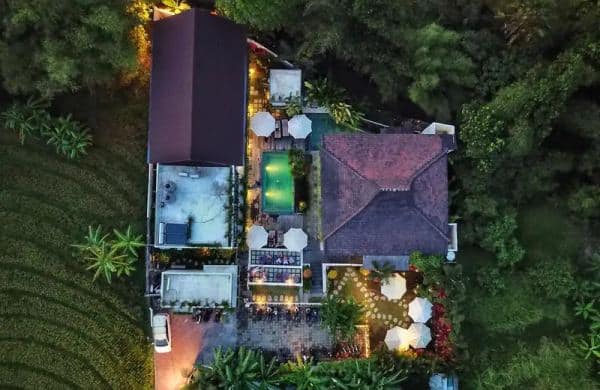 Price: ~$15 USD for 6 and 8 Bed Dorms
Area: Set back 2km away from the ocean in Batu Bolong beach area, a short ride from restaurants, coffee shops, and yoga studios
Hostel Type: Swanky & luxurious
Why Stay Here: You feel like pampering yourself and plan on spending a good bit of time just lounging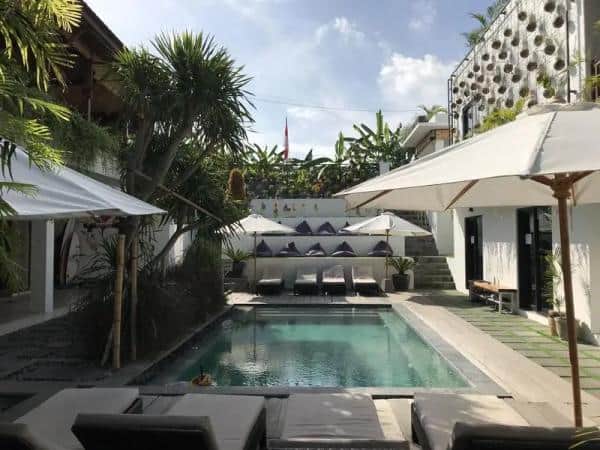 Book the Farm Hostel at Hostelworld

Chillin' Hostels
If your time in Canggu isn't necessarily aimed at one particular activity or scene, and all you need are good facilities and a good with a good price and location, these hostels will fit your plan perfectly.
---
A pool-centric hangout hostel situated in the center of the Batu Bolong cluster of restaurants and cafes makes a great place to relax and sun when you're not on the beach. The swim up pool bar is a nice touch and communicates the vibe you can expect.
The staff is known for always putting something together (nights out, bbq's, day trips) and they'll always help you arrange trips (cheaply) to get out of the Canggu area. You'll probably stay longer than you plan to.
Price: $11 USD for a 6 Bed Dorm
Area: Batu Bolong beach area of Canggu. In the center of all of the shops, 5-minute scooter ride to the beach, 2 minutes from the nightlife
Hostel Type: Chill, social
Why Stay Here: You're a solo traveler looking for a balance between relaxed and social with good vibes and no pressure to do…anything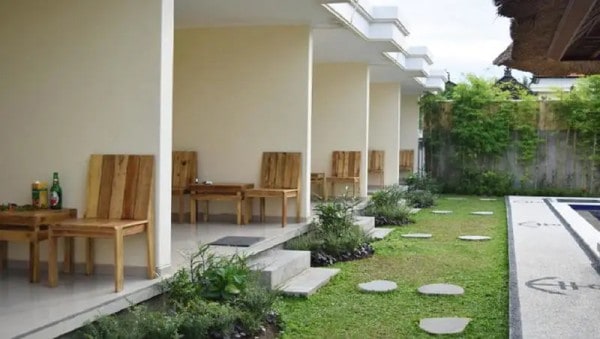 Book Castaway Hostel at Hostelworld
---
A newer hostel focused on chilling around the pool when you're not exploring Canggu and Badung.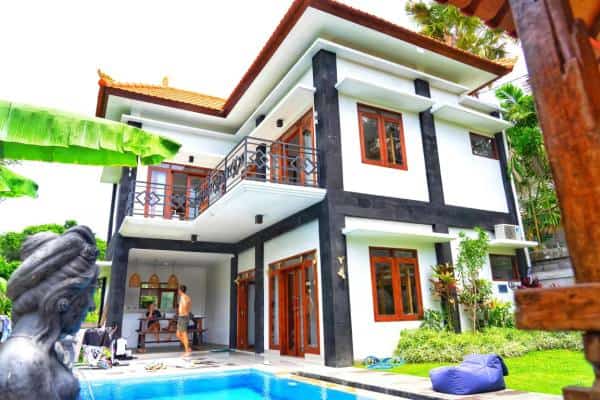 Price: ~$9 USD for a 4 and 6 Bed Dorms
Area: Batu Bolong beach area of Canggu, but tucked away a bit and convenient to Echo Beach (if you don't mind surfing some reef).
Hostel Type: Chill, social
Why Stay Here: You're a simple, solo traveler looking for a comfortable hostel in a great place, with a solid pool.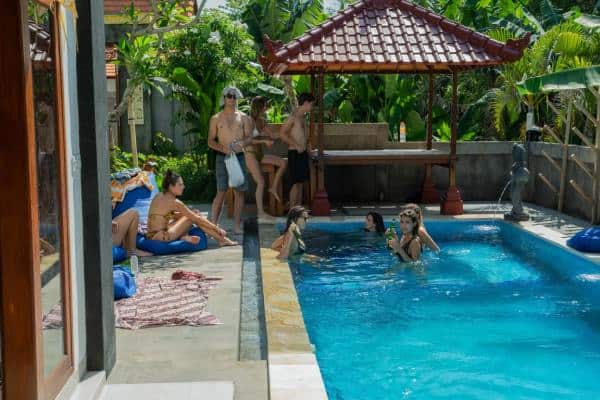 Book Ahoy Hostel at Hostelworld
---
A clean, modern hostel with thick comfy mattresses on beds with just the right amount of privacy. A pool with rice field views and a nice rooftop lounge area add just the right amount of social vibe to the mix of the hostel that'll feel so comfortable you won't want to leave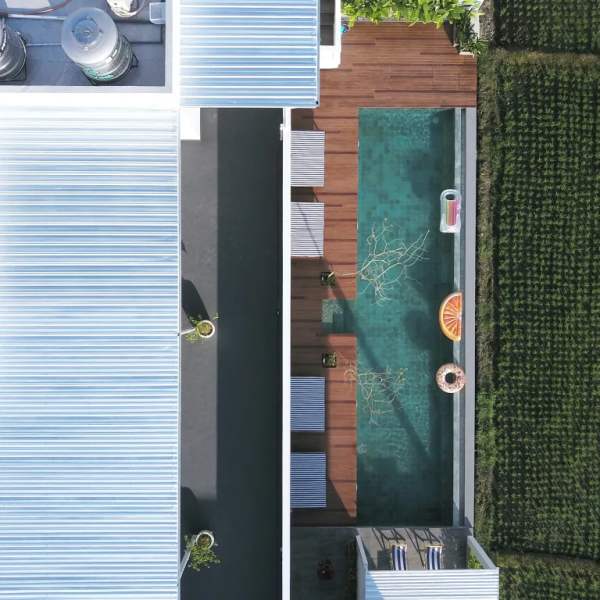 Price: $15 per Bed in 8 Bed Dorm
Area: Berawa Beach area, and perfectly located to be walking distance to the beach, coffee shops, restaurants, yoga studios, Finn's beach club, and even an underground club.
Hostel Type: Chill
Why Stay Here: Just enough of the creature comforts in a great location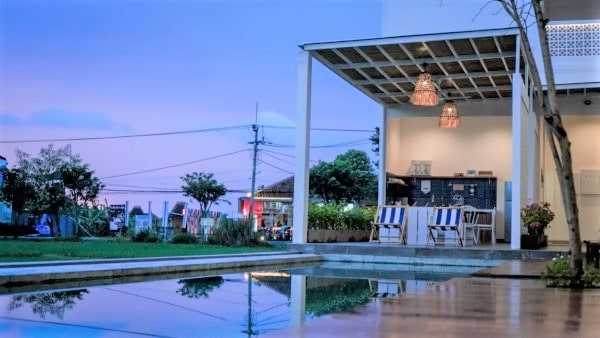 Book Dip & Doze Boutique Hostel at Hostelworld
---
An alternative to the order modern styled, polished hostels of Canggu, the Jungle House's design focuses on plants and greenery for those that pull their good vibes from nature. If you're taking a break from Ubud but you're scared you'll lose that bohemian mountain vibe, consider staying at the Jungle House between your yoga and surf sessions.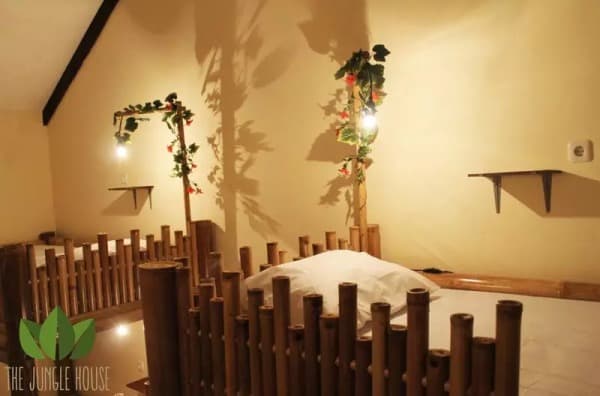 Price: $8-$10 USD per bed in a 6-bed dorm
Area: Berawa Beach area, tucked back a 5-minute ride from Berawa Beach and the Berawa main drag
Hostel Type: Chill
Why Stay Here: You're looking for an affordable spot with a low key vibe to relax at between yoga and surf sessions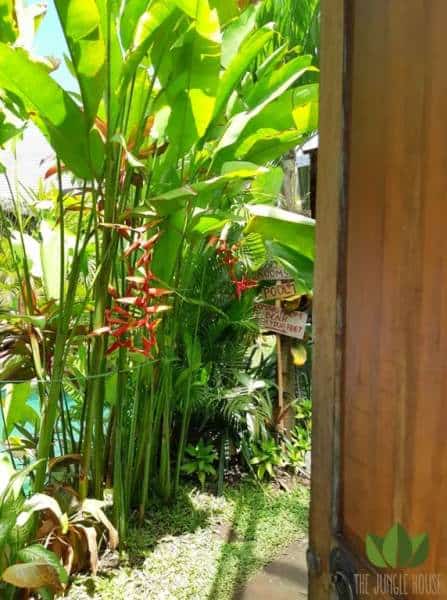 Book The Jungle House at Hostelworld

Surf Hostels
If your only aim is hitting the waves, consider these hostels. Not only does the staff and their services cater to getting you out to and on the waves, but you'll also be surrounded by other aspiring surfers, which will keep you out of the nightlife scene and on the surf scene.
---
Price: ~$10 for beds in a 6-8 Bed Dorm
Area: Bat Bolong Beach area
Hostel Type: Surf, Chill
Why Stay Here
What makes The Tipsy Gypsy a Surf Hostel? Chill vibes and ambiance, helpful staff, and walking distance location to Batu Bolong Beach and Old Man's Bar & Restaurant make this spot great for the aspiring surfer crowd. Boards can easily be rented at Old Man's, but surf lessons and trips to other locations can be booked through the Tipsy Gypsy staff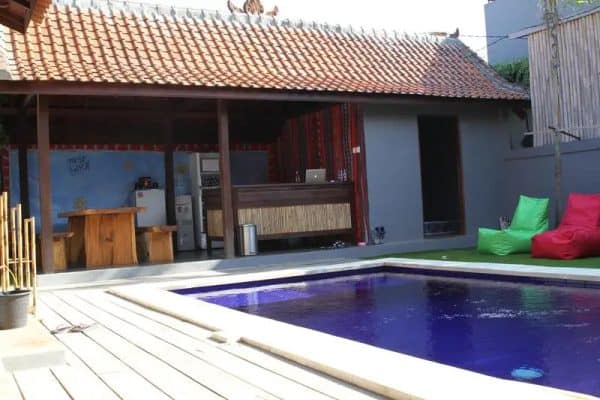 Book The Tipsy Gypsy Hostel on Hostelworld
---
Do you know of an awesome Canggu hostel that didn't make this list? Contact me at [email protected] to have it included in this list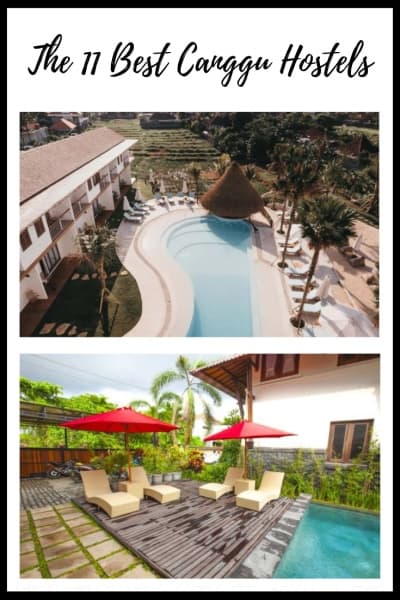 Now that you have a place to stay, check out our other Canggu Resources to figure out where else to go in Canggu:
---
---
Disclaimer: A Brother Abroad might earn some spare change from links in this post, which goes to fund more "research" (aka travel)
For some links, I may receive a small bit of compensation when you book through Hostelworld after clicking, at no additional cost to you. Profits go towards continuing to build this site and financing the stories and "research" that go into it. If you find this useful and want to show some love, book through a link here, leave some comment love or share with someone that may find it useful.
My goal isn't to get rich, it's sharing the travel knowledge I wish I had earlier. Every recommended here I would absolutely pay for with my own money or have paid for in the past. If you have any questions, feel free to email me at [email protected]