The greatest perk of the digital nomad lifestyle is that with a single flight, your life for the next few months can go from the backdrop of a drab, grey, charmless city to a nomad friendly tropical paradise, filled with coconuts, poolside work sessions, the chillest of vibes, and all on a budget – if you know where to go.
The Bali digital nomad lifestyle captures the essence of the best of all things digital nomad. If you are here considering heading to Bali for a few months and how to make it happen, you are in the right place, and you should absolutely head out on this adventure. I promise, the time spent on Bali will be some of your most memorable time nomading.
Unfortunately, in recent years Bali has grown quite a reputation as a paradise, attracted a lot of attention, and soured some of the long time nomad villages on the Island of the Gods…but Bali still has plenty of nomad friendly secrets worth experiencing if you know where to go, what to do, and how to max out your enjoyment on Bali with minimal cash spent.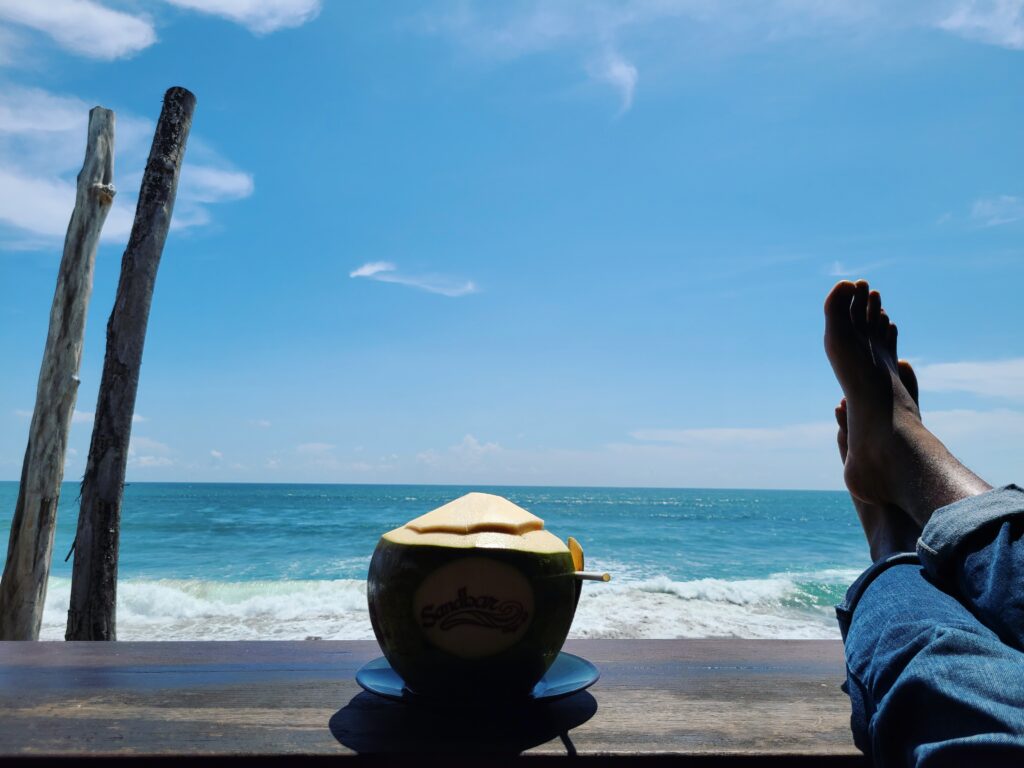 Over the last four years, Bali has been my base between travels as a digital nomad, and an awesome one at that. If you know where to go and what to do on Bali as a nomad, there are few places in the world like it – and I'll share all of the details now!
In this article, we'll cover everything you to know about visas, best places to stay and how to book affordable accommodation, the best coworking spaces and remote working tips you need to know about, cost of living and how to keep it low, and more.
Read on to discover the ultimate guide to life as a Bali digital nomad.

Contents of this Bali Digital Nomad Guide
The Detailed Guide to Bali Digital Nomad Life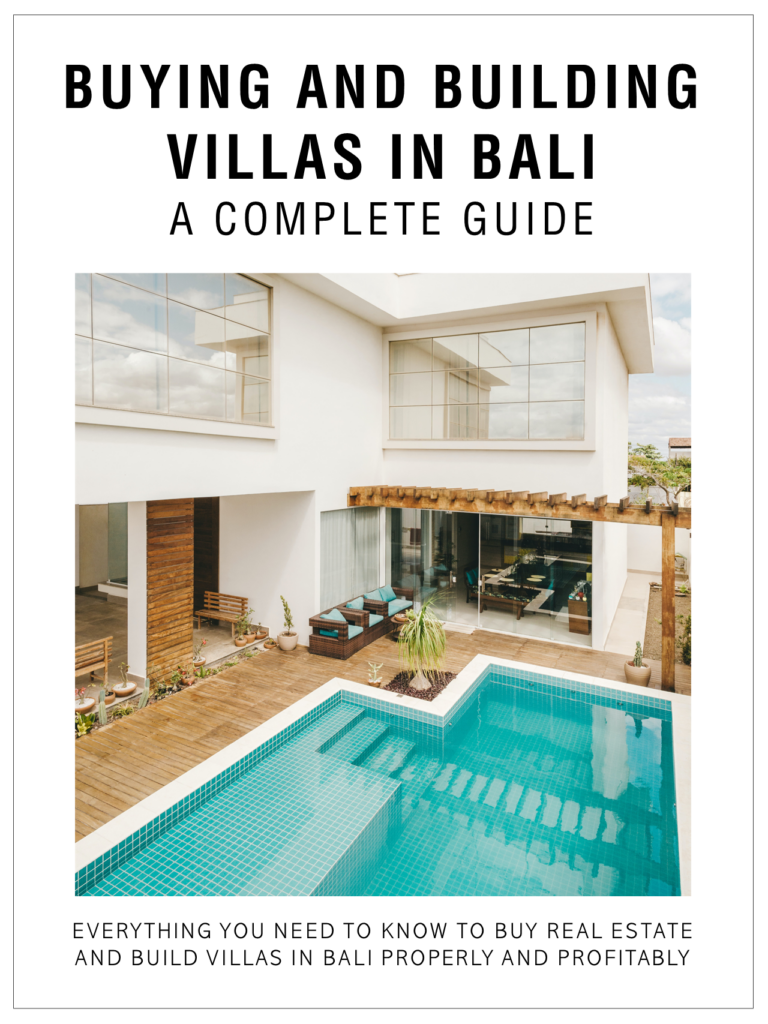 Why Bali is a perfect stop for digital nomads: Bali is a great place for recovery, relaxation, and work/life balance between work sprints in other digital nomad hubs
The beauty of life as a digital nomad is that you can "piece together" destinations to create a perfect lifestyle balanced between extremes of pleasure, work, or whatever elements of life are important to you. The first step to piecing together this puzzle of a perfect life is understanding what each destination offers – either affordably or at a level of quality achieved few other places.
Why Bali? Because…
Living a healthy lifestyle, recovering, and getting fit is easy with the luxurious gyms (like Body Factory and Nirvana Strength), gyms that keep fitness interesting (like Crossfit Wanderlust and Soma Muay Thai and Boxing Fight Club), world class yoga studios (like The Practice and Samadi **) , and recovery centers (like The Istana in Uluwatu)**.

Countless chic cafes and eclectic eateries deliver great coffee and some of the best fusion and western food in Asia, while you work, relax, or socialize

Amazingly Beautiful beaches abound, from the turquoise water of Uluwatu, Bingin, and the Bukit, to the black sand beaches of Amed, Tabanan, and countless hidden spots, you're always only minutes from the ocean

Great infrastructure for nomad work and life, with plenty of luxurious and well equipped co-living and, co-working spaces throughout the island (like Tropical Nomad, Tribal , and B Work)

An active, tropical lifestyle is easy here, whether you surf, SCUBA dive, free dive, snorkel, Crossfit, dance, or anything else, engaging in your favorite sports and outdoor activities is easy here, and healthy for you

Affordable cost of living, if you listen to our tips and aim for the right places, then bali is a budget travellers paradise with minimal planning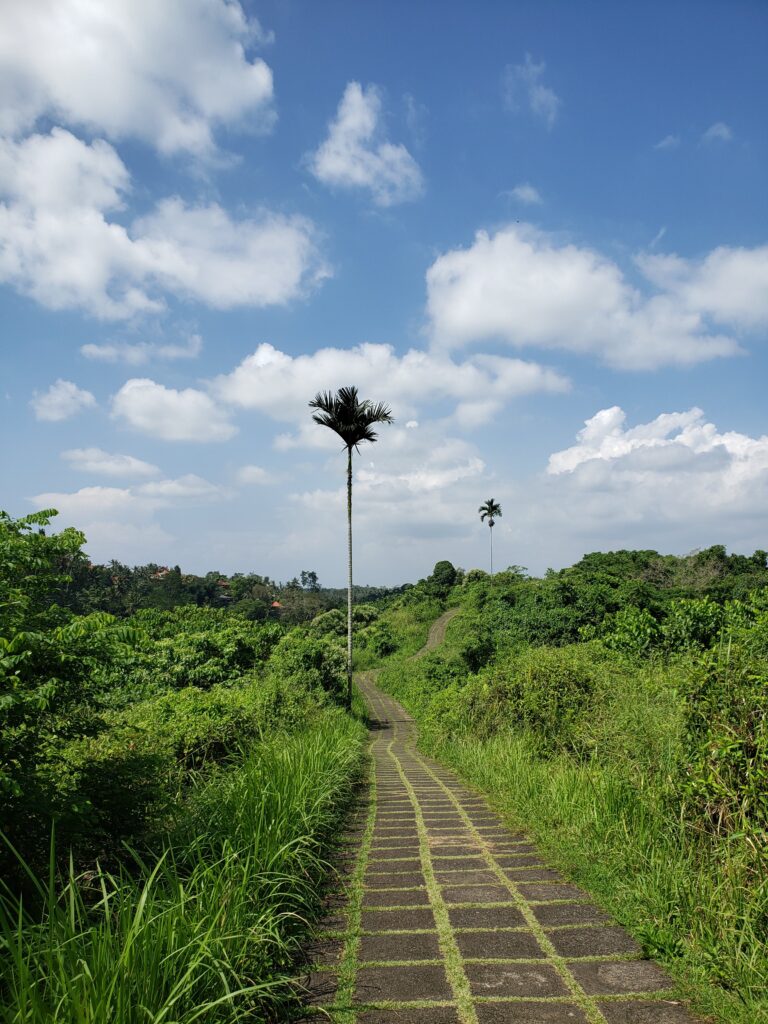 Bali offers sunshine, world class beaches, eclectic coffee shops, gourmet and health-conscious eateries, vast yet comfy coworking spaces, amazingly luxurious gyms, recovery spaces, and yoga studios, and a bustling social scene, which seems like (and can add up to) a paradise. Ultimately, though, be warned that on Bali you may accomplish more in your personal and social life than you will in your work, unless you are very disciplined. But therein lies the beauty of Bali.
The Best Way to Use Bali as a Nomad: Work in Thailand or Vietnam, Party, and Relax in Bali
Bottom Line: Bali is the Perfect Place to Relax, Recover, Enjoy, and Socialize between "Work Destinations" for a balanced digital nomad lifestyle. Work in Thailand or Vietnam, relax and play in Bali.
Bali's focus on social life and comfort makes it the perfect destination for a comfy "working recovery" period between stints of time in less social areas that are still comfortable but allow you to naturally focus more on work, like Thailand, Vietnam, and Japan. Admittedly, all three of these destinations are still very enjoyable and you must visit them on your time in Asia, but these more "structured and busy" destinations accommodate work more than play – allowing you to focus on that hustle that pays for your Nomad lifestyle. As you plan out your nomad adventures I highly recommend setting some time aside in another country, such as these to focus on grinding and hustling, to leave yourself time to relax and enjoy the fruits of your efforts in the burgeoning luxuries of Bali.
Once upon a time, when my projects of writing books and blogging (which now more than pay for my lifestyle as a digital nomad) were still growing businesses and almost at that tipping point of being a "full time income", my routine was to visit Chiang Mai, Thailand to work and Bali to recover. For two months in Chiang Mai, Thailand I would work 7 days a week, sun up to sundown, and the structure of life in Thailand (coffee shops, coworking spaces, great cheap food and massages on every corner) made that possible.
Just before the point of burnout, ideally when my major projects were done, I'd return to Bali for a month of relaxation working half days 3 to 4 days a week, with the rest of my time spent surfing, meeting other nomads in the community, and exploring the island. Once my mind and body felt charged up I'd head back to Chiang Mai or Vietnam for another work sprint.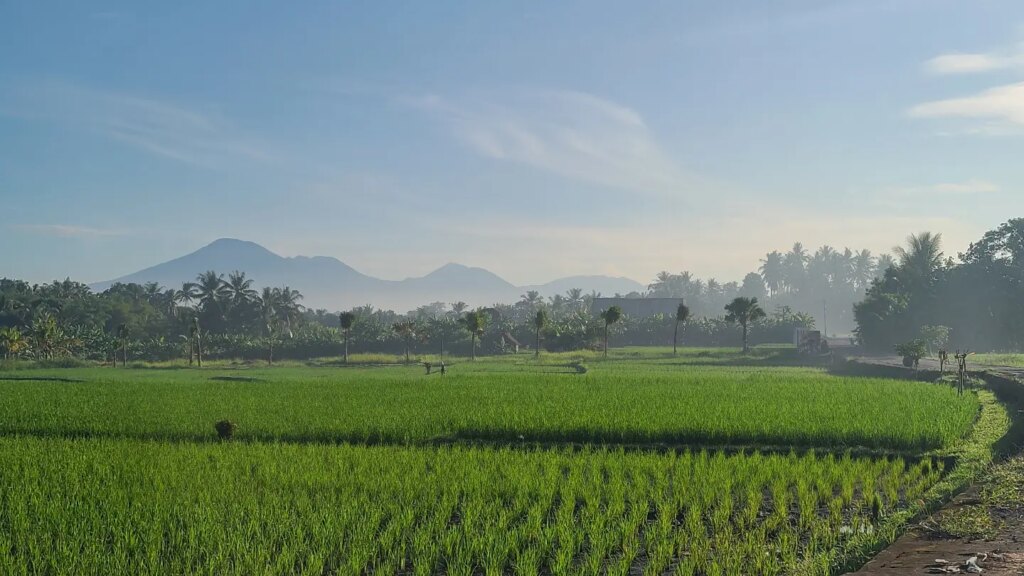 I credit the balance of pairing those puzzle pieces (Bali + Thailand + Vietnam) with making my DN goals and dream lifestyle a reality without skipping out on the hidden pleasures of the world. I highly recommend Bali as a tool for doing the same.
Bottom Line: Play and recover in Bali, work elsewhere, return and repeat
A side note: Bali became such a staple in my "work + recovery travel" routine that I've fully moved to Bali and made it my permanent base between travels…for now but that story is still unfolding

​​
Why Not Bali: Trash, Traffic, Skyrocketing Prices, and the Indonesian government targeting "budget travelers
Nothing in this perfect and though Bali can be paradise at times, it definitely isn't. To make sure that "recovery stint" on Bali is right for you, make sure you know the cons of life on Bali and how to solve them without ruining your tropical time.
Trash around Bali and in the ocean during the wet season.
Be warned that Bali, being an island that is still developing, is coping with a major trash issue – specifically education on how to dispose of it properly, and then coping with where to put it on the island. Once upon a time, when meals were wrapped in Bamboo leaves and tourists were scarce, trash wasn't much of an issue. Today, however, with the use of single-use plastic for virtually everything over 2 million tourists in 2022, there is a major issue of trash clogging up Bali's wildspaces.
Additionally, in the rainy season months of November to April, literally tons of trash are washed from Bali's streams into its beaches and the ocean. This is made worse by the trash that washes down from the island of Java to the north. This all means that if you come to the rainy season and plan to get in the water, count on being surrounded by plastic.
The positive is the issue of waste disposal has made it the Bali governor's list of priorities and a tax is being levied on entry to Bali to tackle this issue. Hopefully, in the coming years I'll be able to remove this point, but for now, consider skipping Bali in the rainy season if you plan to enjoy the water. Also, do your best not to contribute to Bali's waste problem during your stay.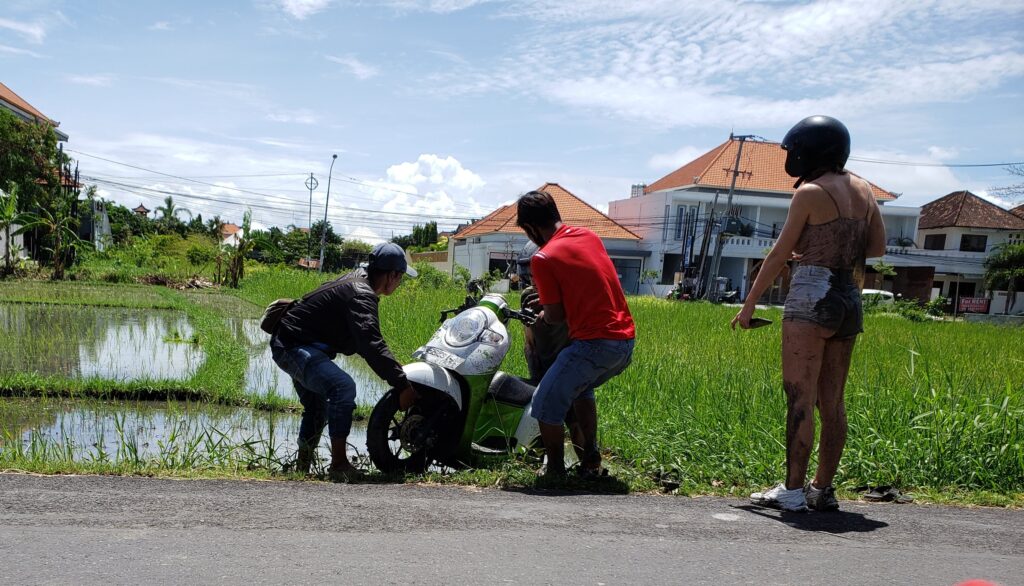 Heavy traffic in the areas of Canggu, Seminyak, Petitingett, Kerobokan, Ubud, and Sunset Road
Bali's reputation as a tropical paradise, and the tourist population, grew far faster than Bali's roads. As a result, Bali's roads in and around the major hubs of Canggu, Seminyak, Petitingett, Kerobokan, Ubud, and along Sunset Road are generally clogged with bumper to bumper traffic from roughly 9AM to 7PM. Trips that once took 45 minutes now take 3 hours by bike so plan your trips accordingly.
Do yourself a favor to avoid traffic by…
Rent a scooter, as scooters can (by Bali driving standards) zip between stopped cars, cutting ride time in half

Avoid taking a car if you can. For rideshares, try a GOJEK motorbike

Most importantly – pick where you stay very strategically, aiming for a place just outside of the tourist hubs with a decent grocery store nearby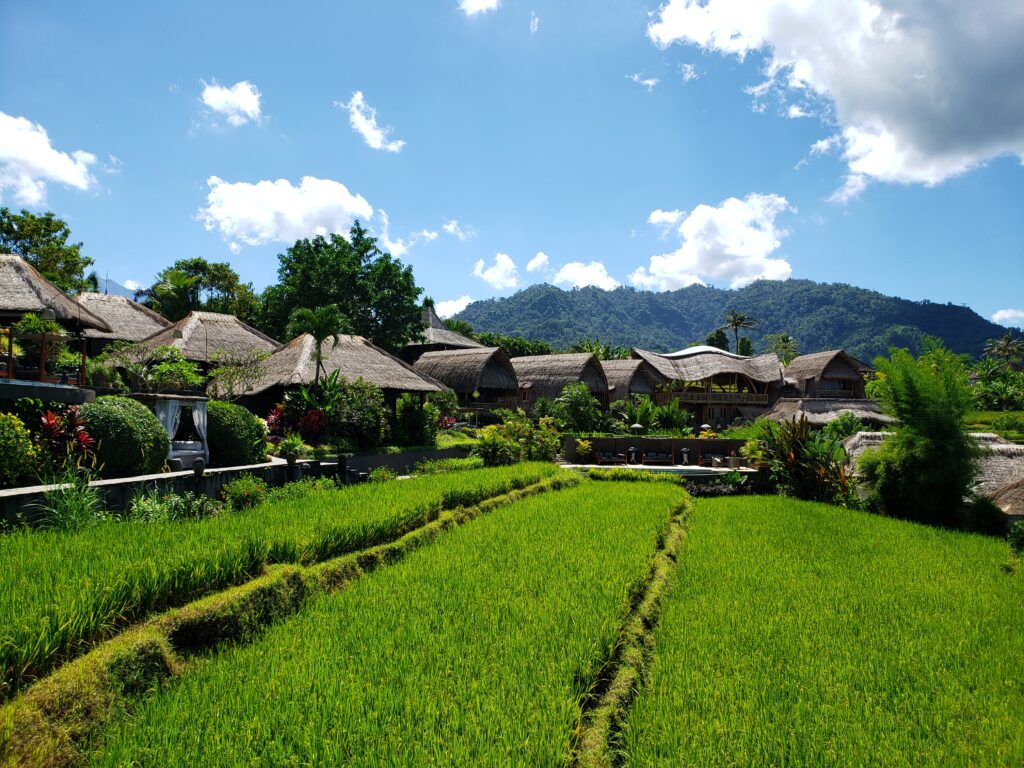 Skyrocketing prices in formerly popular DN areas like Canggu, Uluwatu, and Ubud – but in a hyperlocalized way
As the traffic and tourist crowds in Bali grew, so did the prices. Unfortunately, business owners in Bali are insanely good at targeting popular areas with exponentially higher rent, food prices, and services prices. Practically anywhere you've seen on Instagram or learned because of some famous influencer has had the prices increased by the business owners 2x to 3x or more simply because…well…they can. I've experienced tourist pricing in hundreds of cities in the world, but I've never seen a villa in a developing island offered fro $5,000 per month with a straight face.
The upside is this exploitative pricing only happens in pockets of Bali – specifically Canggu, Ubud, and parts of Seminyak and Uluwatu at the moment, and if you know where to avoid, you can still nomad on Bali afforably. The downside is that if you don't realize this is happening you're vulnerable to staying in the wrong areas or thinking you have to pay that to live on Bali.
For instance, the villa that I currently live in (my villa that I just finished build) is in a small surf village that some influencer recently highlighted and because of that is renting at about ~$3,000 per month. BUT, the house I was going to rent earlier this year one village over was priced at only $1,700 per year.
The bottom line: Understand that some areas of Bali are experiencing exploitative pricing, so, explore a bit to find something more civil
The solution: Manage your expectations and realize any "research" about where to live and what to do on Bali you've done by following influencers or Instagrammers, plan on finding your own way (if you want to live affordably) or paying a fortune (if you want to follow in their footsteps)
The Indonesian government has been targeting misbehaving "budget travelers" in recent years…so behave
In the past year, Bali has had a problem with visa violations with nonremote workers illegally running businesses in Bali such as surf schools and tour guide businesses, and misbehaving foreigners disrespecting the local culture by getting naked on sacred mountains** and in front of sacred trees **.
As a result, the Indonesian Government and the Governor of Bali have taken the following steps
Recent task force assembled to target "low budget foreigners committing illegal activities per month." A target figure of 100 foreigners has been expressed in some media outlets, but not confirmed by the government

or task force.
Indonesia's tourism minister Sandiaga Uno is following up monthly on the issues to adjust tourism regulations, such as the revocation of the visa waiver earlier in 2023

Bali's Governor Wayan Koster's banning of climbing mountains Bali and threat of banning foreigners on motorbikes
Ultimately the results of these issues are minor inconveniences but a tense state has existed recently between Indonesians and long staying (non tourist) foreigners. So, be aware of that situation, but don't let it ruin your day on Bali.
Keep in mind that travelers and strictly remote workers that respect the local culture on Bali, carry an international drivers license, and wear a helmet on their motorbike will have no problems on Bali

The Detailed Guide to Bali Digital Nomad Life
Best Areas to Stay
With ​Bali's recent boom in tourist crowds and prices, it has never been more important to choose the right area of your interests, needs, and personality. Here, we'll recommend the best areas by personality and what they offer, and then review the rest, just so you know your options , and some great places to runaway to on the weekend.
If you want to be in the center of everything: Canggu, central Ubud, and central Bingin/Uluwatu, but plan on traffic and higher accommodation prices.
Canggu (either Berawa or Batu Bolong (Google Maps link)), central Ubud (Google Maps link), central Bingin (Google Maps link) and central Uluwatu (Google Maps link) are arguably the funniest and best places to be as a nomad. All four areas put you walking distance from the beach, coworking spaces, cafes, a wide variety of restaurants, a bustling nomad population and social scene, good bars, gyms and recovery centers, and the center of "things to do" in both Bali and their respective areas.
The two downsides of these areas will be heavy traffic and the high accommodation costs, however, if you're only on Bali for a short period (like days or weeks) its worth paying the premium to be in the middle of everything, instead of spending valuable time commuting.
Canggu (either Berawa or Batu Bolong) **
A formerly bohemian surf village and nomad haven on the beach that is no overrun by younger tourists and pricey villas, but still has tons of awesome coworking spaces, restaurants, and bars.
Central Ubud **
The center of Bali's "spiritual scene" and "conscious community" set in the cooler highlands of the jungle with a wealth of vegetarian and vegan restaurants dotted between yoga studios, spas, and jewelry shops. Plenty of coworking spaces cater to nomads here as well. Note that only central Ubud suffers from crowds and overpricing. A short scooter ride away will take you to beautiful views and cheap accommodation.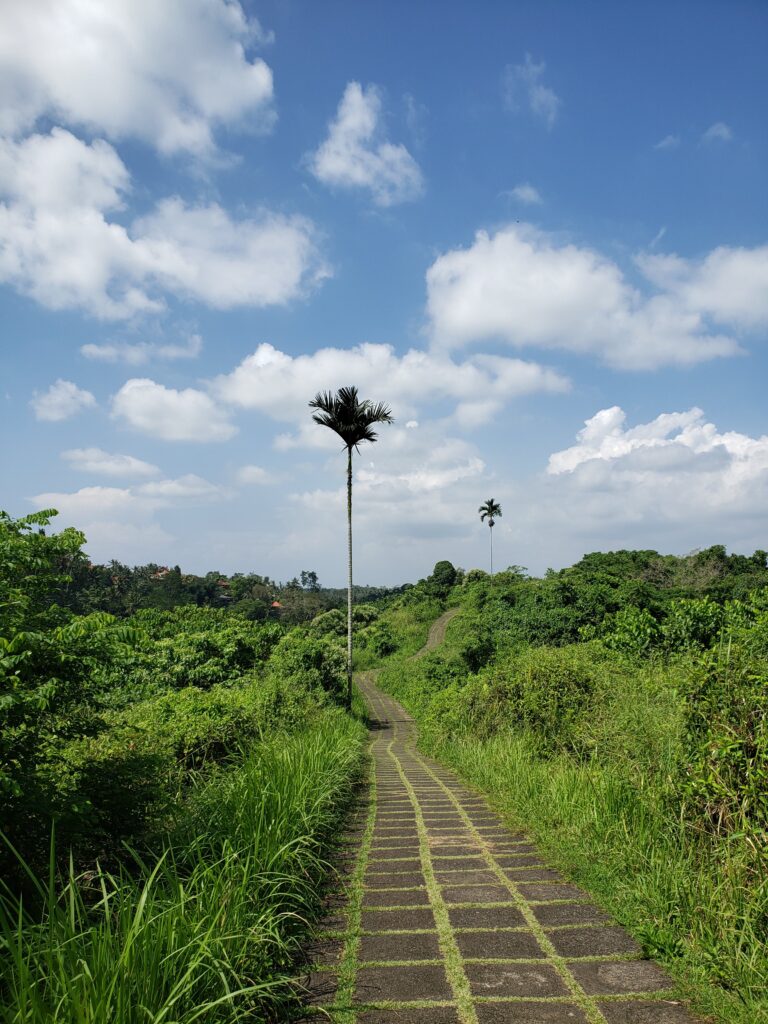 Central Uluwatu and Bingin **
These two "villages" sit between the best beaches and the best surf scene on Bali. Additionally, the crowd down here on the peninsula (in "The Bukit", which translates to "The Hill" ) tends to be a little thinner with less traffic, the roads are generally better and cleaner, and the cool ocean breeze sweeps through everywhere every night. Uluwatu is arguably a new and improved Canggu, with more intentional development, but not as many cafes and restaurants, yet still a great place to be. Bingin (Uluwatu's little sister) is more tightly developed, more walkable, and has more restaurants popping up daily, but caters more towards short staying tourists than long stay nomads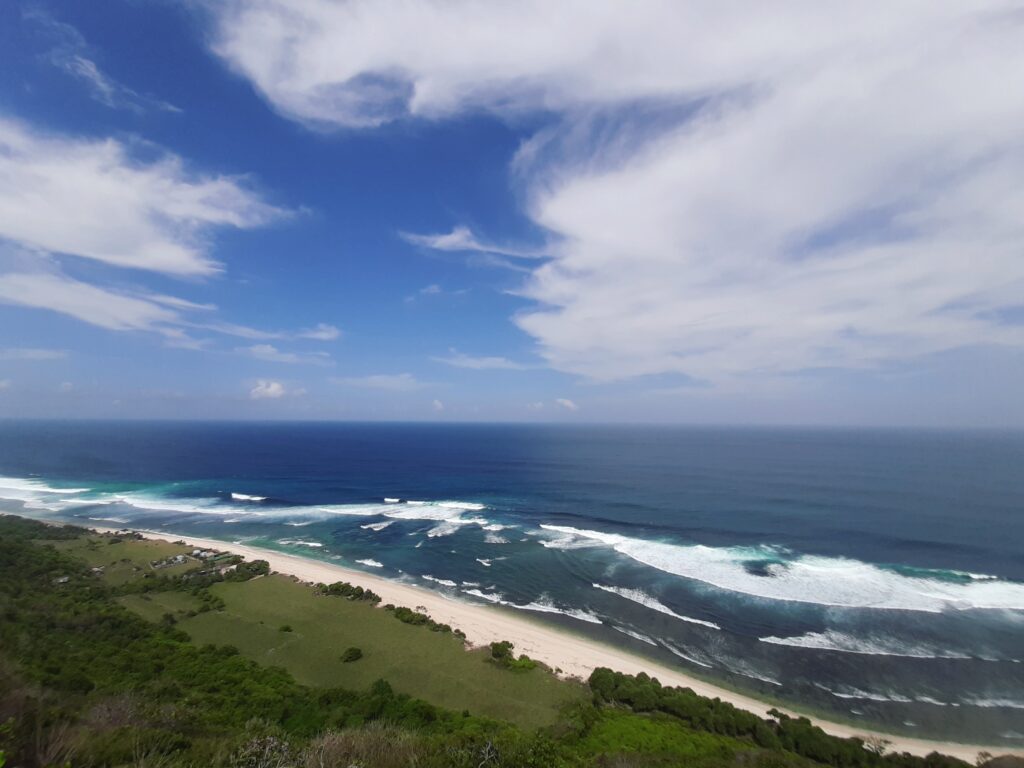 If you want a balance of everything (accessibility, affordability, and fun): Pererenan, Seseh, Munggu, Babakan, and Ungusan
Searching for a home in either of these three great areas – Pererenan, Seseh, Babakan, Munggu and south Ungusan – will place you right next to the hotspots above, just a scooter ride away (~10 minutes), but far enough to lower your rent and get you out of the traffic bubble with a few cafes near your house.
Pererenan
Canggu's less crowded little sister Pererenan, with just as many swanky restaurants, cafes, and coworking spaces, with less traffic (for now). Pererenan is slightly cheaper than Canggu for now, but this will likely change next year.
Seseh, Babakan, Munggu
The slightly more "local" neighborhoods of Babakan, Munggu, and Seseh sit slightly inland or north of the Canggu tourist bubble and put you in driving distance of all that Canggu and Pererenan have to offer, for 1/3 the price of rent. You won't have many western cafes and restaurants here, but you're 10 minutes from Canggu and GOJEK will deliver every kind of food you can imagine for about $1.50.
South Ungusan
In the south of Bali, in the surfer and white sands beach heavy area of the peninsula, south Ungusan sits just adjacent to Bingin and Uluwatu, and 10 to 15 minutes scooter ride tops into the cafes and restaurants of Uluwatu and Bingin. However, Ungusan is a slightly more "local" area, meaning rent prices, for a nice local house, are 1/3 what they'll be in Uluwatu and Bingin. The pro and con of Ungusan is that it tends to be socially quieter with little nightlife, but puts you a stones throw from insanely beautiful beaches, like Nyang Nyang, Melasti. Additionally, there are plenty of daytime and nighttime beach clubs are "the Bukit."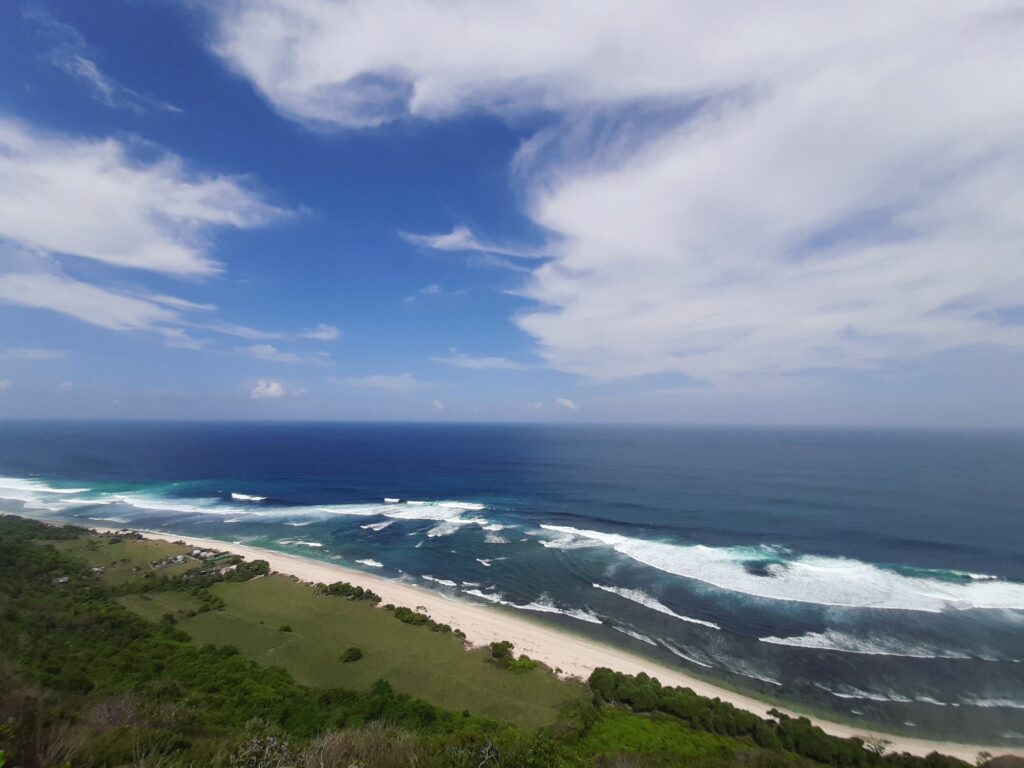 If you want to stay in a place that is clean, developed, and well-priced but are ok with minimal social scene, check out Nusa Dua and Sanur **
If you don't mind the quiet: Amed, Tabanan, Candi Desa, and Balangan
If you this Bali trip is more about quiet time and focus, and you don't need a plethora of cafes and restaurants or co-working spaces within a 15 minute ride, consider the beautiful and slightly rustic yet cheap spots of Amed, Tabanan, Candi Desa, and Balangan.
Amed
On Bali's north coast in the shadow of the holy volcano Mount Agung, the isolated little town of Amed faces a protected portion of the Java Sea, making for quiet, clean beaches with calm waters and little current, perfect for snorkeling, SCUBA diving, and freediving. Out of the water, a strong yet mild yoga scene permeates the village, and a small handful of restaurants and coffee shops, and a single bar (where everyone flocks to twice a week) finish off the town. Honestly, I love Amed because it maintains the peaceful, quiet, rustic vibe that Bali had 10 years ago – perfect for focused work.
If you do get a little bored with too much cabin fever, direct ferries run from Amed's beach to the very social islands of Gili Trawangan and Gili Menoe.
Balangan
In the Bukit, isolated from Uluwatu, Bingin, Padang, and the other cool spots, sits Balangan with it's own little beach that few tourists make it to. Fair warning, this place is rustic and far from most entertainment, and all there is to do here is work and surf. Driving to Uluwatu and Bingin will take 30 to 45 minutes due to long/bad roads, but you can take the shortcut through the Sterling to cut your ride down to 20 minutes. If you want quiet time to focus on work, and beach time to surf, Balangan delivers both in spades.
Candi Dasa
In Bali's east, tucked near the now popular gem of Sidemen is another gem – Candi Desa. This scant beachside village offers the same "old school Bali" feel that Amed does, but with thinner crowds. For the right personality, a month here might be refreshing. However, I would absolutely pack my favorite snacks and schedule a week here to work, walk on the beach through the village, and alternate between focusing and decompressing.
Tabanan (An entire regency, not just a village)
Tabanan is the wild card and truly hidden gem worthy to explore as a "make your own adventure" scenario. Whereas most every destination listed above is in the south (Badung Regency) or the East (Karangasem regency) few nomads and travelers have explored the vast Tabanan Regency. Where Canggu and Uluwatu are about 10 square kilometers, Tabanan has 840 square kilometers of mostly undiscovered (to foreigners) and still very traditional Bali. Tabanan is home to some swanky resort developments (Ritz Carlton, Ciputra, Desa Potato Head), secret surf spots, UNESCO World Heritage rice fields, and alpine-style towering mountains. Within the last year, Tabanan has become my favorite area of Bali, and I recommend exploring to find a "still undiscovered" spot there for yourself.
Recommendations in Tabanan:
Pasut Beach, Tabanan

Baturiti and Bedugal Tabanan

Tabanan City, Tabanan

Jati Luwih Ricefields
Also consider these places in the rest of Bali and Indonesia
When many people visit Bali the first few times (including myself) they make the mistake of only visiting Bali, forgetting that the 18,300+ other islands in Indonesia have some amazing experiences and beautiful views to offer with far fewer tourists and cheaper prices than Bali. Do yourself a favor and book a cheap ferry or flight** and check out these other places of the moment in Indonesia now.
Medewi: A fishing village on Bali's west coast (2 hours from Canggu) that specializes in cheap lobster and the longest longboard friendly wave in Bali
The islands of Gili Trawangan (Gili T), Gili Air, and Gili Meno: Three tiny, walking only (no motorbikes or cars) islands that range from insanely quiet to full on party, but are all worth visiting or working on for a period.

Lombok: A similarly sized island just next to Bali that is now becoming popular, with its hotspots of Sengigi and Kuta Lombok bringing the same vibes (and thin crowds) Canggu was once known for

Sumba and Sumbawa: Two islands for adventurous nomads, touted as being Bali decades ago with wild views, pristine beauty, and pure beaches

How to find a place to stay in Bali
The best way to find a place to stay in Bali depends on how long you plan to stay.
If you plan to be in Bali, or in one place, less than a few weeks, Booking.com is your best option for finding a place to stay. There tend to be more nice and affordable daily rental options on Booking.com than on any other platform. Be sure to use the Booking.com search filters (8+ rating or higher, 3+ stars), and the search using the map function to find a nice place quickly that won't disappoint.
If you plan to stay in a single spot in Bali for more than a few weeks, finding villas, guest house, and apartments for rent by owner on Facebook will be your best and cheapest option as there tend to be more monthly rentals available on Facebook via Facebook Marketplace and the Facebook groups than on Booking.com or on AirBnB. To find monthly accommodation in your desired area, either use the Facebook Marketplace function and set the location accordingly or join the "real estate" and "housing" Facebook groups for the city in Bali that you want to stay in.
I recommend starting with these housing Facebook Groups when looking for monthly rental sin Bali:

Best Coworking Spaces in Bali
Lucky for us working DN's, there is a plethora of wonderful coworking spaces throughout Bali that you can use in between your cafe work stints. At the moment the best coworking spaces in Bali are:
Tropical Nomad (Canggu)

B Work (Canggu)

The Space Bali (Uluwatu)
Habitat Village (Uluwatu)

Tribal (Pererenan)
As for the tens of others, we keep a running list of the new and best coworking spaces, by area:

Cost of Living in Bali for Nomads
Cost of living is one of the most important facts to understand about a destination, to properly plan a comfortable stay. Unfortunately, the cost of living in Bali is also the most difficult data point to pin down simply because Bali's cost of living varies so widely from village to village and city to city primarily due to a wide variance in villa and house rental prices, and very aggressive "foreigner pricing" in popular (think Insta-famous) locations. Peruse the reliable cost of living sites like Expatistan and Nomadlist and you'll see monthly costs varying from only $600 per month in Seseh, Bali to around $2,100+ per month living a frugal life in Canggu.
The reality is you can absolutely live a comfortable life in Bali for as cheaply as $1,000 per month, if you choose the right area, and about $3,000 per month virtually anywhere on the island.
In this section, I'll share the average costs for most things you'll want and need on Bali, and share what purchases and rental locations tend to break budgets – so you can choose to avoid them, or consciously make the sacrifices for them.
Average Cost of Living in Bali Per Month:
$2000 per month: Budget living in the popular locations, and comfortable living everywhere else in Bali

$3000 per month: Sparing no expense in the popular locations in Bali, and taking a few weekend trips to other islands

$1,000 per month: Frugal living in a "local area" outside of the areas popular with foreigners, eating at local restaurants, and sticking to local services and shops for purchases.
Average Daily Cost of Living: ~$50 to $100 per day depending on your level of
As with most other destinations in the world, count on the average daily cost of living being a bit higher than the monthly budget, assuming a monthly budget includes a monthly rental and daily budgets count on a room rented at the daily rate.
$50 to $65 per day in Bali will be a comfortable budget for most nomads conscious of their spending but living comfortably and accounting for transportation between cities and occasional activities.

$30 per day is an achievable budget for very frugal nomads keeping to the cheaper areas around Ubud, Ungusan, and Tabanan.

$100 will get you a life of luxury in most places in Bali – hotel quality accommodation, a massage, meals at western restaurants, occasional trips to one of Bali's beach clubs, and a few drinks at the bar at night.
Housing and Accommodation Costs Throughout Bali
​The following price ranges by area of Bali are for a private 1 bedroom in a guesthouse to 3+ bedroom western standard home with kitchen (in IDR and USD).
Canggu: 15 mil to 60+ mil per month ($2000 to $4000 per month) for an average 1 to 2 bedroom (currently the most expensive area in Bali)

Pererenan: 10 mil to 40+ mil per month (~$670 to ~$2,700 per month)

Babakan, Munggu, Seseh: 7 mil to 25+ mil per month (~$470 to ~$1700 per month) (cheapest "popular" areas near Canggu)

Kedungu: 10 mil to 40 mil per month (~$670 to ~$2,700 per month)

Kerobokan: 5 mil to 30 mil per month (~$340 to $2,000 per month)

Seminyak: 10 mil to 40+ mil per month (~$670 to ~$2,700 per month)

Nusa Dua: 4 mil to 35 mil per month (~$270 to ~$2,400 per month) (cheap hidden gem, most popular with expats and retirees)

Sanur: 4 mil to 25 mil per month (~$270 to ~$1,700 per month) (cheap hidden gem, most popular with expats and retirees)

Uluwatu / Bingin / Balangan (Bukit in general): 7 mil to 35+ mil per month (~$470 to ~$2,400)

Ungusan / Jimbaran: 3 mil to 20 mil per month ($200 to $1350 per month) (cheap accommodation, mostly local population)

Ubud: 5 mil to 35 mil per month (~$350 to ~$2,400)

Amed: (scarce but very cheap)

Lovina and Singaraja: 2.5 mil to 15 mil per month (~$170 to $1,000 per month) (hidden gem with plenty of options, extremely cheap, and in a "still local" part of Bali
Itemized Bali Cost of Living
Beyond the difference in rental prices by area, most goods and services cost roughly the same amount throughout Bali. As such, you can use the itemized list of prices in Bali to figure out how much your stay is likely to cost you.
(The following list is given in "IDR" (Indonesian Rupiah) and USD assuming a conversion rate of 15,000 (15k) IDR = $1 USD, as the exchange rate has hovered just above or below this mark for years
Note: Every purchase out in Bali will have an additional 10% tax and 10% service added for meals/drinks.
Food Costs in Bali
Breakfast meal at a nice café: 75k – 150k ($5 to $10)

Cappuccino/Americano: 40k/25k ($2.70/$1.70)

Smoothie: 85k ($5.70)

Smoothie bowl: 90k ($6)

Lunch at a nice cafe: 90k – 175k ($6 = $11.70)

Lunch at a local restaurant (warung) – 40k ($2.70)

Dinner at an average restaurant: 100k to 250k ($6.70 to ~$17)

Dinner at a local restaurant (warung): 40k ($2.70)
Alcohol Costs in Bali
Cocktail at a bar: 100k – 150k ($6.70 – $10)

Import beer/good beer at a bar: 60k – 100k ($4 – $6.70)

Local beer at a bar: 60k ($4)

Local beer at a grocery store/market: 30k ($2)

Import beer at a grocery store (Heineken, Carlsberg): 45k ($3)
Essentials
SIM Card with 10 GB data for 30 days: 100k ($6.70)

1 month of home internet (Indihome 50mbps): 355k per month ($23.70)

Budget Accommodation monthly (1 Bedroom): 10 million IDR per month ($670 per month)

Two bedroom house, western standard: 20 million to 50 million IDR per month (~$1,350 to ~$3,350)

Motorbike rental monthly: 600k to 3mil per month ($40 to ~$200 per month)

Coworking Space: 2.7 mil to 4.5 mil per month ($180 to $300 per month)

Gyms

Local Gym: 300k ($20 per month)

Fully Equipped/Luxury/Specialty Gym with recovery: 2.5 mil to 4.5 mil per month (~$170 tp $300)

Education (for families)

The Green School: $3,000 per month

International School/Montessori School: $500 to $1,000 per month
Travel Costs in Bali
Flights to nearby countries (Round Trip):

Bali to Malaysia: 2 mil to 4.5 mil (~$135 to $300)

Bali to Thailand: 2.5 to 4.5 mil (~$170 to $300)

Bali to the Philippines: 2 mil to 3 mil ($135 to $200)

Bali to Japan: 3.8 mil (~$250)

Boats to nearby islands (Gili T, Nusa Penida, Lombok, Sumbawa): $15 to $20 (best booked via 12Go.Asia)
Visas for traveling to Bali
Visa on Arrival – Tourist Visa (60 Days) | 30 Day e-VOA + 30 Day Extension: 800k initial + 800k for 30 day extension

Social Visa / Digital Nomad Visa (e-Visa B211) (6 months): 9.4 mil to 10.4 mil total (4 mil to 5 mil ($270 USD to $340 USD) for initial visa + 2 x extensions of 2.7 mil for 60 days each)

1 Year Multiple Entry Business Visa (12 months) (e-visa D212): 5.5mil ($370)

Investor KITAS (1 year): 10 mil ($670)

Investor KITAS (2 years): 15 mil ($1,000)
Gym Membership Prices in Bali: Surprisingly high, but a worthwhile expense
One of the highest expenses in Bali that really shocked me was the cost of gyms around Canggu and Uluwatu. However, I honestly haven't been to anywhere in the world with such consistently expensive gyms. The gyms in Bali tend to cost between 2,800,000 IDR (~$200) and 4,500,000 IDR ($315), which to me is insane no matter what country you're in. However, I honestly have not been anywhere with such insanely luxurious gyms, all equipped with recovery centers (saunas, ice baths, lounge pools), cafes, community events, and more. The price is generally admittedly high, but, you get what you pay for in this case.
Ultimately, if you want to make your experience on Bali a partially self improving experience and want to get in shape or at least improve your health, I highly recommend saving money on a few beers and nights out to instead buy a one month pass to one of the lux Bali gyms. Aim for one that has classes that will interest you and a recovery center you're likely to use, and then set aside the time for a month to follow through. I guarantee, the physical improvement, mental refresh, and rejuvenation will make the high price of that gym membership feel much more like an investment than a cost.
The gyms I recommend considering are Nirvana Strength (mobility, calisthenics, and acrobatics), Crossfit Wanderlust (amazing Crossfit setup plus a solid community and large recovery center), SOMA Fight Club (Muay Thai, Boxing, and functional fitness training for all levels), and Body Factory (simply a luxurious gym).
You can read more about the gyms I recommend in Bali, and why they're worth the prices a health investment in this Bali Gyms Guide here.

Tips to save money and keep the cost of living down
Be conscious about where to stay: You can stay just outside of the popular areas of Canggu, Ubud, and Uluwatu for a relatively cheap cost, or better yet, get off the beaten track to Amed, Lovina, and Tabanan
For popular areas, book a month out, and staying longer in one place is better for experiencing the culture, and cheaper overall.

Stick to Booking.com (for stays less less than a month) and Facebook for accommodation options for a month or longer

To eat cheaper and better, avoid restaurants on the main streets which tend to have tourist prices and lower quality food. Use the GOJEK GOFOOD app to find cheap yet hidden and well-rated restaurants.

Eat local for meals. They usually only cost ~$2 and are quite tast. Some great dishes to try are Ayam Betutu, Babi Guling platters, sate platters, nasi goreng (fried rice), Soto Ayam (Indonesian chicken soup), and virtually anything listed under "warung" (local restaurants) in GOFOOD.

Limit your alcohol intake to save money. Due to "sin taxes", beer can cost twice what it does in Europe or the US, and good beer is generally 3x as much. Cocktails usually cost ~$7 to ~$10 per piece. So, if you're on a party night, you can easily burnan entire day's budget with food and drinks.

Make exploring by motorbike a free/cheap adventure. Most of Bali's best adventures don't require a guide and are virtually free. With countless waterfalls, roads meandering through ricefields rarely explored villages, and hidden beaches (on Bali's east coast), you can save a small fortune and stack up memories by loading up a backpack with snacks and a small wad of cash, and exploring the island for a day by motorbike

Learn a little "Bahasa Indonesia". The more you stray away from Bali's tourist centers, the more being able to speak a little of the Indonesian language will get you some favors and a little lovable local treatment…as well as "harga lokal" (local price). Knowing a few key phrases like please (bole), thank you (terima kasih), what's the price (berapa harga) and a few other friendly phrases just might get you some discounts. And even if don't get that "harga teman" (friend's price) it's still respectful to the local and local culture to speak a bit of the local language, and fun too.

Don't forget the travel insurance. Once of the best ways to save money on Bali is being ready for those little accidents that happen. I've seen more than a couple tourists on Bali, without travel insurance, get into a motorbike accident which quickly runs up unexpected medical bills and kills the cash in their bank accounts, forcing them to go home early. Don't let that be you. It is much smarter to allocate $40 a month to decent travel insurance that will keep you healthy, cover you in an emergency, and even possibly pay for your flight home. Save money now, by being ready. (Read more about travel insurance and why it's important here)

Tips for Meeting other digital nomads and Plugging into the Digital Nomad Community
Being a nomad can at times, and in new locations, be lonely. Fortunately, Bali tends to be one of the most social scenes for nomads I've encountered in the world if you know where to look. If you're in search of like-minded nomads currently on the road, try these approaches in Bali to meet people who aren't just travelers (which is awesome) but hustling nomads in paradise (like yourself)
Go to a good coworking space (Tropical Nomad and Tribal are the most social), smile and be friendly, and routinely check the events board for mixers, happy hours, and social yet developmental events

Go to a good gym with a recovery center and solid community. Nirvana Stength, Body Factory, SOMA Fight Club, and Crossfit Wanderlust have the best communities I've seen (learn more here)

Don't just drink… but do go out with intention to genuinely connect. Bali is dotted with happy hours at coworking spaces and community centers designed to connect. Keep an eye out for news of these posted at cafes and coworking spaces
Join the right community Facebook Groups (and follow the respective Instagram accounts), to see what is happening in Canggu, Pererenan, Ubud, and Uluwatu
Get outside! Go for a walk on the beach, a run, pick up tennis, or try Jungle Ball
​

The Best Time to Visit Bali: The dry season, between April and October, is the best time to enjoy Bali, but any time in Bali is a great time
Bali has two distinct seasons: the rainy season and the dry season.
The rainy generally lasts from November to March and is marked by daily rain, flooding, and lots of trash being washed into the ocean and on the beaches, and GOJEK (moto-taxi rides and food deliveries) come to a halt until the rain stops. If you are planning your time in Bali to enjoy the outdoors, make a note to avoid the rainy season. However, if you plan to be indoors focused on work sprints, you can count on low season prices for accommodation – just time your food deliveries well, and stop up on food from the grocery store.
If you do come to Bali during rainy season, be sure to bring a good jacket and shoes you don't mind wearing in a downpour.
The dry season on the other hand is essentially the best of Bali as the rain is rare, the temperature is on average 5 degrees cooler, and the surf conditions throughout Canggu, Uluwatu, and west Bali are perfect (good size, off shore winds consistently). If you plan to enjoy the sun, surf, beaches, and the best of Bali outdoors, plan your trip for dry season if possible.

Bali Digital Nomad Visa Options: Tourist visa, 6 Month Visa, Multiple Entry 1 Year, and more
The best visa for your Bali stay as a digital nomad depends on three things.
How long do you plan to stay? Less than two months (Visa on Arrival for 60 days), up to six months (six month B211a Social Visa oe eB211 "Digital Nomad Visa"), or longer than six months (one year multiple entry business visa or KITAS)?

Do you plan to return to Bali more than a couple of times? (If yes, the multiple entry one year business visa will be for you, and later, an investor KITAS)

Do you plan to do any work in person in Bali? Whether for a company in Bali, or as an in-person presenter or entertainer? (If yes, you may need an Entertainer KITAS or to rearrange your plans)
The visa options you will have for Bali are as follows:
30 Visa on Arrival (B213 visa) with option to extend fro 30 additional days in person – 500,000 IDR paid on arrival at a special counter at the Ngurah Rai airport. A 30 day visa extension is possible and can be processed through a visa agent for 800,000 IDR (additional fee) (Click here to visit Imigrasi's online visa selection page)
30 eVisa on Arrival (eB213 visa) with option to extend fro 30 additional days online – 500,000 IDR paid online. A 30 day visa extension is possible and -can be processed online via the site and account you initially received the visa through for a 800,000 IDR (additional fee) (Click here to visit Imigrasi's online visa selection page)

60 Day electronic Visa on Arrival "Tourist Visa" (Visa211a) – 1,500,000 IDR total cost, paid through the official immigration website –> You can apply for eVOA by yourself through the official website of Immigration Indonesia www.molina.imigrasi.go.id. This visa is not extendable.

6 month B211a Social Visa and e-B211 Business visa (Single Entry): Allows a single uninterrupted stay of up to 6 months, and permits online remote work not performed for clients or companies on Bali – 4,000,000 IDR (~270 USD) for first 60 days + 2,600,000 IDR for each 60 day extension

1 Year Multiple Entry Visa (Requires leaving every 60 days): Allows you to come and leave an unlimited number of times in a one year period, but does not allow you to stay more than 60 days for any single trip, requiring you to do visa runs every 60 days. – 7,000,000 IDR (~470 USD)

6 Month Entertainment KITAS: Allows paid work in performances as a DJ, comedian, artist, speaker, and workshop facilitator. – 17,000,000 IDR* + Visa fee 150 USD

2 Year Investor KITAS (Temporary Resident Permit): Allows you to come and go as you please on Bali, but requires minimum 10% investment in a Foreign Owned Indonesian Company (PT PMA) and requires annual filing of Indonesian Personal Income Taxes. – 15.000.000 IDR + Visa fee 150 USD
Note that the Bali Visa Waiver (free visa) no longer exists
Note that as of 2023 the free Bali visa waiver no longer exists and you will either have to pay for or arrange a visa, no matter what.
Tip: Use a visa agent, to apply for your visa and visa extension to speed up the process and avoid visiting the Indonesian Embassy and immigration office
I highly recommend using a visa agent for the process to save you visits and hassle at the Indonesian Embassy, Even better, these visa agents were able to arrange my visas while I was outside of Indonesia, all via Whatsapp. These are the only visa agents I recommend:
The Only Visa Agencies I Recommend
MPG Consulting: Contact via Whatsapp at (+62811387262) or visit Ibu Ayu's site at https://www.mpgbali.com/ for a full list of visas available right now. For KITAS, immigration issues, business visas, and social visas, I recommend Ibu Ayu and her team above all others on Bali.

Bali Business Consulting: Contact via Whatsapp at (+62 819-1640-6464) or visit their site at https://balibusinessconsulting.com/ for pricing, updated visa lists, and details
For visa runs, Malaysia and Vietnam are best and cheapest, and Thailand is another great opton
When your visa runs out, if you want to return to Bali, you'll need to travel quickly to another to get a stamp and return to get a new visa in Indonesia – also known as doing a "visa run". For visa runs from Bali, I highly recommend Malaysia or Vietnam,
For visa runs to Malaysia: Stay for a week in KL (or adventure) and buy your replacement tech here as it will be cheaper and far more reliable than what you'll buy in Bali. Additionally, check out the insane food scene hidden in KL. Also check out Penang, Georgetown, Cherating, and Malaka.
For visa runs to Vietnam: Visit Hanoi, Hoi An, or Da Nang to eat well, and get some work done. Don't forget your visa to Vietnam as most nationalities require a visa to enter.

Connectivity on Bali: Best SIM Card Options, Internet Speed, Hot Spot Options, and More
Whether you're the average traveler or a Zoom attached DN, these days having a good connection nearly constantly is an important requirement of the trip. Rest assured that between the solid internetat co-qorking spaces and the connectivity of a local SIM card, you'll be able to maintain a solid internet conenction.
SIM Cards: Get a local SIM card and be sure to use a VPN for personal security. Not only will you be able to hotspot your computer in cafes with spotty internet connections, but you will also be able to access GOJEK at all times for ridesSIM cards, can be picked up at virtually any roadside cell phone kiosk, you will just need a passport. Telkmosel is arguably the best service, with connectivity everywhere on the island, and 10GB per month costs roughly 100 ,000 IDR (~$7)
e-SIMS: For the initial time at the airport and ordering a GOJEK to take you to your hotel, I highly recommend the eSIM Airalo. Data costs roughly 3x the price of a local SIM, but purchasing 1GB before landing in Bali will make getting around much easier without paying overpriced data prices to your home country cell provider.
Internet: Co-working spaces throughout Bali generally have very solid internet, more than enough for Zoom calls or data-heavy work. However, don't count on a strong internet connection at most cafes, as owners generally opt for a slower internet package split among many guests. At your house, you will likely be able to request that the owner boost the internet package to 50mbps (~$20 per month) or 100mbps (~$40)
---

Transportation and Getting around Bali: Rent a motorbike or use GOJEK Rideshare for getting around the island
Whether you're driving or riding, motorbike is hands down the best way to get around Bali, followed closely by GOJEK rideshare mototaxi, or a normal GOJEK rideshare (aka GOCAR).
Motorbike rental: If you feel comfortable driving a motorbike, and you have your International Driving Permit. You can rent a motorbike at most guesthouses or at one of the many rental shops on the side of the road for somewhere between 800k IDR and 3million IDR per month, depending on if you want a beater bike that is barely running or a brand new, sexy "N-MAX". Don't forget your helmet and do not drive drunk, to avoid voiding your travel insurance.
GOJEK moto-taxi and Cars: GOJEKs are the most common way to get around, and are very cheap and convenient. Simply download the app and use the same way you would use Uber.

Travel Insurance and Why You Need it on Bali: Bike Accidents and emergency evacuations
Travel insurance is a must when traveling to or living in Bali. Though Bali is generally a low crime destination that is very safe, the "beautiful chaos" and go-with-the-flow adventure can, and does, lead to motorbike accidents, surf accidents, and simple problems that happen during adventures. The difference between Bali and places such as Vietnam or Thailand is the quality of medical care in Bali, which is extremely low.
In the event of a serious accident, such as a motorbike crash in which someone hits their head or a cut turns into a high-risk infection, Bali's medical care system is extremely underequipped and because of this you will receive subpar care for a VERY extraordinary cost. Your best bet to protect life and limb will be a medical evacuation flight out to a country with medical care that can competently handle such disasters – such as Thailand, Singapore, or Malaysia, or in serious cases, Europe. The problem is these flights can cost upwards of $25,000 if you don't have travel insurance.
Also, if you think these events are unlikely, think again.
I witnessed a friend that was riding his motorbike, crashed and bounced his head off a streetside, and suffered brain bleeding for three days. On day three, his credit cards were maxed out, so he was discharged to fly back to Australia and we never heard from him again.
On the same note, a friend of a friend was training freediving in a pool, blacked out, and had to be rescued. At the Indonesian hospital, the facilities and staff were underequipped and didn't know how to handle the situation, but the individual didn't have travel insurance to cover the evacuation, so he was left in a coma for two days before he died.
Both of these stories would have happier endings if the travelers had maintained travel insurance.
I continuously maintain Safetywing Travel Insurance coverage, and I highly recommend them for anyone who doesn't have coverage of their own.

Bali Laws You Should Know
Don't do any work for clients or employers in Bali unless you have the right work permit and appropriate visa. Immigration and the Indonesian national police are actively seeking foreigners violating their visa work restrictions.

Beware that recently, task forces have been sent out to find "misbehaving foreigners" especially those deemed as working illegally.

Bottom line, stay away from drugs, public nudity, working in Bali (that isn't remote), disrespecting local religions and culture, or other funny business.

Entertainment: The Most Popular Tourist Destinations and What to Do and where to go during your free time in Bali
Uluwatu Temple and watch the Kecak dance

Tanah Lot (Sacred pilgrimage site for Balinese Hinduism

Try surf lessons at Thomas Beach, Balangan, Batu Bolong, Seminyak Beach, or Kuta Beach, then watch some surfing around Uluwatu and Bingin

Visit the UNESCO World Heritage Ricefields in Jati Luwih

Visit some of the 1000+ temples on Bali

Go chasing waterfalls

Visit some of the countless Bali Beach Clubs

Go catch some live music at

Go see a night of standup comedy with the Punchline Plus Plus and Actually Funny Folks comedy troops
Exploring Bali: The Different Areas of Bali You Should Know
Regardless of where you base in Bali, you would be doing yourself a disservice if you didn't explore the rest of what Bali has to offer. I've found the best way to make the most of Bali is keep a list of cities worth visiting, then, every few days, take a ride to and through the city seeing the unique charm each has to offer.
These are the cities you must see during your stay in Bali
Canggu & Pererenan: Popular digital nomad spots, formerly hipster havens but now overrun by young tourists and (luckily) great coffee shops, restaurants, and chic tropical lifestyle shops

Seseh and Cemagi: The quieter cousins of Canggu, more remarkable for their empty beaches, roads flanked by ricefields, and a stop at Seseh Pizza and Seseh General Store

Kedungu + Pangkung Tibah + Yeh Ganngga: Popular parts of Tabanan that sit beachside and maintain their "Balinese Village" charm, while wrapping around major resort complexes Desa Potato Head, Ciputra, and the Ritz Carlton

Pasut: Further up the coast in Tabana, this well-manicured village arguably has the most Balinese charm of any along the coast, and is best experienced on Balinese Holidays or during Balinese ceremonies

Medewi: A surf village 2 hours from Canggu, notorious for Lobster Warungs and longboard waves, accented with black sands beaches still filled with coconut palms running clear to it's shores.

Baturiti and Bedugul: Strawberry Fields, botanical gardens, and golf courses in the cool highlands of Bali. Everywhere you look, you'll be surrounded by towering green mountains.

Sidemen: An out-of-the-way yet beautiful village in Karangasem that is most notable for a wonderful eco-resort and spa nestled between ricefields, a silver jewelry making experience, and countless fun and beautiful roads that wander between ricefields and up mountains for motorbike exploration.

Candi Dasa: Another hidden gem in the south of Karangasem in Bali's east, with just enough cozy homestays and a long stretch of empty beach to be comfortable, this place is great for quiet recharging in a backdrop that feels like Bali from last century

Amed: A peaceful beachside village on Bali's north coast, and at the foot of the sacred volcano, Mount Agung. Due to the calm waterson this beach, which never experience waves, Amed is the best place in Bali for SCUBA Diving, Snorkeling, and freediving.

Lovina: Another gem in Bali, especially for budget travelers that want something local. Lovina is a tourist town that caters more towards local travelers, meaning you'll find all of the infrastructure you need for a good stay, but at a far cheaper price, less crowded, and with a more authentic experience.

Mount Batur and Kintamani: In the forested highlands , the region of Kintamani and its highlight Mount Batur make great destination to explore for a day. The ride in from any direction is fun and beautiful, and you'll be treated with a long row of fancy cafes with a view of Mount Batur

Nusa Penida: A short ferry ride away from the island of Bali is another island, that technically falls under the province of Bali, but delivers a more adventurous experience. A couple days on Nusa Penida can be easily spent motorbiking all of the way around the mostly undeveloped island and visiting some amazing views and beaches along the way. SCUBA divers and snorkelers will also have the chance to swim with Manta Rays, Mola Mola (sunfish), and countless other unique sea creatures.

Nusa Ceningan and Nusa Lembongan: These tiny islands are simply a fun hop to explore in a weekend, and stay at repeatedly if you pick the right resorts. Beautiful, nearly private, beaches, a few epic surf breaks, and much slower pace than Bali make these two islands (connected by bridge) a worthwhile weekend adventure.

Facebook Groups to Join for Good Information and Better Community

Bali Digital Nomad FAQ
How Much Income Is Required For Bali Digital Nomad Visa?
If you are using a good visa agent to get your Bali Digital Nomad Visa, more commonly known as the 6-month e-Visa B211, you will not need to show proof of income for the visa application. However, we recommend savings or income of $2,000 to $3,000 per month for a comfortable stay in Bali.
Can I Live In Bali Tax-Free?
If you stay in Bali less than 180 days in a calendar year, you are not required to file for or pay taxes in that year. However, if you stay in Indonesia more than 180 days in a year, you are technically required to file taxes in Indonesia, but can only do so if you have an NPWP (Indonesian National Tax Identification Number)
Click here to learn more about filing taxes in Bali, when it is required, and when it is not required.
How Can You Work In Bali As A Digital Nomad?
In Bali, as a digital nomad, you are allowed to work as a digital nomad performing any work or service that is done online and remotely for a client or company that is not based in Indonesia.
As a digital nomad in Bali, you are not legally permitted to perform any non-remote work for any client or company that is based in Indonesia. In recent years, many foreigners staying on non-work visas have been deported for performing work on Bali such as surf coaching, tour guiding, translating, villa rental management and sales, comedy performances, and DJ'ing. To ensure you don't become a target for the Indonesian Immigration department, stick to work performed online for clients based outside of Indonesia and you'll have no problems.
Where Is The Cheapest Place To Be A Digital Nomad in Bali?
Of the popular places in Bali, the cheapest place to be a digital nomad is Ubud, with its wealth of guesthouses within walking distance from the city center, lower-priced attractions, and generally lower cost of living compared to Canggu, Uluwatu, and Seminyak.
In general, the cheapest places to be a digital nomad in Bali are Amed and Lovina in North Bali, which still deliver a wealth of houses and villas, restaurants, and daily living that is still at the "local price" instead of the "foreigner price" that dictates pricing in much of the rest of Bali.

Other Great Articles in the Nomading in Bali Series
Other Great Nomad, Travel, and Expat Lifestyle Articles