For many Americans, Canadians, and Europeans moving to Thailand is a dream scenario. Trading in the hectic rat race, brutal weather, and high-stress lifestyle of "the west" with the relaxed go with the flow, low cost of living, and (nearly) year-round beautiful weather of Thailand is a no-brainer decision, if you have the opportunity. Unfortunately, for most people the idea of moving to Thailand from USA, Canada, or Europe can feel intimidating at best and impossible at worst.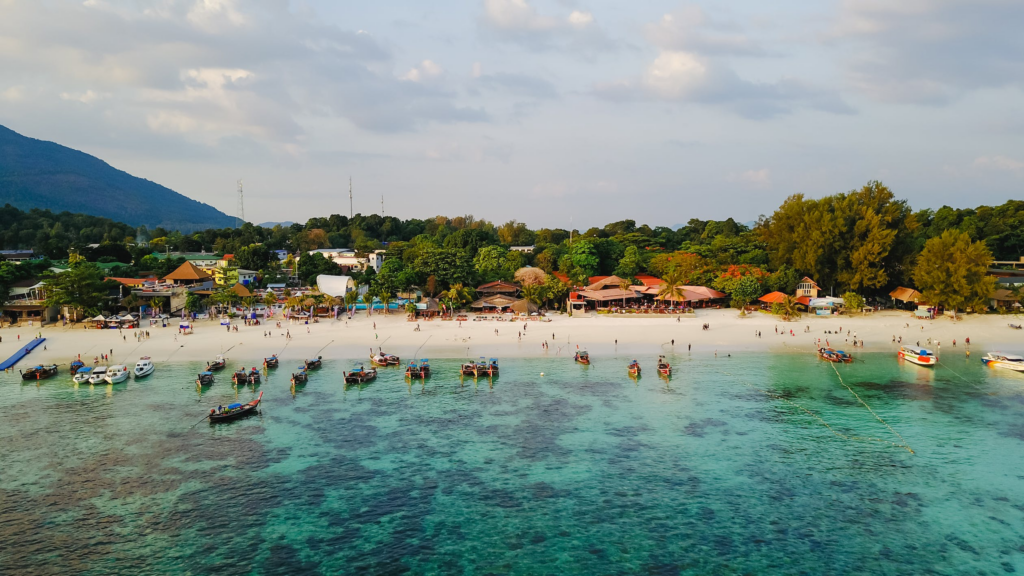 I'm here to tell you, and tell you how, moving to Thailand for a few months, a few years, or permanently is an easier possibility than you think, far more satisfying than you expect, and something you should likely commit to. However, you do have to plan a few essential things in advance, to set yourself up for the smoothest and happiest move to Thailand and understand a few essential "details" about life in Thailand, to be sure Thai expat or long term vacation life is for you.
Between Thailand's low cost of living (~$1500 per month easily), amazing food (Thai street food, seafood, and lots of Michelin listed restaurants), lovely locals, beautiful islands, beaches, mountains, and nature, countless destinations that are perfect to visit or call home, and the ease with which a traveler, nomad, retiree, or aspiring expat can make "Siam" home, few places in the world come close to the satisfaction Thailand can deliver – if you know what to plan for, where to go in Thailand, and what to do while adjusting to your new home.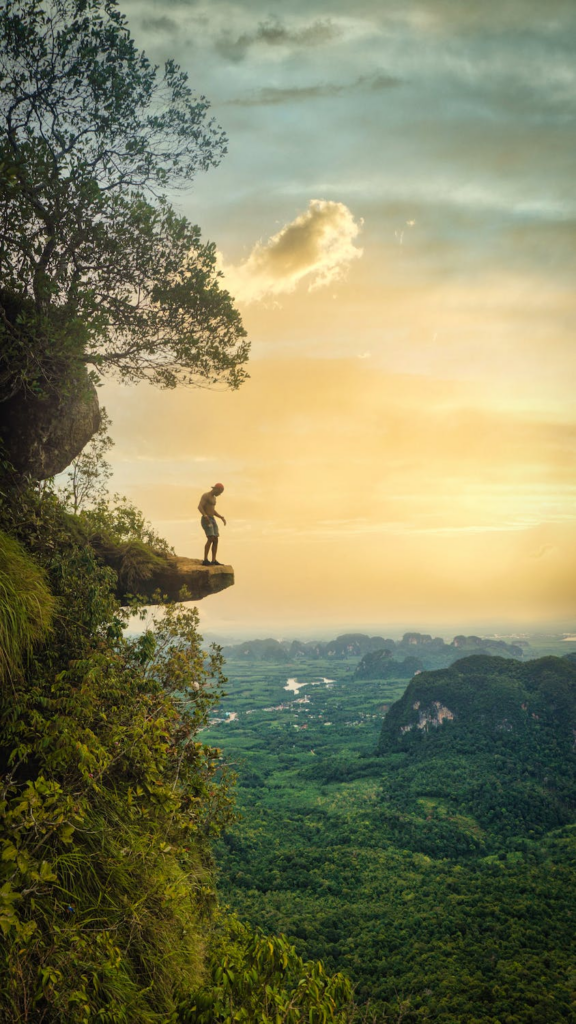 Over the past 5 years, Thailand, specifically Chiang Mai and a small handful of the Thai islands, has been my second home to recover, work, and play in a relaxed way on a small budget that delivers one of the highest quality of life options in the world, especially for the value. With a little preparation, I'm certain you can add Thailand as a "second home" or even your primary place of happiness.
In this Complete Guide to Moving to Thailand from the USA, Canada, and Europe, I'll share everything you need to know about moving Thailand, how to prepare, and how to do everything you need to do when you arrive.

Table of Contents
Detailed Logistics for Moving to Thailand

Why You Should move to Thailand
Though moving half way around the world to Southeast Asia is a hefty task, moving to and living in Thailand delivers a more relaxed pace of life and warmer climate with better living for cheaper.
Thailand delivers these benefits over most places in North America and Europe:
High quality of life
Low cost of living
Wonderful people (please don't dilute the culture too much)
Amazing nature of all types (beaches, mountains, countryside)
Great, warm weather:
Easy visa situation makes staying for a long period, or living in Thailand, easy
Amazing food
Deep, rich Thai and Thai Buddhist culture makes for a pleasantly relaxed, slower pace of life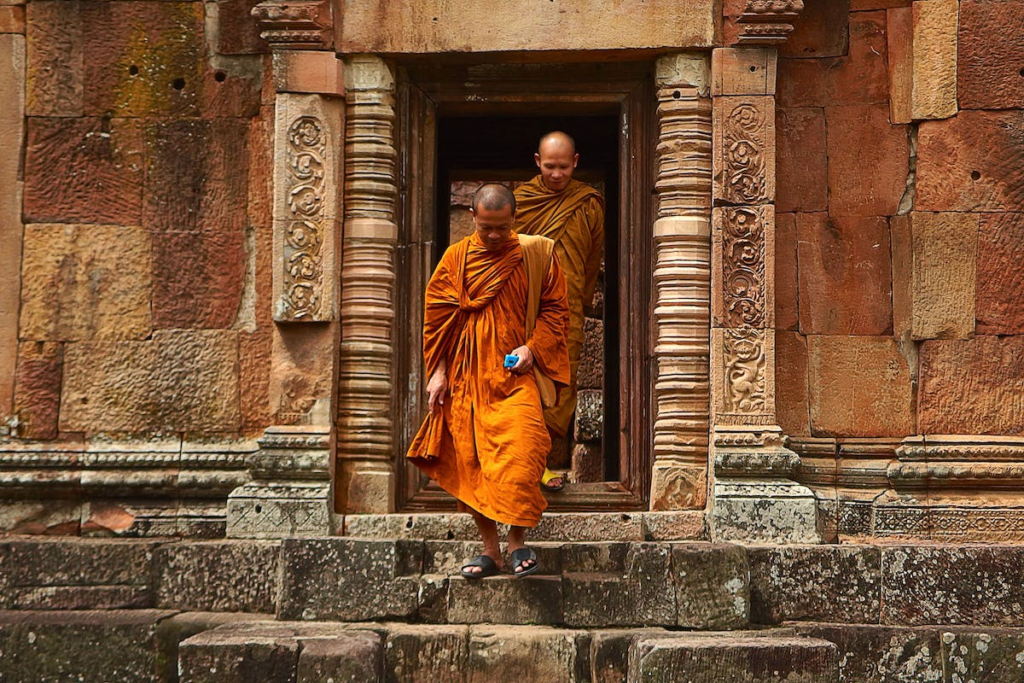 High quality of life
The quality of life for expats in Thailand is amazingly high thanks to great food, great healthcare and private hospitals that rival western quality at a far lower price, and great housing available that rivals the west and ranges from modern condominiums and houses in gated communities to charming bungalow and locals living.
Beyond the essentials of eating, sleeping, and seeking medical care, Thailand offers plenty of entertainment, modern amenities, mega malls, concerts, and anything you could image
Low cost of living
All of these pleasantries come at an extremely low cost of living. In parts of Thailand, such as Chiang Mai, a nomad or expat could live comfortably for $1,000 to $1,500 per month, and could live like a king or queen with an excessive budget of $3,000 per month.
$1,500 per month gets a fully comfortable life with modern apartment near downtown, eating out as much as you care to enjoying high quality Thai cuisine, and treating yourself to luxuries of a movie, a beer, or whatever else you desire.
A budget of $3,000 per month affords you a luxury condo or home in a more popular or expensive area (like the capitol and megalopolis of Bangkok, or the resort island of Koh Samui), western meals, and plenty of excess that the same budget wouldn't afford a person in the US or western Europe.
Wonderful people (please don't dilute the culture too much)
Thai's gladly and honestly own the moniker "the Land of Smiles " because, as you will see, Thais are by nature and culture welcoming and open and thanks to Thai Buddhism tend to live life at a pace that encourages them to savor each moment and each interaction with people – whoever they are. The longer you stay in Thailand and embrace the culture, food, and people, the more you will feel embraced by them.
Note that this benefit – friendly and welcoming people – applies to all of the places we recommend staying, but in the highly touristy (and at times off-putting) and money hungry resort destinations of Phuket and Pattaya, you're less likely to find true Thai culture or a truly Thai welcome.
However, in the places that I love and recommend – Chiang Mai, the "non-resort" islands and beach town destinations, the outskirts of Krabi and Railay, and more, the land of smiles and warm welcomes is very much alive.
Amazing nature of all types (beaches, mountains, countryside)
Great, warm weather
Thailand's season range from warm to hot, and during any time of year there is always somewhere in Thailand with perfect weather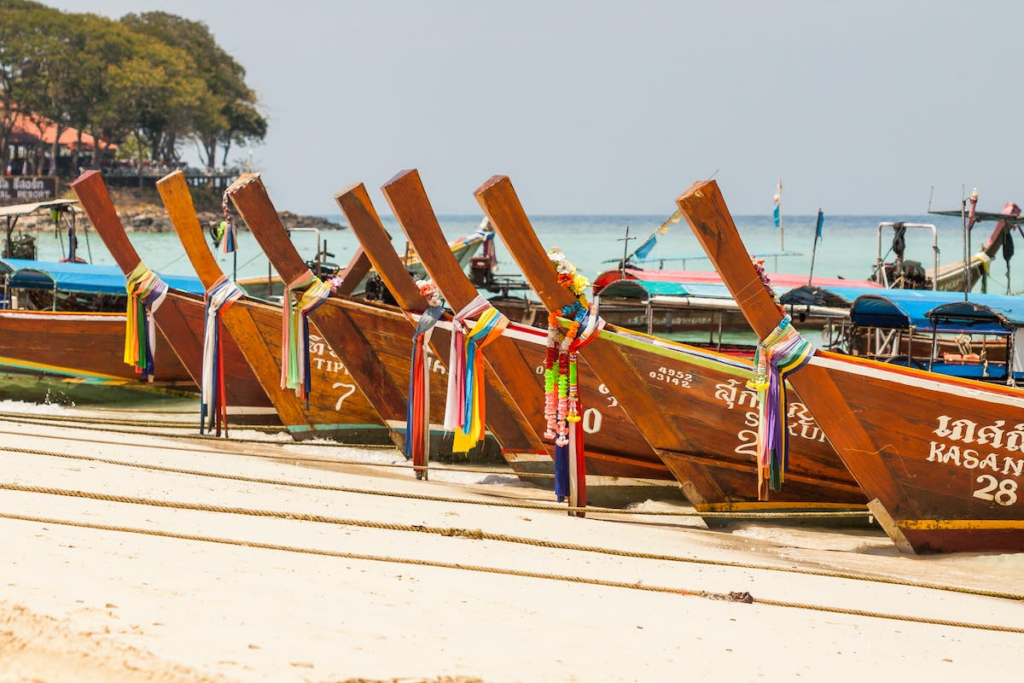 Easy visa situation – for temporary stays, long stays, and even starting a business in Thailand
Whether you choose to pair a 90 day Thai tourist visa with visa runs, to opt for a non immigrant visa, or start a small Thai company for an easy to manage business visa and work permit, the options for staying in Thailand, from a visa standpoint, are easy, cheap, and far more open to most nationalities than those of the EU, Japan, and other sought after locations.
The Thai Education visa (for learning the Thai language or Muay Thai), Thai retirement visa, Thai Elite visa, Thai SMART visa, and several other visa options guarantee there is a cheap and easy way for you to enjoy a long stay in Thailand.
Easy permanent residency
Though becoming a Thai citizen may be a long, drawn out, and tough task (mainly because you must learn to speak Thai at highly fluent level, and Thailand limits new citizens to 100 from each country per year), getting permanent residency to stay in Thailand indefinitely is a far easier task than most other places in the world.
If, after a test visit to Thailand, you decide you want to live in Thailand permanently, know that it is a possibility.
Amazing food
Thailand arguably has the best street food in the world – rivaled only by the Izakayas of Japan – , with expansive dishes and flavor that vary widely from the noodle, pork, and chicken heavy north to seafood heavy south, and a deep different culinary history anywhere you go. But in addition to the street food, Thailand is filled with Michelin Guide listed restaurants and upscale Thai cuisine.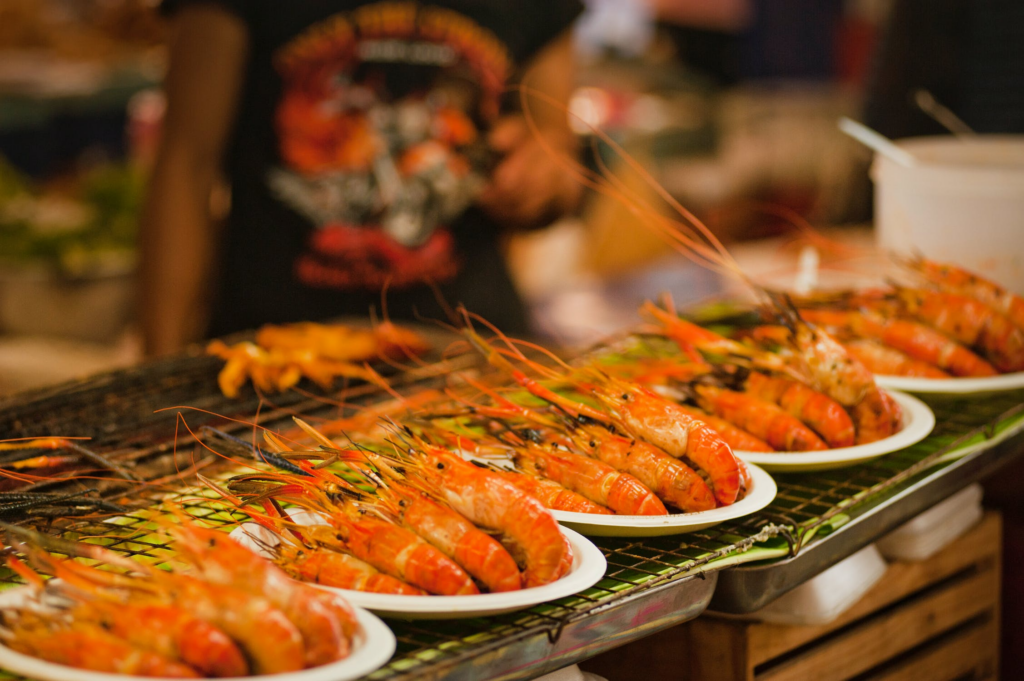 All at prices that can be enjoyed on any budget (think $2 to $5 for a good meal) and good food is always walking distance from virtually everywhere.
Deep, rich Thai and Thai Buddhist culture
Thai Buddhism is deeply ingrained in the cultural, unique versus Buddhism in other areas (such as China or Vietnam) and somehow promotes a less material and more happiness focused tranquility to life. Even if you aren't Buddhist, you'll benefit from this in daily life by the "happy go lucky" nature that is expressed in Thai society because of this.
Compared to business, work, and hustle focused culture in the west, this "living in the moment" and enjoying that comes with Thai Buddhist philosophies and the people you will meet on a daily basis will improve your life as well.

Thailand is best for
With all of the great destinations in the world for slow travelers, nomads, and expats, who would enjoy living in Thailand the most over other great places like Malaysia, Bali, or Argentina**?
Retirees
"Mini-retirees"
Digital Nomads
Travelers and tourists
Families
Virtually everyone…
Retirees: For anyone with a pension or passive income that appreciates tropical climates, a slower pace, and mildly adventurous travel vibes of time past, Thailand should be top of your list as a place to relax, savor life, and live young.
The bonuses of a world class private medical care system, great infrastructure in choice places, and all of the amenities of any developed country in the west make the transition easy for older and aging travelers.
"Mini-retirees": For those that aren't quite of retiring age (or wealth) but want to take some time off for sabbatical, to experience life abroad between jobs, or just want to quit everything for a while, Thailand is perfect.
Easy accommodation, great infrastructure for daily life and transportation, and low cost of living make Thailand a place you could come to with a small bag and small budget and settle in for a long term adventure. Additionally, life in Thailand is such that it is comfortable enough to keep you entertained daily, but adventures – such as island hopping, diving, full moon parties, rock climbing, and adventurous watersports – are right around the corner and waiting. So if you are considering taking a year off and want a single destination for your time abroad, Thailand fits.
Digital Nomads
For those lucky enough to combine remote work and travel, but need a balance of entertainment (nightlife), backpacker style adventure (mini travels and exploration), and the infrastructure and balance to work and focus (high speed internet, coworking spaces, and comfy accommodations), Thailand offers this in spades, making it a great base for digital nomads.
Additionally, between the north (Chiang Mai), the busy central (Bangkok), the southern mainland (Krabi, railay, Huan Hin) and the islands off the east and west sides of the peninsula, Thailand is unique in that it offers fantastic bases and locations throughout the country, and you could easily spend 1 month in each of 12 different cities of Thailand in an entire year. Or, even better, use Thailand as a base to live and work, and use visa runs to briefly travel to Vietnam, Laos, Myanmar, Cambodia, Japan, China, Bali, and Malaysia, maxing out quality of life and adventure as a nomad in Southeast Asia
Families
For travelers and expats with little ones, the low crime, welcoming, and family friendly adventured filled side of Thailand makes it a place that would be perfect for an entire family to move to for a year or more. An excellent and cheap private healthcare system ensures your little ones can get the needed treatment if an emergency arrives. In more pleasant time, whether the children are 2 years old, 12, or 22, there is plenty that they will be able to experience, grow through, and enjoy through your time abroad.
However, at $2,000 to $5,000 and up for annual tuition at an international school, with some costing $30,000 or more per year, beware that primary and secondary school tuition can take Thailand from "budget destination" to "pricey family adventure."

How to Move to Thailand in 11 Steps
Try Thailand first extensively before your full move. Try a 3 week vacation as a "starter taste," and at least a 6 month stay in Thailand before planning a permanent move. Be sure to bounce between locations throughout Thailand, from the north, to Bangkok, to the south, aiming to sample everything and find what you like, and what you don't in Thailand. During this time, narrow down what you like and need in terms of nature (beach, metropolitan, mountains), vibe (hippie, big city hustle, slower northern Thailand), and infrastructure (beach shack, urban condo, city outskirts & countryside) during your stay in Thailand and in the Thai city/island that you will call home.
Assess your current situation in your home country to see if there is a natural opportunity to leave now and if you have the resources for your planned adventure: Assess your finances, work situation and career, family situation and how easy the transition will be for everyone, and your "roots" (leases, cars, belongings, anything holding you back) that will slow down your move to Thailand. Decide if this is the right time and choice, and if yes, set a date and a rough plan how to transition everything from your
Assess your financial situation, cash available, and decide a total budget for your stay (and income you can count on) in Thailand. Use this number to calculate how long you can and want to stay in Thailand – months, years, or indefinitely.
Decide on the target location for your move: the north (Chiang Mai), Bangkok, southern mainland (Krabi, Railay, Phuket, Pattaya, etc. ), or the islands (Koh Samui, Koh Lanta, Koh Phangnan, etc.)
Decide the visa for your stay depending on how long you plan to live in Thailand, whether or not you want to do visa runs, and how committed you are to permanently living in Thailand. Consider the tourist visa (with visa runs), the multiple entry tourist visa (with tourist runs), and the education visa (Thai language study or Muay Thai study) and your primary visa options.
Arrive and find a long term rental after arrival (or find a long term rental during your exploratory trips)
Ship your things from your home country (I advise against this, in favor of traveling light)
Enjoy settling in to Thailand and test locations to find the region of Thailand that best suits you, your needs, and your budget best.
Travel to the nearby countries of Vietnam, Laos, Cambodia, Malaysia, Japan, and Bali, simply to enjoy as well as to test your other options and understand if Thailand is a good choice for you long term
Extend your visa and consider changing to a longer stay option to target permanent residency or citizenship
21 Things to Know Before Moving to Thailand from the USA
Visit, travel through, and live in Thailand for at least 3 to 6 months before moving permanently
Remember, your move can be temporary (~1 year) or long term…or both!
Consider "nomading" or "slow-mading" in Thailand by living in one region (Bangkok, Chiang Mai, the islands) for months or even half a year to experience the best of Thailand and avoid the downsides of seasonal bad weather and seasonal tourism cycles
Live in Bangkok first for at least a week, then move on to Chiang Mai (quieter, mountains) and possibly Pai, and then move on to islands and coastal life around Koh Samui, Krabi, Phuket, or Pattaya to test everything and narrow down the "flavor" of Thailand you prefer
Beware of Thailand's seasons, including the rainy season, hot season, and burning season, and consider splitting time in Thailand with another country to hit the seasons you love and avoid the ones you don't.
Plan your money situation, work situation, and length of stay beforehand: Either have a set budget and amount of time you will live in Thailand before coming back or have an existing steady remote job (approved), remote hustle, or passive income before coming to Thailand
Plan your move 2 years out, including income source, work and career planning, breaking leases, storing goods, virtual addresses at home, and essential documents
"Travel light" during your transition to Thailand. This will allow for flexibility in trying places, and the option to opt for a different country if your Thai experience doesn't turn out as planned or you fall in love with somewhere else. To achieve this approach of traveling lightly:

Leave as much as possible at home. You can buy it again cheaply in Thailand, and life will be easier
Consider using a storage unit in your home country for a year if you're unsure about whether the move to Thailand will be permanent

Use the expat community as a resource, both online and offline. Expats in Thailand generally welcome other foreigners with arms wide open. Facebook, Reddit, and various online forums have large and active expat communities eager to share their experiences. Offline you can easily start chatting with other expats in passing while exploring Thailand.
Consider Malaysia and Vietnam as great alternatives to Thailand, with low costs of living, great infrastructure, plenty of natural beauty, and excellent food scenes
Though it is difficult, make an effort to learn basic Thai (conversational phrases, survival phrases, directions, numbers, negotiation, etc.) to make life easier, cheaper, and to be more accepted by Thais
Embrace the "bum gun", the best thing to come out of Asia since fireworks. The "bum gun" is the Southeast Asian version of a bidet and is a fantastic way to stay cleaner in the muggy humidity of Thailand's hotter months
Read about the "Farang Cycle of Life and Death" to understand how most expat expereinces in Thailand go.
When it comes to real estate, rent first and for plenty of time. Buy (long term lease) years later. Know that it is often more efficient to rent in Thailand than it is to buy, rental investment incomes tend to be very low, and unless you live in a property for at least 5 years before selling you will rarely make your money (plus taxes and fees) back.
Be sure to get private health insurance because foreigners aren't covered by any public healthcare options in Thailand: consider IMG Patriot, Cigna Global, AXA Global Healthcare, or BUPA as they are the most recommended by expats in Thailand
To protect yourself in case of bank card scams and "skimming, be sure to "Firewall" your money, keeping a small amount accessible via debit card, and larger savings accessible only via transfer. This will protect you in the event that your cards are stolen and used fraudulently.
Visas will be the biggest issue with living in Thailand long term
1 year long education visas are primarily given for language (Thai) or Muay Thai and an excellent way to stay in Thailand for an uninterrupted year.
Beware of lifestyle creep. Your cost of living in Thailand can be miniscule, but waste, and aiming for too many "western things" (western cuisine, western alcohol, western brands), as well as partying can bloat your budget extensively.
When approaching Thailand and seeking out what you want, filter advice for "partiers" and for "non-partiers" depending on your preference. Both parties will give polarized advice that may or may not pertain to you
There is a good, genuine option to start a business in Thailand, receive anon-immigrant visa, and receive a workout permit, but you must employ a few Thais. This could be a good, viable option for freelancers to work fully legally in Thailand and gain a long term visa, and a path to permanent residency and citizenship
A good budget to start with as an expat and non-budget traveler in Thailand is $2,000 per month, not including replacement electronics, flights, insurance, and visa fees for the average westerner. $1500 is a good budget for frugal types, budget travelers, and those familiar with Thailand.
Beware of clickbait advice from Youtubers claiming you can live comfortably in Thailand for $1,000 per month.
$1,000 per month is possible only by 1) avoiding partying 2) living in a studio apartment 3) living in fairly remote areas and gaining knowledge of Thailand over time
For Bangkok, plan on $3000 per month to live comfortably to a western standard as an expat
To gain a working visa without starting your own company – teaching online (usually English) via a Thai company is common in return for the work permit and visa but count on far lower salaries than in the west, and the need for a supplemental job/income
Beware of whiny expats (especially online). They are in the minority but are sometimes the loudest. Don't let them get you down.
Beware that Bangkok is not nearly as cheap as the rest of Thailand. Single travelers can fall far and burn a lot of money "discovering" what Bangkok has to offer and partying endlessly
Ensure you can handle "90/90/90". 90 degrees (ferenheit) weather and 90% humidity 90% of the time, as that sums up the climate most of the year in most of Thailand

Pros and Cons of moving to Thailand from the USA
Pros
Amazing quality of life relative to many locations in North America and Europe
Affordable cost of living at ~$1000 to $3000 per month: One of the most affordable and best value options in the world (click here to see city by city cost of living)
Climate and weather: For lovers of warmer weather, there is somewhere with perfect weather in Thailand, all times of the year.
Great infrastructure (roads, transportation networks, stores, connectivity) in the big city (Bangkok) and in the countryside and suburbs (Chiang Mai) as well as in the coast of the peninsula and on the islands
Bangkok airport is an international hub with cheap flights to/from the US, Europe, and to the rest of Asia, making access and going "home" easy, as well as travel and exploring
High quality medical coverage for cheap: Thailand is respected as one of the best medical tourism destinations in the world
Amazing food, that varies all over the country, but is excellent everywhere, from Thai street food to Michelin listed restaurants, Thailand is a foodie's paradise
Affordable, comfortable, high quality housing in every destination
Large expat population is friendly, helpful, and available if you want it
Thais are generally genuinely polite and welcoming people
Despite the large expat population (Thailand has the largest Japanese expat population outside of Japan) the Thais maintain a very genuine and deep culture
Buddhism: Living amongst Thai Buddhism will be a shocking and unexpected bonus you will come to respect and appreciate
Relaxed but still productive pace of life. More productive (but still relaxed) in the north less productive (and more relaxed) in the south
Nature: Over 100 national parks, mountains, beaches, green spaces, and everything in between
Cons (Things to Be Aware of Before Moving to Thailand)
Certain pockets (Phuket) can be dirty and off-putting
"Sexpats" can be fairly common in Thailand
There are sketchy people everywhere – Thai and expat – despite how great most of the population is. If you don't know how to blend in to Thai culture a little bit, you'll either be "one of those expats" or feel like a walking ATM
Learning the Thai language (and getting through the language barrier issues that come with long stays) can be difficult
Weather at times of the year – hot season, monsoon season, burning season (in the north) – can present challenges if you don't expect it and plan for it
Tourism is a major industry in Thailand, and, if you live in the wrong area you will be a victim to over tourism and the preying on tourists that occurs in tourist hubs at specific times of the year or most of the year
Air Quality in Bangkok (year round) and in Chiang Mai during the "burning season" (~February to April) is very unhealthy.
Economic disparity: Disparity between the quality of life of locals and expats

Cost of Living, Budgets and Money Planning for Living in Thailand
One of the major reasons to move to Thailand is the cost of living. Not only is the cost of living far lower than in the west, at ½ to 1/3 the cost of living in many places in the US, but the quality of life is far higher too, delivering great "bang for your buck."
Thailand Cost of Living Snapshot
The average cost of living in Thailand will vary heavily by location, with the north being cheaper than the south, and lifestyle, with partiers and drinkers spending far more than those who avoid drinking and nightlife.
Even with this cost of living variance, most foreigners living in Thailand can plan on the following monthly budgets:
$1,800 to $2,500 for a couple per month
$1,000 to $2,000 for a single person per month
To be safe, long stayers should budget 2,000 Baht to 4,000 Baht ($65 to $130 per month)additional for electricity and water as monthly renters will be stuck with paying for all of their utilities.
Thailand Cost of Living (by city) for a "nomad lifestyle"
Bangkok: $1,334 per month
Chiang Mai: $988 per month
Koh Pha Ngang: $1,554 per month
Krabi: $1,234 per month
Koh Samui: $1,335 per month
Koh Lanta: $1,312 per month
Pai: $1,191
Koh Lipe: $1,909
Hua Hin: $2,066
Koh Phi Phi: $2,412
Cost of living for major cities in the US and Europe (for comparison)
San Francisco: $5,587 per month
LA: $5,368 per month
New York: $6,535 per month
Miami: $5,379 per month
London: $5,674 per month
Lisbon: $3,514 per month
(Compare indexed costs, lifestyle, and quality of life)
How much do you need to live in Thailand for an extended period?
For those who have never been to Thailand and coming without, setting aside a budget for a 6 month stay is an ideal start. Six months is enough time to get familiar with Thailand and see if Thailand is a place you could not only travel, but live as well.
The cost of living varies by where you base in Thailand, with the north being cheaper than mainland south, and mainland south being cheaper than the islands.
A 6-month budget for Thailand should include 6 Months expenses + initial flights + visa run flights + backup plan funds.
Recommended budget (to bring with you) for 3 to 6 months
6 months in the north (Chiang Mai): $1,000 x 6 months = $6,000
6 months in Bangkok: $1,500 x 6 months = $9,000
6 months in the mainland South (Hua Hin): $2,000 x 6 months = $12,000
6 months in the Thai islands (Koh Samui, Koh Pha Ngang): $2,000 x 6 months = $12,000
The costs will also vary depending on how closely you live to the average Thai's lifestyle, or a standard European/North American Lifestyle, including apartment finish (local, modern, or luxurious), eating Thai food vs. Western, getting a "local" house vs. a western style house with air conditioners, etc. However, no matter how well you live, it will likely still be cheaper than a similar standard in Europe or the US.
Itemized budget of average costs in Thailand
Below is a list of prices recorded during my time in Thailand in 2023
Coffee: Americano: 60 Baht ($1.78 USD)
2nd Class sleeper train from Chiang Mai to Bangkok: 900 Baht
Food
Large sticky mango and sticky rice at mall food court: 100 Baht
Sticky Rice at a Michellin listed restaurant: 120 Baht
Lab Moo (Basil diced pork stir fry, street food): 60 Baht
Basil Crispy Friend Pork Belly: 60 Baht
Pad Thai (Street Food): 60 Baht
Drinks
Beer (Singha) at 7 Eleven: 28 Baht
Happy Hour Glass of wine: 160 Baht
Bottle of white Australian Wine: 700 Baht
Imported Beer: 150 Baht
Local Beer (purchased at 7 Eleven): 40 Baht
Social, Coworking, and Entertainment
Coworking Space: 300 Baht per day, 3000 Baht per month
Movie ticket: 170 Baht regular seats, 500 Baht for premium seats
Accommodation and Utilities
Airbnb 1 Bedroom, 1 Bathroom: 3 weeks for $897 ($42 per night) in downtown
Furnished monthly rental, arranged after arrival: 10,000 to 20,000 Baht
Internet (Monthly): 550 Baht
Transportation
Songthaew (red shared taxi truck) ride: 30 Baht
Public Transport (bus, metro): 40 Baht
Sleeper train from Bangkok to Krabi, booked at train station: 715 Baht lower bed, 815 Baht upper bed
Grab ride from Bang Sue train Station to Khao San Road: 240 Baht

Best places to live in Thailand for nomads, retirees, temporary expats, and families
These are the places in Thailand with enough infrastructure and generally large enough to satisfy the needs of most people. There are countless other amazing places – beaches, mountains, villages, and smaller cities – that one could live for 6 months and enjoy. I recommend adding the cities immediately below to your list of options for a permanent move.
Then, I recommend looking below at the longer list of "short term options" for a more intense, immersive, and polarizing experience (in a positive way) for those that are nomading slowly or enjoying a mini-retirement.
Long term options, perfect for a new home and an extended stay
Bangkok
Chiang Mai
Phuket + Pattaya
Hua Hin (Royal Beach Resort town of Thailand)
Krabi and Railay
Koh Samui (Islands)
Mae Hong Son (mountainous west of Thailand)
Koh Lanta
Mae Rim
Short Term
Best places to live in Thailand by demographic:
Digital Nomads: Chiang Mai, Hua Hin, Koh Pha Ngan (outside of full moon party days), Koh Tao, Koh Lanta
Retirees: Phuket, Hua Hin, Chiang Mai, Koh Samui
Families: Chiang Mai, Bangkok, Krabi/Railay, Chiang Rai

Finding a home (house or apartment) in Thailand
Because foreigners can't own property in Thailand and can only long term lease, renting is the best route for foreigners. Additionally, because rents cost ~$500 to $1700 monthly for nice homes throughout the country it makes more financial sense than leasehold ownership which can require a massive cash outlay upfront, and sticky regulations around renting the home out or reselling if you decide to leave. Another reason to avoid purchasing a home in Thailand, especially for investment, is that profits and returns from rental investments is generally very low in Thailand, making the best, lowest headache, most financially sound option to rent not buy or purchase a long (~25 years) lease.
Furnished or unfurnished apartments are available throughout the country. Though furnished apartments and houses cost more they also drastically reducing your commitment, allowing you avoid buying furniture and appliances and :staying light", and increasing flexibility as you can leave that home or Thailand at any time without worrying about selling or shipping furniture
Be sure to save yourself some headache by using a real estate agent to find long term rental options
Using a real estate agent to find a home is a great option because:
Most real estate and rental sites are in Thai (and unnavigable)
Most home owners will likely only speak Thai or very little English
Agents will be able to help you understand logistics of renting in Thailand, how things are billed (electricity and utilities, internet) and will help you discuss and clarigy adjustments to properties clearly with the owner (such as adding air conditioners)
Detailed Housing Costs in Thailand
Unfurnished studios, outside of city center: $100 to $150
"Moo Baans" (gated communities) outside of Bangkok: $200 to $400 per month
Chiang Mai – western style 1 Bed + 1 Bath unfurnished: $400
Chiang Mai – western style 2 Bed + 2 Bath unfurnished: $750
Note: For long term rentals, you will pay for electricity and water
Note: The lowest rent prices will only apply to 6 to 12 month leases
Buying Property in Thailand
If you do plan to stay in Thailand long term and insist on "owning" property in Thailand as a foreigner, your two options are owning a condominium freehold or owning any other property "leasehold"
With condos, foreigners can own up to 49% of a complex, and the remaining 51% must be Thai owned
For leasehold properties in Thailand:
Leases longer than 3 years can be registered at the land office, for security
Maximum lease is 30 years, renewable twice for 90 years total
For leased land, foreigners can build on the land with the owner's permission
Housing differences to be aware of between Thai houses and western houses: Air Conditioners and Toilets
Air Conditioners are not always present in apartments and homes, so be sure to mention your reference to your real estate agent. Beware that AC's used in Thailand are usually smaller and there will be individual units per room in order to focus which rooms are cooled and manage utilities bills. Electricity for the AC will be the biggest expense outside of rent.
Western style toilets (sitting, not squatting) and kitchens will only be in modern apartments/homes and will cost more. The difference in the kitchen will mainly be the size and equipment. Thai bathrooms will be smaller and traditional Thai toilets are the squat toilets, not the "sitting toilets" common in the west.

An Overview of moving to Thailand by case, and what to expect, and things to consider
Remote workers and digital nomads
Though working on a tourist visa is technically not legal in Thailand, Thai immigration officials do not concern themselves with enforcing this law or deporting remote workers, as long as remote workers are "tactful" about not talking too much about their remote work, and the income is not derive from in Thailand or from Thai clients.
Digital nomads and remote workers can expect to find plenty of fellow nomads on the path exploring Southeast Asia. Infrastructure for DNs – coworking spaces, high speed internet, amenities that support focused work – are robust and plentiful. All in all, nomads and remote workers will find Thailand a comfortable, easy, and affordable place to call home.
For more information about Thailand specifically for digital nomads, checkout my article A Digital Nomad's Guide to Chiang Mai.
Gap year travelers and slow travels
Slow travelers and gap year travelers moving at a slower pace will love Thailand as an option. Unlike some other great destinations that become "stale" as the adventure wears off, such as Cambodia and Laos, Thailand becomes cheaper and more enjoyable the longer you stay. Also, with Thailand, as the adventure transitions from "traveling and exploring" to living in Thailand for a few months, or years, life, comfort, and the satisfaction Thailand delivers remain just as high.
Mini-retirements and short stays for "Digital Expats"
Not every move to Thailand needs to last a lifetime. If you are lucky enough to have months between jobs, a sabbatical, or seasonal work, Thailand is perfect for "mini-retirements."
Virtually every major city that is a great option for living in during your time in Thailand is a short hop to cultural experiences, monasteries, national parks, SCUBA diving, partying and more. This means you can base in somewhere like Chaing Mai, Bangkok, or Krabi for cheap comfortable living, and leave on adventures and rich (but still cheap) travel experiences throughout the country every few days.
Plus, with Thailand's easy transport system flights from Bangkok, Chiang Mai, or Phuket to anywhere in the country, flights are under $30, overnight trains make getting from Chiang Mai to Bangkok to Chumpon easy, and VIP busses easily and cheaply connect all other destinations.
Retirement
For retirees with international tastes and over the age of 50, Thailand's low cost of living, easy retirement visa, great private healthcare services, and high quality of life add up to a location perfect to spend your sunset years.
The O-A 1 Year Long Term Resident Retirement visa and O-X 10 Year Long Term Resident retirement visas offer retirees 50 years old and over a 5 year or 10 year visa, as long as you can provide either 1) proof of funds to cover your retirement or 2) proof of stable monthly pension payments. For most people aiming to live in Thailand, the visa is the major hurdle, but with this out of the way, a stay in Thailand will be pure pleasure.
The modern and comfortable housing and condos throughout Thailand will rival what the same amount of money will buy in your home country.
Expect the cost of living to be between $1,500 and $3,000 per month, depending on your location and lifestyle.
Last, the robust private healthcare system, which is popular for medical tourism, you'll be in a great place for treatments and checkups, to stay in great health as you get older.
Thailand is great for anyone looking for a place to call home for years
No matter who you are, as long as you like tropical weather, the best of Southeast Asian food, and appreciate exotic and adventurous travel, moving to Thailand is an excellent idea that will deliver heavily on satisfaction.

Understanding Thai weather and how it will impact your life
Thailand is a tropical country that is primarily warm and humid most of the averaging temperatures in the 30's (high 80's and 90's Fahrenheit). However, due to the wide ranging geography – from urban landscapes, to mountains, to beaches, islands, and peninsulas – the weather in Thailand varies heavily by area. The weather regions of Thailand can roughly be divided into the north, Bangkok, eastern peninsula and islands and the western peninsula and islands.
Why does this matter?
Because, you don't want to be caught in burning season or the rainy season when you can easily move to another part of Thailand for cool, perfect weather.
Weather around Bangkok: Hot half of the year, rain the rest
Bangkok is warm and humid most of the year, with a rainy monsoon season. April is the hottest month of the year in Bangkok, with temperatures averaging 30.5 °C (87°F). December is the coldest month of the year in Bangkok with an average temperature of 26 °C (79°F). The monsoon season in Bangkok lasts from May to October with September seeing the most rain.
Weather in Northern Thailand: A mix of hot and humid, cool and dry, rainy, and "burning season"
Northern Thailand is generally hot and humid as well with a rainy monsoon season, a cool dry season which is the best time of year, and a "burning season" when air quality becomes horrible as farmers burn biowaste in mass and it is best to avoid Chiang Mai. The rainy season lasts from June/July to October. The cool drier season last from November to February. The burning season lasts from February to April/May
Weather in the Eastern Thai Islands and Eastern Peninsula
Koh Tao, Koh Samui, Koh Pha Ngan, Pattaya, Hua Hin, Surat Thani, Hat Yai
September to December is the rainy season in the eastern peninsula and eastern Thai islands. The remainder of the year, eastern coastal Thailand enjoys a (mostly) rain free tropical climate.
Weather in the Western Thai Islands and Western Peninsula (
Phuket, Krabi, Koh Lanta, Phang Nga
In western coastal Thailand, May to October is the rainy season while November to March is the dry season

Detailed Logistics for Moving to Thailand
Now that you understand the pros, cons, cost of living, and highlights for preparing to move to Thailand, let's get into the heavy logistical details.

Thai Visas: Which Thailand Visa Should You Get?
During your initial stay in Thailand, aiming for a tourist visa, which allows a 60 to 90 day stay, is your best option until you feel out if the move to Thailand will be permanent for you and thus worth the effort.
For those that have decided a longer stay in Thailand, for years at least, is what they prefer, the retirement visas, education visas, Elite Visa/Golden Visa, and SMART visas will be the best options to upgrade to.
Thai Visa options available
Short Stay Visa Options:
60 Day Single Entry Tourist Visa (SETV) + 30 day extension available in Thailand
6 Month Multiple Entry Tourist Visa (METV) allowing a unlimited number of 60 day stays in 6 months
Long Stay Visa Options:
1 year Education Visa / Student visa – for Thai language studies or Muay Thai studies
"Retirement Visa" – Long Term Resident Visa for retirees 50 years or older
Tourist Visas
The Thai tourist visas are easy, cheap, and available for application online or via applying at a Thai Embassy (located outside of Thailand)
30 Day Visa Waiver (available on arrival, no paperwork)
For those simply testing life in Thailand for a quick trip, the 30 day visa waiver may be perfect for you. No paperwork is required and the waiver is available on arrival so long as you arrive to Thailand by air
60 Day Single Entry Tourist Visa
For your initial stay, and likely your first years in Thailand, the extendable 60-day tourist visa (Single Entry Tourist Visa | SETV) will be your best and simplest option, with an additional 30 days allowed by extending at a Thai immigration office will be your best allowing you 90 days per stay. You can apply for the single entry tourist visa at any Royal Thai Embassy (outside of Thailand) or at the Thai e-Visa official website.
6 Month Multiple Entry Tourist Visa
The second best option will be a 6 month Multiple Entry Tourist Visa, which allows you up to 60 days per stay, at which point you will need to do a visa run before returning to Thailand. You can apply for the multiple entry tourist visa at any Royal Thai Embassy (outside of Thailand) or at the Thai e-Visa official website.
Retirement Visas (Over 50)
For those over 50 years of age with either 1) a stable pension or 2) sufficient assets pay for their retirement period, the 5 year or 10 year "Thai Retirement Visa," also known as the "Long Term Resident Visa – Retirees aged 50 or older who have a stable income or pension" is the perfect option. You can apply for the retirement visa at any Royal Thai Embassy (outside of Thailand) or at the Thai e-Visa official website.
Education Visas / Student Visas
For those who want to stay in Thailand for a year or more, and are not wealthy or remotely employed by a large company, the 1 year education visa will be the best option to stay in Thailand for up to a year. Education visas can only be arranged once you are in Thailand and is done via an agent (you will see flyers everywhere).
Other Non-immigrant visas for staying in Thailand
After you've tested out Thailand long enough to know if it will be your single forever home and 90 day stays will no longer be enough, you may want to look into Long Term Resident and Non Immigrant visas.
Thailand's non-immigrant visas, valid for 1 to 5 years, fall in the following categories:
Business
Work
Student visa / Education visa
Marriage
Investment
Media
Religious
High Skilled Worker
Medical Treatment
Family
Note that for any log stay visa, you will need to check in with the immigration department at your local immigration office every 90 days, even if you do not leave the country.
If you meet the requirements, you can begin the application process for any of the above lised visa categories under the LTR and non-immigrant visa scheme are available on the official Thai e-Visa website at Thai e-Visa official website.
However, note that these categories fall under the official visa codes listed below. Use these codes, and the official Thai e-visa website to find up to date visa qualifications and application requirements.
Official Thailand Non Immigrant Visa Categories
F (official duties)
B (business and work)
ED (education)
EX (experts and specialists)
IB/IM (investors)
M (media, film producers, and journalists)
(family visitors, NGO volunteers, etc.)
R (religious activities)
RS (researchers and scientists)
O-A (Retiree 1 year renewable visa)
O-X (Retiree 10 year visa)
The Thai Digital Nomad Visa | Thai Smart Visa
Another visa option for staying in Thailand for a year or longer that was creating buzz among digital nomads was the "SMART visa", misunderstood to be the Thai Digital Nomad Visa.
The latest Thai visa, commonly referred to as the "Thai Digital Nomad Visa" is the SMART visa. However, this visa is likely not suitable for most digital nomads, and one of the options of above (visa waiver, tourist visa, or education visa) will be cheaper, easier to attain, and convenient enough for longer visits.
Thai Digital Nomad Visa (SMART Visa) Requirements:
$80,000+ per year minimum salary
Work in a targeted industry
Working for the past 3+ years for a publicly traded company or company with over $150 million in annual revenue
Unfortunately, the Thai SMART visa won't be suitable for most nomads due to the high income requirements and strict employment requirements.
Thai Golden Visas, aka The Thai Elite Visa
A straight forward process of buying a long term visa for ฿600,000 Thai Baht (around $20,000 USD) for 5 years or ฿1 million Thai Baht (around $32,000 USD) for 20 years. For those with deep pockets, this visa allows unlimited entry to Thailand for the period of validity, and VIP service and representation at Thai Immigration for check ins.
For more information on the Thai Elite visa and the various packages offered – such as "Easy Access," "Privilege Access," "Family Access," and "Ultimate Access" read up on ThaiEmbassy.com.
Gaining Thai Permanent Residence by living in Thailand for 3 years
Though it is not common, it is relatively easy to qualify for permanent residency in Thailand.
To qualify for permanent resident status in Thailand, a foreigner must reside in Thailand for 3 consecutive years of visa extensions. This is only achievable on non-immigrant visas, and not possible on tourist visas.
After physical presence requirement is met, of 3 years in Thailand, an extensive examination is required along with a Thai language proficiency test.
Note that the Thai government only grants Thai residency to 100 people of each nationality per year, but the permanent resident has no expiration date, and after 5 years as a permanent resident the individual can apply for Thai citizenship.
The Thai government does allow dual citizenship for naturalized citizens
(**BRUSH BREAK**)
Work Permits, Working in Thailand, and Jobs in Thailand: Is it easy for Americans and Europeans to get jobs in Thailand?
Though anything is possible in Thailand, and given Thailand's many sectors of industry and massive exports, it is very possible for a foreigner to find a job in Thailand. However, it coming to Thailand with either remote work or enough funds for your stay is a far better option.
Getting a job in Thailand as a foreigner isn't a great approach because:
Jobs aren't plentiful in Thailand for foreigners, especially for foreigners that don't speak Thai
Wages are fairly low compared to western salaries and salaries from remote work for a western company or clients based in North America or Europe
A remote wage (in dollars or Euros) or seasonally working in your home country and living in Thailand will go much further than a "Thai local expat" wage
Ultimately, getting a remote working role that aligns with Thailand's time zone or building up a business as a digital nomad will be a far better decision financially and for your happiness.
Is remote working legal in Thailand? Technically no, but no one cares…
Working remotely (in Thailand for a foreign company and deriving no income from Thailand) is not technically legal, but you will get away with it as long you keep that information to yourself. Neither immigration nor the police are actively seeking out remote workers or digital nomads.
If you are a remote worker or digital nomad considering working in Thailand, firstly, congratulations on having a fantastic situation in front of you. Second, be tactful about who you share your business dealings and professional situation with and you will not have any problems with immigration, the police, or any Thai government officials.

Taxes in Thailand
Beware that if you stay more than 180 days in Thailand during a calendar year, you are liable for taxes in Thailand on income earned in Thailand.
Click here to view the USA's Tax Treaty with Thailand in the official IRS website
According to PwC "Thailand taxes its residents and non-residents on their assessable income derived from employment or business carried on in Thailand, regardless of whether paid in or outside Thailand. Residents who derive income from abroad are taxable on that income if remitted into Thailand in the year in which it is received."
Source: https://taxsummaries.pwc.com/thailand/individual/taxes-on-personal-income
Thai Personal Income Tax Rates
Net income (THB) PIT rate (%)
฿0 to ฿150,000——————Exempt
฿150,001 to ฿300,000———5%
฿300,001 to ฿500,000———10%
฿500,001 to ฿750,000———15%
฿750,001 to ฿1,000,000——-20%
฿1,000,001 to ฿2,000,000—–25%
฿2,000,001 to ฿5,000,000—–30%
Over ฿5,000,000—————–35%
You will still be liable for US taxes on Global Income, but the first $120,000 is exempt from
Note that as a US citizen living abroad your global income is taxable, however if you are outside of the US more than 330 days in a 365 day period, you are eligible for the Foreign Earned Income Tax Exclusion on the first $120,000 of your income. Additionally, you will receive a tax credit for all foreign income taxes paid.

Other Essentials
Bringing Pets to Thailand
Pets can be brought directly from the US if they meet all of the following requirements:
Are over four months old
Have a valid health certificate
Are chipped
Meet vaccination requirements
Meet parasite treatment requirements
Have an import permit from the Thai Department of Livestock
Source: Royal Thai Embassy

Healthcare in Thailand
Note that foreigners in Thailand will need to maintain their own health insurance, as the free Thai public health insurance is not available to foreigners. Because of this, you should purchase your own health insurance policy.
For insurance, consider these medical insurance providers that are the most recommended in Thailand by expats:
IMG Patriot
Cigna Global
AXA Global Healthcare
BUPA

Where to Learn Thai
If you plan to live in Thai long term, learning at least a little Thai is beneficial. Not only will it help you in connecting with Thais and getting that beloved "local price" but studying Thai can afford you a 1 year education visa and help with passing the permanent residency qualification language test.
The most respected language schools in Thailand are:
Walen Language School (Bangkok, Chiang Mai and Pattaya)
The Union Thai Language School (Bangkok)
AAA Thai Language School (Bangkok)
Duolingo offers a great, free, convenient option
Don't forget Duolingo! Though you shouldn't expect to reach native level fluency with this app, you can quickly learn survival level communication and conversation level Thai before even arriving in Thailand. All for free.
In any case, I've learned that even simply using Thai words for "hello", "please", and "thank you" go a long ways in building rapport, and making Thailand feel more like home than vacation.
Essential Thai Vocab
Essential basic words in Thai, to get you started
Sawasdee (Krub/Ka): Hello (for males/females)
Khob khun (Krub/Ka): Thank you (for males/females)
Chai: Yes.
Mai chai: No.
Kob kun mak: Thank you very much.
Mai pen rai: You're welcome/It's okay.
Sabai dee mai (Krub/Ka): How are you?
Sabai dee (Krub/Ka): I'm fine (for males/females)
Chai-yoh!: Cheers!
Lao jow: Sorry/Excuse me
I am vegetarian: Chan gin jay
I would like [dish]: Ao [dish]
Spicy: Pet
Not spicy: Mai pet
Water: Nam
Coffee: Gafae
Bill, please: Kep tang krub/ka
Stop here, please: Yoot tee nee krub/ka
How far is it?: Meua-rai
Where is the bathroom?: Hong nam yoo nai?
Can you take me to [destination]?: Dai mai ow chan dtang [destination]?
Thai Numbers
1. nùeng – one
2. song – two
3. săm – three
4. sì – four
5. hâ – five
6. hòk – six
7. chèt – seven
8. pàet – eight
9. kêā – nine
10. sìp – ten

Transportation and Getting Around Thailand
Getting around Thailand will be extremely easy thanks to well established travel and tourism infrastructure.
The primary ways of getting around Thailand are:
Budget Airlines: Great for traveling out of Bangkok to the major cities in Thailand, with Air Asia being the best option
Trains: Trains connect Bangkok to Chiang Mai in the north and Surat Thani in the south, with sleeper train options as well
Boats and Ferries: Once in the south, easily booked ferries will be the best and cheapest way of getting around
VIP Buses and Shuttles: Generally cost as much as trains with less comfort, but with the convenience of drop off directly at your destination
Resources for researching and booking travel throughout Thailand
12Go.Asia: Best option for online booking of trains, ferries, busses, and shuttles
Skyscanner: Best option for booking cheap, budget flights throughout Thailand
Rome2Rio.com: Best option for researching train, bus, and ferry options, though I recommend booking through 12Go.Asia.
Transportation and Getting Around Your City
After you've chosen and settled into your new home, getting around will be the next adventure.
Great public transportation, consisting of metro, sky train, and busses, runs throughout Bangkok.
Outside of Bangkok, in the north as well as the south and islands, rented motorbikes (driven by you), rideshare (via the Grab app), and Songthaews (shared red Taxi trucks) will be the best, most reliable, and cheapest forms of transportation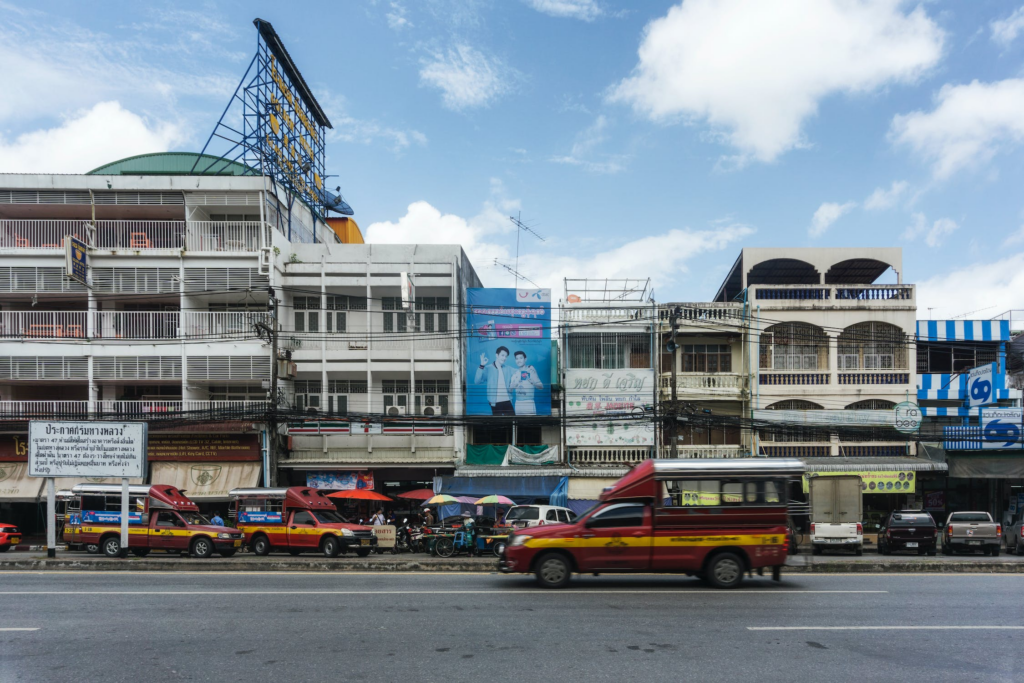 Get your International Driver's Permit to allow you to drive a motorbike
Get an International Driving Permit in your home country, and bring it (along with your home country drivers license) with you. You are only legally allowed to drive a motorbike in Thailand if you have the international drivers permit issued by your home country. If you don't have one, count on paying a 500 Baht to 1000 Baht fine every time you pass a police checkpoint.
Motorbike rentals are available throughout Thailand for between 150 Baht and 500 Baht per day.
Use the Red Shared Taxi "Songthaews" everywhere outside of Bangkok for only 30 Baht
For only 30 Baht per trip, these red shared taxis will take you virtually anywhere, although you have to settle for having multiple stops along the way. In the end, if you're not in a hurry, you arrive, you save a lot of money, and you get to have a fun experience immersing yourself in the culture.

Getting a Thai Driver's License
Your home country license is only valid in Thailand for three months (with an International Driving Permit), after this you must get a Thai driver's license
To get a Thai driver's license:
Visit you're your home country embassy in Thailand with a valid drivers license
Visit the Thai Land Transport office with the following documents

Affidavit from your embassy or consulate
Passport
Appropriate medical report
Note: You may still be required to do a driving test, but these are the prerequisites

Banking in Thailand
Though you should plan on maintaining your home country bank accounts, for access to pensions, income, and your bank history, having a banking plan for Thailand is essential to 1) reduce ATM fees and transaction fees and 2) ensure constant access to your money.
ATM fees will be ~300 Baht per transaction if you do not have a bank with no fee transactions, an account with a bank that has a presence in Thailand, or an account with a Thai bank.
The best approach to banking is to open a no fees checking account with no atm fees (such as Charles Schwab), accompanied by a credit card with no international transaction fees, and using WISE for small international transactions and international wire transfers (~$25 each) for large international money transfers.
Note that you will only be able to open a Thai bank account with a Thai work permit or with Thai residency, however, it is still worthwhile to have an account with a bank that has a presence in Thailand to avoid pricey ATM fees.
If you are unable to go with the home country account setup with no fees, it is best to open a bank account from an international bank that will have branches in Thailand to avoid pricey ATM fees. The easiest and most trustworthy international banks with a presence in Thailand are:
Citibank
Deutsche Bank
HSBC
If you have a bank branch of any one of the banks accessible, consider opening an account before you leave and opening a Thai Baht account with the same bank in Thailand.
Opening a Thai Bank Account
Opening an account with a Thai bank will be difficult and will require a work permit and passport, but opening an account with an international bank (especially while in your home country) that has a bank presence in Thailand will be much easier and will make your (financial) life in Thailand easier
The Best Local Bank Options are:
Bangkok Bank
Siam Commercial Bank
Krang Thai
Bank Operation in Thailand
Banks are generally open 8:30 to 15:30 Monday to Friday, excluding holidays
Most credit cards with the Mastercard or Visa logo are accepted
How to transfer money from the US to Thailand
International (and local) money transfers are best done through WISE transfers, for amounts $3,000 or less, or wire transfer for greater than $3,000.
Beware that WISE tends be a little unpredictable when transfers exceed $3,000, so instead of taking seconds they can take up to 10 days. For anything over $3,000 in transferring, wire transfers are the best way to go
Physical Money Exchanges are available everywhere

SIM Cards, Wi-Fi, and Connectivity
Opt for a local SIM for easy connectivity. SIM cards, and e-sims, are available in the airport, in most malls, and in smaller kiosks throughout town. The best mobile providers are:
Expect to pay these prices for a SIM card and data in Thailand:
30 GB for 1 month $9 USD
Unlimited data for 7 days $10 USD
Unlimited data for 15 days $20 USD
Unlimited data for 30 days $30 USD

Health and Safety in Thailand
Petty crime is a possibility in big city areas (Bangkok) and touristy areas (the resort islands, beachside Krabi)
Vaccinations required: Consult the CDC website recommended vaccinations page
Don't drink the water, disinfected or bottled water only
Carry insurance, just in case. Ideally private medical insurance, but World Nomads travel insurance at the least

Major "Don'ts" while living in Thailand
Don't get involved with illegal drugs (marijuana is legal and accepted, but don't risk the consequences of using anything beyond cannabis)
Don't argue with the police
Don't let disputes with locals get to the point that the police are involved (the police and the courts will usually side with the Thai)
Don't be rude or disrespect any Thai people as saving face and being respectful is a major part of the Thai culture
Checklist for Moving to Thailand from USA, Canada, or Europe
1. Make sure your passport is up to date
2. Visit Thailand for a test trip of 3 to 6 months, visiting all of the major cities in Thailand's North, South, and islands
3. Plan how long you want to live in Thailand
4. Plan your finances for moving to Thailand – either a steady source of remote income, or at least $1,500 to $3,000 per month for your entire stay
5. Decide on the area of Thailand you will live in: Bangkok, Chiang Mai and the North, the South, the western peninsula, the eastern peninsula, or the islands. Then decide on your first city to move to.
6. Open a bank account with a bank that has a presence in Thailand, such as HSBC, Deutsche Bank, or Citi Bank, to ensure easy banking in Thailand without the hassle of opening an account with a Thai bank
7. Inform your current bank that you will be moving abroad indefinitely
8. Consider setting up a virtual mailbox** in your home country receive mail in your home country while away
9. Make digital copies and printed copies of all important documents, including passport, drivers license, birth certificates, diplomas, medical records, etc.
10. Start a private health insurance plan** that will be valid in Thailand
11. Get your vaccinations according to US Center for Disease Control recommendations** and your doctor's recommendations
12. Book accommodation in your top choice new home city in Thailand for one week to one month
13. Fly to Thailand
14. Get a SIM card at the airport on arrival
15. Contact a real estate agent, or several, to begin hunting for a long term apartment for rental
16. Consider taking Thai language classes for easier living and permanent residency eligibility

FAQ
Can you move to Thailand permanently?
Yes, it is possible to move to Thailand permanently. However, visa runs will be required if on a tourist visa for 60 days at a time, or, registering for an education visa or retirement.
Is it possible to move to Thailand with no money?
Though it is possible to fly to Thailand on a 60 day tourist visa and arrive with no money, it is not a good idea. Work for foreigners in Thailand is very rare and difficult to get, and you will need at least $1,000 per month for your stay and general cost of living.
Instead of flying to Thailand with no money, plan to stay for a certain number of months, and save up a sufficient budget to last that period.
If you plan to work (online) and travel, but don't know where to start, check out this list of 51 online professions that successful nomads are doing to finance their travels.
Is it possible to move to Thailand for a year?
It is absolutely possible to move to Thailand for a year, as long as you have the savings to pay for a year of living in Thailand or a job online. Note that you will either have to do 4 to 6 visa runs if staying on a tourist visa as tourist visas are only valid for a maximum of 60 to 90 days or get a 1 year education visa for learning the Thai language or practicing Muay Thai.
Is it possible to move to Thailand permanently?
It is possible to move to Thailand permanently, however it is very difficult to setup the visa for a permanent stay on the first visit. To stay in Thailand permanently you will need a steady income (from a job in Thailand or from abroad) and a Long Term Resident visa that allows a multiple year stay, such as a retirement visa, a SMART visa or an Elite visa. From there, after staying in Thailand for 3 years on a non-tourist visa, you are eligible for permanent residency with no expiration.
Is it easy for an American to move to Thailand?
Yes, it is easy for an American to move to Thailand. With such a flexible visa situation in Thailand, as long as you have enough money to finance your stay, or a steady source of income, staying in Thailand is easy for Americans.
Is Thailand a good place for an American to live?
Thailand is a fantastic place to live as it offers a high quality of life, great infrastructure, and a low cost living relative to most places in North America or Europe.
Why would an American move to Thailand?
How much money do you need to move to Thailand?
To move to Thailand for 6 months, a budget of $10,000 is more than enough, with $1,500 per month cost of living and generally living expenses and an additional $1,000 for flights, transport, and surprises
Is it a good idea to move to Thailand?
It is absolutely a good idea to move to Thailand.