If you're looking for a straight forward, tough, and effective workout, the Crossfit named WODs are a perfect, go-to option. Whether you're benchmarking your performance with the Girl WODs or aiming for something tougher with the Hero WODs, these workouts will deliver exactly what you're looking for.
Read on to discover the 15 best and most effective Crossfit named workouts as well as all of the benchmarking Crossfit Gir WODs and some of our favorite other Hero WODs.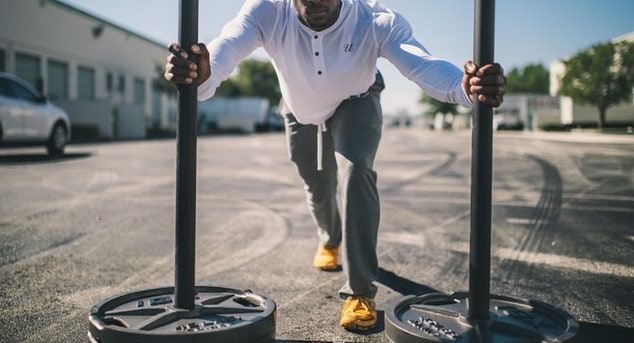 CONTENTS OF THIS CROSSFIT NAMED WODS LIST

WHAT ARE THE CROSSFIT NAMED WODS
The "Crossfit named workouts of the day" or "Crossfit named WODs" are a list of staple workouts in Crossfit that athletes commonly return to, whether to benchmark and gauge their current fitness level or simply return to a reliably tough workout that tests stamina, strength, or a combination of the two.
Favorite workouts that get repeated often eventually pick up a name and inevitably become part of the reliable rotation of Crossfit workouts in gyms across the globe.
Most named workouts fall into the "Girl WODs" (also called the Benchmark WODs) or the "Hero WODs" category with a select few others kept in the rotation for their effectiveness and named based on the traits of the workout (e.g., Filthy Fifty, Kettlehell, the Longest Mile etc.)
Scroll on to discover 15 of the best, most notable, and toughest named Crossfit WODs.
Or scroll on to learn more about the Girl WODs and Hero WODs

THE 15 BEST CROSSFIT NAMED WODs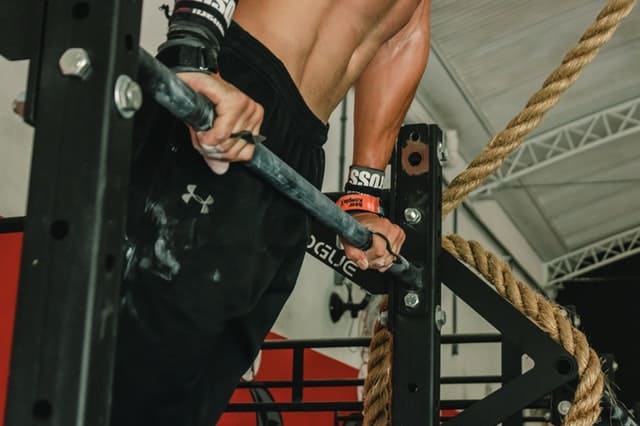 Murph
For time:
1 mile Run
100 Pull-ups
200 Push-ups
300 Squats
1 mile Run
Fran
21-15-9 Reps For Time
Thrusters (95/65 lb)
Pull-Ups
Cindy
AMRAP in 20 minutes
5 Pull-Ups
10 Push-Ups
15 Air Squats
Nick
12 Rounds For Time
10 Dumbbell Hang Squat Cleans (45/35 lb)
6 Handstand Push-Ups on Dumbbells
Chelsea
EMOM in 30 minutes
5 Pull-Ups
10 Push-Ups
15 Air Squats
Angie
For Time
100 Pull-Ups
100 Push-Ups
100 Sit-Ups
100 Air Squats
Helen
3 Rounds For Time
400 meter Run
21 Kettlebell Swings (1.5/1 pood)
12 Pull-Ups
The Seven | The CIA Seven
7 Rounds For Time
7 Handstand Push-Ups
7 Thrusters (135/95 lb)
7 Knees-to-Elbows
7 Deadlifts (245/165 lb)
7 Burpees
7 Kettlebell Swings (75lbs/45lbs)
7 Pull-Ups
The Longest Mile
4 Rounds for time
10 Burpess
100 Meter Run
10 Air Squats
100 Meter Run
10 Push-Ups
100 Meter Run
10 Sit Ups
100 Meter Run
Nancy WOD
5 Rounds For Time
400 meter Run
15 Overhead Squats (95/65 lb)
Zeus WOD
3 Rounds For Time
30 Wall Ball Shots (20/14 lb)
30 Sumo Deadlift High-Pull (75/55 lb)
30 Box Jump (20 in)
30 Push Presses (75/55 lb)
30 calorie Row
30 Push-Ups
10 Back Squats (Bodyweight)
The Glen WOD
For Time
30 Clean and Jerks (135/95)
Run 1 Mile
10 Rope Climbs
Run 1 Mile
100 Burpees
The Chief WOD
Repeat for 5 Rounds with As Many Reps As Possible in 3 minutes
3 Power Cleans (135/95 lbs)
6 Push-Ups
9 Air Squats
Rest 1 Minute
Filthy Fifty Crossfit WOD
For Time
50 Box Jumps (24/20 in)
50 Jumping Pull-Ups
50 Kettlebell Swings (1/.75 pood)
50 Walking Lunge Steps
50 Knees-to-Elbows
50 Push Presses (45/35 lb)
50 Back Extensions
50 Wall Ball Shots (20/14 lb)
50 Burpees
50 Double-Unders

ALL THE OTHER NAMED CROSSFIT WORKOUTS YOU NEED TO KNOW
Beyond the favorites above there are literally hundreds of named Crossfit WODs, but most athletes gravitate back to a select few workouts within the Crossfit girls WODs and the Hero WODs
Keep scrolling for the story behind the Crossfit girl names and the origin of the Hero WODs as well as the toughest (and favorite) workouts of each.

THE CROSSFIT GIRL WODS
The Crossfit "Girl WODs" are named as such because of the workouts names – all names of women – such as Fran or Helen. The founder of Crossfit recognized how tough these workouts are. Athletes finishing these benchmark workouts looked like they'd been hit by a hurricane, so he began giving the workouts women's names, copying how the World Meteorological organization names hurricanes after women.
All of the Crossfit Girl WODs are tough, taxing, and performance is an excellent indicator of fitness focusing on the core movements in Crossfit and concentrating on either specific fitness modalities in Crossfit (cardio, gymnastics, weightlifting) or multiple modalities at once. Because of how focused yet taxing these workouts are, the Crossfit girls do double duty as great normal workouts and as benchmark WODs.
As benchmark WODs, the Crossfit girls are used to gauge fitness over time. An example would be comparing historical times for the Fran WOD
How to Use the Crossfit Girl WODs in your fitness regimen
First, do the Crossfit Girl workouts whenever you're just stumped as to what workout to do. These workouts are near perfect, well rounded, and always worth doing
Second, record your performance – whether it be a time, weights, or number of reps – to recognize your improvement, or performance loss, across movements and Crossfit's fitness modalities.
Ready to start? Click here to jump to the Crossfit Girls

THE ORIGINAL CROSSFIT GIRL WODS
The original girls, also referred to as the "nasty girls" of Crossfit
Annie
50 – 40 – 30 – 20 – 10 For Time
Double Unders
Sit Ups
Angie
100 Pull Ups
100 Push Ups
100 Sit Ups
100 Squats
Barbara
Repeat All For 5 Rounds
20 Pull Ups
30 Push Ups
40 Sit Ups
50 Squats
Rest 3 Mins
Repeat until completion of 5 rounds
Chelsea
Perform Each Set Every Minute On the Minute For 30 Minutes (10 Rounds)
5 Pull Ups
10 Push Ups
15 Squats
Cindy
As Many Rounds As Possible (AMRAP) in 20 Minutes
5 Pull Ups
10 Push Ups
15 Squats
Diane
21 – 15 – 9 Reps
225lb Deadlift
Handstand Push Ups
Elizabeth
21 – 15 – 9 Reps
135lb Clean
Ring Dips
Fran
21 – 15 – 9 Reps
Thruster 95lbs
Pull Ups
Frelen
5 Rounds For Time
Run 800m
15 Dumbbell Thruster
15 Pull Ups
Helen
3 Rounds For Time
Run 400m
21 Kettle Bell Swings 55lb
12 Pull Ups
Isabel
Jackie
1000m Row
50 Thruster 45lbs
30 Pull Ups
Karen
For Time
150 Wall Balls 20lbs
Kelly
5 Rounds For Time
Run 400m
30 Box Jumps
30 Wall Balls 20lbs
Linda
10 – 9 – 8 – 7 – 6 – 5 – 4 – 3 – 2 – 1 in Order of:
1.5x Body Weight Deadlift
Body Weight Bench Press
3/4x Body Weight Cleans
Lynne
5 Rounds for Max Reps
Bodyweight Bench Press Max Reps
Pull Ups Max Reps
Mary
As Many Rounds As Possible (AMRAP) in 20 Minutes
5 Handstand Push Ups
10 One Legged Squats (Pistols)
15 Pull Ups
Nancy
5 Rounds for Time
400m Run
15 Overhead Squat 95lbs
Nicole
As Many Rounds As Possible (AMRAP) in 20 Minutes –
400m Run
Max Rep Pull Ups
Click here to jump to the full list of Crossfit Girl WODs

THE HERO WODS
The Crossfit Hero WODs are a list of tough WODs worth repeating, all named of military servicemembers and first responders that sacrificed their lives in the line of duty, such as Murph or the Chief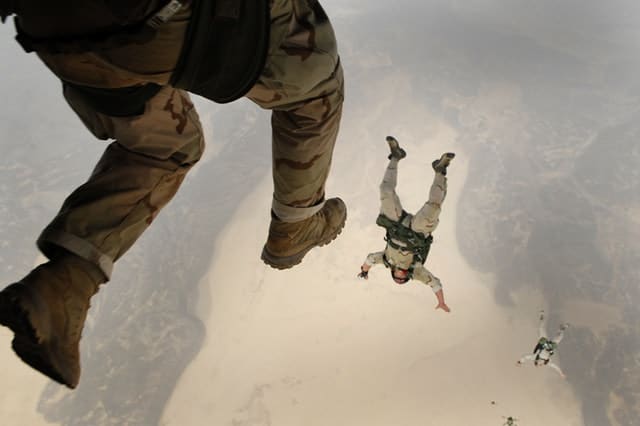 Each commemorating WOD is the favorite WOD of the servicemember or first responder it commemorates, and most are extremely taxing – moreso than normal Crossfit workouts – emphasizing combat ready strength over nearly unreasonable distances and periods.

THE BEST HERO WODS
Murph
21-15-9 reps for time of:
Handstand push-ups
Ring dips
Push-ups
Nate
21-15-9 reps for time of:
Handstand push-ups
Ring dips
Push-ups
Zeus WOD
3 Rounds For Time
30 Wall Ball Shots (20/14 lb)
30 Sumo Deadlift High-Pull (75/55 lb)
30 Box Jump (20 in)
30 Push Presses (75/55 lb)
30 calorie Row
30 Push-Ups
10 Back Squats (Bodyweight)
Glen WOD
30 Clean-and-Jerks (135/95 lb)
1 mile Run
10 Rope Climbs (15 ft)
1 mile Run
100 Burpees
JT
21-15-9 reps for time of:
Handstand push-ups
Ring dips
Push-ups
Danny
21-15-9 reps for time of:
Handstand push-ups
Ring dips
Push-ups
Nuts
21-15-9 reps for time of:
Handstand push-ups
Ring dips
Push-ups
Roy
21-15-9 reps for time of:
Handstand push-ups
Ring dips
Push-ups
Arnie
21-15-9 reps for time of:
Handstand push-ups
Ring dips
Push-ups
Luce
21-15-9 reps for time of:
Handstand push-ups
Ring dips
Push-ups
Jag 28
21-15-9 reps for time of:
Handstand push-ups
Ring dips
Push-ups
Tom
21-15-9 reps for time of:
Handstand push-ups
Ring dips
Push-ups
Click here to jump to the full list of 69 of the best Crossfit Hero workouts

OTHER CROSSFIT WOD LISTS FOR FLEXIBLE FITNESS