Whether you're traveling for business or pleasure, the craziness of moving can easily disrupt anyone's fitness routine. Finding the time to squeeze in a good workout is hard enough, but working out in a hotel gym with little equipment can be tough…especially if there is no hotel gym! Lucky for us, the "Crossfit hotel WODs", also known as CrossFit hotel workouts, are perfect for getting in a great workout, in your hotel room, with no equipment.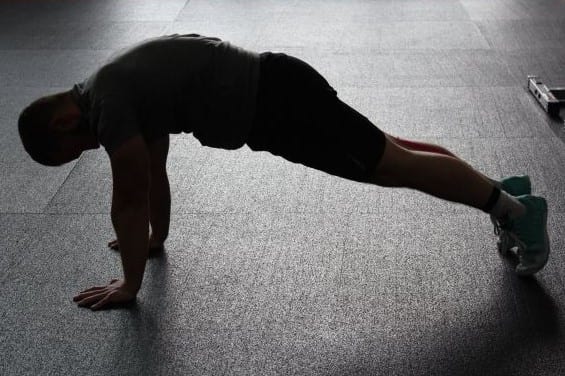 I've traveled the world for two years, to plenty of places without a true gym or decent equipment. This list of Crossfit hotel WODs are the best Crossfit style workouts I've found for getting back into shape and staying in shape without leaving my hotel room. From Everest & the Himalayas to impromptu marathons to surfing, these travel friendly workouts have keep me ready for any adventure that comes my way.
For the best results (and to keep those results) aim to do a workouts from this list 2-3 times per week.
---
Be sure to bookmark this page to keep these Crossfit hotel workouts on tap and check out these other resources for getting your workout on solo
---
The Crossfit Hotel WODs List
5 Rounds for time
Tabata Push Ups + Squats
Perform 8 sets of 20 seconds of work followed by 10 seconds rest (4 minutes total) of push-ups first, then 8 rounds of air squats
20 rounds for time :
5 Push ups
5 Sit ups
10 Squats
10 rounds for time :
5 Tuck Jumps (aim for vertical height)
5 Squats
5 Broad Jumps
For Time:
For Time:
For Time:
10-9-8-7-6-5-4-3-2-1 Reps per round of:
Burpees and Situps
For Time:
30 Handstand Pushups or Incline Push Ups
40 Jump squats
50 Situps
60 Squats
5 Rounds
20 tuck jumps
30 second handstand hold
For Time: 10-9-8-7-6-5-4-3-2-1
As Many Rounds as Possible in 10 Minutes
3 Burpees
6 Supermans (Lie on the floor, contract lower back, and raise arms & legs off floor)
9 Sit-Ups
5 Rounds, As Many Reps as Possible
20 seconds of mountain climbers
20 sec of squats
20 sec of rest
5 rounds for time :
Handstand Hold 30 seconds (against the wall is fine)
20 air squats
5 rounds :
Handstand Hold 1 minute
Hold bottom of the squat for 1 minute
5 Rounds for Time:
20 Forward Lunges
20 Backward Lunges
20 Side Lunge
20 Split Jumps (Speedskater Lunges)
21-15-9 :
Push ups
Hollow rocks
Jump squats
10 rounds for time :
5 handstand Push Ups
10 burpees
8 rounds for time as fast as possible:
"Step Down" Perform all three mini workouts in succession
(1) 21-15-9:
– Push Ups
– Burpees
Rest 2:00
(2) 15-12-9:
– Sit Ups
– Burpees
Rest 2:00
(3) 12-9-6:
– Squat Broad Jump
– Burpee
4 Rounds, Every Minute on the Minute
Min 1: 7 Burpees
Min 2: 15 Sit-Ups
Min 3: 50 Jump Tucks
– Repeat 4 times
20 minute AMRAP of:
5 Handstand Push Ups or Incline Push Ups
10 Pistols/Single Leg Squats (alternating legs)
15 Push-ups
Tabata This: 8 rounds of 20 sec. on, 10 sec. off of each exercise
Squats
Push Ups
Sit Ups
Burpees
AMRAP in 20 minutes:
10 Burpees
20 Steam Engines (Stand with hands behind head, raise knees to elbows)
8 rounds For Time
Handstand 30 seconds
20 squats
Super Legs: 3-5 Rounds, as fast as possible:
20 Air Squats
20 Alternating Lunges (20 total reps)
20 Alternating Split Squat Jumps (20 total reps) (Jumping lunges)*
10 Squat Jumps (Jump Squats)


Long Cycle Burpee: 50 rounds of:
1 squat
1 pushup
1 situp
1 superman
1 tuck jump
6 Rounds for time
15 Reverse Lunges
15 Hollow Rocks
15 Push Ups
15 Minutes: As Many Rounds as Possible
10 mountain climbers
10 push ups
10 hollow rocks
10 sit-ups
15 Minutes: As Many Rounds as Possible
15 Lunges
10 Pushups
15 Lunges
20 Situps
10 Rounds:
30-second handstand
30-second squat hold (Electric Chair – can be done leaning against a wall)
3 Rounds:
20 tuck jumps burpees
30-second handstand hold.
5 Rounds for Time:
30-second handstand
25 air squats
21-15-9 for Time
Handstand Push-ups
Chair Dips
Push-Ups
For Time:
21 Pushups
42 Squats
15 Pushups
30 Squats
9 Pushups
18 Squats
For Time:
2 Minutes Tuck Jumps
2 Minutes Situps
– Rest 1 min –
90 sec Tuck Jumps
90 sec Situps
– Rest 1 min –
60 sec Tuck Jumps
60 sec Situps
AMRAP in 20 minutes:
10 Chair Dips
10 Box jumps
10 Walking Lunges
For Time:
100 Push-ups
100 Sit-ups
200 Squats
– Exercises can be done in any order to achieve the target number of reps
AMRAP in 20 minutes:
5 Pushups
10 Situps
15 Squats
21-15-9 Rep Rounds for Time:
Walking Lunges (each leg)
Handstand Push-ups / Incline Push Ups / Pike Push Ups
For time:
Squats (pick a number between 100-500)
For Time:
Burpees (50-150 – pick a number and go for it!)
For Time:
For Time:
21 Pushups
42 Squats
15 Pushups
30 Squats
9 Pushups
18 Squats
10-9-8-7-6-5-4-3-2-1 Rep Rounds for Time:
Burpees
Pushups
Situps
– Complete each "round" (10, 9, 8, etc.) for each exercise before proceeding
AMRAP in 20 minutes:
5 Handstand push-ups
10 Pistols (Single Leg Squats)
Travel Modified "Annie" – 50-40-30-20-10 Reps per Round for Time:
50-40-30-20-10 Reps per Round for Time:
10 Rounds: Hold each position for 30 seconds
Plank
Bottom of squat
Hollow rock hold
For Time:
80-60-40-20 Reps of Air Squats
40-30-20-10 Reps of Situps
20-15-10-5 of Handstand Pushups
– Do the first set of each exercise, then the second, then the third
5 Rounds:
30 second handstand against a wall
30 second static hold at the bottom of the squat
30 second hollow rock or plank
10 Rounds For Time:
25 Walking Lunges (each leg)
10 Pushups
10 Rounds For Time:
10 Pushups
20 Squats
10 Situps
Tabata Squats: Repeat for 8 rounds
20 seconds – As many squats as possible
10 seconds – Rest
5 Rounds For Time:
10 Tuck Jumps (Focus on jumping as high as possible)
10 push-ups
10 Rounds For Time:
For Time:
For Time:
200 Squats
Rest in the plank position (anytime you stop, get into a plank, and continue squatting as soon as you stand up
For Time:
100 Jumping Jacks
75 Air Squats
50 Pushups
25 Burpees
5 Rounds:
Sprint 1 minute
Squat 1 minute
21-15-9
6 Rounds For Time:
10 Pushups
10 Air Squats
10 Sit Ups
10 Rounds For Time:
3 Tuck Jumps
3 Squats
3 Broad Jumps
20 Rounds For Time:
5 Pushups
5 Squats
5 Situps
10 Rounds For Time:
10 Pushups
10 Sit ups
10 Squats
For Time:
5 Rounds For Time:
10 Tuck Jumps
10 Pushups
10 Situps
Annie: 50-40-30-20-10 reps of each exercise, working from the set of 50 to 10
Jump rope double-unders
Situps
Marguerita: Complete 50 total rounds, with one rep per exercise, per round, as fast as you can for time
Burpee
Pushup
Jumping jack
Situp
Handstand
Kettlebell/Dumbbell Hotel WODs
If your hotel does have a gym with dumbbells or kettlebells, give these other Crossfit hotel WODs a try for a more intense burn
5 rounds for time of:
"Kettlehell"
20 Deadlifts
20 Sumo Deadlift High Pulls
20 Swings
10 1-arm swings, Right
10 1-arm swings, Left
10 Snatches, Right
10 Snatches, Left
5 rounds for time:
10 Renegade Manmakers
15 V-Ups
---
Be sure to bookmark this page and check out these other resources for getting your workout on solo
---
Great Crossfit Resources
To step up your Hotel WODs, and just generally get the best workout you can while traveling, take advantage of these free (yet excellent) Crossfit information resources. Starting with these resources, you can learn the entire Crossfit philosophy and the methodologies necessary to get your WOD on in any gym anywhere