Somehow, my favorite pieces of travel gear always come from clothing and backpack companies with passion, understanding of their customers, and a real love of the gear they produce. For this reason, I always try to buy gear that supports brands with great ideas for travelers, vision, and work ethic I can get behind.
Greenroom136 is one of those brands, built on a passion for helping travelers and trailblazers by building functional, durable gear by hand and in small batches.
While on Bali, I flew to Kuala Lumpur just to meet Patrick, founder of Greenroom136, to see the Greenroom136 line, and hear his story. Before I arrived, I admired what he was doing and how. By the time I left, I fell in love with the brand and its gear.
Read on to find out why Greenroom136 is one of my new favorite sources for functional, durable backpacks that make travel easier, last longer, and can take one hell of a beating along the way
Contents

During my travels, I got wind of a Malaysian based backpack workshop called Greenroom136 and their flagship bag, the "Rainmaker". From what I'd heard, these bags were built by hand in small quantities with the toughest and best materials available…and for an amazing price.
I'm a consummate traveler that has been chasing adventure off the beaten path for the last 2 years, and I'm incredibly hard on gear. I've broken 2 backpacks, 2 laptops, 2 pairs of chuck tailors, 4 pairs of sandals, 3 hard drives, 1 belt, 1 tire, and countless hopes and dreams…so "tough" gear always catches my attention. My hard use tendencies immediately made me interested in the Greenroom136 operation.
Here at A Brother Abroad, testing and recommending gear is one of the things I take pride in. I figure, if you can start your travels or set out on your adventure, as long as you take the right gear, the right mental state, and prepare your body, everything will work itself out.
I found myself in Bali for a few months, a short hop from Kuala Lumpur, Greenroom136's headquarters, and I had to go check out the founder and the Rainmaker, this unicorn of a bag. Read on for all that I learned after enjoying a cup of coffee and chat with Patrick, the founder of Greenroom136, as he walked me through his passion products and badass bags.
Or keep reading for more of the story…

Project Junk Monkey: The Greenroom136 Origin Story
Project: Junkmonkey. That's how one of the most durable new backpack projects started out. A codename for an experiment in using sound business practices and experimentation to build the perfect daily carry bag for trailblazers, risk takers, innovators, and travelers.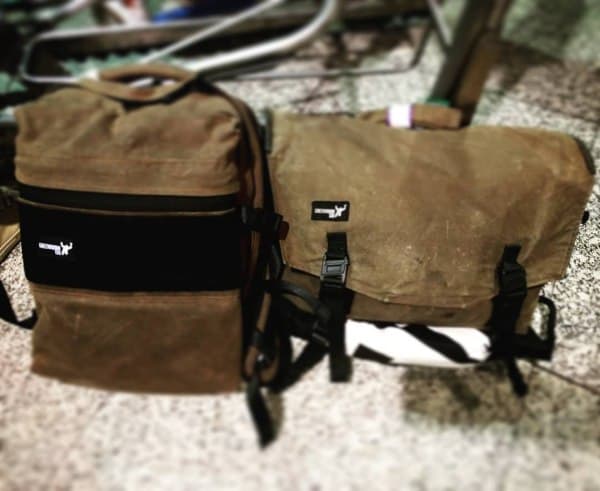 Patrick, the founder of Greenroom136, decided to tap out on the corporate, white collar path in life in favor of a path that capitalized on his curiosity, quick wit, and desire to improve and create pretty much anything. In Patrick's personal innovation lab where he incubated ideas, or his "Greenroom" as he called it, Patrick experimented with several ideas over the years. Some ideas were based out of passion, while others were based in pragmatism. Through it all, one project unintentionally stuck – Project: Junk Monkey.
Project Junk Monkey started with the experiment to buy an industrial grade sewing machine and the most durable fabrics and materials available to piece together a durable bag that would fit Patrick's on the go life. Patrick's life, which ranged from interviewing and collaborating with startup founders, to long nights working with other entrepreneurs and consulting before coming home, just didn't have a bag to suit it. For the bags he had, the organization was horrible. The bags ripped from countless days carrying what you would need to live and work out of a bag for 24 hours. Moreover, the designs seemed so foreign to his body, inconvenient and uncomfortable after extended use, and unintuitive to use.
In Patrick's free time, not consulting and assessing business models, he hovered over the sewing machine, teaching himself the tricks of the trade and manufacturing bags. Along the way, he tested each bag iteration for flaws by abusing and recruiting others to abuse it, on a daily basis until he figured out the next aspect of the bag he wanted to upgrade. He would then sit in the workshop over the sewing machine figuring out how he wanted to upgrade it in a way that made the bag more durable and his life easier, building in the upgrade, and repeating the improvement process. Until finally, he landed on it. The Junk Monkey.
The version 1 of the Junk Monkey was the first bag Patrick created for himself, which ultimately sparked a conversation with a friend of…why not deliver these badass backpacks to the world? Why not deliver the meticulously designed function and craftsmanship that can only come from a small workshop? Why not let other trailblazers, travelers, and city-based innovators, make their lives easier thanks to Project Junk Monkey?

The Greenroom136 Vision
With all of this creation going on what was the purpose of Junk Monkey and Greenroom136? With all of the other projects Patrick had going, why did he drop them all for this one? Because he wanted to enable trailblazers and travelers.
If you dig through the Apple Podcasts you'll find ~50 episodes wherein Patrick interviewed startup founders and entrepreneurs on what made them tick, what drives them, and where they wanted to go with all of that energy. It was a free time project Patrick loved doing. During the process, he realized…they all carried a bag. The same ag, day after day. It had their laptops. It carried their cell phones. It carried pictures of their families and their favorite candy. For every person that came on the show, Patrick asked what they carried in their bags. He started to realize, for most people that are building something, going somewhere new, or testing the unknown, they usually have a single bag that does the closest thing possible to carrying their hopes and dreams…whether they're stored as a thought on a laptop, an idea in a notebook, or a sentiment inducing trinket.
This realization came while Patrick was tinkering with bags as a hobby, so he decided to double down and focus on Junk Monkey as his only project – to enable trailblazers, travelers, and adventure seekers who carry their hopes and dreams in a single bag. They needed something that wouldn't break. They needed something they didn't have to worry about. They needed something that was functional and fit easily into their life.
**Mind you, Patrick is explaining all of this to me as I sit in a country foreign to me (country #52) after a year and a half of traveling out of a carryon sized backpack. I can definitely get behind this vision**
With that, Project Junk Monkey was retired, and Patrick's innovation lab, his greenroom, grew into the headquarters for the next phase: Greenroom136.
Out of Greenroom136 the Junk Monkey improved, the Genesis was born, and accessories were created until Patrick innovated and dropped the latest awesome bag and the bag that caught my attention – the Greenroom136 Rainmaker.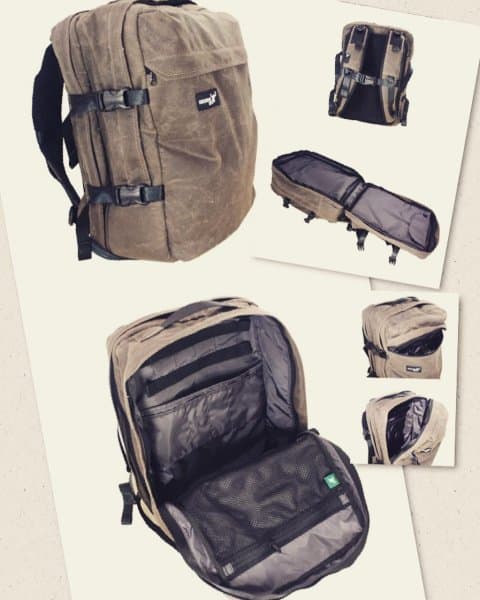 But what makes Greenroom136 and the Rainmaker so great?

Why Greenroom136? What makes their packs awesome?
Examine a Greenroom 136 Rainmaker, Genesis, or any other piece of kit and you'll notice three design trends standard throughout the entire line of products: durable materials, durable construction, and design to accommodate the bits and pieces of your life.
Design & Features
Materials
Customizable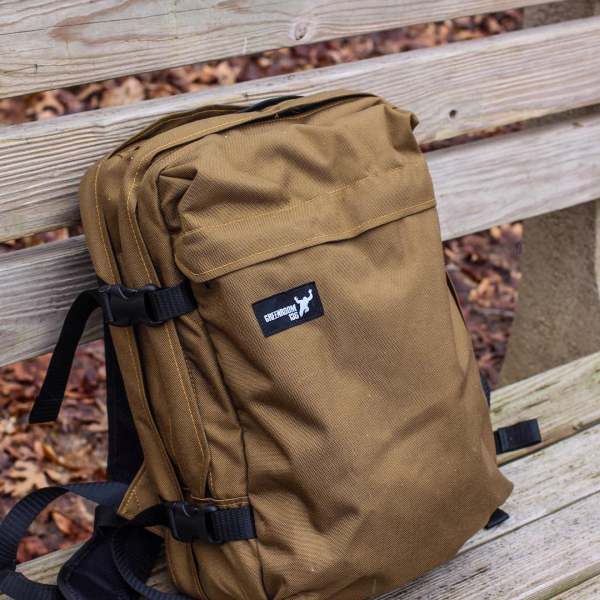 Design & Features
Use a Rainmaker for more than a month and along the way you'll notice tons of simple yet meticulous details designed to make life easier. From the varying sizes of pockets, to fit smartphones, chargers, wallets, pens, and cash, to hidden pockets, to functional flaps that keep the rain out while you're riding a motorbike but still make the bag easy to access, to extremely practical hang loops. The Rainmaker has a slew tiny details that it'll take time to notice but will make you fall in love with the bag. Every other piece of kit in the Greenroom136 line is the same way.
Caption: A breathable backpanel on all of the bags adds the comfort that other durable bag makers miss

Materials
Patrick started the backpacks by stacking the highest quality, most durable materials he could find, and that foundation shows through in the fabrics, hardware, and construction of his bags today.
Fabrics: Abrasion Resistant, Water Resistant, Long Life
The external fabric on all Greenroom136 gear is intentionally 1000D Cordura Nylon fabric, which is abrasion, water-resistant, and has a tear strength unofficially tested to 400lbs. This fabric is arguably the toughest, most functional on the market, used in tons of military gear and high dollar, durable bags like the GORUCK backpacks Line. Though this fabric admittedly adds a bit of weight compared to 400D nylon, it extends the life of the bag into the unforeseeable future.
The internal fabric is a 400D oxford nylon fabric that adds another layer of durability while being friendlier on electronics and more delicate items.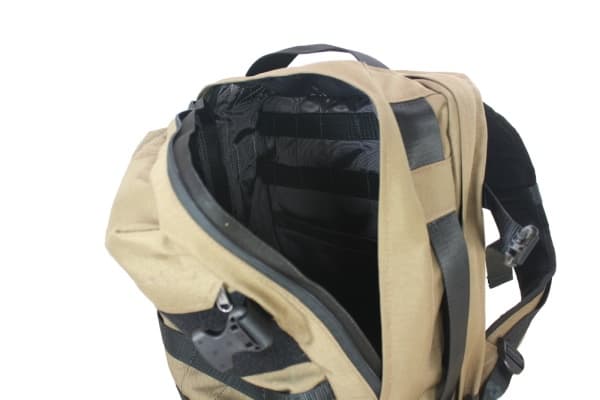 ---
Straps: Industrial grade, Reinforced, and much stronger than necessary
The adjustable straps, such as compression straps and load lifters, are all industrial grade nylon webbing, but the Greenroom136 team steps up the durability on load-bearing points.
Car seatbelts, which can have a tensile strength of 4000lbs or more, reinforce the shoulder straps and make up the drag handles on the tactical versions of the bags, making tearing or failure of those materials nearly impossible.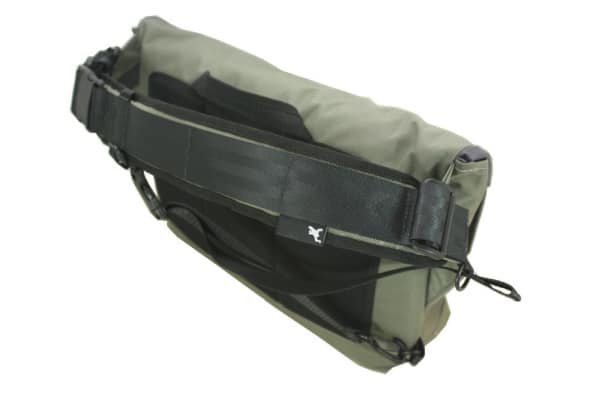 ---
Buckles
All of the plastic hardware, such as snaps and adjustable buckles, are YKK, another tough as nails and tested brand. One of my favorite military bags uses the same hardware and never failed over years of use in the field and combat deployments.
---
Stitching and Construction
Heavy duty, high tensile strength nylon thread is used in tight stitching throughout and reinforced at high-stress points. Doing a "pull test", trying to pry pieces of fabric apart shows no give in the stitching, a good sign for bag lifespan.

Greenroom136 will customize any bag
To add even more to love about Greenroom136, Patrick and team stitch every single bag by hand in small batches at their Kuala Lumpur workshop. A unique benefit of this, over REI, Osprey, and GORUCK bags is the ability to customize a bag easily during the order process.
Contact Greenroom136 in the order process and you can do everything from add extra features, to move or remove pockets and webbing, to upgrading hardware. Can you tell me one other manufacturer that makes bespoke backpacks?

Comparison to Other Brands
The Greenroom136 line is a great concept – an extremely durable bag designed to live out of for short periods, but has it been done before? Honestly, I don't think so. At least not like this.
The closest competitor to Greenroom136 in quality and function is GORUCK. GORUCK is known for creating near bulletproof backpacks, made solidly of Cordura, and designed to carry 400lbs+ loads.
So, what's the difference between Greenroom136 and GORUCK? Greenroom136 achieves similar durability, but with the added function of more organization, and features useful in daily life, like a vented back panel, load lifters, and a more slick design and color options that fit into the city.
Don't get me wrong, both GORUCK and Greenroom136's backpacks are amazing, but while GORUCK is tested to heavier loads, Greenroom136's bags are much more functional at a much lower price point. $125 (before shipping) for the Greenroom136 Rainmaker vs. $495 for the similar GORUCK GR2. Both companies provide a lifetime warranty too.
There is a size difference between the two bag lines. While GORUCK offers the 34L & 40L GR2 and the 45L GR3, the Rainmaker, which offers similar design only comes in a 22L and a 27L. The bags are admittedly roomy (I'm currently only carrying the 22L Rainmaker for a 3 day trip to Singapore, and it's perfect) but for year-long trips, a bigger bag is necessary…and Greenroom136 is coming through!
Keep an eye out for their latest project, the Greenroom136 Mission 35, to drop fairly soon. It will essentially be a Rainmaker in a 35-liter package, putting it perfectly on par with the GORUCK GR2.

The Greenroom136 Line
Now that you hopefully understand Greenroom136 (and why I like them) a bit better, let's run through their top bags
Backpacks
Sling Bags
---
A simple, durable, backpack with a separate full zip laptop compartment and a main compartment with zippered storage and panel pockets. The rainmaker is available is standard (slick) and the tactical version (reinforced drag handles, MOLLE webbing, and Velcro panel) in 22L and 27L. Perfect as an everyday carry or for multi-day trips
Check out the Rainmaker at Greenroom136.com
---
A functional, messenger bag styled backpack keeps your tech and essentials secure yet quickly accessible while commuting in a durable package that will last longer than you expect.
Check out the Genesis at Greenroom136.com
---
The JunkMonkey is Greenroom136's original satchel style messenger bag, designed to be tough as hell. Multi-layer construction incorporates tear, abrasion, and weather resistant 1000D Cordura nylon lined with weather resistant 400D Oxford nylon. The shoulder strap is reinforced with car seatbelt straps. Countless small additions (winged shoulder strap, vented backpanel, several pockets) make this bag comfortable and convenient in addition to durable
Check out the JunkMonkey at Greenroom136.com
---
A recent upgrade to the JunkMonkey messenger bag allows for a few different sizes and small modifications that tailor the bag to particular users.
Check out the Bootstrap at Greenroom136.com

The Bottom Line on Greenroom136
Born of passion and necessity, Greenroom136 provides one of a kind gear touting durability and functionality in an unmatched way. You'll be hard pressed to find better built or designed within this niche. So, if in the market for a backpack and your life is as fast-paced (or abusive on gear) as mine, head over to Greenroom136, check out their line, and I'll bet you'll find the pack you've been looking for

FAQ about Greenroom136
What is the Mission 35? Is it still in the works?
The "Mission 35" is a new project and upgrade on the Rainmaker to create a 35L version, adding 8 liters to the existing bag. The Mission 35 will add the space, to the already existing function, to compete with the GORUCK GR2 35L and similar bags. This size bump will make the bag more suitable for everything from weekend travel to a few weeks on the road.
Patrick and team are still pushing the project forward, but when I spoke with him, the company's focus was on training new team members on manufacturing to bump up production capability. As soon as all of the intended new team members are up to speed, a test run of the Mission 35 will be produced and delivered. Hang tight!
What Now?
** Check out our Greenroom136 Rainmaker review, to see our thoughts after traveling wandering, and adventuring with the bag that sold us on Greenroom136 **

MORE RECOMMENDED TRAVEL GEAR