For a certain type of person, the optimal backpack needs to be durable enough to survive the apocalypse (or at least some hard travel) yet be functional enough to store everything in an organized way without slowing them down. I'm that person, and the Greenroom136 Rainmaker is that bag.
This is a GreenRoom136 Rainmaker review after 2 months traveling through Malaysia and Indonesia.
This article may contain affiliate links
After two months of testing the Greenroom136 Rainmaker, scootering around Indonesia and Malaysia through weekend adventures and daily life, through rainstorms, between surf sessions and beach runs, and boring daily use, this bag has proven to be well designed with a functional layout, durable enough to survive nearly all abuse, and great for travel.
For the price (~$125) you'll be hard pressed to find a more functional, durable bag.
Read on for a Greenroom136 Rainmaker review, my experience testing this bag, and why this is one of the best durable travel and everyday carry backpacks on the market.

CONTENTS
5 Reasons the Greenroom 136 Rainmaker is the Bag You Need + 3 Signs It Might Not Be
Quick Review
Pros
Cons
Quick Verdict
Full Review

The Story of the Greenroom136 Rainmaker

Suitability for City Life

Size |Weight | Dimensions

Where to purchase the Rainmaker

7 Reasons the Greenroom 136 Rainmaker is the Bag You Need
It's durable: As well built as the GORUCK line with the toughest hardware available
It's a great value: at ~$125-~$145, it's unlikely you'll find a tougher, more functional bag for the price
The design and layout are extremely functional: There's a pocket for everything and enough space to accommodate it all
The tiny details make this bag more useful than most and likely to last forever
The bag is more comfortable than other "durable bags" and tactical bags
The bag is completely customizable during the order process
(Bonus) The bag comes with a guarantee
---
3 Signs the Rainmaker Might Not Be for You
As much as I love this bag after 2 months of use, no single bag will be perfect for everyone, and the Rainmaker is designed for a few, very specific crowds:
Those who live their lives on the go those that are tough on gear
Those who want to invest in the right gear so it will last (nearly) forever
Those that are willing to carrying a few extra grams/ounces for that tradeoff
So, in full disclosure, the Greenroom136 Rainmaker may not be for you if…
You prefer light bags…even if they lack durability
You enjoy replacing your backpacks often
You prefer pretty bags over utilitarian bags
In all other cases, I'd bet my lunch you'll love this bag, so keep reading.

Quick Review of the Greenroom136 Rainmaker
Uses & Function: Perfect as an everyday carry backpack or weekend+ travel bag
Design: 3 Compartment design (15" laptop pocket + Main + Front) with ample pockets for electronics, books, and odd items
Construction: 1000D Cordura Nylon, Car Seat Belts at stress points, Industrial Grade Nylon Webbing, YKK Zippers
Features: Vented back panel, compression straps, heavy-duty materials, load lifters
Sizes

Large: 27 Cubic Liters; 31cm x 44cm x 20cm | 12.2in x 17.3in x 7.9in; 1.6kg/3.5lb

Medium: 22 Cubic Liters; 28cm x 40cm x 20cm | 11in x 15.8in x 7.9in; 1.4kg/3lb

Optional Customizations:
Price: 500 RM (~$125 USD) to 600RM (~$145 USD) depending on bag size (22L or 27L) and variant (slick vs. tactical)

What Makes the Greenroom136 Rainmaker Awesome?
Extreme durability meets meticulous design creating a tough as nails bag that keeps your gear organized in comfort.
---
Pros
Heavy duty, durable materials
High quality, durable construction
Functional design and pocket layout
Meticulous design and details create a place for everything and make it perfect for everyday carry
Value – price is extremely low for the quality and function
Comfortable to wear thanks to well padded straps and vented back panel
Cons
Heavier than most bags (due to heavier materials)
Ships from Malaysia

Quick Verdict
The Rainmaker is an extremely durable bag, thanks to high-quality construction and tested materials, that has the small details that make it perfect for everyday carry and travel. All for a price ($120-$145 USD) that is unmatched for bags of this quality. If you can handle an extra 1 to 1.5 pounds on your back, go for the Rainmaker. You'll fall in love with it.
[wp-review id="5848″]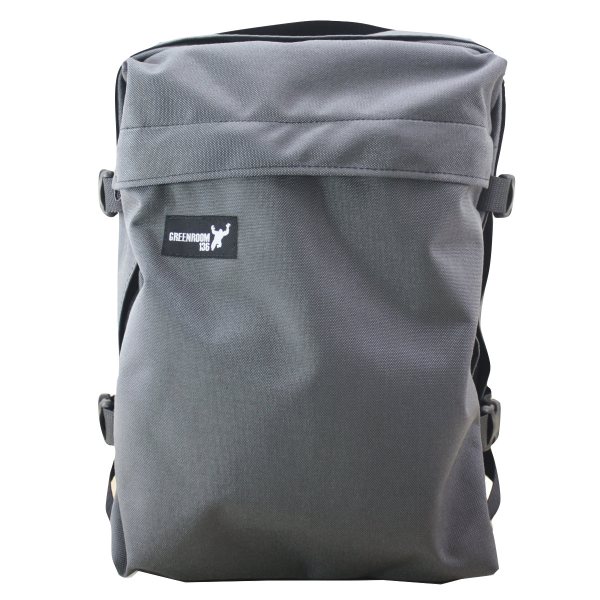 Full Review
The Story of the Greenroom136 Rainmaker
Greenroom136 was born out of an experimental project of tinkering with bags to learn about manufacturing and design processes through a passion for bags. Patrick, the founder of Greenroom136 iteratively aimed to design the perfect bag for trailblazers and travelers to live out of for 24 hours, culminating in "Project: JunkMonkey" and the JunkMonkey, GreenRoom136's first bag.
Since that first bag success, Project: JunkMonkey has evolved into GreenRoom136, responding to the needs of travelers and ultimately creating the GreenRoom136 Rainmaker.
Through it all, GreenRoom136 has stayed true to its DNA of well-constructed bags made from the most durable materials available and detail focused design that makes staying comfortable and organized in daily life, and travel, easier.
What I Love About the Greenroom136 Rainmaker
The Rainmaker is the backpack equivalent of a Toyota 4Runner or a Hilux. It's just the right size and designed to be as functional as possible with meticulous details and features that you notice over time with use. Plus, it's nearly bulletproof. The spec sheet makes it clear that Patrick and team wanted to build a backpack that would last as long as any other on the market – from the Cordura nylon to the plastic hardware and seat belts as drag handles. This bag has a place for everything, features that make my life easier (that I personally wouldn't have thought of), and it's going to last a long time. That is why I'm in love with this bag.
When I get back to the states, I'll likely upgrade to a slick version of the large backpack in black, and that'll be the EDC backpack I never replace.

My Experience
After 2 months traveling around Indonesia and Malaysia, in day to day life and week-long adventures…what's my takeaway?
Great pack, extremely functional. It performed just as well as a weekender bag going diving in the islands as it did as portable office while getting labeled a "digital nomad".
Everyday use of the GreenRoom136 Rainmaker
Day to day, this has been the only pack I've used. It replaced the ultralight REI Flash 22 which I used to the point of ripping, restitching, and ripping the shoulder straps and seams again. Back home I use the REI Ruckpack 28, and the Greenroom136 Rainmaker made it much easier to stay organized.
On the daily here on Bali, my routine has been wakeup, go to a coffee shop or each shack and work (which means bringing my laptop, notebooks, portable charger, and all of that other "portable office" nonsense"). As soon as I can, I pull my board shorts out of my bag and surf, go back to work again, get back into my nasty board shorts and workout, then go back to work before heading to a beach shack for an evening sunset. Between all of this, I'm scooting around north Kuta between my favorite work spots and doing wardrobe changes from wet to dry and back like a Cirque Du Soleil show. The entire time, the Rainmaker has been my go-to, and it handled it well.
What's the point? I'm commuting by motorbike most of the day bouncing between work, water, working out, and work again. The rainmaker makes it convenient because most of my "mobile office" stuff fits in the laptop area. My Microsoft surface fits in the dedicated slot and directly across, a variety of pockets hold my tablet, notebook (with actual paper) and all of my power cables.
The main compartment holds my surf gear and gym clothes, along with a camp towel, snacks, and peanut butter & jelly sandwich if I'm having crazy cravings like a pregnant woman. The zippered mesh pockets and the slide in pocket and molle webbing make it easy to keep everything organized.
The front zippered pocket, which is surprisingly deep, is great for quick access items – for me, that means my kindle, cell phone, and portable charger.
One more perk is the "secret pocket" behind the back panel. I keep my international driver's license and emergency cash in there, just in case the Bali police are trying to catch me ridin' dirty (with no international driver permit…nothing too sketchy).
Given I was on Bali in the rainy season, I got caught in the rain a handful of times, for about 15 minutes at the longest. Thanks to the flip back lip of fabric covering each zipper, my laptop, and papers all stayed dry…though I honestly wouldn't push it longer than 10 minutes and wouldn't risk heavy rain.
All in all, as long as your comfortable with the weight, the GreenRoom136 is a great everyday carry and commuter bag
My Experience Traveling with the GreenRoom136 Rainmaker
My travels with the Rainmaker were mostly weekend trips, which is reasonable considering I own the 22L version. The bag carried plenty for a few days. I brought along basic toiletries (stored in the lower mesh pocket), spare undies and t-shirts (stored in the top mesh pocket), shorts & track pants (in addition to the pants on my body) and flip flops strapped on the side. This was in addition to laptop, power cables, portable charger, and notebooks. Along with a wad of cash, this is plenty for a few days.
The load carried well, and the side compression straps made sure the load stayed tight. I've never had a need to use the load lifters though they're nice to have just in case.
The MOLLE webbing served convenient too, with the addition of a couple of carabiners, for lashing wet or dirty things to the outside (boardshorts, flip flops)
All in all, as long as you're comfortable traveling as a minimalist, this bag is a great short term travel bag. I didn't even need packing cubes, thanks to the great layout






Pros
Heavy duty, durable materials
High quality, durable construction
Functional design and pocket layout
Meticulous design and details make it perfect for everyday carry
Value (price is extremely low for the quality and function
Cons
Heavier than most bags (due to heavier materials)
Ships from Malaysia

Suitability for City Life
As an everyday carry backpack for the urban jungle, the Rainmaker rocks.
Well laid out designed storage provides dedicated space for all of your tech and essentials, from the padded laptop compartment to the zippered mesh pockets, and several slide-in pockets as well.
Compartmentalized design, with a main pocket, a laptop pocket, and a very large front pocket make space for everything while keeping it organized and accessible.
Durable components and reinforced stress points round out the bag.
All of this adds up to a reliable go-to bag that will make life convenient and survive years of use.
Yes, this bag is a pound or two heavier than your average Jansport bag, but as long as you can accept that you get lots of function in return.

Suitability for Travel
For many of the same reasons this bag is good for city life, it's perfect for minimalist travel. If you're used to carrying a huge checked bag with 4x the clothes you need for a trip…yeah…this might not work for you.
On the other hand, if you're an avid traveler that sticks to carry on only travel, the Rainmaker will be perfect for you.
The medium rainmaker, clocking in at 22 cubic liters, is solid for weekend travel (I've used it for more than a few weekend adventures in the last month). I recommend stepping it up to the 27-liter large Rainmaker and you'll have space sufficient for a weekend to a few weeks in a size that's suitable for daily carry.
For travel I have two recommended upgrades: 1) Add the bottom compression straps via the customization options and 2)Purchase a durable compression bag like the GORUCK Tough Compression Sack
Adding the bottom compression straps allows you to strap on extra storage for an extra MYR20 (~$5) via the Greenroom136 custom Rainmaker builder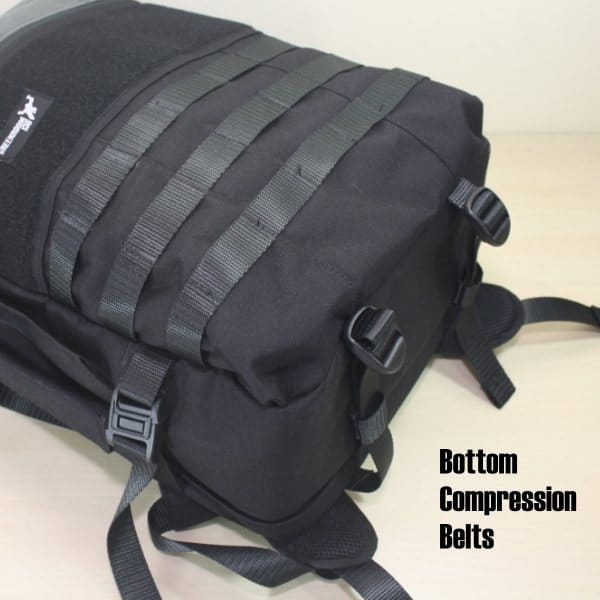 In conjunction with the bottom compression straps, the 18 liter GORUCK Tough Compression sack fits perfectly to create a modular, collapsible bit of convenient travel storage. This gives you a total of 46 liters of that can collapse down to 28 liters for carry-on luggage only travel on airlines.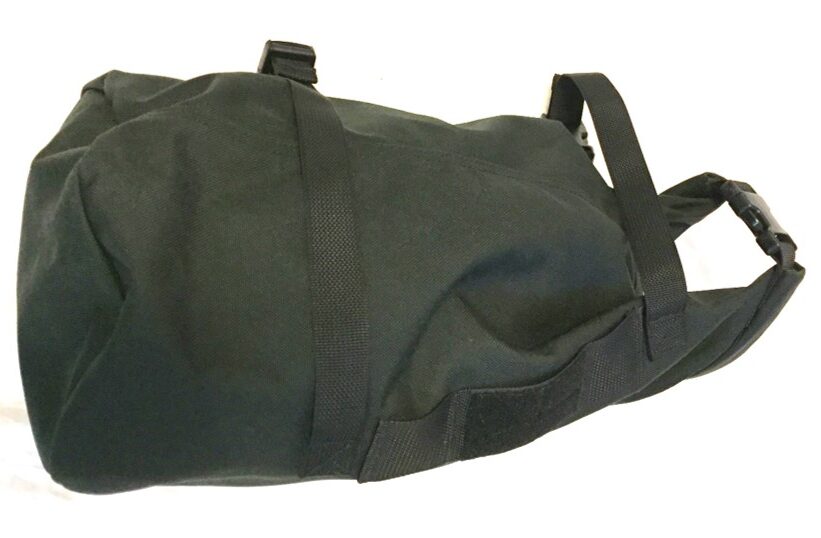 I'm actually using the GORUCK tough sack as temporary, expandable storage on my current trip with the GORUCK GR3 as my main pack and its great.
For more on how I use this method & kit for expandable storage and carry on only travel, check out this review of the GORUCK Tough Compression Bag

Design
Perfection through simplicity. That's what the Greenroom136 team is accomplishing with the Rainmaker.
Patrick and the Greenroom136 workshop did a great job designing, testing, and modifying this bag over the last 5 years. From the original prototype Patrick showed me in Kuala Lumpur to the little details I'm noticing on my bag by the day, it's clear that this bag is meant for trailblazers, travelers, and adventurers who live their lives on the go.
Every detail on the bag is designed to either help you organize your items better, help the bag stand up to more abuse, or make the bag more comfortable to wear – and the team accomplished all three goals in spades.
Standout Design Features on the Greenroom136 Rainmaker
Vented backpanel –
Fold back flaps keep water out of zippers but make access easy
Wrap around drag handle adds function & durability + stands up to abuse
Load lifters
Compression straps

Still, leave valuables in front uncompressed

Adjustable sternum strap
"Mobile office" layout – with space for all of your odds and ends for work in the laptop compartment
Soft-lined and well-padded laptop compartment
Hidden "valuables pocket" in the back panel
Plenty of pockets throughout – mesh organization pockets, laptop pocket, notebook and electronics pockets, pens and small items too
Large Main Pocket
Easily Accessible Front Pocket
Wrap around zipper, padded laptop pocket
Small details

Hanging loop, key hooks, strategically sized pockets for daily carry items

Optional

Attachment webbing (MOLLE)

Construction
Fold back flaps keep water out of zippers but make accessing pockets easy
Shoulder straps reinforced with car seat belts add intense durability
Ample padding in the bag's bottom and back panel, add comfort and extra laptop protection
Materials
Throughout the entire Greenroom136 line, it's clear that Patrick and team started with the most durable components available, and then pieced the materials together into a functional bag. The result is a water and abrasion resistant bag that can carry heavy loads and keeps your electronics and valuables safe.
Here are the highlights on materials
Water resistant, abrasion resistant, 1000 Cordura Outer Materials
420 Denier Oxford Ripstop Inner
Heavy Duty Nylon thread stitching
Big YKK Zippers (still work through dirt and grime)
YKK Plastic hardware
Industrial grade nylon webbing throughout
Car seat belt reinforcement at high-stress points
Additional pockets (sunglass pocket, side pocket, etc.)

Rainmaker Customization Options
If the awesomeness of the basic rainmaker and tactical versions just isn't enough for you, just visit the Greenroom136 Rainmaker customizer for a long list of potential adjustments and add ons
Greenroom136 Rainmaker customizer
Customizations and Add ons
Webbing placement
Handle placement
Pocket placements and sizes
Fidlock snap attachment compression straps instead of sliders
Quick release shoulder straps
Color scheme
Bottom attachment webbing and compression straps
Sewn-in Key loops
And the list goes on…

Rainmaker Features
Greenroom136 Rainmaker Video Walkthrough
Click the video for a visual review of the Greenroom136 Rainmaker

Greenroom136 Rainmaker
Size |Weight | Dimensions
The Rainmaker comes in two sizes, a large (27 cubic liters) and a medium (22 cubic liters)
---
Large Rainmaker (27L) Size, Weight, and Dimensions
31cm x 44cm x 20cm | 12.2in x 17.3in x 7.9in
Can carry most 15" laptops (29cm x 39cm x 3cm | 11.4in x 15.4in x 1.2in)
Weight: 1.6kg/3.5lb standard and 1.7kg/3.7lb for the tactical version
Fits well within carry on size limits of budget airlines
---
Medium Rainmaker (22L) Size, Weight, and Dimensions
28cm x 40cm x 20cm | 11in x 15.8in x 7.9in
Can carry most 13" laptops (27cm x 34cm x 3cm | 10.6in x 13.4in x 1.2in)
Weight: 1.4kg/3lb standard and 1.5kg/3.3lb for tactical version
Fits well within carry on size limits of budget airlines
This bag (the medium) also may fit as a personal item/laptop bag if compressed. Keep in mind, the personal bag/laptop bag restriction on Air Asia is 40cm x 30cm x 10cm, so this bag exceeds depth by 10cm / ~4in. If you can compress this bag by 4 inches by not overpacking, it works as a second bag for airline carry on
---
**A Recommendation on Bag Size: Go for the Large**
For most people, the large version will fit their frame perfectly and offers valuable extra space. If you're torn between sizes go for the large, as it will provide much more function in return.
On the other hand, the smaller, medium-sized 22L is exceptionally roomy for such a bag. I'm currently using it my sole weekend bag for trips (currently on a weekend in Singapore) and it performs very well. It can also be compressed to fit as a personal item/laptop bag on the stingy budget airlines.

Value
This is one of the best value bags on the market, hands down – and this opinion comes from testing a wide range of bags and traveling/living out of backpacks for months at a time over years.
The materials that are used in this bag (1000D Cordura, YKK hardware) are tough as nails and usually only used in military-grade gear, like the GORUCK backpack line, my past MVP the Spec Ops T.H.E. backpack, and countless other tactical backpacks. The backpacks generally run anywhere from $175 to $500+ for the GORUCK line.
Tactical backpacks with the same durability and materials the Rainmaker offers tend to last forever, with one downside: function. Tactical backpacks tend to be perfect for combat, but lack organization, pockets, and perks for daily life and in cities – such as a vented backpanel or a trusty laptop compartment.
The Greenroom136 Rainmaker is such a great value because its not only cheaper while using the same durable materials, but has the vented back panel, laptop compartment, and meticulous organization that makes use in daily life a pleasure – while lasting as long as tactical backpacks.
The durability and function you get with the Rainmaker at a price point below $150 make this bag an amazing value.

Where to purchase the Rainmaker
Currently, the best way to purchase the Rainmaker is online at GreenRoom136 site.
The GreenRoom136 Rainmaker is available at RM500 (~$120 USD) for the Medium and RM550 (~$135 USD) for the Large for the "slick" version.
The GreenRoom136 Rainmaker is available for RM550 (~$135 USD) for the medium sized tactical version and RM600 (~$145 USD) for the large tactical version.
---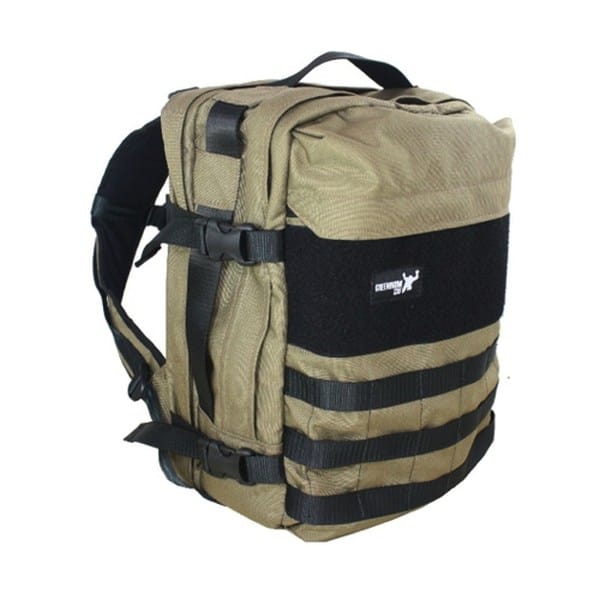 ---
Note that if you order is more than 600 Malaysian Ringgit (~$145 USD) worldwide shipping is free…so grab an accessory or two…or just grab an extra bag and shipping pays for it. Otherwise, global shipping will cost you an extra you between RM50 (~$12 USD) and RM100 (~$25 USD)
Click to see the GreenRoom136 Global Delivery Policy and Rates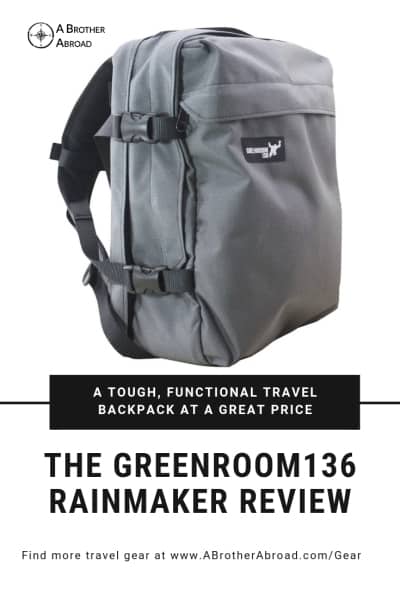 Other Great Greenroom136 and Backpack Related Content
Rucking for health: how a walk with a backpack can get you fit